This refreshing chicken pasta salad with grapes is loaded with crispy veggies like celery, cucumbers, snow peas, artichokes, and fresh baby spinach. A zippy poppyseed dressing and perfect al dente pasta taste amazing served cold.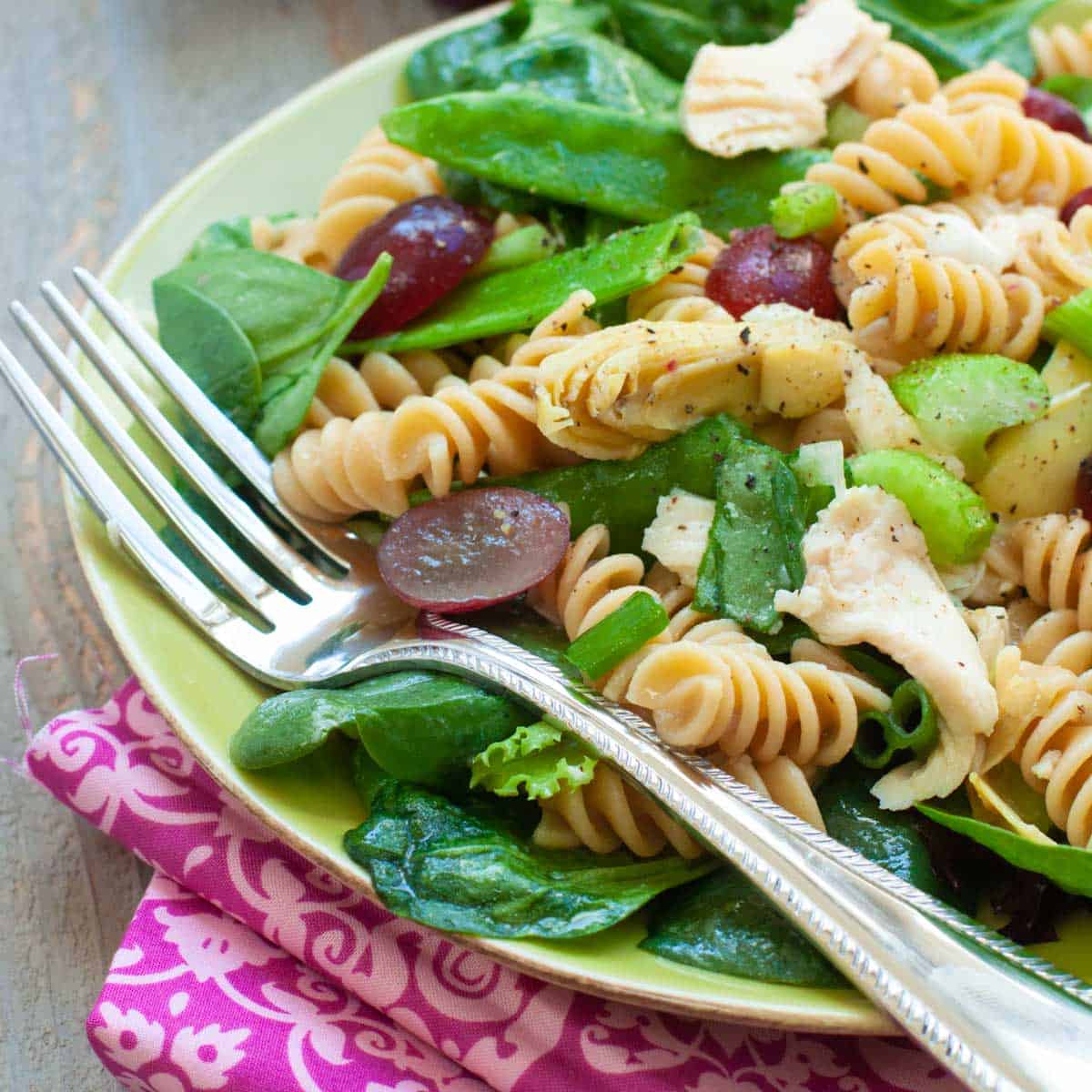 This amazing chicken pasta salad with grapes is the perfect party recipe because it tastes even better when you make it the day before and let it marinate in the fridge overnight.
It makes a large batch that is perfect for serving to a baby shower or bridal shower or ladies luncheon, but I've been known to make it myself for easy lunches all week long.
Loaded with crispy fresh veggies and just the right amount of chicken and pasta, this is a lighter and more refreshing recipe than most pasta salads out there. It is heavier on the "salad" than the pasta.
Serve this chicken pasta salad cold alongside platters of croissants, muffins, or scones for an easy brunch menu. Don't miss more great tips on how to host a brunch here.
Jump to:
Ingredients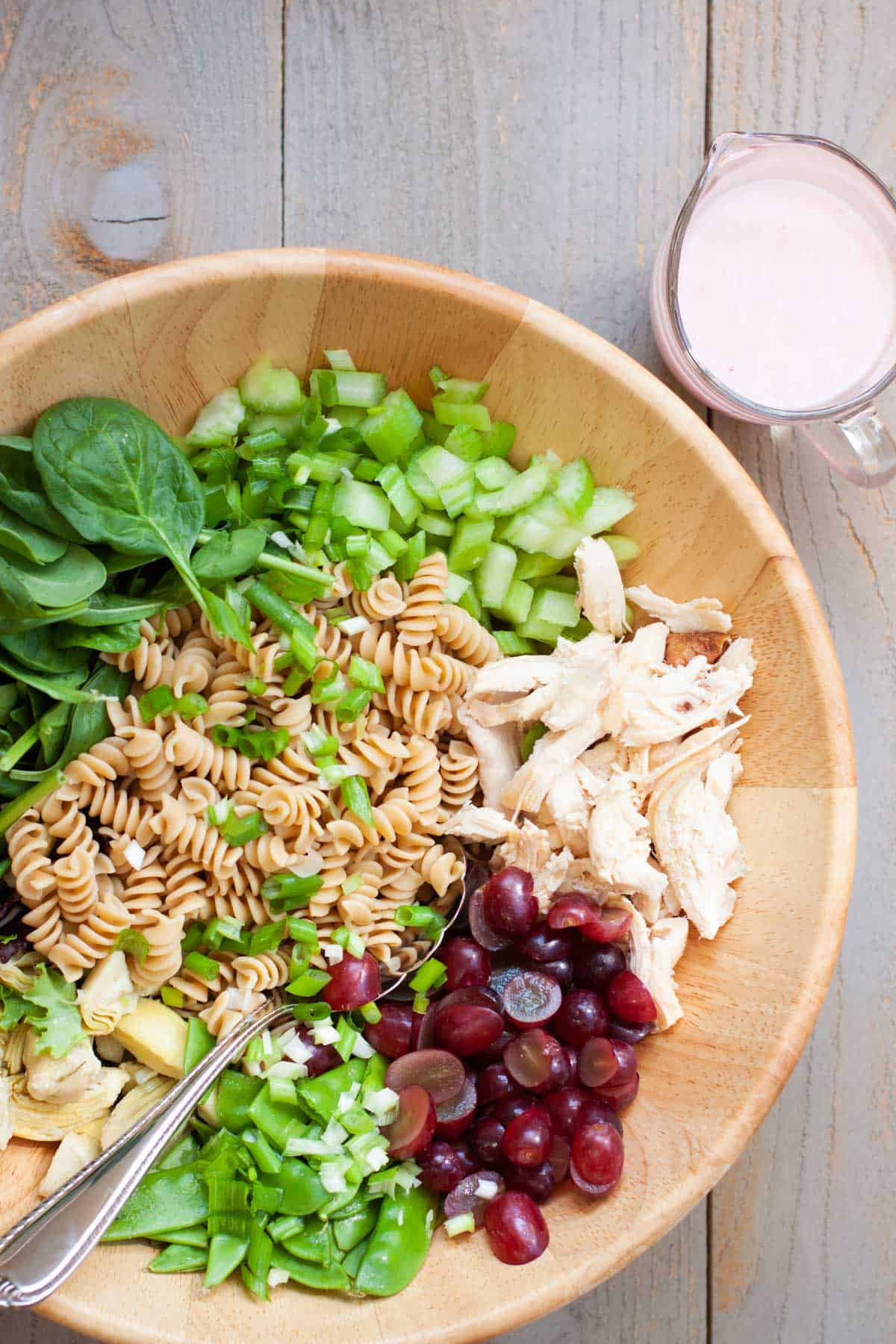 You will love the wholesome ingredients in this delicious chicken pasta salad.
If you haven't used some of these items before, here's what to look for:
Cooked Chicken: I use a rotisserie chicken to keep it easy. You could also cook 2 boneless skinless chicken breasts and cut them in cubes.
Pasta: The recipe calls for corkscrew pasta which is super easy to fork in a pasta salad like this. You could substitute penne or bowties if you prefer.
Grapes: Seedless red grapes taste the best but if you had to, green grapes would work.
Baby Spinach: I usually just grab a bag of spinach in the salad section of my grocery store. If you can't find spinach, arugula would be a delicious substitute.
Celery: You can buy a regular bunch of celery or a package of celery hearts.
Snow Peas: These are the somewhat flat pea pods in the produce section, the kind you might see in a stir fry recipe, not the bag of frozen peas in the freezer section. If you can't find snow peas, sugar snap pea pods would be a good substitution.
Cucumber: An English cucumber (or hot house cucumber) does not have seeds and is perfect for this recipe. I still recommend peeling it before chopping it.
Marinated Artichokes: You can usually find a jar of marinated artichokes in the pickled peppers and condiments section of your grocery store.
Green Onions: Use both the green and white parts of the onion stalk in this recipe.
Poppy Seed Dressing: I've got my homemade recipe coming soon, but you could also use prepared poppy seed dressing from the grocery store.
How to Cook Perfect Pasta
The most important part of making a pasta salad is cooking the pasta so that it holds up well to the dressing and chill time.
Once the pasta absorbs the dressing, it will become even softer than when it was first cooked.
To avoid a mushy pasta salad, it is crucial to cook the pasta al dente, or "to the tooth."
I always choose the shortest amount of time listed on the package directions when I boil my pasta for pasta salad.
If I am prepping the pasta salad the day before, sometimes I even cook it for one minute less than the package suggests since there is so much liquid from the grapes, fresh vegetables, chicken, and dressing for the pasta to absorb.
Once you drain the pasta, be sure to rinse it in cold water to stop the cooking.
Assemble the Pasta Salad
This recipe makes such a large batch that you'll want to use the largest mixing bowl in your kitchen.
Sometimes I toss it together in a large salad bowl.
Add the ingredients as you prep them. Pour the dressing over the top, and use large spoons or possibly even your clean hands to gently toss the salad together.
Everything should be evenly combined and coated in dressing. Stir carefully so you don't break up your pasta shapes.
Make Ahead Tips
This is the perfect make ahead recipe. You can assemble the entire thing the day before and it will taste even better once it has had time to marinate in the fridge.
Keep the pasta salad in an airtight container or cover the salad bowl with plastic wrap.
You will definitely want to reserve a little more salad dressing for drizzling over the top before serving. The pasta will absorb a lot of liquid as it sits overnight.
Give the salad a good toss and then drizzle just a bit more dressing as needed to rehydrate the salad so it looks fresh.
Serving Suggestions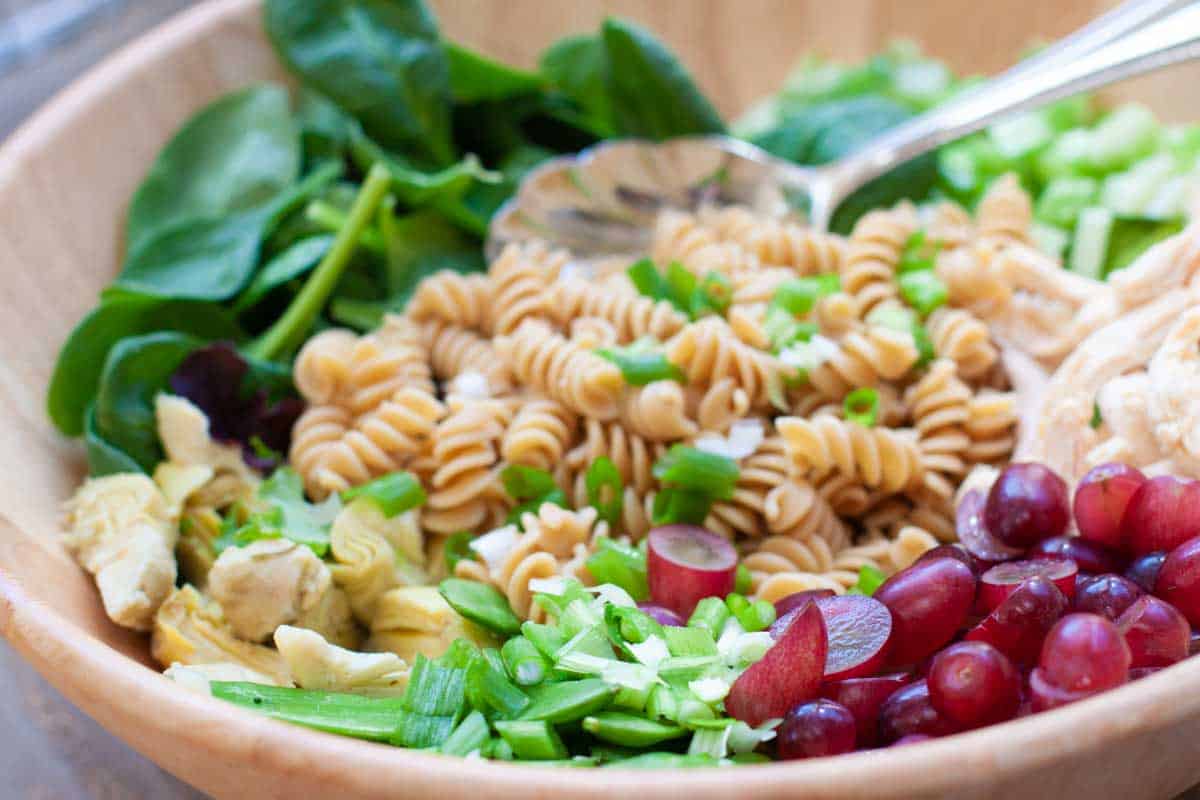 Whether you make the chicken pasta salad with grapes the day before your party or assemble it the morning of, you'll definitely want it to chill for at least 2 hours to let the flavors mingle before serving.
It tastes amazing cold but can also be served at room temperature since the salad dressing doesn't have any dairy. Just watch how long it is out because you don't want the chicken to spoil.
For an easy brunch or lunch menu, this chicken salad has everything you need in one big bowl -- chicken, pasta, vegetables, and fruit.
The best sides to serve with it would be some simple baked breads like my sweet peach scones, this currant-studded Irish soda bread or this delicious cinnamon swirl bread.
My almond poppy seed bread would pair really well with the poppy seed dressing on the salad, too.
Want more ideas? You can see all my best brunch recipes here.