This easy homemade pimento cheese spread is the perfect thing for making pimento cheese sandwiches or serving with crackers for a delicious southern appetizer.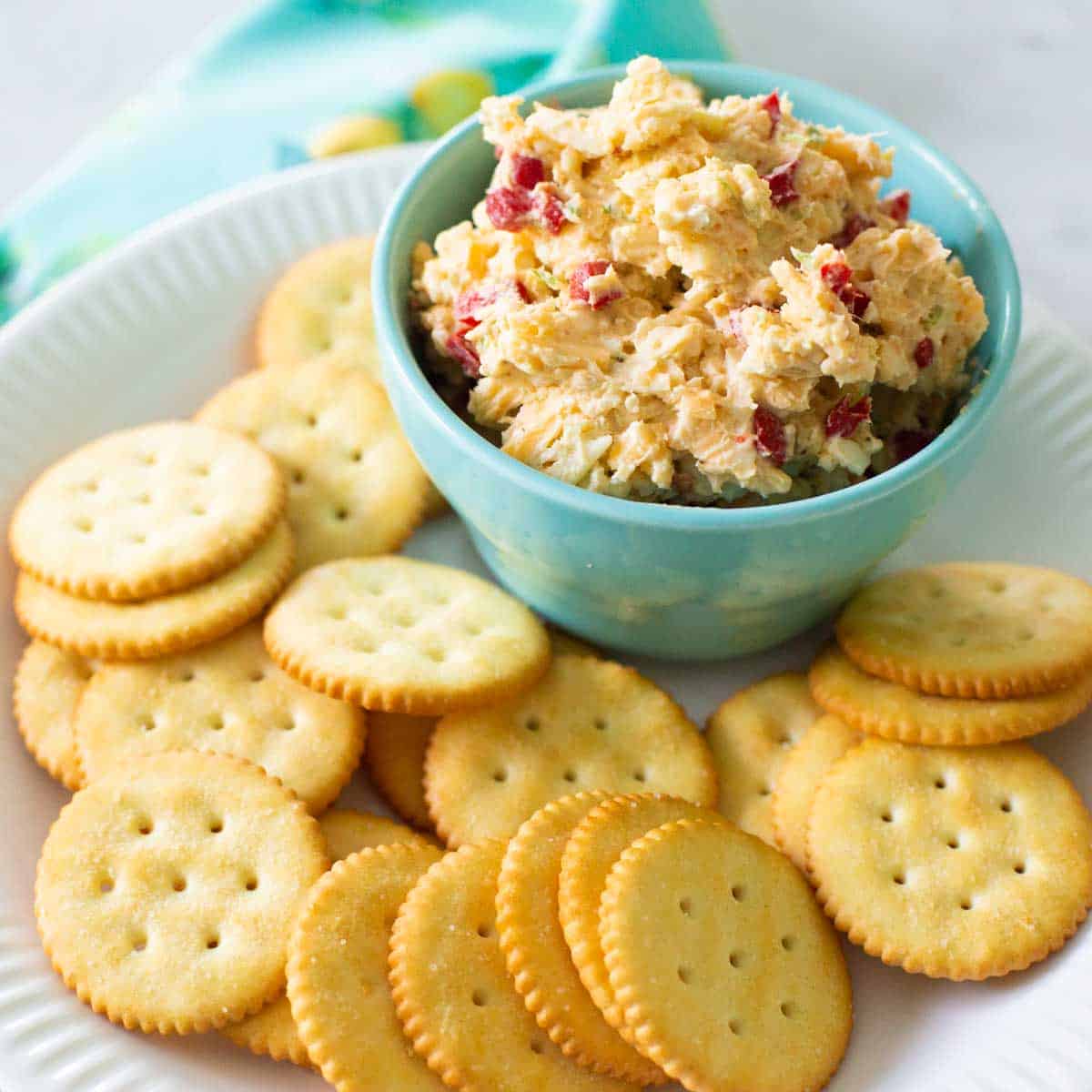 My Wisconsin-raised, cheddar-loving heart, would never in a million years have guessed that homemade pimento cheese would be part of my kitchen repertoire after moving to the South.
When I first spotted it in prepared tubs at our local grocery store, I wasn't quite sure what pimento cheese was or what you used it for.
But after 10 years of cooking up as many southern recipes as I can, creamy pimento cheese spread is one of my guilty pleasures every fall.
I recently tried a homemade pimento cheese as a spread over fresh, warm fried green tomatoes at a barbecue restaurant in Greenville, SC and it was INCREDIBLE.
I had to rush right home and try it myself!
P.S. Don't miss the other tasty eats in Greenville, SC we enjoyed during our anniversary trip in July.
Jump to:
What Is Pimento Cheese?
Pimento cheese is a spread or a dip that is made with sharp cheddar cheese, traditional mayonnaise, diced pimento peppers, cream cheese, and seasonings.
This classic Southern recipe is used as an appetizer with crackers or a sandwich filling.
Why This is the Best Recipe
I've tasted several different pimento cheese variations over the years because this local favorite is often sold in fancy food shops and produced by small batch kitchens throughout the south.
Sometimes you can find spicy pimento cheese, other times it is listed as sweet, mild, or seasoned.
I believe this is the best pimento cheese recipe of them all because it combines all the best elements:
High quality sharp cheddar cheese
Classic Duke's mayonnaise
Fresh green onions
Mild pimento peppers
And the perfect balance of seasonings
My recipe has the perfect thick texture for spreading on a cracker or using as the base for a grilled pimento cheese sandwich but you could always thin it out if you prefer a smoother dip.
Just be sure to see my variations listed below!
Ingredients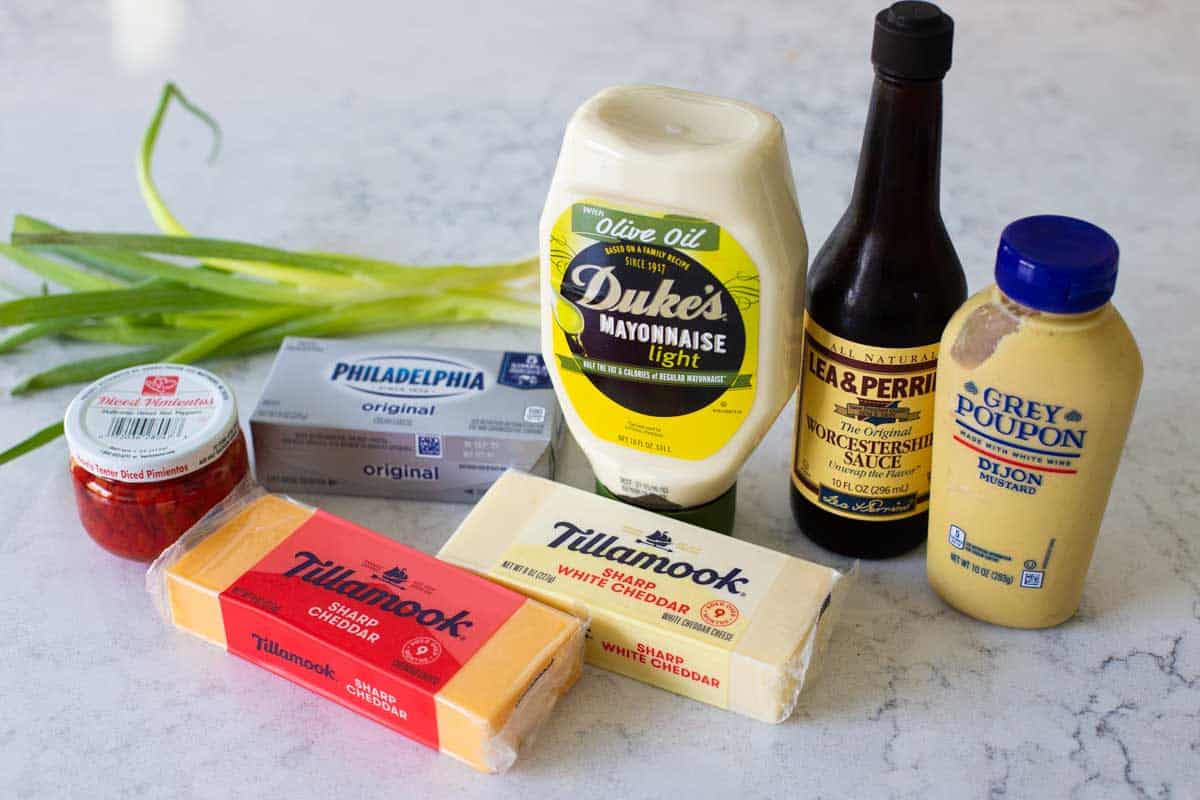 Classic pimento cheese has just a few basic ingredients:
Brick of Sharp Cheddar Cheese: I used both orange and white cheddars but you can use what you love. Don't use the pre-shredded cheese, they are coated in powder so the shreds don't stick, a fresh shredded brick will be much more delicious.
Cream Cheese
Mayonnaise: Either Duke's or Hellman's. I chose the Southern Favorite Duke's but grabbed the light mayo made with olive oil to lighten things up just a touch.
Diced Pimento Peppers: You will find the jar of pimento peppers near the pickles, in the Mexican food aisle, or sometimes near the canned vegetables in the grocery store.
The remaining ingredients are unique additions to this pimento cheese recipe and are what make it so special:
Worcestershire Sauce
Dijon Mustard
Fresh Green Onions
Cayenne Pepper
Paprika
Seasoned Salt
Mike's Hot Honey: You can use whatever honey you love.
Note: I'm a huge fan of how Mike's Hot Honey adds so much flavor to this recipe. You can read more delicious hot honey recipes here.
How to Make It
Since it is important to use a brick of cheddar instead of pre-shredded cheese, I love to make my homemade pimento cheese right in a food processor.
I start by chopping the green onions into large chunks and then using the processor to mince them: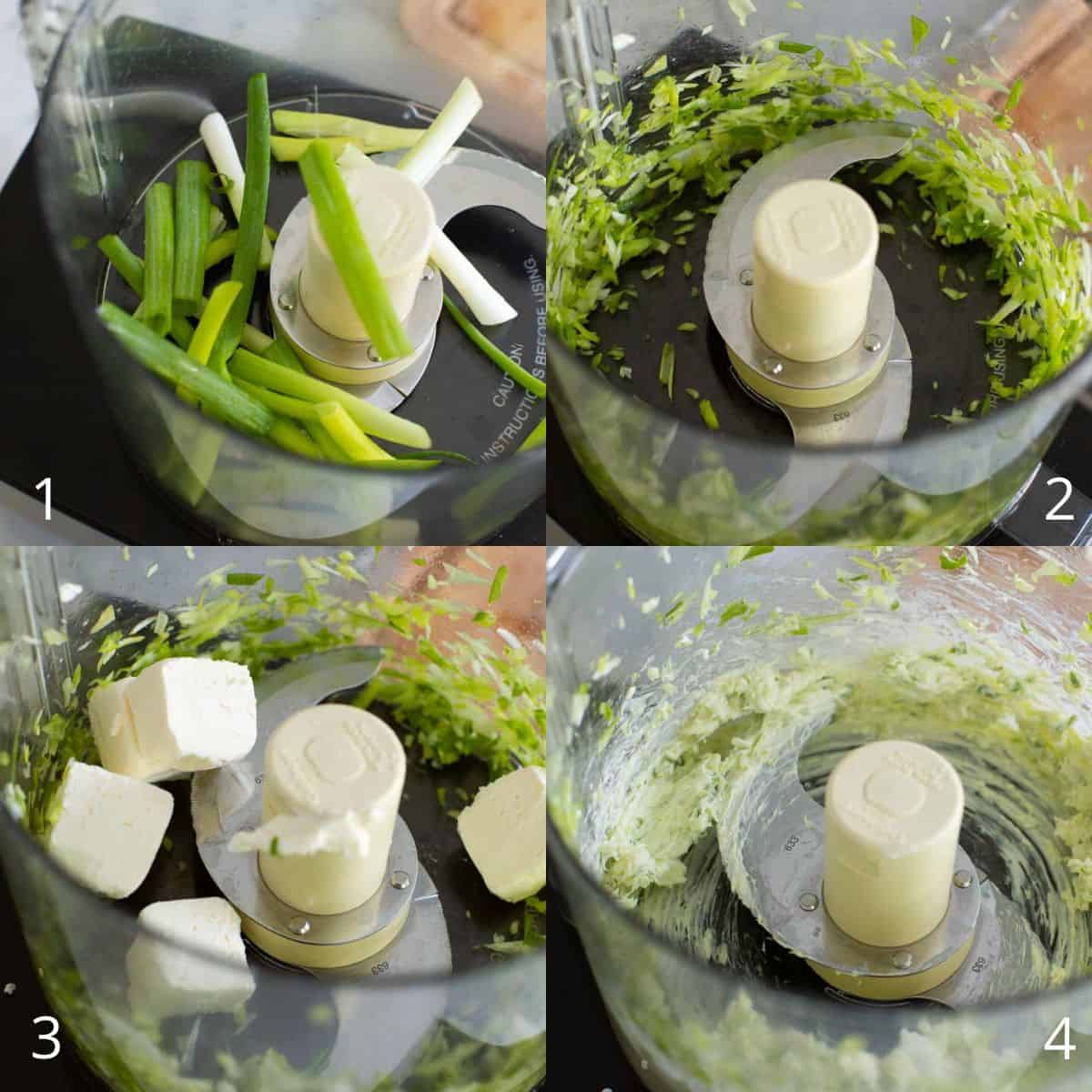 Cut the softened cream cheese into cubes and add it to the food processor bowl. Pulse the blade until the cheese and green onions are fully combined.
Add the Dijon mustard, Worcestershire sauce, seasoned salt, pepper, paprika, and cayenne to the food processor and pulse it into the mixture.
Cut the bricks of cheddar cheese in half and then grate them into shreds right into the food processor bowl: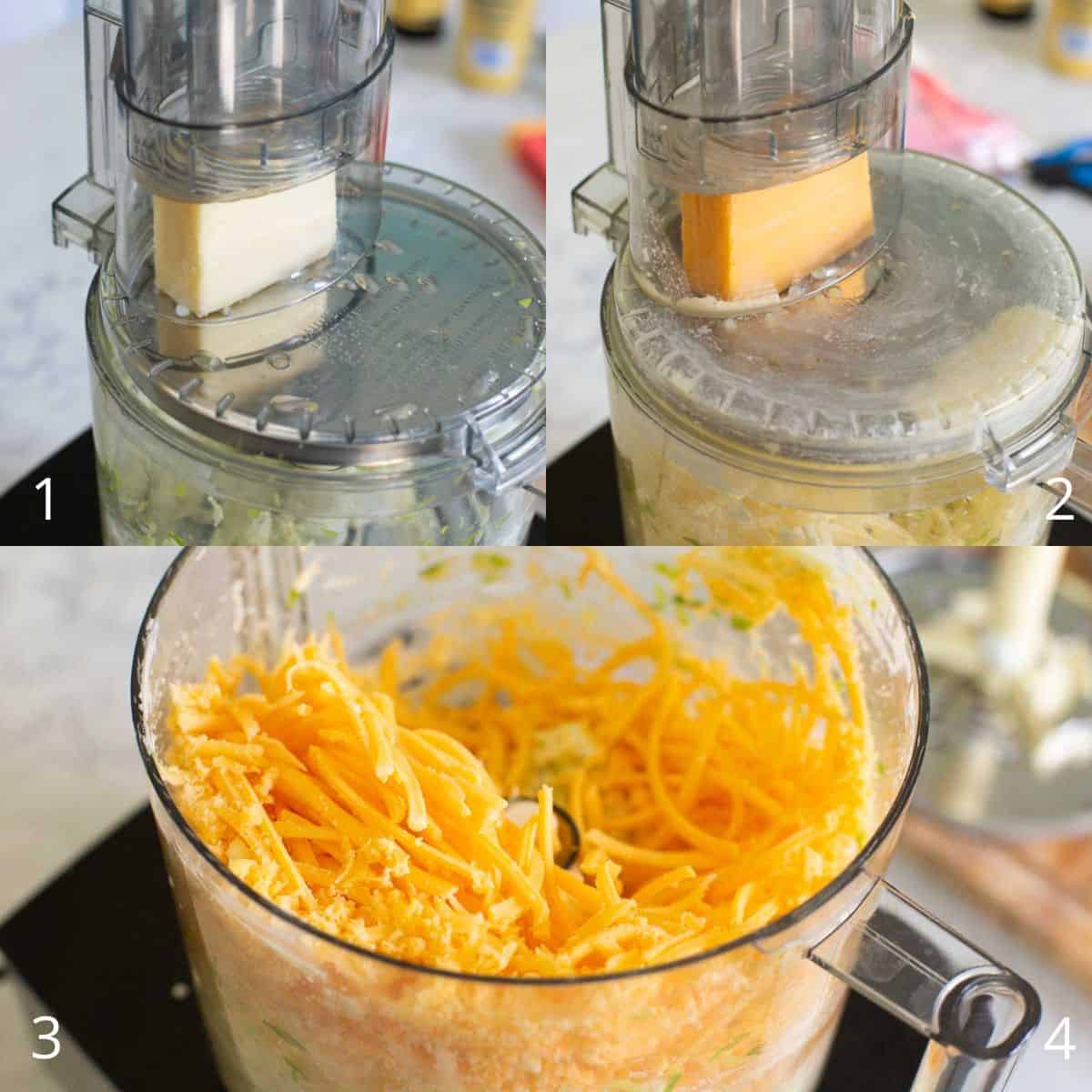 Scrape all the shredded cheese and the seasoned green onion-cream cheese mixture into a medium sized mixing bowl to finish the pimento cheese.
Add the drained, diced pimentos to the bowl along with the mayonnaise and honey and stir with a spatula to combine: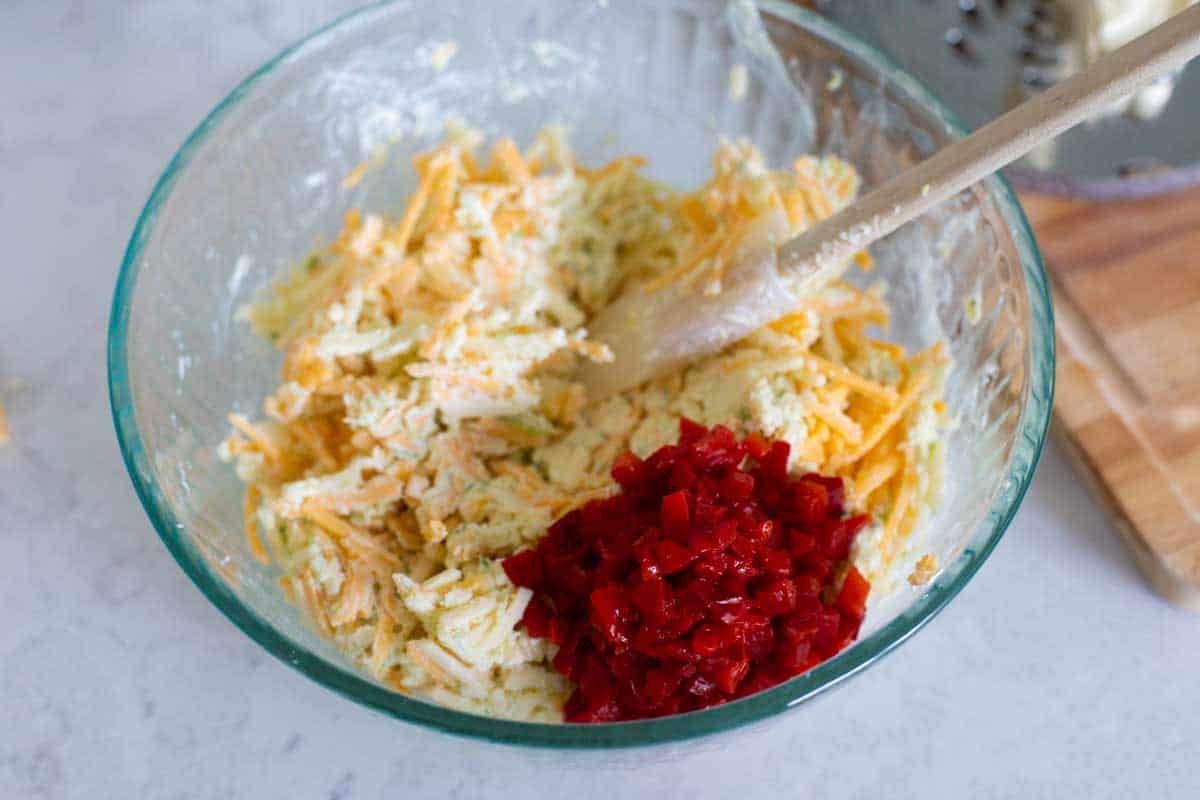 Cover and chill for 2 hours before serving to let the flavors mingle.
However, pimento cheese tastes best at room temperature, so let it sit out for 20 minutes before serving.
How to Use Pimento Cheese Spread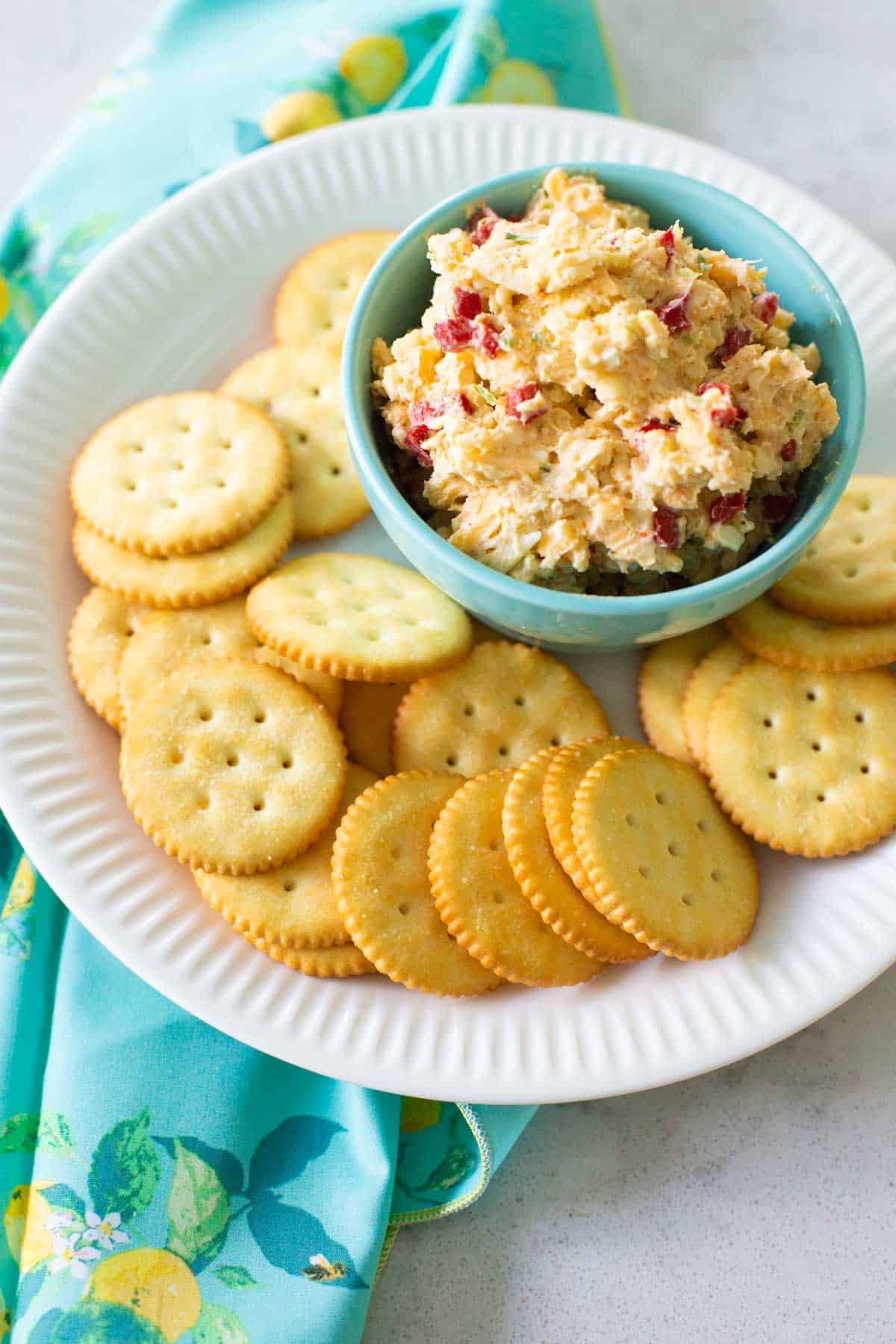 This thick pimento cheese spread is perfect for serving as an appetizer with butter crackers alongside one of my other favorite Kentucky Derby party recipes.
Simply use a knife to scoop a dollop and spread it on the cracker and enjoy!
You could also use this thick cheese spread for the base of an amazing pimento cheese sandwich. It will hold up perfectly as a grilled cheese and melt to a lovely consistency.
You could add thick cut fresh tomatoes to the pimento cheese sandwich or even a couple slices of my favorite peppered bacon.
Pimento cheese also makes an incredible topping for fried green tomatoes.
Variations
My pimento cheese recipe is a little bit on the spicy side of things. It has just a touch of sweetness from the honey.
You could mix things up a bit and try one of these fun variations:
Mild Pimento Cheese: Use a mild cheddar instead of sharp. Skip the cayenne pepper.
Sweet Pimento Cheese: Use a sweet honey instead of Mike's Hot Honey and add up to 1 tablespoon. This may thin the pimento cheese out a bit, too.
Roasted Red Pepper Cheese: If you can't find pimentos, you could mince a few jarred roasted red peppers instead. This will add a bit of sweetness to the final dip.
More Southern Recipes
📖 Recipe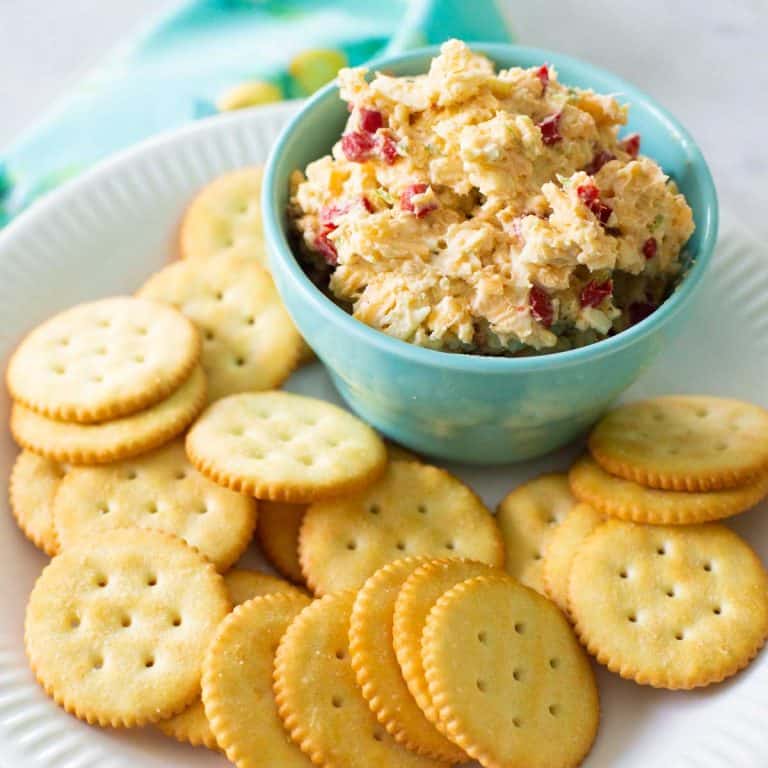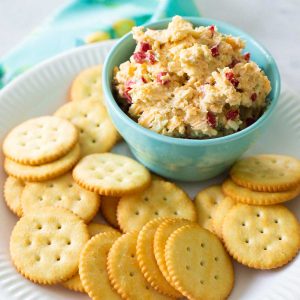 Homemade Pimento Cheese
This delicious classic pimento cheese spread is perfect for serving alongside a platter of buttery crackers or using as the base for a pimento cheese sandwich. Just a touch spicy with a little dash of sweetness, it is the perfect texture.
Ingredients
4

green onions

4

oz

cream cheese

softened

1

tablespoon

Dijon mustard

1

tablespoon

Worcestershire sauce

½

teaspoon

seasoned salt

½

teaspoon

pepper

½

teaspoon

paprika

¼

teaspoon

cayenne

8

oz

sharp cheddar cheese

8

oz

white cheddar cheese

1

(4 oz) jar pimentos, drained

¼

cup

Duke's mayonnaise

1

teaspoon

Mike's Hot Honey
Instructions
Trim both ends of the green onions and cut them into 3-inch long sections. Add them to the bowl of a food processor fitted with the blade attachment. Pulse 5 times or until the onions are minced.

Cut the cream cheese into large chunks and add them to the food processor. Pulse 5 - 10 times or until the cheese is incorporated with the onions and smooth.

Add the mustard, Worcestershire sauce, seasoned salt, pepper, paprika, and cayenne to the food processor and pulse until incorporated with the cream cheese mixture.

Scrape the mixture into a medium sized mixing bowl. Swap the blade attachment for a grating attachment and close the food processor.

Cut the bricks of cheddar cheeses in half. Working one half at a time, grate the cheese in the food processor. Add the grated cheese to the mixing bowl. Drain the pimentos and add them to the mixing bowl along with the mayonnaise and honey.

Use a spatula to stir all the ingredients together. The mixture will be very thick to start but should loosen up a bit as the cheese breaks up and the pimentos add moisture.
Recipe Notes
A NOTE ON TEXTURE:
This is a very thick pimento cheese meant for topping something warm, like fried green tomatoes or using in a grilled pimento cheese sandwich, where the cheese would melt and soften a bit in use.
If you want to serve this as a softer dip for crackers or tortilla chips, you may want to add more mayonnaise, 1 tablespoon at a time, until the desired consistency is reached. Be sure to taste and adjust seasonings as needed.
Save This Recipe to Your Recipe Box
Find this delicious recipe next time you visit by saving it to your very own recipe box on my site. All your favorites stored in one easy place!