Looking for Kentucky Derby Party ideas? From mix your own mint julep bars to easy southern themed appetizer recipes, everything you need to host the best Kentucky Derby Party is right here.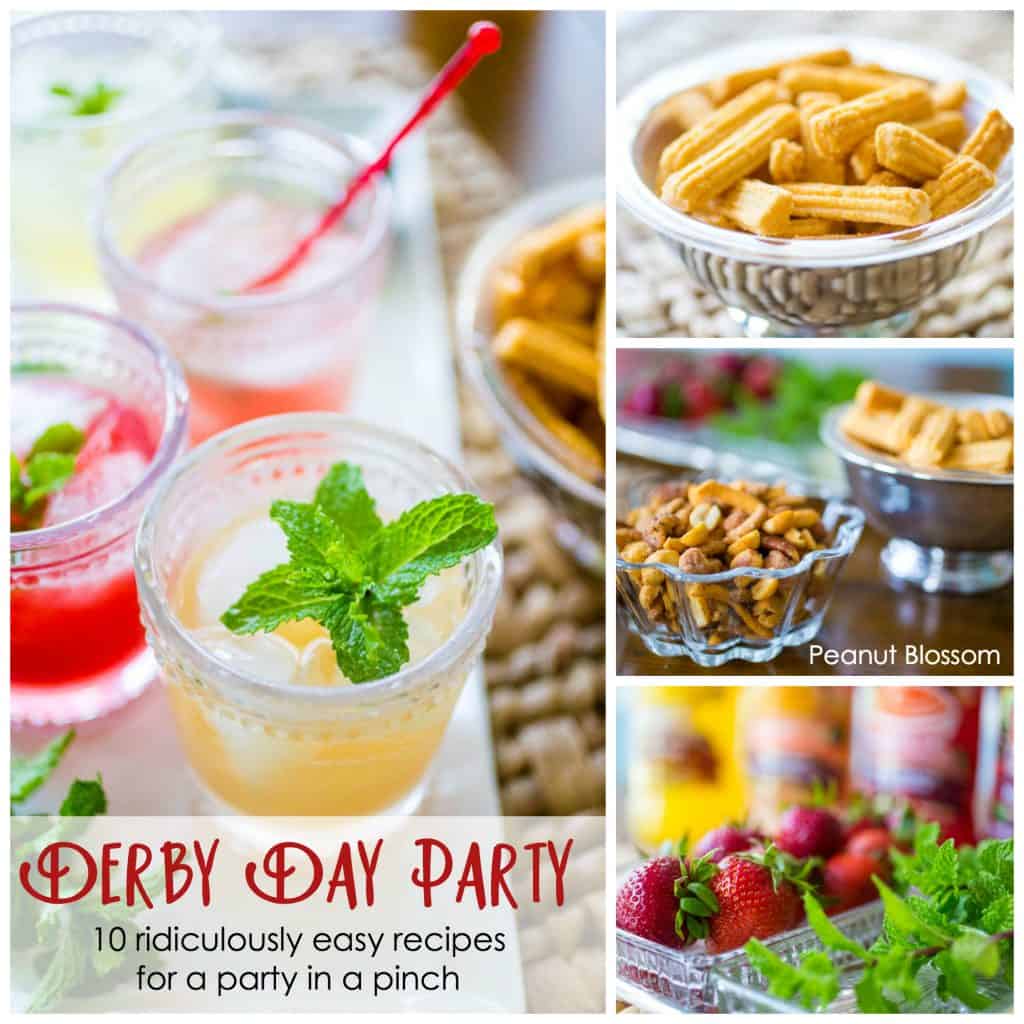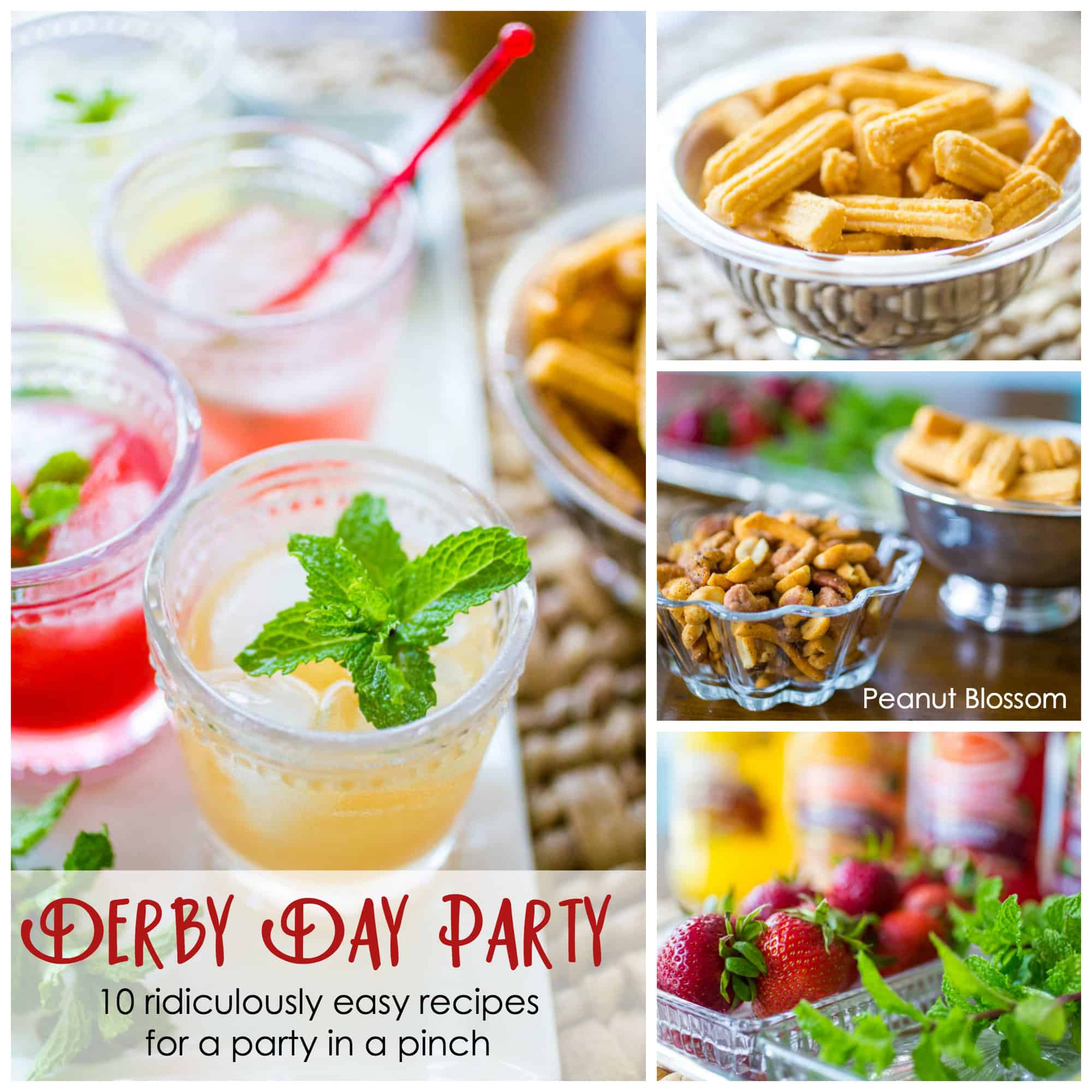 Are you a Kentucky Derby fan? I have always been intrigued by all the traditions that surround this annual spring event--the amazing hats, the decorations, the parties, the mint juleps.
A friend of mine that lives in Kentucky made a funny comment about how you can't possibly claim to be a "glue gun expert" until you've lived in Louisville during Derby season.
She's been spending hours crafting unique hats for her and her adorable girls to wear to countless Derby parties over the course of the Derby.
With all that action, I can imagine that by the time the actual party day arrives, a Kentucky Derby hostess is looking for all the shortcuts she can get.
These tips are perfect for hosting a last-minute Derby party no matter where you are or for any southern-themed festivities all year round!
Jump to:
What is a Kentucky Derby Party?
A Kentucky Derby party is a gathering to celebrate the annual Kentucky Derby horse race which is held on the first Saturday in May.
The Derby is a cultural event known for traditional southern cuisine, signature cocktails, and festive attire.
Party guests often participate in betting pools and watch the race together but even without that, it is a fantastic excuse to get your friends together for some fun.
How to Decorate for a Derby Party
If you want to make your Kentucky Derby party look more festive and feel more Derby-themed, there are several fun options even on a smaller budget:
1. Use Fine China or Polished Silver Platters
Now is the time to bring out the good stuff! For this elegant event, even if you're just hosting at home, use the prettiest platters you've got.
No wedding china? No problem, you can find plenty of options on Facebook marketplace or a local antiques shop on even the smallest budget.
The perfect china to use for a Derby party? Try searching for Royal Albert Old Country Roses!
2. Decorate with Roses
The Kentucky Derby is also known as the "Run for the Roses" because the winning horse is draped in a garland of red roses.
Incorporating roses into your party decor, such as with floral arrangements or garlands or the china I just mentioned above, can help create a beautiful and authentic look.
3. Use Traditional Kentucky Derby Colors
The official colors of the Kentucky Derby are black, white, and gold.
Using these colors in your party decor, such as with balloons, streamers, or tablecloths, can help create a memorable and festive look.
4. Display Horseshoes
Horseshoes are a classic symbol of horse racing and can be used as a decorative element for your party.
You can find horseshoe-shaped decorations or even use these horseshoes as place card holders or table centerpieces.
5. Display Horse Racing Memorabilia
If you or your guests are fans of horse racing, consider displaying horse racing memorabilia such as old tickets, programs, or photos of past Kentucky Derby winners.
How to Set Up a Mint Julep Bar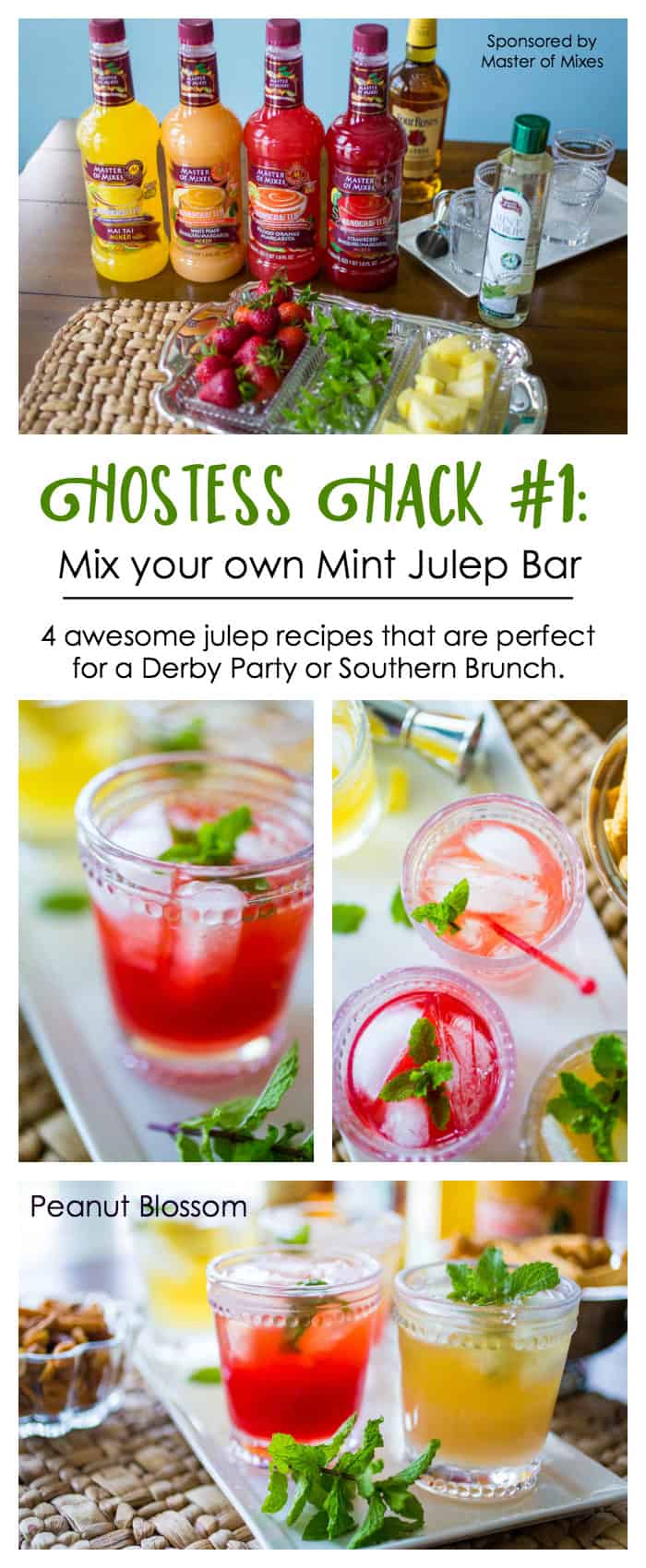 The hero of the event! You can't have a Kentucky Derby party without a mint julep! Blasphemy!
But mint and bourbon straight up may not be everyone's cup of tea.
How much more fun would it be to set up a "Mix Your Own" bar with 4 flavor combos?!
Since moving to the south, Handyman Tim has taken to learning more about the local bourbons. For me, a traditional mint julep is just way too strong.
Instead, I selected a handful of fruity cocktail mixers to create blends that would be more appealing to the bourbon lovers like my husband but could be lightened up a bit for the ladies in the crowd.
4 Amazing Mint Julep Flavors
Blood Orange Mint Julep: My absolute favorite one! I think I found my summer drink.
Pineapple Twist Mint Julep: Tim's favorite.
Sweet Strawberry Mint Julep: I enjoyed this one tremendously but it was far too sweet for Tim.
Southern Peach Mint Julep: I couldn't host a southern party without trying a peach twist. Though it was tasty, I'd sip all day long on that Blood Orange one instead.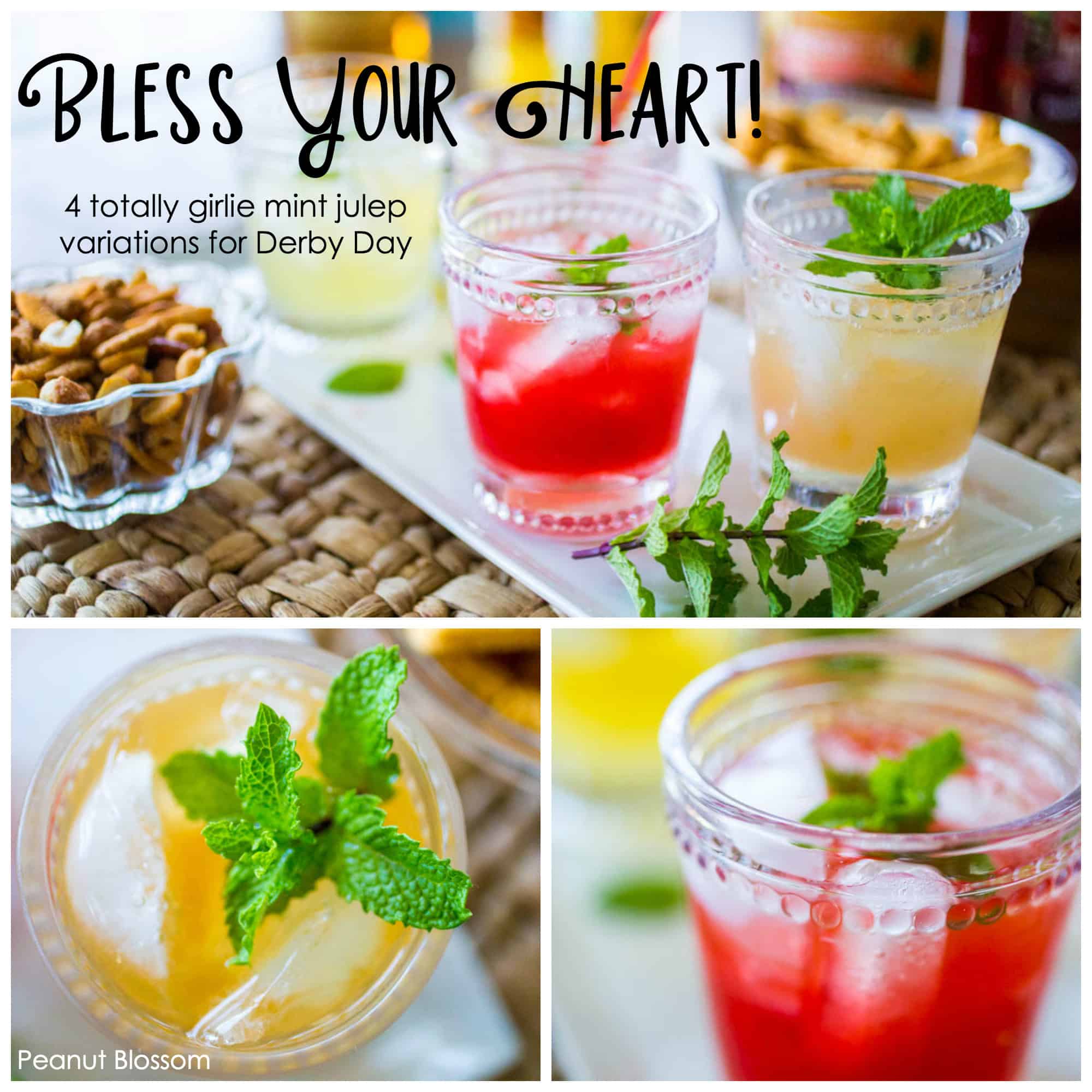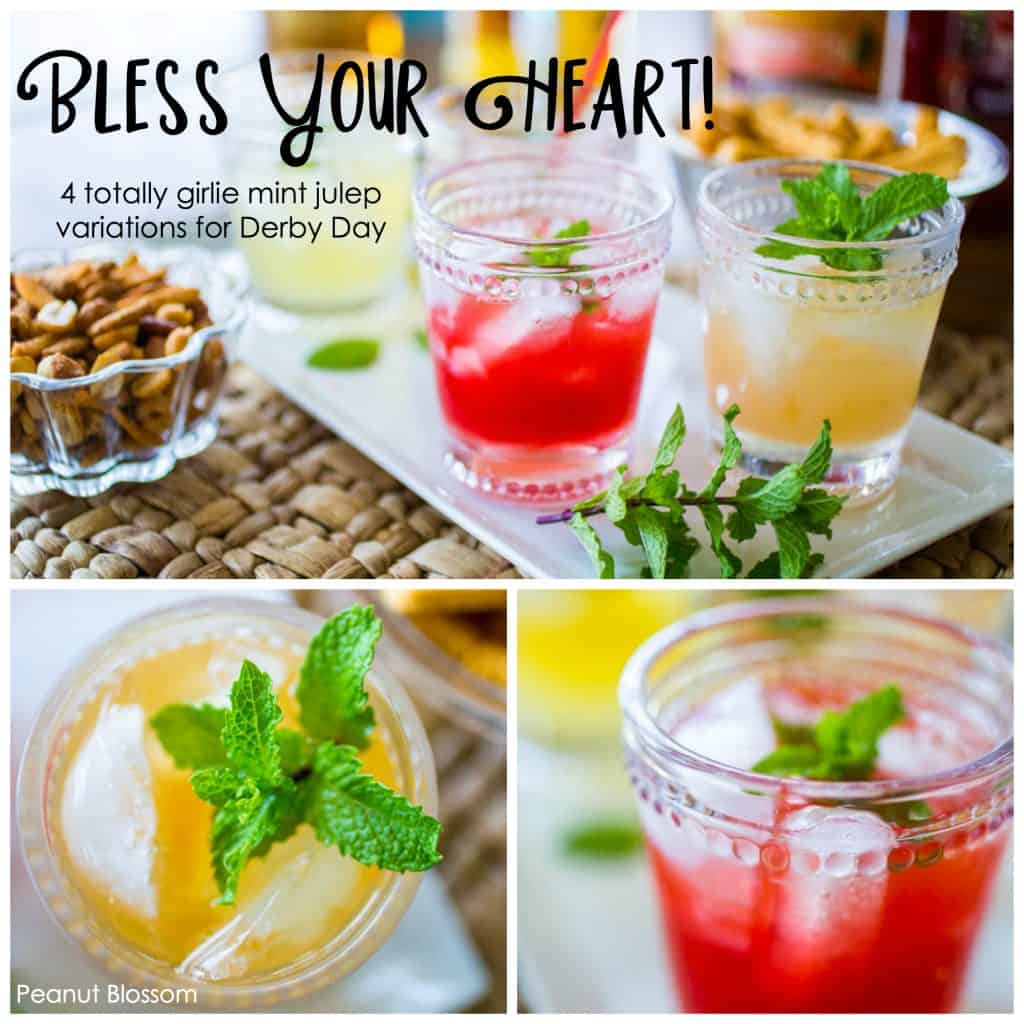 A simple mint syrup is the base of all 4 recipes. To that you add 2 ounces of your preferred fruit mixer and top with a pour of bourbon.
For a mint julep with a more authentic (strong!) ratio:
2 oz fruit mix + .5 oz mint syrup + 2 oz bourbon + ice
For a mint julep with a lighter more refreshing (girlie!) taste:
2 oz fruit mix + .5 oz mint syrup + .75 oz bourbon + ice
I set out bottles of Blood Orange Margarita Mixer, Mai Tai Mixer (for the pineapple version), Strawberry Margarita Mixer, and Peach Margarita Mixer alongside the mint syrup and a bottle of bourbon.
Letting your guests mix their own allows them to make them as light or strong as they want and everyone can have fun sampling the different flavors. It would be so fun to have a taste test vote at the end to see which one was most popular!
Though the prepared mint syrup gives the mint julep all the minty flavor it needs, I set out some fresh mint for garnish along with fresh strawberries and cut up pineapple.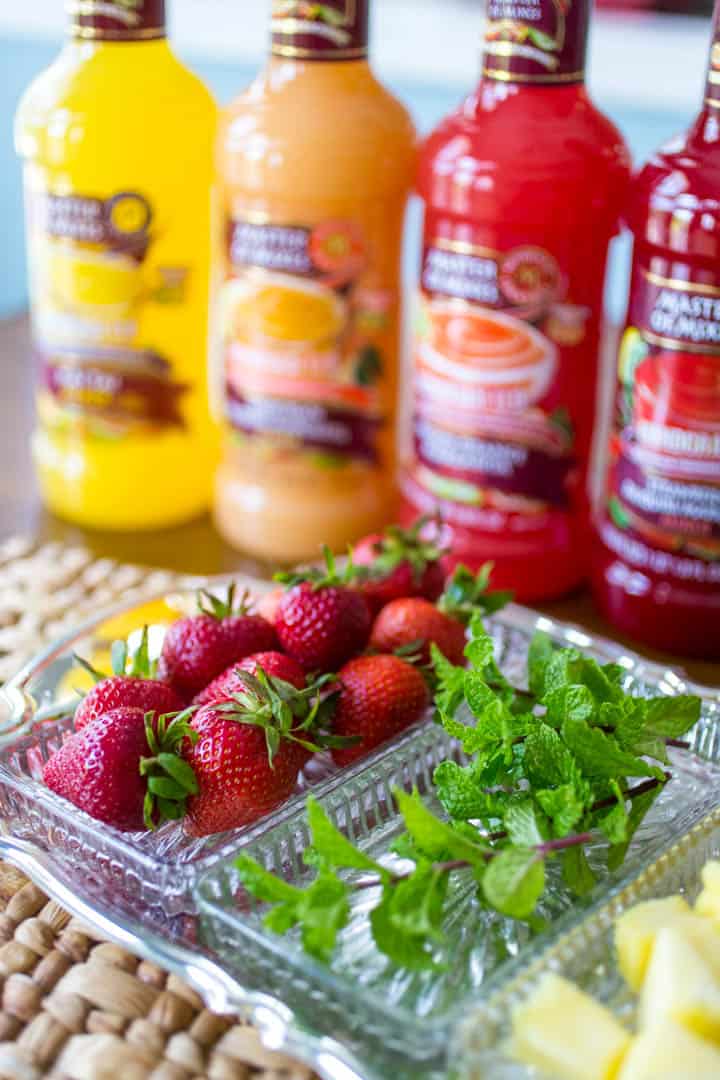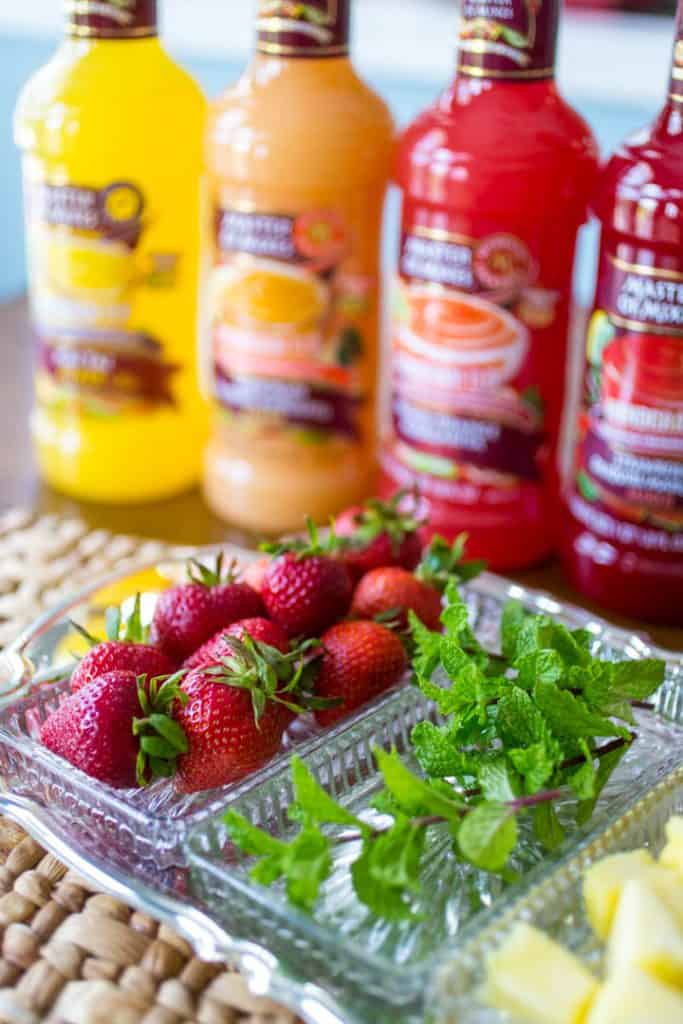 Easy Kentucky Derby Party Menu
When you're planning out your Derby party menu, keep your focus on simple southern recipes to keep with your party theme.
I've gathered together my very favorite Kentucky Derby appetizers and Kentucky Derby desserts for you to add to the menu alongside the mint julep bar mentioned above.
That said, some of the easiest party foods can be even picked up at your local grocery store and presented in minutes on your pretty platters for the party.
Some of my favorites include:
Cheese Straws
This classic spicy southern munchie can be bought right in the cracker aisle of most gourmet grocery stores. They are the perfect savory complement to a sweet cocktail.
Sweet and Spicy Nut Mix
The south is known for peanuts and pecans. Look for a fancy nut mix like the sweet and spicy one I found at our grocery store. Otherwise, you could easily make up a batch of these spiced pecans long before the party starts. They keep well for weeks.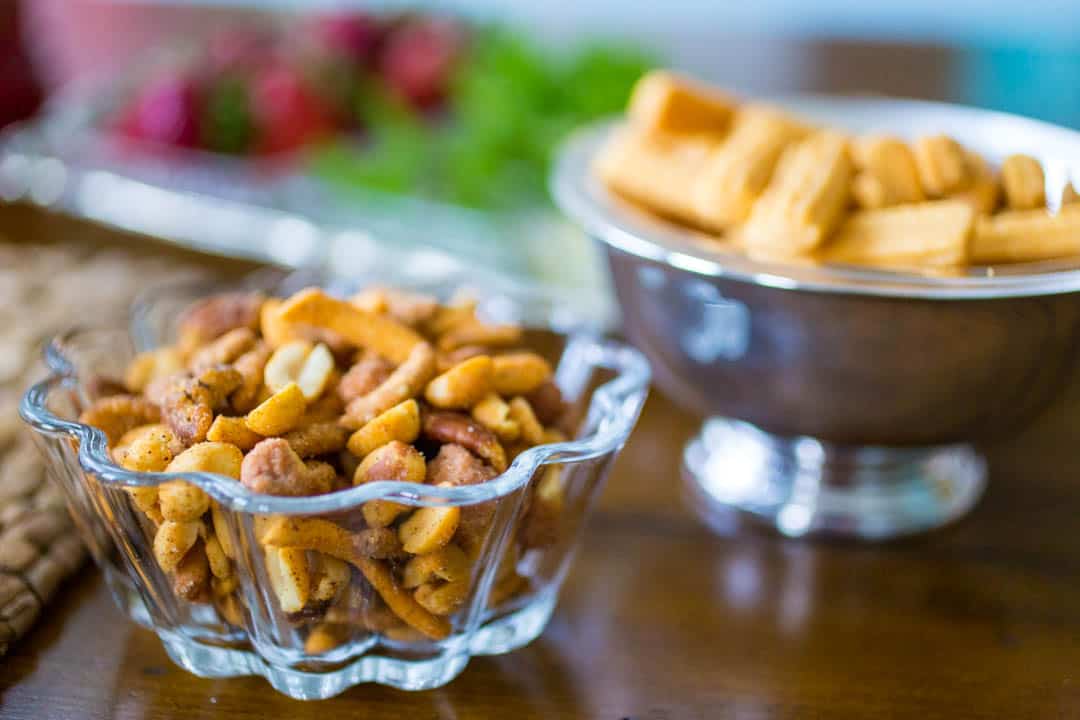 Pimiento Cheese with Crackers
This was definitely an acquired taste for me when we moved to the south but now I love pimiento cheese, especially on a hamburger.
If you can't find a prepared carton of it at your grocery store, here is my super easy pimento cheese spread recipe to mix together on your own.
Skewer a Cheese Cube Plus Grape
For the guests who may shy away from the Pimiento cheese option, pull together a simple but fancy finger food.
Just grab a container of cheese cubes from the store and skewer them up with a red or green grape.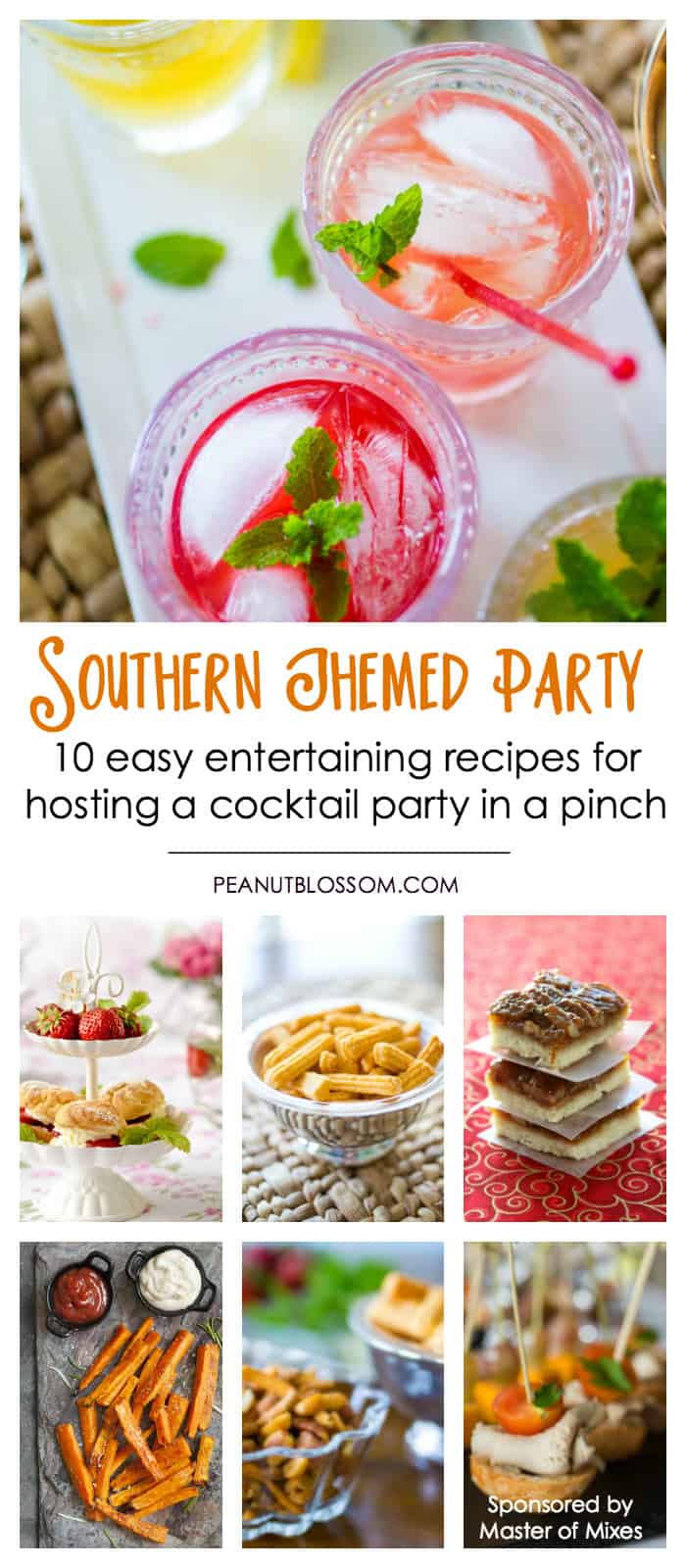 Elegant Finger Sandwiches
You could make many from this list of 30 delicious finger sandwich recipes using items you probably have in the pantry right now. It's all about the presentation and these are elegant and easy.
Baked Sweet Potato Fries with Dipping Sauces
Grab a bag of fancy sweet potato fries from the freezer section and then go browsing in the condiments aisle for 2 or 3 dips to go with it. Maybe a Southern BBQ sauce and a bottle of spicy mayo? YUM.
Peach Pizza
Make a gourmet pizza with the South's favorite fruit with one of the five delicious variations in this peach pizza recipe. Then cut the pizza into smaller squares as an appetizer. If you use a homemade pizza dough, you could roll it out to a square shaped pizza that would make it even easier to cut.
Pulled Pork on Hawaiian Roll
Pulled pork is a southern staple. Grab a container of prepared bbq pork from the refrigerator section of your store and serve it up slider-style on a mini Hawaiian bun. Bonus points if you take the time to set out some fresh coleslaw to go with it.
Easy Strawberry Shortcakes
Grab a container of whipped cream, fresh strawberries, and store bought biscuits. Set out the fixin's for your guests to make their own mini strawberry shortcakes. No one can resist this sweet ending.
Pecan Pie Bars
I found amazing prepared pecan bars in our grocery store bakery department. Buy just a few of the big ones but then cut them up petit four style (bite-sized) and place on a pretty platter to help stretch them further.
If you have the time, making a batch of homemade pecan bars is super easy and lets you cut them to just the right size.