Looking for an easy fall dessert to bake with the kids? These delicious shortbread pecan pie bars have a crispy cookie crust, a gooey caramel filling, and oodles of salty pecans on top. Bake the crust separately so it gets nice and firm and stands up to the mountain of yummy pecan pie filling on top.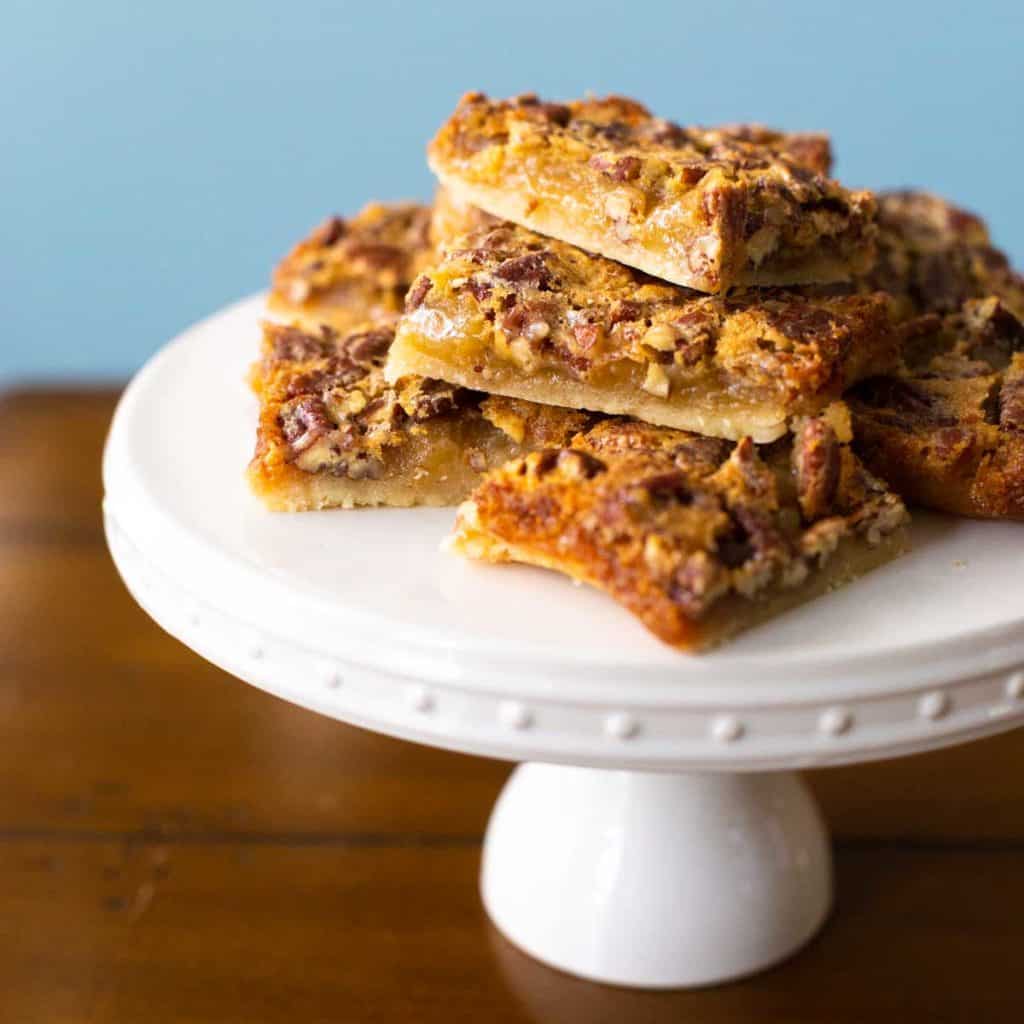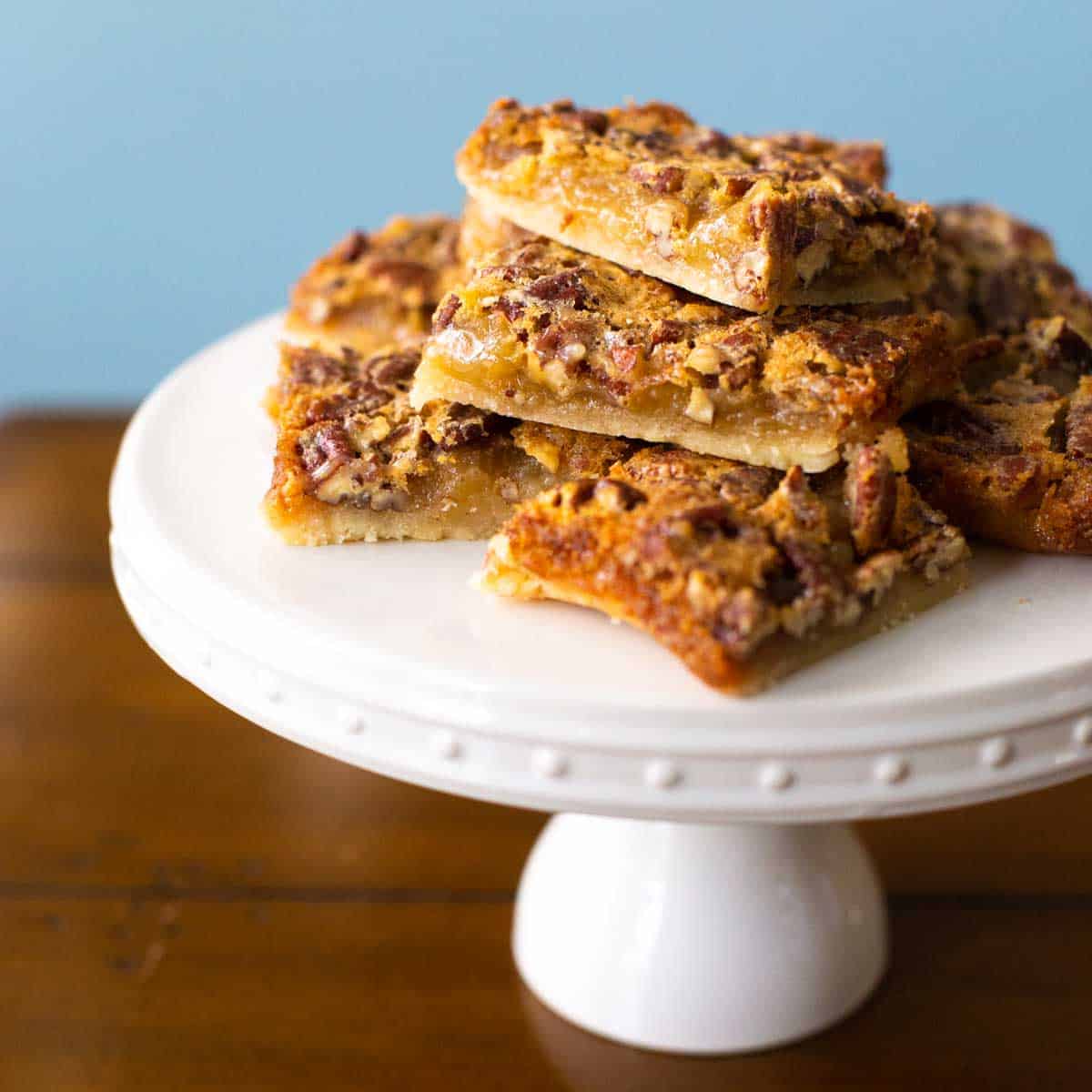 Quick, you can only choose one: Is it pumpkin pie or pecan pie??
I'm a pecan pie girl, hands down. I love that ooey-gooey filling with salty pecans topped with whipped cream for my Thanksgiving dessert because I'm all about the texture.
Even though my kids are definitely Team Pumpkin Pie for the holiday, they've recently come around to the joys of pecan pie thanks to these delicious shortbread crust pecan bars.
This easy recipe makes just enough dessert bars to enjoy as a family for a couple days without being too much. If you want to get your Thanksgiving treat fix scratched now, this is the baking idea you need!
Jump to:
Ingredients
This easy bar recipe has a short list of ingredients, you likely have most of this in your pantry right now!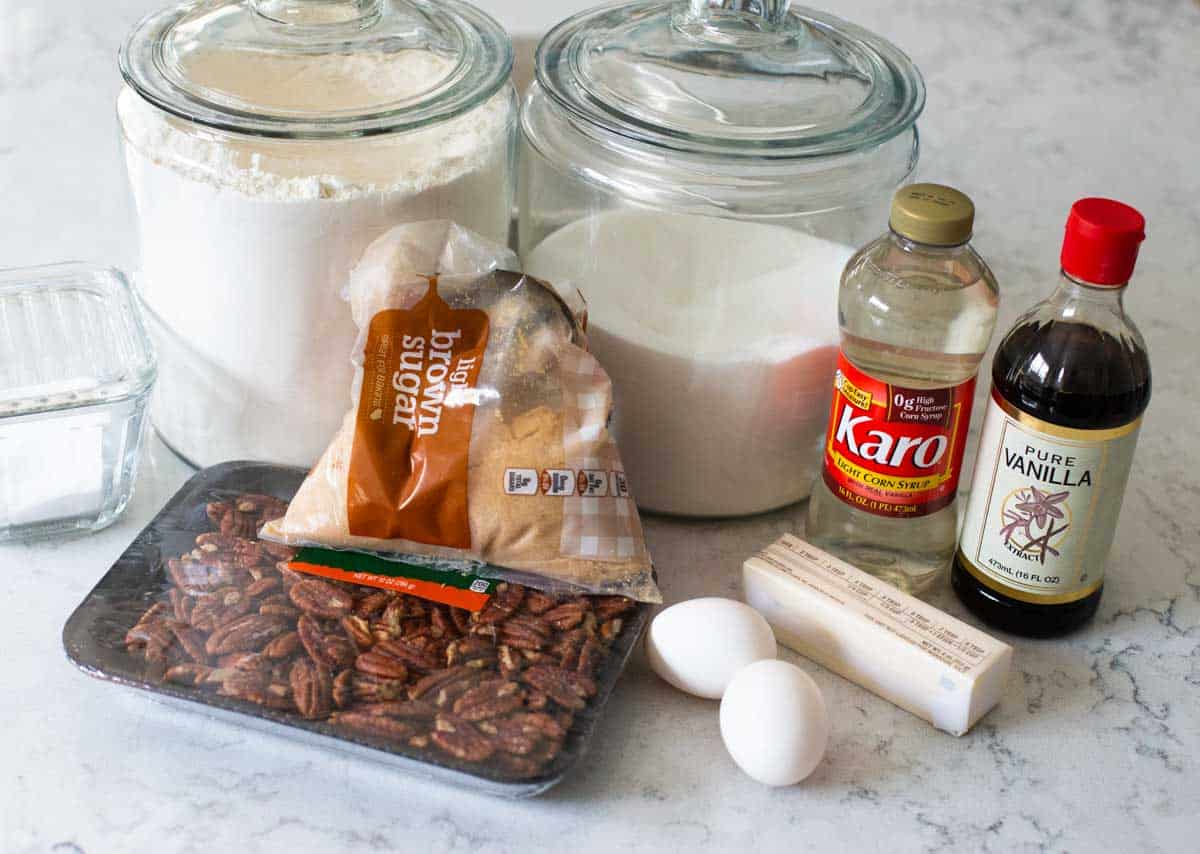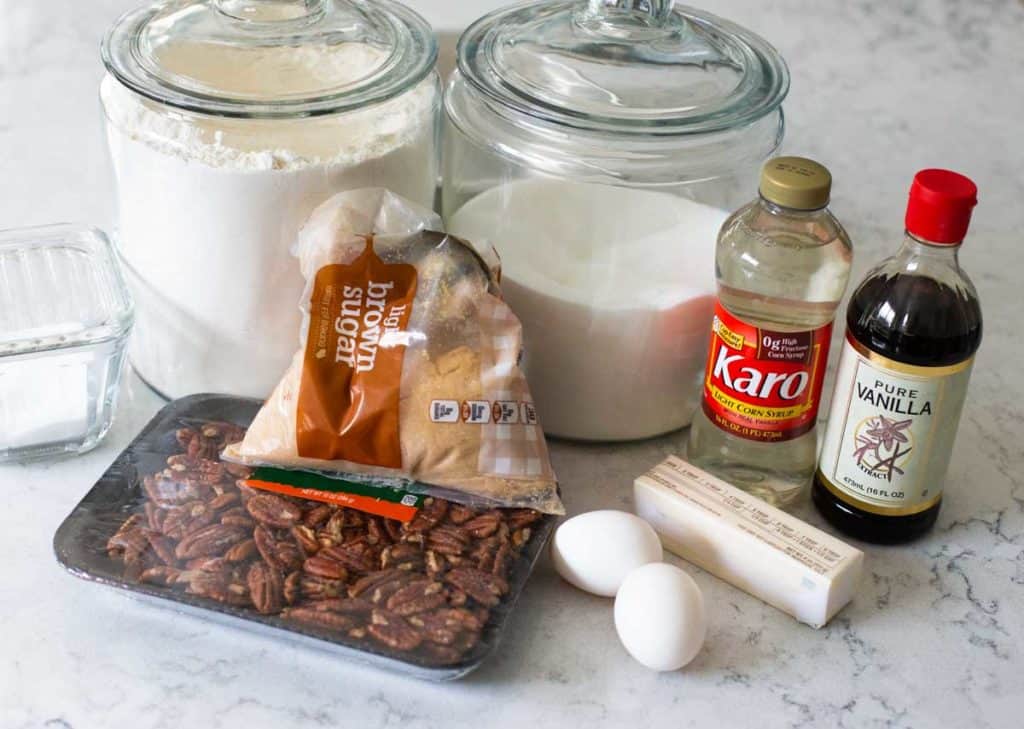 Flour
Sugar & Brown Sugar
Karo Syrup
Eggs
Butter
Vanilla
Pecan halves
See recipe card for quantities.
Instructions
First, assemble and bake the shortbread crust so that it has a nice crispy texture.
Preheat the oven to 325°F and line an 8x8-inch baking pan with parchment paper.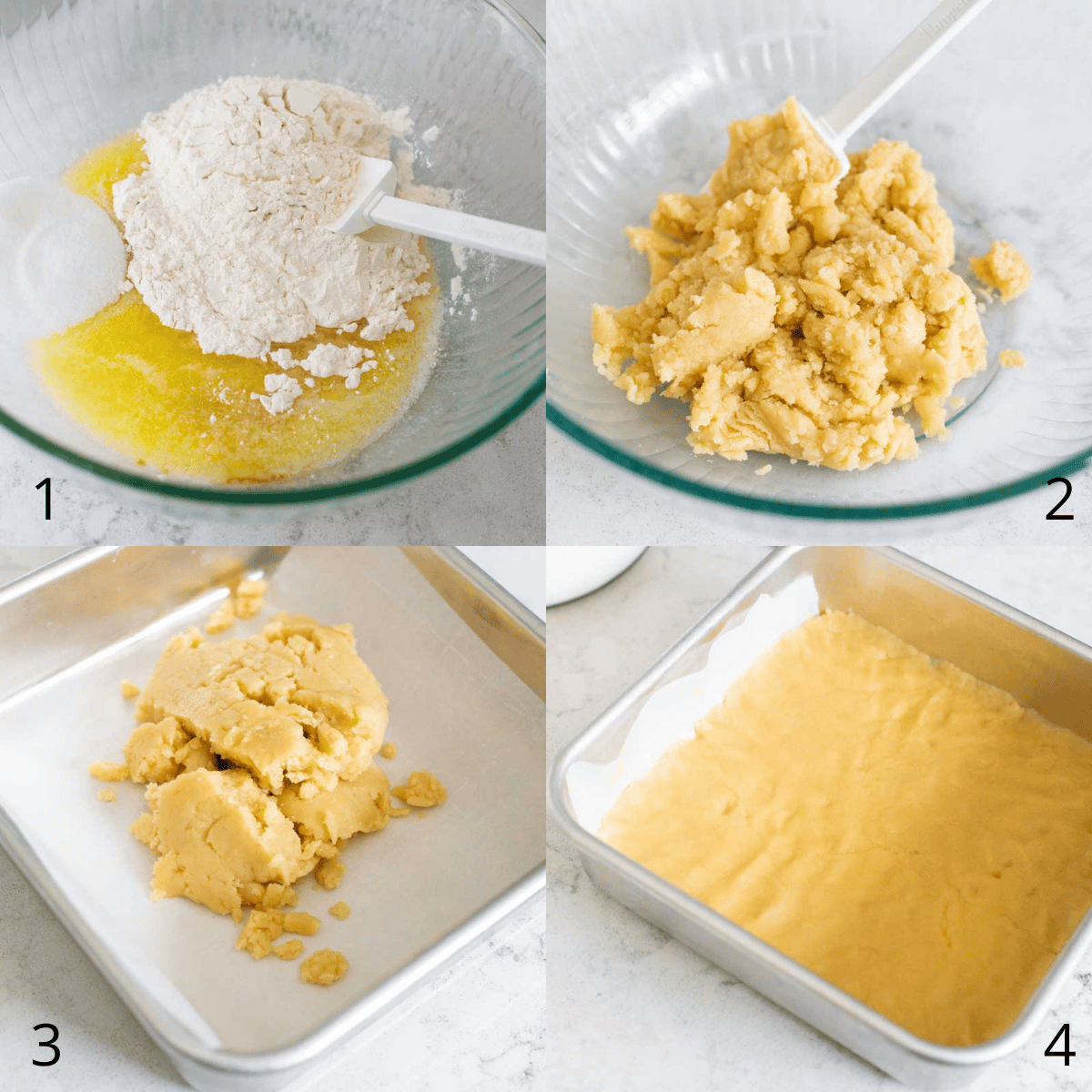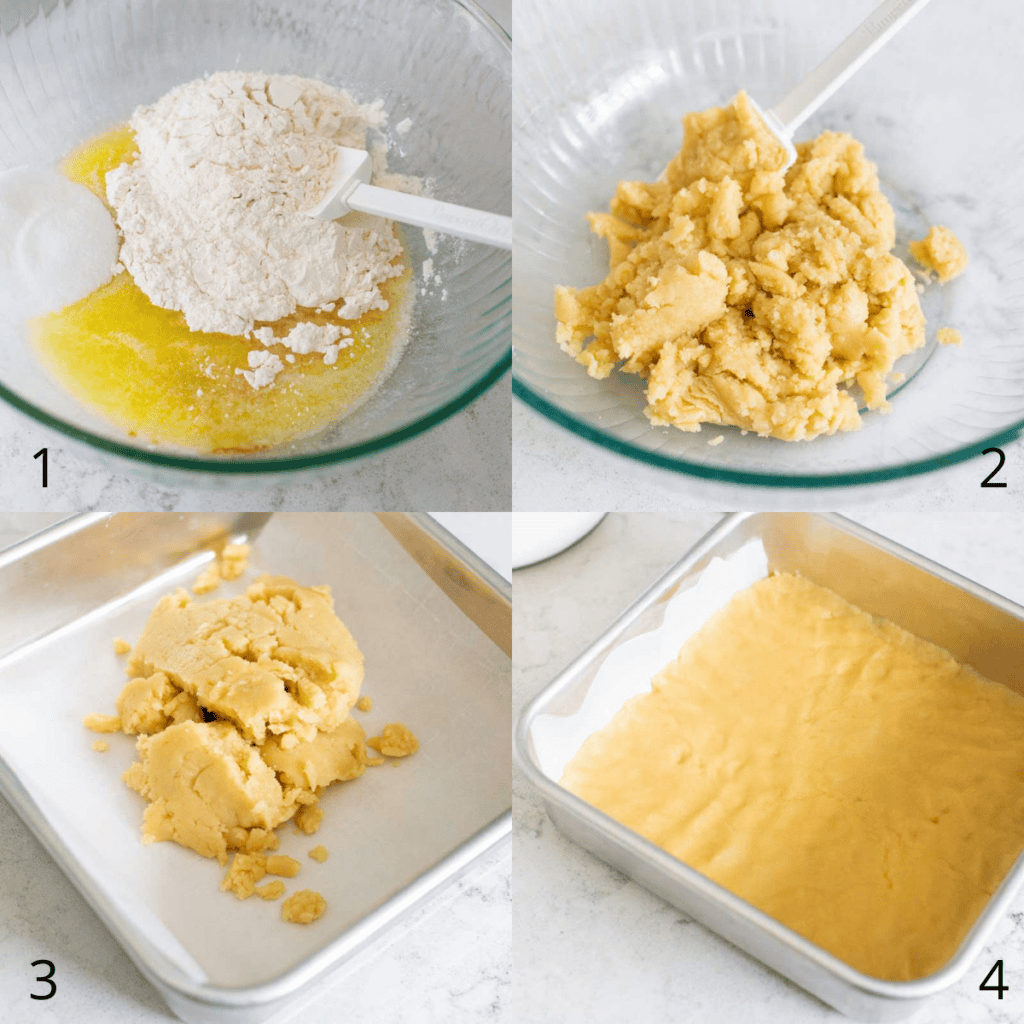 Add the shortbread ingredients to a medium-sized mixing bowl: flour, melted butter, sugar, and vanilla.
Stir them together until a thick dough forms. Make sure you haven't missed any dry pockets of flour.
Add the dough to the baking pan and use your fingers to press it firmly into the bottom from corner to corner and side to side.
It may take a little wrangling to keep the parchment in place while pressing the dough but this will help ensure you can get the bars neatly out of the pan for serving later.
Bake the crust alone for 10 - 15 minutes or until it develops a lightly toasted color.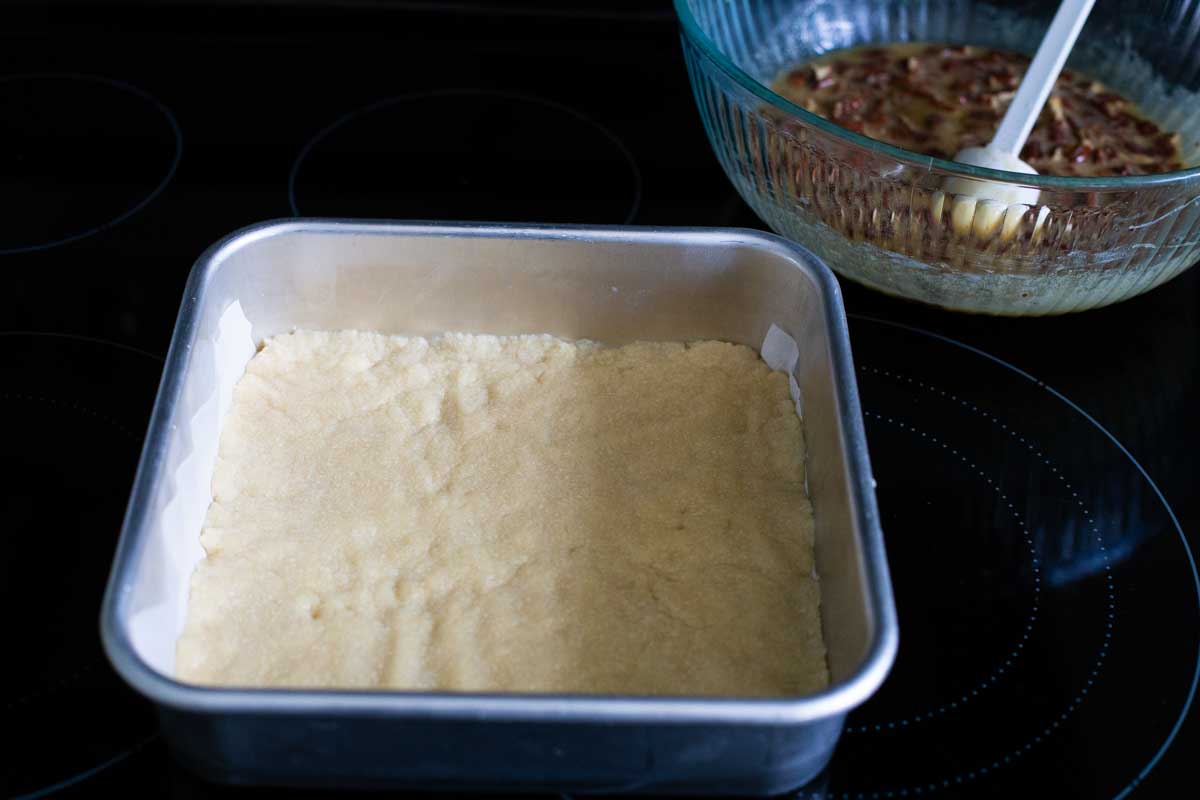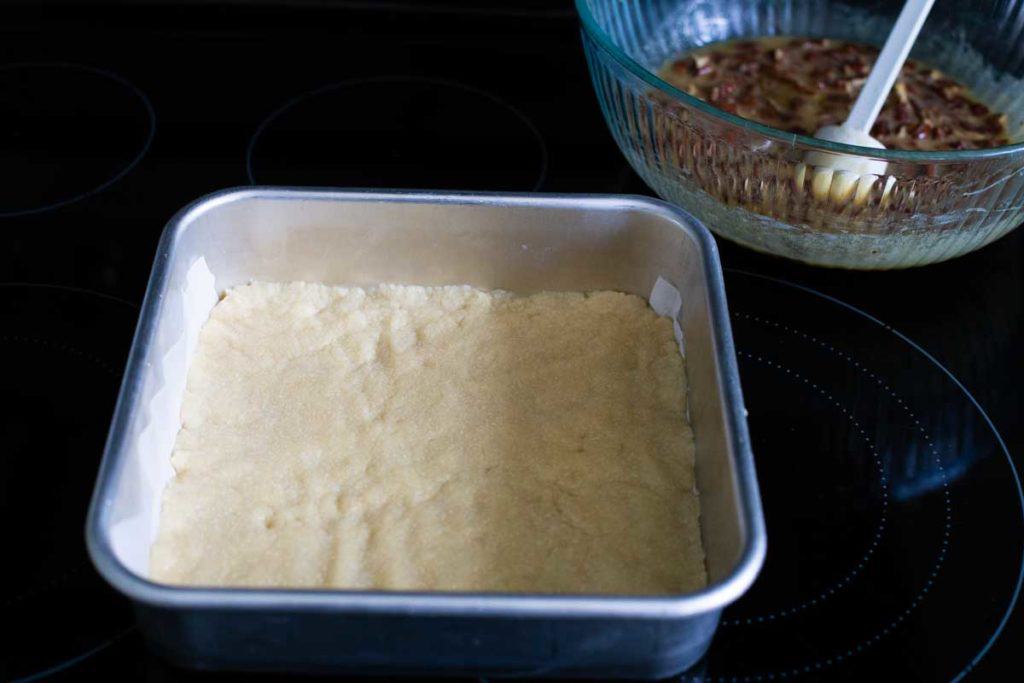 NOTE: I slightly under-baked my crust because I was in a rush. It's worth being patient, your crust should be just a little darker than what is shown in that photo.
While the crust is baking, assemble the pecan pie filling: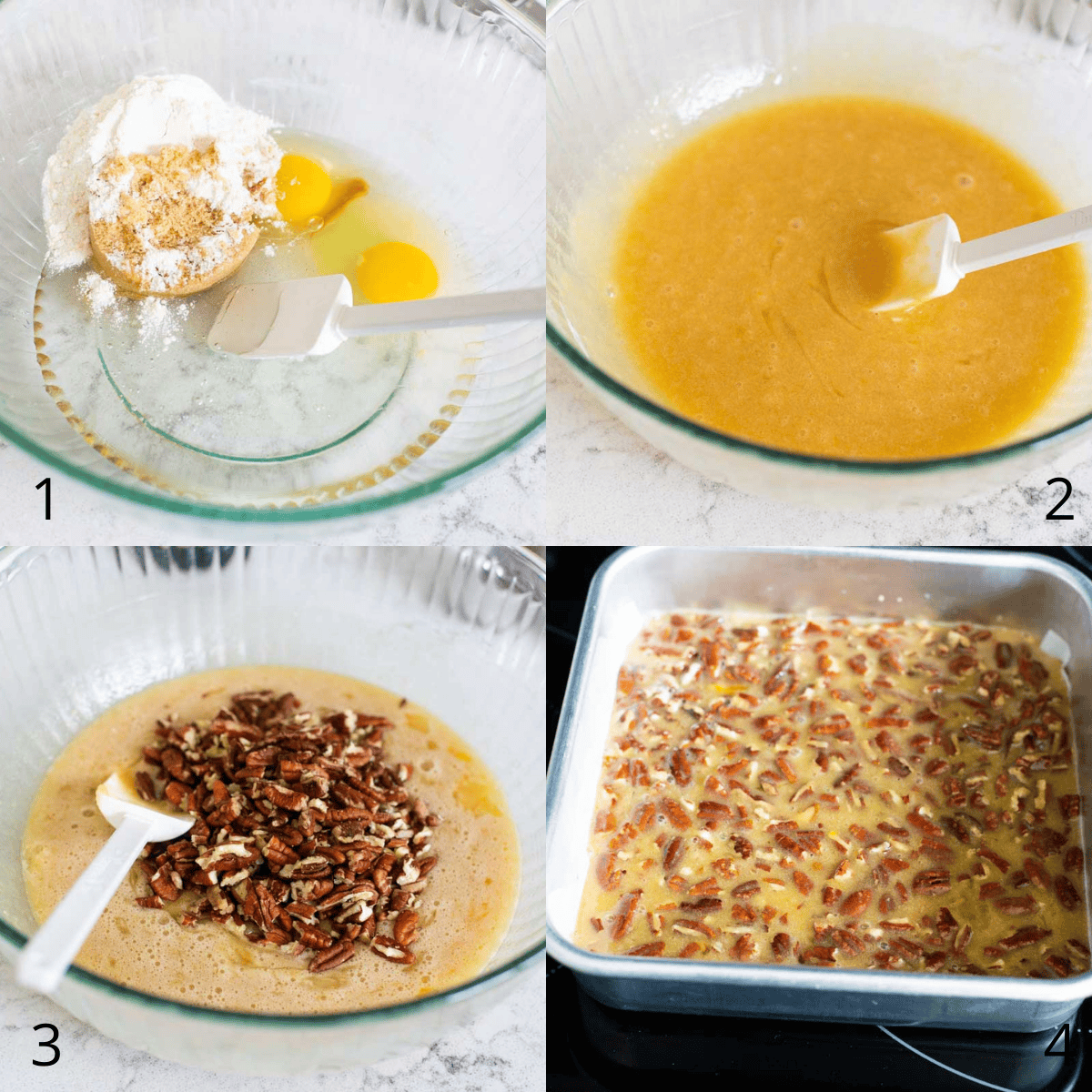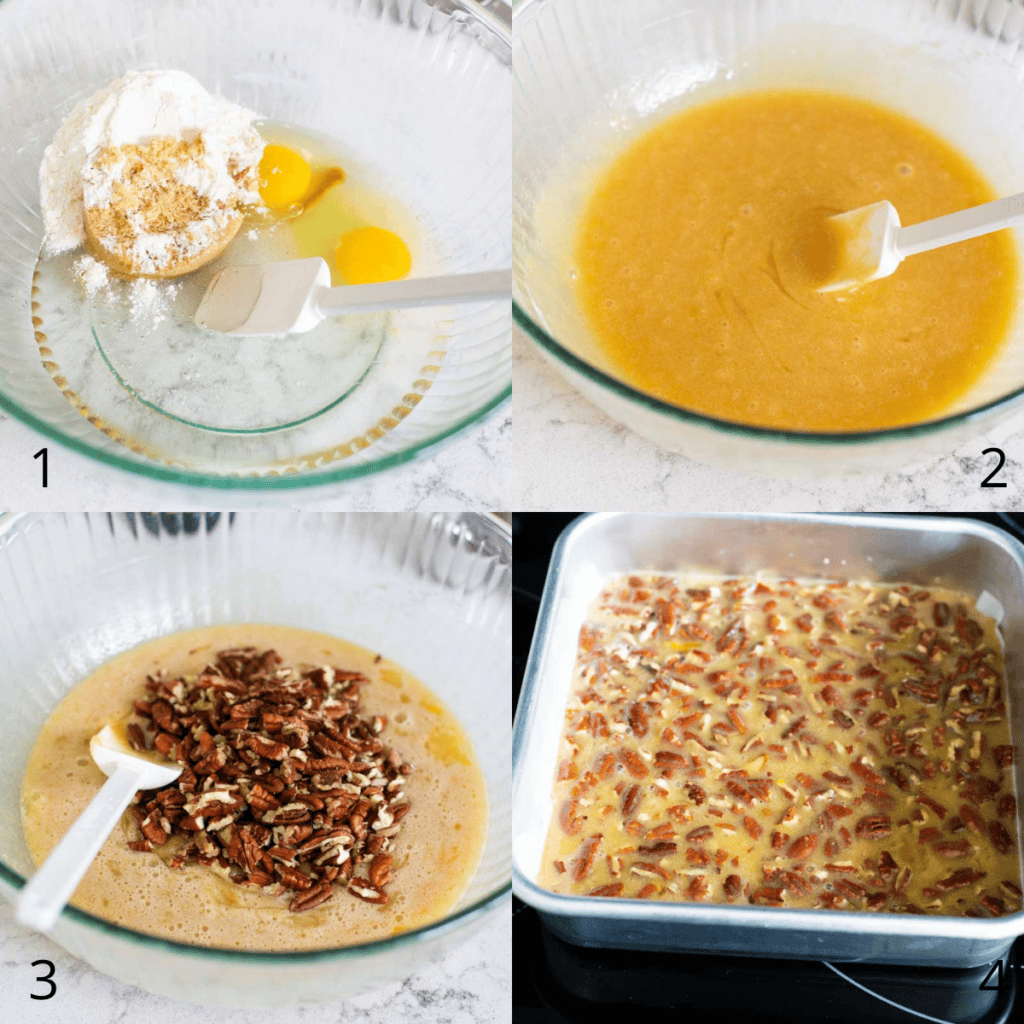 Combine the eggs, brown sugar, corn syrup, and flour until smooth.
Break the pecan halves into quarters by hand. I MUCH prefer to do this than chopping them with a chef's knife. Fresh pecans can tend to fall apart if you chop them and I love big chunks of crispy pecan crunch in each bite.
Stir the pecans into the batter and pour over the baked crust. Use your spatula to spread the pecans out evenly over the crust.
Raise the oven temperature to 350°F and bake for another 25 - 30 minutes or until the top is golden brown and the filling is just set.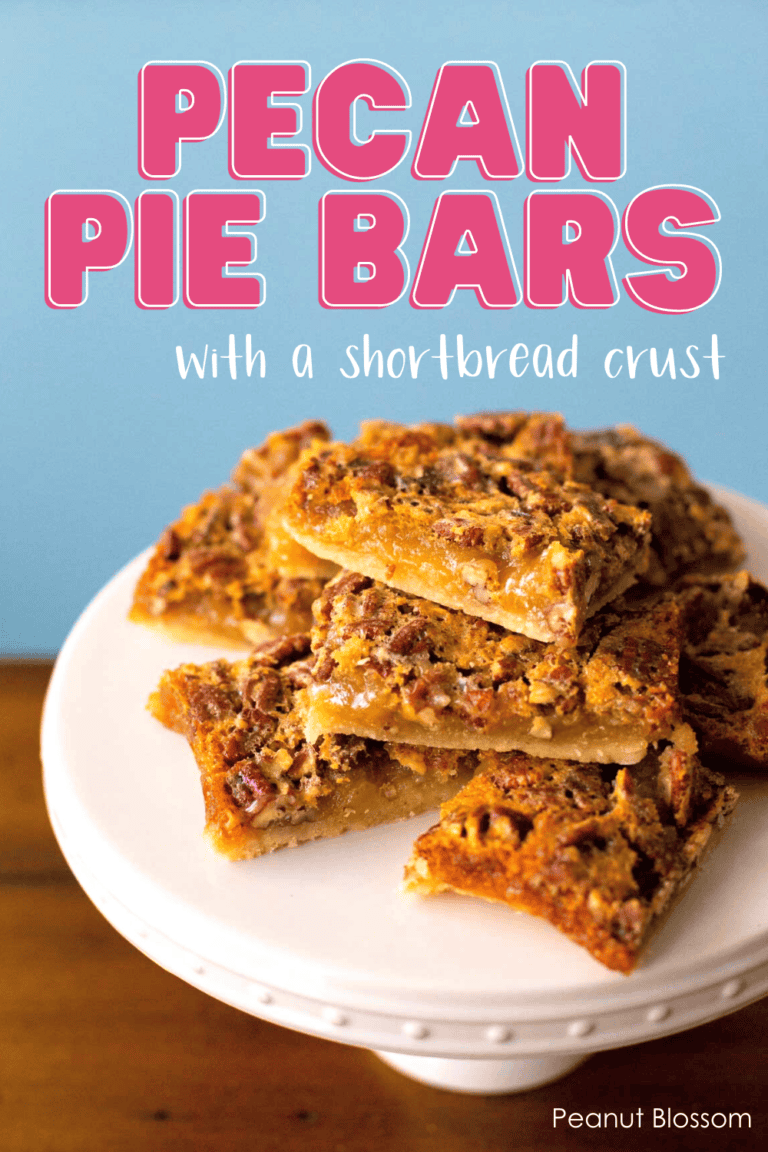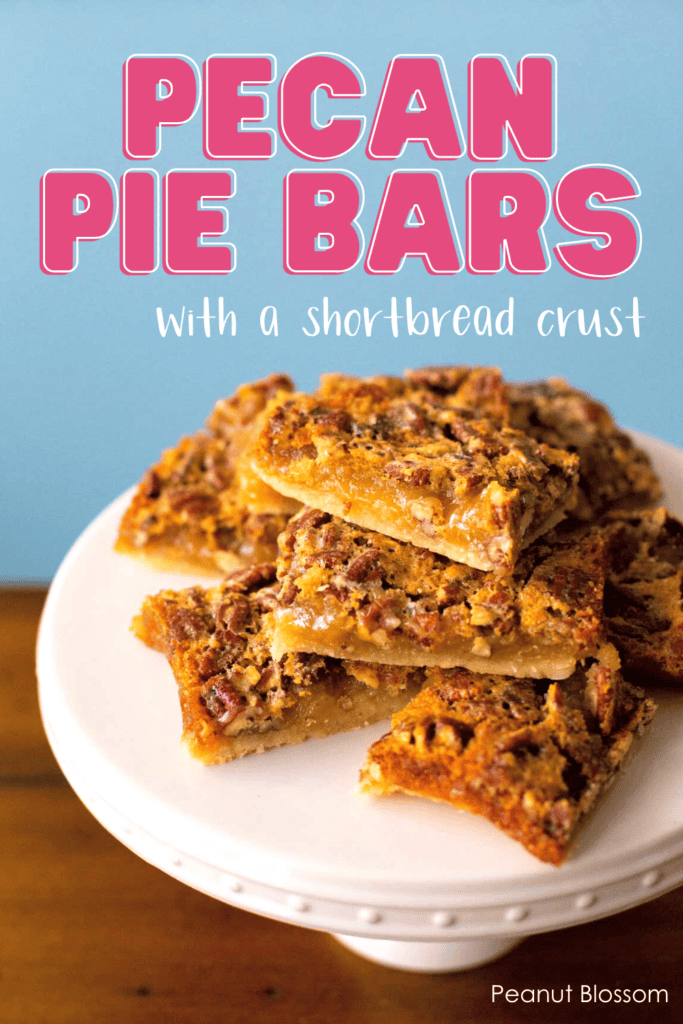 Variations
This is an awesome southern-style classic pecan bar but you could definitely have a little fun with it:
Spicy Chocolate - Add ¼ teaspoon cayenne pepper and ½ cup chocolate chips to the pecan pie filling
Maple Bourbon - Swap 2 tablespoon of the brown sugar for 2 tablespoon maple syrup and add 1 tablespoon of bourbon to the pie filling
Pumpkin Spice - Add 1 teaspoon cinnamon and ½ teaspoon of pumpkin pie spice to the filling
Storage
The bars are best served fresh but you can store the shortbread pecan bars in an airtight container for up to 2 days.
If you freeze the bars, don't cut them into squares before storing. Seal them in an airtight container and let thaw in a vented container in your fridge overnight.
Top tip
The pecan pie bars are delicious on their own, but I highly recommend serving them with a big dollop of whipped cream and a fork!
Easy Thanksgiving Treats
I love pie just as much as the next girl but sometimes a bar is easier to travel with when visiting friends and family for the holiday. Here are some fun twists on Thanksgiving desserts you will love:
If you've tried these salted rosemary dinner rolls or any other recipe on PeanutBlossom.com please don't forget to rate the recipe and let me know where you found it in the comments below. I love hearing from you!
FOLLOW along on Instagram @peanut.blossom as well as on Pinterest and Facebook.