Apple crumble topping is so much easier than traditional pie crust. Simply pinch small portions of it over these deliciously easy apple pie bars or your favorite apple pie recipe! It bakes up golden brown, light and crispy. 
Handyman Tim has been begging me to learn how to make homemade apple pie for as long as I can remember. Pie crust is notoriously tricky to make from scratch and it has always scared me away from attempting that dessert.
I make a wicked awesome apple crisp that his mom and mine both go totally crazy over but apple crisps are made with oats and have a distinctly chewy crunch. What Tim is looking for is a light and flaky pie crust covering sweet and juicy apples.
I finally found my solution!
These light and delicate apple pie bars have the most perfect apple crumble topping. The dough uses just three ingredients and is so easy your kids could totally help you bake these up for Thanksgiving.
While you could make this entire recipe for a sweet and easy Thanksgiving treat, you could also just use the apple crumble topping recipe to finish off your own favorite apple pie. Maybe use a store-bought pie crust for the bottom, fill it with your favorite apple pie filling, and then whip up the crumble topping to finish it off.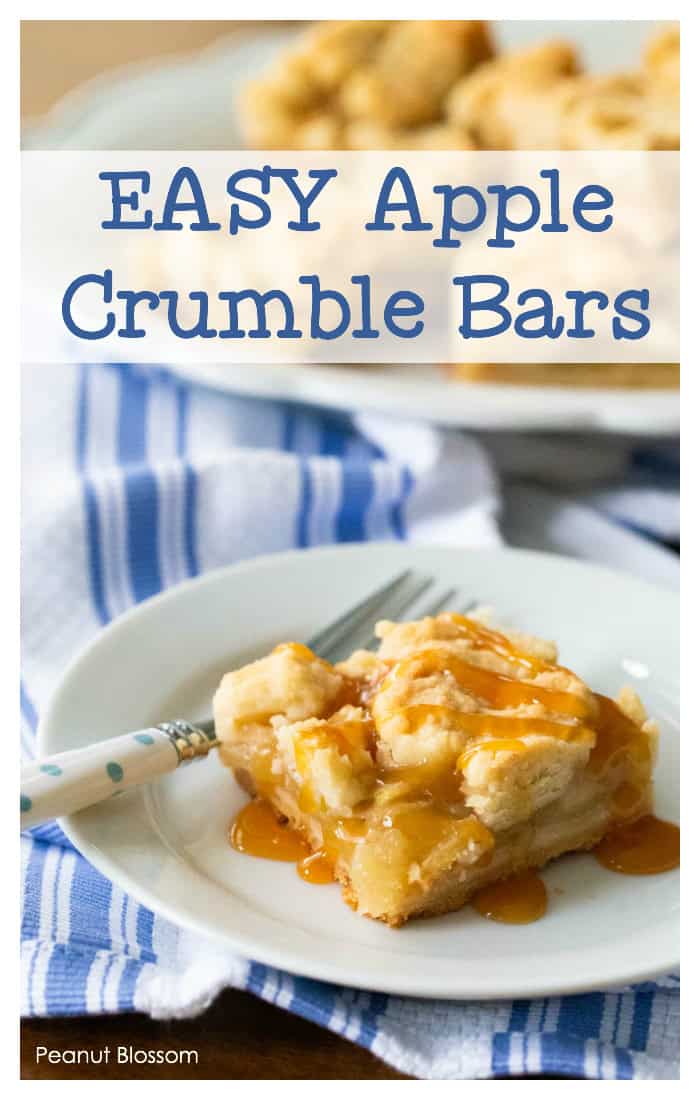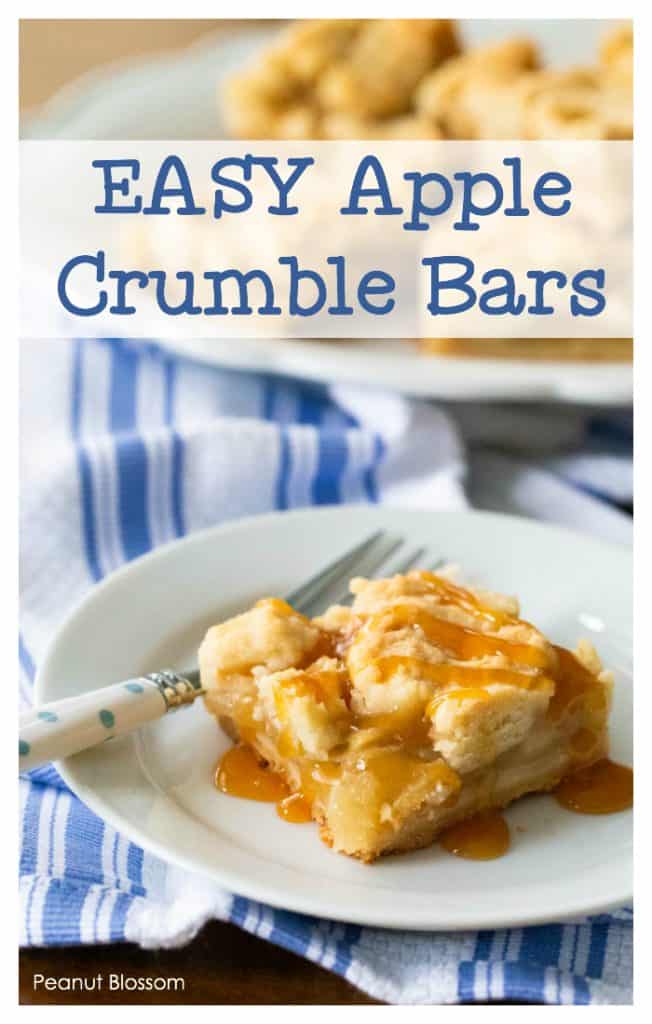 The original recipe that inspired these apple crumble bars involved a from-scratch caramel sauce. I've made homemade caramel dozens of times without fail and this was the very first time I had the sugar seize up and turn to sand.
I removed the caramel element from the filling and created a tart apple base using fresh cider, cinnamon, and brown sugar.
For the finishing touch, we served them with a drizzle of caramel sauce right over the top. You could use homemade OR store bought caramel sauce for these apple pie bars to keep it extra easy.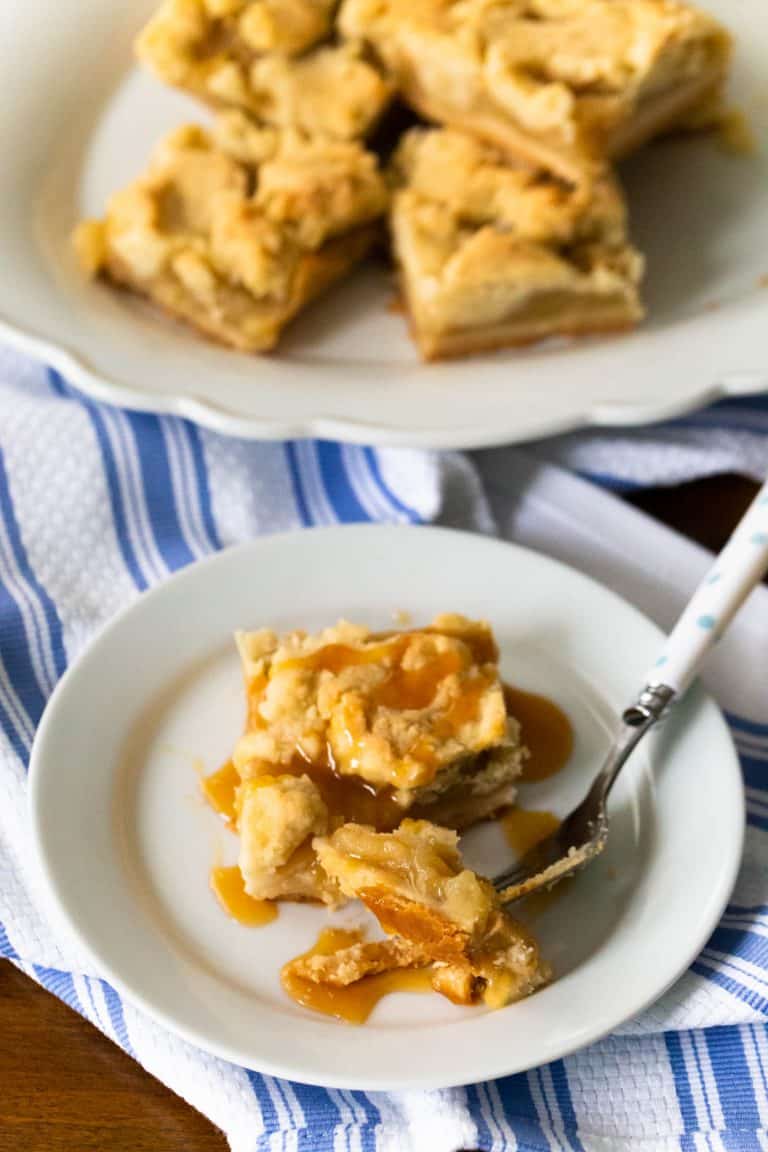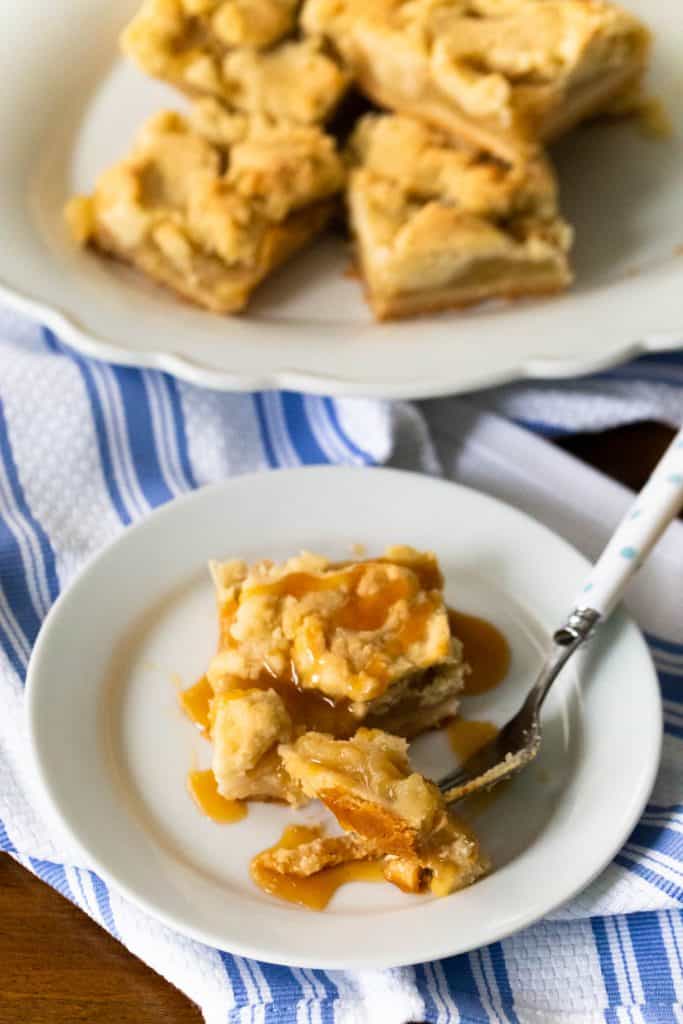 You might also love these easy apple recipes:
If you love to bake with fresh apples, you will love these fun fall recipes: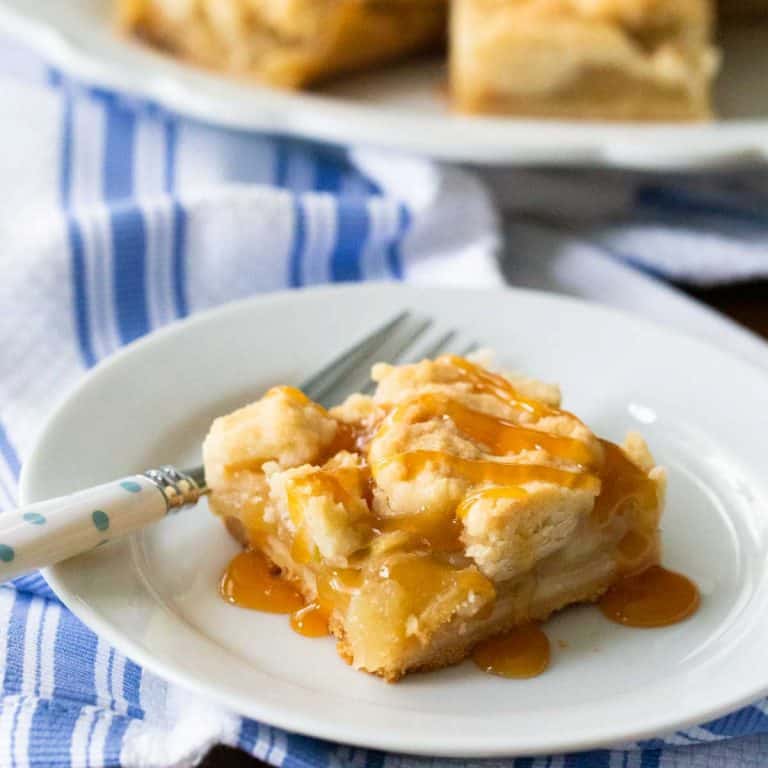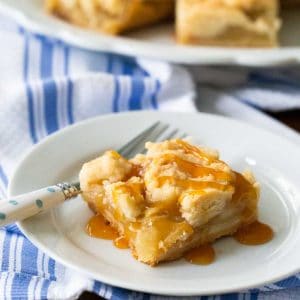 Easy Apple Crumble Bars
These deliciously easy apple pie bars have a light and flaky apple crumble topping that comes together with just three ingredients. Bake these with your kids for a simple Thanksgiving dessert.
Ingredients
For the apple crumble topping recipe:
1 ½

cups

(3 sticks) butter

softened

3

cups

flour

¾

cup

powdered sugar
For the apple pie bars filling:
3

large Granny Smith apples

2

tablespoon

butter

2

tablespoon

apple cider

2

tablespoon

brown sugar

1

teaspoon

cinnamon

1 ½

tablespoon

cornstarch

1

teaspoon

salt
Instructions
For the apple crumble topping recipe:
Add the butter to the bowl of an electric mixer with the paddle attachment. In a medium sized mixing bowl, combine the flour and powdered sugar. With the mixer turned on low, slowly add the flour mixture to the butter and beat until the dough just comes together.

Don't over mix the dough or it will become tough, stop mixing when it is still slightly crumbly but thoroughly mixed with the butter. You can finish it off by gently kneading the dough to form a firm dough ball with your hands.
To use the apple crumble dough over a pie: 
Simply pinch the dough with your fingers and drop blobs of it over your apple pie filling.
To assemble the apple pie bars:
Preheat the oven to 350 degrees. Line a 9 x 13 baking dish with a piece of parchment paper. Take ⅔ of the dough and spread it evenly over the bottom of the pan. It is helpful to use a second piece of parchment paper over the top and roll the dough out with a pastry roller. Remove the top parchment before baking.

Bake the empty pie crust for 20 minutes and set aside.
While the pie crust is baking, prepare the apple filling:
In a large saucepan, melt the butter over medium heat. Add the apple cider, brown sugar, and cinnamon and stir to combine. Add the cornstarch and whisk until blended. Add the chopped apples and salt and stir to combine.

When the juices are slightly thickened, remove the apples from the heat and pour evenly over the prepared pie crust in the baking dish. Pinch and drop the remaining ⅓ of the apple crumble dough over the top of the apples.

Bake for 30 minutes, or until the topping is slightly golden brown. Serve with drizzled caramel over the top.
Save This Recipe to Your Recipe Box
Find this delicious recipe next time you visit by saving it to your very own recipe box on my site. All your favorites stored in one easy place!