Rich apple butterscotch bars are the perfect early fall treat to bake with kids. Make a batch after a visit to the apple orchard this season!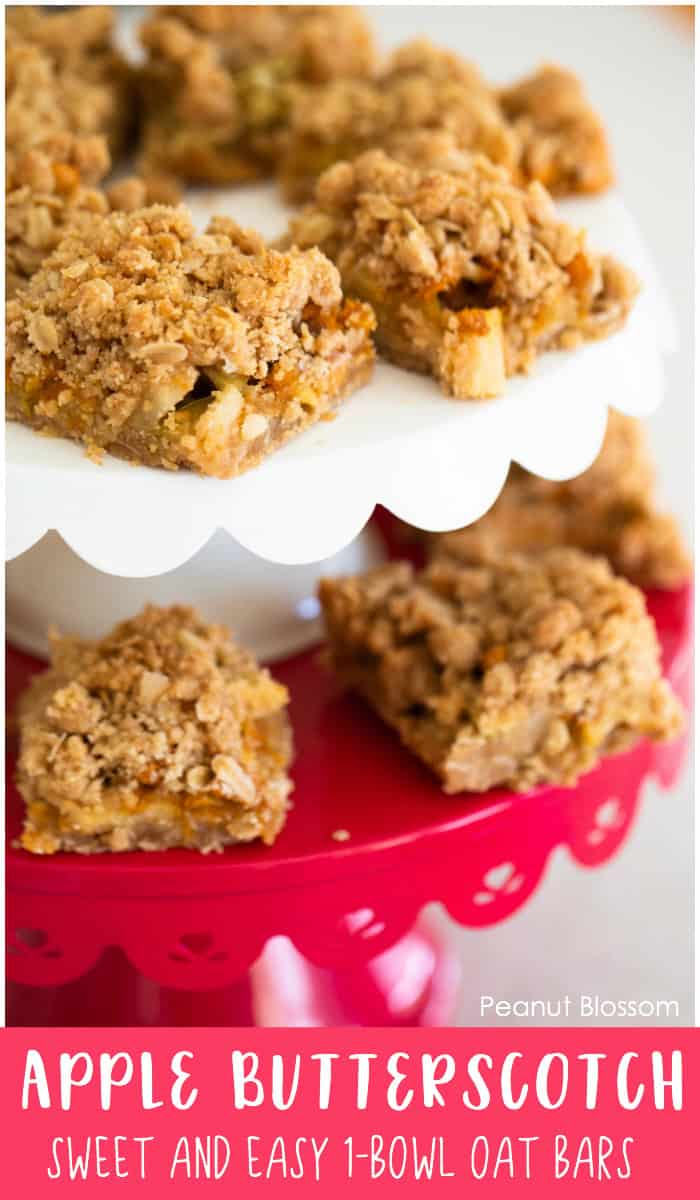 When the calendar turns to September, it seems like the whole world is ready to jump on the Pumpkin Spice bandwagon. As much as I love pumpkin goodies, it's not fair to skip over apple season altogether!
Visiting a local apple orchard is one of our family's favorite fall traditions. When we come home with huge bags of freshly picked apples, I'm always looking for new apple recipes to make sure not a single one goes to waste.
Often you'll find apple dessert bars are made with applesauce, but I prefer using chopped fresh apples instead. To distinguish these special treats from our favorite apple crisp, I was thrilled with the addition of creamy butterscotch chips.
If you're crazy about bars with an amazing texture like I am, you will go nuts over the addition of pecans to the oatmeal crumble topping. It gives the apple bars a perfectly crispy-chewy bite.

How to make easy one-bowl apple butterscotch bars with fresh apples: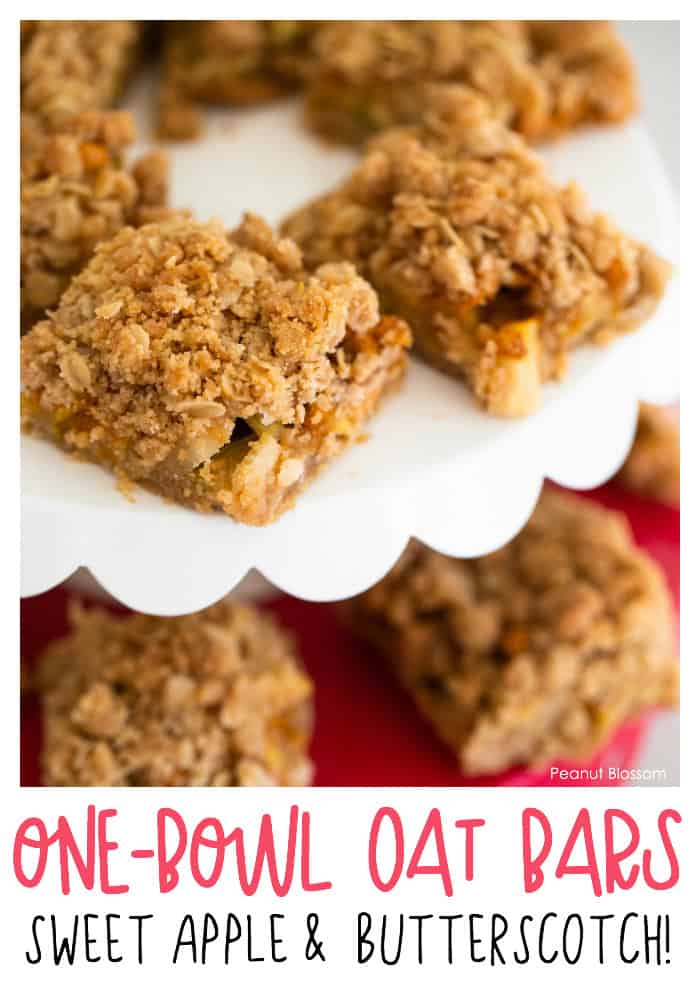 Step 1: Prepare the pecan-oat crumble crust and topping:
If you love apple crisps, you'll really love these apple bars. The crust and the topping are made out of the same one-bowl mixture.
Blend pecans into flour and mix it with old fashioned oats, flour, brown sugar and cinnamon. It may seem putzy to take the time to blend the pecans, but the pecan flour gives an extra dose of texture and a rich fall flavor to the crust.
Melted butter and vanilla extract will help the crust mixture to come together.
Step 2: Prepare an 8 x 8 baking dish
You'll want to line a square baking dish with parchment paper for easy removal of the bars when it comes time for serving.
Press half of the crust mixture into the bottom of the pan and reserve the other half for the top crust.
Step 3: Add the fresh apples and butterscotch chips
Top the bottom crust with chopped fresh apples and a generous sprinkle of butterscotch chips in an even layer.
Finish the bars by adding the reserved crumble topping evenly over the top.
Step 4: Bake and let set before serving
Bake the bars for 35 - 40 minutes at 350 degrees. It is very important to let the bars cool completely in the pan before you attempt to remove them for serving. This allows the apples and butterscotch chips to firm up.
If you just can't wait, you may discover you prefer eating the bars with a spoon or fork. (Topped with vanilla ice cream would be even better!)
Other favorite fresh apple recipes we love to make during the fall: