Sour cream horseradish sauce for sandwiches is also great for dipping or spreading on roast beef, roasted salmon, or shrimp. This easy sandwich spread takes just a minute to stir together and keeps well in the fridge for days!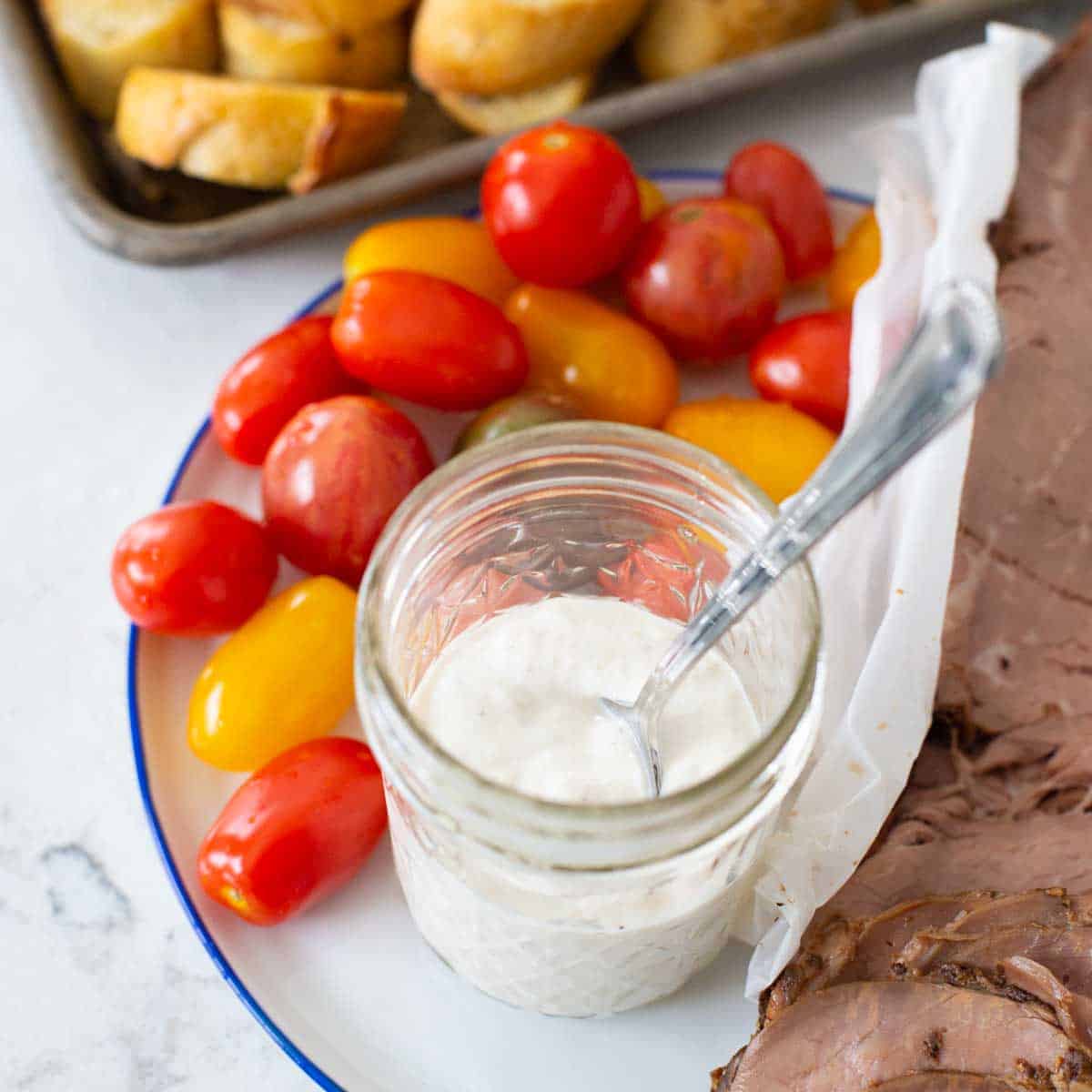 I love to spread horseradish sauce on my roast beef sandwiches but the prepared bottle from the store is filled with some very questionable ingredients.
The good news is that making a homemade sour cream horseradish sauce takes just a minute and uses ingredients I have in my fridge anyway.
I made this sandwich spread during peak tomato season the same day I made a loaf of homemade ciabatta bread.
Pairing that fresh slice of tomato with roast beef and crispy bread and topping with this horseradish sauce recipe, summertime lunch heaven!
But there are so many other ways you'll find to use up this tangy sauce. Be sure to read through all the serving suggestions below.
Jump to:
Ingredients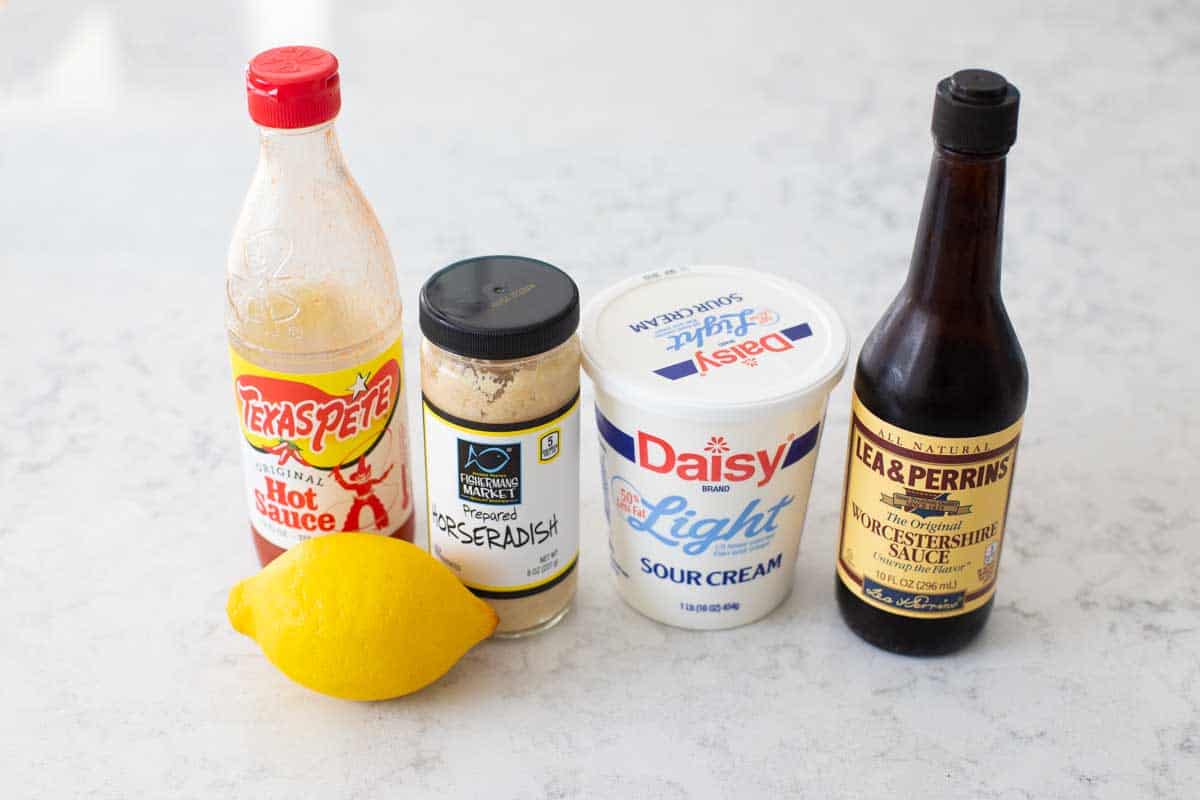 Look at that short list of things you need to make a homemade sour cream horseradish sauce! I had all of these items in my fridge anyway:
Sour Cream: I always prefer to use a Light sour cream but you can use a full-fat or fat free version if you prefer.
Prepared Horseradish: This is a totally different ingredient than horseradish sauce. Prepared horseradish is just grated horseradish with vinegar and sometimes oil for preservation. You'll see the texture of the actual horseradish in the jar. If it is a white creamy looking sauce in a bottle, you've got the mass produced bottle of what we're trying to make in this recipe.
Hot Sauce: Our family loves Texas Pete. You can read why we love it here but you can substitute any hot sauce you love.
Worcestershire Sauce
Fresh Lemon
White Pepper
How to Make It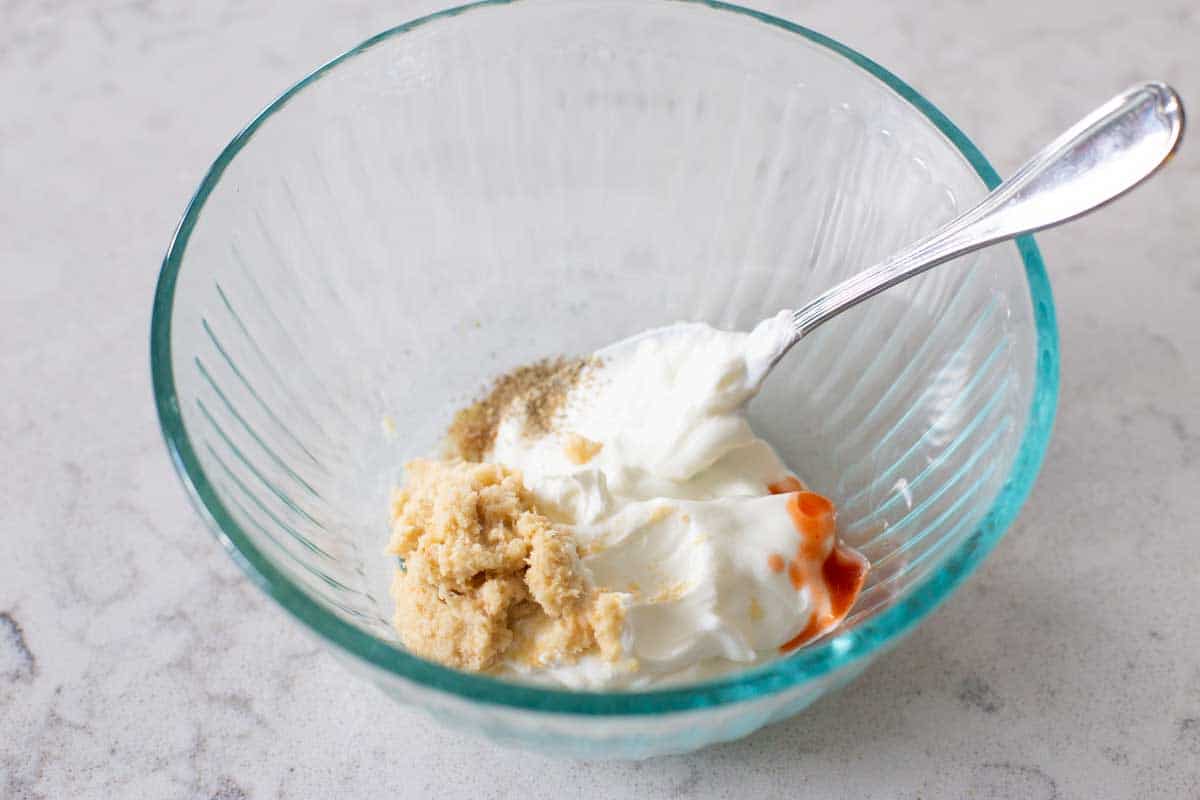 Grab a mixing bowl, add the ingredients, stir it together.
That's it. Really.
Couldn't be easier if I tried! This whole recipe should take less than 5 minutes and that's with clean-up!
Storage Tips
Keep the horseradish sauce in an airtight container like a mason jar with a lid in the fridge for up to 1 week.
This homemade sandwich spread will not freeze well since the sour cream will lose it's texture when it thaws.
I recommend scaling the recipe to have just what you need and mixing it up as needed every week rather than trying to make a too-big batch that you'd have a lot left over.
How to Use Horseradish Sauce
Once you've tried this recipe you'll be looking for all kinds of ways to use it.
That tangy heat is so delicious with a long list of easy meal ideas!
Some of my very favorite ways to use it is on a roast beef sandwich or as a shrimp dipping sauce.
Horseradish Sauce for Sandwiches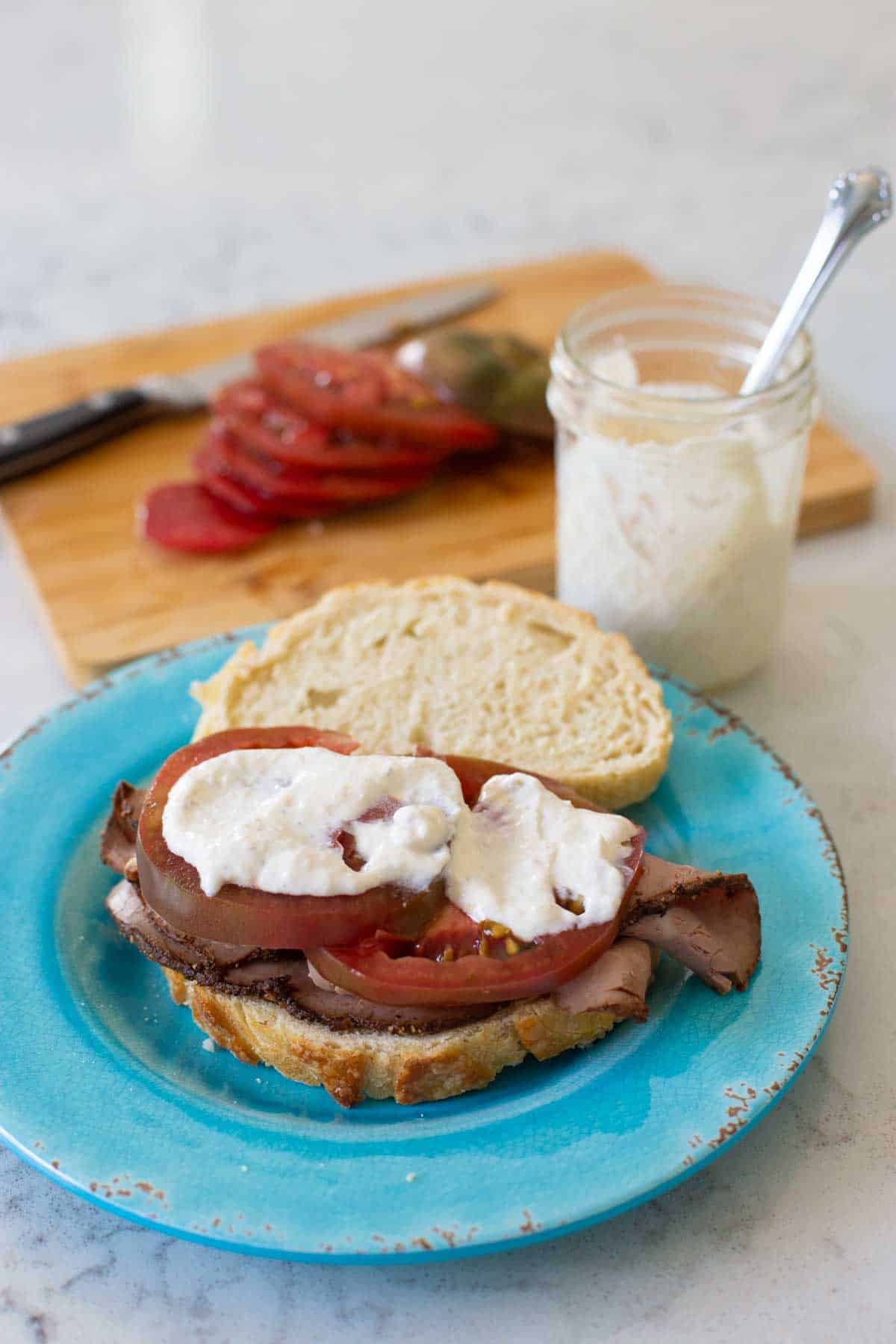 Horseradish sauce tastes best with roast beef sandwiches but you could also add it to:
Tomato Sandwich
French Dip
Grilled Ham & Cheese
You could also use it on a homemade crostini for an easy appetizer like this easy roast beef crostini.
Horseradish Dip for Chips
This sour cream sauce is thin enough to make a perfect chip dip. If you want to serve it for a football party or other special event, consider doubling the recipe and setting it out in a large dipping bowl next to bowls of potato chips.
Plain potato chips, peppered potato chips, or even sour cream and cheddar potato chips would all pair really well with the horseradish sauce.
Horseradish Sauce for Beef or Salmon
If you're looking for a new sauce for your salmon or beef, you could either drizzle this horseradish sauce right over the fish or fillet of beef or serve it in a dipping cup and let your family dip their own bites as they go.
It would taste especially great on my crock pot Italian beef sandwiches, my oven baked salmon with seasonings, or even as a yummy dipping sauce for shrimp cocktail.
📖 Recipe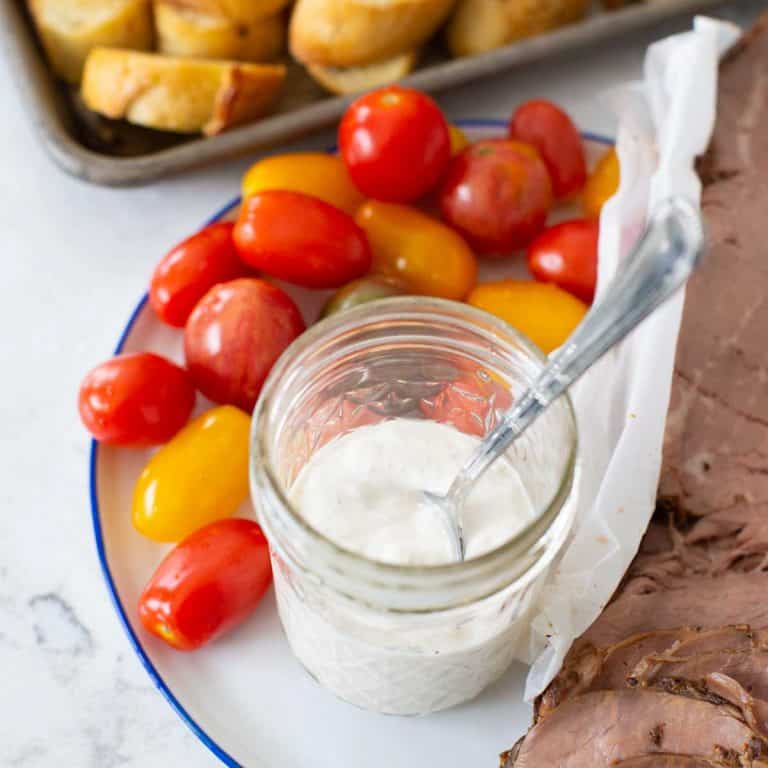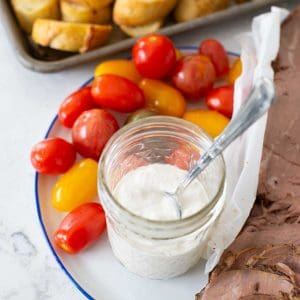 Sour Cream Horseradish Sauce
Sour cream horseradish sauce for sandwiches is also great for dipping or spreading on roast beef, roasted salmon, or shrimp.
Ingredients
1

cup

sour cream

¼

cup

prepared horseradish

2

tablespoons

Worcestershire sauce

1

tablespoon

lemon juice

2

dashes hot sauce

½

teaspoon

salt

¼

teaspoon

white pepper
Instructions
Add the ingredients to a mixing bowl and stir them together with a spoon.

Store in an airtight container in the fridge for up to 1 week. Do not freeze.
Recipe Notes
While the horseradish sauce can be used immediately, you may want to let it rest for 1 hour before serving so the flavors can mingle.
Save This Recipe to Your Recipe Box
Find this delicious recipe next time you visit by saving it to your very own recipe box on my site. All your favorites stored in one easy place!