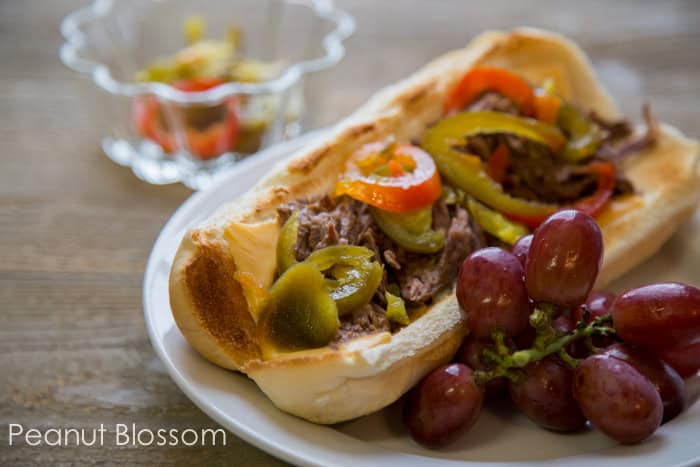 My dad arrived to help Handyman Tim on the Household Overhaul project this week. Our house has been filled with the sounds of saws buzzing and hammers pounding. I'm amazed at their progress in such a short time and so proud of their handiness. To keep these 2 men well fueled for their task, I decided to make beef sandwiches for lunch as a special treat. Thankfully dad spent the night, I hadn't counted on the 12 - 15 hour slow cooking time necessary!
There are a million recipes out there for Italian Beef sandwiches, but most require onions or jarred peppers that would cause Tim endless heartburn. I was happy to find a version that left those two items out but called for adding them as garnish after the fact. It can never be too spicy for my dad, he just piled his sandwich high with them.
The roast I used was the full 5 pounder which ended up working perfectly in my crock pot. I'm freezing small portions of the leftover beef for future winter lunches. This would be an awesome recipe for a crowd with the upcoming football bowls or any casual wintery gathering.
Just be prepared to have your house saturated with a delicious beefy perfume. Tim says he woke up hungry when he smelled it at about 4 a.m.
___________________________
Italian Beef Sandwiches
courtesy of AllRecipes.com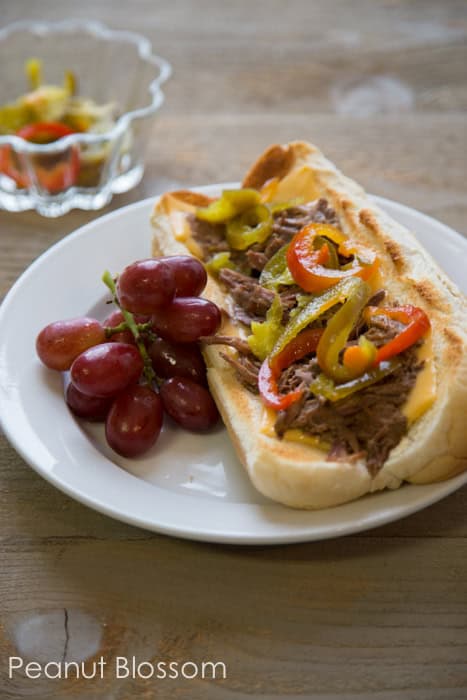 Ingredients:
3 cups water
1 tsp salt
1 tsp ground black pepper
1 tsp dried oregano
1 tsp dried basil
1 tsp dried parsley
1 tsp garlic powder
1 bay leaf
1 (.7 ounce) package dry Italian-style salad dressing mix--don't be afraid to try the "Zesty" version
1 (5 pound) rump roast
For serving:
Jarred peppers (like mild peppers, jalapenos, or red peppers.)
Cheese of choice (Handyman Tim prefers American but something like Pepper Jack would be great.)
Crusty rolls
Directions:
1. Combine water with all of the seasonings in a saucepan. Stir well and bring to a boil.
2. Trim the fat from your roast, place in slow cooker. Pour salad dressing mixture over the meat.
3. Cover, and cook on Low for 10-12 hours (I cooked mine for 15!), or on High for 4-5 hours. When done, remove bay leaf and shred meat with a fork.
SERVING NOTES:  Toast your rolls open-face briefly under the broiler. Lay a single layer of cheese on the toasty bread, top with beef, put back under the broiler really briefly for the cheese to melt.
Serve with the jarred peppers on the side.
Tim requested a little cup of the broth for dipping like a French Dip, that would also be a tasty serving method.