A classic BLT sandwich is the perfect quick and easy dinner or lunch idea any time of year but is especially delicious in summertime when fresh tomatoes are in season. Learn how to make the best recipe here!
If you can get through reading a recipe for a classic BLT sandwich without drooling, you have a lot more self-control than I do.
All I need to do is think about that savory, peppered bacon layered with juicy fresh tomatoes on crispy toasted bread and I'm ready to eat.
This sandwich is so easy that the ingredients are right in the name:
Bacon, Lettuce, Tomato = Classic BLT Sandwich
But when a recipe has such a short list of ingredients, it is crucial to make sure that each one is delicious enough to earn its keep.
Whether you want to make the original version of this classic sandwich recipe or you want to play around with some fun, fresh variations, I've got all the tips for making the best BLT sandwich you've ever had.
Jump to:
Why This is the Best Recipe
If you want to make the best BLT sandwich ever, it is crucial to have the best ingredients.
I will talk you through how to find (or prep) the best quality ingredients, even on a budget.
Some things come down to personal preference:
Do you like your bread toasted or not?
Do you like mayo or not?
Do you like your bacon warm or not?
That's the beauty of making your own sandwich, you can control every last tiny detail to make sure this is the best recipe for YOU!
Ingredients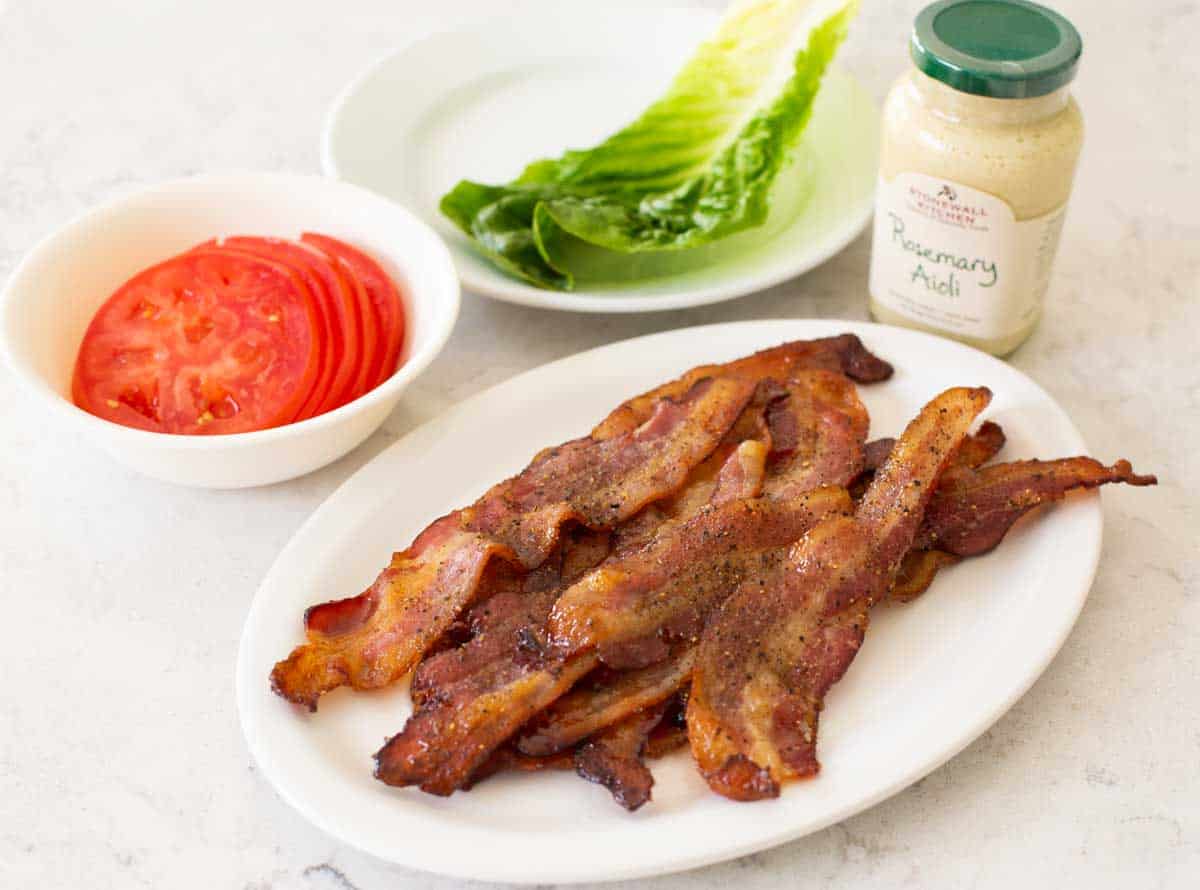 The ingredients you need are very simple and very basic, but what you do with them is what really matters.
Start with:
Bacon: I prefer classic cut Smithfield bacon, not the extra thick-cut. I think the slightly thinner cut crisps up better. But you can use whatever bacon you love.
Lettuce: I prefer crispy heads of romaine lettuce for the crunch but butter leaf lettuce is a great option if you want a more tender leaf.
Tomato: This is where I play the most. Be sure to see the notes on choosing the best tomato below.
Bread: Fresh sliced bakery bread or a slice of homemade bread is the absolute best option. Be sure to see my notes on choosing the best bread below.
Mayo (OPTIONAL): This is where people start to disagree. Does mayo belong on a BLT or not? That's really up to you. Many people love it, I often skip it.
You probably have a personal preference for mayonnaise (I suggest Hellman's or Duke's) vs. Miracle Whip.

If I spread anything on my BLT, it is going to be Rosemary Aoli by Stonewall Kitchen or one of the fun sauce variations I mention below.
The Best Bread for a BLT
To make the best BLT, you really need an excellent piece of bread to start your sandwich.
Head to the bakery department of your grocery store, or better yet find a true local bakery.
Pick up a loaf of Italian bread, sourdough bread, or rustic country French loaf. These are all white breads that have an amazing texture once toasted.
You could use a honey whole wheat bread if you want more flavor with a touch of sweetness. Rye bread, with or without the caraway seeds, would also be delicious but will carry a much stronger flavor.
If you have a bread machine, my Italian bread recipe would be absolutely perfect.
If you want to switch things up for something different, the rich steakhouse brown bread, everything bagel bread, or light and fluffy bread machine challah would all be excellent choices, too.
The Best Bacon for a BLT
The bacon is the absolute star of this show.
I can't imagine a more perfect bacon for a BLT than my recipe for candied pepper bacon.
The best part of my bacon recipe is that you can choose whether to make a savory peppered bacon OR a sweet candied bacon just by swapping one ingredient.
The method is the same, no matter which flavor you choose:
Personally, I LOVE the sweet candied bacon with the juicy tomatoes, but depending on your choice of sandwich spread, you may prefer to make the peppered bacon.
The Best Tomatoes for a BLT
When I have a craving, I will make a BLT sandwich at any time of year. Even in winter when the tomatoes are not their best.
But summertime and BLTs go hand in hand. When I start to see the fresh heirloom tomatoes pop up at our farmer's market, this sandwich is the first thing I think of.
The type of tomato you choose for this sandwich can completely change the flavor of the recipe.
How to Choose the Perfect Tomato:
Medium to Large in Size: Look for a nice round tomato that you can easily slice. Sometimes heirloom tomatoes have funky shapes that are better for cutting into wedges than slices. The slices don't need to be perfect, but pick a tomato that you can easily work with.
Heavy to Hold: When you hold the tomato, does it feel heavy for its size in your hand? This says the tomato is nice and juicy.
Gentle Give: Do not "squeeze" your tomato, but just gently press the sides. Is there just a little bit of give to the flesh? If the tomato feels rock hard, it's not ripe enough yet. If it is too squishy, it might be overripe and too juicy for a sandwich. You want one that just has a bit of give to your press.
The Best Sauce for a BLT
The sandwich spread you use on a BLT truly comes down to personal preference.
You could choose from:
Mayonnaise: I recommend Hellman's or Duke's.
Miracle Whip: My mom and husband both prefer this to mayo.
Flavored Aoli: Browse the mayo section at your store and you will likely find several flavored aoli jars available. Stonewall Kitchen makes several that I love. The Rosemary aoli pairs perfectly with the tomatoes.
Homemade Spicy Sandwich Spread: I love to pair this sandwich sauce with a grilled reuben, but it would be amazing with the bacon on this sandwich!
Variations
Combine the ingredients above for a classic BLT but if you want to play around with something a little different, simply swap the sauce and you have a whole new sandwich!
Blue Cheese BLT: Try this easy blue cheese dressing in place of the mayo on the sandwich. The blue cheese and tomatoes are delicious.
Greek BLT: I think the easy cucumber tzatziki sauce would be a fun twist on this sandwich. You could even add thinly sliced red onions for more flavor. Swapping arugula for the romaine would give a peppery bite to it, too.
Buffalo BLT: Like things really spicy? Spread a bit of this easy 3-ingredient buffalo sauce on the bread. You could sprinkle some blue cheese crumbles in there, too.
Southern Style BLT: Spread this sweet and tangy homemade BBQ sauce on the bread or if you have some pimiento cheese handy, add a layer of that to the sandwich instead of sauce.
How to Assemble the Sandwich
Prepare the Bread
With all the juicy fillings, I prefer to toast the bread. The dry toast soaks up all the juices from the tomato and all the delicious drips from the bacon.
If you have more time, you could griddle two pieces of bread in a touch of olive oil for extra crunch.
TOP TIP: If you don't toast or griddle your bread and just use bread straight from the loaf, just know that your sandwich will get soggy quickly and should be eaten immediately.
Layer the Sandwich Spread
Spread your preferred sandwich sauce over one side of the bread.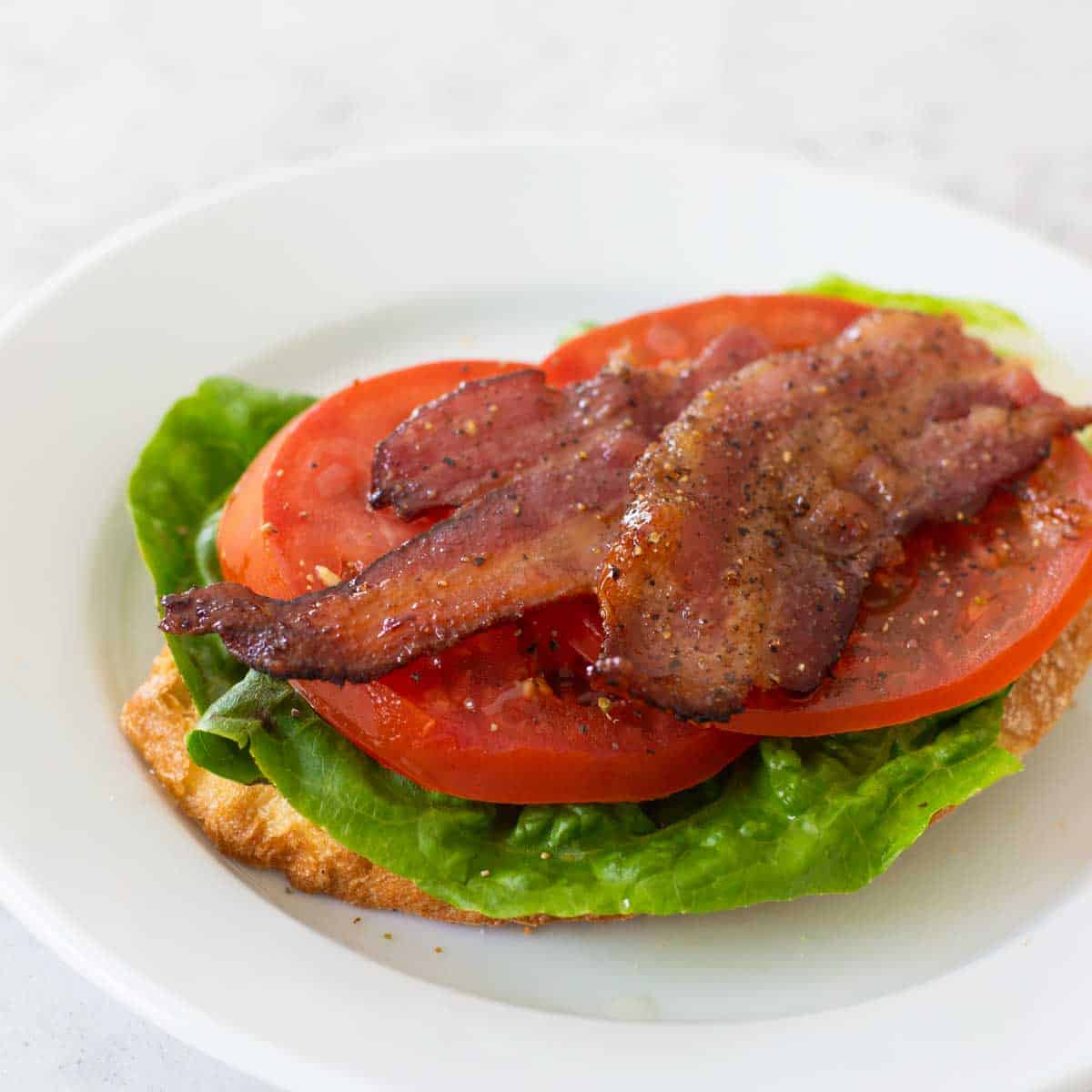 Add the Lettuce, Bacon, and Tomato
Wash and dry your lettuce before using it. Then lay 1 - 2 leaves on the sandwich.
Layer enough tomato slices to cover the sandwich so that you have tomato in every bite.
Spread the bacon strips across the tomato slices. Sometimes I cut my bacon strips in half so they fit the sandwich properly.
Slice and Serve
Close up the sandwich, slice it in half, and you're ready to eat!
Serving Suggestions
I love to serve my BLT sandwiches with warm toasted bread, warm slices of bacon, and chilled tomatoes and lettuce.
That mix of hot and cold is absolutely delicious and satisfying.
However, a BLT is still tasty when you use room temperature toasted bread and room temperature bacon.
Plate your sandwich with a serving of salty chips or enjoy it alongside your favorite soup.
📖 Recipe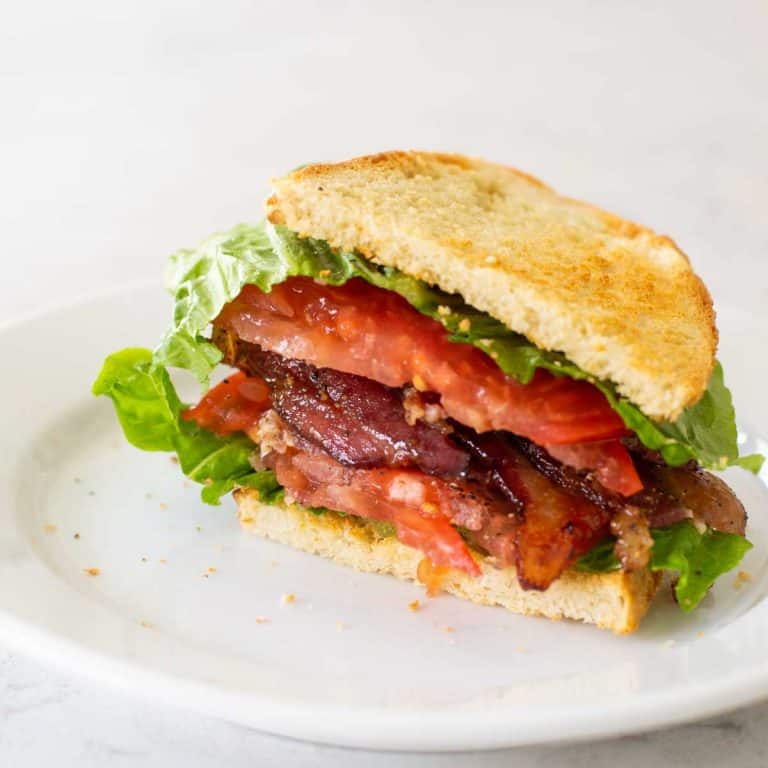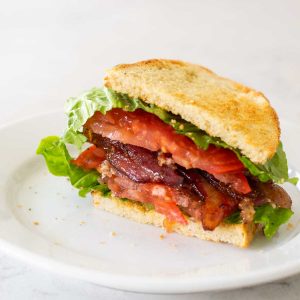 Classic BLT Sandwich
The best BLT sandwich recipe starts with the best ingredients. Layer the best bread, tomatoes, bacon, and lettuce for the ultimate BLT.
Ingredients
2

slices

fresh bread: Italian

sourdough, or French are the best choices

1

tablespoon

sandwich spread

optional

1 - 2

leaves

of fresh romaine lettuce

washed and patted dry

1

ripe tomato

3 - 4

slices

prepared peppered bacon
Instructions
Toast the slices of bread in a toaster. (OPTIONAL: You could griddle the bread in olive oil for even more flavor if you prefer.)

Spread mayonnaise or your sandwich spread of choice over the bread. See the blog post notes above on fun sandwich spread ideas.

Layer the lettuce leaves over the bread.

Slice the tomato in ¼ inch slices and layer them on the bread so that a bit of tomato will be in every bite.

Layer the peppered bacon over the tomatoes. You may wish to trim the bacon in half to make it fit the sandwich better. Learn

how to make peppered bacon

in the oven here.

Close the sandwich, slice it in half, and serve immediately.
Recipe Notes
Prep Ahead Tips:
If you want to prep the ingredients ahead of time for easy assembly later, you can:
wash and dry the lettuce, store in the fridge
slice the tomato and keep covered in plastic wrap in the fridge
bake the bacon and store in the fridge
Then to assemble your sandwich, you'll just need to:
reheat the bacon
toast the bread
Save This Recipe to Your Recipe Box
Find this delicious recipe next time you visit by saving it to your very own recipe box on my site. All your favorites stored in one easy place!