This homemade sweet BBQ sauce is low in sugar, naturally vegan, and gluten free. Use low sodium ketchup and it is perfect for a low sodium diet, too. It's the perfect topping for a barbecue sandwich.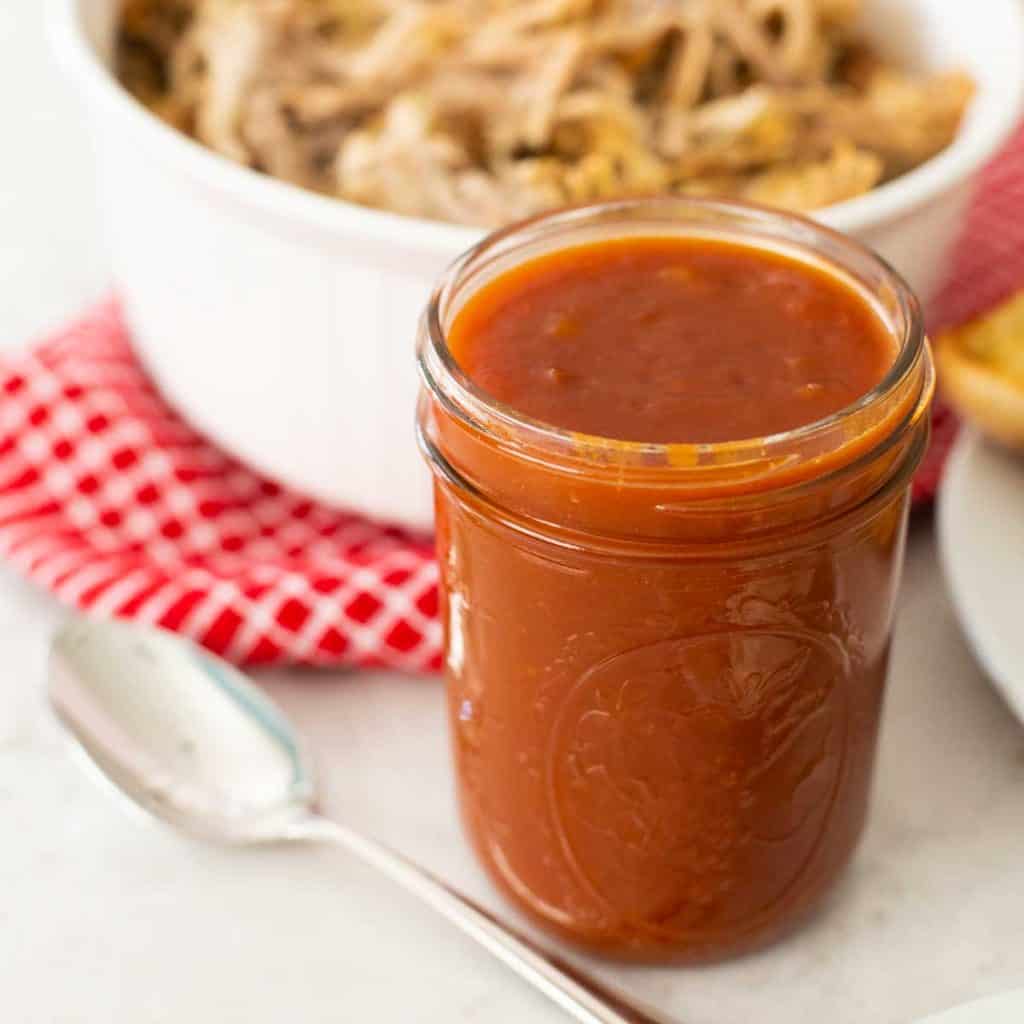 Sweet BBQ sauce with a tangy tomato base is the perfect topping for a barbecue sandwich.
The problem with most bottled varieties is that they are too sugary and really high in sodium.
The good news is that making your own homemade barbecue sauce takes just minutes and this recipe lasts for months at a time in the fridge making it easy to grab all grilling season long.
I love this recipe because it is just the right amount of sweet to pair with my BBQ chicken and pulled pork but it is the perfect fix if you have a family member that needs a BBQ sauce that is vegan, low-sodium, or gluten free.
Jump to:
Why Homemade is the Best
Prepared BBQ sauce from the grocery store is loaded with sodium and high in sugar.
If you want a lighter, healthier way to serve barbecue this summer, or if you have a family member with special dietary needs, this homemade BBQ sauce is so easy to make!
You'll love it because:
Quick to Make: This recipe only takes a few minutes to prepare but keeps well in your fridge for months. It is so easy to grab for dinner again and again.
Tastes Amazing: While there are some specific diet benefits listed below, there is nothing artificial in it and I choose this BBQ sauce over other options on purpose!
Less Sugar: While still a tangy sweet sauce, this recipe is lighter in sugar than most barbecue sauce recipes.
Low Sodium: With one simple swap, this is the perfect low-sodium sauce for your grilled meals.
Gluten Free: All the ingredients are naturally gluten free if that is a concern.
Naturally Vegan: If you need a vegan recipe for your vegan grilled dinners, this recipe is a winner. There's just one simple swap to make, see the note below.
Ingredients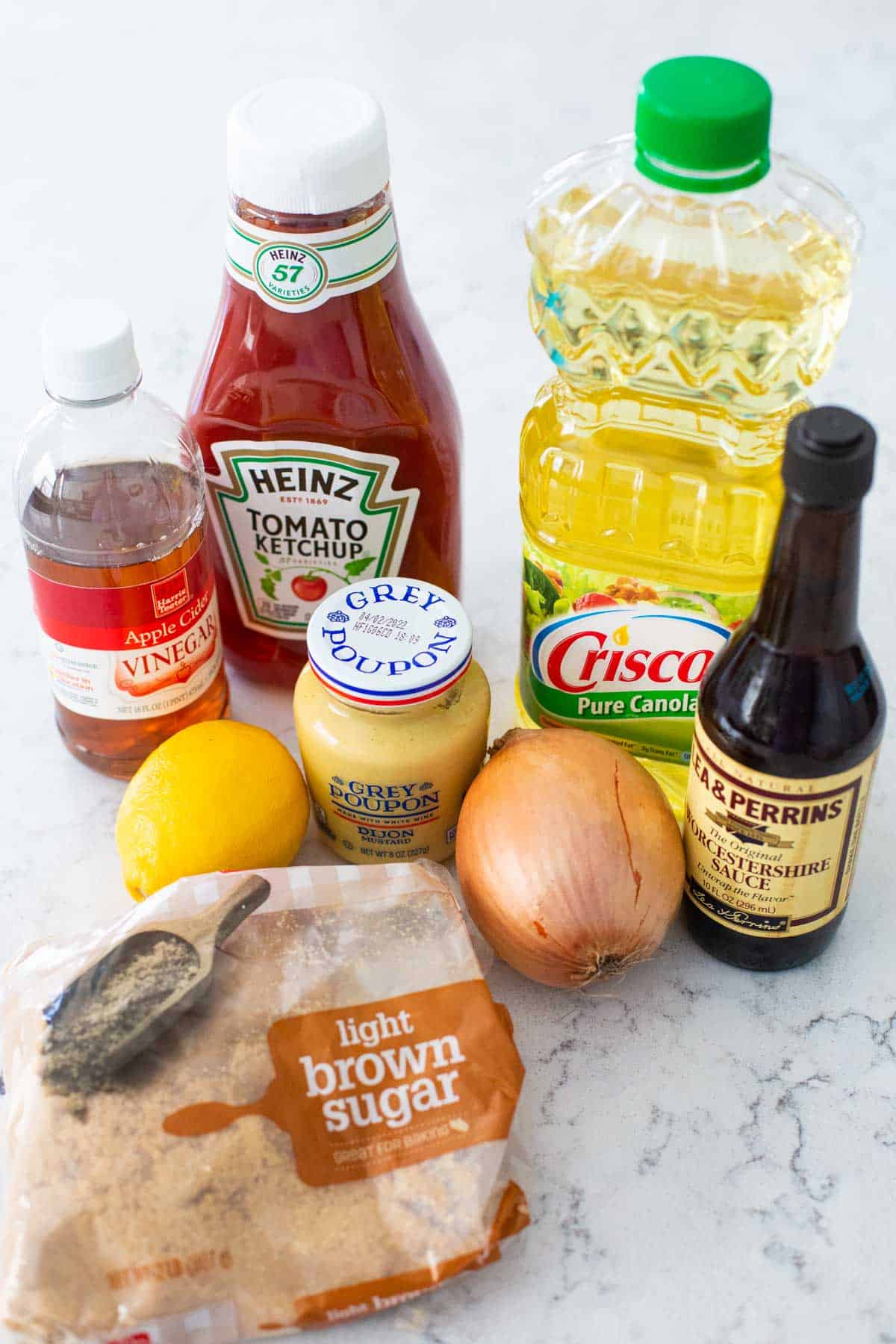 The ingredients for this recipe are so easy:
Ketchup
Brown Sugar
Canola Oil
Onion
Worcestershire Sauce
Apple Cider Vinegar
Dijon Mustard
Lemon
Simple Substitute for Vegan BBQ Sauce
If you need a vegan friendly BBQ sauce, you just need to make one simple swap:
Worcestershire sauce has anchovies in the recipe and is not vegan.
Simply substitute the same amount of soy sauce or your favorite vegan-friendly Worcestershire substitute.
Low Sodium BBQ Sauce Considerations
If you are concerned about sodium, making your own homemade barbecue sauce is a smart choice.
The bottled stuff is loaded with it to help with preservation.
Simply be sure to grab a bottle of low-sodium ketchup to help keep the sodium level in check for this recipe.
How to Make Sweet BBQ Sauce
Once you've tried making your own homemade barbecue, you'll be thrilled with how easy it is.
In a medium saucepan, heat the canola oil over medium heat. Add the chopped onions and cook until they are soft and translucent.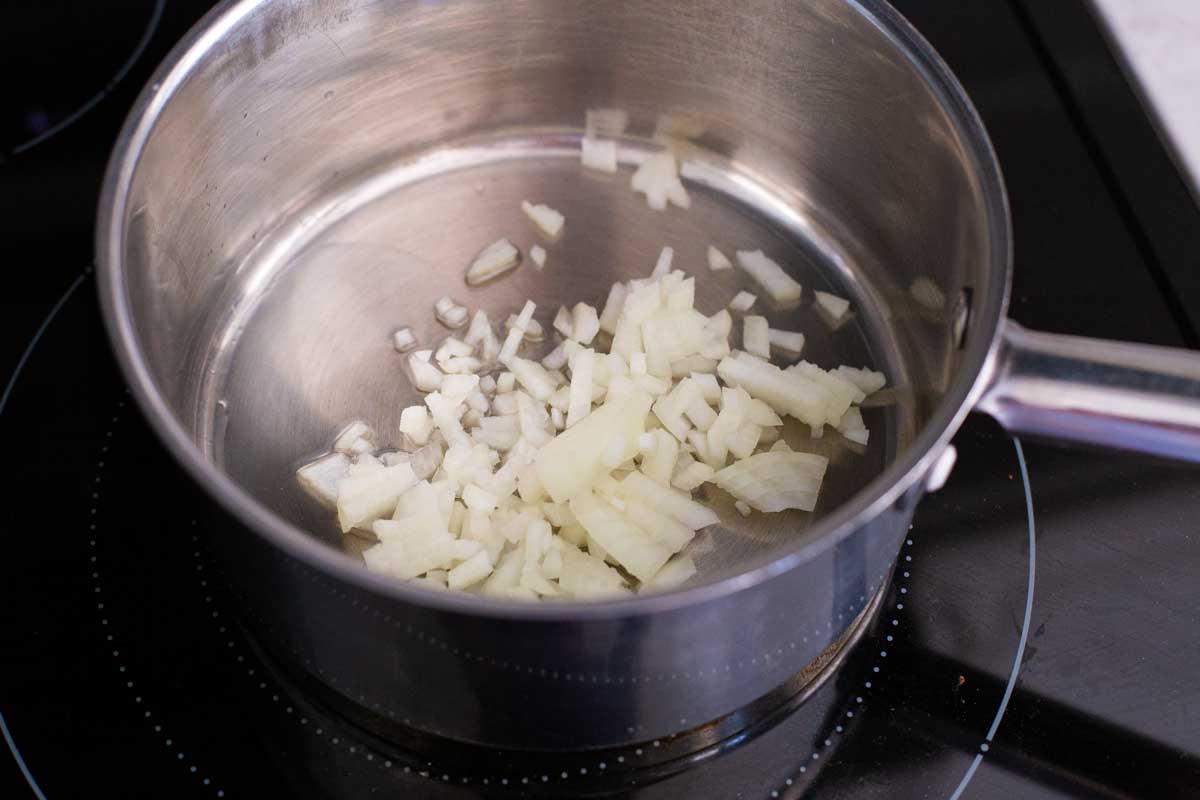 Add the ketchup, apple cider vinegar, Worcestershire (or soy) sauce, Dijon mustard, brown sugar, lemon juice, and black pepper to the pan and stir to combine.
Cook the mixture until it bubbles and reduce the heat to medium low. Cook for 10 minutes to let the flavors meld together.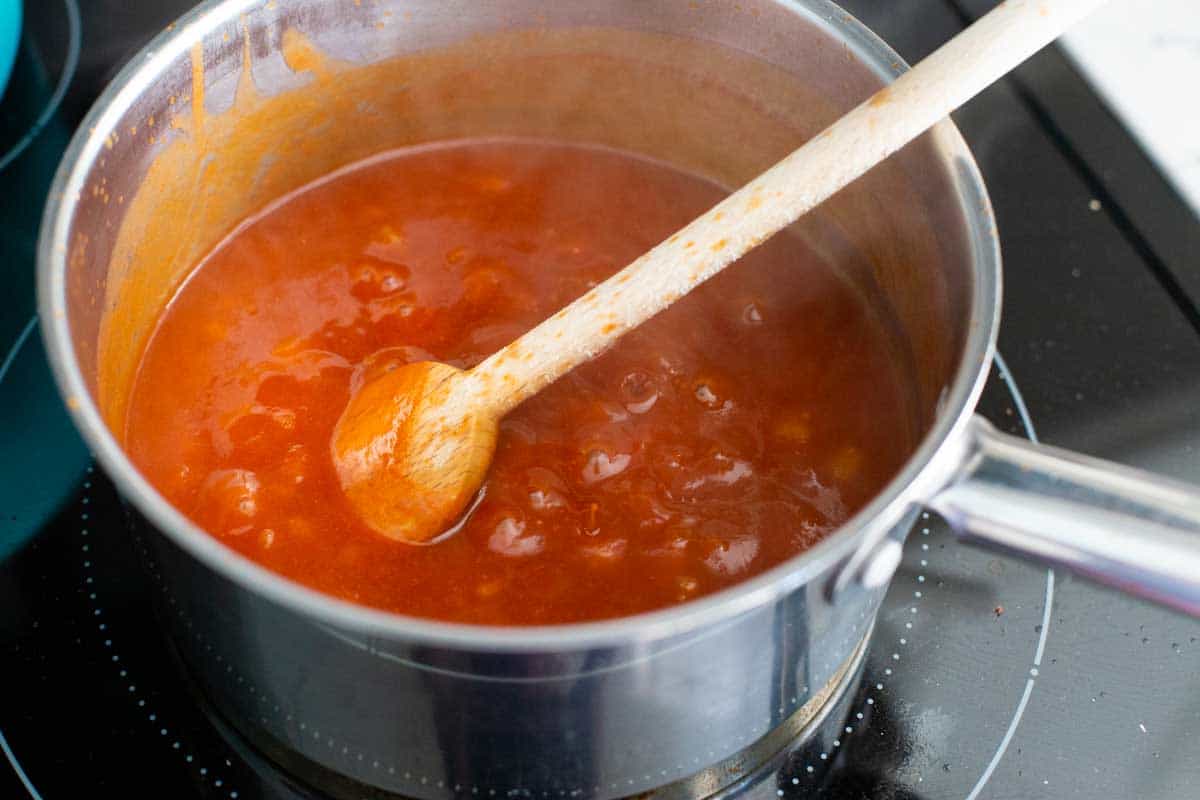 You can use it immediately or let it cool and store it in the fridge for future use.
Variations
This version of the recipe is a hit with my kids because they love sweet BBQ. But with a few simple tweaks, you could also make:
Spicy BBQ Sauce: Add a few dashes of Texas Pete hot sauce or cayenne pepper.
Peppery BBQ Sauce: Finely dice some bell peppers and cook them with the onions before finishing the sauce.
Smoky BBQ Sauce: Add ½ teaspoon liquid smoke to the ingredients before cooking.
Honey BBQ Sauce: Swap in your favorite honey instead of the brown sugar.
Serving Suggestions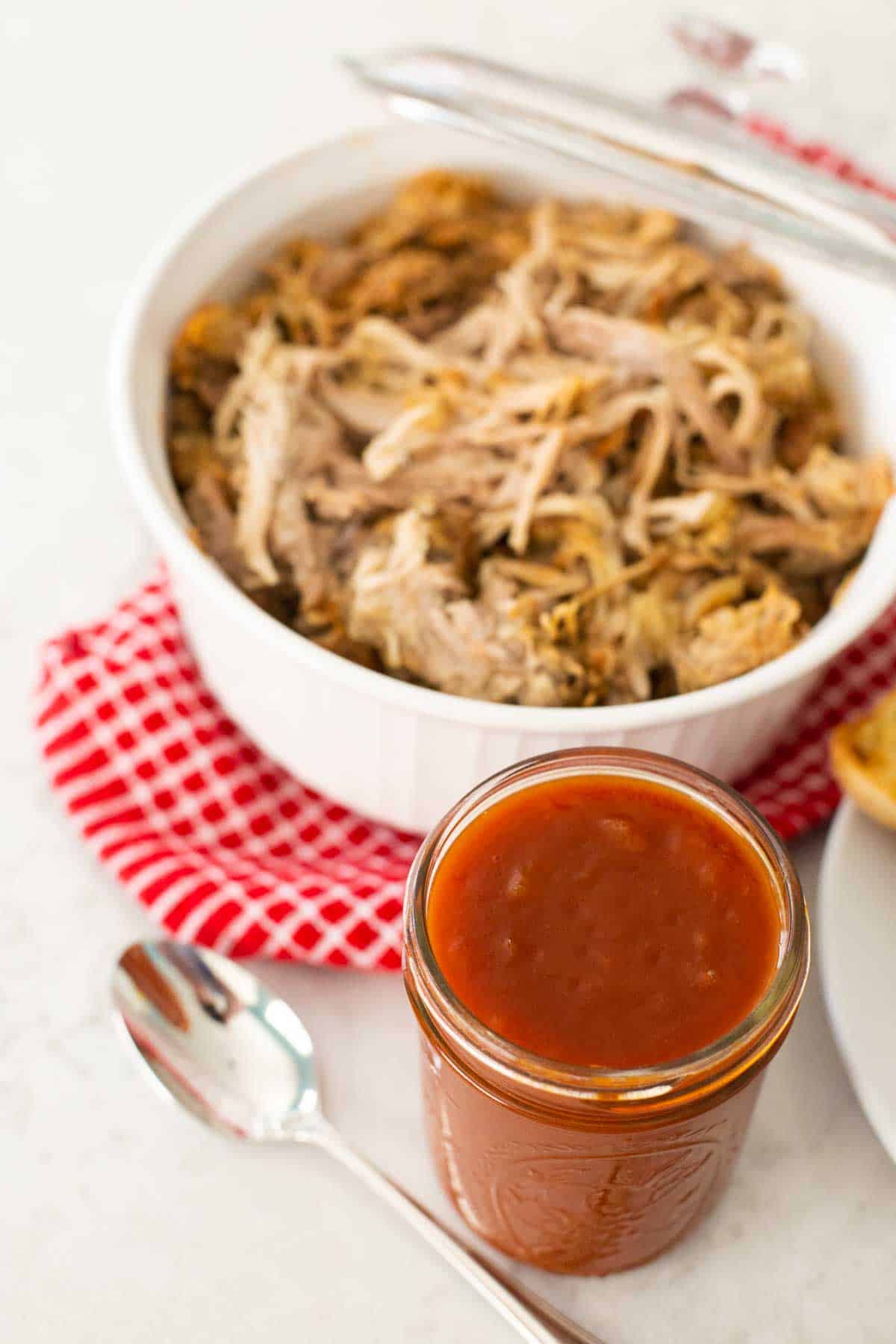 Our family enjoys a wide variety of barbecue dishes including BBQ chicken and pulled pork.
But this sweet BBQ sauce would also taste great on a summer salad with corn or in many vegetarian dishes made with meat substitutes.