4 ingredients and just 5 minutes of prep make this BBQ Crockpot chicken thighs recipe a perfect weekend dinner idea for your family. Pop the chicken into the slowcooker at noon and you can have an easy supper with almost no effort!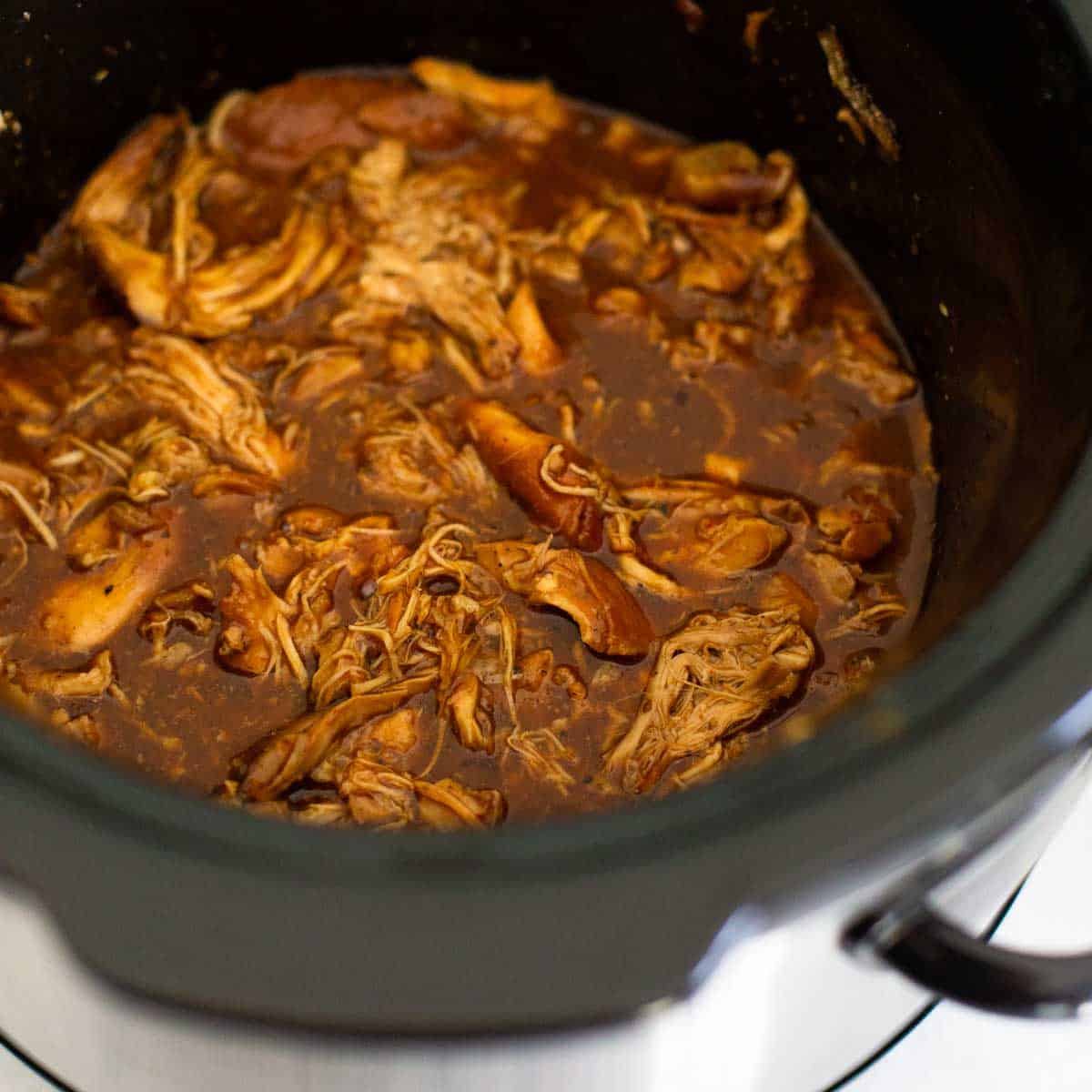 With the school year busyness ramping up and spilling over into weekends, I'm stocking up on easy dinner recipes that can be popped into the Crockpot quickly and ignored until they're needed at suppertime.
This BBQ Crockpot chicken may not look like the most exciting dish at first glance, the beauty is all in how you use it!
With just five minutes of prep, this chicken will be ready when you are to make the most delicious BBQ chicken sliders, sprinkle over a homemade barbecue chicken pizza, top an easy baked potato with shredded cheese and green onions, or top bbq chicken nachos.
Jump to:
Ingredients
The short list of ingredients is one of my very favorite parts of this recipe: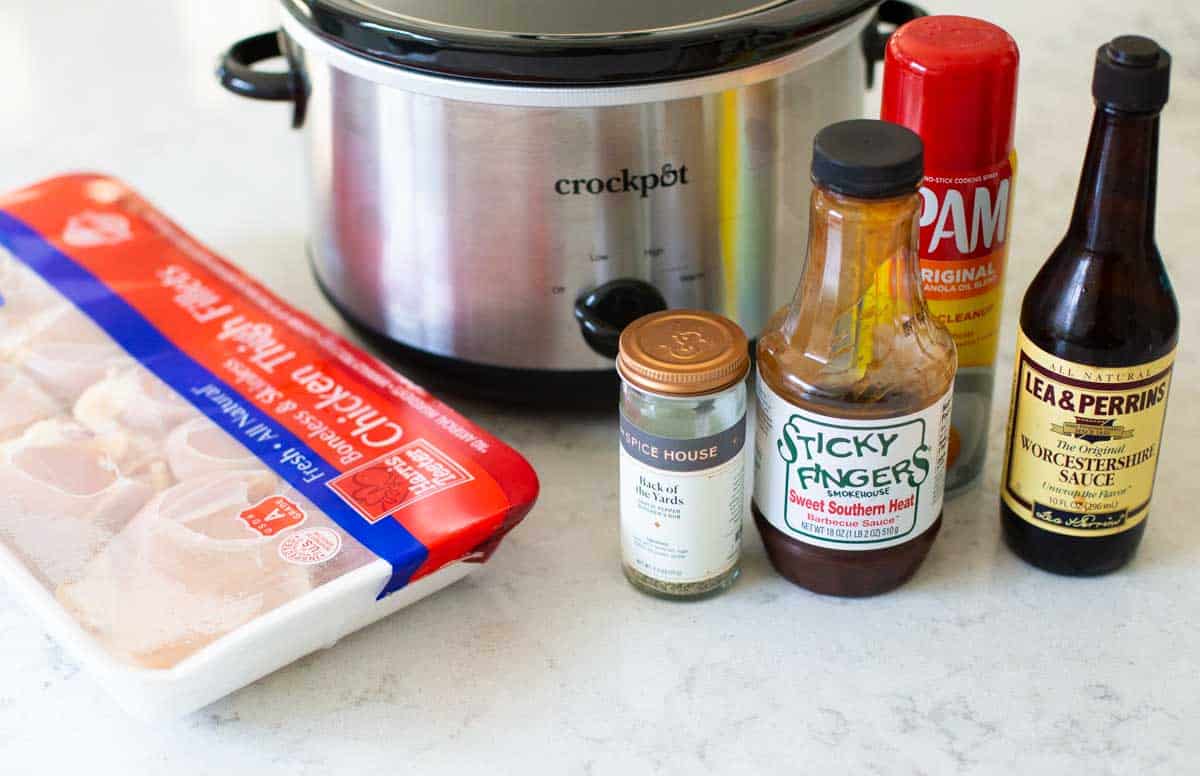 Boneless, skinless chicken breasts
Your favorite bottle of BBQ sauce
BBQ dry rub seasoning OR a salt & black pepper mix
Worcestershire sauce
Optional: a yellow or red onion if you want more of a kick
See recipe card for quantities.
Add the Chicken to the Crockpot
Spray the pot from a 3-qt or 4-qt Crockpot, with cooking spray.
Open each thigh from the folded position they are packaged in so they cook more evenly and layer them in the bottom of the pot.
There should just be one single layer of chicken thighs to start.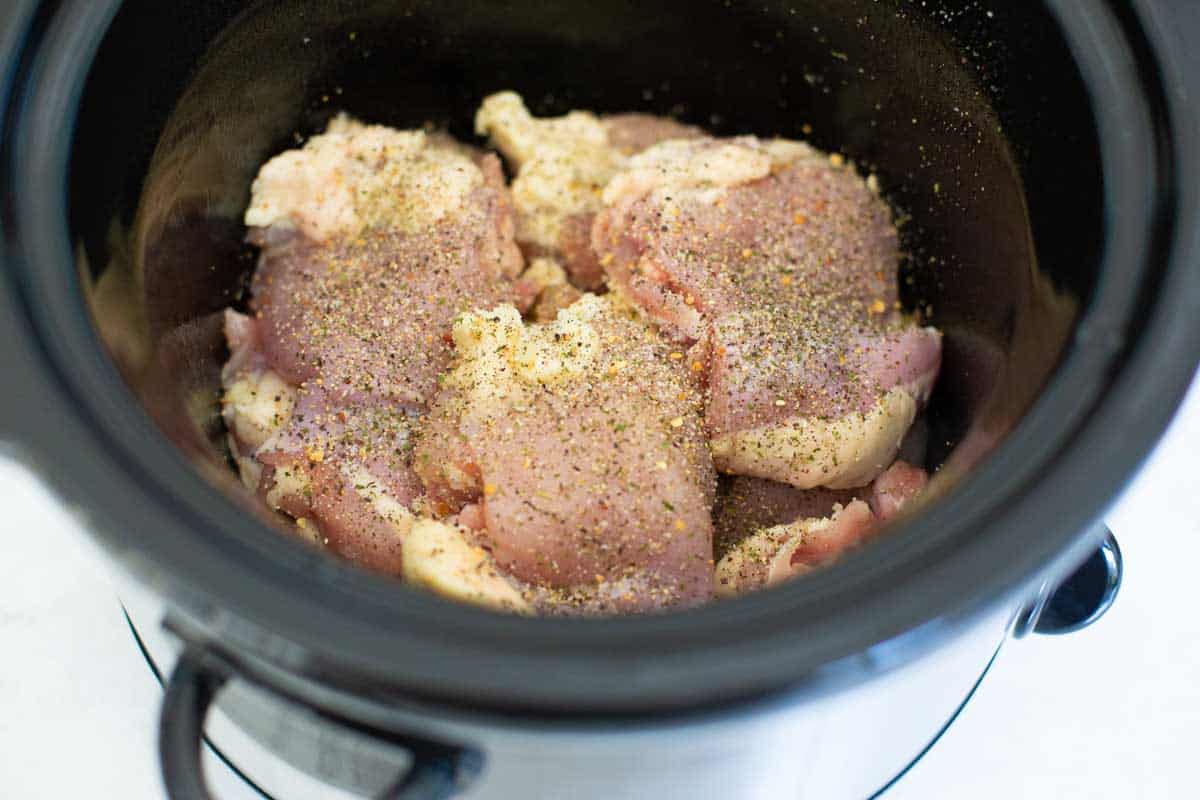 Season the Chicken
Sprinkle the BBQ dry rub evenly over the chicken.
I chose to use our favorite black pepper spice blend that features dried black pepper, dried bell peppers, salt, garlic, and a few other seasonings. You can find it here. (Hint: The flat pack always ships free.)
This barbecue blend has a much stronger level of heat and kick to it than our pepper rub and would be equally delicious.
Continue to layer the chicken pieces into the slowcooker until they have all been added in flat layers and seasoned with spices.
Build the BBQ Sauce
If you're using the onions, dice them up and sprinkle them over the chicken at this time.
Drizzle the prepared BBQ sauce over the chicken. Use a fork to nudge the chicken pieces at the bottom so they get a little sauce underneath them to start.
Hint: You can use whatever brand barbecue sauce your family prefers. We tend to love the sweet and spicy tomato based BBQ sauces but a vinegar or mustard BBQ sauce would also be delicious.
Sprinkle the Worcestershire sauce over the top and place the lid on the slowcooker.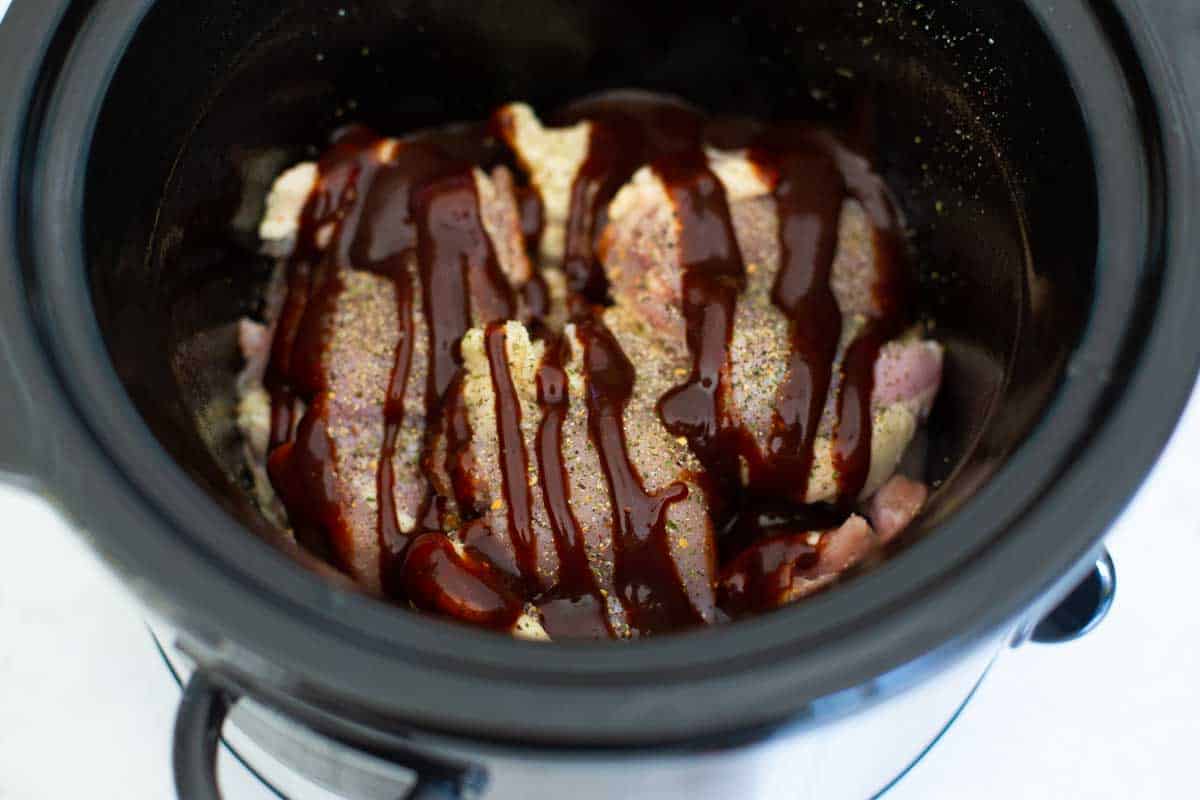 Cooking Instructions
Cook on HIGH heat for 3 - 4 hours or until the chicken is fork tender.
Stir the chicken after 2 hours to help coat all the pieces in sauce.
You can shred the cooked chicken with two forks or simply stir it and break it up with a large spoon.
Substitutions
Chicken - if you prefer to use a leaner cut of meat, you can substitute boneless, skinless chicken breasts or tenderloins.
Larger chicken breasts should be cut into fourths so they cook more evenly.
Adjust the cooking time and check them at 2 ½ hours because they will cook much faster.
Variations
By changing the variety of spice rub you use or the flavor of BBQ sauce you use, you can have an entirely different version of this recipe.
If you're hosting a large party, you may consider offering 2 - 3 different slowcookers filled with different varieties of BBQ chicken:
South Carolina-Style Mustard-based BBQ Chicken: a tomato-less barbecue sauce that features vinegar, cayenne pepper, black pepper, hot sauce, and other ingredients
Eastern North Carolina Vinegar Sauce BBQ Chicken: a tangy German-style sauce featuring mustard, vinegar, and other spices
Texas Style Mop Sauce BBQ Chicken: Thinner barbecue sauce featuring beef stock, vinegar, Worcestershire, and other seasonings
Kansas City Style BBQ Chicken: thick ketchup and molasses seasoned with brown sugar, soy sauce, Worcestershire sauce, and other seasonings
Alabama White Sauce BBQ Chicken: a mixture of mayo, vinegar, and pepper
How to Fix the Texture of the Sauce
The variety of barbecue sauce you use and how fatty the pieces of chicken are could make the final sauce have a thinner or thicker texture than you prefer.
To Fix a Thin Sauce: You can add cornstarch, 1 teaspoon at a time to thicken the sauce. Let the mixture bubble for several minutes of heat before adding more.
To Fix a Thick Sauce: If your sauce is too thick, you can add a splash of chicken stock to thin it out to your desired consistency.
Equipment
A 3-qt or 4-qt Crockpot is the perfect size for 1 ½ pounds of chicken pieces.
If you use a larger size slowcooker, I recommend doubling the recipe or the chicken could burn on the bottom of your pot.
If you don't have a slowcooker, you could try making this Ninja Foodi BBQ chicken breast recipe instead.
Storage
Shredded BBQ chicken can be cooked and then stored in an airtight container in your fridge for 3 - 5 days.
You can also freeze the shredded chicken for 6 months. You may want to consider freezing it in individual portions for a single-serve sandwich or the just-right portion for topping nachos rather than freezing it in one solid block.
Serving Suggestions
This easy shredded chicken would pair well with any of the following family recipes:
📖 Recipe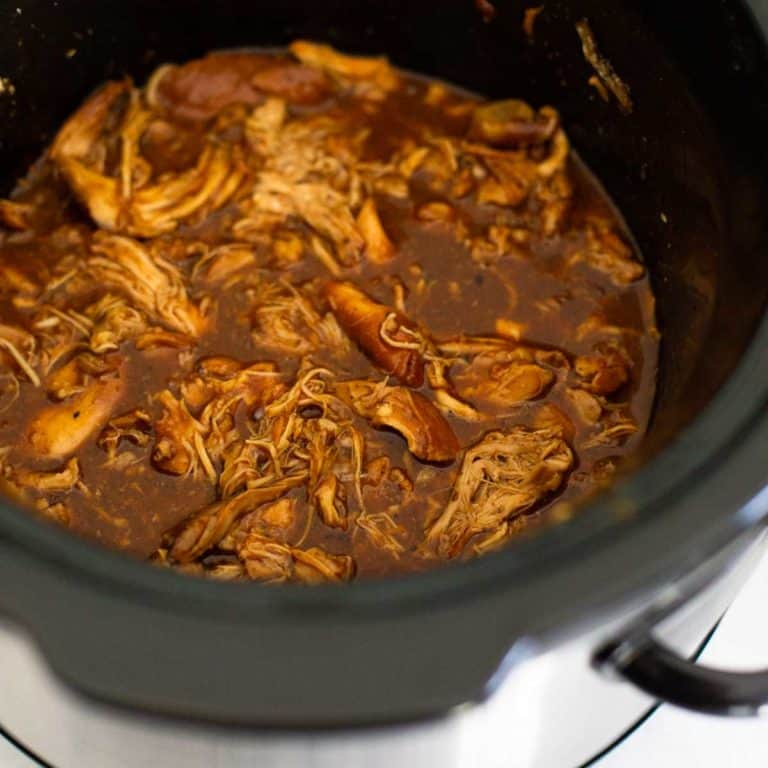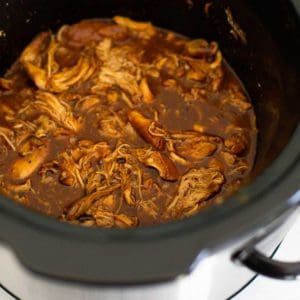 BBQ Crockpot Chicken Thighs
Tender BBQ Crockpot chicken thighs make excellent pulled chicken sandwiches or an easy barbecue main dish with sides. Serve the chicken warm straight out of the slowcooker for an easy buffet entree.
Ingredients
1 ½

lbs

boneless

skinless chicken thighs (about 4 - 6 pieces)

1

tablespoon

barbecue dry rub seasoning *see Notes for substitute

1

cup

prepared BBQ sauce

1

teaspoon

Worcestershire sauce

Optional: 1 yellow or red onion

diced
Instructions
Spray the inside of your slowcooker with cooking spray.

Place one layer of boneless, skinless chicken thighs on the bottom of the Crockpot. Use a fork or tongs to open them up from the folded position they are packaged in. Don't overlap them, just start with a single layer.

Sprinkle half of the dry BBQ rub, a pinch of salt, and a sprinkle of black pepper over the chicken in the slowcooker.

Spread another layer of chicken, opening them up as you add them to the pot. Sprinkle with more seasonings and continue until all the chicken has been added to the pot.

If using onions, spread them over the chicken now.

Pour the barbecue sauce over the top of the chicken. Add the Worcestershire sauce and then cover the pot with the lid.

Cook on HIGH heat for 3 - 4 hours. Stir the chicken and sauce after about 2 hours to help coat all the meat in sauce and rotate the pieces from the bottom to the top.

The BBQ chicken is done when it is fall-apart fork tender and the sauce is starting to bubble.
Recipe Notes
BBQ Dry Rub Options:
You can use any brand of prepared BBQ dry rub that your family prefers. They come in varieties from sweet to spicy and often feature chili powder, paprika, garlic, cayenne, and sometimes a bit of brown sugar.
The dry rub helps season the meat as it cooks.
If you don't have BBQ seasoning on hand, you can simply sprinkle some kosher salt and black pepper over the chicken to help season it.
Chicken Piece Substitutions:
If you prefer to use a leaner cut of chicken, boneless skinless chicken breasts or tenderloins can be used but should be cut into smaller portions so they cook more evenly. Reduce the cooking time to 2 ½ hours and check for doneness, they will cook much faster than thighs.
Save This Recipe to Your Recipe Box
Find this delicious recipe next time you visit by saving it to your very own recipe box on my site. All your favorites stored in one easy place!