This zesty barbeque chicken pizza recipe is the most delicious way to use up leftover cooked chicken or BBQ sauce. Sprinkle on sliced red onions, top with chopped fresh cilantro and use a homemade pizza dough crust for the most delicious home baked pizza in under 30 minutes!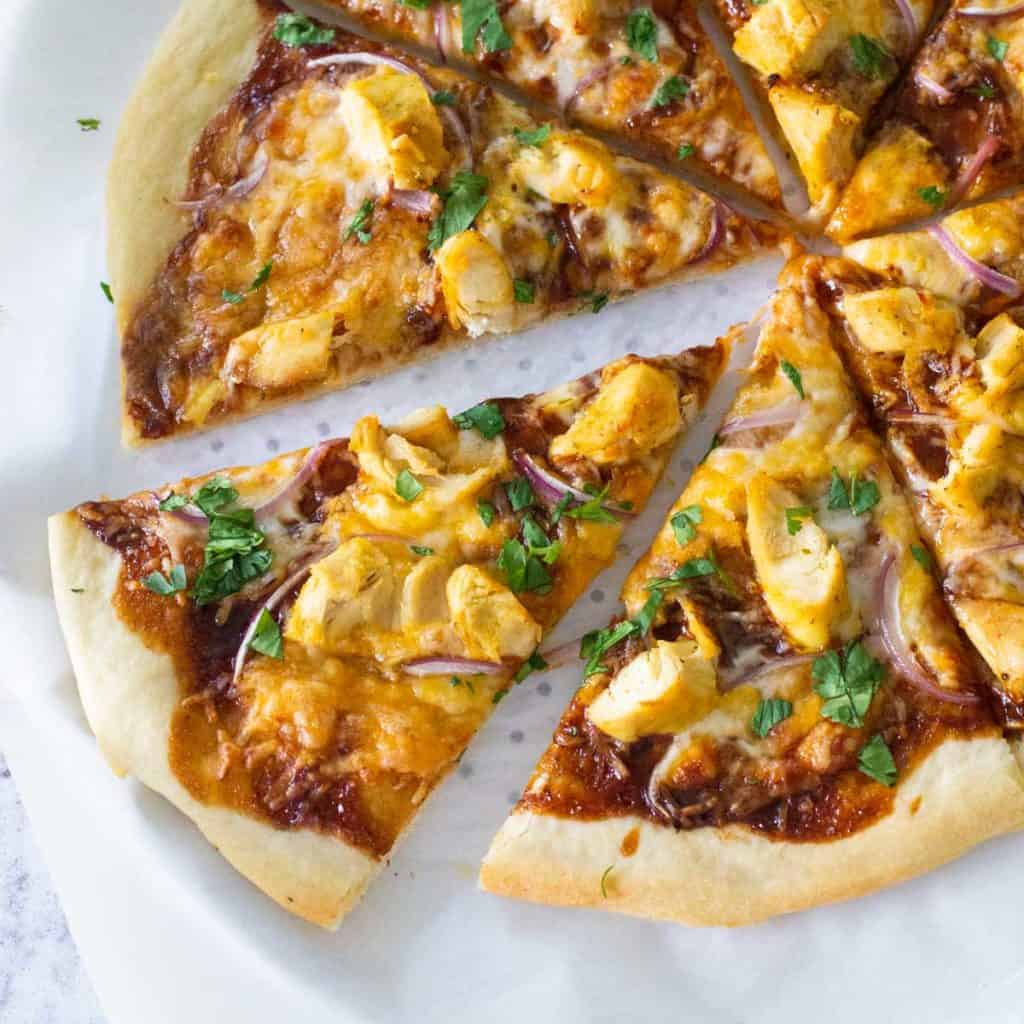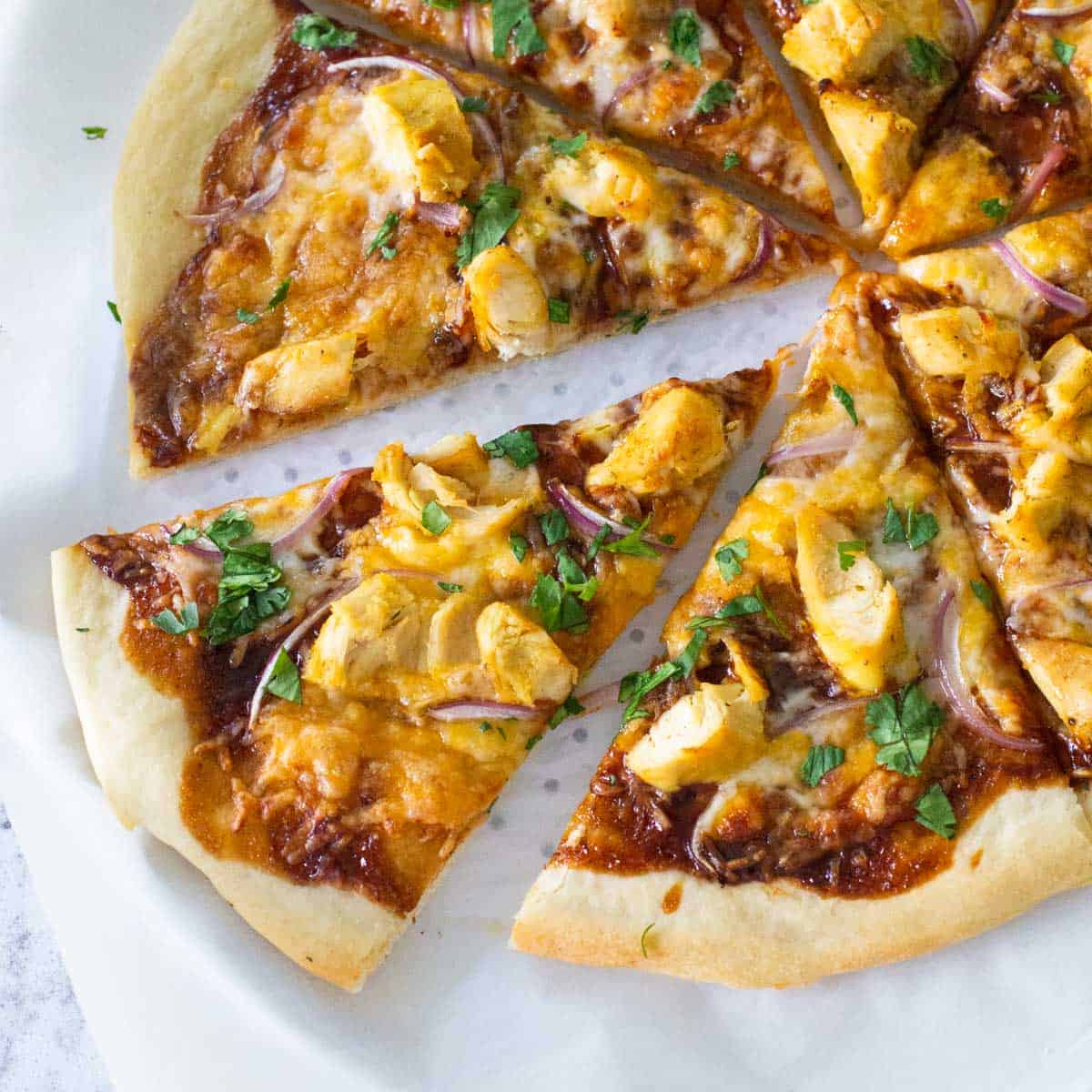 All it took was one bite of my BBQ chicken pizza to convince my daughter to finally branch out from her classic cheese pizza routine.
Initially skeptical, she couldn't resist the big juicy chunks of chicken and melty cheese on our homemade pizza.
If you've never made a homemade barbeque chicken pizza, you may not quite know just how incredibly delicious they can be.
Mix and match everything to fit exactly your favorite preferences:
your all-time favorite BBQ sauce
chicken seasoned just how you want
your favorite kind of cheese
and just as much onions (or skip them!) as you want
And the final debate? Fresh cilantro or no? I'm totally Team Cilantro, but my kiddos are decidedly not.
What Do You Need to Make This?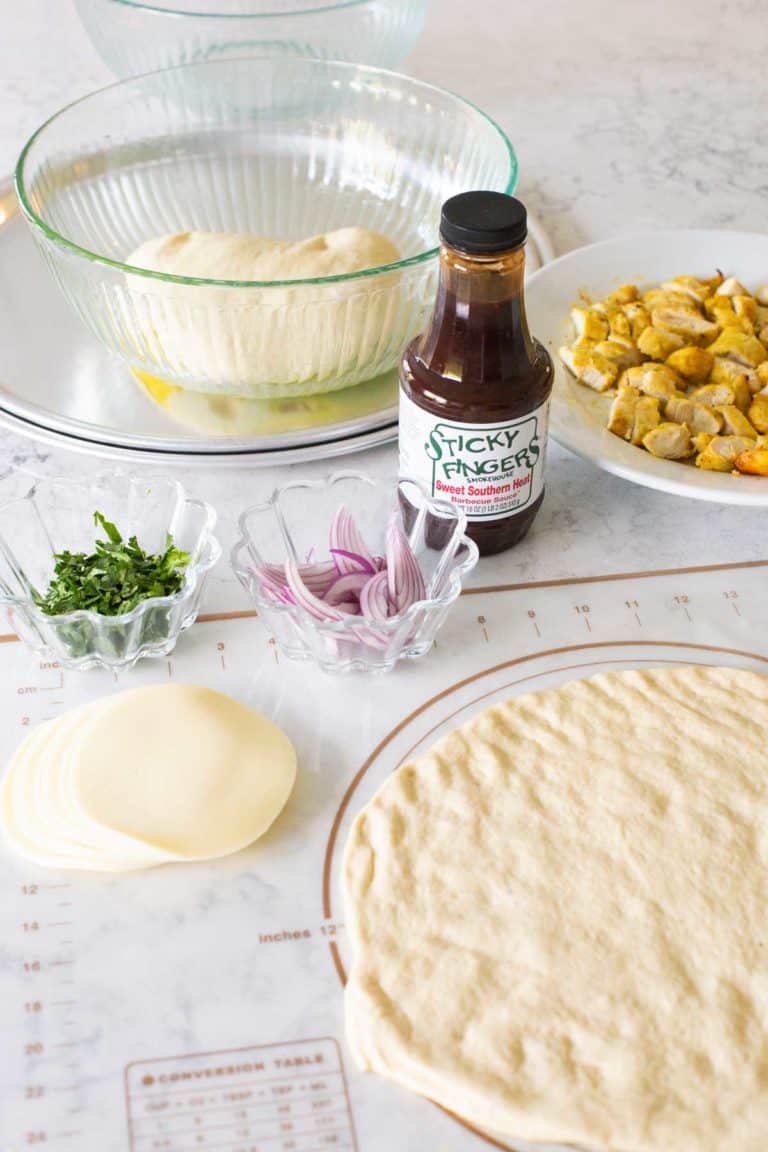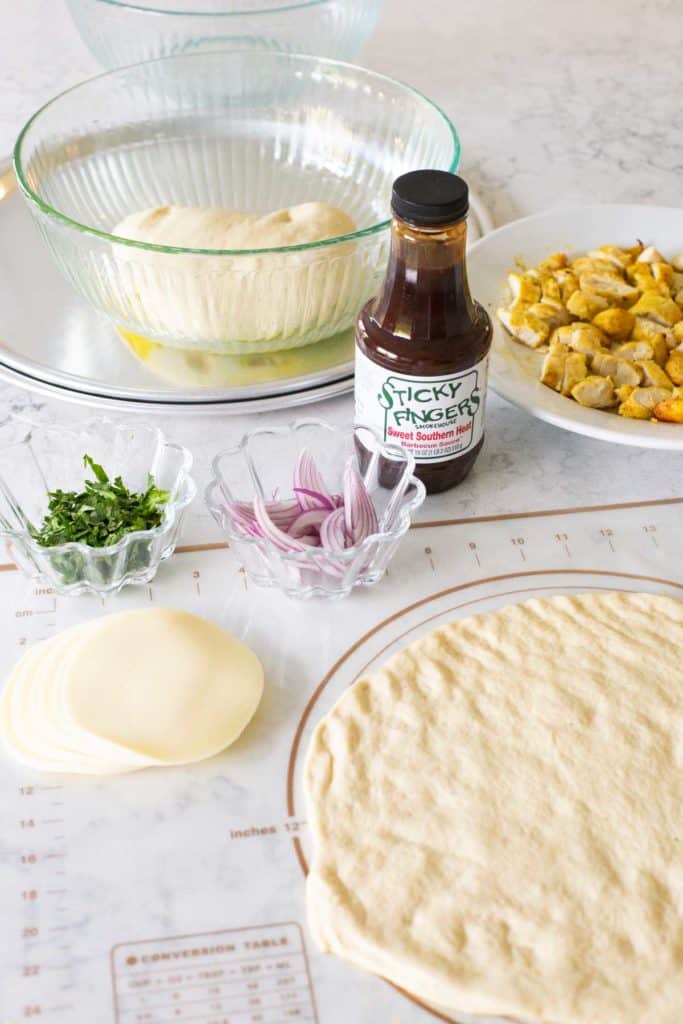 The ingredients for a bbq pizza recipe are really simple:
One batch of homemade pizza dough: We made this recipe using our favorite pizza dough recipe. You could substitute a ball of dough from the store or a premade pizza crust.
Barbecue sauce: It totally doesn't matter what kind you use. Whatever you love!
Cooked chicken: I strongly prefer our favorite air fryer chicken tenderloins because they make such juicy chunks, but you can also substitute a rotisserie chicken.
Sliced Provolone Cheese: This is the best melting cheese for pizza.
Shredded Colby Jack Cheese: This helps fill in the gaps with the chunky ingredients on top.
Red Onion: You can chop or thinly slice it or just put it on half the pizza if your kids don't like it.
Fresh Cilantro: I'm going to say this is a must-have, but that it is totally optional.
How Do You Layer the Ingredients?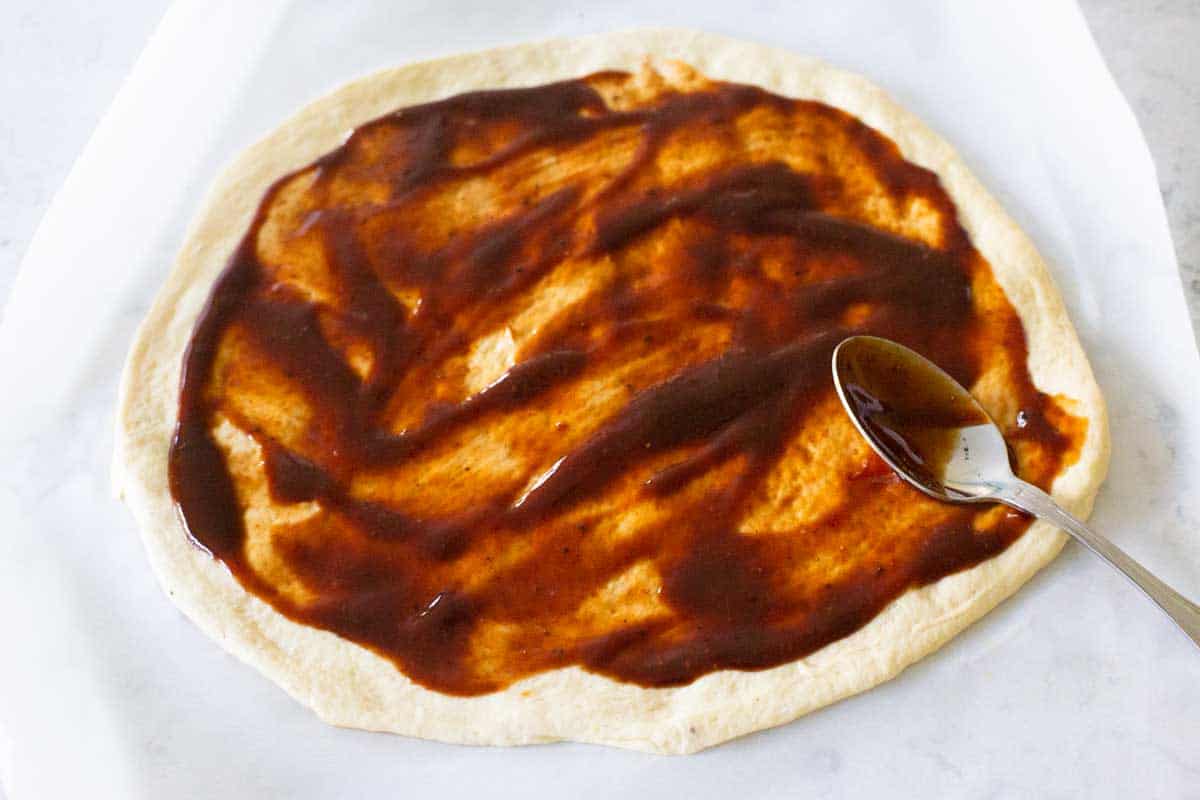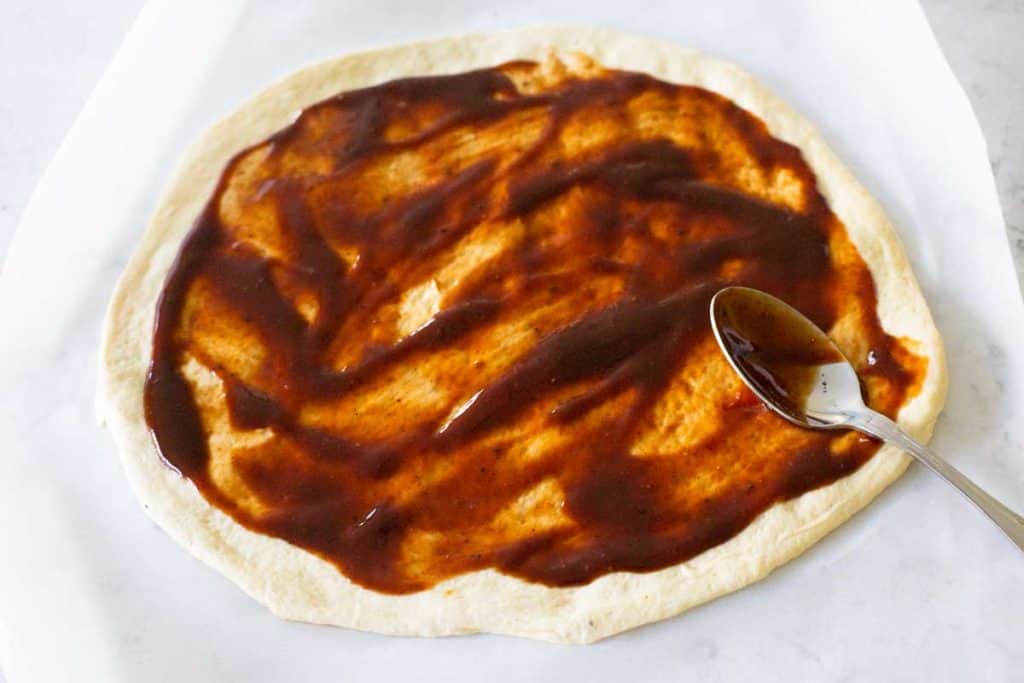 First, roll out your pizza dough to a 12-inch circle.
Brush 1 tablespoon olive oil around the edges of the pizza.
Then spread 1 cup of barbeque sauce over the pizza.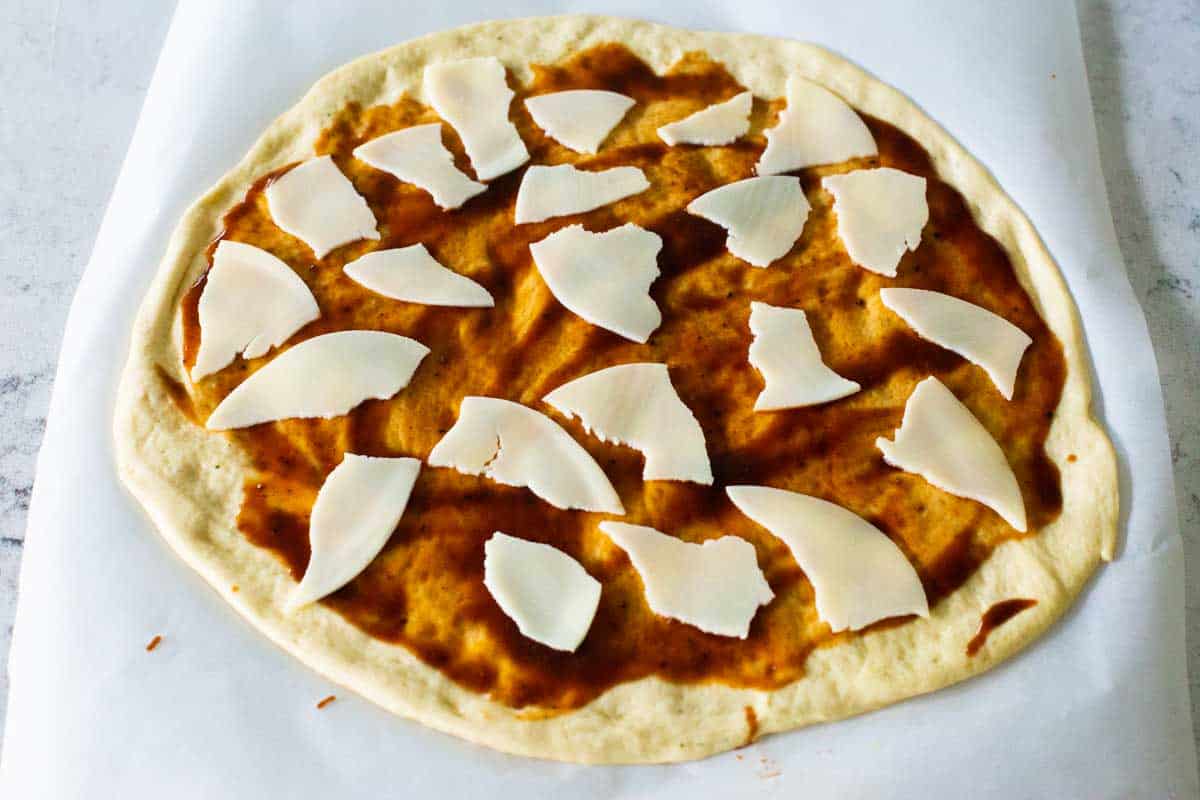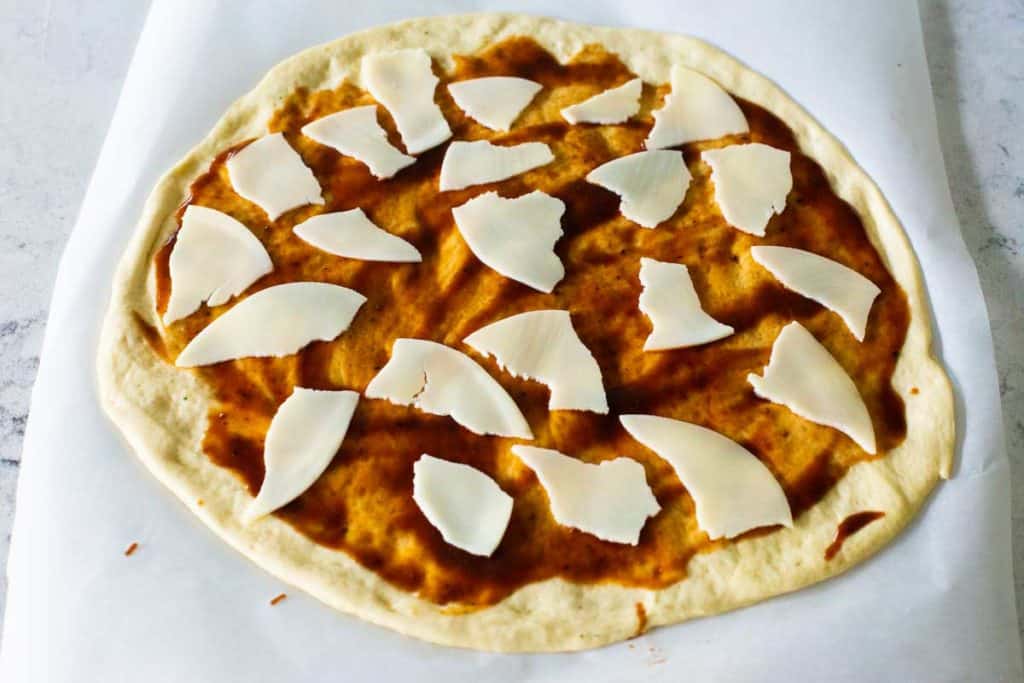 Rip the provolone into smaller chunks and scatter over the top of the sauce.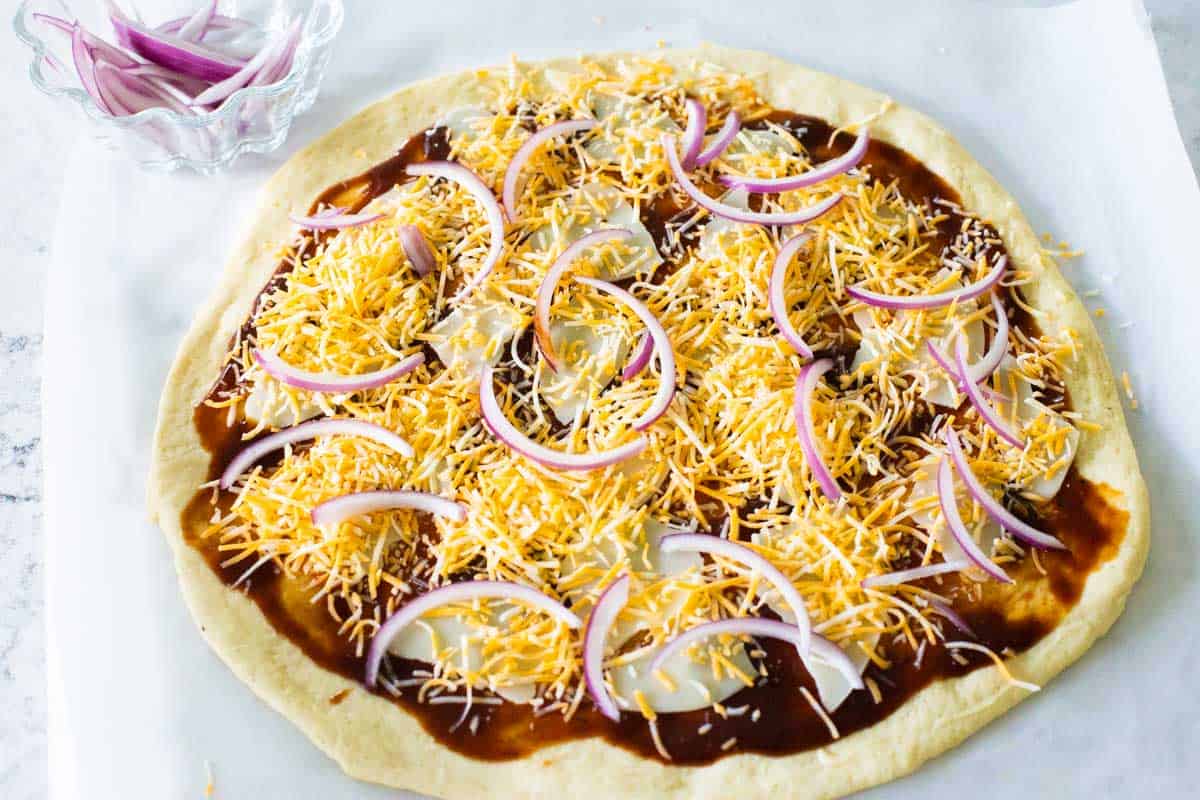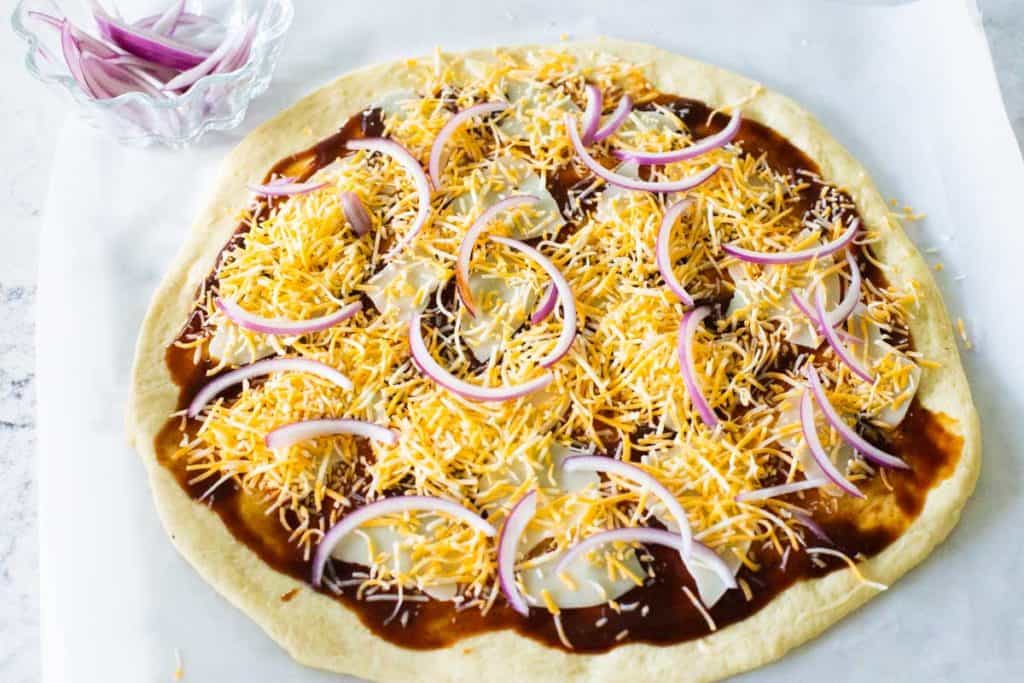 Sprinkle half of the shredded cheese and the onions over the top.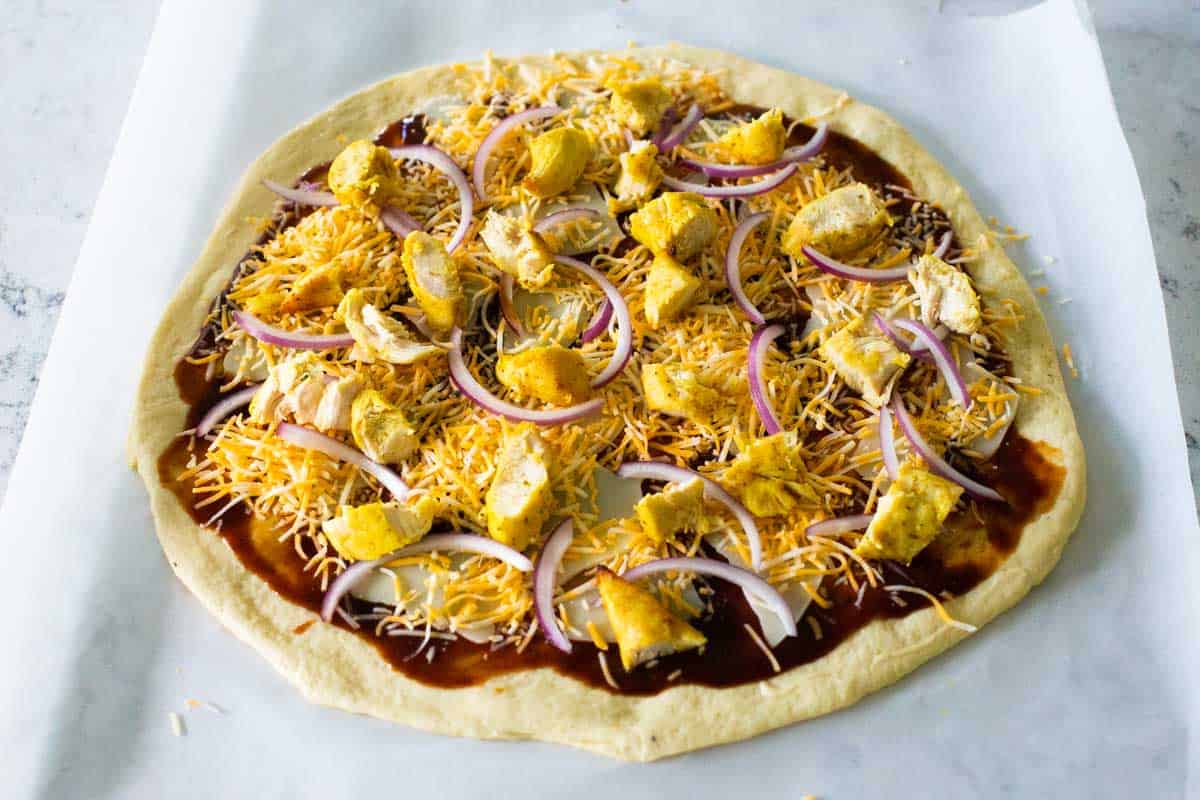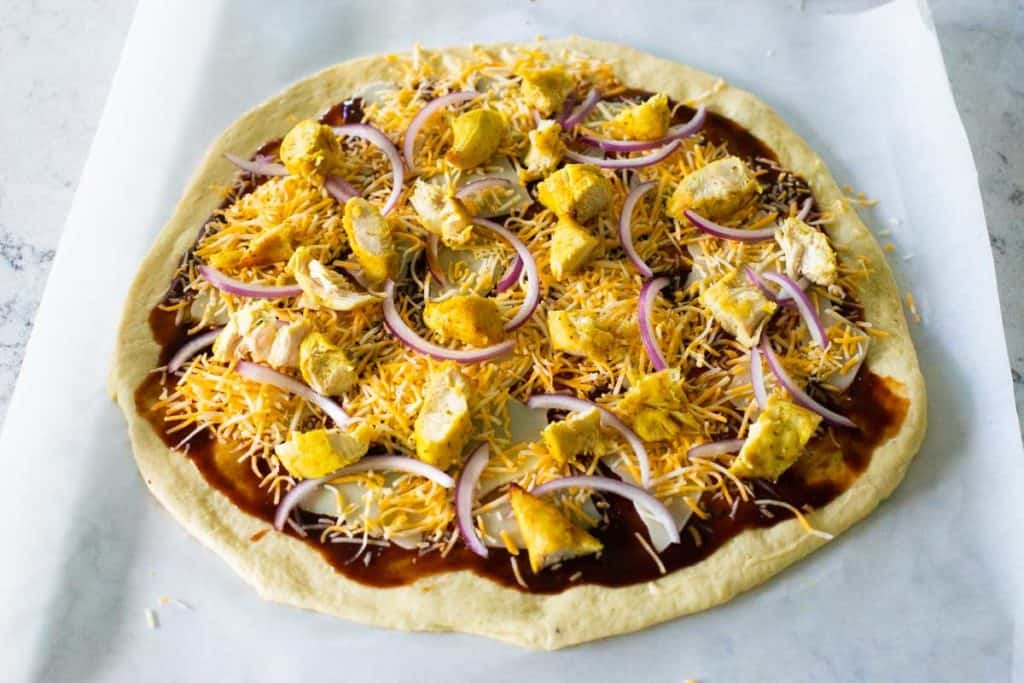 Scatter the chunks of cooked chicken over the top and finish with the remaining half of shredded cheese.
Save the fresh cilantro for sprinkling over the top of the cooked pizza.
Essential Tips for Baking Homemade Pizza
Recipe FAQs
Do you cook chicken before putting on pizza?
Pizza and chicken cook at different times and temps if you want to ensure a safe finished temp. You absolutely want to use only precooked chicken for topping a pizza. Don't worry about it getting overcooked or dry, homemade pizzas cook fairly quickly and the chicken should be just warmed through. If you're still concerned, bury the chicken underneath the shredded cheese, this will help retain the moisture.
Can you put BBQ sauce on raw chicken?
You should be making this pizza with cooked chicken but you wouldn't want to put the barbeque sauce on raw chicken because the sugar in the sauce will burn if it cooks as long as the chicken needs to be safely cooked through. You're better off cooking the chicken and just adding the BBQ sauce for the last minute or two of cooking.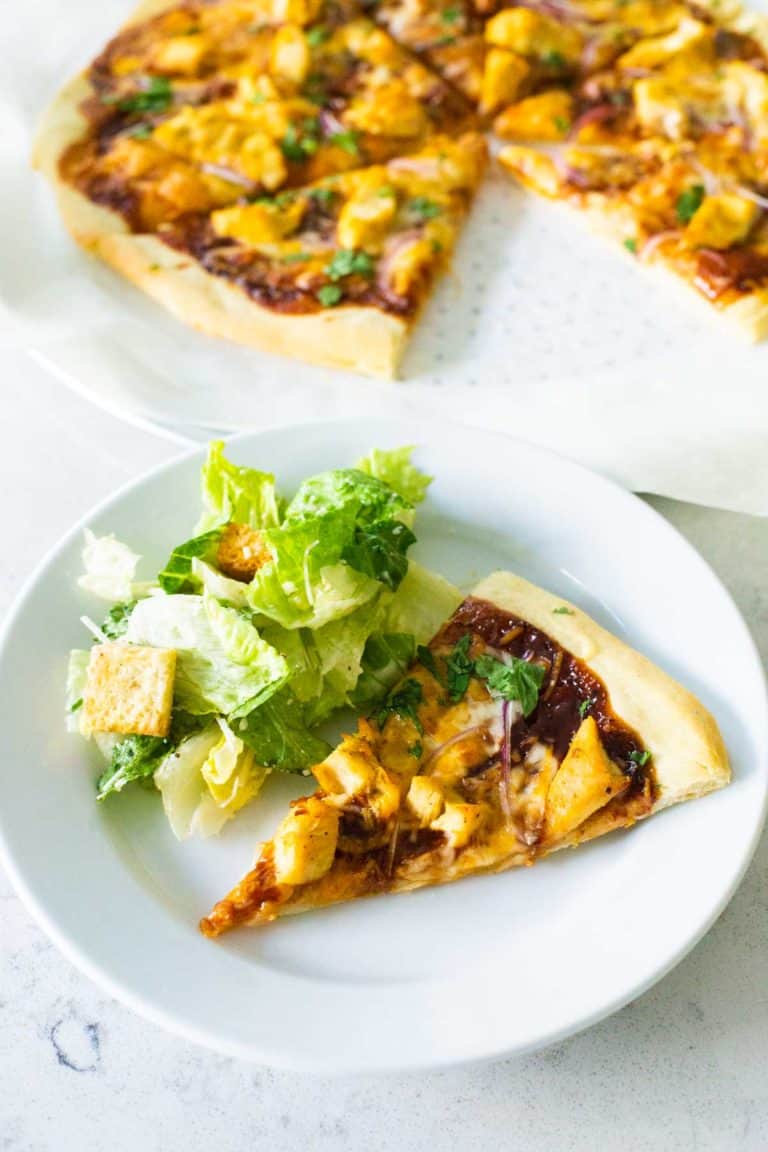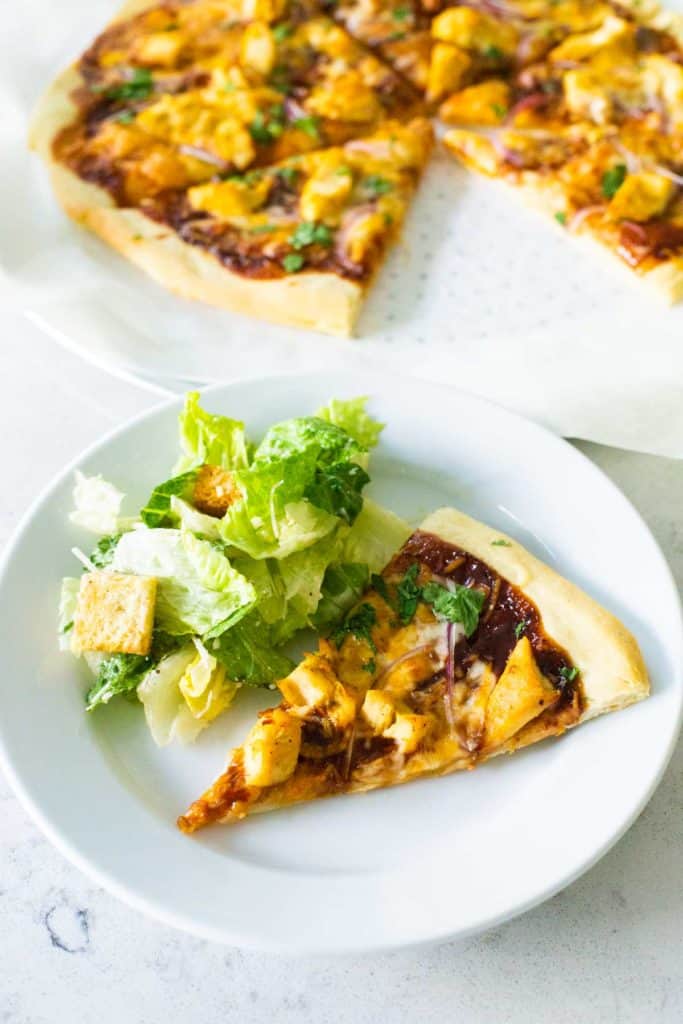 More Ideas for Pizza Night
If you've tried this barbeque chicken pizza or any other recipe on PeanutBlossom.com please don't forget to rate the recipe and let me know where you found it in the comments below. I love hearing from you!
FOLLOW along on Instagram @peanut.blossom as well as on Pinterest and Facebook.