Baked boneless pork ribs are a quick and easy 30 minute dinner for a busy night. Even better? It only needs 5 minutes of prep work! Season the pork with your favorite spice blend or use my mix below. Pop them in the oven and just pull together a few easy side dishes and dinner is served.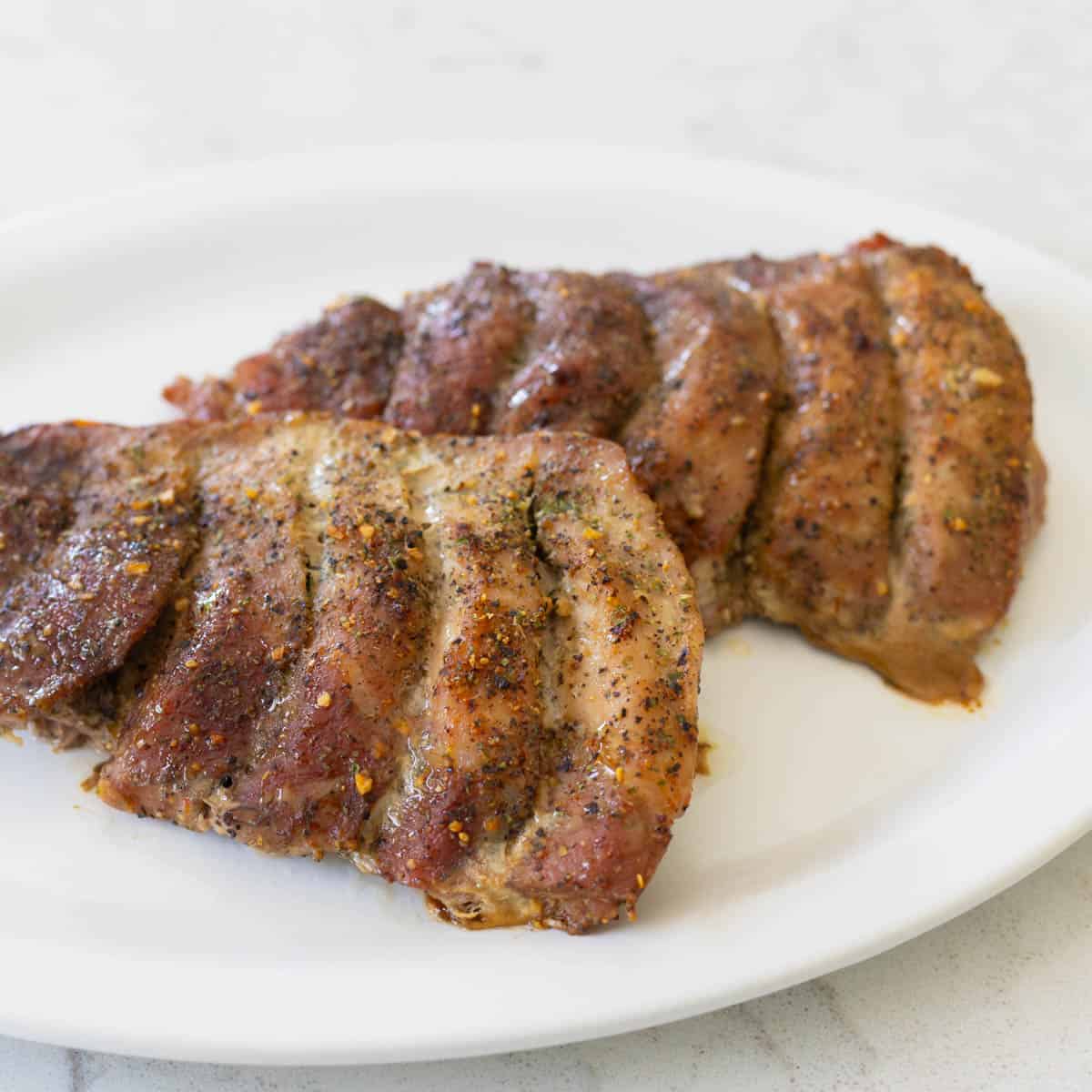 I spotted a package of boneless pork ribs at the grocery store on sale the other week and I was intrigued.
My mom has an amazing recipe for bone-in pork ribs but that takes her all day to cook and then grill.
It turns out that baked boneless pork ribs cook up just as tender with a fraction of the work!
You can make these for a quick and easy dinner even on a busy night. Just pop them in the oven and pull together some easy sides and you're ready to serve dinner.
Jump to:
Why This is the Best Recipe
Making classic barbecued ribs is a super delicious dinner but I actually think this is the best baked boneless pork ribs recipe because:
FAST: When you use boneless pork ribs instead of the ones with the bones in, the meat cooks so much more quickly!! This is perfect for a weeknight dinner in a pinch.
Easy: Just shake on some seasonings and pop the ribs in the oven, dinner couldn't be easier!
Flexible Seasonings: Use my recommended seasoning blends or mix your own. Almost anything goes here.
Delicious: These ribs bake up tender and juicy and are a fun change of pace if you've been in a chicken rut.
Budget-Friendly: Boneless pork ribs freeze really well. If you spot them on sale just pop them in the freezer for later. Thaw them in the fridge the night before and then bake as directed. Easy peasy.
Ingredients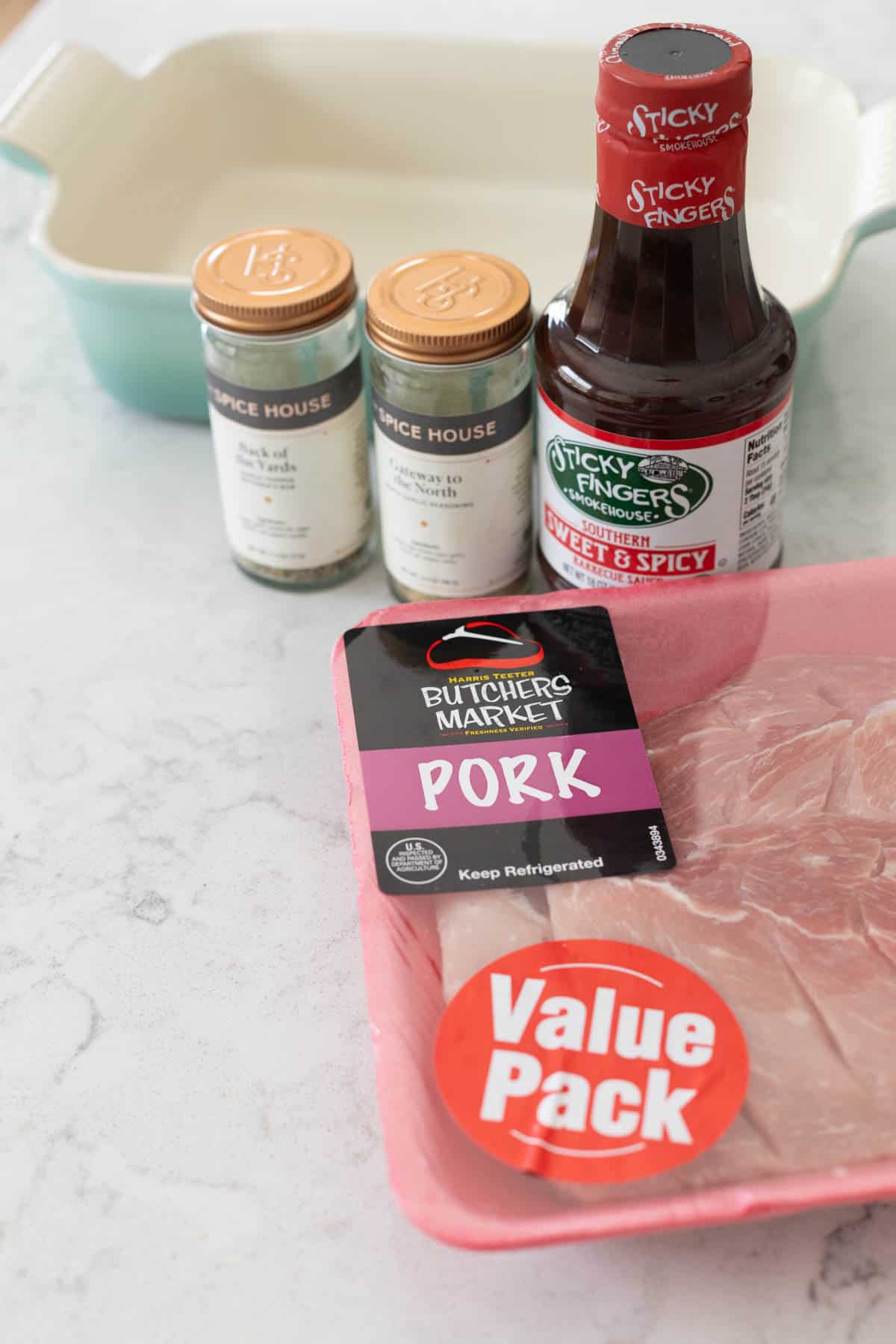 Boneless pork ribs are such a quick and easy dinner because all you need to make them is:
Boneless Pork Ribs
Dry Seasonings: There are lots of seasoning options you could choose, this doesn't need to be complicated. See my full notes on the best seasoning for pork ribs below.
Barbecue Sauce: This is even optional! We served it on the side as a dipping sauce but you could brush it on the pork as a glaze, too.
Season the Pork
The best way to bake delicious boneless pork ribs is to season the meat before you pop it in the oven.
There are several different ways you could season the ribs but I like to keep things very easy.
I love to use a seasoning blend for cooking because it saves me from having to measure out several different spices. I just grab a jar and shake it on.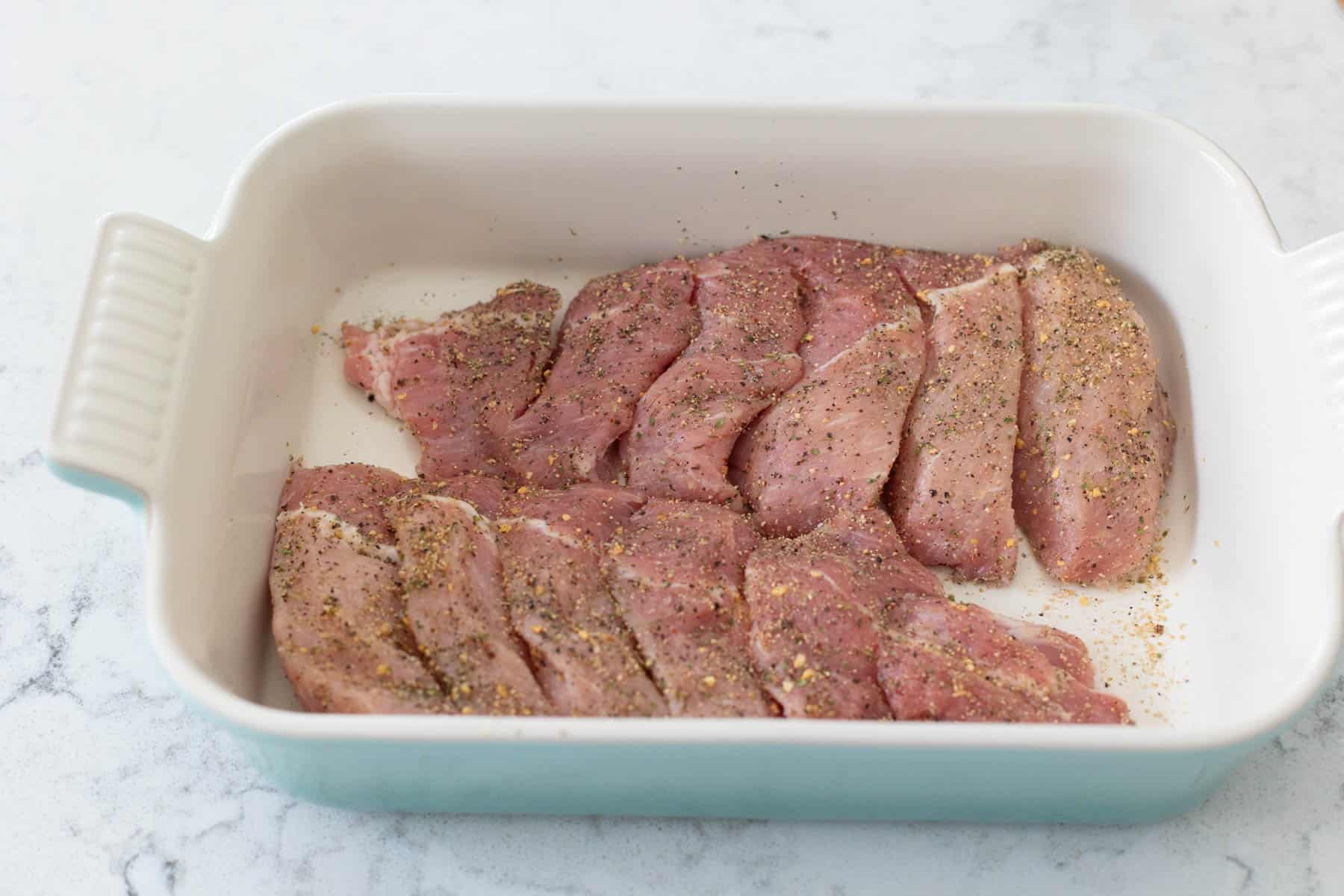 The seasonings I used when I baked this pork rib dinner are:
Back of the Yards Seasoning: a salt and pepper blend with garlic and bell pepper flavor
Gateway to the North Seasoning: a savory blend with hints of brown sugar and maple
And because we like things with a bit of heat, I added a pinch of cayenne.
Both of those spice blends are available with totally free shipping if you order the Flatpacks which are very easy to store in your pantry.
However, I know not everyone wants to buy a special spice blend, so if you'd like to mix your own, you can get a very similar flavor profile by mixing together:
Brown sugar
Kosher salt
Garlic salt
Onion powder
Black pepper
Dried parsley or thyme
Maple sugar
Alternatively, you could use your favorite pork barbecue rub or even a simple seasoned salt if you prefer.
Baking Instructions
To get perfectly tender boneless pork ribs, you'll want to bake them at a lower temperature.
Preheat the oven to 325°F.
Place the pork in a baking pan and rub the seasoning in on both sides of the meat.
Bake the pork ribs for 30 minutes or until they register 145°F at the thickest part.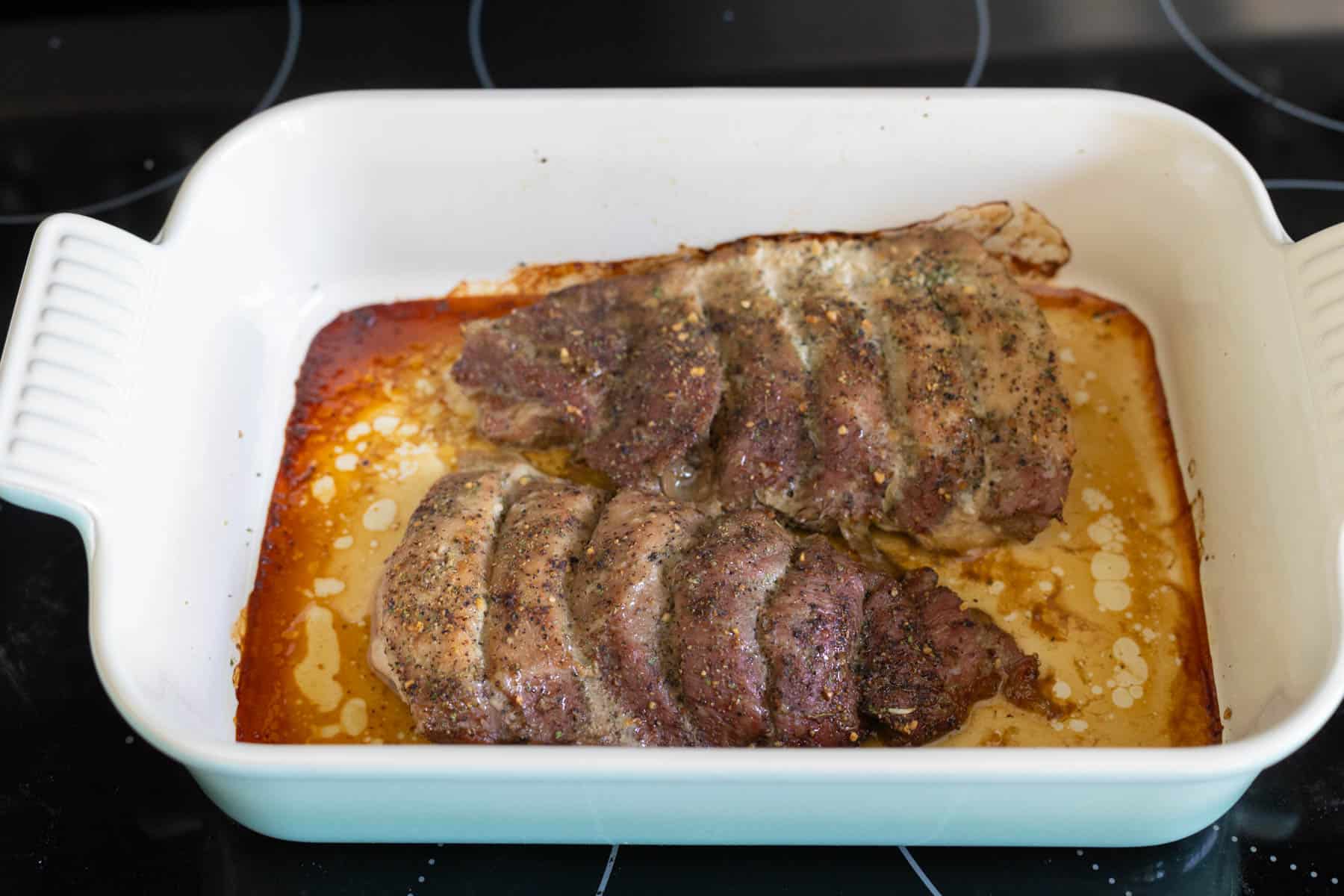 Broiled BBQ Ribs
If you like your ribs nice and saucy, you can transfer them from the baking pan to a broiler safe baking sheet.
Move the oven rack up to 6 inches from the broiler element. While the broiler heats up, brush the ribs with barbecue sauce.
Broil the saucy ribs for 4 - 5 minutes or until the barbecue sauce is thickened and bubbly and the ribs have crispy edges.
Serving Suggestions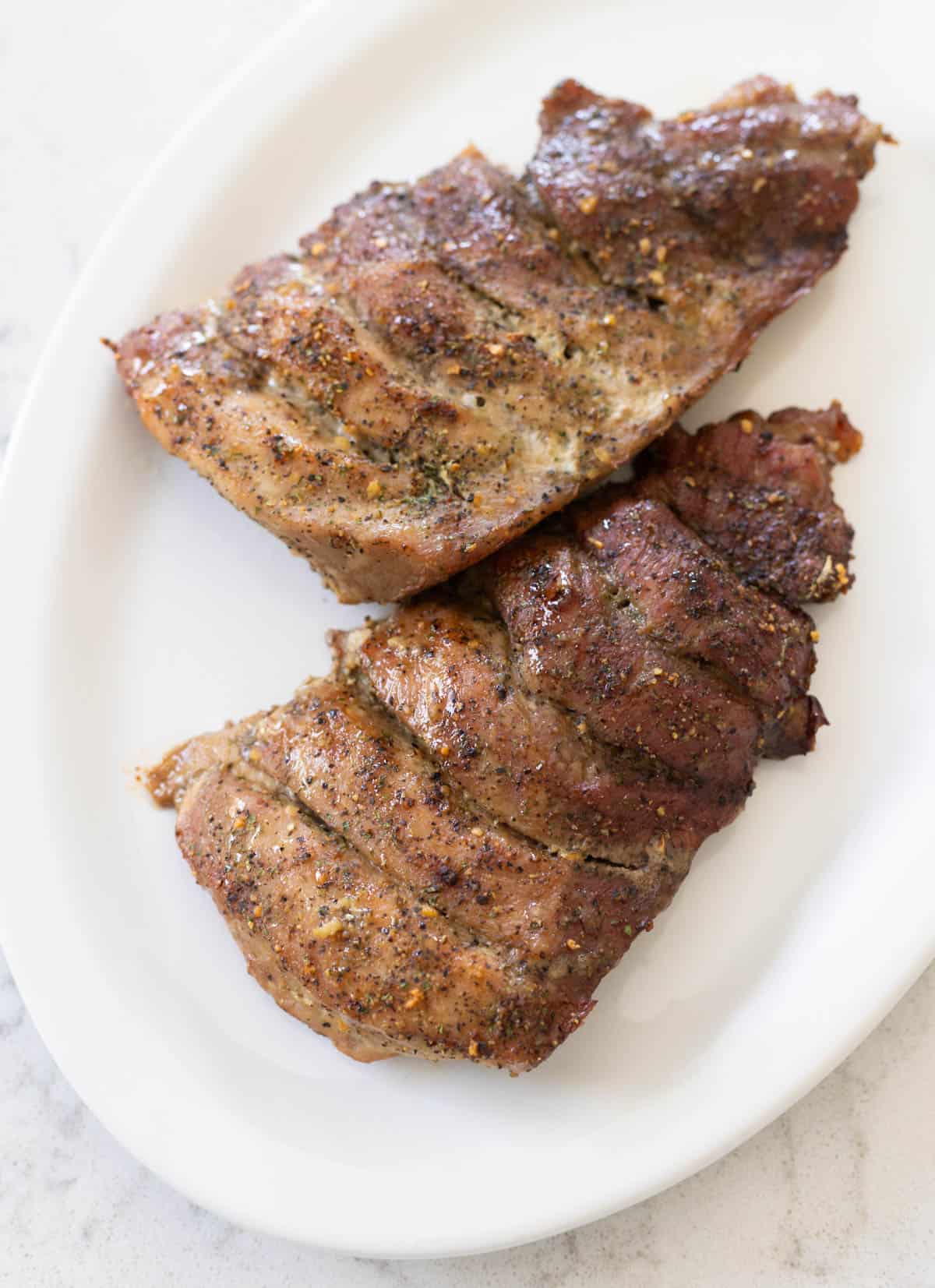 When I served these pork ribs to my family, we had bbq sauce on the side as a dipping sauce.
I also love to scoop a big spoonful of my chow chow relish onto the plate when we have such a savory meat main dish.
Side Dishes for Boneless Pork Ribs
If you're wondering what goes with boneless pork ribs for a side dish, I would recommend keeping it easy.
Pop a batch of my easy air fryer green beans in to cook, they'll be done in 15 minutes and make a perfect healthy side.
For a starch, my sweet potato mash with pineapple brings a little sweetness to the plate that pairs well with the seasoning blends but kids will love to see my easy baked mac and cheese on the table, too.
If you've got the time, a batch of Grandma's buttermilk cornbread is always a winner for a barbecue plate.
📖 Recipe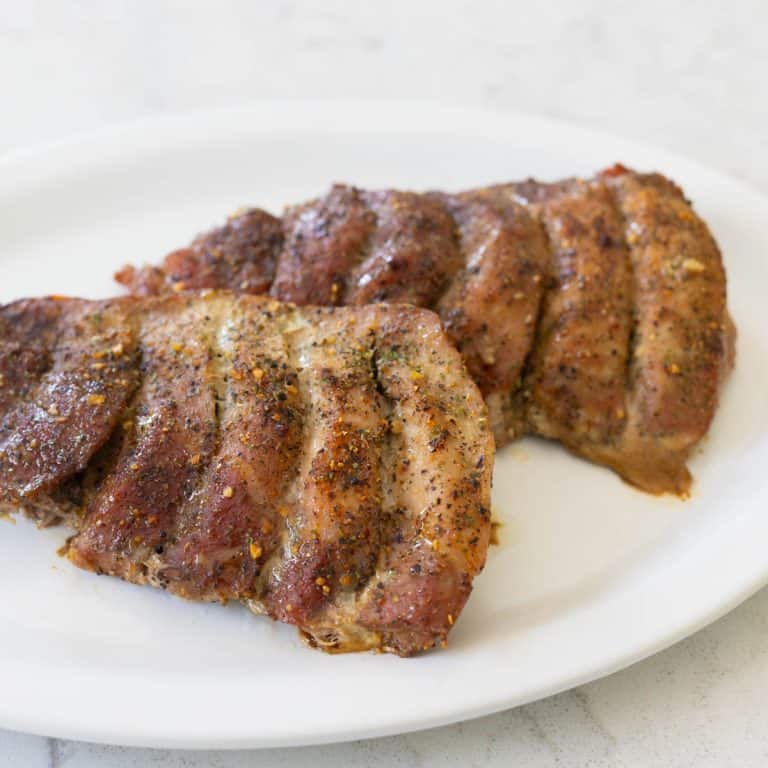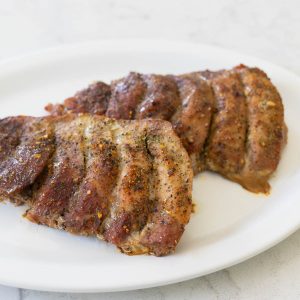 Baked Boneless Pork Ribs
Learn how to bake boneless pork ribs for a budget-friendly dinner idea in just 30 minutes. Seasoned pork ribs are delicious on their own or brushed with barbecue sauce and broiled to a crispy finish.
Ingredients
3

pounds

boneless pork ribs

1

tablespoon

Back of the Yards seasoning

*see notes for easy substitution

1

tablespoon

Gateway to the North seasoning

*see notes for easy substitution

1

teaspoon

kosher salt

½

teaspoon

cayenne pepper

Barbecue sauce

optional, can be used as a dip on the side or a broiled glaze on top
Instructions
For Basic Baked Boneless Ribs:
Preheat the oven to 325°F.

Place the boneless pork ribs in a single layer on the bottom of a 9x13-inch baking dish. Season both sides of the pork with the spice blends and rub them into the meat.

Bake the boneless ribs for 30 minutes or until they read 145°F with an instant read thermometer probe.
For Boneless BBQ Ribs:
If you want to add a barbecue glaze to your ribs, once the ribs are finished baking, remove the baking dish from the oven and transfer the ribs to a broiler-proof baking sheet.

Turn the oven broiler on with the top oven rack 6 inches from the heating element. Brush your favorite barbecue sauce over the ribs and broil them for 4 - 5 minutes or until the sauce is thickened and sticky.
Recipe Notes
Spice Blend Substitutions
I love using spice blends because they save so much time for my meal prep. The seasonings I recommended ship for free if you order the flat packs which are easy to store in your pantry.
If you prefer to blend your own, you can get a similar flavor by hand mixing:
2 teaspoon brown sugar
1 teaspoon kosher salt
1 ½ teaspoon garlic salt
1 ½ teaspoon onion powder
1 ½ teaspoon black pepper
1 teaspoon dried parsley or thyme
1 teaspoon maple sugar
Save This Recipe to Your Recipe Box
Find this delicious recipe next time you visit by saving it to your very own recipe box on my site. All your favorites stored in one easy place!