Every Easter season I find myself with a fridge full of hard-boiled eggs and an insatiable desire for some Deviled Eggs. My mom makes the best deviled eggs and even though I've tried her recipe countless times it never turns out properly when I'm in charge. I've finally given up trying to replicate her recipe and decided to venture out trying something completely different.
I put out a desperate plea for help on Facebook the other day and my friend Colet and her husband Jim came to my rescue with the most awesome Deviled Egg recipe I think I've ever had. It is totally different from my mom's recipe, but I think that is it's best selling point. Well, that and the fact that I was able to replicate it and have it actually turn out!
The thing that drew me to Jim's recipe was the fact that it uses Ranch Dressing in place of mayonnaise. I detest mayo in most applications and just barely tolerate it in Deviled Eggs. The ranch is the perfect substitution and adds so much more flavor! It also helps the consistency of the filling be not as thick and goopy and helps make it easier to swirl into the egg come decorating time.
So with Jim and Colet's permission, here is their wonderful recipe for Divine Deviled Eggs! Thanks guys, you made a pregnant lady super happy and this will be my traditional after-Easter recipe for years to come!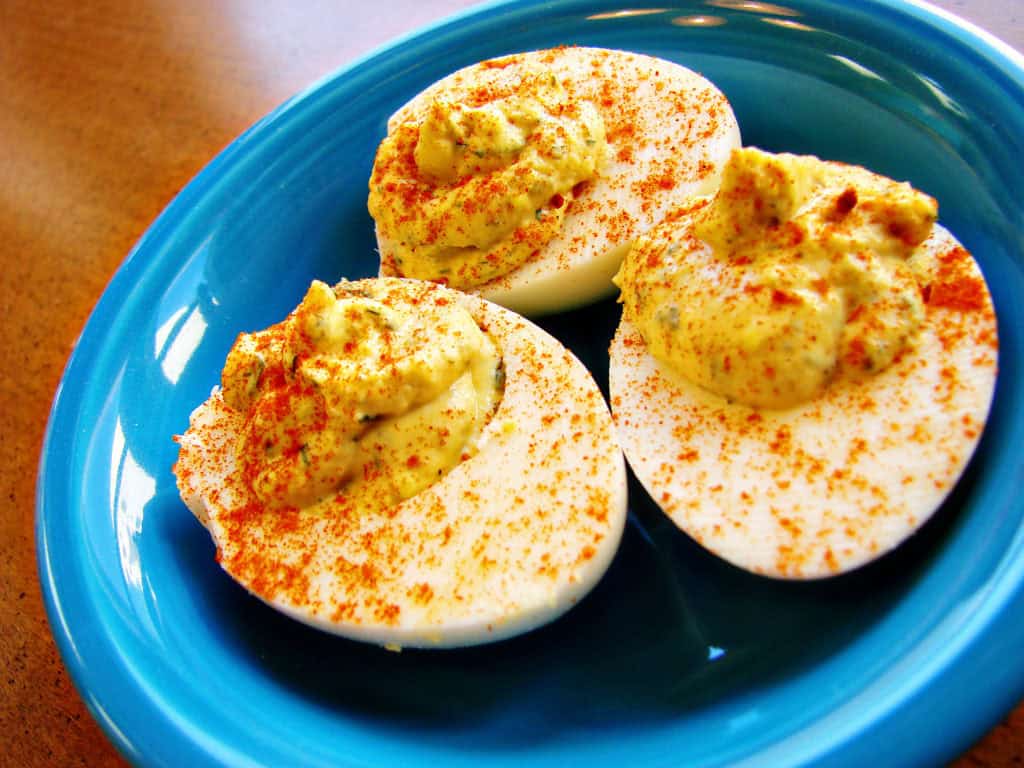 ________________________________
Divine Deviled Eggs
courtesy of Chef Jim
Ingredients:
12 hard boiled eggs, separate yolks into a bowl
2 tsp. dried parsley
1/2 tsp. dried dill
1/4 tsp paprika
1 tsp. Penzeys Sandwich Sprinkle
1 tsp. minced garlic (from a jar, include the juice)
1 tsp. dijon mustard
1/2 cup Ranch dressing (Chef Jim recommends Hidden Valley!)
1 tbsp. lemon juice
Heavy sprinkle of Red Hot (This was my personal addition, I love a "kick" to my eggs.)
Method:
Add the ingredients to the egg yolks in the separate bowl. Combine with a wire whisk to remove all the lumps.
Add more lemon juice to get a *smooth*, but not juicy texture if necessary. (It wasn't necessary for me, so be light handed with it!)
Keep in mind: the flavor of the filling is muted with the whites at serving. (Which is why I added the Red Hot and an extra sprinkle of the Sandwich Sprinkle.)
Chef Jim suggests putting the mix in a zip top bag with one corner cut off to squeeze into the whites, like a makeshift pastry bag. The filling is nice and smooth so it will come out of the bag quickly, be careful!
Sprinkle tops w/additional paprika and serve.