Make-ahead tomato caprese salad is an elegant Italian appetizer to serve during summer when the tomatoes are in their peak season. Fresh basil and mozzarella drizzled with balsamic vinegar and olive oil make a light meal or side dish for easy entertaining.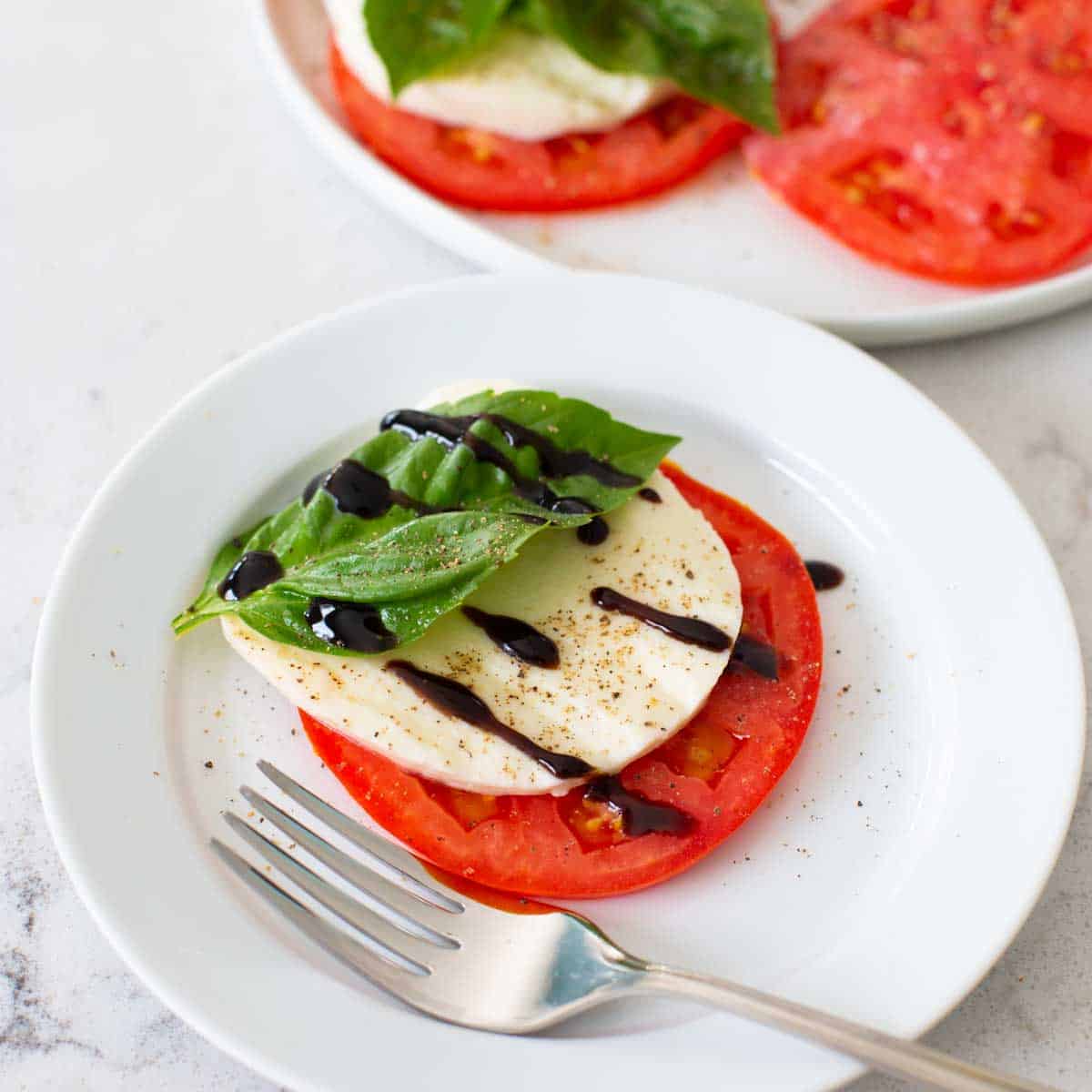 I've been eating fresh tomatoes this summer like they're going out of style! They are the easiest side dish to serve when I don't feel like cooking or getting things hot in my kitchen.
Nothing is tastier than a big platter of ripe, juicy tomatoes with fresh mozzarella cheese and basil from my herb garden.
This dish, also known as tomato caprese salad, works as an appetizer with chilled glasses of wine and a basket of crispy crostini, as a light meal when you just want a small bite, or as an easy side dish for grilled chicken or fish.
You can assemble the tomato platter in advance, up to 24 hours ahead of time, and keep it ready to go in your fridge.
But, I wanted to share two more fun twists for serving this easy recipe. Don't miss the simple variations below!
Jump to:
Why This is the Best Recipe
I think Italians have some of the best fresh appetizers and side dishes ever because they know how to use fresh, in-season produce to make it taste the best.
This is the best tomato caprese salad recipe because:
So Many Ways to Serve It: Be sure to check out all the ways you can use this tomato mozzarella platter for a salad, side dish, or easy dinner.
Easy Prep: Learn how to prep the tomatoes and store the platter so you can make it ahead of your party.
Pretty Presentation: Learn how to arrange the tomatoes and mozzarella so that it is picture perfect for your special meal.
Ingredients
This appetizer couldn't be easier to make. All you need to pick up at the market is:
Fresh Tomatoes: I love using heirloom tomatoes when I can get them, but big red slicing tomatoes are perfect, too.
Fresh Mozzarella: Find this in your specialty cheese section at the grocery store. Fresh mozzarella comes in large balls, logs, and bite-sized balls called bocconcini. I used the large ball for the platter but love using bocconcini for caprese kabobs.
Fresh Basil: You absolutely need fresh herbs here, dried will not work as a substitution. Basil grows like a weed in my herb garden, but you can often buy a plant at the grocery store cheaper than the harvested basil in the fridge section.
Balsamic Glaze: One of my favorite items from Trader Joe's. You can substitute regular balsamic vinegar if you can't find it.
Olive Oil
Salt & Pepper
How to Make It
First, slice the tomato in even, thick slices. I use a serrated knife to saw through the tomato skin cleanly.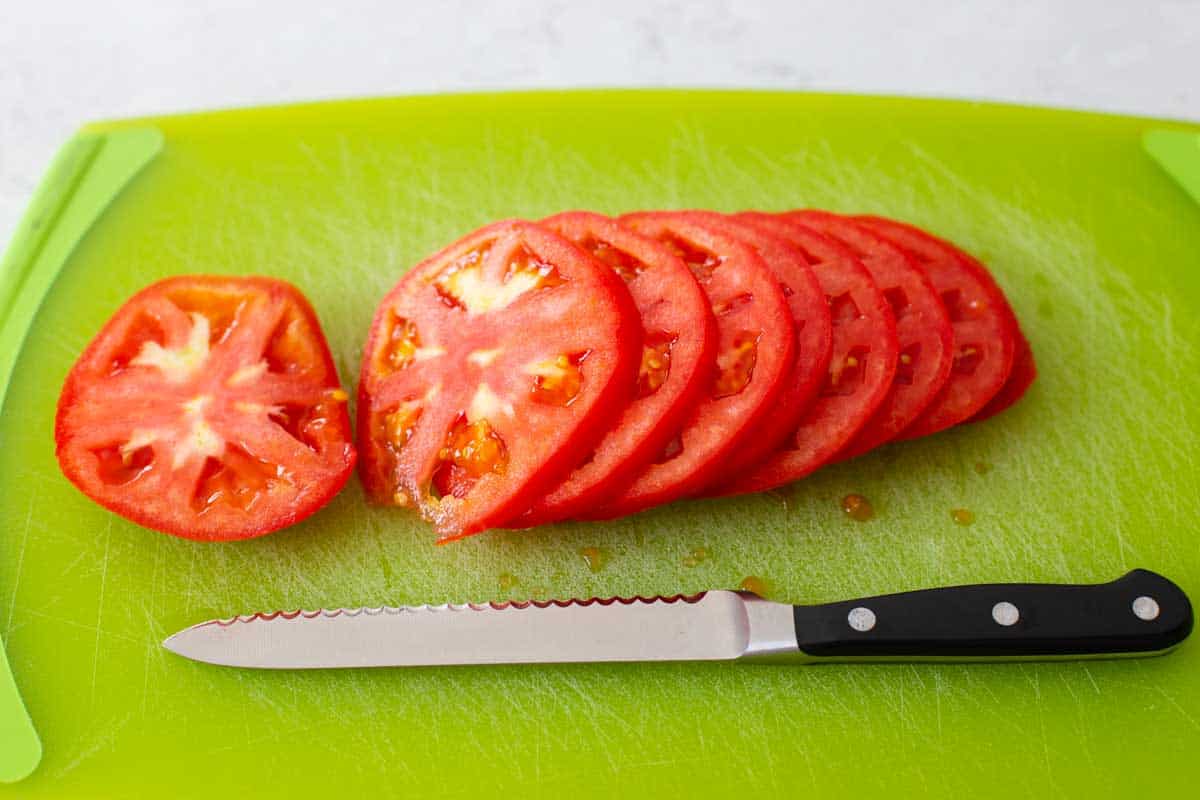 Arrange the tomatoes in a circular pattern with overlapping slices on a platter.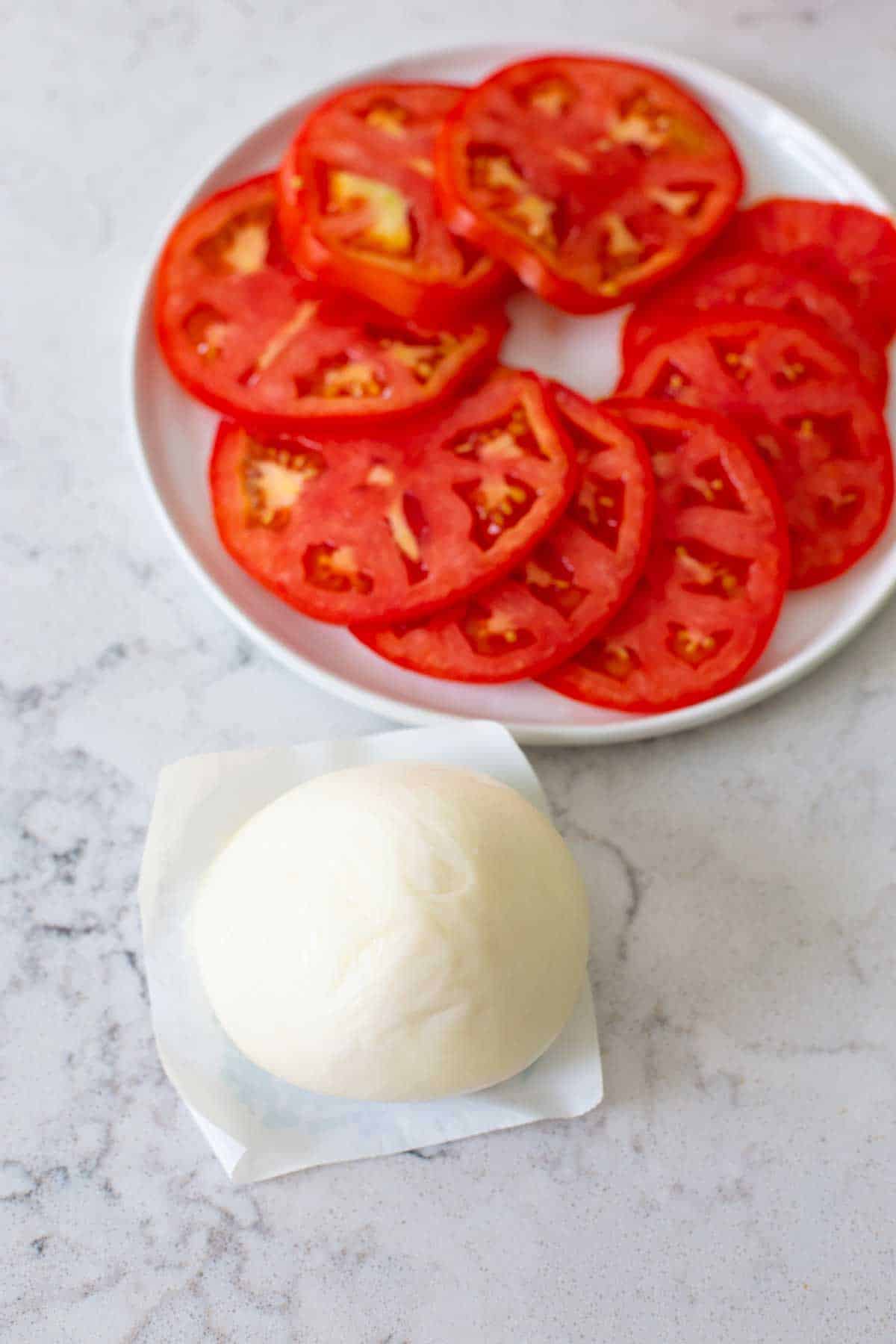 Unwrap the fresh mozzarella ball. Don't be worried, there will be a fair amount of packing liquid inside to keep the cheese fresh.
Place the mozzarella on your cutting board and use the serrated knife to cut even thick slices.
A mozzarella log may be a little easier to cut evenly than a ball, but I wanted the larger slices for my presentation.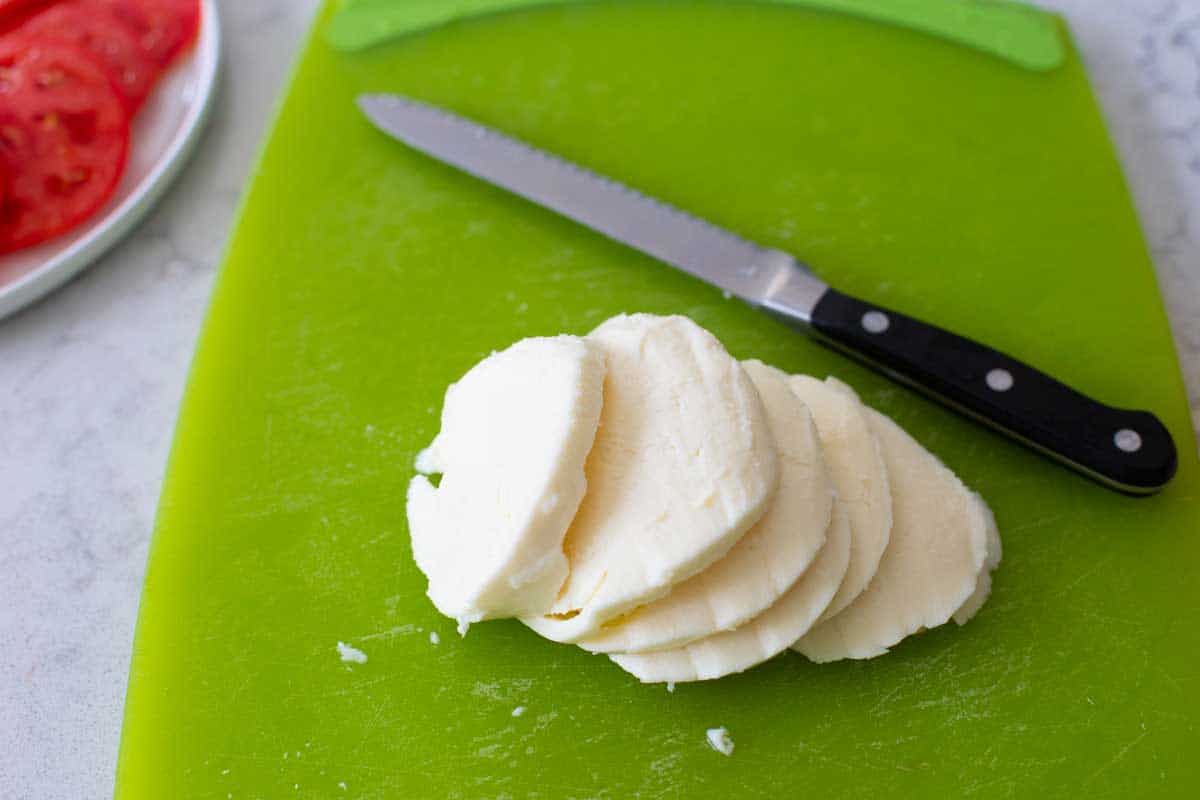 Some people use dental floss to cut through fresh mozzarella more cleanly, but I prefer the more rustic presentation that the serrated knife gives.
Tuck the mozzarella slices between the slices of tomato on the platter like this: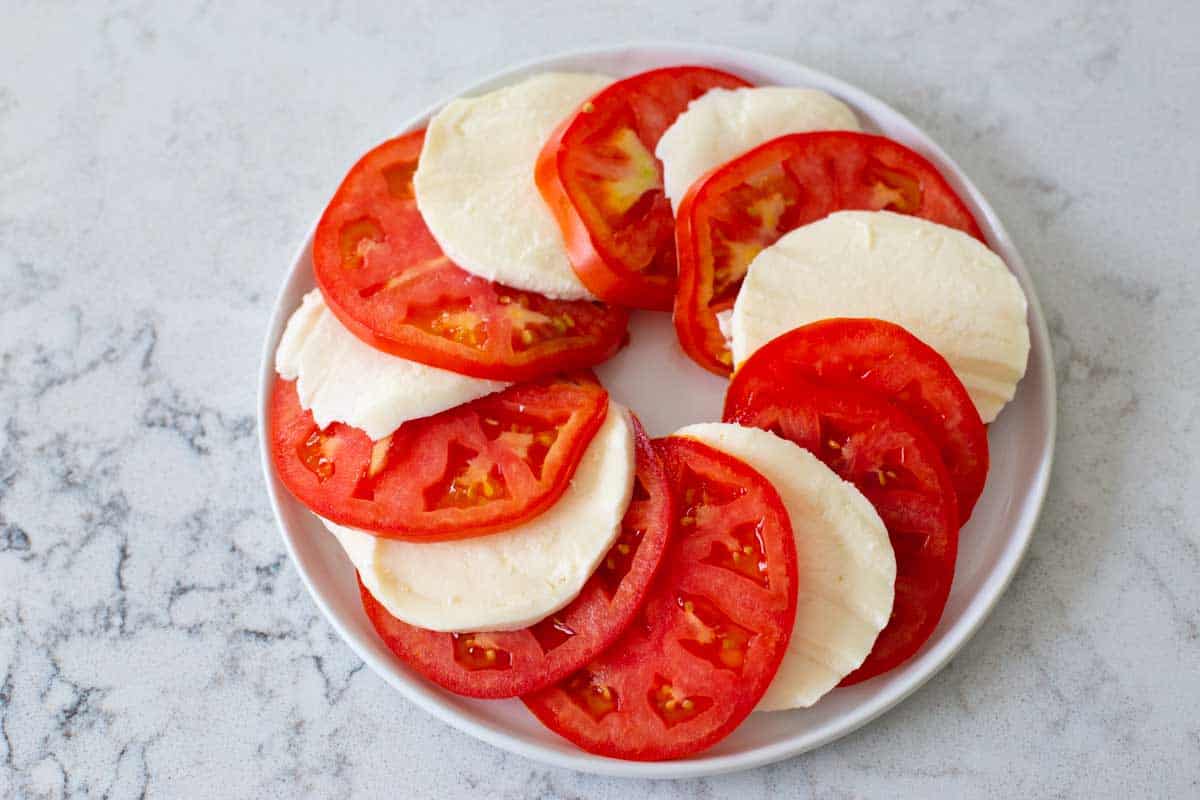 Then lastly, tuck in a few leaves of fresh basil on the platter to make it pretty.
Serve with the olive oil, balsamic vinegar or glaze, and salt and pepper for guests to garnish their own servings as they wish.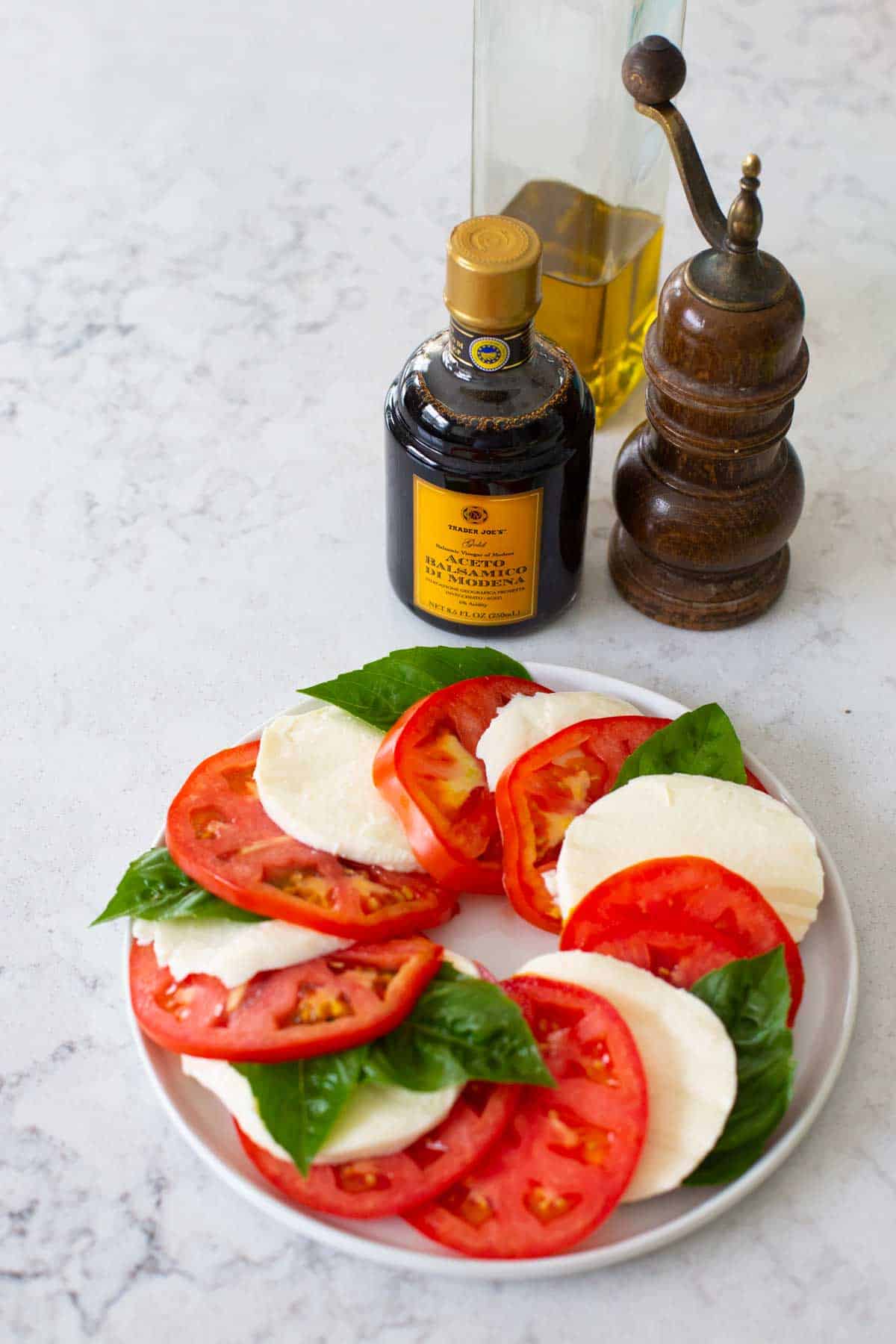 I prefer to drizzle my toppings on my own servings of tomato caprese because the oil and vinegar will spread and not keep well if you do it ahead of time.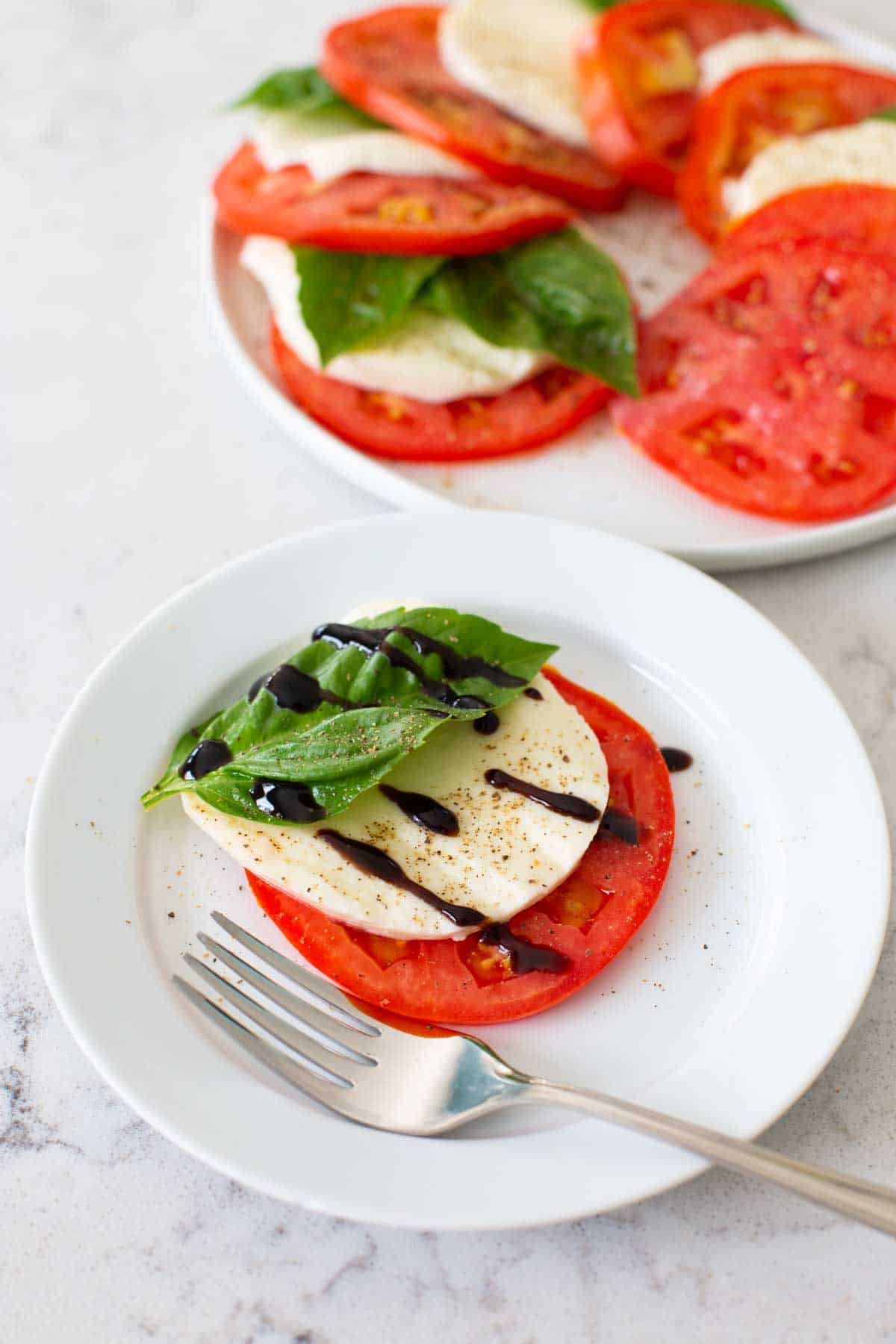 Make Ahead Tips
If you want to prep the tomato caprese ahead of time, you can assemble the platter with tomatoes, mozzarella, and basil and then wrap it all tightly in plastic wrap to keep fresh.
Store in the fridge no longer than 24 hours before serving.
I love my tomato caprese served chilled but it is also traditional to serve it at room temperature.
Variations
Tomatoes are the classic way to make caprese but these variations are also very delicious:
Peach Caprese: Add fresh peach slices to the platter in addition to or in lieu of the tomatoes.
Watermelon Caprese: Substitute slices of watermelon for the tomatoes.
Charred Peppers Caprese: Slice bell peppers and roast or grill them and use them in addition to or in lieu of the tomatoes.
Serving Suggestions
You can serve tomato caprese as a side dish for a light dinner with grilled chicken or fish.
It would pair really well with any of these easy summertime dinners:
Tomato Mozzarella Crostini Bites
I love classic Italian bruschetta al pomodoro but the diced tomatoes can be a little messy to eat.
Serve this tomato caprese salad platter next to a large platter of crispy crostini and build your own bruschetta from tomato slices instead of diced tomatoes.
You can layer a tomato slice, mozzarella, basil, and a drizzle of the oil and vinegar onto these easy toasts for a simplified version of bruschetta.
Tomato Caprese Kabobs
Swap in cherry tomatoes and bocconcini and thread them on kabob sticks for easy caprese bites for an appetizer or snack for the kids.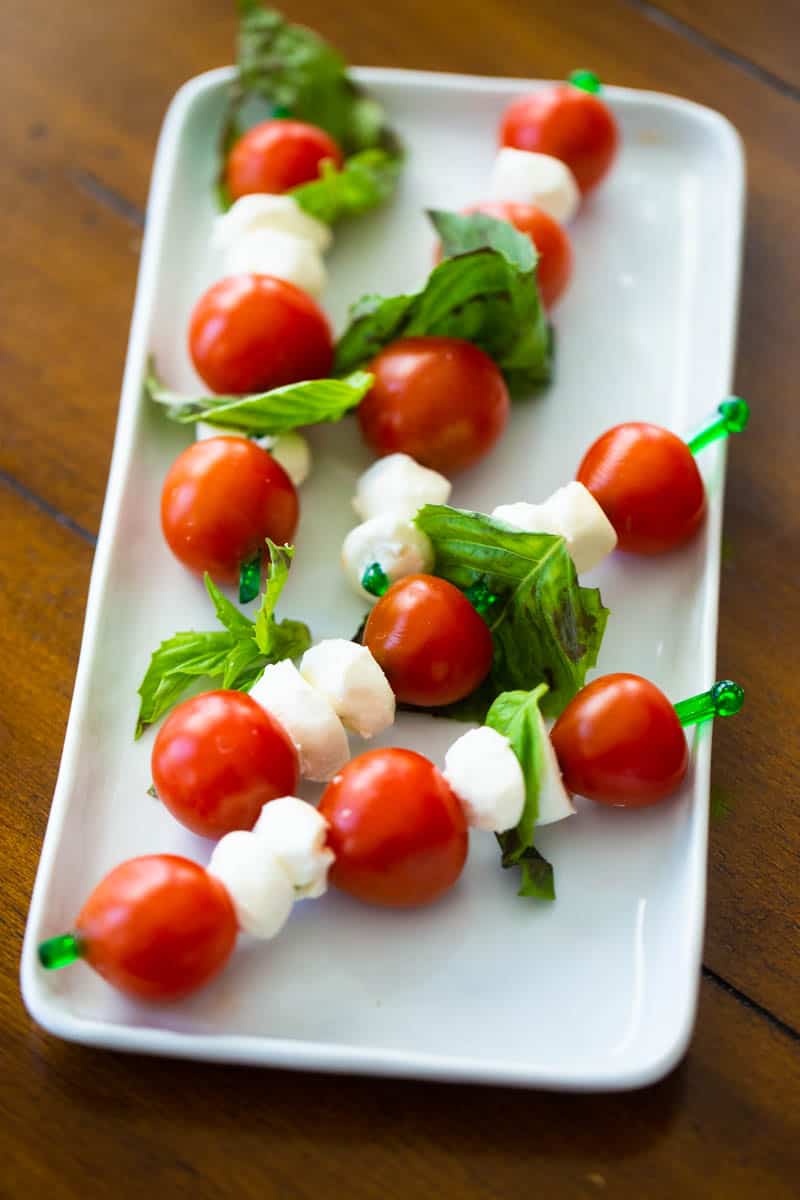 Tomato Caprese Sandwich
Or, one of my all-time favorite summer lunches is to grill fresh pieces of ciabatta bread and make a homemade tomato caprese sandwich.
This is a huge benefit of prepping the platter ahead of time, I can get several lunches from one bit of effort and my tomato and mozzarella slices are all ready to go!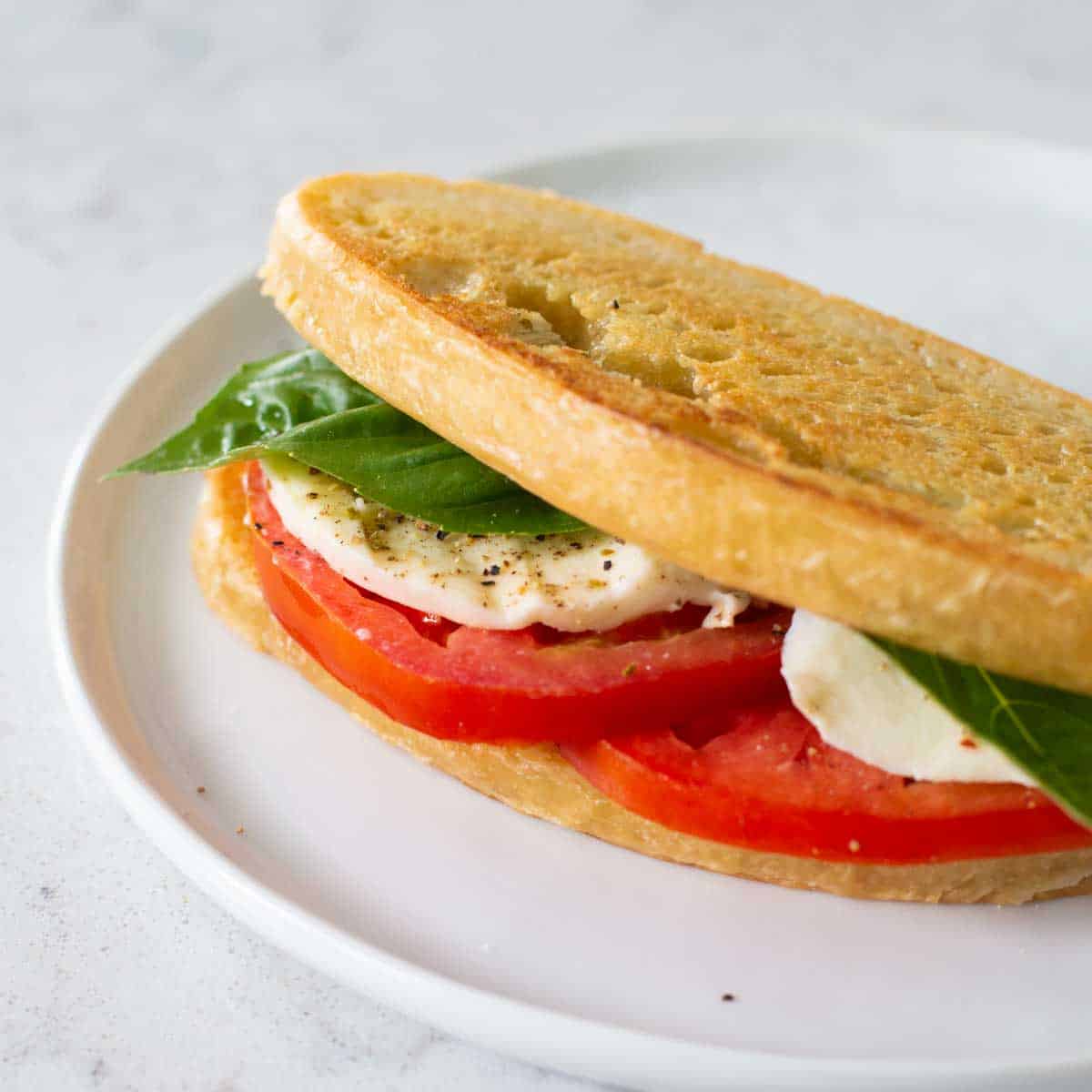 More Fresh Tomato Recipes
If you look forward to tomato season as much as I do, you won't want to miss these other great tomato recipes:
📖 Recipe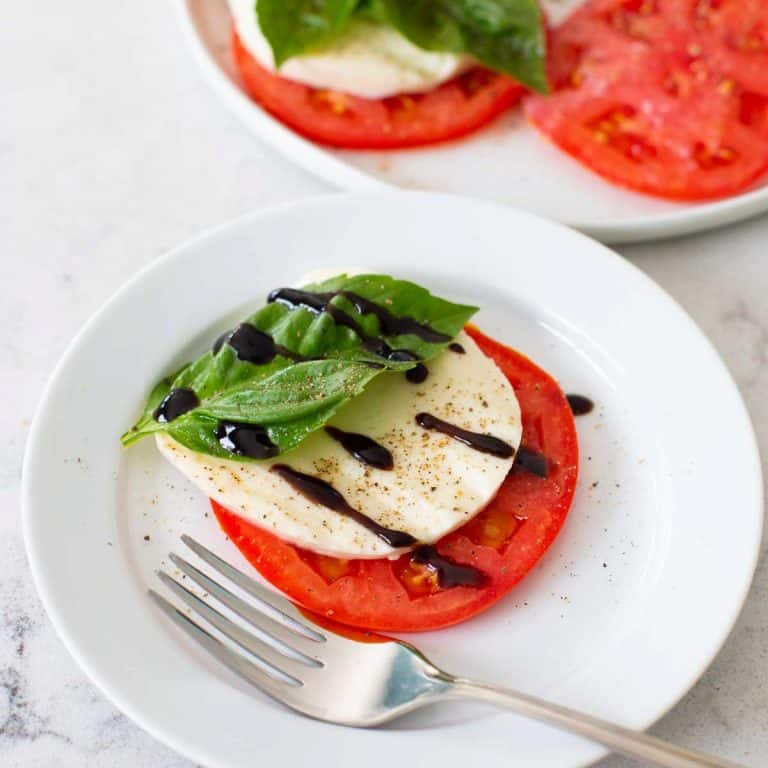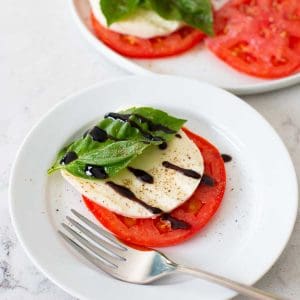 Caprese Salad
Tomato caprese salad is a classic Italian appetizer or side dish that is best made during summer when the tomatoes are at their peak season. Drizzle with olive oil and balsamic glaze for an elegant dish.
Ingredients
1

large fresh tomato: heirloom or red

1

large ball of fresh mozzarella

1

bunch fresh basil

Drizzle of balsamic vinegar glaze

Drizzle of olive oil

Sprinkle of salt and pepper
Instructions
Slice the tomato with a serrated knife into even slices about ¼ inch thick. Arrange them in overlapping circles on a serving platter.

Slice the fresh mozzarella with the serrated knife into ¼ inch thick slices. Tuck them between the slices of tomato on the platter.

Tuck fresh basil leaves between layers of tomato and mozzarella in a pretty pattern.

Cover with plastic wrap and chill until ready to serve, up to 24 hours.

Serve with a drizzle of balsamic glaze, olive oil, and a sprinkle of salt and pepper.
Recipe Notes
Variations:
You can layer the tomatoes, mozzarella, and basil between two slices of grilled ciabatta bread for a caprese sandwich.
You can also substitute tiny mozzarella balls and cherry tomatoes and make caprese kabobs.
Save This Recipe to Your Recipe Box
Find this delicious recipe next time you visit by saving it to your very own recipe box on my site. All your favorites stored in one easy place!