Delicious chimichurri sauce is perfect for tenderizing lean and healthy flank steak this summer. A perfect easy grilling recipe for serving with rice or potatoes, fresh tomatoes, or for building a flavorful steak sandwich.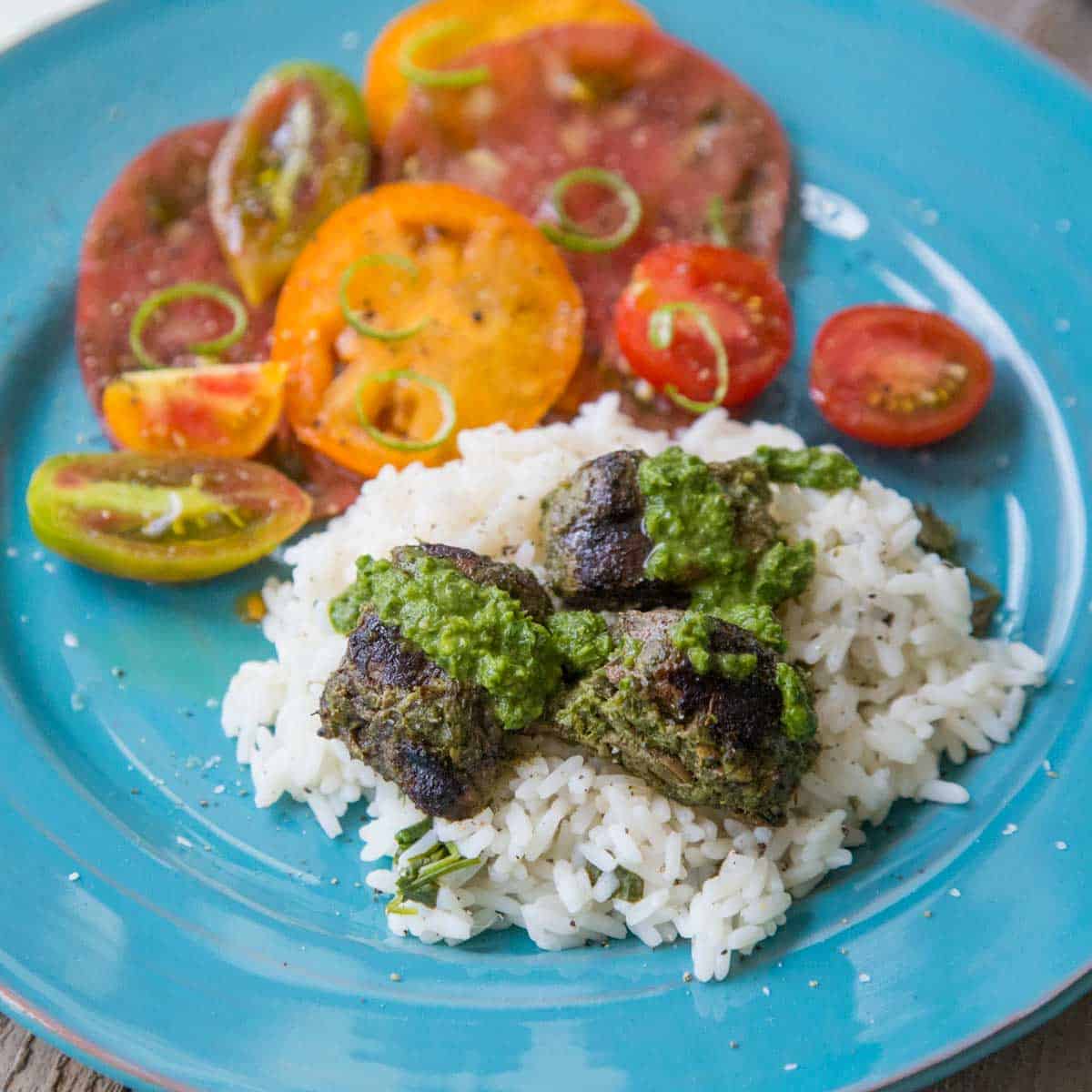 Chimichurri steak is one of our favorite ways to prepare flank steak for an easy family dinner during the summer.
The fresh chimichurri sauce is poured over a scored flank steak and left to marinate for several days in the fridge.
Grill the steak and slice it thinly against the grain for steak sandwiches or cut it into larger chunks if you plan to serve it over rice. Drizzle with reserved chimichurri sauce for a delicious and flavorful meal in a pinch!
Jump to:
What is Chimichurri Sauce?
Chimichurri sauce is a vibrant and zesty sauce or marinade that pairs perfectly with flank steak. Bursting with fresh herbs, tangy vinegar, and a hint of heat, this classic South American sauce is a true flavor powerhouse that elevates any dish it accompanies.
The flavors of finely chopped parsley, garlic, and oregano create a fragrant base to build your meal around. Enhanced with a splash of tangy red wine vinegar, the marinade has a delightful acidity to balance it all out.
If you're looking for a spicier alternative, you'll love this skhug sauce which has much more heat than my traditional chimichurri recipe.
Why This is the Best Recipe
I think this is the best chimichurri steak recipe because:
Prep Ahead: The dish tastes best when the steak has been able to marinate for several days. This makes the final cooking process go so quick and easy!
So Much Flavor: All the fresh flavors of summer are mixed in that steak sauce. Be sure to reserve some for drizzling over your dinner.
Unique and Flexible: Chimichurri sauce is so different from all the other dishes in our family's rotation, it is such a great change of pace. You can use it for several different serving ideas, be sure to see my notes below.
Ingredients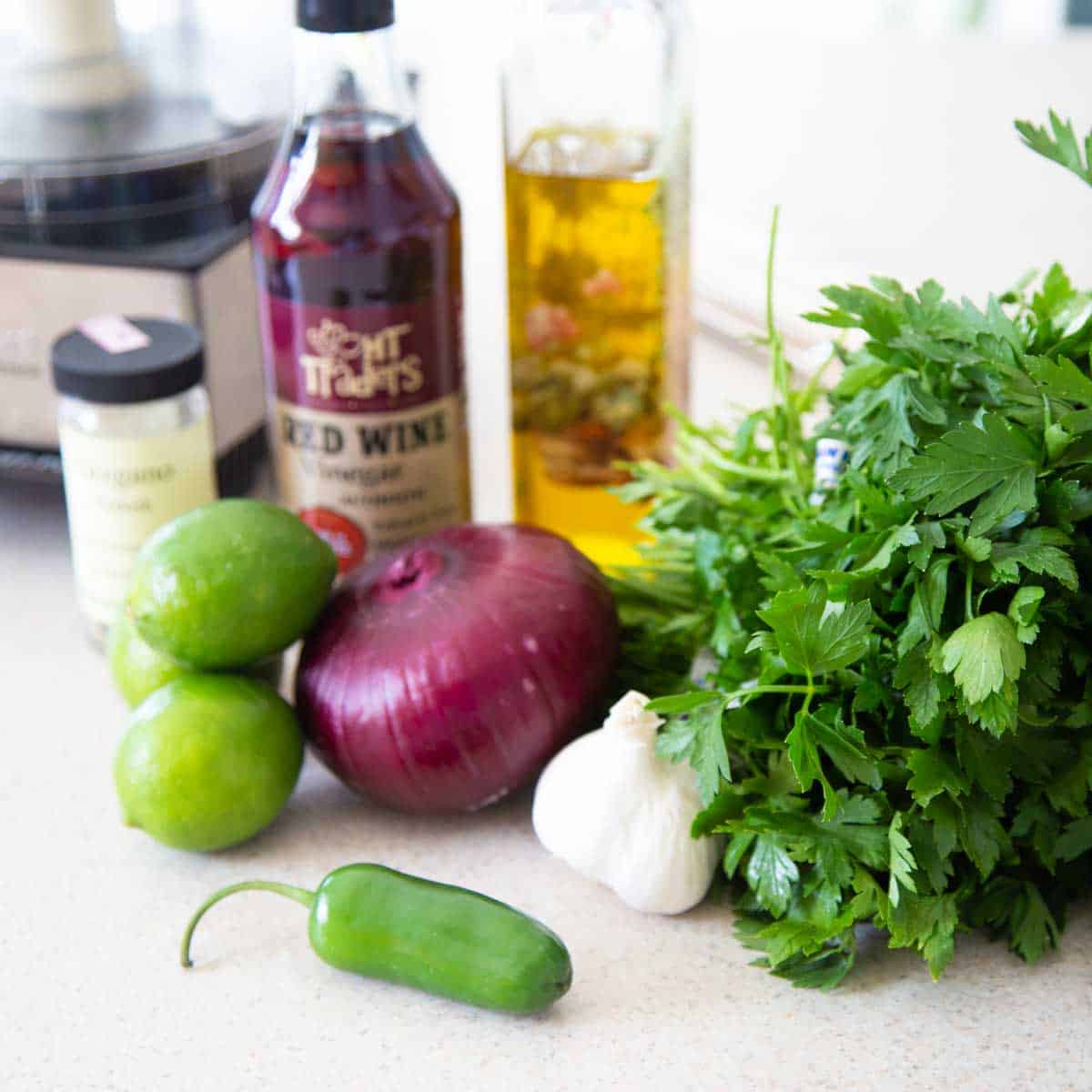 The entire marinade is made in the bowl of a food processor so it is very simple.
All you'll need to make the chimichurri sauce is:
Fresh Cilantro
Fresh Parsley
Jalapeño Pepper: stem trimmed off, cut into large chunks
Fresh Garlic
Lime
Dried Oregano
Red Wine Vinegar
Olive Oil
The fresh herbs are essential, it will not work to try to substitute with dried herbs because the fresh greens are what make up the bulk of the sauce.
To finish your dish, you will also need:
Steak: A flank steak is our favorite but beef tips or beef tenderloin work great, too.
Make the Chimichurri Sauce
This steak sauce is so easy to make if you have a food processor or blender.
First, add the jalapeño and garlic cloves to the food processor bowl and pulse until everything is minced finely.
If you're using a blender, you may need to do that step by hand.
Add the fresh cilantro and fresh parsley to the food processor and pulse a few times to roughly chop them.
You may need to work in small batches, adding a handful of herbs at a time, so you don't clog the blade. It is a LOT of herbs to process and can be easier done with smaller bits at a time.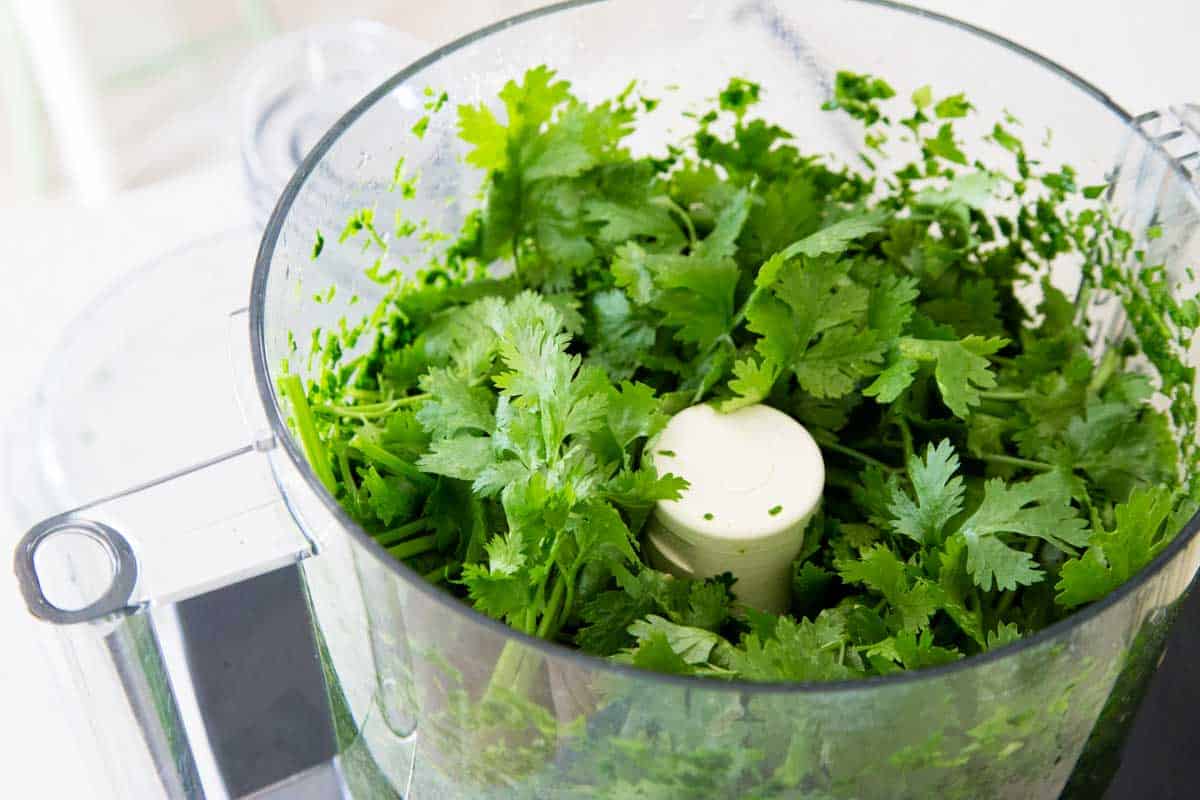 Add the lime juice and dried oregano to the bowl.
With the lid in place and the food processor running, add the red wine vinegar first and follow it with the olive oil.
The sauce will be smooth and bright green like this: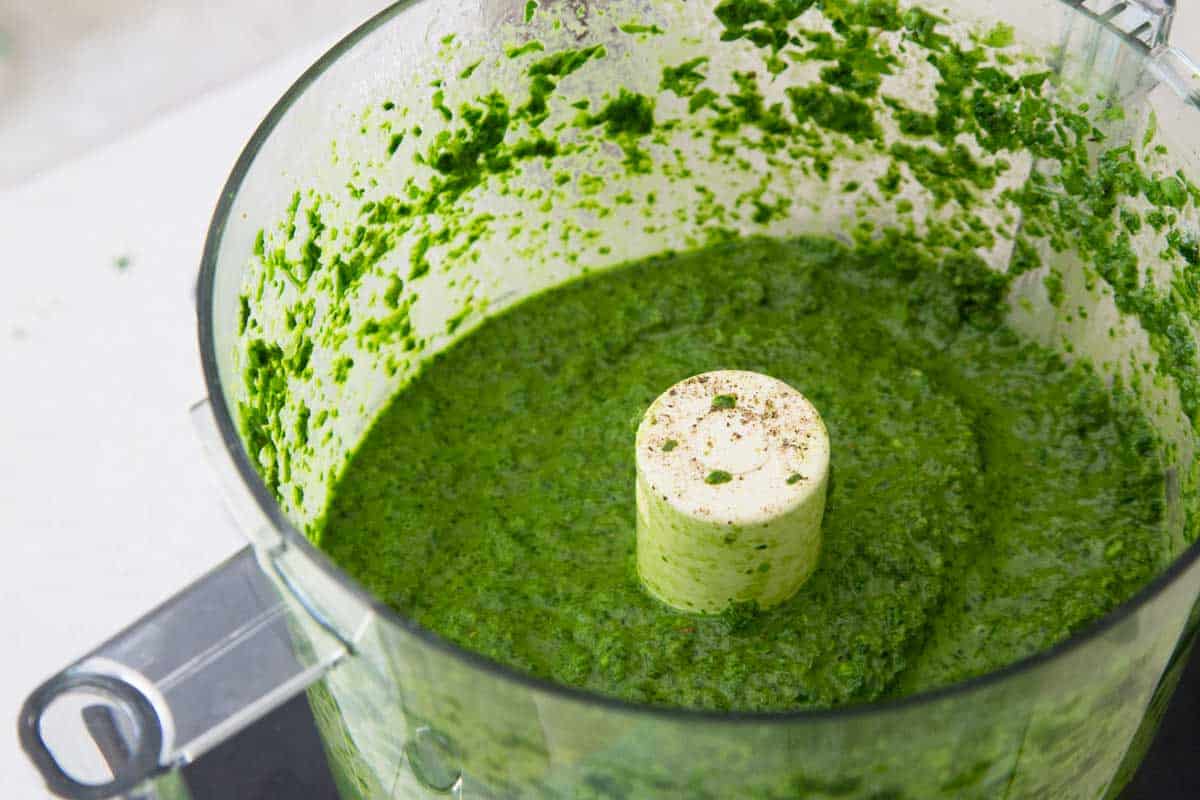 Season with salt and pepper to taste.
Marinate the Steak
FIRST: Be sure to reserve half of the marinade for extra drizzles over your final dish. You never want to use marinade that has touched raw beef as a dressing over your dinner.
The chimichurri sauce works great stirred into simple white rice or over fresh tomatoes. We happily slather it on just about anything. So be sure to reserve some for using to prep your final meal.
Then, take the other half of the marinade and coat the raw beef in it. Let it sit for 2 hours or up to 3 days before using.
If you're using a flat flank steak, use a paring knife to score diagonal hashmarks over both sides of the beef before you marinate it. This will help the sauce truly flavor the meat all the way through.
Grill the Steak
We find it easiest to string all-beef kabobs on skewers for grilling. When the meat is cut into even pieces, it all cooks at about the same time.
If you want grilled vegetables, thread those onto separate skewers from the beef.
This works great when we're using beef tenderloin or beef tips, with a flank steak we don't bother with the skewers at all and just grill it as is.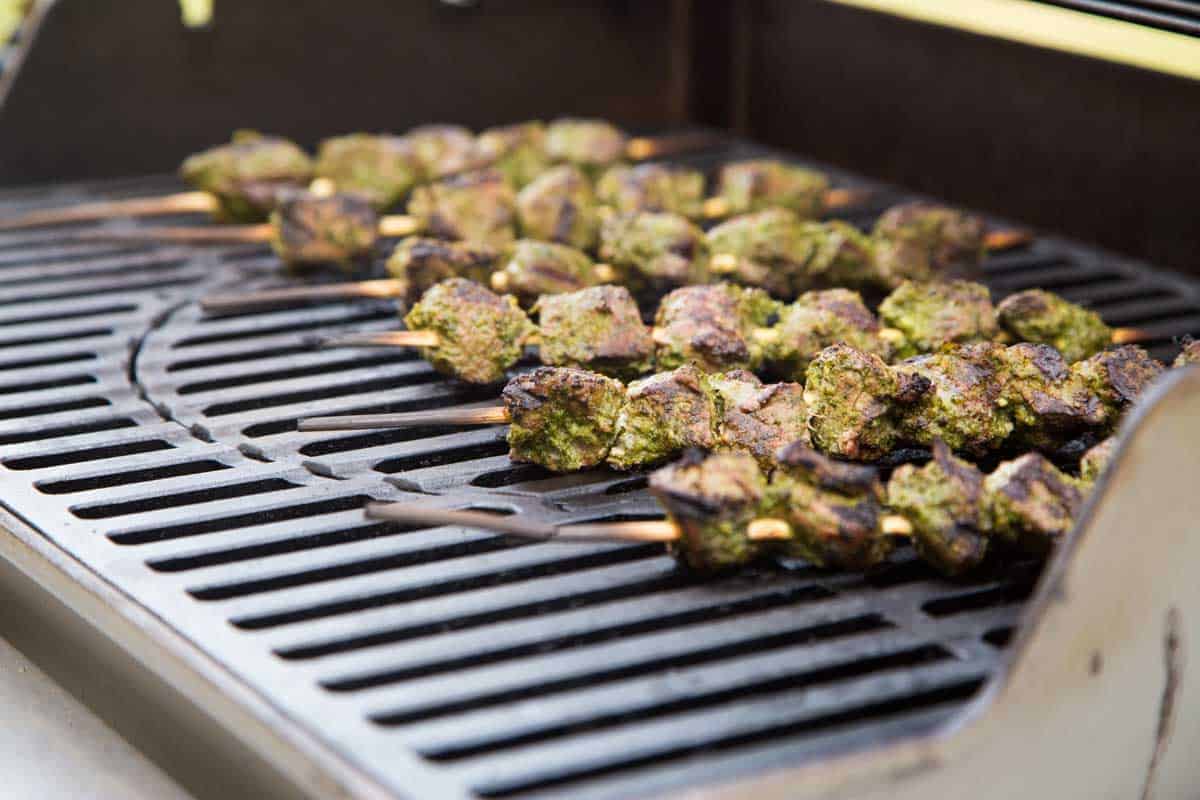 Serving Suggestions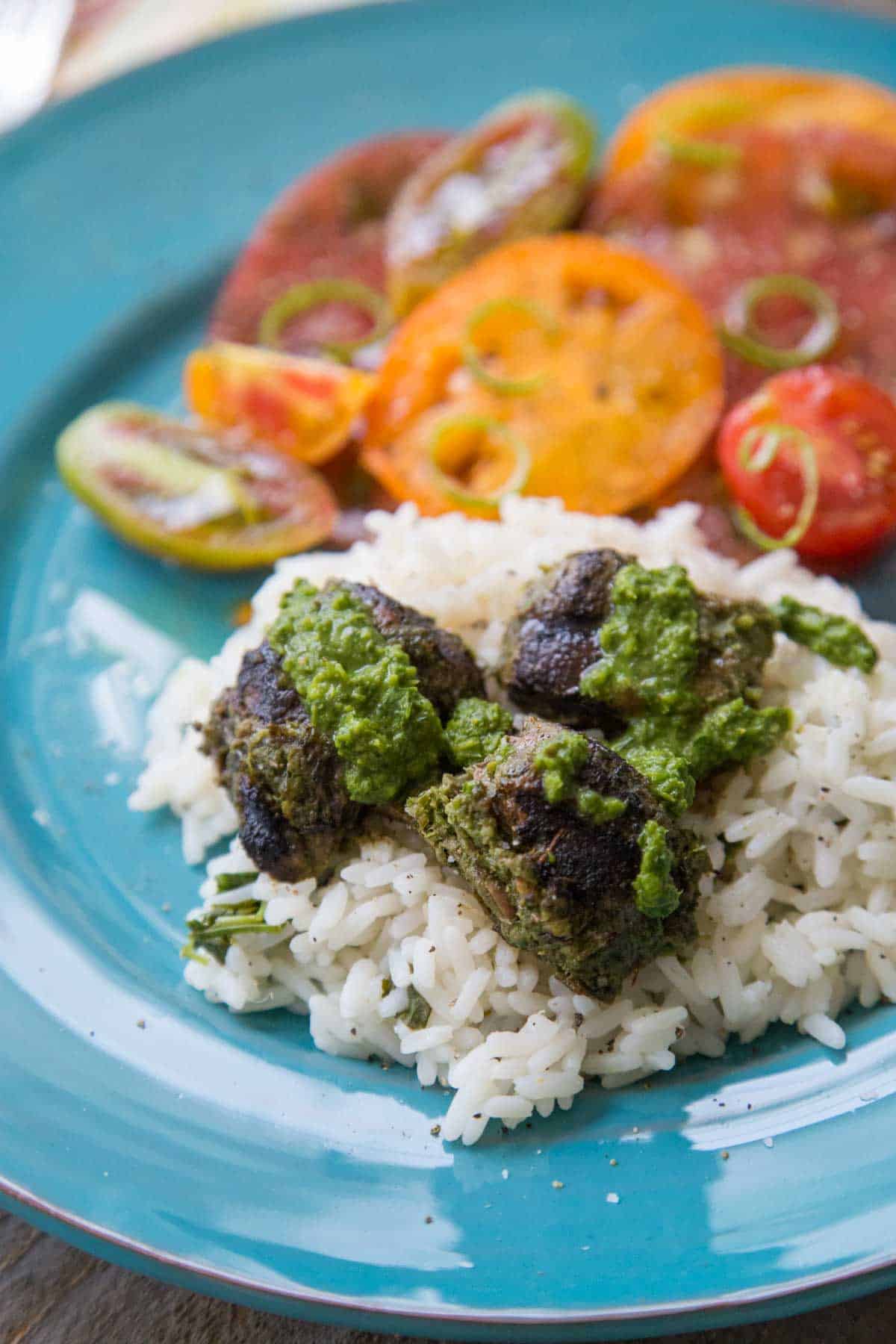 There are several ways you could serve the chimichurri steak:
2. Chimichurri Steak Sandwiches
Pile thinly sliced chimichurri steak onto crispy fresh bread.
Drizzle with more chimichurri sauce on top and add slices of fresh tomato.
4. Carb Free Chimichurri Steak Platters
If you just want a fresh and healthy dinner that is loaded with in-season produce, why not serve the skewers of steak alongside a few veggie-heavy sides.
My caprese salad with fresh tomatoes would be an excellent start. You could drizzle the chimichurri sauce over the top instead of the balsamic vinegar.
📖 Recipe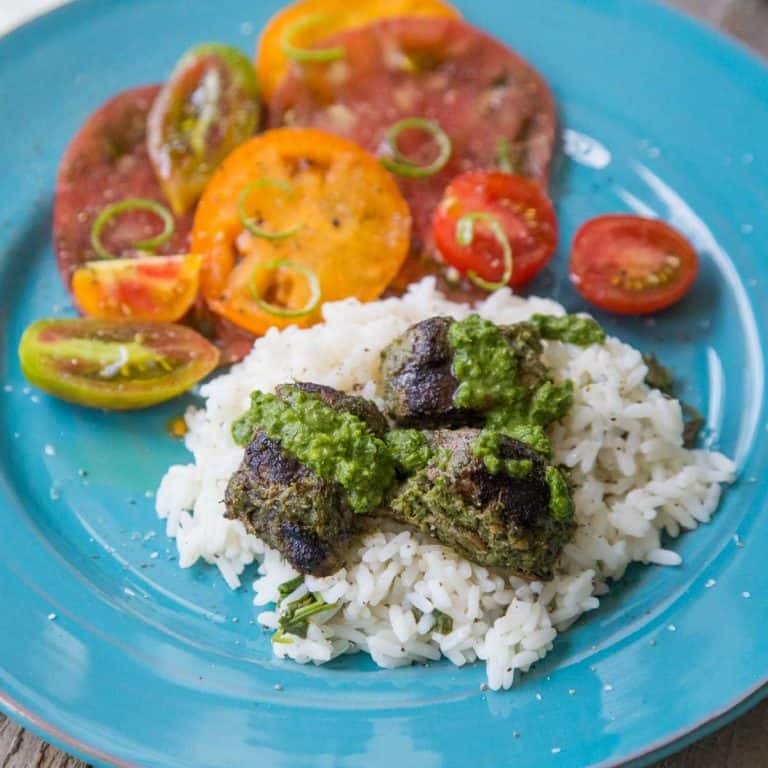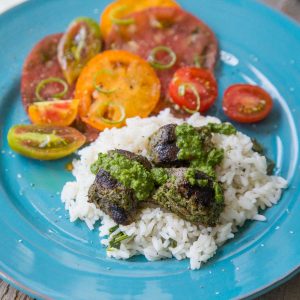 Chimichurri Steak
Need an easy grilling recipe for flank steak? This delicious chimichurri sauce makes the beef tender and pairs so well with fresh tomatoes during the summer.
Ingredients
For the Chimichurri Sauce:
1

jalapeño pepper

stem trimmed off, cut into large chunks

6 - 8

cloves

of fresh garlic

2

bunches cilantro

washed and dried

2

bunches parsley

washed and dried

1

lime

juiced

1

tablespoon

dried oregano

¾

cup

red wine vinegar

¾

cup

olive oil

Salt & pepper

to taste
For the Steak:
2

pounds

flank steak or beef tips

leave the flank steak whole, cut the beef tips into smaller cubes for skewers
Instructions
Prepare the Chimichurri Sauce:
Add the jalapeño and garlic cloves to the bowl of a food processor fitted with the steel blade and pulse the machine until the peppers are minced.

Wash and dry the cilantro and parsley. Slowly add one bunch of the fresh herbs at a time to the food processor and roughly chop them. Be careful not to jam the blade by overfilling it, work in small batches adding more once the previous bunch is chopped up.

Add the lime juice and oregano to the food processor bowl.

With the blade running, slowly pour in the red wine vinegar and then the olive oil. Add salt & pepper to taste.
Marinate the Steak:
Cut the beef tips into large cubes OR score your flank steak with a paring knife on both sides of the beef. Place the steak in a large bowl or plastic zip top bag.

Combine the steak meat and half of the marinade. Let it chill in the fridge for at least one hour or up to 3 days.
Grill the Steak:
When you are ready to grill, drain off the excess marinade and thread the cut steak tips onto pre-soaked skewers (or leave the flank steak whole.)

Turn the skewers to get grill marks on all sides for a total of about 10 minutes or until the steak is done medium-well. Serve with reserved chimichurri sauce for dipping or drizzling over the top.
Save This Recipe to Your Recipe Box
Find this delicious recipe next time you visit by saving it to your very own recipe box on my site. All your favorites stored in one easy place!