Need an easy grilling recipe for steak? This delicious chimichurri sauce is perfect for tenderizing lean and healthy flank steak this summer.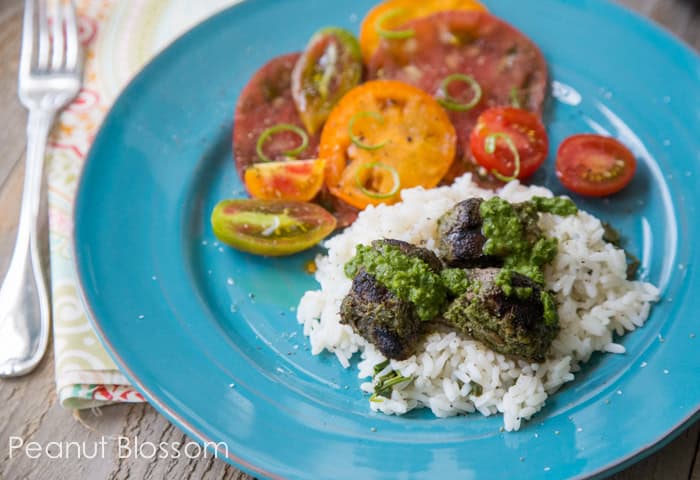 Summer & grilling go hand in hand and this year we have been thrilled to be playing with our brand new gas grill. I've been firing up recipe after recipe as I learn how to use it and Tim has been thrilled with the variety of meats and seafood that have been hitting our dinner table. When our local grocery store Harris Teeter approached me about creating a recipe featuring their very tender beef, I knew exactly what I wanted to do with it: chimichurri steak!!
Fantastic meat like this doesn't require marinading--we'd normally just season the steak and pop it on the grill--but my herb garden was literally exploding with cilantro and this recipe makes great use of it in large quantities. You just puree everything up in a food processor and let it mingle in the fridge until you're ready to grill. Chimichurri sauce couldn't be easier or fresher tasting.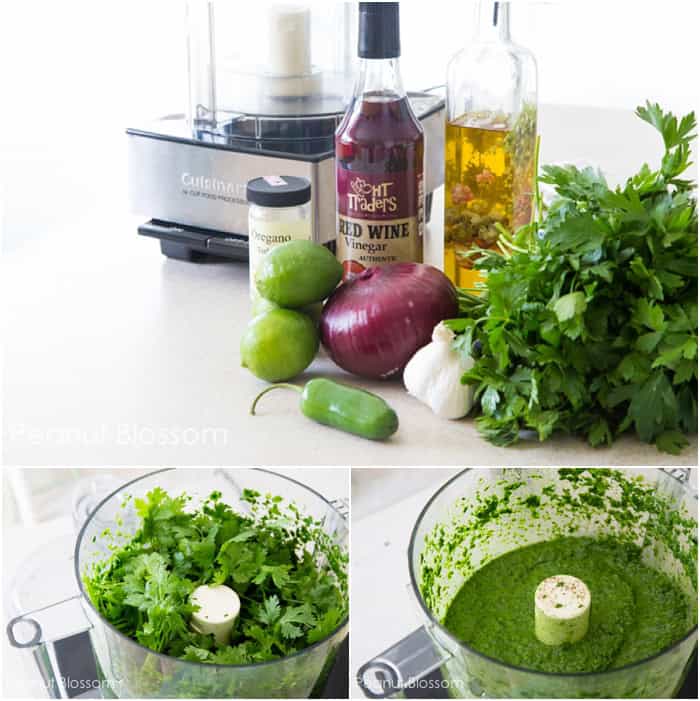 This recipe brings back great memories, a boss of mine introduced us to chimichurri steak years ago when he would bring in the marinaded flank steak to grill at the office over lunchtime. It was an instant hit. When we tried it at home, that crazy bright green was so alarming to Tim. But the smell of the grilled product quickly won him over. It became one of his favorite ways to prepare steak.
Our old grill gave up the ghost and was left behind during our move to North Carolina. We were super excited to resurrect this recipe from the archives and try it again. My advice is to be sure to reserve some of the marinade for extra drizzles, it works great stirred into simple white rice or over the fresh tomatoes. We happily slather it on just about anything. My boss used this recipe to make chimichurri steak sandwiches--the marinade also works great as a sauce with toasted crusty bread and the hot steak.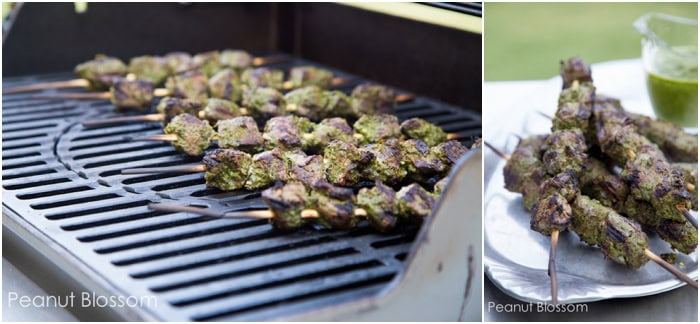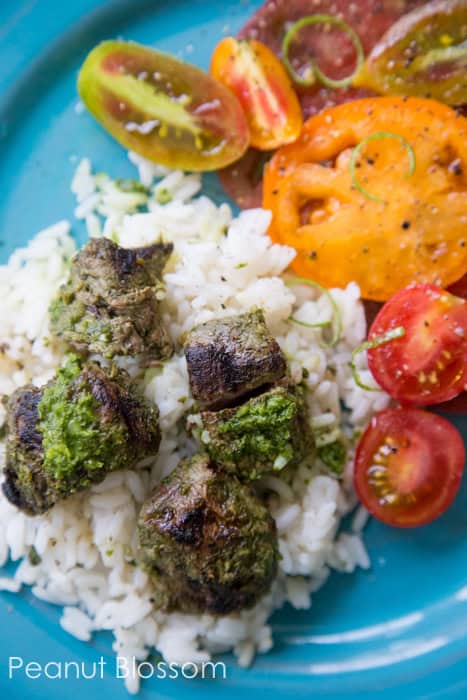 Chimichurri steak with fresh tomato salad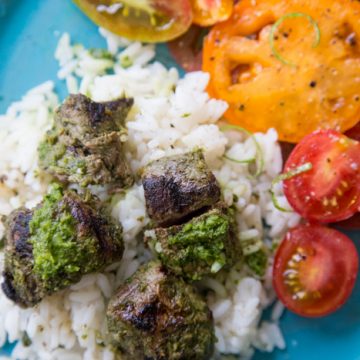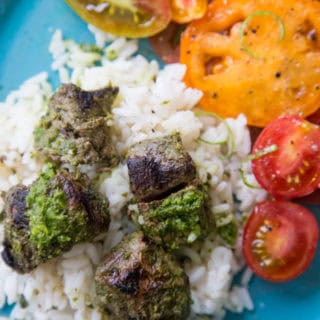 Chimichurri Sauce for Steak and Tomato Salad
Total Time:
1 hour
20 minutes
Need an easy grilling recipe for flank steak? This delicious chimichurri sauce makes the beef tender and pairs so well with fresh tomatoes during the summer.
Ingredients
2 pounds very tender beef tenderloin, cut into large cubes
2 bunches parsley, washed and dried
2 bunches cilantro, washed and dried
1 jalapeño pepper, stem trimmed off, cut into large chunks (Keep the seeds! If you really like things spicy, add 2 peppers.)
juice of one lime
6-8 cloves of fresh garlic
1 tbsp dried oregano
¾ cup red wine vinegar
¾ cup olive oil
salt & pepper
For the salad:
Fresh tomatoes, sliced thin
drizzle of olive oil
salt & fresh cracked pepper
lime zest
Instructions
Mince the jalapeño and garlic cloves in the bowl of a food processor fitted with the steel blade. Slowly add one bunch of parsley/cilantro at a time and roughly chop them. Be careful not to jam the blade by overfilling it, work in small batches adding more once the previous bunch is chopped up.
Add the lime juice and oregano to the bowl. With the blade running, slowly pour in the red wine vinegar and then the olive oil. Add salt & pepper to taste.
In a large zip-top baggie, combine the steak meat and half of the marinade. Let it chill in the fridge for an hour or longer. When you are ready to grill, drain off the excess marinade and thread the steak onto pre-soaked skewers. Turn the skewers to get grill marks on all sides for a total of about 10 minutes or until the steak is done medium-well.
Serve alongside the tomato salad and rice or use to make an awesome steak sandwich on crusty bread grilled and brushed with olive oil.