This restaurant-style flatbread pizza has a deliciously American twist: The Philly cheese steak pizza recipe calls for prepared naan bread instead of a homemade pizza crust. Use leftover flank steak in a pinch and let your kids build their own pizza for an awesome and easy family dinner.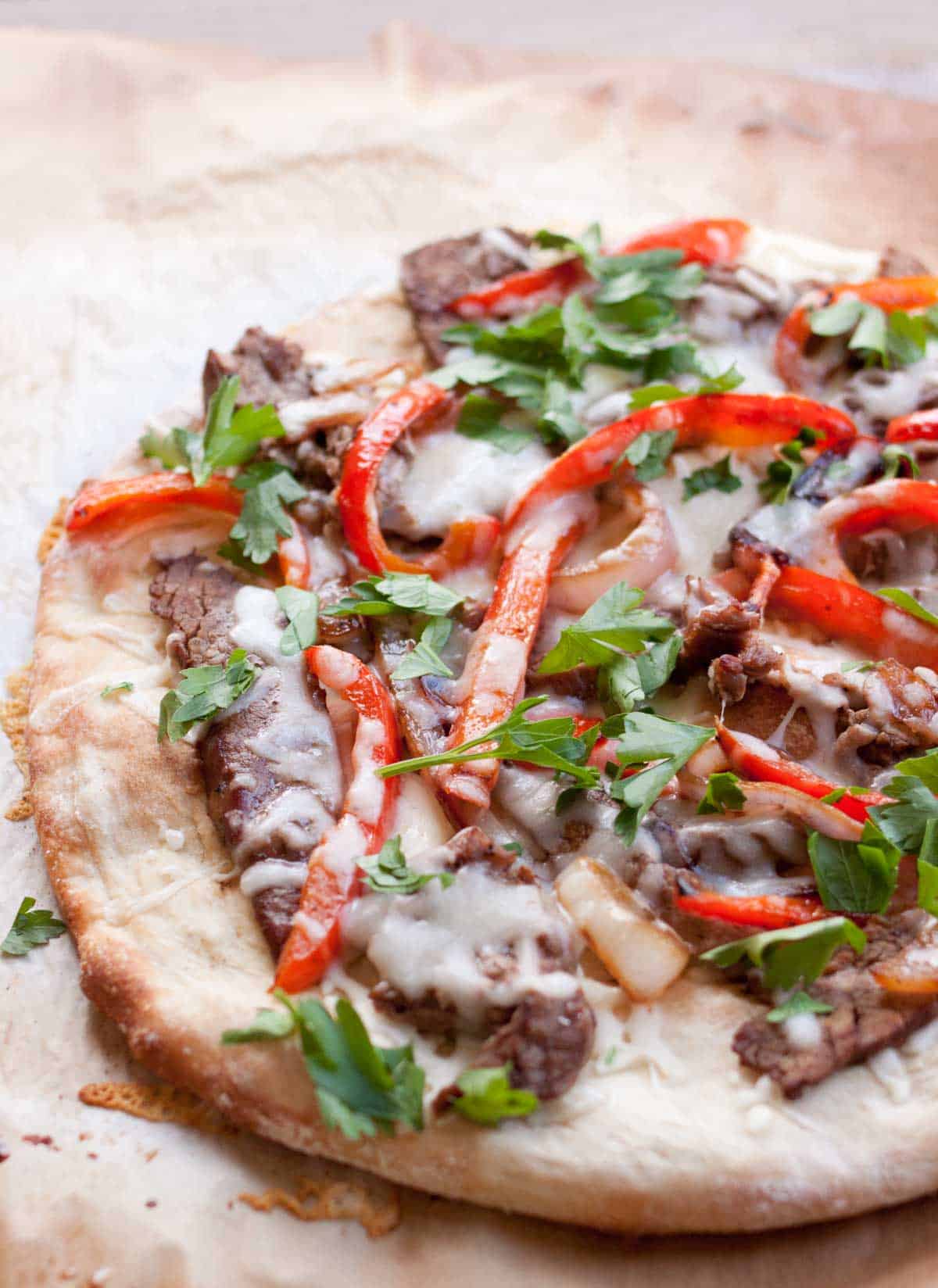 Oh, what a gorgeous failure this pizza dinner was. Steak, cheese, pizza crust, HOW can my family not just devour it?! I'll tell you: because I put red peppers and onions on the top. For shame! Not just one, but all three of the members of my family acted as though I was torturing them slowly by enforcing they eat this homemade flatbread pizza.
I found a recipe for steak and onion pizza in the November issue of Everyday Food and I had to try it. For some reason, I thought I could get away with it because it was pizza. Pizza is almost its own food group in this household. So I thawed my homemade crust from the freezer, grilled up the flank steak, chopped and sauteed the veggies, and proceeded to sit in abject horror as Little Pea threw the food to the floor, the Peanut burst into tears, and Handyman Tim not so discreetly used his fork to pick every single piece of produce off the top of his serving.
But from the ashes of this disaster rose one of the most delicious day-after lunches I've made in a long long time. Is anyone else out there as addicted to the naan bread packs from Costco as we are?? I took the leftover beef and cheese and made personal sized "pizza" the next afternoon. The significantly softer bread crust paired with just the steak and cheese passed the taste test for both girls. (Tim was out of town but I'm certain he would have loved it and it will be appearing again someday soon.)
The beauty of this treatment is that I slathered my portion with double helpings of peppers and onions. I swear it tasted JUST like a Philly steak sandwich in open-face pizza form. Even I can admit that the naan crust was significantly tastier than the homemade pizza crust. So much so, that I might forgo the effort of making pizza crust for a while. It misses the "crunch" but is far less doughy than my pizza crusts have been lately.
Easy Philly cheesesteak pizza: with a surprising secret ingredient