This Philly cheese steak pizza recipe calls for prepared naan bread instead of a homemade pizza crust. A great way to use up a bit of leftover flank steak for an easy family dinner in minutes.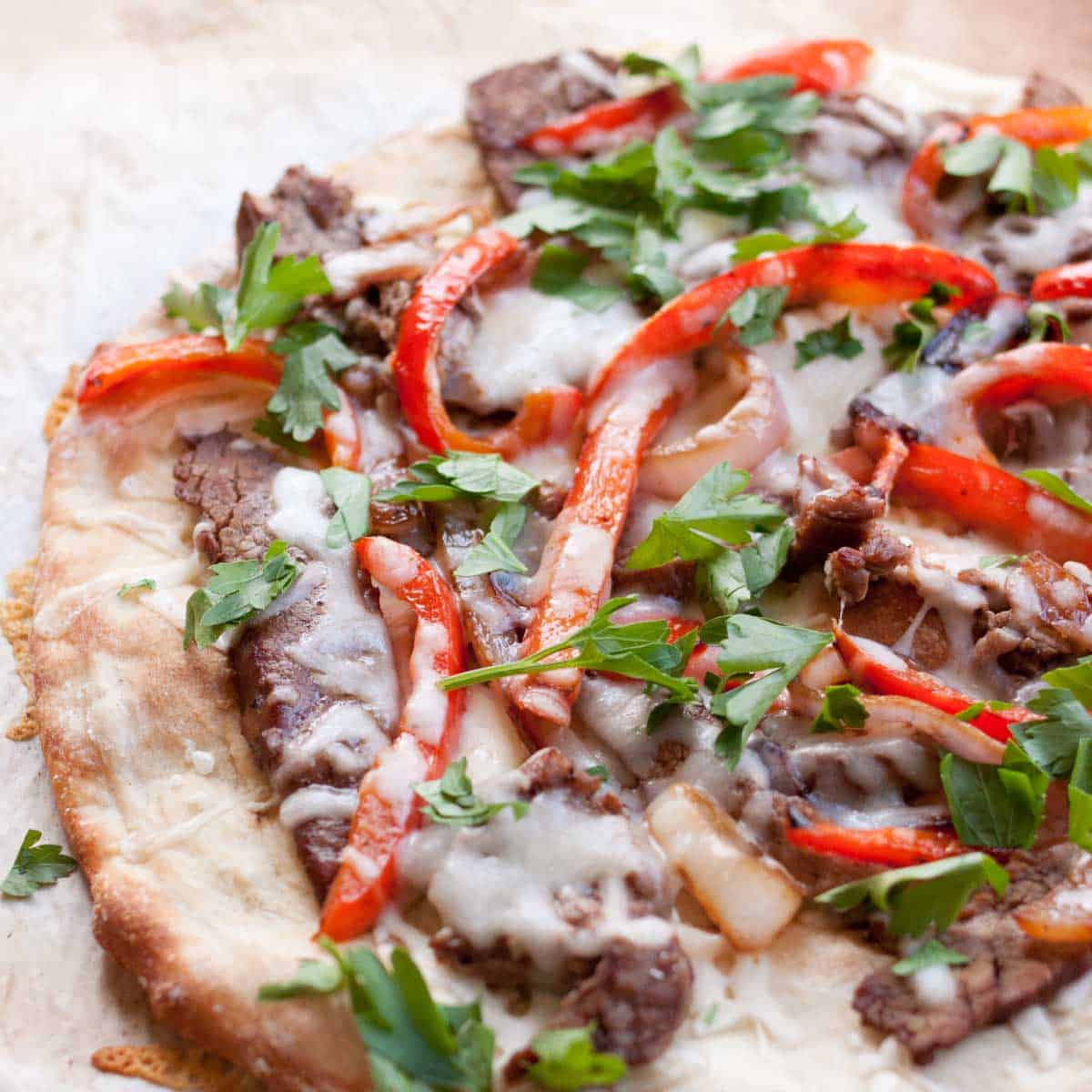 When I'm slicing up a flank steak to make our favorite stir fry beef and broccoli dish, I always leave some leftover to make this easy Philly cheese steak pizza with peppers and onions.
On a super busy night, I assemble the pizzas on a prepared naan bread from the grocery store. I love the texture of that chewy flatbread!
When I have just a little more time, sometimes I'll assemble the recipe on my favorite homemade pizza dough.
Whichever crust you choose, your family will love the classic Philly cheese steak toppings, especially if you're fans of my Philly cheese steak sloppy joes!
Jump to:
Why This is the Best Recipe
We love making homemade pizzas and delicious flatbreads but I think this is the best Philly cheese steak pizza recipe because:
Pizza Dough OR Naan Bread Crust: You could make this two different ways depending on the time you have. They are both delicious.
Leftover Flank Steak or Freshly Stir-Fried Steak: This is a great leftover recipe but if you don't have any on hand, it only takes a few minutes to stir fry some beef for the topping.
Quick & Easy: Once the toppings are prepped, the final pizza only takes a few minutes to arrange and bake.
Light Dinner or Easy Appetizer: You can make a full meal from this pizza or cut it into flatbread squares for a fun appetizer for a party.
Ingredients
This is such an easy recipe because you only need a few things to make it:
Whole Flank Steak: You can stir fry freshly sliced strips of steak in minutes or use any already-cooked leftover steak you have on hand.
Red Bell Peppers 
Red Onion
Olive Oil
Shredded Monterey Jack Cheese
Naan Bread: For the fastest pizza crust, use this traditional Indian bread. You can find it in most grocery store prepared breads aisle. However, if you want a larger pizza, I recommend using my homemade pizza dough (instructions below.)
Fresh Parsley
How to Use Homemade Pizza Dough
If you decide you'd rather use a homemade pizza crust instead of the naan bread, you will love using my bread maker pizza dough.
It takes just 5 minutes to pop it into a bread machine and is a great solution if you want a larger pizza than the smaller naan breads.
Cook the Flank Steak
If you don't have any leftover steak to use for the pizza, it only takes a little extra work to cook some up.
Sometimes I like to reserve a little bit of flank steak meat from when I prep my stir fry beef and broccoli so I can make this dinner on another night.
For tender flank steak on your pizza, it is important to slice the beef properly before cooking.
If you've never sliced a flank steak before, the most important thing to know is that you want to slice it across the grain, not with the grain.
First, spread the flank steak out completely flat on your cutting board.
To make thin strips of steak, cut the flank steak in half so the strips are short enough to stir easily.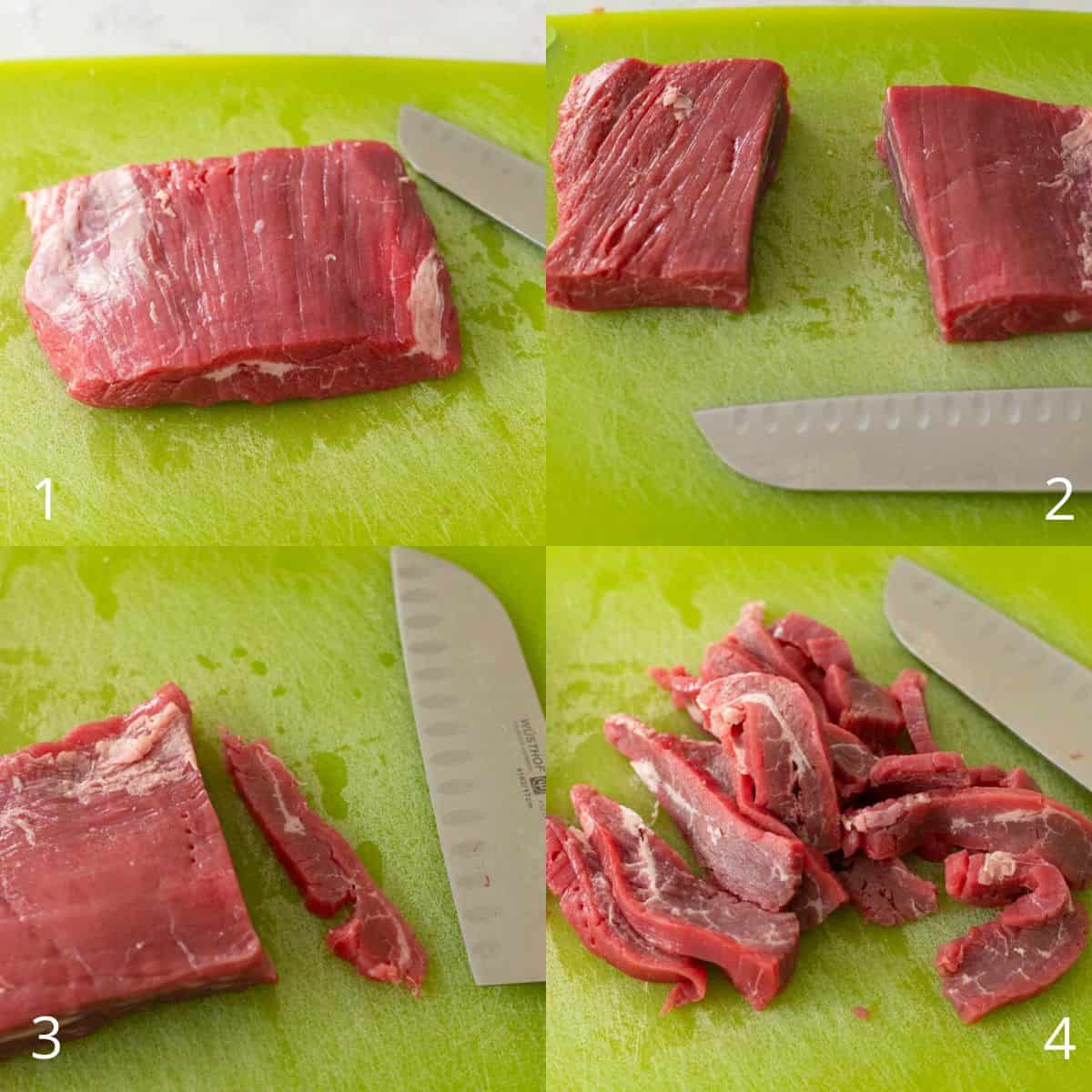 Then ROTATE each half of the flank steak and slice in thin strips across the grain.
See how the lines on the beef are pointing towards the chef knife in picture #3 above? That's how you'll know you're slicing in the right direction.
Cut each thin slice about ¼-inch thick and then add the steak strips to a mixing bowl.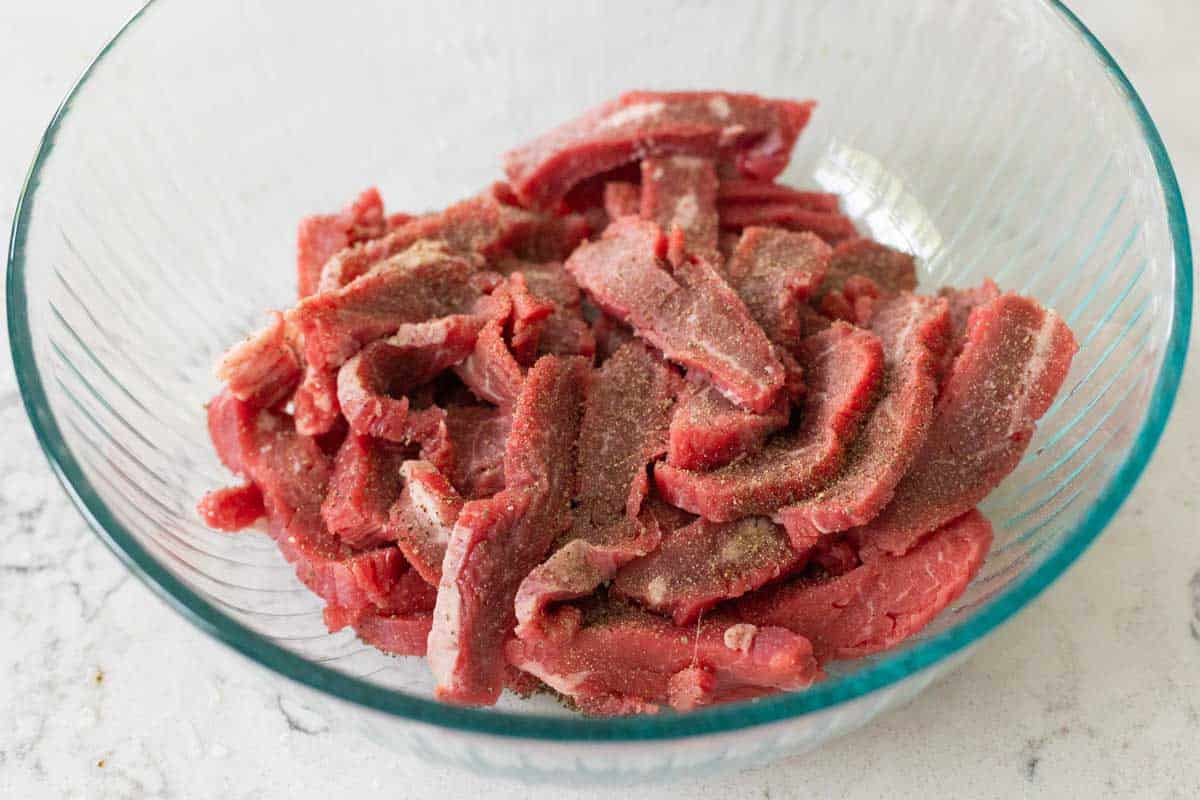 Then place a large skillet over medium high heat with a bit of olive oil in the pan.
Once the oil is shimmering, add the strips of flank steak and stir fry them until they are browned and mostly cooked through, about 6 - 8 minutes.
Saute the Peppers and Onions
To give the vegetables a sweeter flavor, you can toss the sliced peppers and onions into the skillet after browning the flank steak.
Cook them on medium-high heat until they are just softened and the onions begin to char.
Assemble the Flatbread Pizza
Lay the naan breads (or homemade pizza crusts) out on your work surface.
Brush them with olive oil.
Top with slices of steak, the sauteed peppers and onions, and a sprinkle of the shredded cheese.
Baking Instructions
Preheat the oven to 400°F if using naan breads, to 450°F for homemade pizza dough.
Bake the philly cheese steak pizzas with naan bread crust for 5 minutes and for 10 - 15 minutes for the homemade pizza dough crust.
Sprinkle with chopped fresh parsley before serving.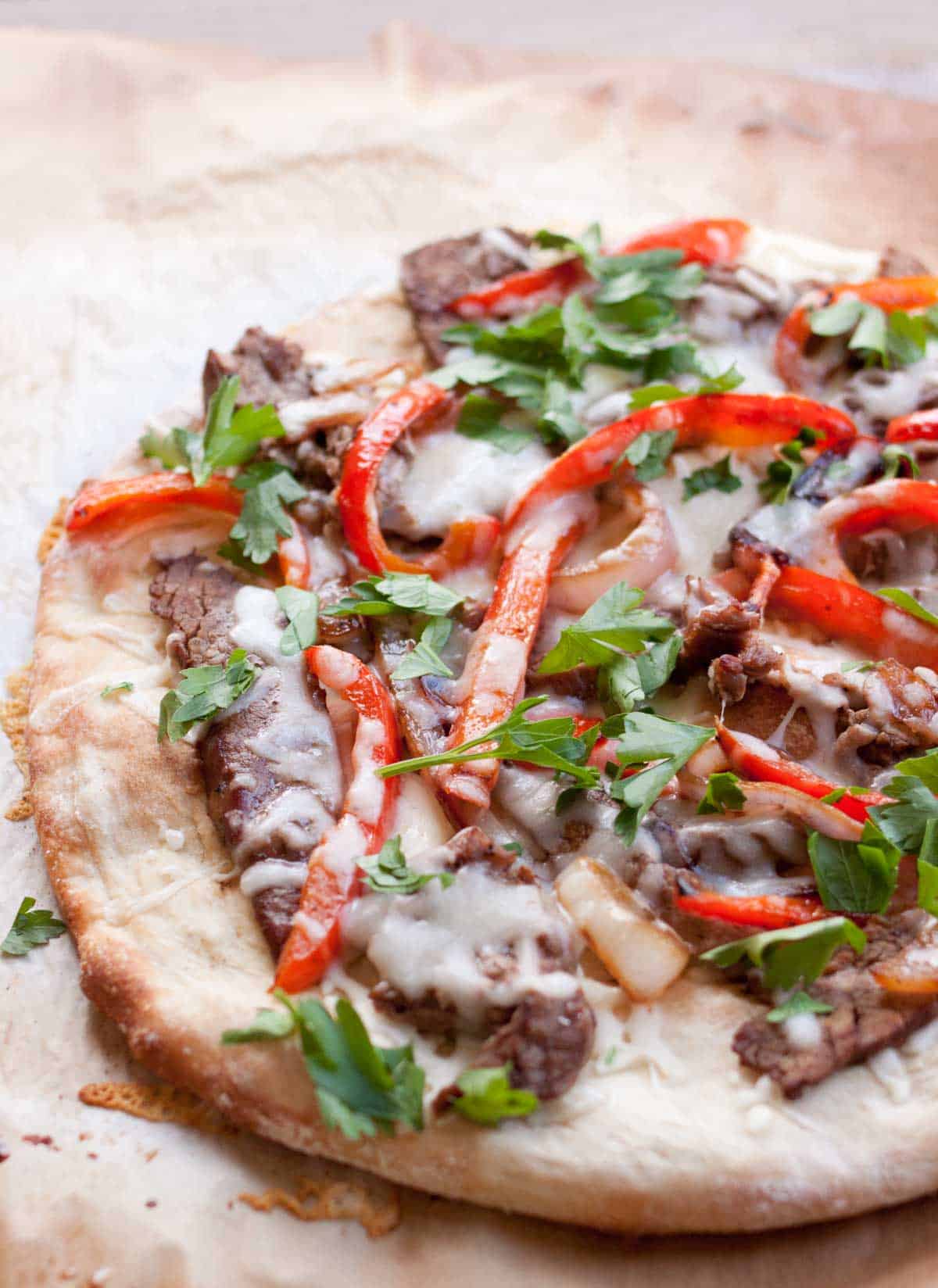 Variations
This is a sauceless flatbread recipe but if you wanted to build on these classic Philly Cheese Steak flavors, you could add a batch of my awesome white garlic pizza sauce.
This simple variation would taste best if you use the homemade pizza dough though, a naan bread doesn't have a large enough surface area for the sauce.
You could also consider adding a drizzle of warmed Cheez Whiz over the top of the finished pizza for a truly traditional Philly cheesesteak flavor.
Serving Suggestions
When I bake this recipe as a flatbread on naan breads, I like to slice the final pizza into smaller square-shaped pieces.
This makes it excellent for serving as a snack or appetizer for movie night or a football game.
When I'm serving this as a pizza on homemade pizza dough, I prefer to slice it into traditional triangle slices. Pair it with an easy chopped salad for a delicious family dinner.
More Pizza Recipes
It is so fun to make fun pizza flavors at home because you can control the ratio of toppings to make the perfect flatbread for your family.
Here are a few more of the delicious homemade pizzas we've made:
📖 Recipe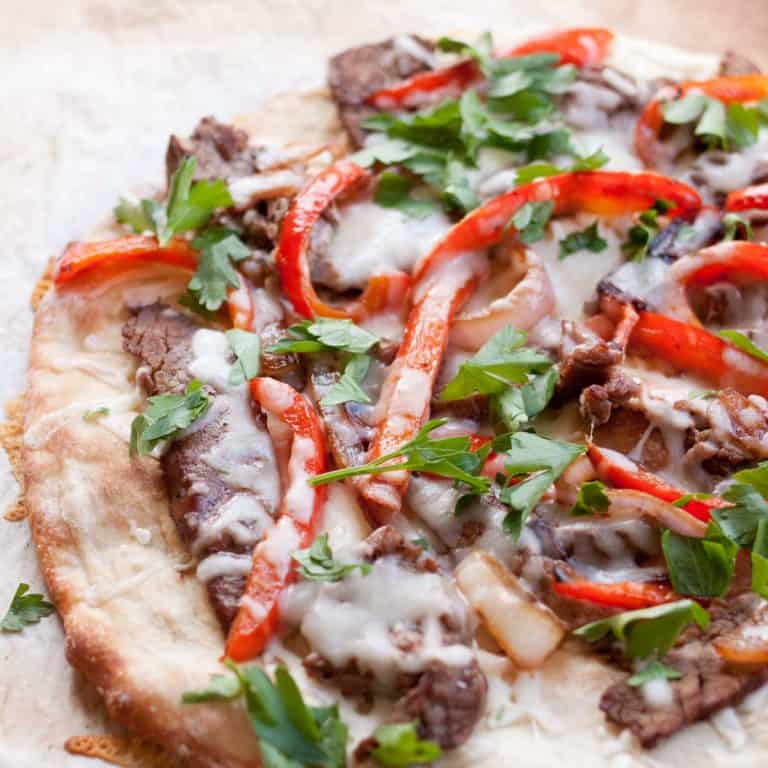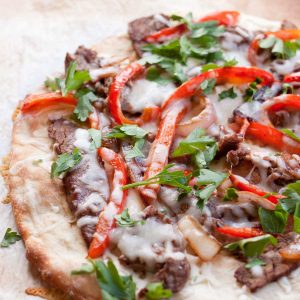 Philly Cheese Steak Pizza
This delicious flatbread Philly cheese steak pizza is a fun twist for family dinner. Use a store bought naan bread for an easy pizza crust or take the time to make my homemade pizza dough if you have just a little more time.
Ingredients
For the Philly Cheese Steak Pizza Toppings:
1

flank steak

about 1 pound

2

red bell peppers

sliced thin

1

red onion

sliced thin

3

tablespoon

olive oil

divided

1

(8 oz) bag of shredded Monterey Jack Cheese

Fresh parsley

chopped
Choose Just One for the Crust:
Instructions
Prepare the Toppings:
Slice the flank steak into thin strips against the grain. Season the steak with salt and pepper.

Heat a large skillet to medium-high heat. Drizzle a tablespoon of olive oil in the pan. Saute the steak for 6-8 minutes until medium-rare. Remove to a plate and tent with tin foil.

Add another teaspoon or two of olive oil to the pan. Saute the sliced peppers and onions over high heat until they are just softened and the onions start to have browned charred bits. Remove from heat and set aside.
Naan Bread Baking Instructions:
Preheat the oven to 400°F.

Place the naan bread on a large cookie sheet. Brush the entire surface of each bread with a little olive oil.

Top the breads with steak slices, veggies, and shredded cheese. Heat in the oven for 5 minutes or until the cheese has melted.

Sprinkle with fresh parsley and serve.
Homemade Pizza Dough Instructions:
Preheat the oven to 450°F.

Roll out the pizza dough and brush the entire surface with olive oil.

Top the pizza with the cooked steak slices, veggies, and shredded cheese.

Bake for 10 - 15 minutes or until the crust is golden brown and the cheese has melted.

Sprinkle with fresh parsley and serve.
Save This Recipe to Your Recipe Box
Find this delicious recipe next time you visit by saving it to your very own recipe box on my site. All your favorites stored in one easy place!