Serve this buffalo chicken flatbread as a spicy appetizer for your next party or a delicious dinner even on a busy weeknight. Layers of tender chicken tossed in buffalo sauce with ooey gooey melted cheese and fresh green onions on a crispy pizza crust bakes in just 10 minutes.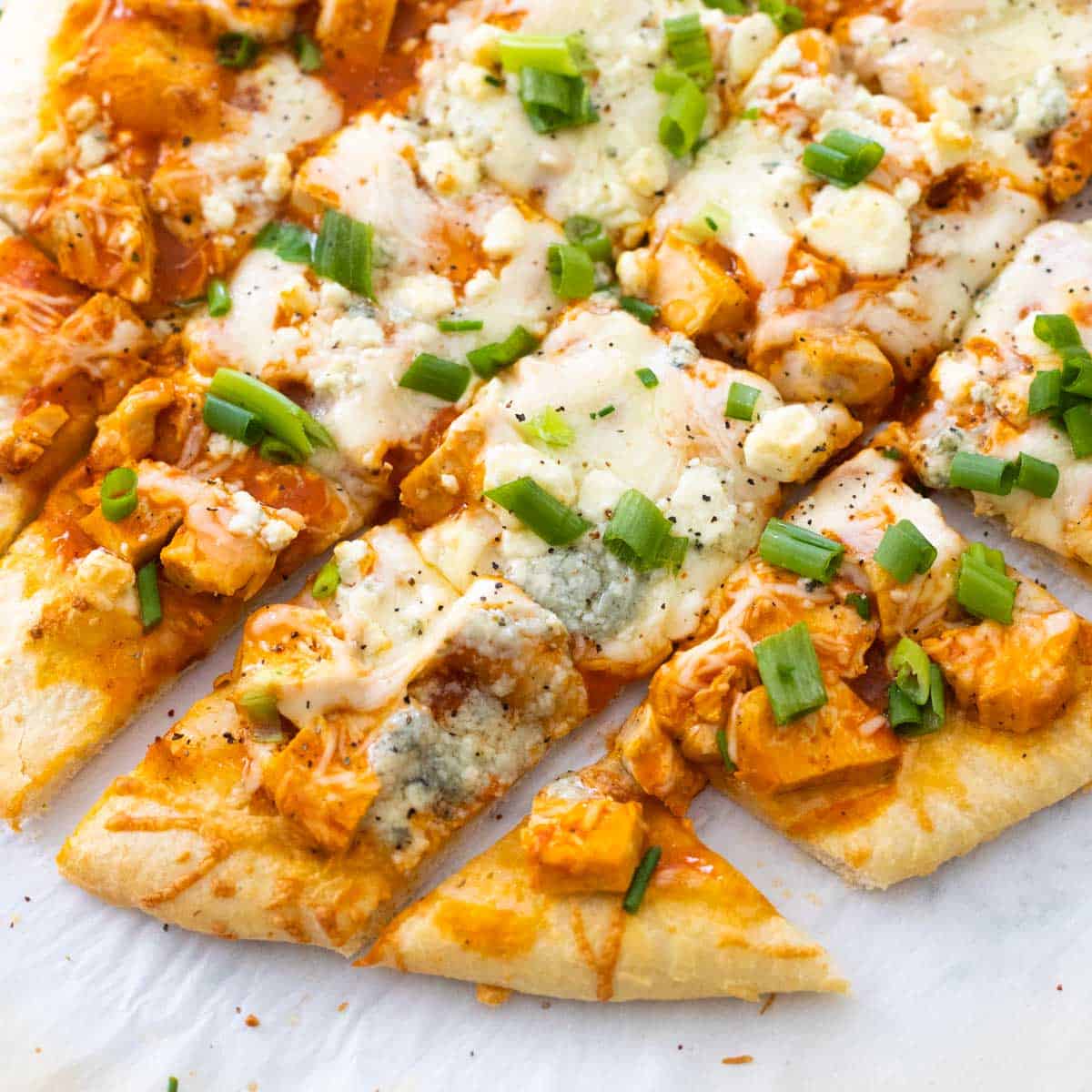 We love to pop a batch of my favorite bread maker pizza dough into our bread machine and use it to experiment with fun flatbread and pizza recipes on the weekend.
I turned half the dough into an amazing buffalo chicken flatbread and it disappeared in a flash once my hungry family came into the kitchen.
They all reported this as a new favorite and with a few prep ahead tips, it is a very quick and easy to bake.
You can serve it cut into squares as an appetizer for a crowd or you could slice it into traditional pizza triangles if you prefer. My family definitely loved the little squares!
Jump to:
Why This is the Best Recipe
Homemade flatbreads and pizzas are our favorite to make but this is the best buffalo chicken flatbread because:
Crispy Crust: Use my recipe for the pizza dough crust. It is easy, fast, and turns out perfectly crispy. But the recipe will still be quite tasty with a store bought crust if you need.
Tender Chicken: When you make this recipe at home, the quality of the chicken you use will be so much better than what is on a take out pizza or frozen pizza.
Just the Right Amount of Cheese: Blue cheese is a pretty essential element to a buffalo chicken flatbread but not everyone loves it the same. You can customize the pizza for your family and use just as much or as little blue cheese as you prefer.
Perfect Amount of Heat: You can adjust the buffalo sauce to be as spicy or mild as you prefer.
Bakes in 10 Minutes: The prepared flatbread only needs 10 minutes to bake up perfectly golden brown.
Ingredients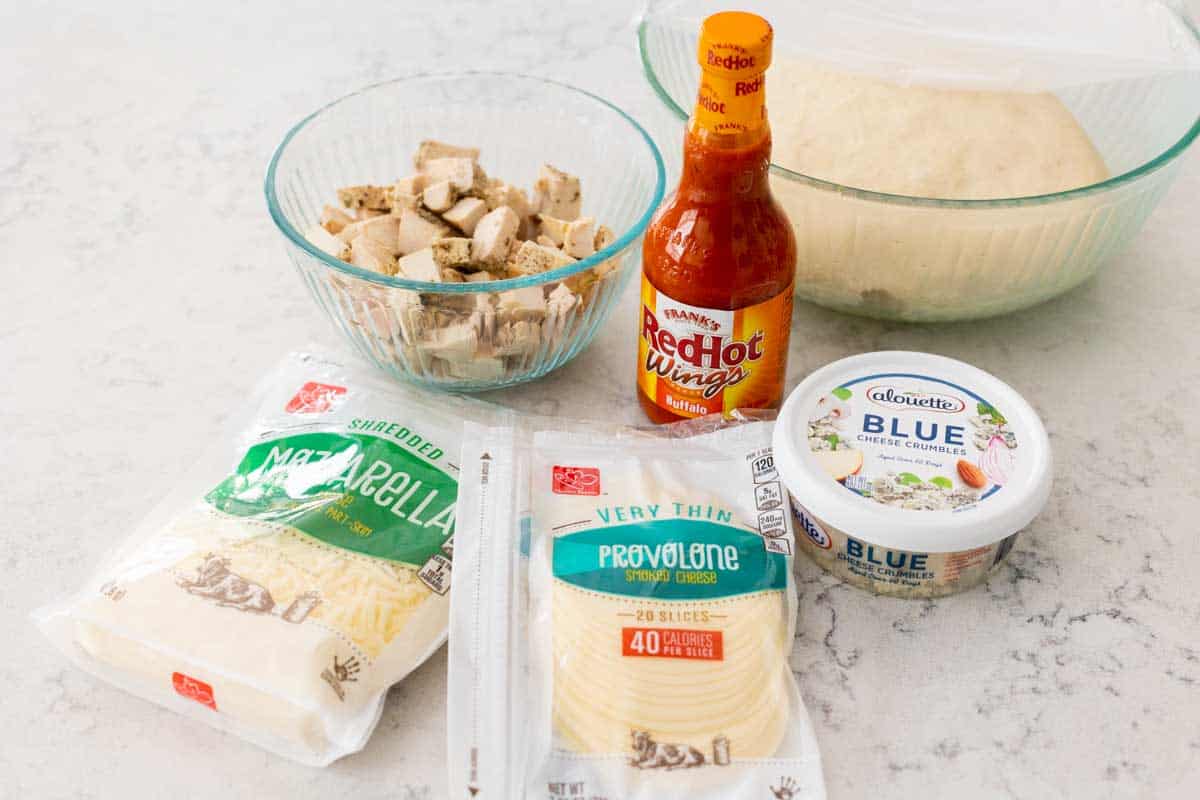 This easy buffalo chicken flatbread really only needs a few very simple ingredients:
Pizza Dough: I use this bread maker pizza dough recipe every time. You'll only need half the batch. You can freeze the other half, make two flatbreads, or use half to make a different pizza recipe. If you don't want to make that recipe, you can buy a store bought pizza dough or prepared pizza crust. A large naan flatbread would work great, too.
Cooked Chicken: I used leftover baked chicken breast from dinner the night before. One breast isn't enough to feed my family of four, but this was a great way to stretch it out into another meal. You could use shredded rotisserie chicken if you prefer.
Buffalo Sauce: To keep things easy, I just bought a prepared bottle of buffalo sauce at the grocery store, but if you have 5 minutes extra you can make a 3-ingredient homemade buffalo sauce.
Shredded Mozzarella
Sliced Provolone Cheese
Blue Cheese Crumbles
Fresh Green Onions
OPTIONAL: Sometimes you'll see a buffalo chicken flatbread served at a restaurant with a drizzle of ranch dressing. This is a good way to cool things down if the flatbread is too spicy.
Prep the Chicken
I chopped up a leftover baked chicken breast for the chicken in this recipe. I cut the pieces thin and small so they wouldn't be too chunky under the melted cheese.
You could shred a rotisserie chicken and use about 1 cup of that meat for the recipe, too. The shredded chicken would work perfectly underneath the melted cheese topping.
Add the chicken you plan to use to a small mixing bowl and toss it in the buffalo sauce.
If you have the full batch of my pizza dough and a little extra chicken, you could use it to make a chicken bacon ranch pizza as a fun alternative, too.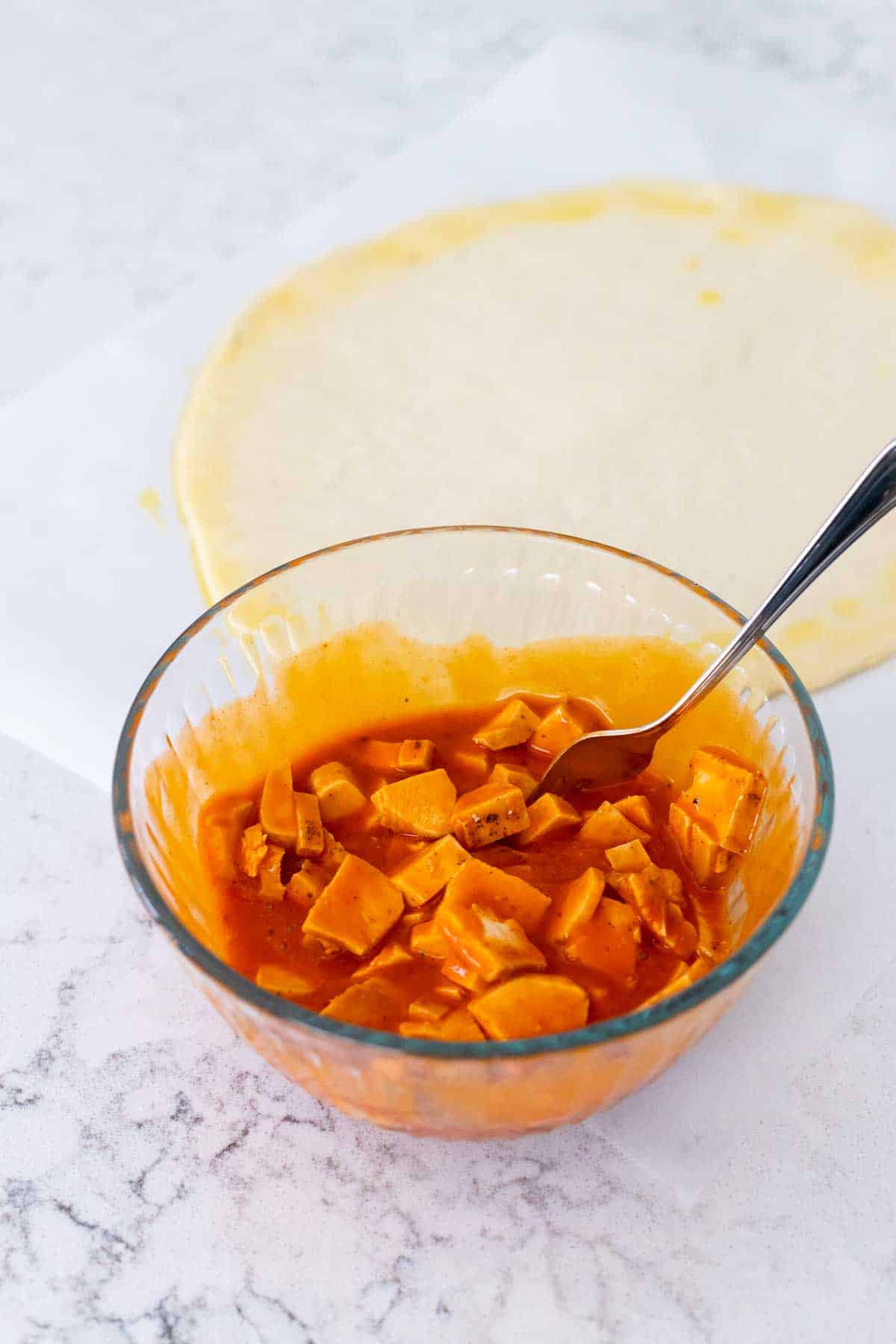 Best Flatbread Dough to Use
My homemade pizza dough is truly the best.
You can be really rough with it and roll it out very flat with your hands for the perfect flatbread crust.
Alternative suggestions to the homemade dough include:
Ball of Pizza Dough: You can sometimes find prepared pizza dough in the refrigerated section of the grocery store or at a local bakery.
Canned Pizza Dough: It won't get as crispy as a homemade dough, but canned pizza dough is still really delicious and fairly thin.
Naan Flatbreads: These slightly oval-shaped flatbreads can also be found in the grocery store bread aisle, often sold in packs of 2. They would be an excellent choice for this recipe.
Prepared Pizza Crust: You can buy a pre-baked pizza crust in the bread aisle. It will be more chewy than crispy, but is great for a quick dinner. I'd choose the naan bread if you can find it, but this will work as a last resort.
How to Top the Flatbread
Roll the pizza dough out very thin. I was fairly rough with the dough and slapped it with the palm of my hand to work it out as thinly as I could.
Brush a 1-inch olive oil border around the perimeter of the dough. This will help it golden brown and add extra flavor.
Spread the chicken and buffalo sauce evenly over the center of the flatbread.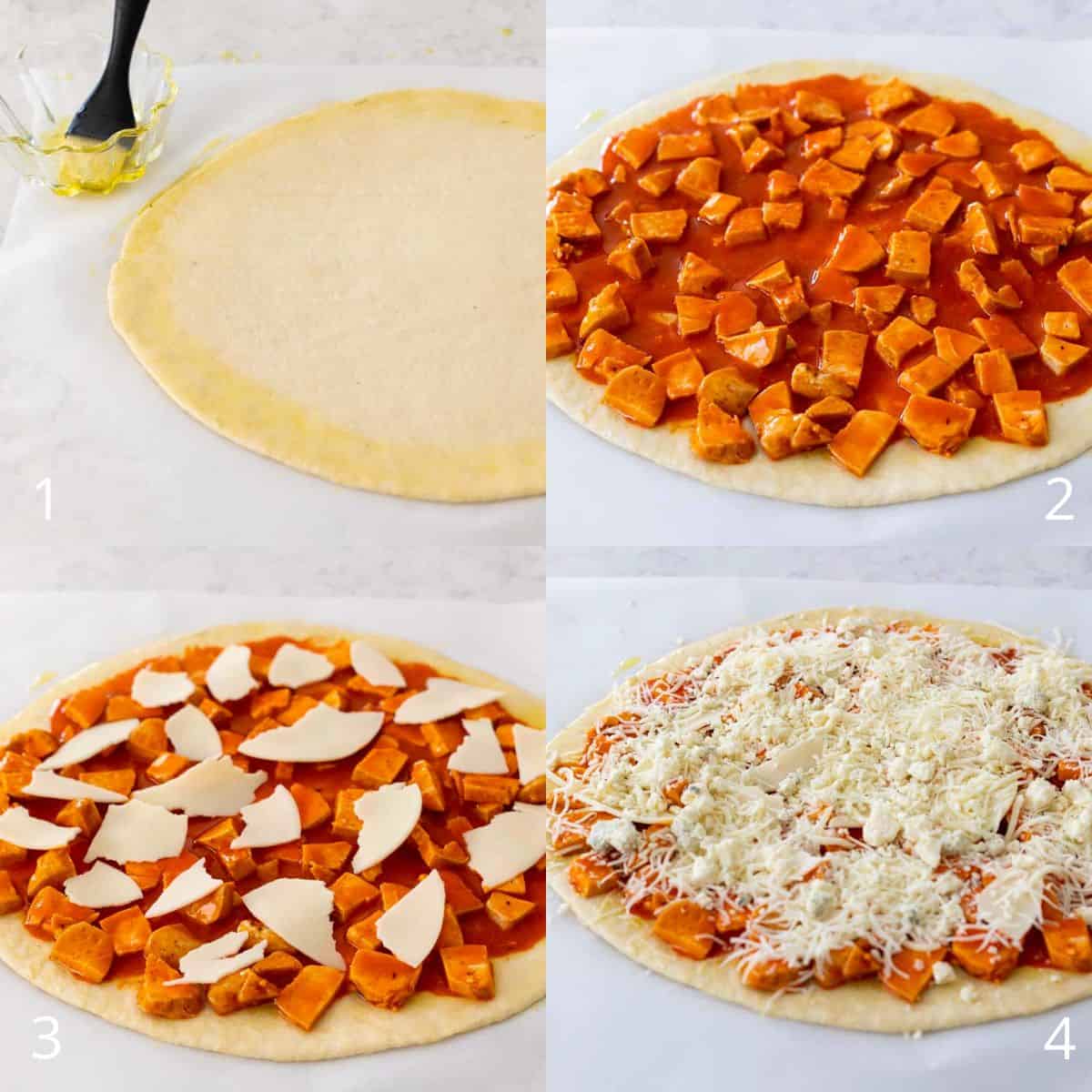 Rip the provolone cheese into pieces and scatter them over the top of the flatbread pizza.
Sprinkle the mozzarella over the top, filling in all the gaps left by the provolone. Scatter the blue cheese crumbles over the top.
Baking Instructions
Preheat the oven to 450°F with a pizza stone on the center rack for 30 minutes. The blazing hot pizza stone is how you'll get that crispy crust.
For the full ins and outs on how I prepare the dough for the oven and bake it with step by step photos, you might want to read how to bake pizza dough here.
Bake the flatbread for 10 minutes or until it is golden brown and bubbly.
How to Cut a Flatbread
In my opinion, the key difference between a flatbread and a pizza is in the shape and how it is cut.
I rolled this buffalo chicken flatbread out into a slightly oval shape and then I cut it into rows to form square-like pieces about 3-inches wide each.
This is the perfect nibble size for an appetizer!
Serving Suggestions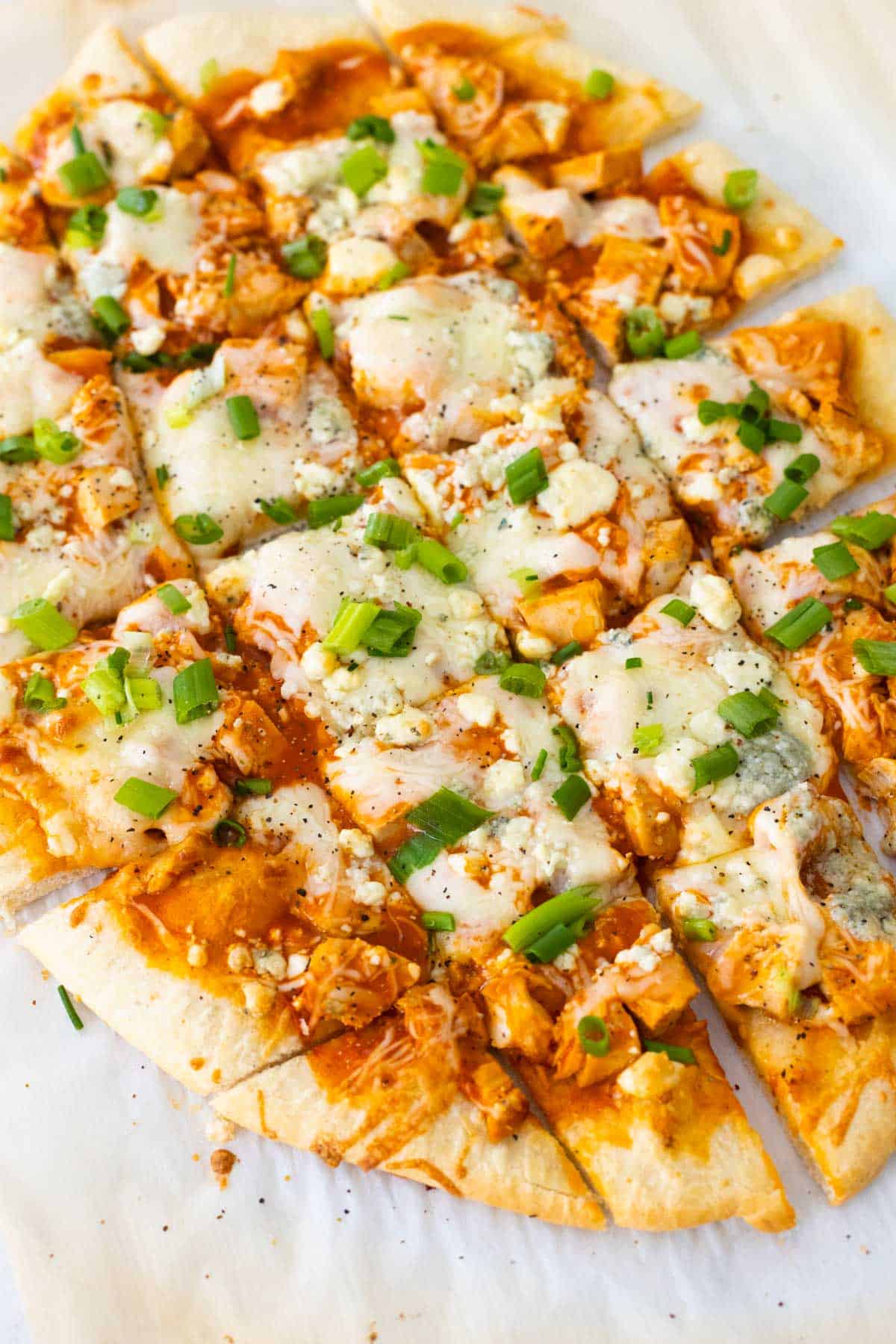 To serve the buffalo chicken flatbread, you can slide the entire thing off the parchment paper onto a serving tray.
Sprinkle fresh green onions over the top just before serving so they don't wilt.
You may want to add a drizzle of ranch dressing over the top or you could serve it in small cups for dipping the crust.
More Pizza Recipes
If you made my homemade pizza dough and want to try another flavor with the other half of the dough, you may enjoy one of these delicious homemade pizza recipes:
More Buffalo Sauce Recipes
If you love buffalo chicken, you'll also love:
📖 Recipe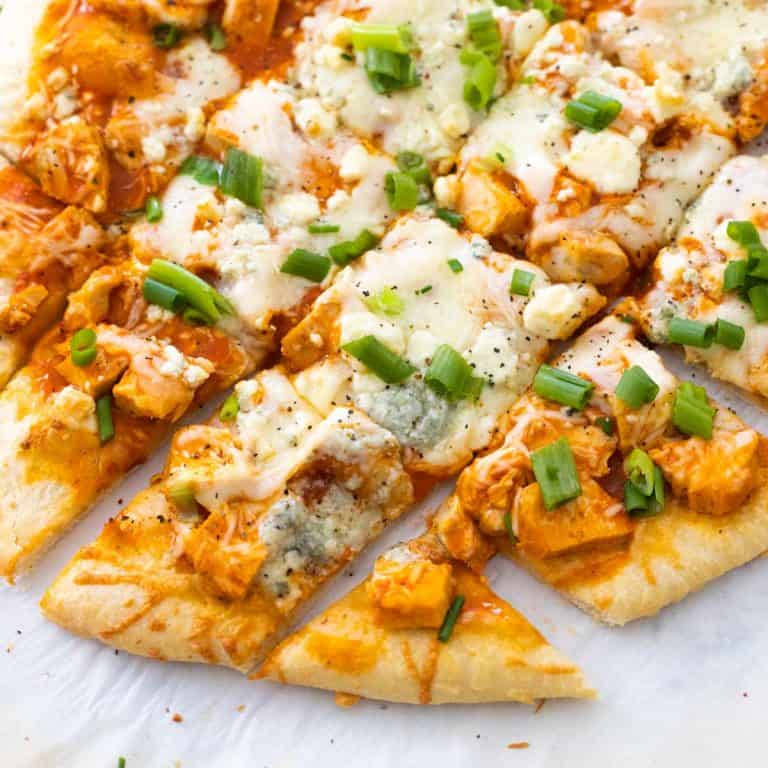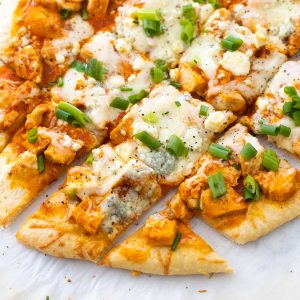 Buffalo Chicken Flatbread
Spicy buffalo chicken flatbread made on a crispy pizza dough crust has ooey gooey cheese topping. Sprinkle fresh green onions and blue cheese over the top and cut it into squares for a delicious appetizer or light dinner.
Ingredients
1

pizza dough ball

½ of this recipe or a prepared dough ball from the grocery store

2

tablespoon

olive oil

1

cooked chicken breast

chopped, or 1 cup cooked chicken

1

cup

buffalo sauce

homemade or prepared from the store

3

provolone cheese slices

1

cup

shredded mozzarella

¼

cup

(2 oz) blue cheese crumbles

3

green onions

chopped
Instructions
Place a pizza stone in the center of the oven. Preheat the oven to 450°F for 30 minutes while you prepare the flatbread.

Roll out the pizza dough to a 12-inch diameter on a piece of parchment paper. You can form either a circle or an oval shape as long as the crust is about ¼-inch thick. Brush olive oil around the edge of the dough.

Toss the cooked chicken chunks with the buffalo sauce in a medium sized mixing bowl. Pour the mixture onto the center of the flatbread dough. Spread the buffalo sauce evenly over the center of the crust right up to the start of the olive oil border.

Rip the provolone cheese slices into 1-inch chunks and scatter evenly over the flatbread.

Sprinkle the shredded mozzarella and blue cheese crumbles over the top.

Use the parchment paper the flatbread was prepared on as the transfer surface to put it in and pull it out of the oven. You can slide it onto the back of a baking sheet and use that to carry it to the oven and slide the parchment paper onto the preheated baking stone in the oven.

Bake for 10 minutes or until the edge of the flatbread is golden brown and the cheese has melted and become bubbly.

Carefully tug on the parchment paper to pull the flatbread onto the back of the baking pan to lift it out of the oven. You don't want to touch the baking stone since it will be blazing hot.

Sprinkle the green onions over the top and then slice and serve immediately.
Save This Recipe to Your Recipe Box
Find this delicious recipe next time you visit by saving it to your very own recipe box on my site. All your favorites stored in one easy place!