Philly cheesesteak sloppy joes are a fun twist for a busy weeknight dinner. Loaded with fresh peppers and onions and topped with melted provolone cheese, your family will gobble these up.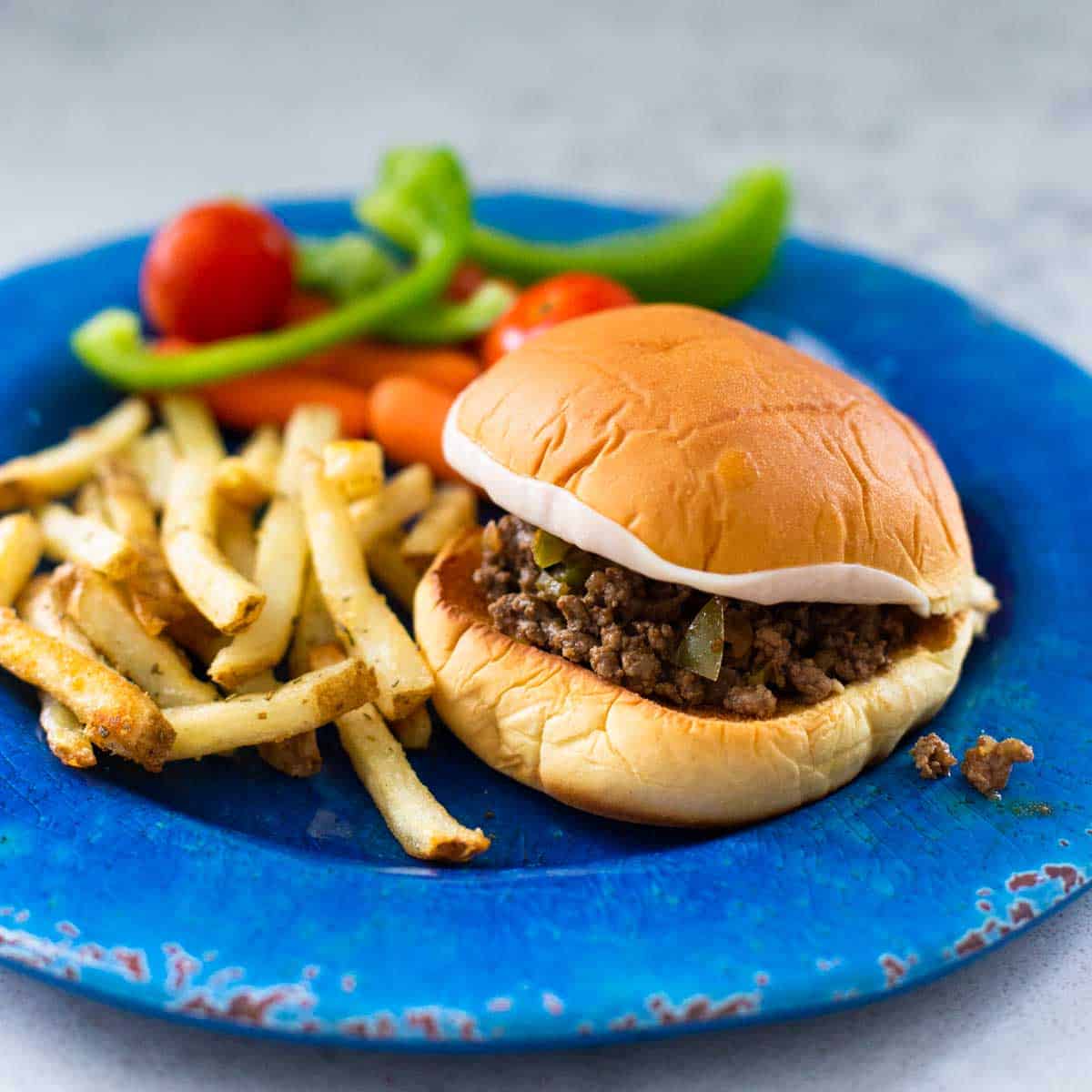 I absolutely love sloppy joe sandwiches but haven't made them for my family in years and years! I think the fussy-messy years of toddlerhood made me put this idea to the side, and I sort of just forgot about them as a dinner option.
Now that my girls are so much older (and neater at the dinner table!) the craving set in for a good sloppy joe. However, I'm fussy about the sauce that goes over the ground beef and I wanted just the right mix to re-introduce this awesome easy fix dinner idea to my family.
The Peanut actually loves Philly cheesesteak sandwiches but the thought of all those huge peppers and onions on the sandwich would send my husband screaming from the table.
This Philly cheesesteak-inspired sloppy joe recipe is the perfect mix of both worlds! We still get that peppers & onions flavor but they are all chopped up and mixed in with the beef so they are more palatable for picky eaters.
Smother the saucy beef in melted provolone cheese and add it to a toasted bun: even my husband can't complain!
How to Make Sloppy Joes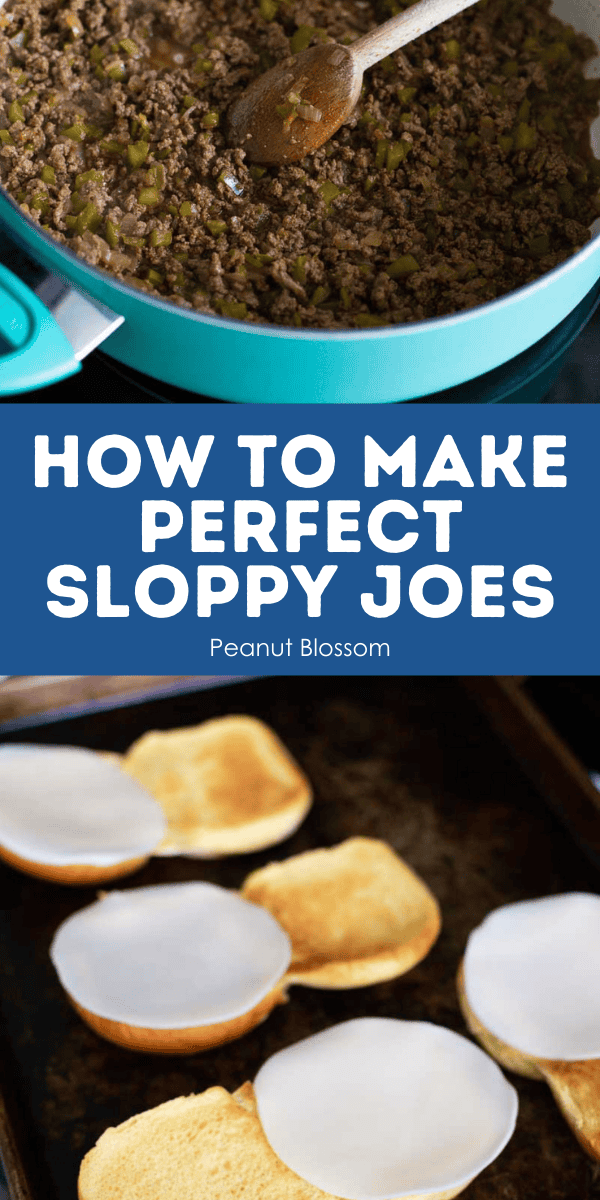 Step 1: Make the Sandwich Filling
No canned sauce here, this from-scratch sloppy joe filling uses things you likely already have in your pantry right now.
Start by browning up the ground beef and sauteing chopped onions and green bell peppers. Add a little minced garlic just before preparing the sauce.
Beef broth makes up the bulk of the sauce but a few tablespoons of ketchup and Worcestershire sauce help in thickening it up. Simmer it until the sauce reduces and thickens.
My favorite part of this recipe is how the addition of the chopped onion and bell pepper really bulks up the quantity of filling. Sloppy joe recipes that are meat-only don't go nearly as far in servings as this dish does.
We were able to easily get 8 sandwiches from the filling which meant we had leftovers for lunch the next day.
Step 2: Toast the Buns
This is where sloppy joes can go so wrong. Take a saucy beef mixture, put it on top of a too-soft bun and watch as the bread disintegrates right in your hand.
Fixing this problem takes just a minute of prep. Preheat your oven broiler while you're making the filling mixture. Place the buns open-face on a large broiler-safe baking sheet and toast them under the broiler for just a minute or so. Watch them carefully because they'll go from toasted to charbroiled in a heartbeat.
Place a slice of provolone cheese on either just one or both sides of the open-faced toasted buns and put them back under the broiler to melt the cheese. This should take about 30 seconds to a minute.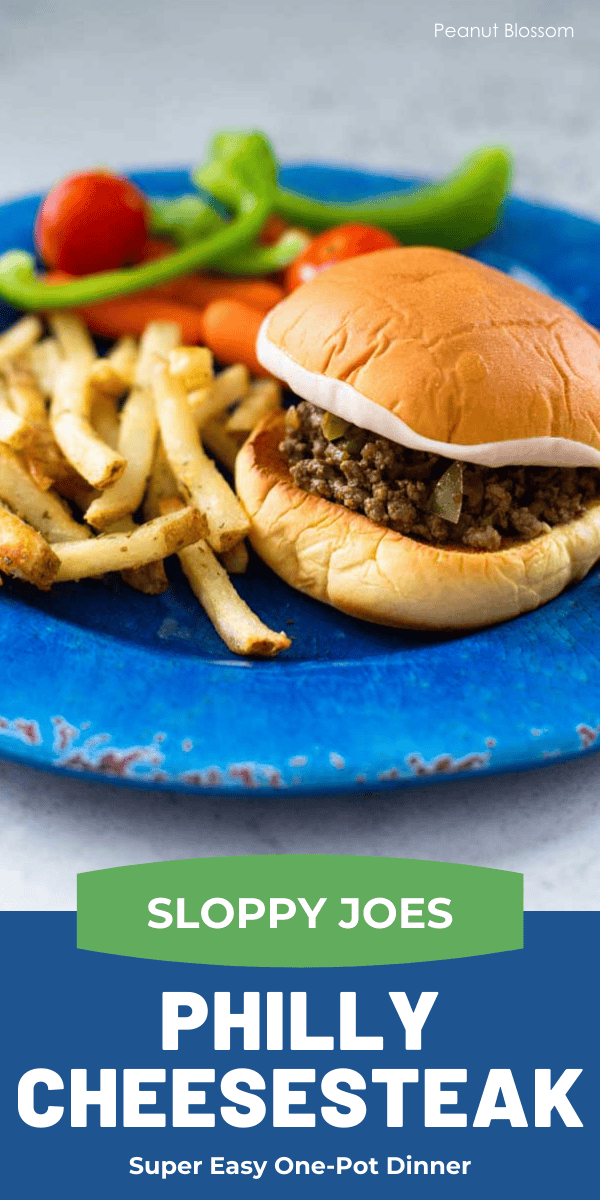 Serving Suggestions
Sloppy joes are such an easy dinner idea, you need equally easy side dishes to serve with them.
I baked up a pan of frozen french fries while the mixture simmered on the stovetop. When the fries were done, I tented them with a little aluminum foil to keep them warm while I toasted the buns.
I grabbed a pre-made veggie tray from my fridge that I assembled a few days earlier. We've been using it as an easy way to add some raw veggies to our menus. The tray includes a homemade veggie dip--just sour cream mixed with seasonings.
You could also serve:
potato chips and dip
fresh fruit
tater tots
a simple bagged salad
📖 Recipe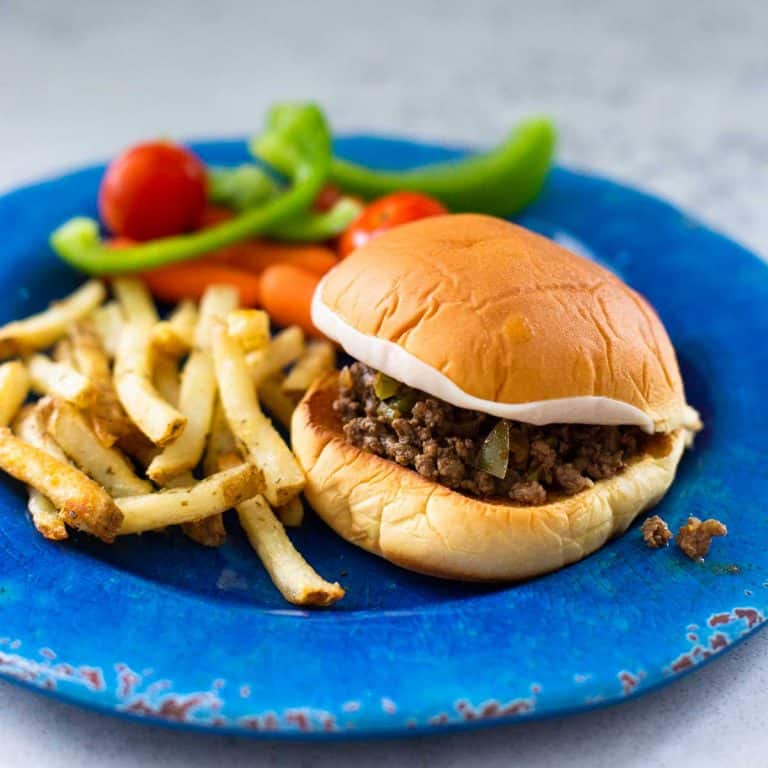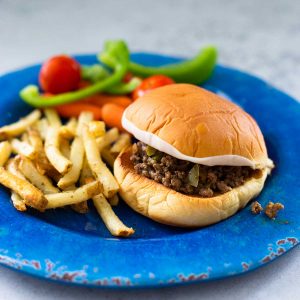 Philly Cheesesteak Sloppy Joes
The perfect busy night family dinner: these delicious philly cheesesteak sloppy joes come together in a pinch and have lots of chopped veggies in the mix.
Ingredients
1

pound

ground beef

1

onion

diced

1

green pepper

diced

1

teaspoon

minced garlic

2

tablespoon

ketchup

2

tablespoon

Worcestershire sauce

1

cup

beef broth

8

sandwich buns

8

slices

of provolone cheese
Instructions
Preheat your broiler while you prepare the filling. In a large skillet, brown the ground beef on medium-high heat and crumble it as it cooks. Drain the fat and return the skillet to the stovetop.

Add the onion and bell pepper to the skillet. Saute until the onions are translucent, about 4 minutes.

Add the garlic to the skillet and stir into the beef mixture. Cook until fragrant, about 30 seconds.

Add the ketchup and Worcestershire sauce and stir to combine. Pour in the beef broth and stir until the sauce is smooth. Bring the broth to a boil and then lower the heat and simmer the beef for 5 minutes.

Place the sandwich buns, open face, on a large boiler-safe baking sheet. Toast them until just barely golden brown, about 1 - 2 minutes. Watch them, they'll burn very quickly.

Place a slice of cheese on one half of each bun and return to the broiler. Heat the cheese for 30 seconds or until it is just melted.

Serve a generous scoop of filling on each roll.
Save This Recipe to Your Recipe Box
Find this delicious recipe next time you visit by saving it to your very own recipe box on my site. All your favorites stored in one easy place!