This simple steak marinade makes practically any cut of steak tender and delicious. Our family begs for this dish every single birthday for as long as I can remember.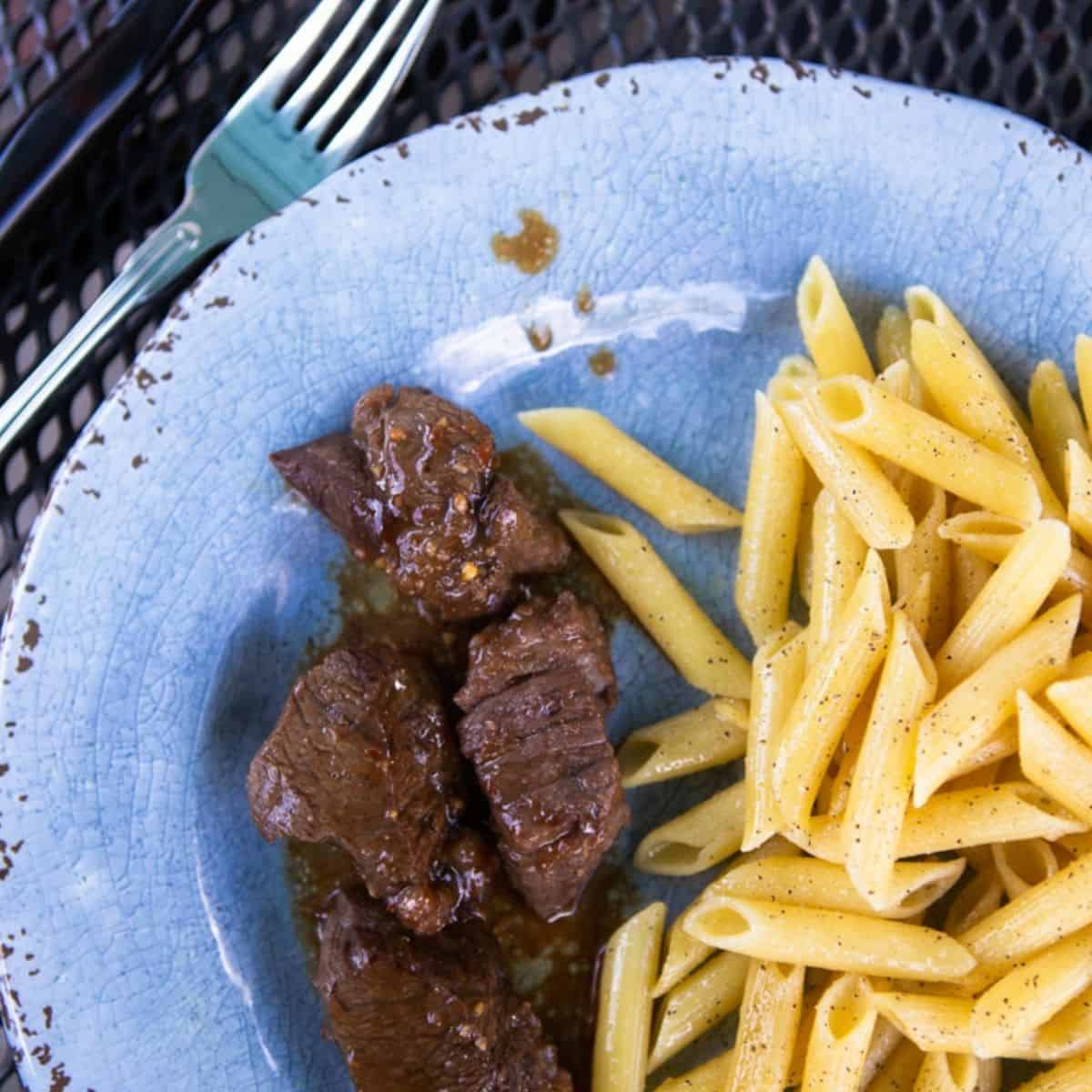 Every blogger has secret hidden things buried in their archive. I've been at this for over 10 years now, and every once in a while I stumble across something I wrote eons ago but that is still in our family repertoire.
This weekend, Tim requested one of our all-time favorite recipes for his Father's Day dinner: "Steak and Tubes," as we all affectionately call it.
I remembered that this was on my list of things to reshoot with a more appealing photo so I snapped a couple shots before we dug into our celebratory dinner.
This steak marinade recipe has been in my family since I was a little girl. It has been a requested birthday dinner for so many years, I can't even begin to count the number of times I've made it. The ridiculous name for the pasta comes from the nickname my mom gave to the penne pasta shape when my sister was just an itty-bitty thing. It stuck, and the recipe requires both the steak and the pasta together to be authentic.
As Tim said as I sauteed the steak:
"The best part of this dinner is dipping the noodles in the steak sauce, be sure to use all the marinade!"
Tuesday was Handyman Tim's birthday. In our family, we celebrate with a special meal at home vs. going out to a restaurant. The guest of honor gets to dictate the entire dinner meal right down to whatever picky details he may prefer. On Tim's special day every year he requests the same thing that he's requested since he married me: my family's "secret" recipe for "Steak and Tubes."
Now before you gag at the very thought of that ridiculous name, let me say that this is the meal I'm known for amongst my friends--my 1 claim to culinary fame. I would whip it out in those late-college/early-apartment living days to show off my cooking "skills." It is the most ridiculously easy meal to prepare but it is so utterly delicious that people are amazed when they dig in.
I decided to share the recipe because it makes a most excellent Valentine's Day meal as well. Maybe you'll find it useful. The only real secret to the dish is making sure you use the absolute highest quality beef you can afford. I traditionally buy filet mignon and cut it into 1-inch pieces. I'm sure the butchers who sell me the beef would die if they knew what I was doing to such a fine cut of steak. Oh well, it's been a family favorite since I was little and has appeared at many a birthday meal over the years.
On my birthday, I add my mom's ginger carrots as the veggie side dish. But, the birthday boy doesn't want his meat and carbs plate sullied by anything remotely resembling a vegetable--even a butter and brown sugar coated one.
To each their own.
Serving Suggestions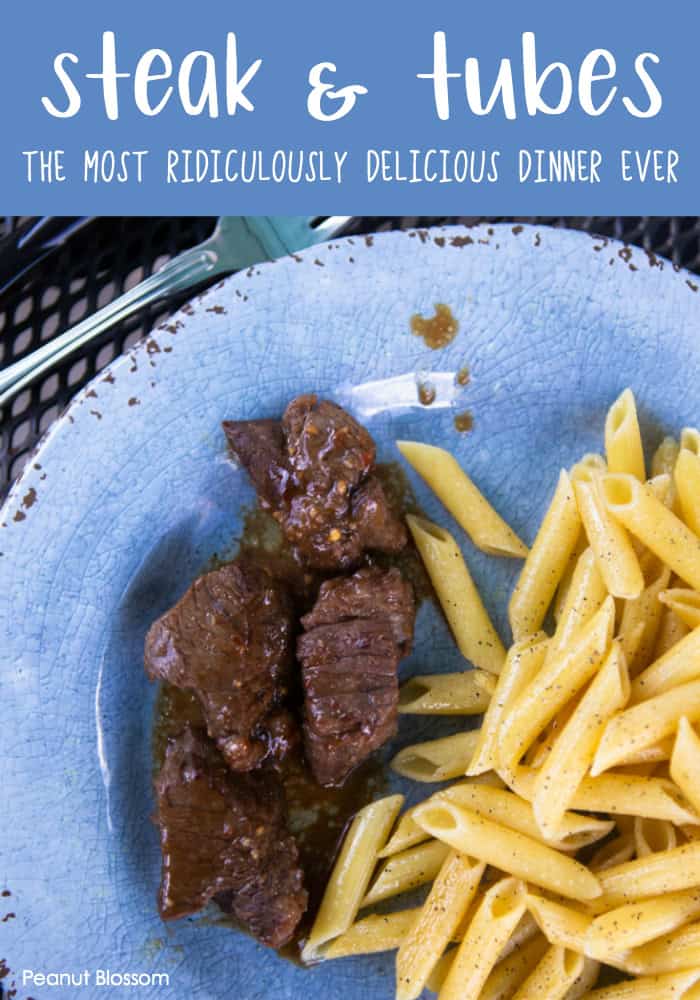 A vintage family recipe handed down to me from my mom.
Yes, this is "just" buttered noodles and marinated beef. But, it is the combo of the two items together that make the meal into something special. I guess you could serve this steak with rice or a different side dish but it would just never be the same.
I dip my beef into the noodles' butter and I run my noodles into the beef's sauce. We all practically lick our plates with this meal in order to not miss one delicious drop. I highly recommend following the recipe right down to the last note at least the first time you try it. Then tweak at your own risk. Don't say I didn't warn you.
More Family Favorites
This was one of the first recipes I ever shared on the site. Don't miss some of our other ancient family favorites: