This Asian marinade also doubles as an Asian salad dressing and pairs perfectly with chicken, fish, or pork. Whisk it together in just a few minutes to add tons of flavor to your favorite protein or dress a chilled pasta salad.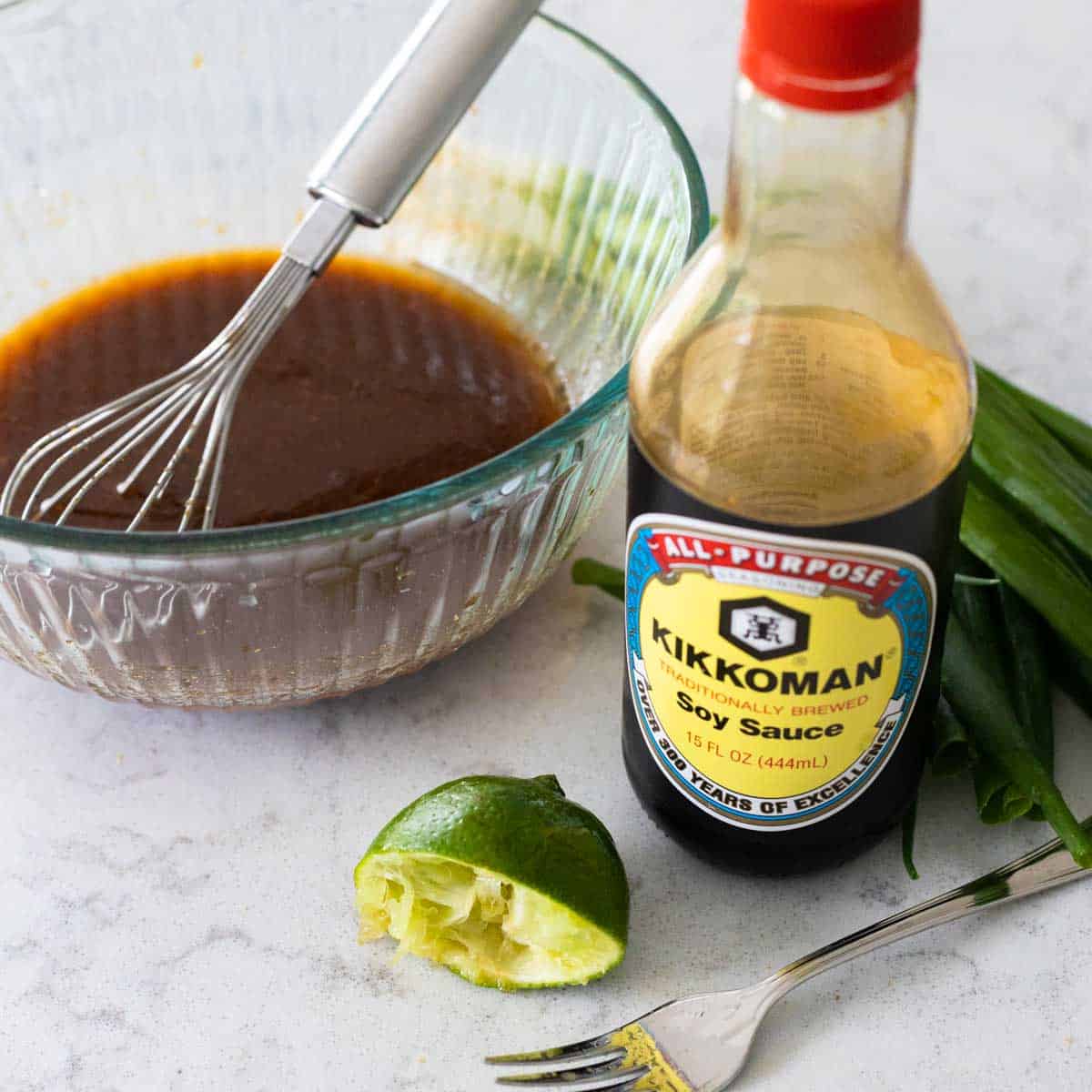 This versatile Asian marinade is the perfect chicken marinade but also pairs really well with salmon or pork.
Made from savory soy sauce, fresh lime juice, and sweet brown sugar with a bit of heat from the chili sesame oil, it works perfectly as a salad dressing as well!
My favorite recipe for Asian chicken pasta salad uses half of this recipe to marinate the chicken and the other half to dress the pasta salad.
But just in case you wanted to use the Asian marinade and salad dressing for other recipes, I decided to offer the instructions on how to make it all by itself.
Jump to:
Why This is the Best Recipe
This super easy chicken marinade is one of my favorites to use when I want something a little different for dinner.
Made from very simple ingredients, this is the best recipe because:
Budget-Friendly: I keep almost all the ingredients in my pantry all the time. I can whip it together without a special trip to the store quite easily.
Filled with Flavor: I love the combo of soy sauce and brown sugar for a sweet and savory marinade.
Adjustable Spice Levels: My base recipe is not spicy at all but if you love heat it is very easy to adjust the spice level, just check out my variations notes below.
Pairs Well with Chicken, Salmon, or Pork: Want to mix things up or use a protein that was on sale? You can use this marinade recipe for a wide variety of dinners.
Great for Vegetarian Pasta Salads: Shake up the dressing and use it for chilled pasta salads with your favorite raw veggies. It is gluten-free, dairy-free, and vegan friendly.
Ingredients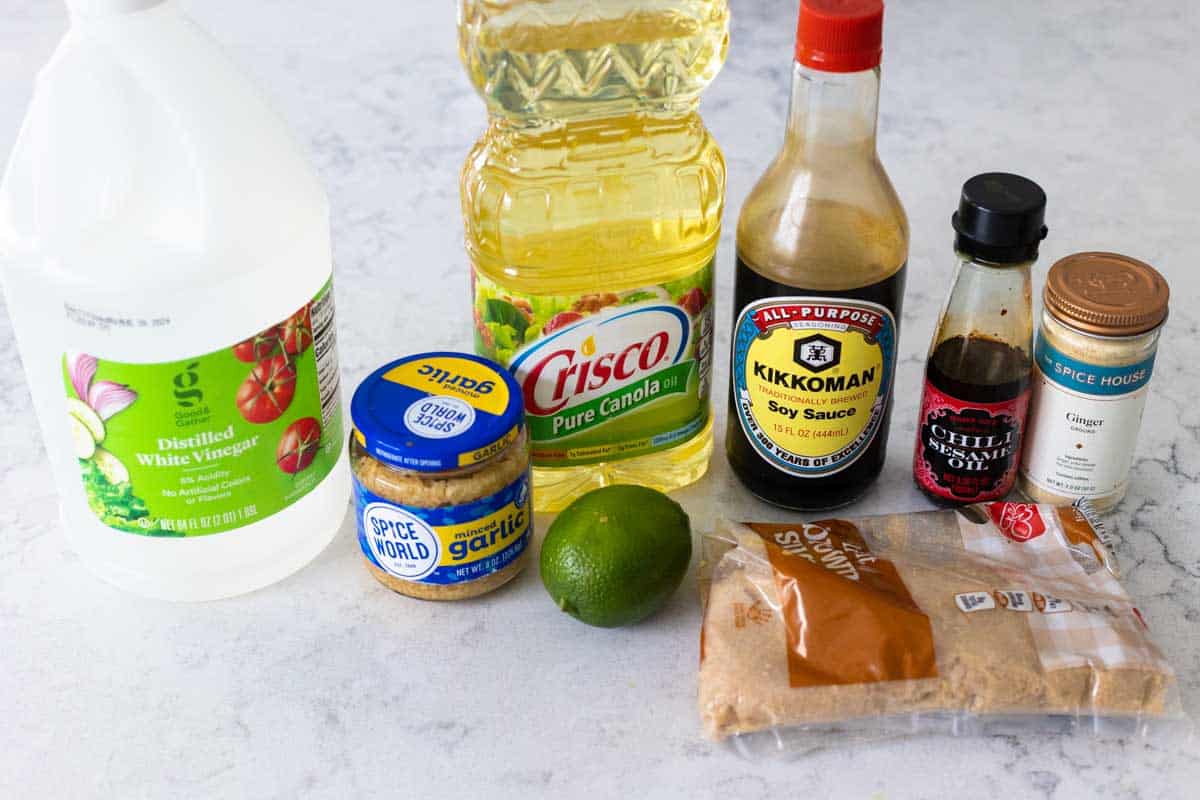 This easy recipe is so quick to whisk together with just a few pantry staples:
Canola Oil: This is an excellent marinade oil because it has a very mild flavor that lets the other ingredients shine.
White Vinegar: This budget-friendly vinegar is so inexpensive at the store. However, if your grocery budget allows, you may also love using rice wine vinegar for a little more flavor.
Soy Sauce: You could use low sodium soy sauce if you prefer.
Chili Sesame Oil: I like to use this chili-infused sesame oil instead of plain sesame oil for just a touch of heat. If you really don't like spice, go ahead and use regular sesame oil.
Lime
Brown Sugar
Ground Ginger
Minced Garlic
Salt & Pepper
How to Make It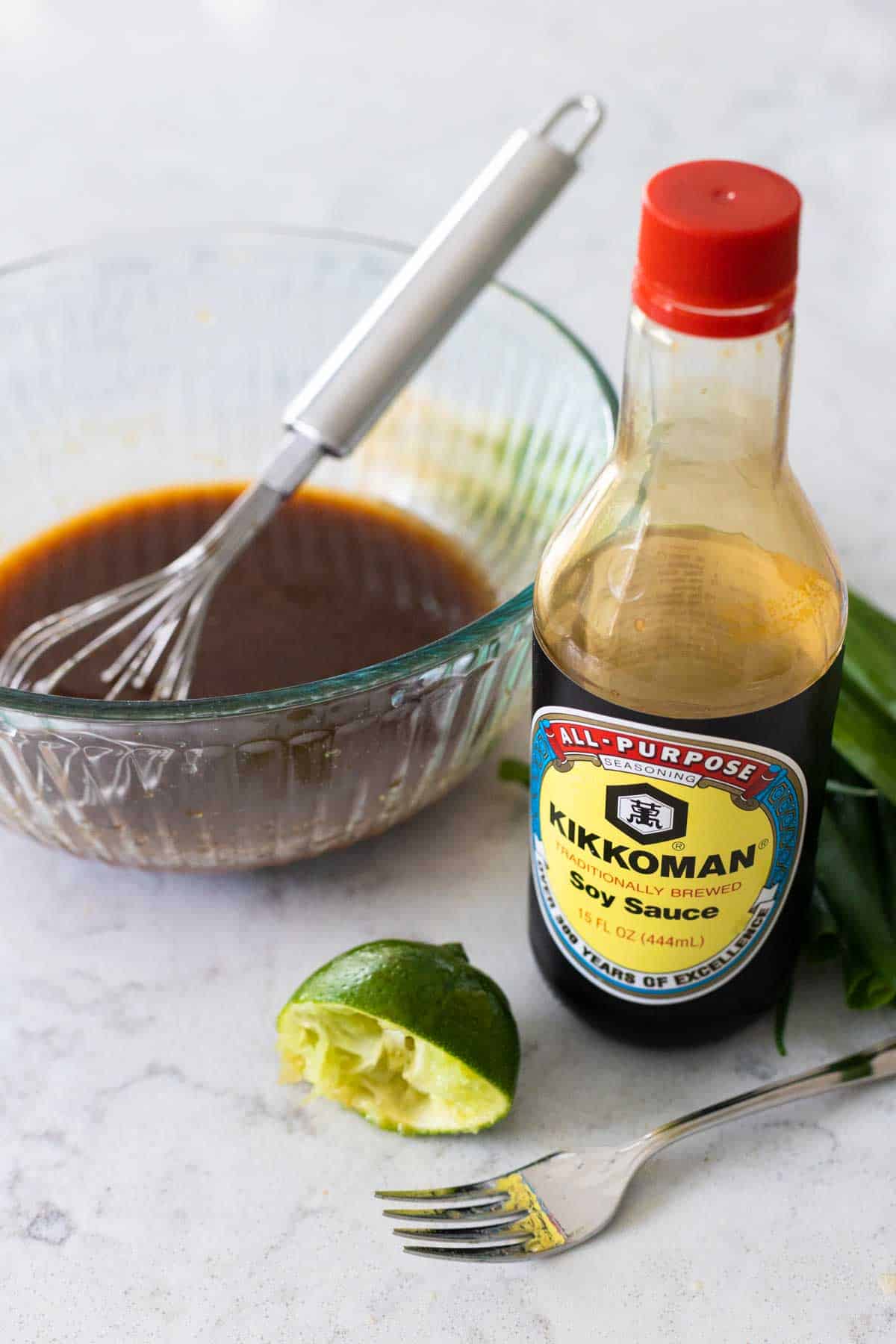 This recipe is so very easy to make!
Add the canola oil, vinegar, soy sauce, sesame oil, brown sugar, and lime juice to a medium-sized mixing bowl.
Add the ginger, garlic, and salt and pepper.
Whisk it together until smooth. That's it!
How to Use as Marinade
If you plan to use the Asian marinade with your favorite chicken, salmon, or pork, you want to allow for at least 30 minutes of marinating time.
I place my boneless skinless chicken in a mixing bowl and pour the marinade over the top. Toss to coat with a fork and let rest in the fridge for at least 30 minutes but up to 24 hours.
Drain the meat from the marinade before cooking or it will boil rather than crisp up.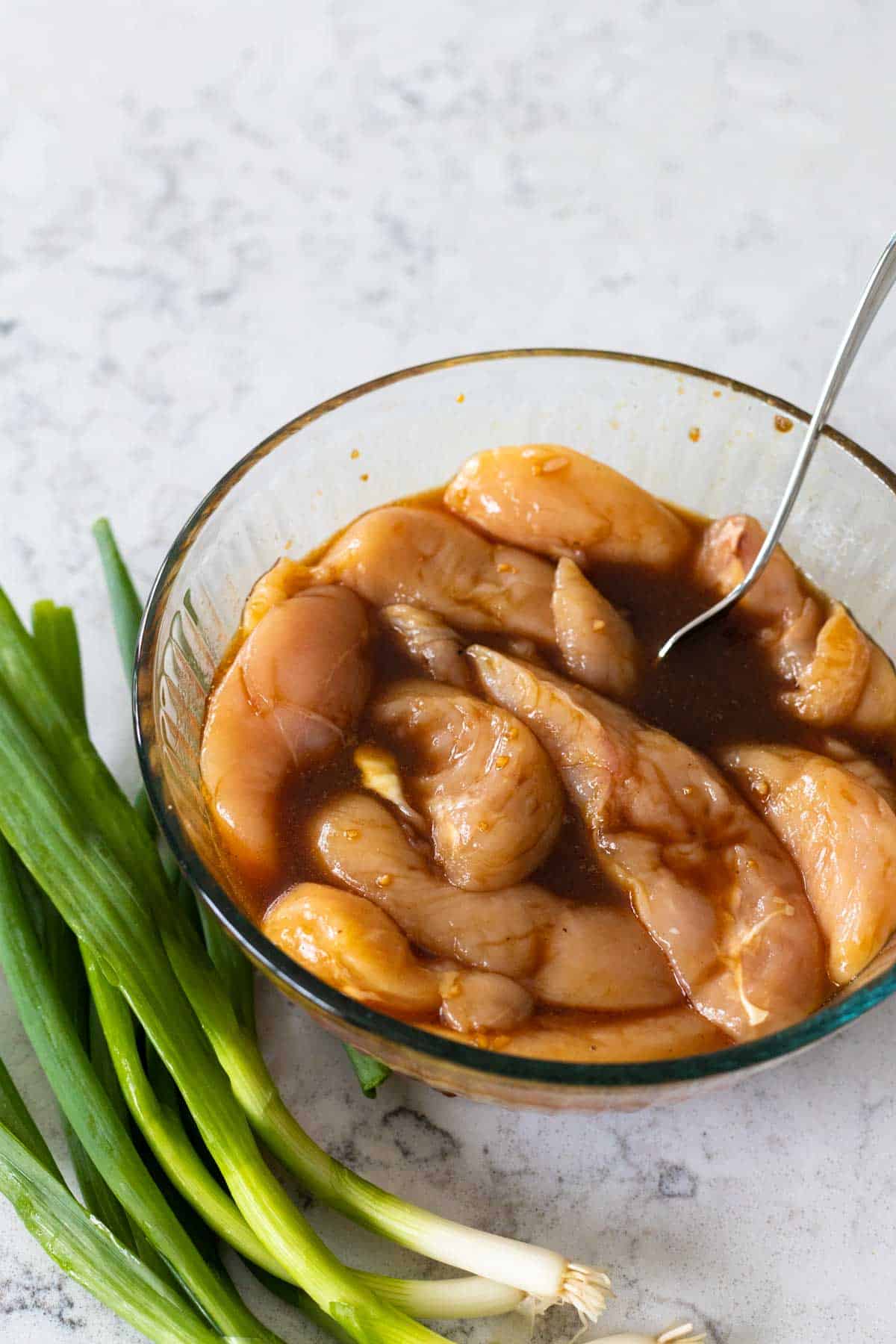 How to Use as Salad Dressing
I love this Asian marinade because it also doubles as a fantastic Asian salad dressing.
You can prep it ahead and store it in a mason jar in the fridge. Just shake it up well before using on a salad.
I think it makes an amazing pasta salad dressing but you could also use it with lettuce, tomatoes, bell peppers, shredded carrots, green onions, or any other salad veggies you love.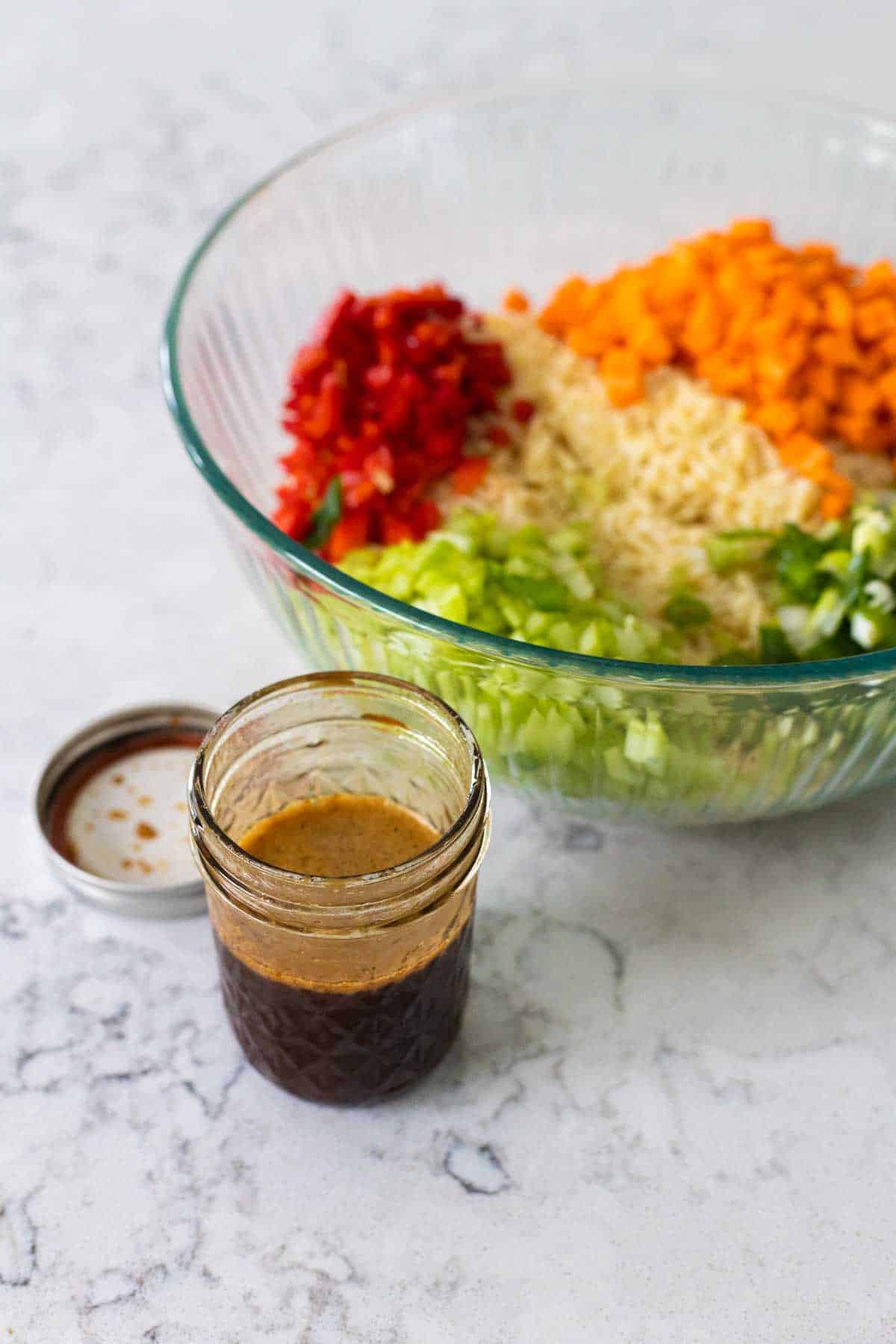 Variations
As I mentioned, my base recipe is not spicy at all. It has lots of flavor but is more savory-sweet.
You could make several fun variations:
Spicy Asian Marinade: Add a teaspoon of crushed red pepper flakes or a squeeze or two of sriracha sauce or even a teaspoon of wasabi sauce.
Ginger Asian Marinade: I used just a pinch of dried ginger in this recipe but if you're a big ginger lover, use grated fresh ginger and add a heaping tablespoon.
Asian BBQ Marinade: For even more flavor, get a bottle of Bachan's Japanese BBQ sauce and use it in place of the regular soy sauce in the recipe. I tried it recently after a trip to Costco and it is one of our new favorite condiments.
Serving Suggestions
My favorite way to use this recipe is to marinate boneless skinless chicken tenderloins and then use half the dressing to finish the Asian chicken pasta salad.
I make a big batch on Sunday and then my daughter takes it for school lunches for several days. It is something different than her usual sandwich and is so filled with fresh veggies!
You could also use this Asian lime vinaigrette to dress a green leaf salad with yummy Asian salad toppings.
Storage Tips
The Asian marinade can be kept in a mason jar or similar air tight container in the fridge for up to one week.
If you want to meal prep, you could also use it to marinate chicken, fish, or pork and then freeze it in a freezer-safe container. As the protein thaws, it will marinate and be perfect for cooking when you are.
More Marinade Recipes
Looking for more ways to marinate your favorite chicken or beef? Here are a few more of my family's favorite marinades.
📖 Recipe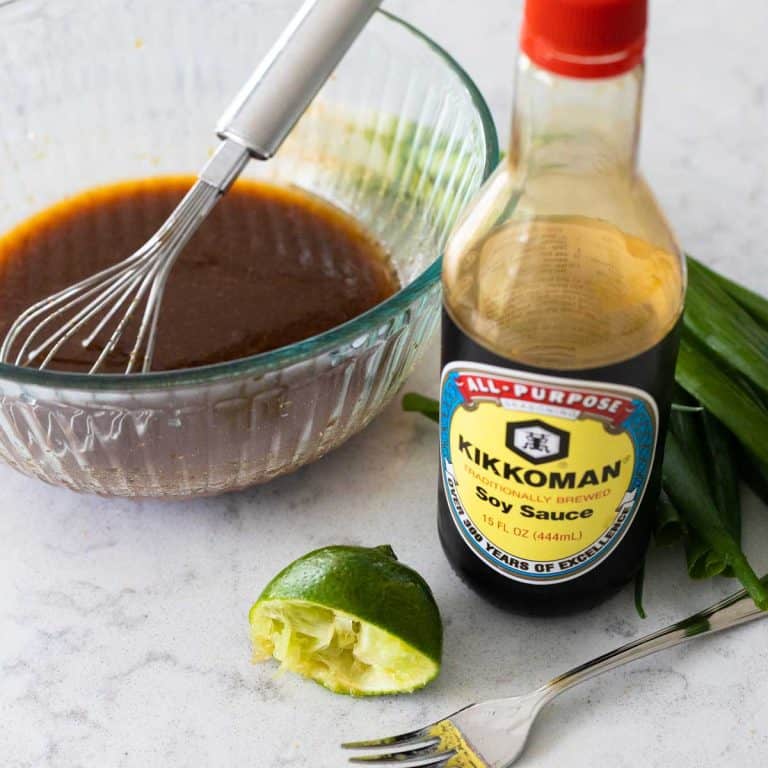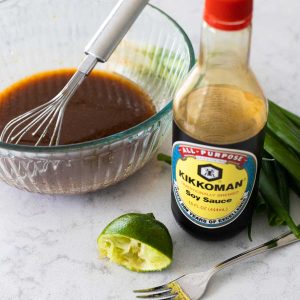 Asian Marinade
This easy Asian marinade is made with savory soy sauce and zest lime juice. It is the perfect Asian chicken marinade, save half of the recipe to use as a salad dressing with the cooked chicken on top!
Ingredients
¼

cup

canola oil

¼

cup

white vinegar

or rice wine vinegar

¼

cup

soy sauce

2

tablespoon

chili sesame oil

Juice from ½ lime

6

tablespoon

brown sugar

½

teaspoon

ground ginger

1

teaspoon

minced garlic

Sprinkle of salt & pepper
Instructions
Whisk together all the ingredients for the marinade / salad dressing together in a small bowl. Store in an air tight container in the fridge for up to 1 week.
Recipe Notes
Suggested Uses:
This Asian marinade pairs well with chicken, fish, or pork. Let the protein marinate for at least 30 minutes before cooking. 
It also makes a great salad dressing for green salads or pasta salads. Whisk well or shake the mason jar container well before using to dress a salad.
Safety Note:
Never let leftover marinade that has come into contact with raw meat be used as a salad dressing. If you plan to use some to dress a salad, divide the recipe and set aside the salad dressing before marinating your meat.
Save This Recipe to Your Recipe Box
Find this delicious recipe next time you visit by saving it to your very own recipe box on my site. All your favorites stored in one easy place!