Mojo marinade for chicken is one of our favorite easy grill recipes in summer. This Cuban mojo marinade recipe blends fresh herbs with a few pantry ingredients for a flavorful and easy way to grill chicken.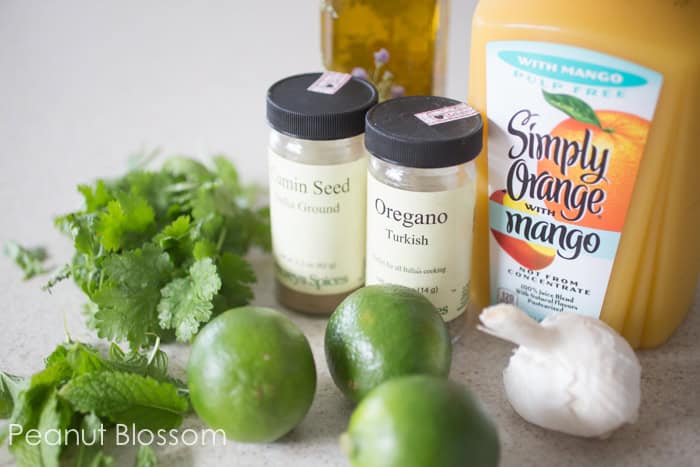 Continuing our experiment with marinades for the grill this summer, I've been on the hunt for new things to do with our chicken. First, we tried this amazing lemon dijon marinade. It was such a hit, but then I stumbled across a Cuban mojo marinade that was intended for a huge cut of pork that looked to DIE for and was curious if I could make it work for poultry.
Yep, and Yep.
While I made this chicken marinade on a busy weeknight with just a simple side of couscous and a heaping mountain of fresh watermelon, I'm looking forward to trying our hand at a chicken version of Cuban sandwiches with fresh crusty bread sometime soon.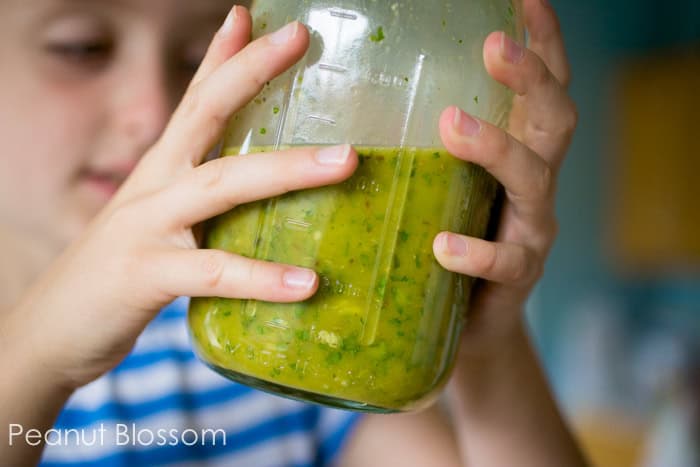 What is Cuban mojo marinade?
A mojo marinade is a blend of juicy citrus fruits mixed with fresh herbs (usually cilantro and mint) and seasonings including garlic, cumin, and oregano. Despite all the fruit, the final dish doesn't taste sweet and fruity, but more savory and bright.
If your kids love tacos, this would be an excellent chicken marinade to add into your mix. The final flavor pairs really well with traditional taco toppings like sour cream, cilantro, and chopped tomatoes.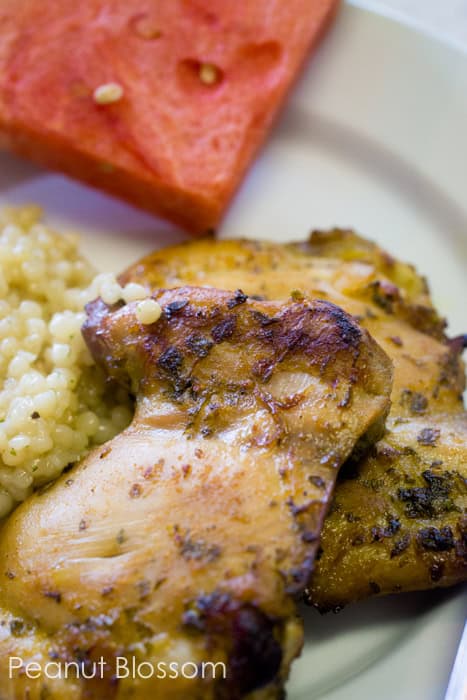 Cuban mojo marinade is perfect for cooking with kids:
I'm lucky to have my little handy helpers home this summer. The Peanut especially enjoyed helping me pull this one together. She ran the Cuisinart like a boss and loved shaking up the final mix in a mason jar.
As we were adding the ingredients, she noticed that many of them cross over with taco seasonings (cumin and garlic) and the fresh salsa we made last week (cilantro and lime juice). The Peanut was surprised to see us pouring orange juice into the mix and grabbing fresh mint from our herb garden. That is seriously one of the best parts about cooking with your kids--they start to pick up on this kind of thing and it makes them curious to taste the new recipes!
How much marinade do you need for your chicken?
Our initial test of the mojo marinade created too much liquid so I've scaled it way back for the 1.5 pounds of chicken thighs we used. With all the sugar from the fruit juices be very careful not to overcook the meat. The sweet marinade burns quickly (as I sadly discovered.) I was able to salvage dinner, but the chicken was overdone. We can't wait to try this recipe again because the mojo marinade itself had our whole house smell amazing.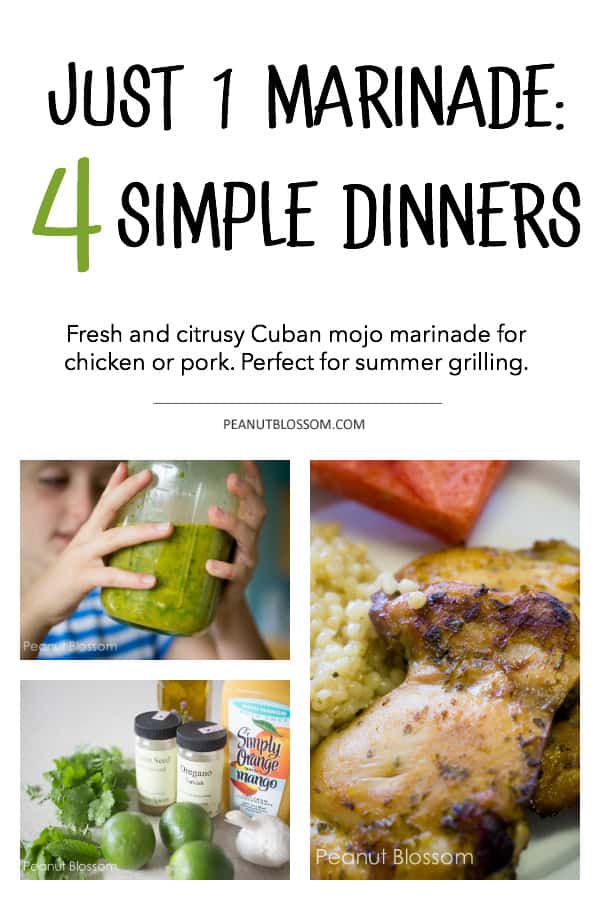 What can I make with Cuban mojo marinade?
The mojo marinade is great on grilled chicken or with pork. You can use the marinaded meat in any of these dishes:
I hope you enjoy this for your grilling season rotation!