New Year's Eve recipes should be easy and delicious. Don't finish the year off in the kitchen, use these make-ahead family recipes so you can enjoy the evening with your kids!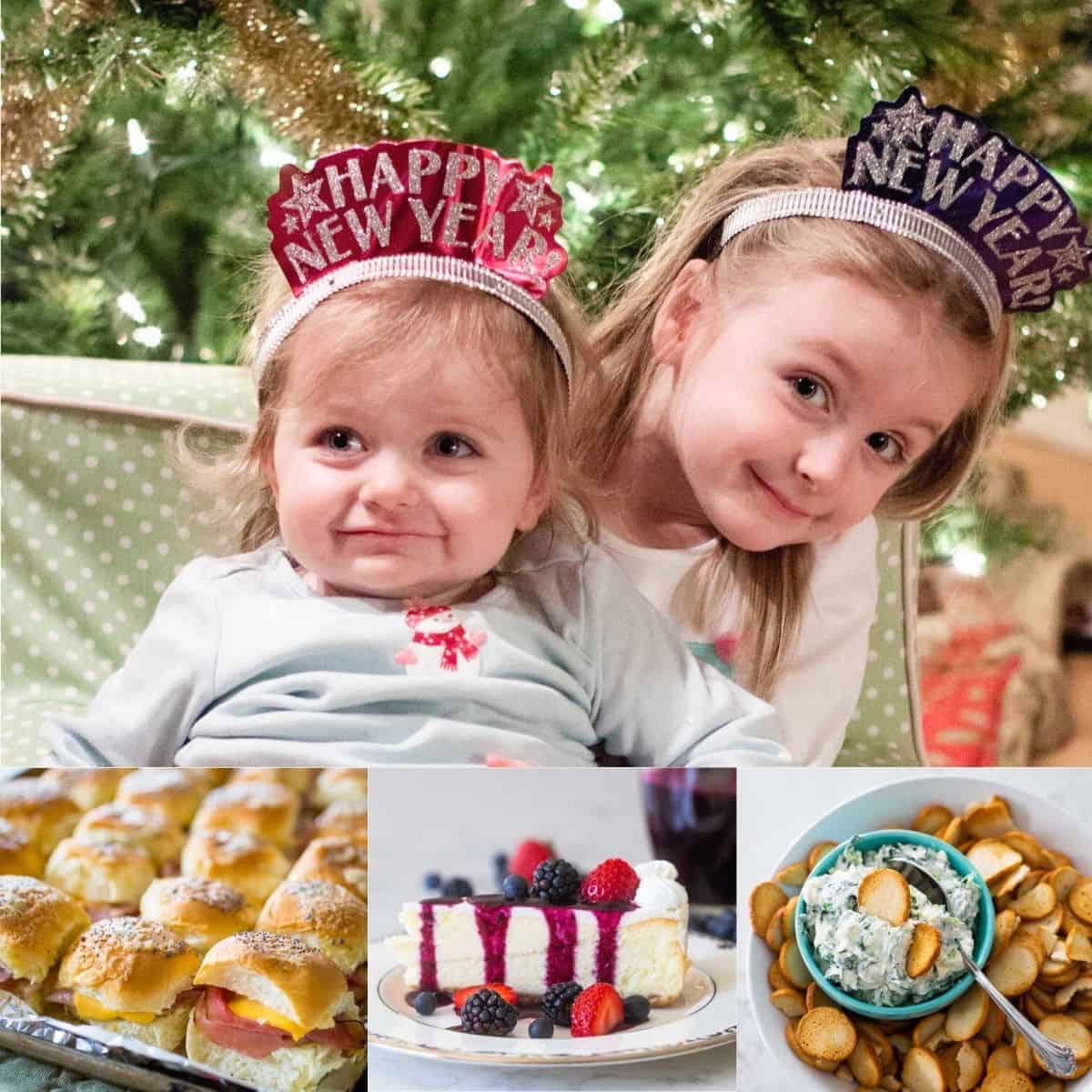 How does your family celebrate New Year's Eve? We love to spend the day at our favorite bowling alley. We bowl a few rounds, have lunch at their awesome restaurant, and then come home for a quiet evening in.
We watch movies, listen to music, and just count the year down together.
Even though it is usually just us, I try to have something delicious for us to enjoy for our last meal of the year.
Sometimes we do a full dinner, other times we make a meal out of appetizers and dessert. 
Whether you plan to fill your house with friends and family or keep it quiet with just your own, you'll find fun New Year's Even recipe ideas for a fun night at home below.
Happy New Year to you and your family, I hope you have a great one.
Jump to:
New Year's Appetizers Ideas
Maybe you prefer to snack the night away for your party?
These appetizers are a huge hit with kids but will still be popular with any adults at your New Year's party:
Make a batch of homemade seasoned pretzels (15 different flavors to pick from!) and then make an easy batch of spinach dip or raspberry mustard for dunking them:
And you can never go wrong with a simple batch of homemade snack mix:
New Year's Eve Beverage Recipes
If you want something other than traditional sparkling wine, here are our favorite cocktails and festive kid-friendly beverages for New Year's Eve:
Casual Dinner Recipes
Keep it extra easy and serve kid-friendly sliders and soup. This is the perfect comfort food for a relaxing night in that lets you focus on playing games together or watching a movie marathon.
Here are some of our favorites:
Elegant Dinner Recipes
If you like to have a more formal meal to end the year or are entertaining other adults, these elegant dinners are totally kid-friendly and super easy to prep ahead. You could assemble everything in the morning and just pop these recipes into the oven before dinner.
Simple New Year's Eve Desserts for Kids
We like simple and individually portioned treats for New Year's. I usually stick to cookies, brownies, or bars.
You could make simple circle sugar cookies, frost them with this awesome cookie frosting, and have the kids decorate them to look like clock faces using candies.
Here are some of my other favorite treats:
Elegant New Year's Desserts for Adults
If you want a show stopping dessert for the last party of the year, these elegant desserts are easy to prep ahead and are utterly delicious: