Kids can easily make these homemade peppermint patty brownies in just minutes, even when using a simple brownie batter made from scratch!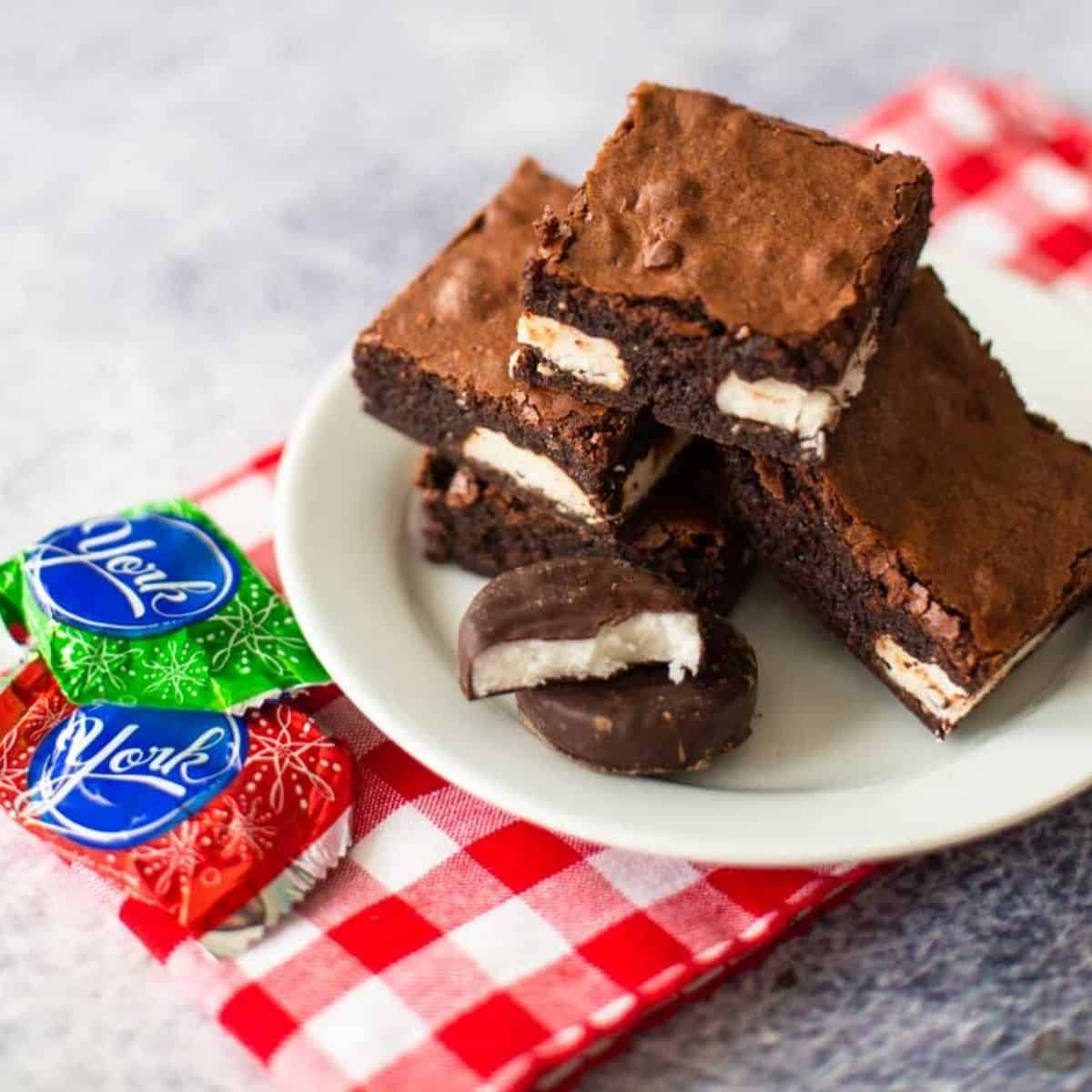 As far as kids are concerned, a cookie may be good but a cookie filled with candy is BETTER. The same goes for brownies. Why bake a plain chocolate brownie when you can fill it with York peppermint patties??
When I asked my girls what was the One Thing they really wanted to do to celebrate Christmas this month, the Peanut immediately responded: "Bake your peppermint brownies!"
The answer truly surprised me. It's not something she's asked for in a long time but the last two Christmases found me smack dab in the middle of cooking/baking and photographing food for the cookbooks. Last year especially, we were drowning in various goodies of all kinds. Baking something "just for fun" wasn't remotely on my radar!
RELATED: Don't miss The Ultimate Kids' Baking Book and The Ultimate Kids' Cookbook, they are the perfect gift for your kids!
I loved pulling up this old family-favorite recipe from my archives. If you're a long-time reader, you might recognize it from the Kids' Holiday Baking Challenge a couple of years ago. I thought it deserved a little polishing up just in time for Christmas baking!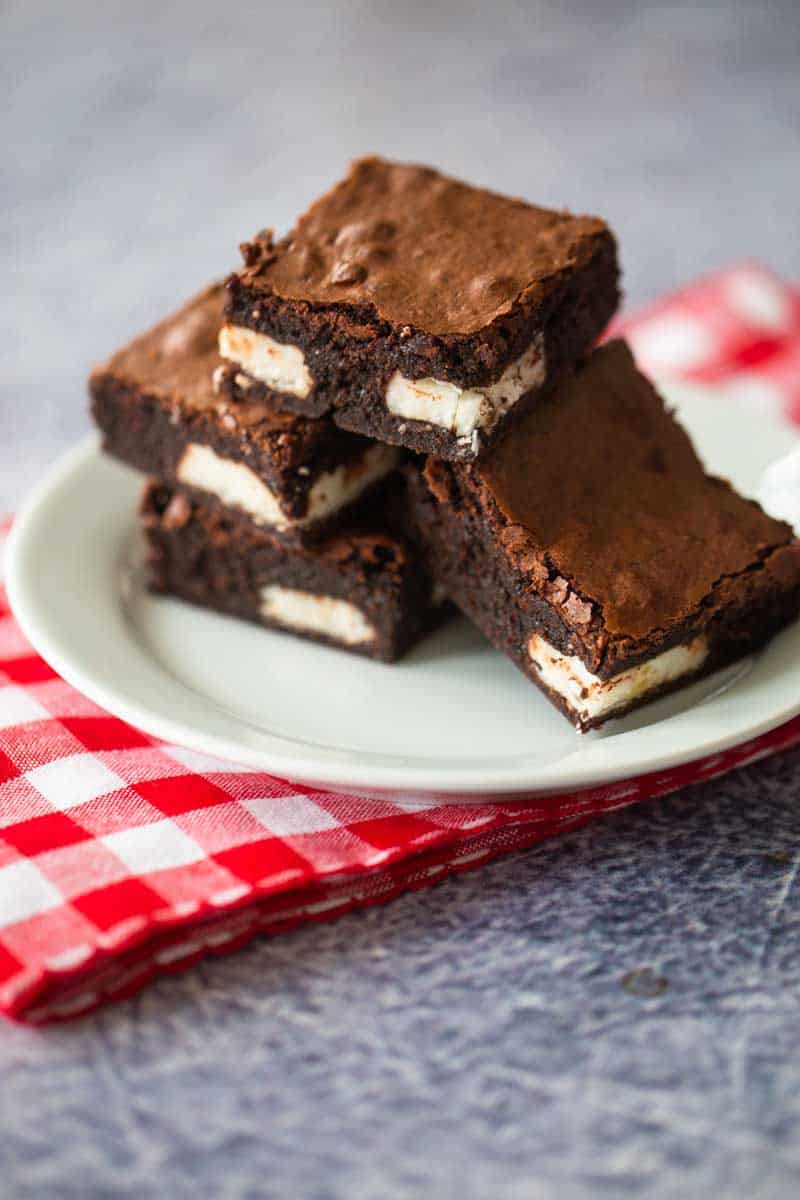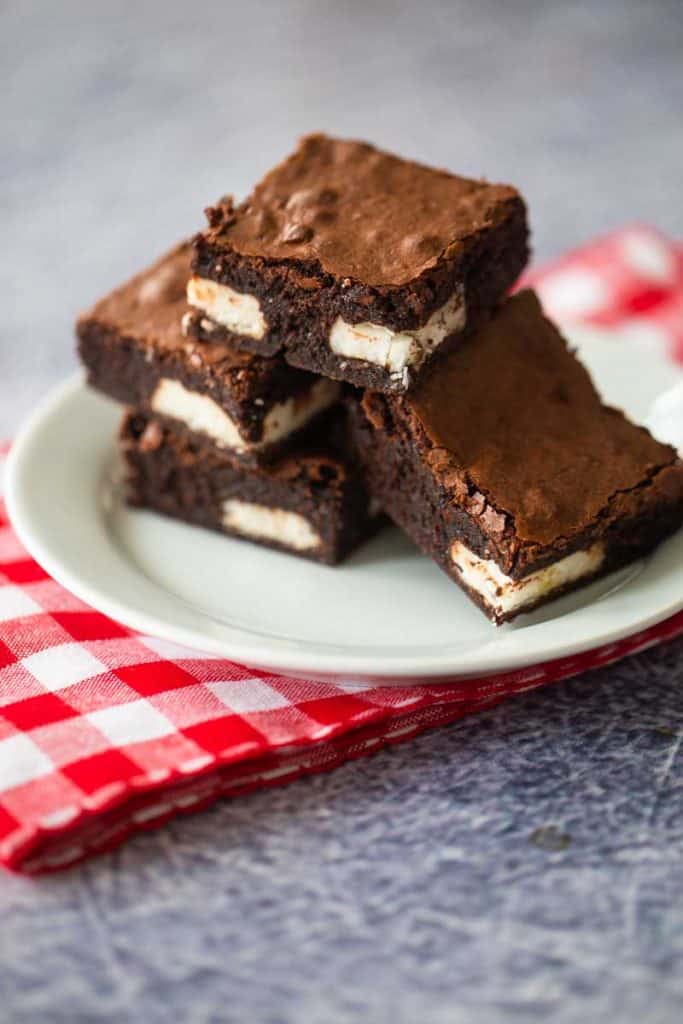 What makes these peppermint patty brownies better than the rest?
Right now, I can practically hear you thinking:
"I could just make these peppermint patty brownies with a boxed brownie mix. It would be so easy."
You aren't wrong, you could. BUT I really think you should give the full recipe a chance!!
Our brownie recipe features a from-scratch homemade brownie batter that I swear only takes a few minutes of measuring to prepare. The final brownie is SO much better than a boxed mix. The texture is richer, fudgier, and has a lovely chew to it that you just can't get from a packaged mix.
Can kids bake these peppermint brownies?
Absolutely!! In fact, these were one of the first holiday treats that my girls learned to make!
When they were really little, I would just put them in charge of unwrapping the peppermint patties. But now that they are bigger, they can do every little thing to bake them.
In fact, to encourage your own little bakers to get in the kitchen this holiday season, I've written the recipe in the exact same style as the recipes in The Ultimate Kids' Cookbook. You can print it off and hand it to your kids. Put them in charge of dessert this year!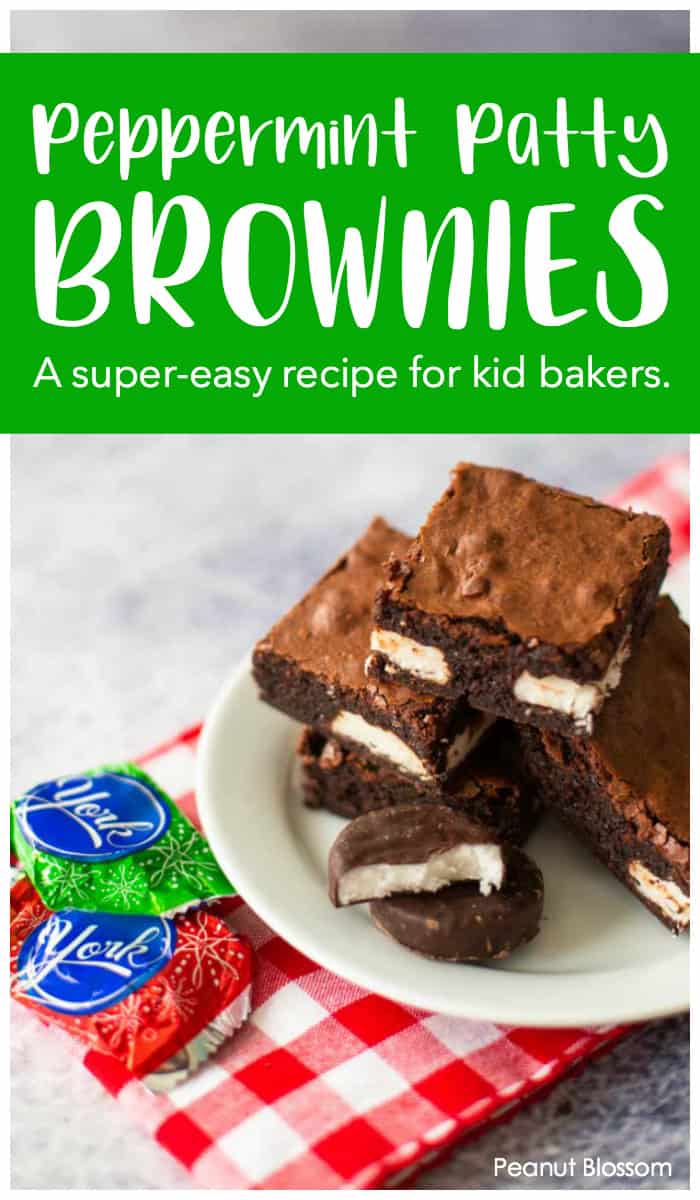 Whether or not your kids decide to bake these for Christmas, this is a great recipe to keep on hand all winter long. The ingredients are perfect for keeping in your pantry for a snow day or lazy day at home during winter break, New Year's Day, or even for Valentine's.
I believe that kids gain so much confidence when they bake and it is a great no-screens activity to keep them busy!
RELATED: Yes, YOU can host the BEST DIY kids cooking classes
Looking for more fun recipes for kids?
Our family loves to bake. Some of my kids' favorite recipes include:
📖 Recipe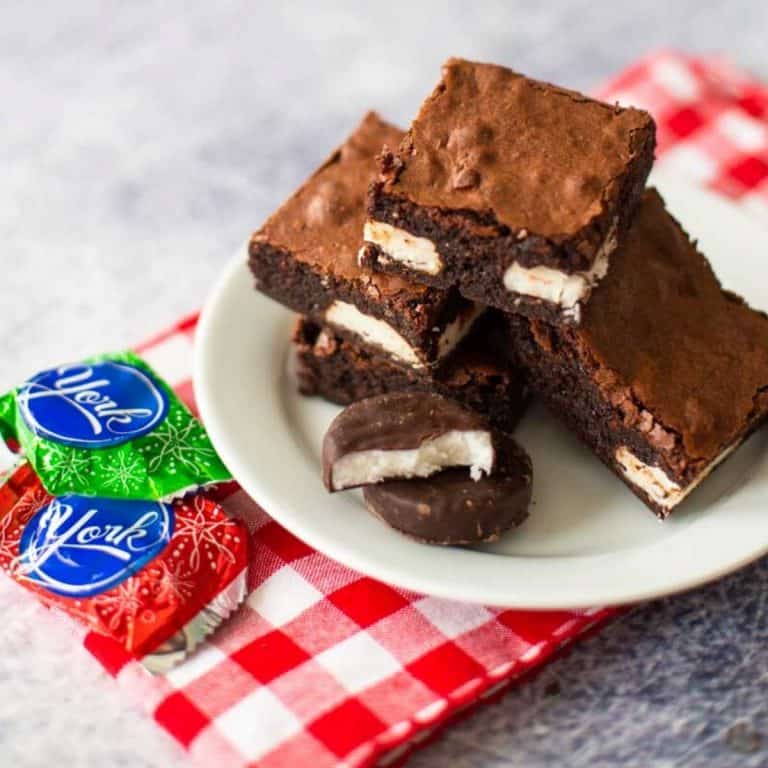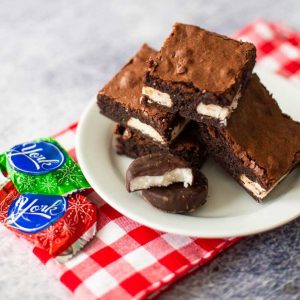 Peppermint Patty Brownies
These rich and fudgy peppermint patty brownies are perfect for kid bakers to make during the holidays.
Ingredients
16 - 20

mini peppermint patties

1

cup

sugar

¾

teaspoon

salt

½

cup

all-purpose flour

¼

cup

unsweetened cocoa powder

3

large eggs

8

tablespoon

(1 stick) butter

plus more for the pan

8

oz

semisweet chocolate chips
Instructions
Hey kids, can you please get us started?
Ask your adult helper to preheat the oven to 350 degrees.

Unwrap the peppermint patties and place them in a small bowl. (If there's an extra one, you can sample it to make sure they're "perfect.")

Prepare an 8-inch square baking dish by lining it with a piece of parchment paper that is long enough to drape over the sides of the dish. This will help you pull the brownies out to cut later. Spread a bit of room-temperature butter all over the lining of the parchment paper so the brownies won't stick. We like to use our fingers for this, just wash your hands after.

Measure the sugar and salt and stir them together in a small bowl. Set them aside.

Measure the flour and cocoa powder into a small bowl and stir them together with a fork. Set the bowl aside.

Crack the eggs into a small bowl, one at a time. Whisk them together with a fork and set them aside.

Use a butter knife to cut the butter into smaller chunks so it melts a little faster. Measure 1 cup of chocolate chips and place them in a microwave-safe bowl with the chopped butter. Melt the butter and chocolate together in 20-30 second increments, stirring after each time. Don't overcook the chocolate, you want to melt it so that it is just smooth when you stir it.

Pour the sugar mixture into the chocolate and whisk them together. Pour the eggs into the chocolate and whisk them together. Pour the flour and cocoa powder into the chocolate and use a spatula or baking spoon to stir them together until everything is just wet. Try not to over stir!

Pour HALF of the brownie batter into your prepared baking dish lined with paper. It will be very thick, so you may have to spoon it in carefully. Spread the batter evenly, nudging it into all the corners.

Place the peppermint patties in a single even layer across the top of the batter.

Carefully spoon the remaining half of the brownie batter over the peppermint patties. Spread it evenly to form the top crust and tuck all the candies inside.
Parents, it's your turn:
Place the brownies in the oven. Cook for 35 - 40 minutes until a toothpick comes out clean. Be careful that you don't mistake the melted chocolate candy for brownie batter, just prick the top layer for testing.

Remove the brownies from the oven and allow them to cool completely.
Teamwork gets it done:
Carefully lift the brownies out of the pan by pulling up on the edges of the parchment paper. Peel back the sides of the paper and cut the brownies in 4 rows of 4 pieces.
Save This Recipe to Your Recipe Box
Find this delicious recipe next time you visit by saving it to your very own recipe box on my site. All your favorites stored in one easy place!