These last-minute easy Valentine's Day desserts are perfect for moms who've had a busy week but want to celebrate the holiday with their kids with a sweet treat.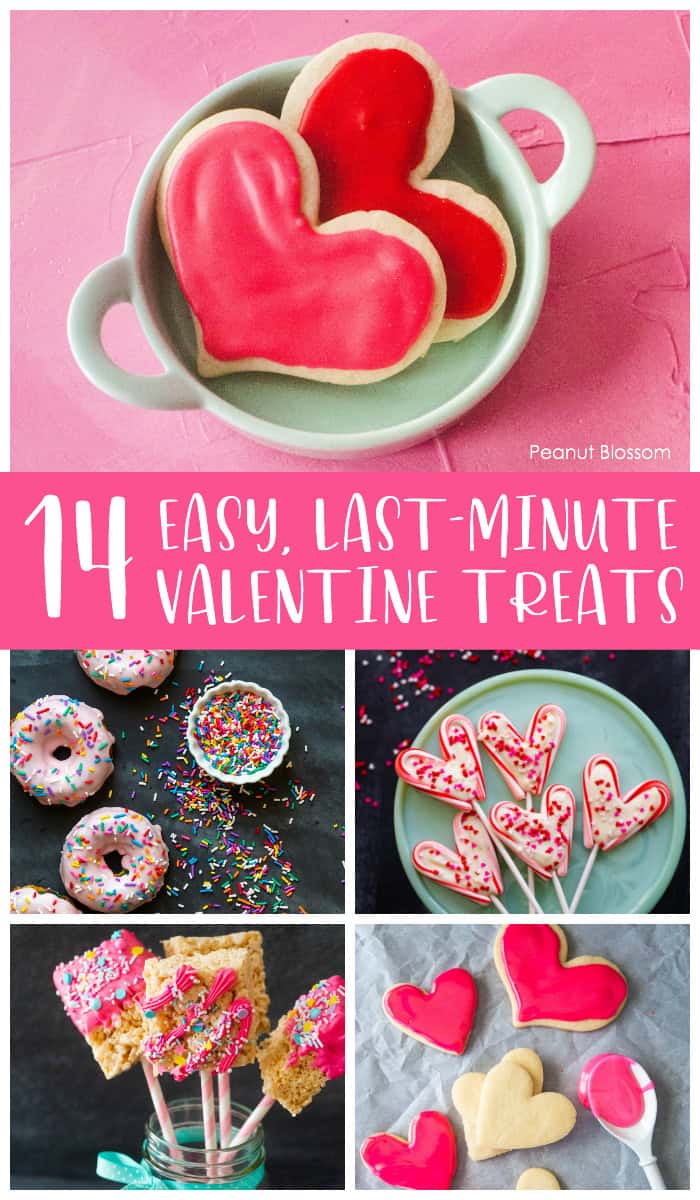 Not everyone has time for baking from scratch. I get it! We're in an especially busy season right now, too.
Just because life is busy, doesn't mean you have to totally skip the holiday. Instead, I've gathered 14 super-fun Valentine's Day treats for you to make either for or with your kids this weekend.
Every single item starts as a grab-and-go item to grab from your grocery store and maybe add a little personal touch.
If you're feeling a little extra the night before and want to step up your dessert game just a touch, I've also included some really easy from-scratch upgrades for each dessert suggestion.
This way, you can mix and match the Valentine treat to your personal energy level come Friday night!
Happy Valentine's Day, friends!
Valentine's Day Desserts for Kids: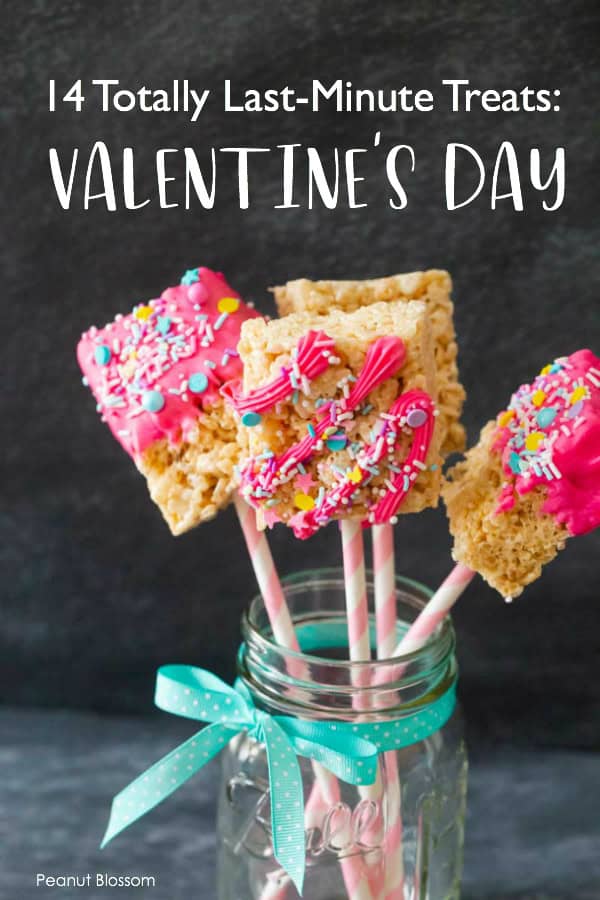 1. Valentine's Day Popcorn:
Grocery Store Grab: It doesn't get easier, or more last-minute than this. Pop a big batch of popcorn and sprinkle in some Valentine's Day M&M candies.
Plan Ahead Upgrade: With just a little more time, you can turn it into our favorite snack mix.
Get the Cupid's Crunch popcorn recipe here.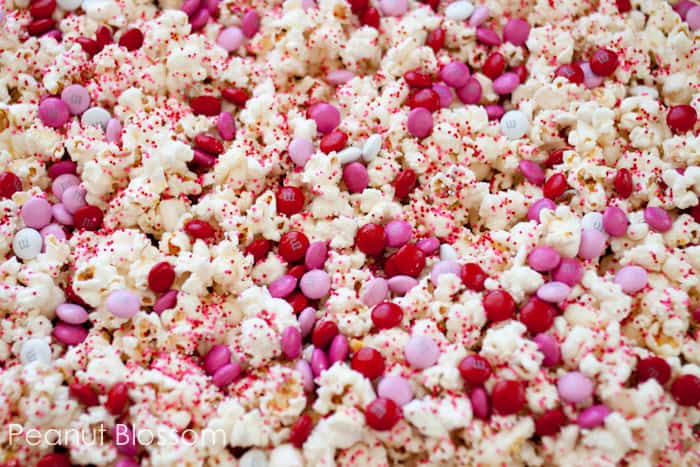 2. Heart-Shaped Brownies:
Grocery Store Grab: Make a boxed mix of brownies, use heart shaped cookie cutters for each serving or top with canned pink frosting.
Plan Ahead Upgrade: With just a little more time, your kids can have a blast making homemade brownie pops.
Get our favorite Valentine Brownie Pops recipe here:
3. Heart-shaped Sugar Cookies:
Grocery Store Grab: Buy pre-baked cookies or grab a tub of cookie dough and make heart-shaped sugar cookies. Top with canned pink frosting and sprinkles.
Plan Ahead Upgrade: With just a little more time, you could make our very favorite homemade sugar cookies and top them with our favorite cream cheese frosting.
4. Sprinkle-covered Donuts:
Grocery Store Grab: Get heart-shaped donuts or pink-frosted donuts from your local bakery.
Plan Ahead Upgrade: Homemade baked donuts are 110% worth the effort. They are so easy to make, even if you've never done it before. Our favorite recipe is for the birthday cake donuts from The Ultimate Kids' Baking Book. Top them with pink frosting and sprinkles for a sweet surprise.
5. Pink-frosted Rice Crispy Treats:
Grocery Store Grab: You can buy pre-made rice crispy treats from the store and decorate them yourself but these are also so easy to make in a pinch from scratch.
Plan Ahead Bonus: Turn them into crispy pops on adorable stripey straws. Get all the details and a recipe to make them from scratch in The Ultimate Kid's Baking Book.
6. Pink Peanut Blossoms with Valentine Kisses:
Grocery Store Grab: You could grab a package of cookie dough or bag of cookie mix at the store to make these. Just drop some food coloring into the dough before rolling to turn them pink.
Plan Ahead Bonus: The homemade from-scratch version doesn't take too much more time but tastes so much better. Get our recipe for the best peanut blossoms here.
7. Mini Funfetti Cupcakes:
Grocery Store Grab: A container of mini funfetti cupcakes with pink frosting and sprinkles can often be found in the bakery department or you can grab a box mix to make your own.
Plan Ahead Upgrade: Skip the box mix and make the cupcakes and frosting from scratch for the kids. We included the perfect funfetti recipe in The Ultimate Kids' Baking Book.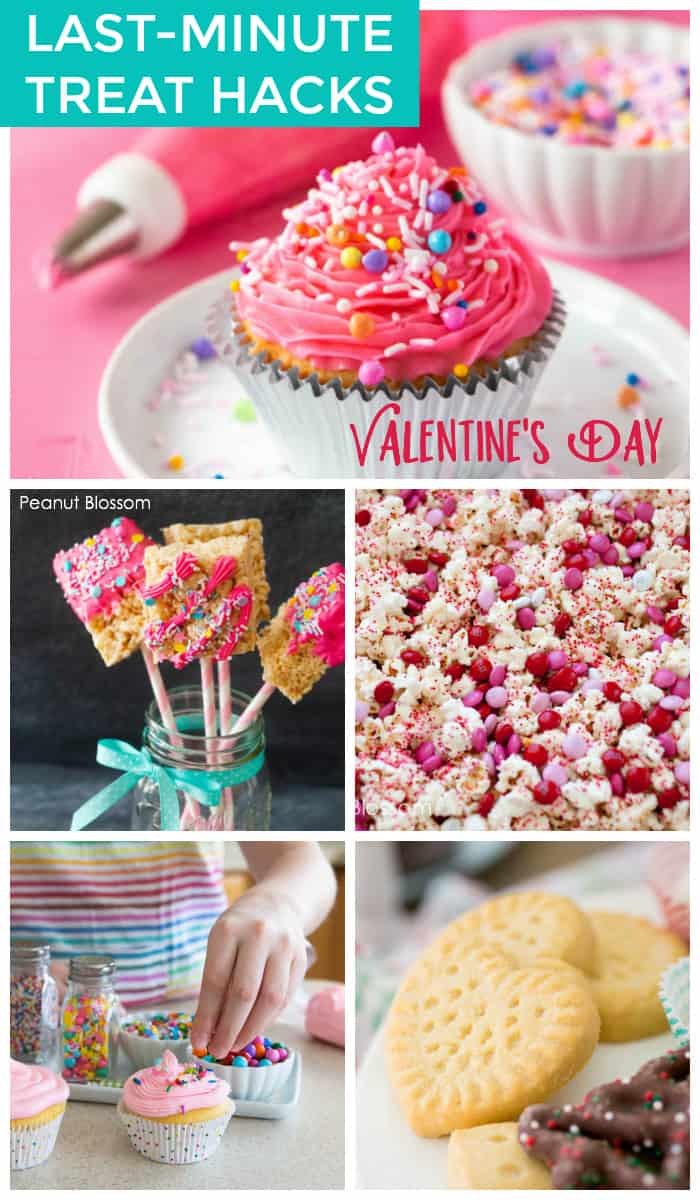 8. Giant Pink & Red M&M Cookie Cake: 
Grocery Store Grab: Grab a package of cookie dough from the store. Roll it out into a large pie plate or pizza pan and top with red and pink chocolate candies.
Plan Ahead Upgrade: One of my very favorite recipes in The Ultimate Kids' Baking Book is the Giant Cookie Cake dotted with buttercream frosting. In fact, I loved it so much I made it for my own birthday last year!
9. Chocolate Covered Pretzels:
Grocery Store Grab: It is likely they will have these at the grocery store to grab, but you could also buy the package of white chocolate covered pretzels and then drizzle them with pink candy melts and sprinkles for an easy 10-minute treat.
Plan Ahead Upgrade: Get pretzel wands and the fixings to make homemade chocolate covered pretzels decorated with tiny red and pink candies or sprinkles with the kids.
10. Strawberry Cheesecake Dip with Fresh Strawberries and Chocolate Chips:
Grocery Store Grab: Looking for a fresh fruit dessert for the kids to keep things a little healthier? You could serve fresh strawberries, whipped cream, and mini chocolate chips for a simple snack platter.
Plan Ahead Upgrade: With just a little planning, you could also whip up a batch of my favorite strawberry cheesecake fruit dip!
More Valentine's Recipes
The last few ideas on this list have SO many variations on Pinterest.
I've pinned a few of my favorites on my Valentine's Day for Kids board for you to check out: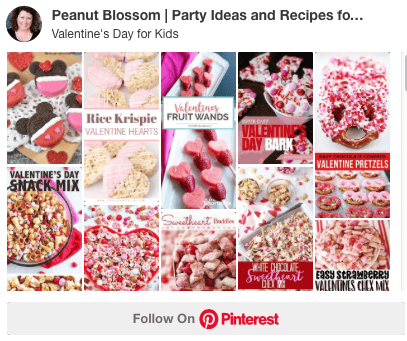 11. Valentine's Chex Mix:
There are tons of super-easy Valentine snack mix ideas on Pinterest. Just mix and match whatever cute candies you find at the store to invent your own!
12. Cupid's Candy Bark:
Kids would love helping to make this simple Valentine treat but it is easy to whip together as a special surprise. You can use pink candy melts or just leave the chocolate white and add red and pink candies. Check my Pinterest board for several examples.
13. Love Puppy Chow:
Pretty pink muddy buddies recipes are all over Pinterest. I pinned several that look totally amazing.
14. Valentine's Day Snack Board:
Can't decide on just one of these treats? Go with a totally trendy, totally easy snack board and put a bunch of different ones on a pretty tray. I pinned some adorable ones for you to be inspired.