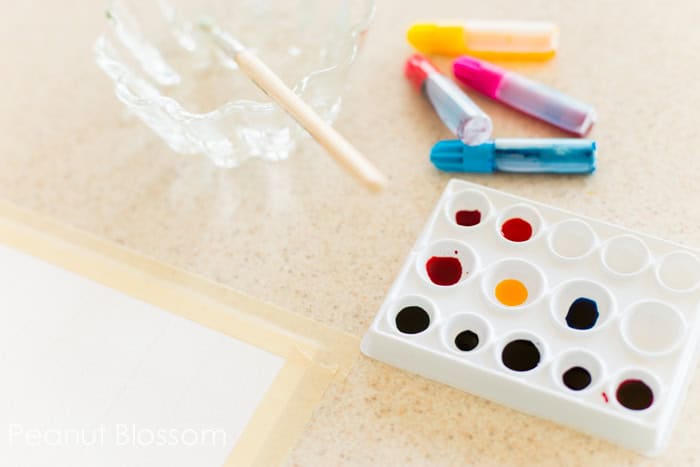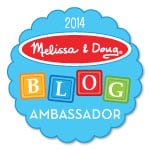 Holiday decorations with personal meaning are the most wonderful decorations of all. When our Christmas tree disappears with it's display of sentimental homemade ornaments packed carefully away for next year, the house feels cold and empty to me. I miss being surrounded by all those memories.
I've taken it upon myself to slowly build up other sweet and happy decorations for our other holidays. The kids usually come home from school with their offerings, but I'm talking specifically about things I'll love to display for years to come.
Last year's contribution to Valentine's Day was a trio of color-theory watercolor paintings I did with my girls. I ended up loving them so much, they now take up permanent residence in our master bedroom.
This year I'm sharing our little how-to with you thanks to my friends at Melissa & Doug. We used the awesome liquid watercolor paints that came with their Magical Masterpieces Watercolor Resist kit. There is more than enough paint in the set to complete the pictures it comes with and we were looking for other projects to use it up. This is perfect!
How about you? Do you enjoy making holiday decorations with your kids?

P.S. Which kind of art projects do you prefer doing with your kids? I'd really love to know!
Come over and join the discussion. See you there!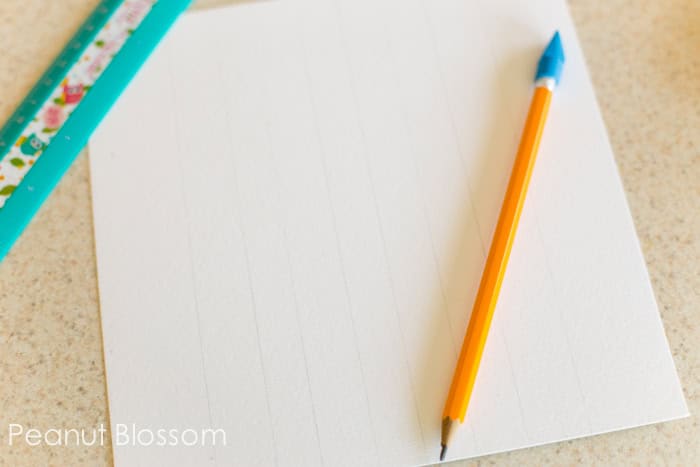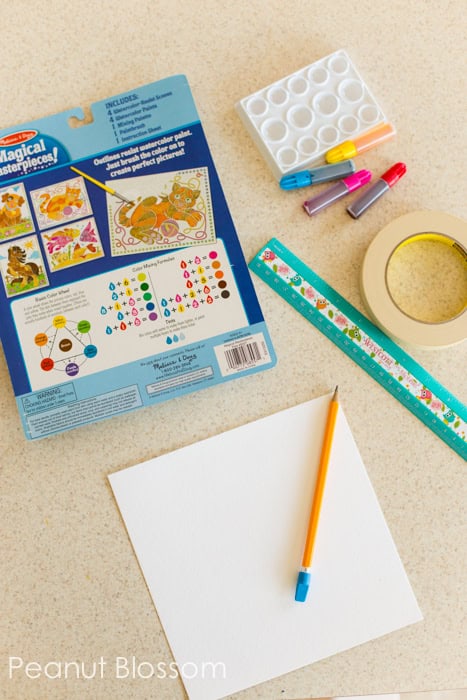 Materials Needed:
Watercolor paints, we used the tubes from our Melissa & Doug Magical Masterpieces set
Heavy duty water color paper, I used 8×8 inch sheets because they fit in the frames I intended to use.
Medium size Paintbrush
Pencil
Ruler
Masking tape
Rinsing bowl of water
Napkins for dabbing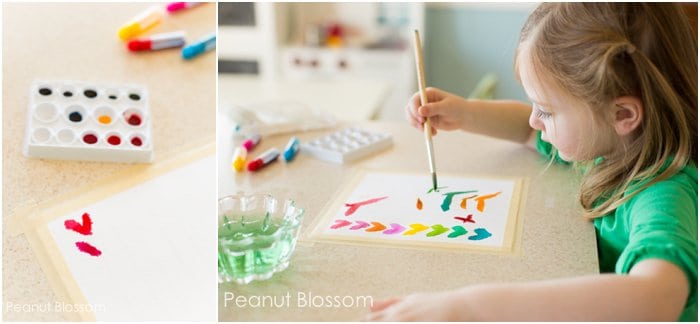 While my girls are given plenty of opportunity for free painting and art they can make all decisions on themselves, this is a more structured project. I gave them a specific set of instructions with a little bit of wiggle room for them to play on their own.
Feel free to use these instructions as a loose set of guidelines and use as much or as little instruction as you like!
Step 1: Prepare the paper
Using the pencil and ruler, gently trace parallel lines on your paper. These will guide your little artists so that their rows are neat. They can be erased later after the paint has dried if you use a light hand.
Use the masking tape to secure all 4 edges of the paper to your working surface. This gives the paper support and steadies the canvas but it also serves to create a neat border on the edge.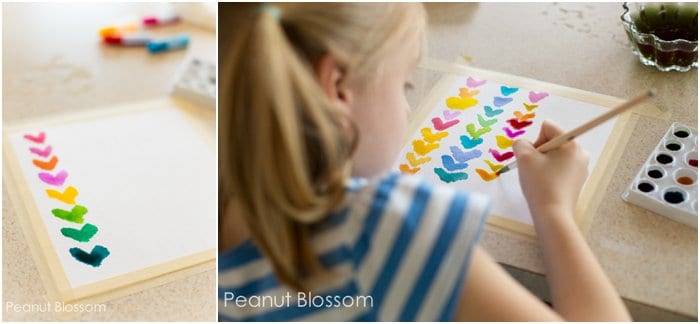 Step 2: Prepare the paint
I absolutely love the little palette for mixing the watercolor paints that comes with the Magical Masterpieces set. My girls help me to mix them according to the recipe instructions on the back of the kit. We count the drops together and organize the colors in groups of warm and cool.
The only rule I gave my girls is that the first row of hearts had to be in a neat row. Then I gave free reign for them to finish the project as they wanted. I love seeing the difference between the 3 year old's attempts at finishing the hearts on her own and the 6 year old's. (Mommy painted the third because all design elements are better in odd numbers!)
Each heart is two simple strokes. The guidelines are meant to run down through the middle of each heart. That is how we kept everything even and centered.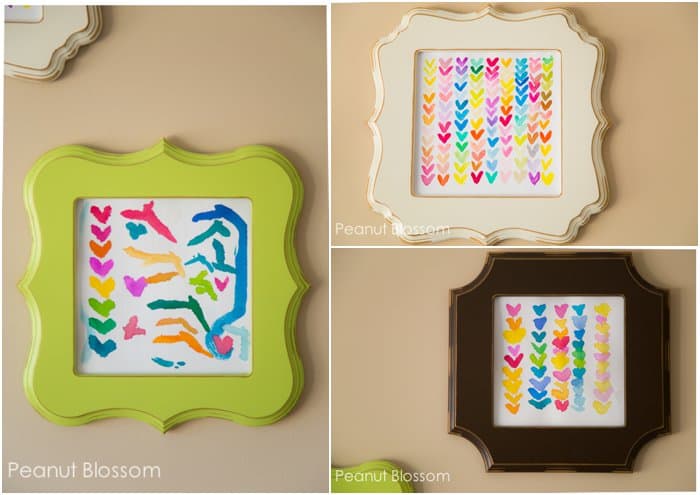 I chose to let my girls pick each color they wanted to use next but this project would be perfect for learning about all  elements of color:
Working from light to dark
Warm vs. Cool
Mixing shades
Diluting with water to see various saturation levels of a color
Oh! And don't forget to have your pieces signed by the artist! I gave my girls a pencil and had them write their names and I added the year and age in the corner. You think you'll remember, but it never hurts to have a little help!
Like this post? Pin it!: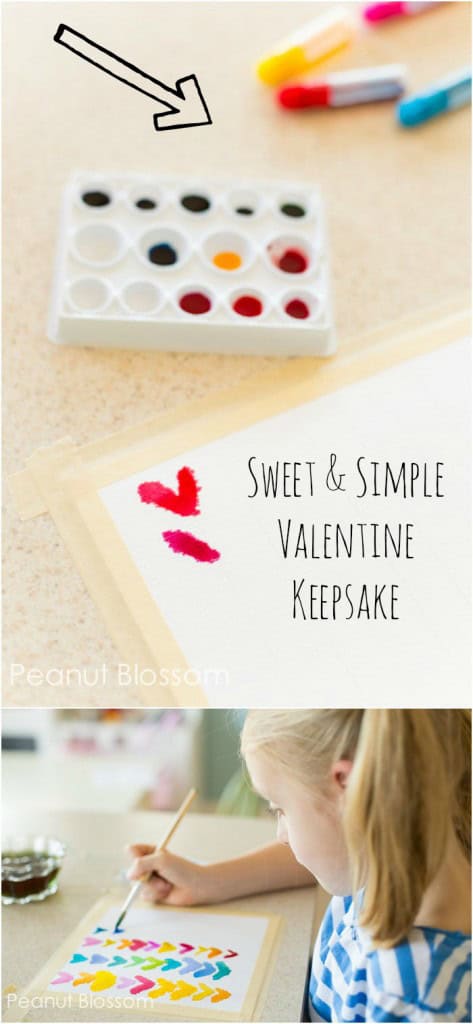 Peanut Blossom is proud to be a Melissa & Doug Blog Ambassador. You may view our full disclosure here.