This easy lasagna roll ups recipe is perfect for busy families. Make the entire dish ahead of time or just have the elements prepped and ready for easy assembly the night you want to cook it.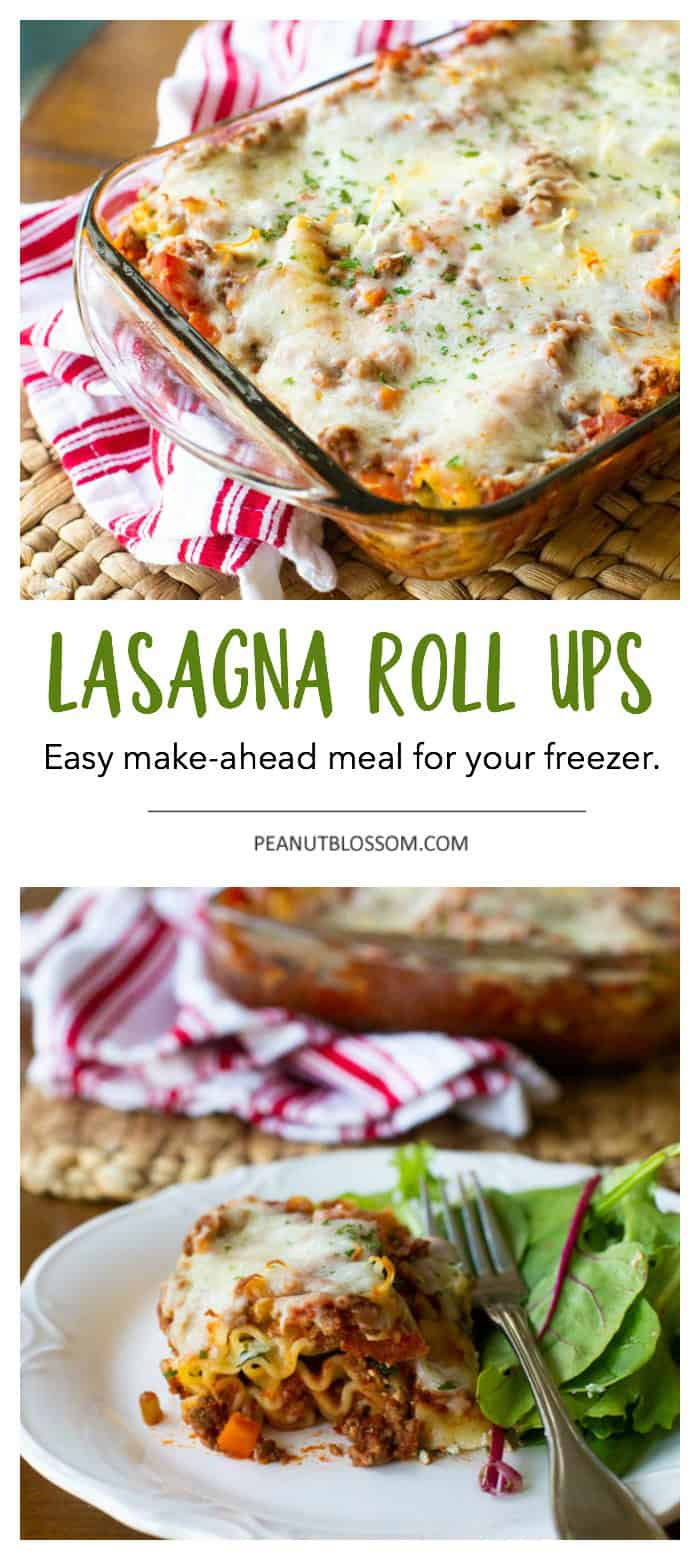 My mom makes an amazing sausage and beef lasagna that we reserve for Christmas Eve or other celebratory occasions. Lasagna is not something I would normally consider a weeknight dinner. It takes so long to assemble and all those thick cheesy layers means a longer time in the oven before it heats completely through.
Then I discovered a handful of awesome short-cuts that make serving this delicious ground beef and spinach lasagna on a school night much more doable.
How to make easy lasagna for busy weeknights:
The most obvious trick is to assemble the entire dish on a weekend and freeze it but these easy lasagna roll ups are great because the different elements can be prepped whenever you have a minute to save you time on the evening you want to cook it. Why not try one of these time saving tricks?
Use pre-cooked beef packets from my Big Batch Ground Beef recipe here.
Thaw the spinach overnight and quickly assemble the cheese mixture before you go to work in the morning.
Mix the beef with the tomato sauce and have it ready to go when you are.
Assemble the entire lasagna the night before and let it just hang out in the fridge overnight.
Have the cheese and beef prepped the night before and just prepare the noodles and final assembly on the day of.

Are lasagna roll ups a kid-friendly dinner?
My kids went wild for this ground beef lasagna recipe and they didn't even notice the crazy amounts of spinach hiding inside. The ground beef also has chopped carrots, celery, and onions mixed in and of course the tomato sauce that coats it all. Most of those veggies are sneakily hiding underneath lots of ooey gooey cheese.
The kids also loved the swirly roll up presentation of the pasta. It reminded them of an Italian version of our favorite Mexican enchiladas. A big pro for my taco loving kids. Ha!
I love how rich in calcium this dish is--something that is becoming even more important to me as my girls grow. Did you know that most teens fall short in their daily servings of calcium, iron, vitamin D and zinc?
Between the spinach and the cheese bringing the calcium and the beef providing a great dose of iron, this is a fantastic dish to feed growing kids. Serve it with a simple green salad to boost the nutrients even further.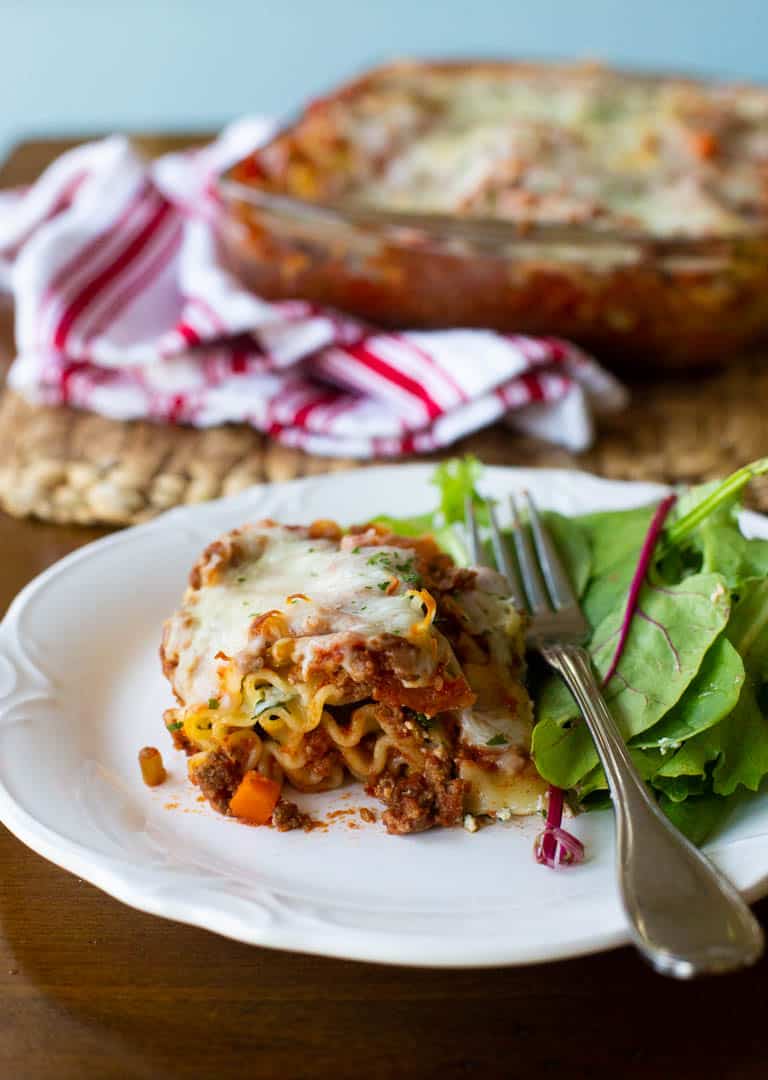 How to freeze lasagna roll ups:
Freezing lasagna is the biggest pro for making this dish. It is so convenient to prep it on a weekend when you have more time.
Simply assemble the entire pan of ground beef lasagna roll ups right through the shredded cheese on top. Then wrap the dish with plastic wrap before covering with a layer of aluminum foil. You can freeze the ground beef lasagna roll ups for up to 2 months.
I think the thing most home cooks really wonder is not how to freeze the lasagna roll ups but rather:
How long do you cook lasagna once it's been frozen?
My advice is to be sure you let these beef and spinach lasagna rolls thaw in your fridge for 24 - 48 hours before trying to bake it. It will heat through more evenly and you won't end up with dried out, crunchy borders. Then you can bake it exactly as directed -- 1 ½ hours at 350 degrees.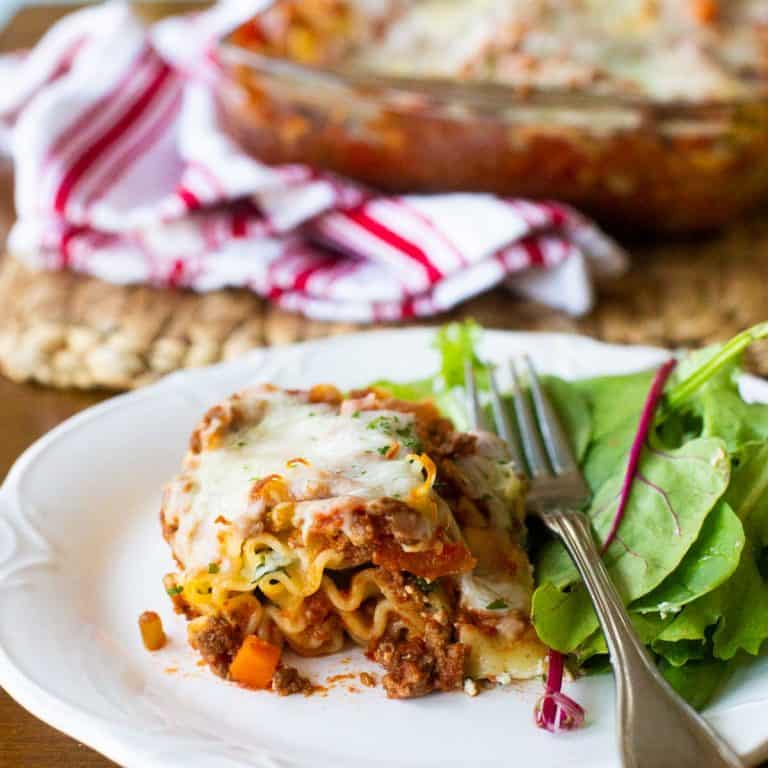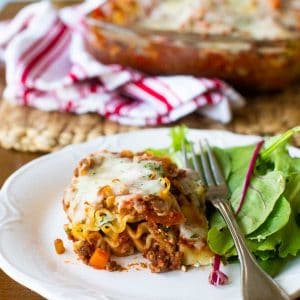 Easy Lasagna Roll-Ups
This easy lasagna roll-up recipe is filled with delicious veggies, creamy cheese, and spiced beef. It's the perfect make-ahead meal for busy families with growing kids.
Ingredients
1

egg

lightly beaten

1

(15 oz) container of ricotta cheese

2

cups

(8 oz) shredded Italian cheese

divided

1

(10 oz) package frozen spinach

thawed and squeezed dry

2

cups

tomato sauce

[1 cup prepared ground beef

RECIPE HERE]

2

teaspoon

Italian seasoning

¼

teaspoon

fennel seeds

12

dried lasagna noodles
Instructions
Prepare the spinach-cheese filling:
In a medium bowl, combine the egg, ricotta cheese, and a dash of salt & pepper. Stir in 1 cup of the Italian cheese blend and the spinach.
Prepare the meat sauce:
Combine the tomato sauce, ground beef, Italian seasoning, and fennel seeds in a medium sized bowl.
Prepare the pasta:
Boil the pasta noodles according to the package directions. Drain and lay them flat on a cookie sheet.
Assemble the lasagna roll ups:
Spread ½ cup of the beef + tomato mixture on the bottom of a 2 quart (8 x 11-inch) baking dish.

Spread the ricotta cheese filling over the length of a pasta noodle and roll it up starting at the skinny end. Lay it seam-down in the baking dish. Repeat with remaining pasta and filling.

Pour the remaining meat sauce over the top of the pasta rolls. Sprinkle the remaining cup of Italian cheese over the top.
Bake the lasagna:
Cover with nonstick foil or aluminum foil sprayed with cooking spray. Bake at 350 degrees for 1 ¼ to 1 ½ hours or until heated through.
To make ahead: 
Cover the assembled lasagna with plastic wrap and then cover with aluminum foil. Freeze up to 2 months.
To serve:
Thaw in the fridge overnight. Remove the plastic wrap, cover with nonstick foil and bake for 1 ¼ to 1 ½ hours or until heated through.
Save This Recipe to Your Recipe Box
Find this delicious recipe next time you visit by saving it to your very own recipe box on my site. All your favorites stored in one easy place!