This is the most helpful list of ground beef recipes for when you need to feed your hungry family. Great make ahead dinner ideas and quick fixes for busy weeknights: all the ideas for what to make with ground beef you need. Brown up a big batch of this ground beef with veggies and portion it into 1-cup containers in your freezer and you're ready to go.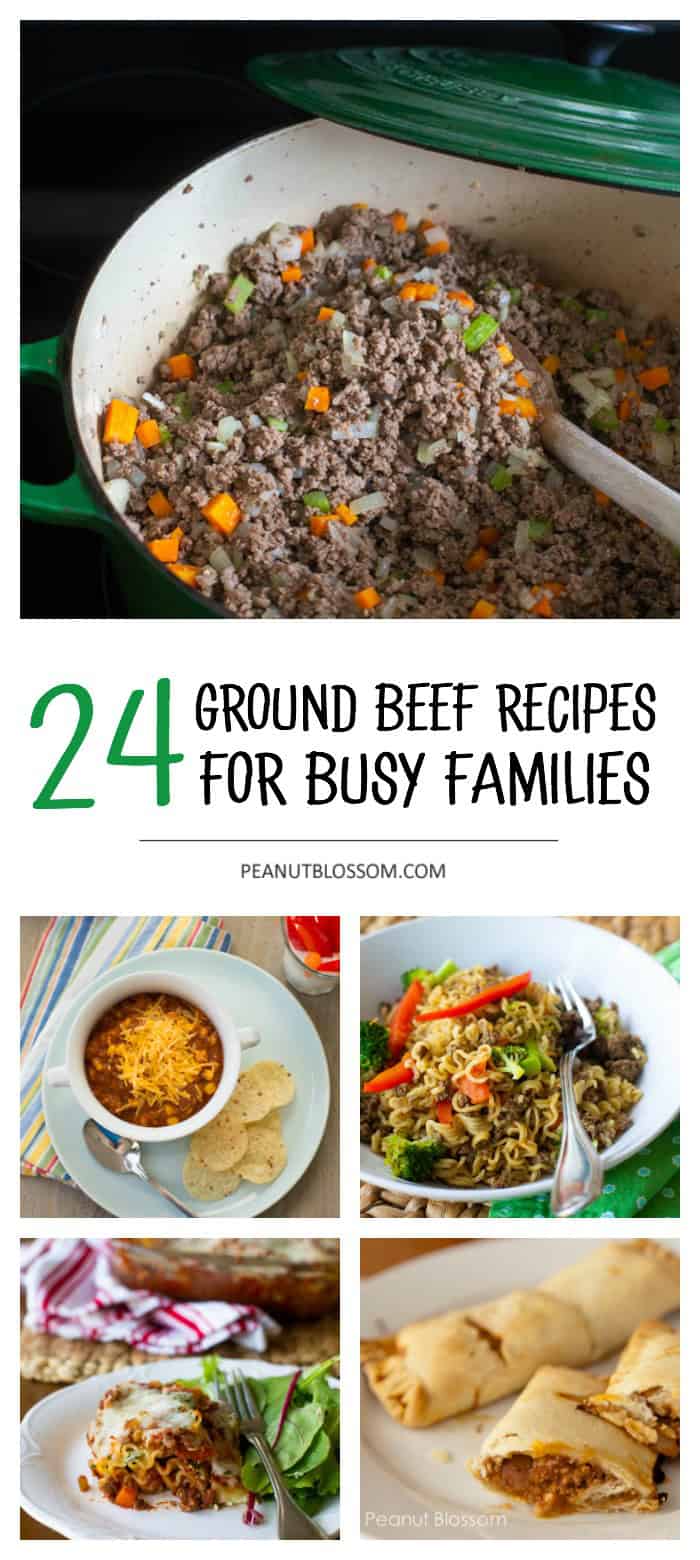 Summer is coming and we finally fired up the grill for the first time. Handyman Tim suggested we kick off the season with fresh hamburgers to use up a couple packages of ground beef I bought on sale at the grocery store.
I started to think about all the ground beef recipes we rotate through in our family. Some are easy weeknight dinners while others are make ahead meals for the freezer. Most of these dishes are huge hits with my kids, so I thought it would be helpful to share some of my ground beef recipe ideas with you!
What can I make with ground beef?
From hamburgers to casseroles, American families love cooking with ground beef because it is budget-friendly, versatile, and so easy to use. Ground beef accounts for 60% of all beef purchases according to the American Meat Science Association.
I love cooking with ground beef because whether I store it fresh or pre-cooked, it freezes so well and reheats perfectly. It's a perfect way to get dinner on the table even during the busiest seasons.
How to cook ground beef:
My favorite way to cook ground beef is to brown it and season it before freezing. This spring, I experimented with my first-ever Big Batch of ground beef for the freezer. I cooked up 6 pounds of ground beef one Sunday afternoon and mixed in a bunch of hearty veggies. I portioned the huge batch out into 1 - 2 cup servings for the freezer.
This allowed me to use those prepared beef packets to make easy and quick dinners for the kids with a lot less mess and hassle.
Click here to jump to the ground beef recipe I used for my Big Batch of Beef for the Freezer.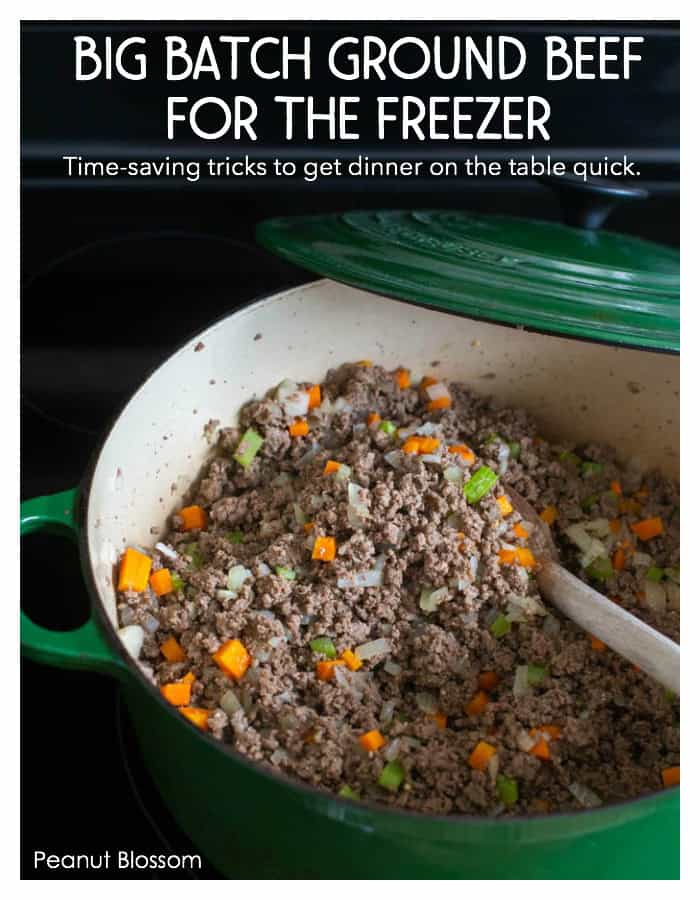 What to make with ground beef freezer packets:
I used my pre-cooked ground beef packets to make a variety of delicious dinners for the family. Our favorites included:
More ground beef dinner ideas for kids:
Ground beef is usually really popular with kids because the small bits of meat are so much easier for them to chew and there is no cutting involved. Our pediatrician once recommended it as an excellent protein source for picky eaters because the texture is more palatable for small children.
I think the most common use for ground beef is to brown it up for tacos. My kids could eat that every night of the week with no complaints. But I'm pretty sure you're looking for a little more variety in your ground beef recipes! Ha!
Quick ground beef recipes for busy weeknights:
Ground beef casserole recipes your kids will love:
Healthy ground beef recipes:
Easy hamburger recipes for grilling in the summer:
Make ahead meals with ground beef for your freezer:
For the ultimate in convenience, take a weekend afternoon and prep a bunch of these for your freezer so you can just pop them in the oven on a busy weeknight.
Easy ground beef recipes that kids can make themselves!
My upcoming cookbook, The Kids' Ultimate Cookbook, contains several ground beef recipes that kids will love to make and eat with their families. I have an entire section that teaches kids the right way to brown ground beef with instructions written just for them.
You'll also find our very favorite recipes for:
Cozy Country Potato Pie
Ooey Gooey Cheesy Beef Lasagna Soup
Not Just for Tuesday Tacos
Old World Beef Tomato Stew
Mini Meatball Skillet
Hearty Italian Ragu Meat Sauce
Teeny-Weeny Cheeseburger Sliders
You can get your very own copy of the cookbook right here. You and your kids will both love it.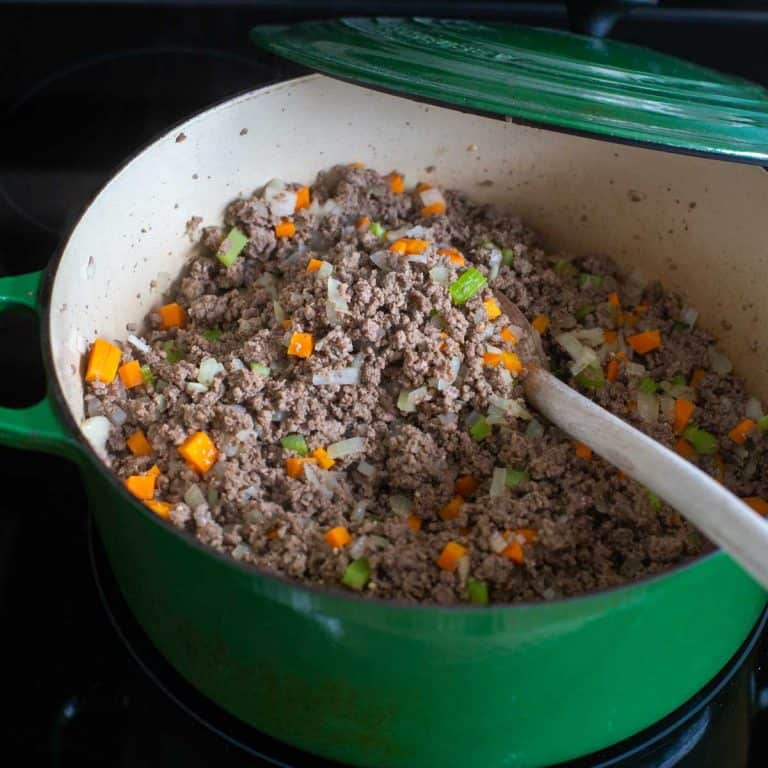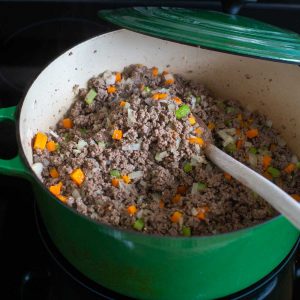 Big Batch Ground Beef for Freezer
Make this giant batch of browned ground beef and then freeze it into 1 – 2 cup portions for a quick fix for dinner on a busy weeknight.
Ingredients
3

carrots

1

stalk of celery

3

onions

4

pounds

ground beef

1

teaspoon

minced garlic

1

teaspoon

salt

Sprinkle of fresh ground pepper to taste
Instructions
Chop all of the veggies into a small dice.

In a large pot, add the veggies, garlic, salt & pepper, and the ground beef. Cook over medium heat to brown the ground beef until no longer pink. Break it up with your spoon as you go. Drain the fat off and return the pot to the stove.

Cook over medium heat until the vegetables are softened and the onions are translucent. Let the mixture cool before packaging it in 1-2 cup servings for your freezer. 

Mark the packets with date and freeze for up to 3 months.
Recipe Notes
To Thaw: Place a packet in your fridge overnight or thaw it (still wrapped in a water-tight bag) in a bowl of cool water for 20 minutes.
Save This Recipe to Your Recipe Box
Find this delicious recipe next time you visit by saving it to your very own recipe box on my site. All your favorites stored in one easy place!