Looking for a fresh take on ground turkey? Try this simple and lightened version of hamburger helper, a yummy creamy turkey taco mac recipe!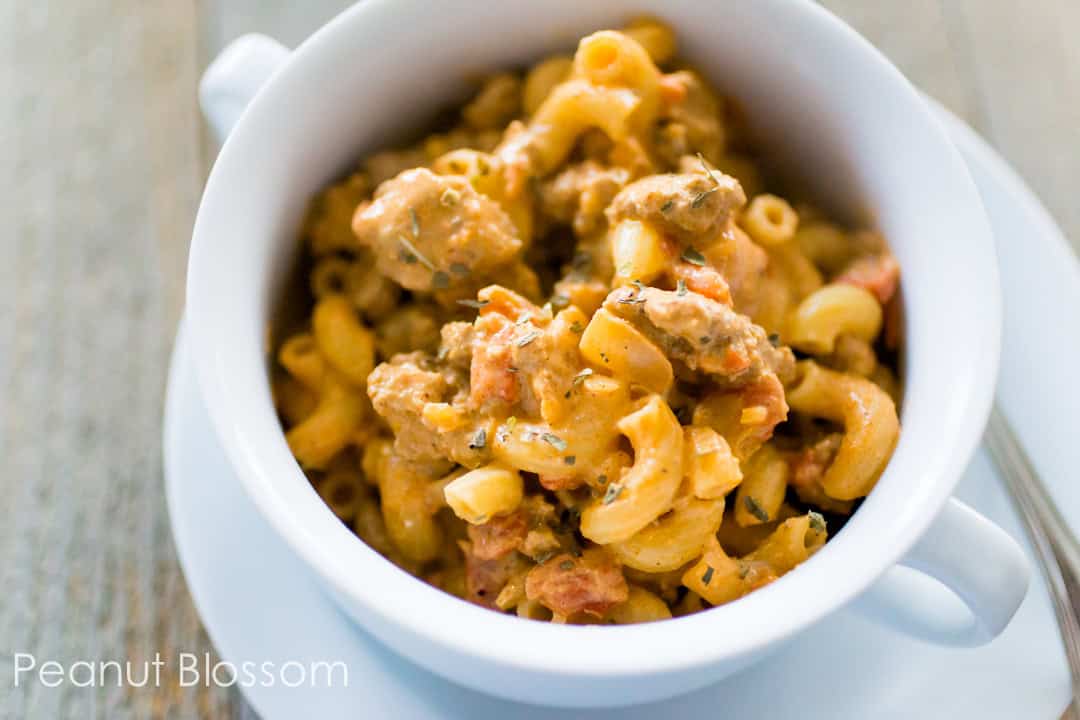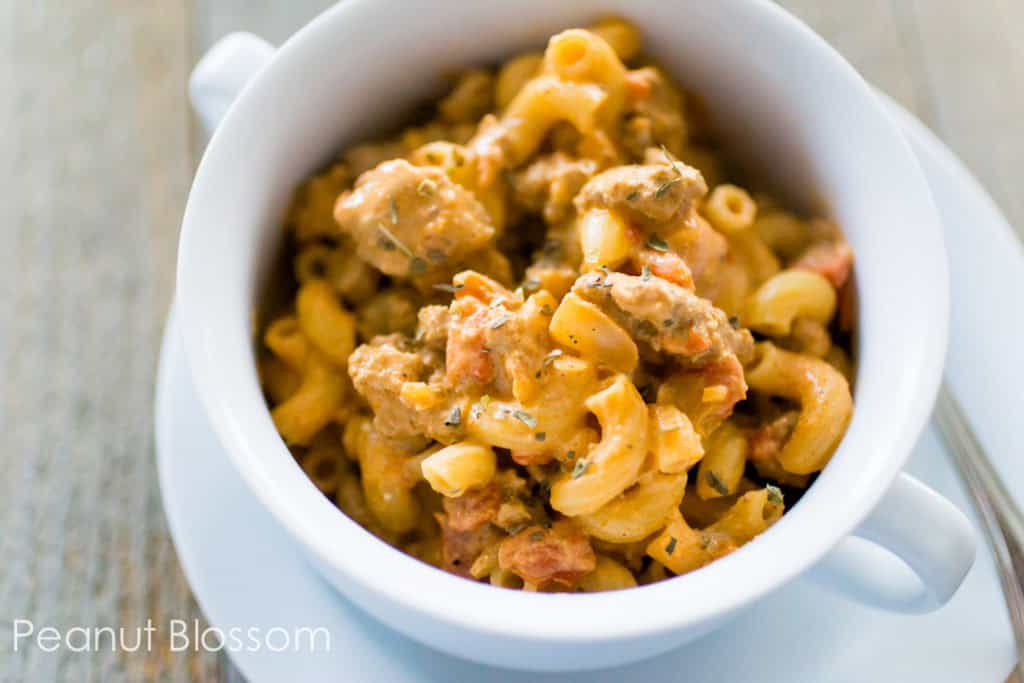 I remember being 38 weeks pregnant with Little Pea--so big and uncomfortable it hurt my back to cook dinner at night.  Handyman Tim saw me struggling and sweetly pulled over one of our kitchen bar stools for me to sit on while I stirred a pot of this creamy turkey taco mac. It was a new recipe to us at the time and completely satisfying to one hungry pregnant mama.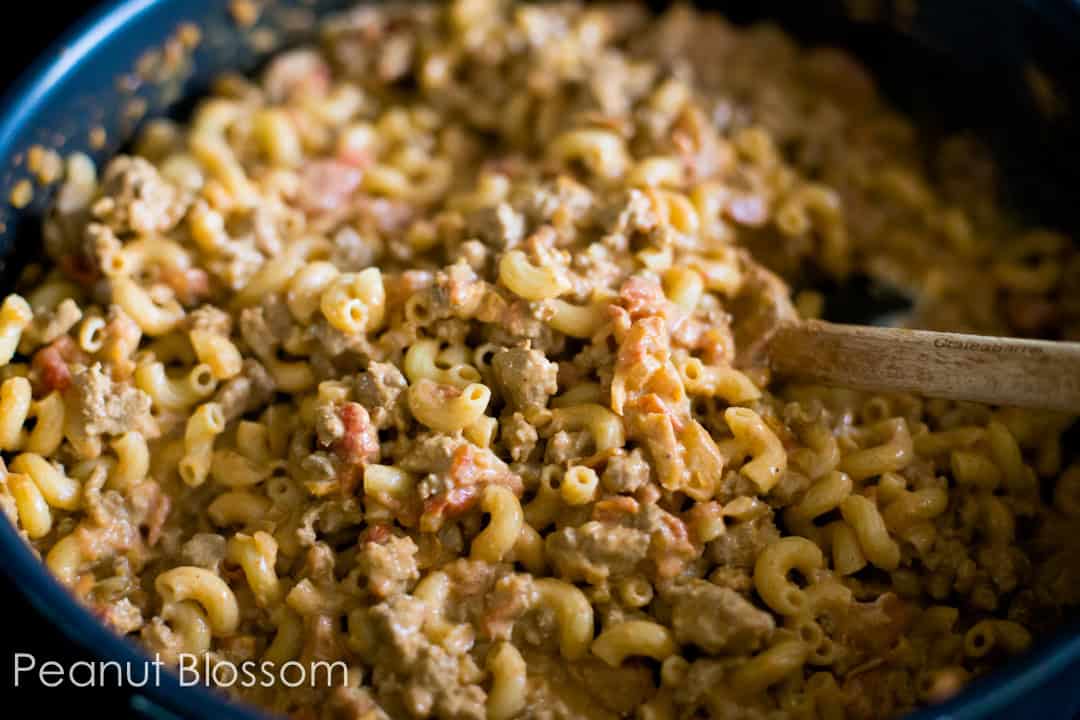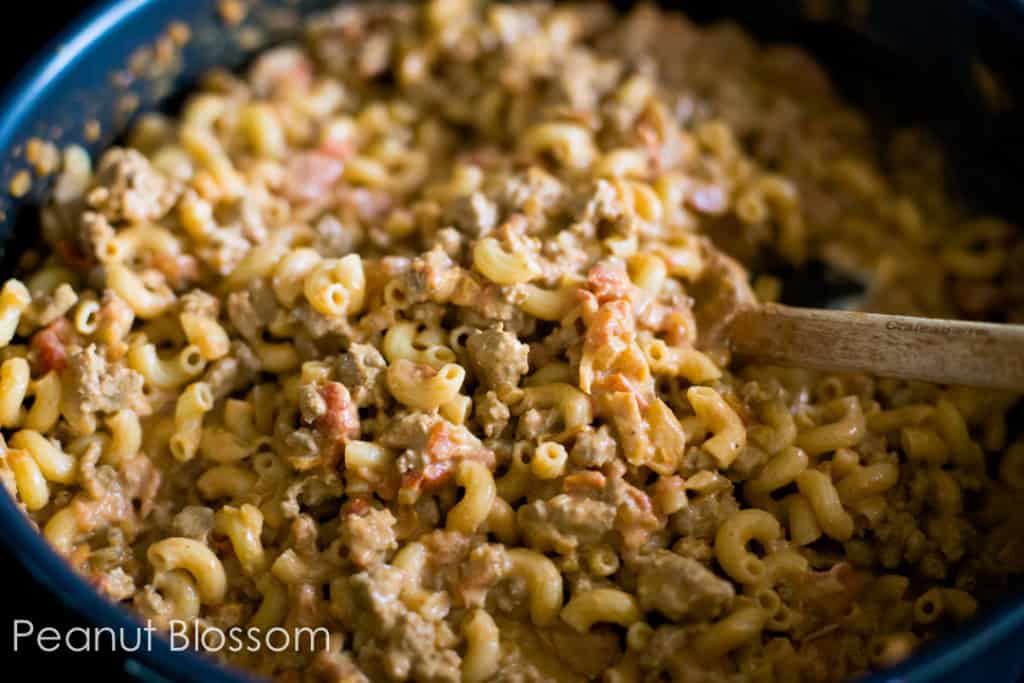 Since then, this recipe has made it's rotation to our table time and time again. I haven't thought about sharing it because it usually appears on crazy hectic nights when I'm too busy getting food to the table to grab my camera. But yesterday I was doing some site maintenance around here and I ran across some posts from my very first year of blogging. I was so filled with nostalgia and then this just happened to be the recipe on my dinner menu for the evening.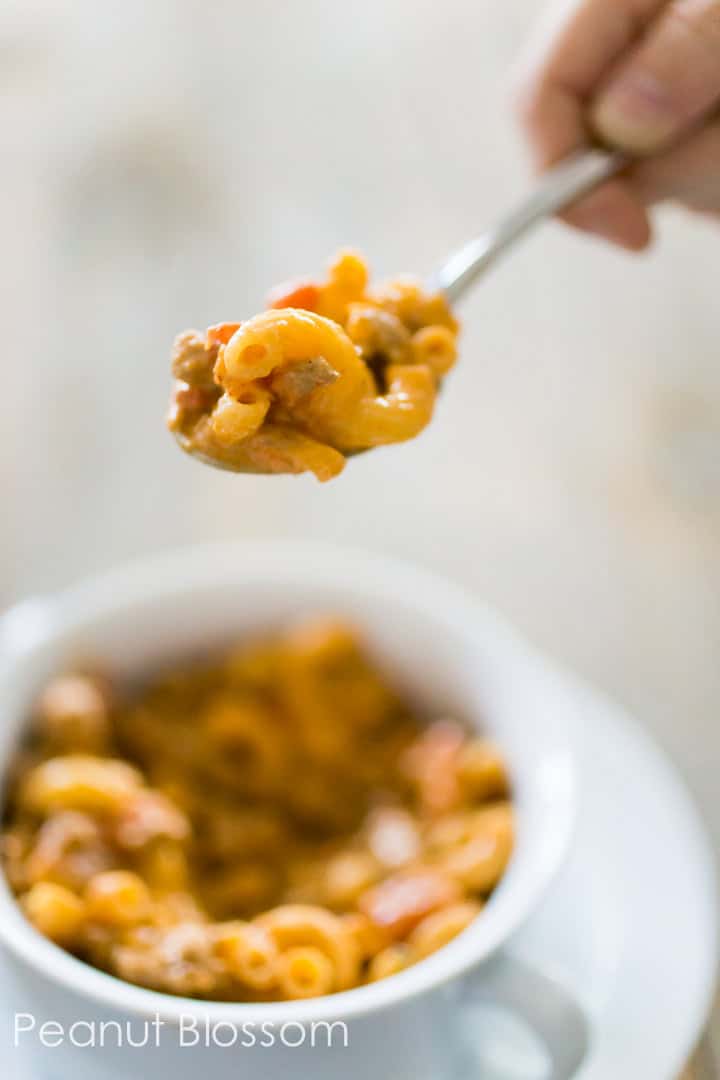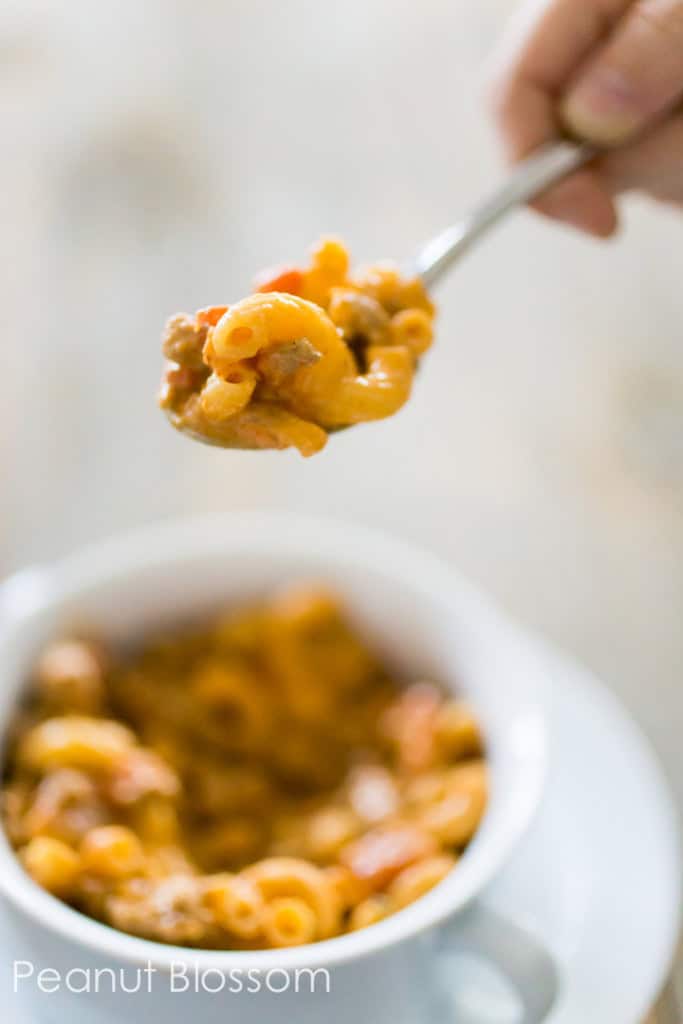 I first made this turkey taco mac recipe before I was even a food photographer. Now I can finally do it justice. You should totally try it soon: Easy, Light, and totally Comforting. The kids devoured it.

Creamy turkey taco mac recipe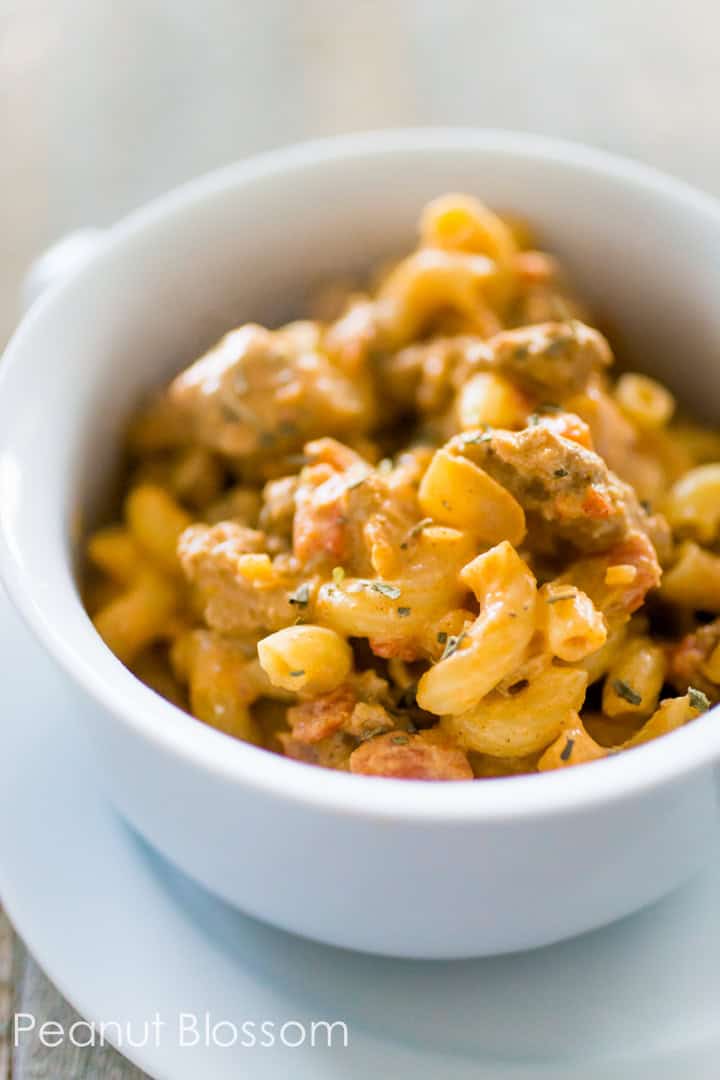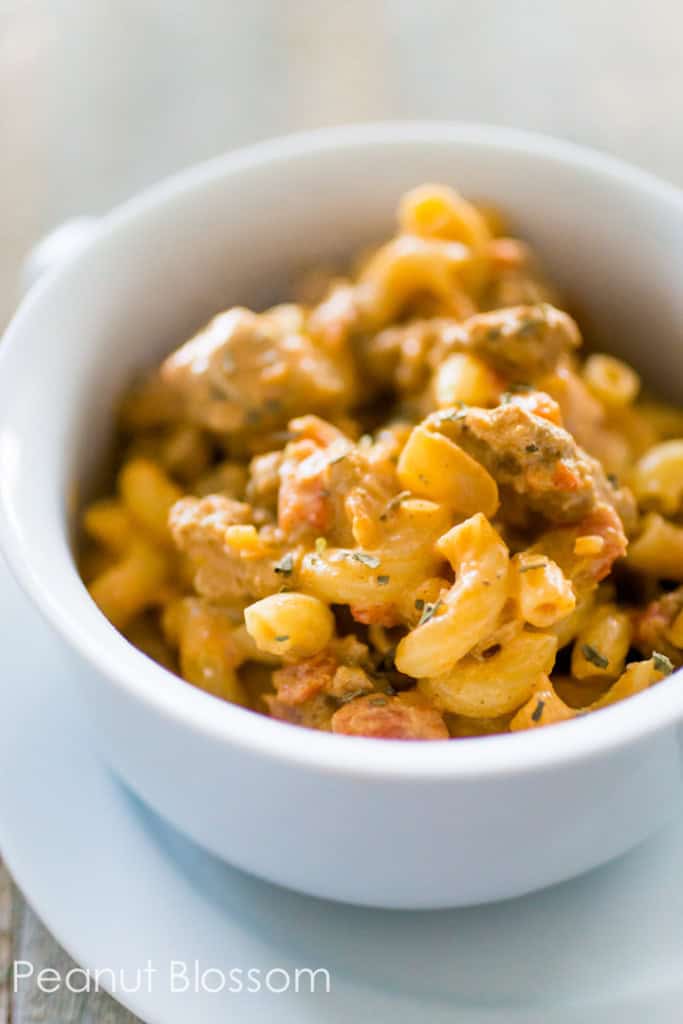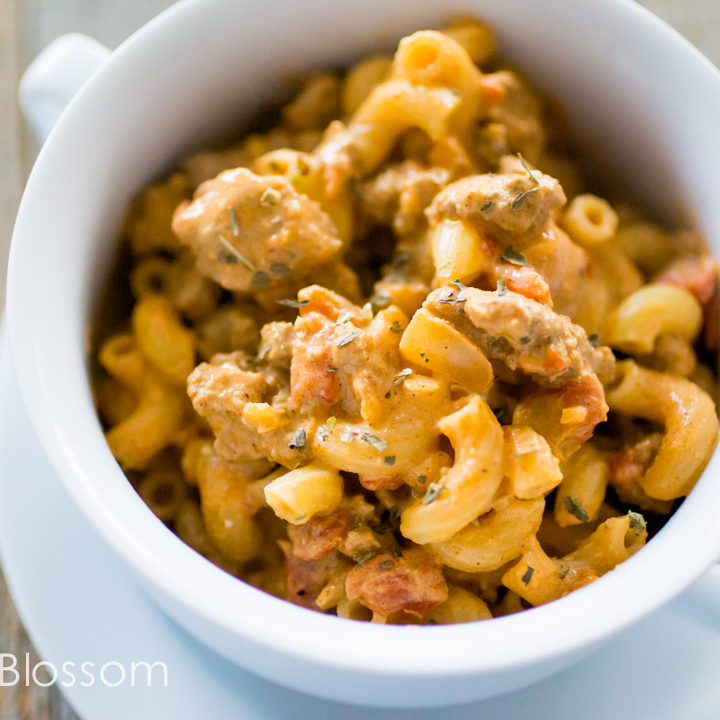 Creamy Turkey Taco Mac
This lightened up one pot supper is the perfect family-friendly comfort food. Made with ground turkey, diced tomatoes, and your family's favorite taco seasoning, this homemade Hamburger Helper is a huge hit.
Ingredients
1¼ lbs. ground turkey
1 lb. elbow noodles
½ cup reserved pasta boiling water
½ onion, chopped
1 clove minced garlic
4 tbsp. taco seasoning (I prefer Penzey's Spices mix)
1 (10 oz.) can Rotel tomatoes
3 oz. cream cheese
½ cup light sour cream
green onions for garnish
Instructions
Boil the pasta according to the package directions. Be sure to use the low end of the time range so it remains firm. This will help prevent the noodles from becoming overly mushy as they absorb the liquid from the sauce. Reserve a ½ cup of the boiling liquid right before draining and set aside.
In a large skillet, brown the ground turkey until it is no longer pink. Drain the fat off and return the skillet to the stovetop. Add the chopped onion and garlic and sauté until fragrant and onions are softened. Add the taco seasoning, stir to combine and heat through for 1 minute. Add the can of tomatoes and reserved pasta water, scrape the bottom of the pan to get up any of the stuck seasonings.
Add the cream cheese and sour cream, stir to melt and combine. Add the reserved noodles to the pan and toss to coat.
Garnish with chopped green onions or shredded cheese.
Notes
When I have sad little tomatoes hanging around in my fridge, I dice them up and toss them in with the canned tomatoes. This is a great way to use up lingering produce!!