Baked turkey taquitos make a quick and easy dinner or a fun weekend snack for movie night. Spiced ground turkey wrapped up in a tortilla with cheese and baked until crispy, you're family will love these.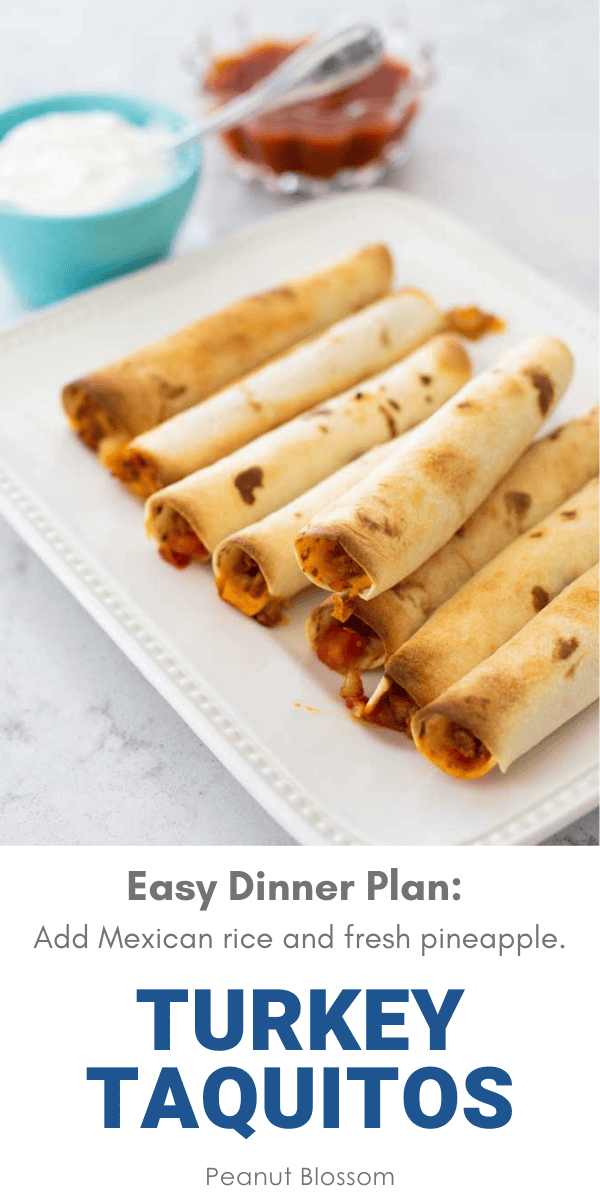 Any time I ask my kids what they want for dinner, I hear "TACOS!"
It doesn't matter if I just made tacos a few days before, the answer is almost always: MORE TACOS.
To switch things up and add a little more variety to the taco routine, I made this super-easy batch of ground turkey taquitos the other day. I was unprepared for how much everyone (including myself!) ended up loving them.
I think there were a few things that made these the best taquitos we've ever tried:
Ground turkey: the lighter meat really let the taco seasoning flavor shine through. They were some of the most flavorful, seasoned tacos we've ever had. Bonus: it's so much healthier, too!
Spicy tomatoes & peppers: I added a drained can of Rotel tomatoes and peppers to the turkey mix. They kept the mixture from being dry and added even more flavor.
Good-quality shredded cheese: Shredded cheeses can really vary in quality. If you use a pre-shredded cheese, try to find one that doesn't have the powdery coating on it. I found a thick-cut cheddar from Tillamook that melted up wonderfully inside the taquito.
Below I'll share my tips for setting up the assembly line to bake these. It only adds a little time to the recipe. But, if you're in a real time-crunch, I highly recommend you check out this turkey taco skillet recipe instead. It's a very similar filling recipe to these taquitos but you serve it right in the skillet at the table.

How to make the best turkey taquitos you've ever had: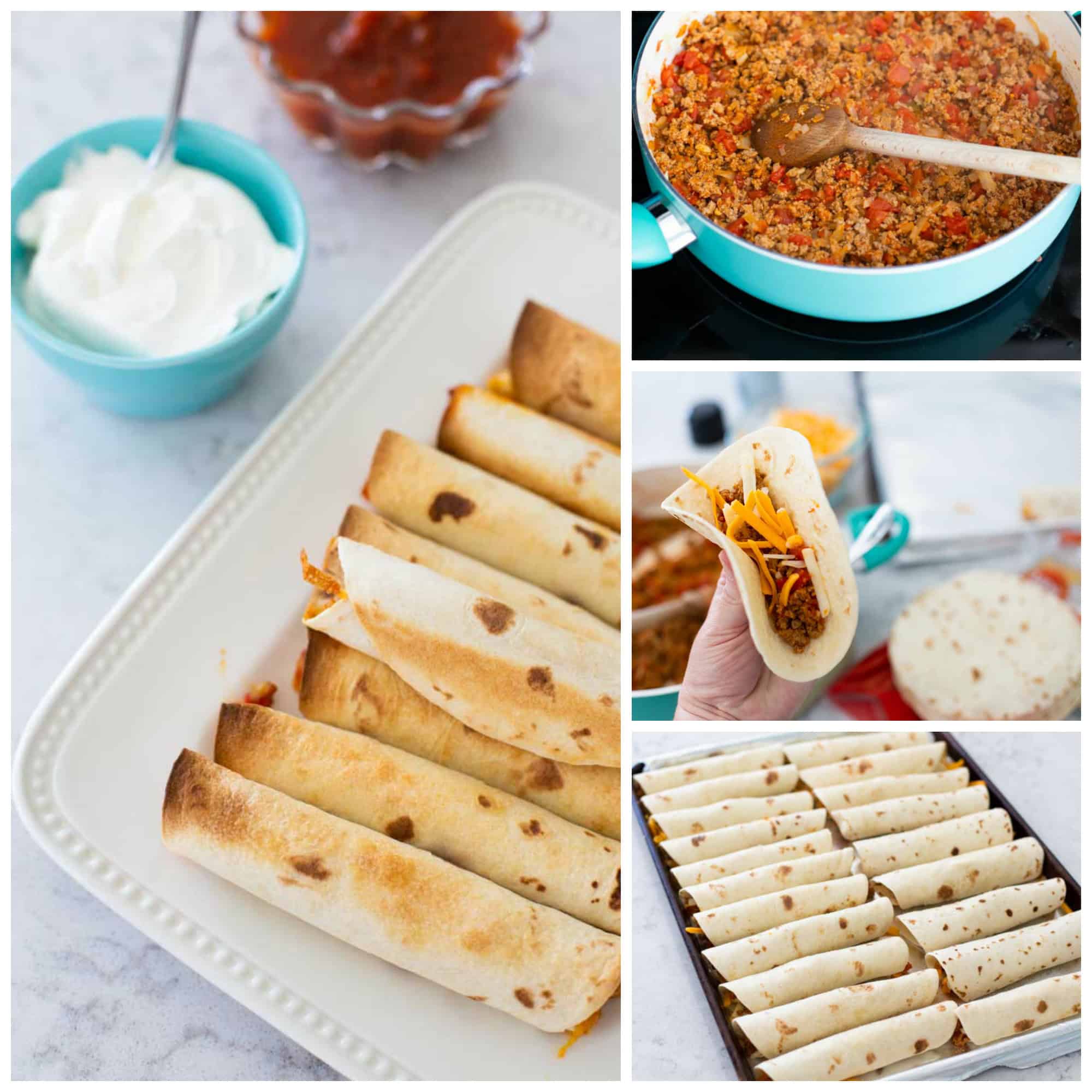 Step 1: Prepare the turkey taco filling
I browned up a pound of lean ground turkey meat in a large skillet. Be sure to really break up the turkey crumbles so that they fit nicely rolled up in the taquitos later.
Once the turkey was no longer pink, I added taco seasonings and a drained can of Rotel tomatoes to the skillet to heat through. Don't overcook the meat or it will become really dry. Remember, it will still bake briefly once the taquitos are assembled.
Step 2: Set up the baked taquito assembly line
Line a large baking sheet with aluminum foil and spray with a bit of cooking spray. Set this near your work station.
Place a bowl of shredded cheese and a stack of 6-inch flour tortillas near the baking sheet. We used the Mission brand tortillas labeled "Taco" or "Small" size.
Once the taco filling is finished, you'll want to either transfer it to a mixing bowl to take over to your workplace or just lay a few hot pads/trivets on your counter and bring the skillet right over.
Step 3: Assemble the turkey taquitos
Working just one taquito shell at a time, spread 1 - 2 tablespoons of turkey taco filling down the middle of a tortilla. Sprinkle a generous pinch of shredded cheese over the top.
Roll the taquito up tightly. Assuming you haven't overfilled it, it will be a nicely wrapped log about 1-inch in diameter.
Place the taquito seam-side down on the prepared baking sheet. Repeat with the remaining ingredients until you have a full pan of taquitos.
Spray the tops of the taquitos with a little more cooking spray and bake until toasted and heated through.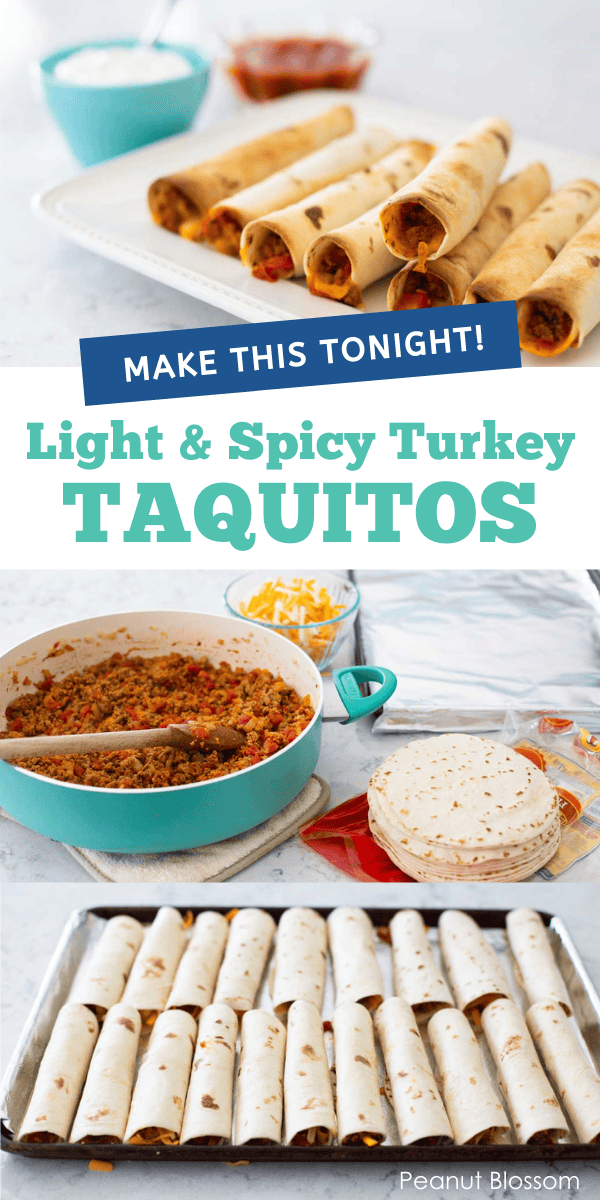 An easy way to serve turkey taquitos:
These made an especially delicious weekend lunch for my family. We simply placed some sour cream and fresh salsa at the table for dipping.
If you want to bulk up the meal for a heartier dinner, you could make my favorite Mexican rice and this really easy Mexican street corn casserole. Or just choose one side dish and add some fresh pineapple or other fresh fruit.
These easy baked taquitos would also be wonderful as a fun party appetizer or football snack. Everyone loves how crunchy they are and even with the ground turkey, they aren't too messy to eat.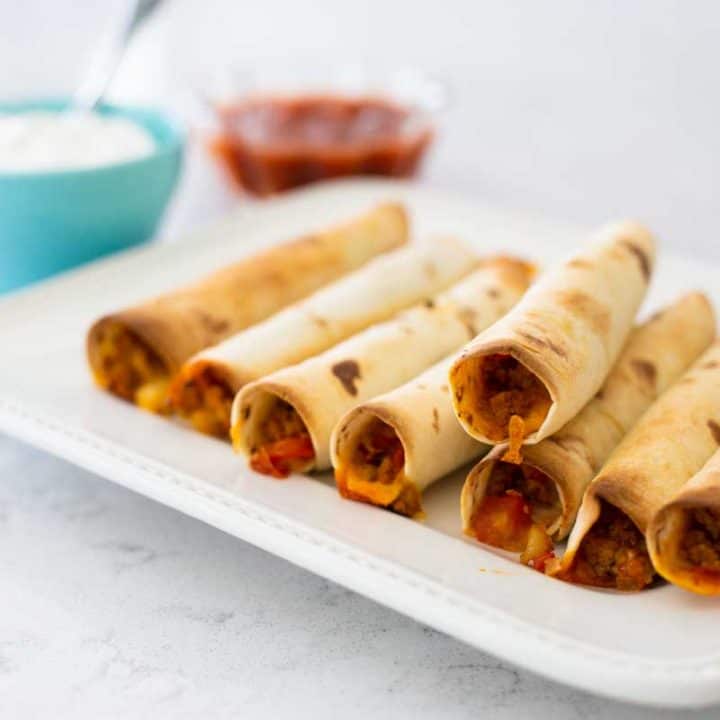 Baked Turkey Taquitos
These baked turkey taquitos are a quick and easy weeknight dinner. Light ground turkey seasoned with taco spices is rolled up with diced tomatoes, peppers, and shredded cheese. Baked to a crisp in minutes, they are perfect for dunking in sour cream and salsa.
Ingredients
1 tbsp olive oil
1 small onion, diced
2 tsp minced garlic
1 pound lean ground turkey
1 packet (or 3 tbsp) taco seasoning
1 (10 oz) can Rotel tomatoes, drained
2 cups shredded cheddar cheese
20 - 24 (6-inch small) flour tortillas
For serving: Sour cream and salsa (optional)
Instructions
Preheat the oven to 425 degrees. Place a large baking sheet in your workspace and cover it with aluminum foil. Spray the foil lightly with cooking spray.
In a large skillet, heat the olive oil over high heat. Add the onion and saute until softened and translucent. Add the garlic and stir until fragrant, about 30 seconds. Reduce the heat to medium-high and add the ground turkey. Brown the turkey, breaking it up into crumbles as it cooks, until it is no longer pink.
Add the taco seasoning and stir for 30 seconds. Add the drained can of Rotel tomatoes and stir to combine. Remove the taco mixture from the heat.
Working in assembly-line fashion, fill a tortilla with 1 - 2 tablespoons of turkey mixture and a sprinkle of cheese. Roll it up tightly into a 1-inch sized roll and place seam-side down on the greased baking sheet. Don't overfill the tortilla with meat mixture or it will be difficult to roll them tightly.
Once the taquitos are lined up on the baking sheet, give them a light spritz of cooking spray over the top. Bake for 10 - 15 minutes or until toasted. Let cool slightly for a minute or so before serving.
Sour cream and salsa make excellent dips for the taquitos.