This classic beef bolognese sauce is a big batch version of the amazing Italian recipe by Marcella Hazan. Freeze the meat sauce in 2-cup portions for easy meal prep on a busy night.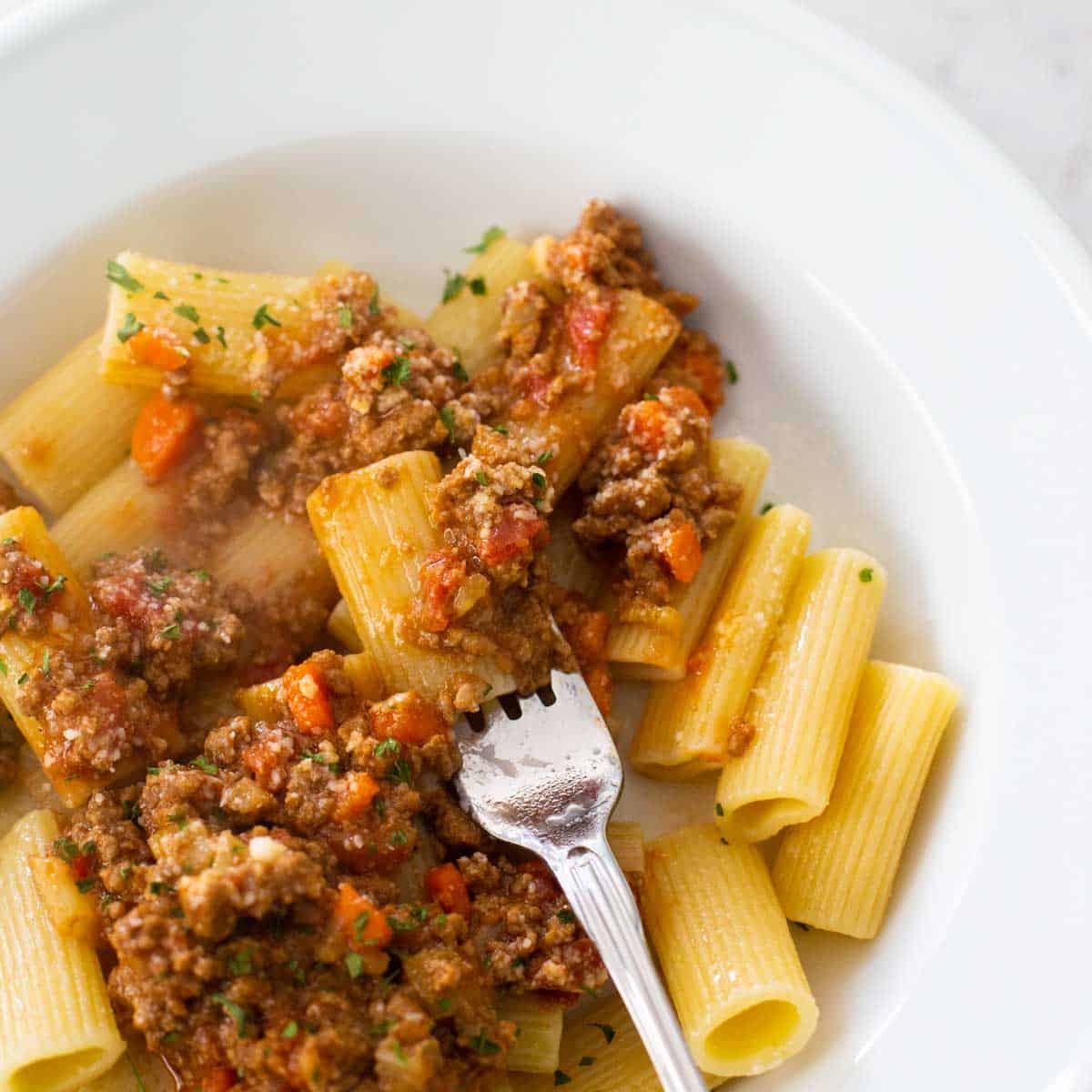 One of the best meals I ever served company involved simmering a homemade beef bolognese in a dutch oven on my stovetop and serving it over lightly buttered rigatoni pasta.
Our house smelled like heaven while the meat sauce bubbled in the pot and our guests couldn't wait until dinner was served.
This classic Italian recipe takes a bit more effort than pouring a jar of prepared tomato sauce over browned meat but it is absolutely worth the time.
However, few of us have 4 hours to spend on a busy weeknight to make a from-scratch Italian pasta dish.
That's where the freezer is a cook's best friend. I love to prep this time-heavy but still relatively easy recipe for a lazy Sunday. Cool the beef bolognese completely and then freeze it in smaller portions for easy use on a busy night.
Pair it with a simple bowl of noodles or gnocchi and maybe a loaf of homemade bread from your bread machine for a dinner that is guaranteed to be tastier than anything from a restaurant!
Jump to:
Why This is the Best Recipe
First, what is Bolognese sauce?
Bolognese sauce is made from slow-cooked ground beef mixed with fresh carrots and celery. White wine and milk are added to tenderize the meat as it cooks. Just a touch of tomato brings a wonderful depth of flavor to the dish.
Where does this recipe come from?
This particular version of beef bolognese is based on the recipe from the queen of Italian-American cooking, Marcella Hazan.
Since the dish takes quite a bit of time to prepare, I doubled her recipe and tweaked it for busy modern home cooks so that it would be worth your time and provide more than just one meal from the effort.
You'll get all the amazing taste with just half the investment in time when you pull out dinner kits from your freezer for another meal down the road!
Ingredients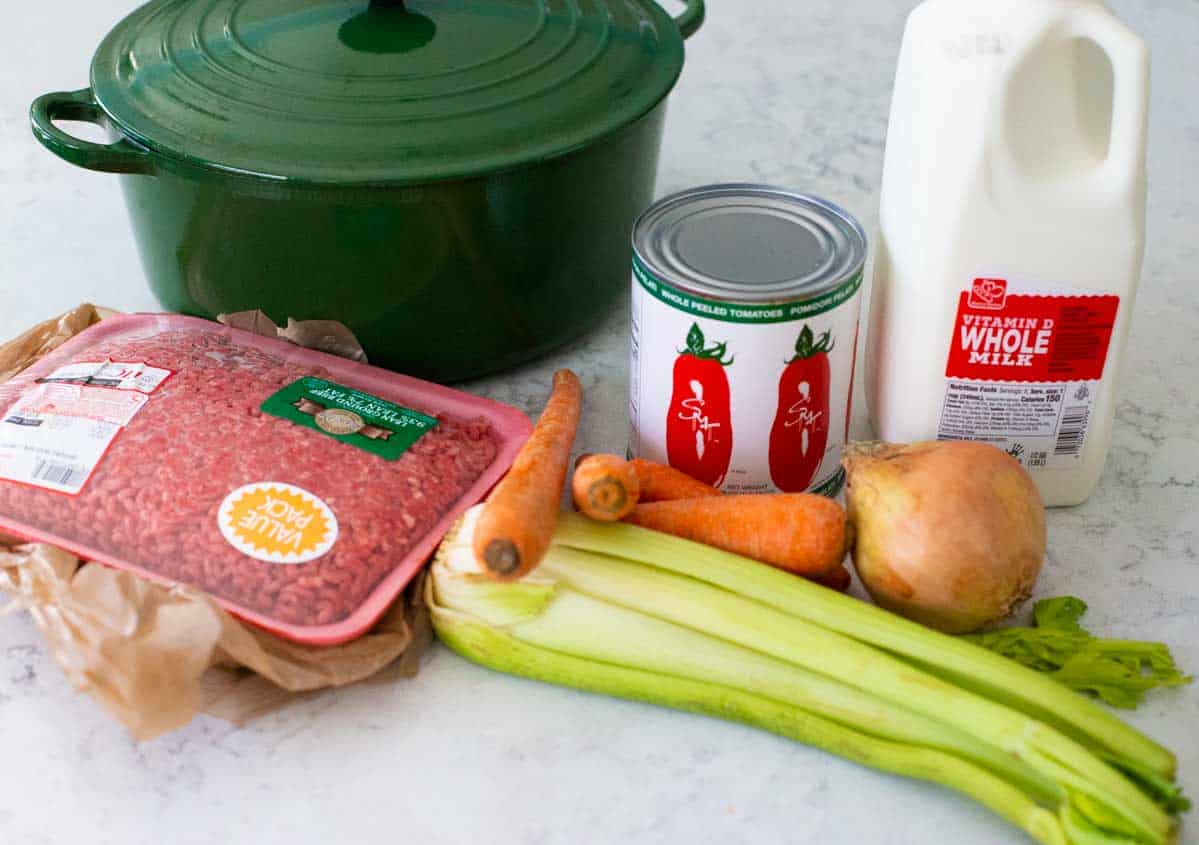 The ingredients for the beef sauce are very wholesome and easy. It's what happens to them while they cook that's the magic.
Ground Beef: I use lean ground beef. You could substitute half of the beef for ground veal if you want, but I do not recommend using a lighter cut of meat like ground turkey or chicken because they will be dry after the slow cooking. If you're looking for a lighter bolognese, you'll want to check out my easy chicken bolognese recipe instead.
Fresh Carrots, Celery, and Onion: The fresh vegetables will be diced and then softened in the sauce and add so much flavor. Use whole carrots, scrubbed and peeled, not baby carrots for this dish.
Butter and Olive Oil: Using both for this dish adds flavor and helps ensure that the butter doesn't burn with the long cook.
Dry White Wine: I use Sauvignon Blanc or Pinot Grigio for cooking but any dry white wine that is tasty enough to drink by the glass will work.
Milk: Ideally you would use whole milk for this recipe because it does the best job of tenderizing the beef. However, in a pinch I've used 2% reduced fat milk.
Canned Whole Tomatoes: You'll use both the tomatoes and the juices from the can in this recipe. Do not drain the can when you open it.
Nutmeg: There is almost no other seasoning in this dish other than salt and pepper. The nutmeg warms the meat sauce but lets the main ingredients shine.
Dutch Oven or Pasta Pot?
This entire pasta sauce recipe cooks on the stove top in an uncovered pot so that the liquids can evaporate and reduce.
You need a heavy-bottomed pot that can withstand a long cook on the stove and heat your dish evenly.
I always use an enameled cast iron dutch oven because I love how evenly it cooks from edge to edge.
You could use a pasta pot as long as it has a heavy bottom, but I recommend using a pot with a wider surface area so that the liquids can evaporate more quickly and save you time.
Cook the Veggies and Beef
First, melt the butter and olive oil in your dutch oven or pot. Add the chopped onions and cook them until softened.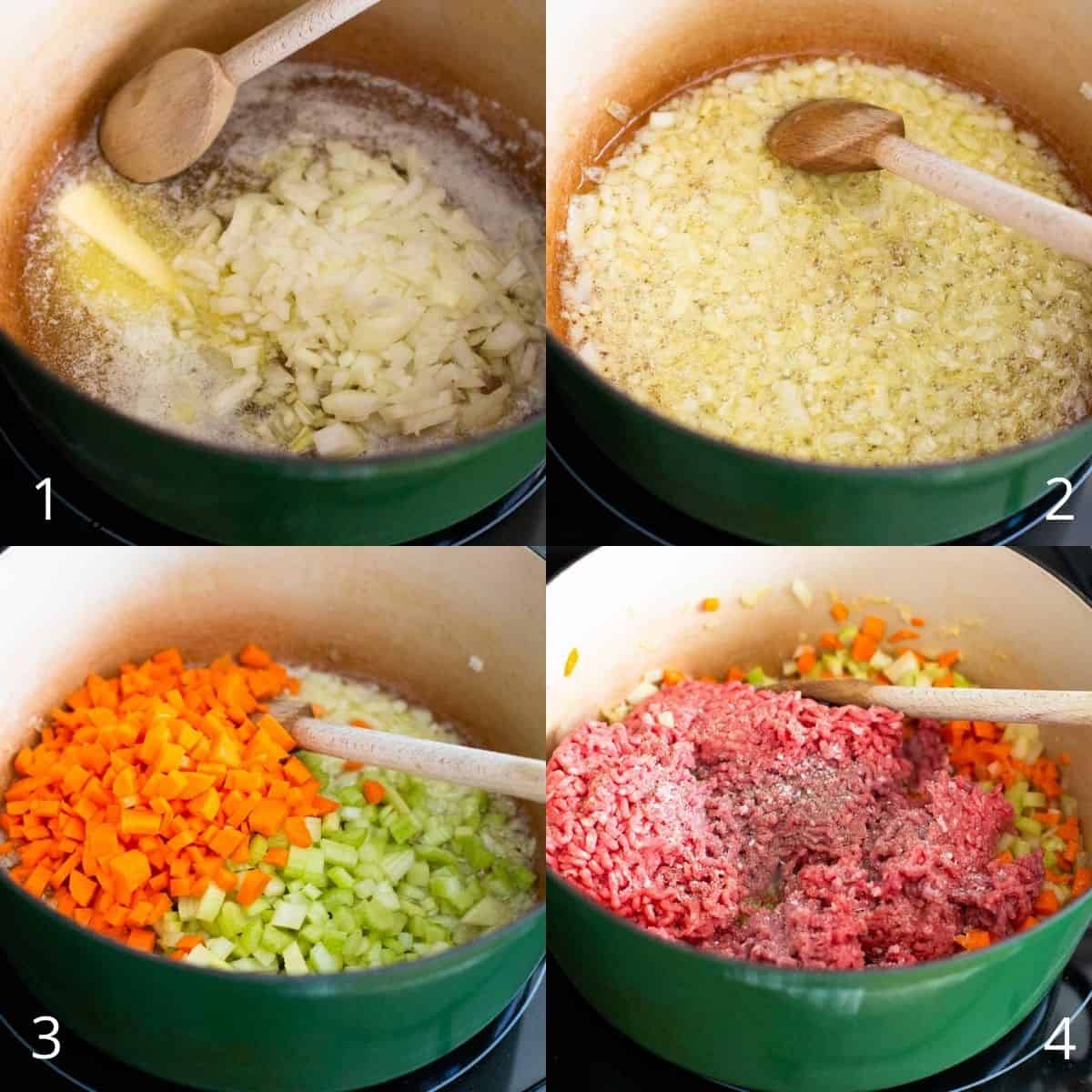 Add the diced carrots and celery and cook for 4 minutes. They will barely begin to soften in this time but should start to release some liquid.
VEGGIE PREP TIP: Remember as you're chopping your carrots and celery, their final size will be very close to how they appear in the final dish. If you don't like a chunky bolognese, cut them as finely as you can.
Add the ground beef to the pot and break it up with your cooking spoon. Sprinkle it with salt and pepper and continue to cook and brown it until no longer pink.
Add the Wine and Milk
Once the ground beef and vegetables have been cooked and mixed together, add the milk to the pot and stir it in.
Let the milk cook until the liquid has mostly evaporated. Then add the wine and cook until the liquid has mostly evaporated as well.
It should look like Photo #4 below.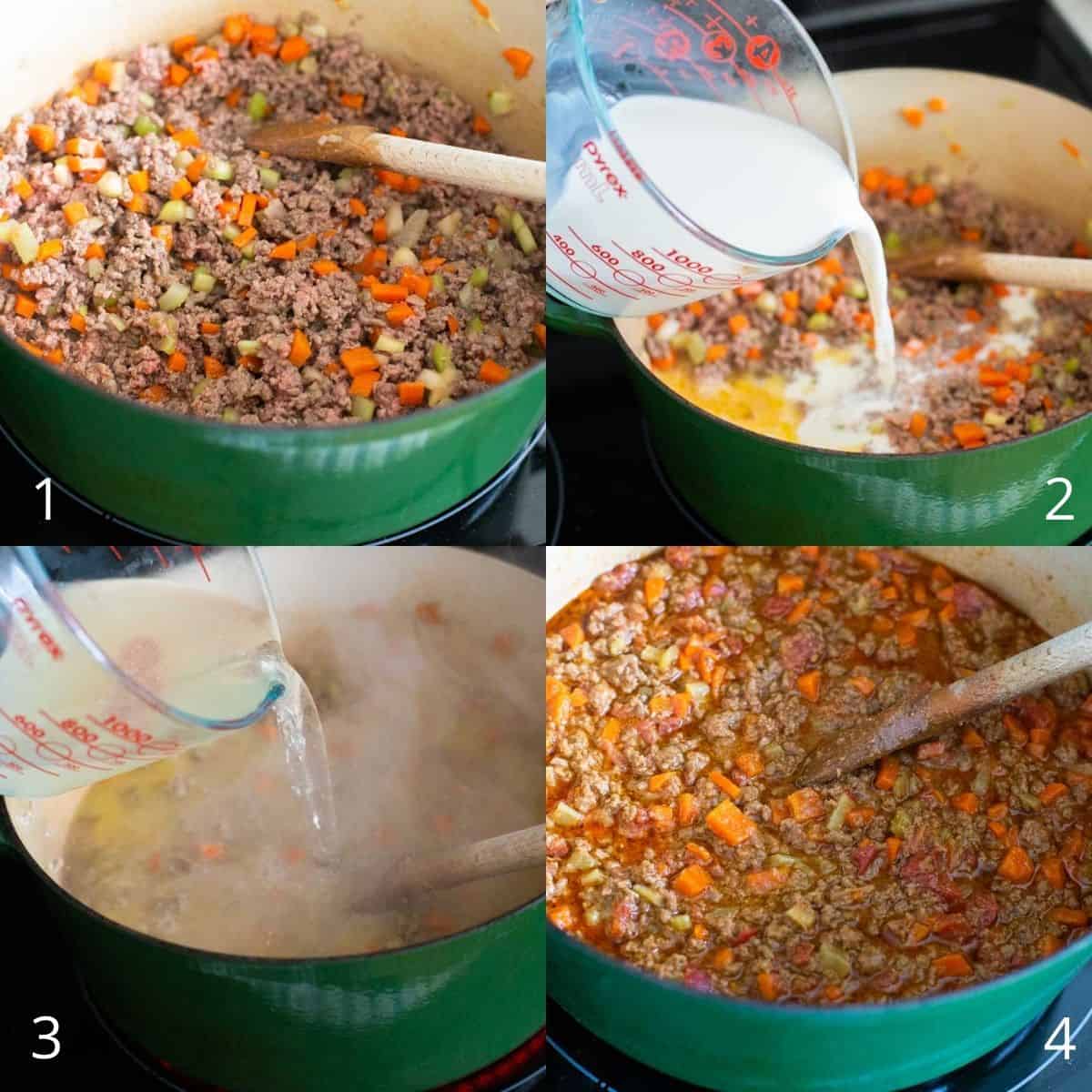 Cook the Tomatoes
Finally, add the canned tomatoes to the pot.
TOMATO PREP TIP: I always dice my whole tomatoes with a clean kitchen scissors right in the can. You could also transfer them to a cutting board and chop them.
In either case, make sure to reserve all the tomato juices from the can and add them to the pot.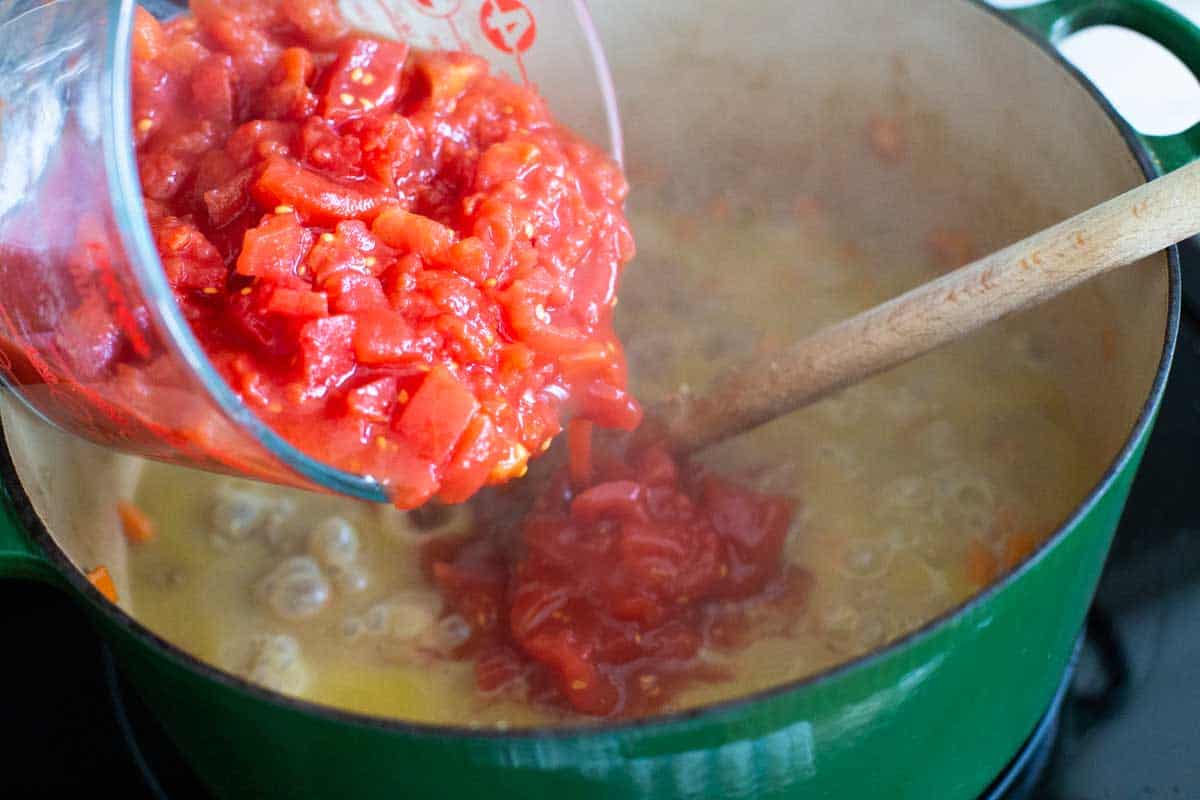 Once the tomatoes have been stirred in, bring them to a bubble.
Then, reduce the heat to medium-low and let the bolognese sauce cook on your stovetop for 3.5 - 4 hours.
It won't need much more attention than occasional stirring so now is a great time to read a book or spend time with your family.
Serving Suggestions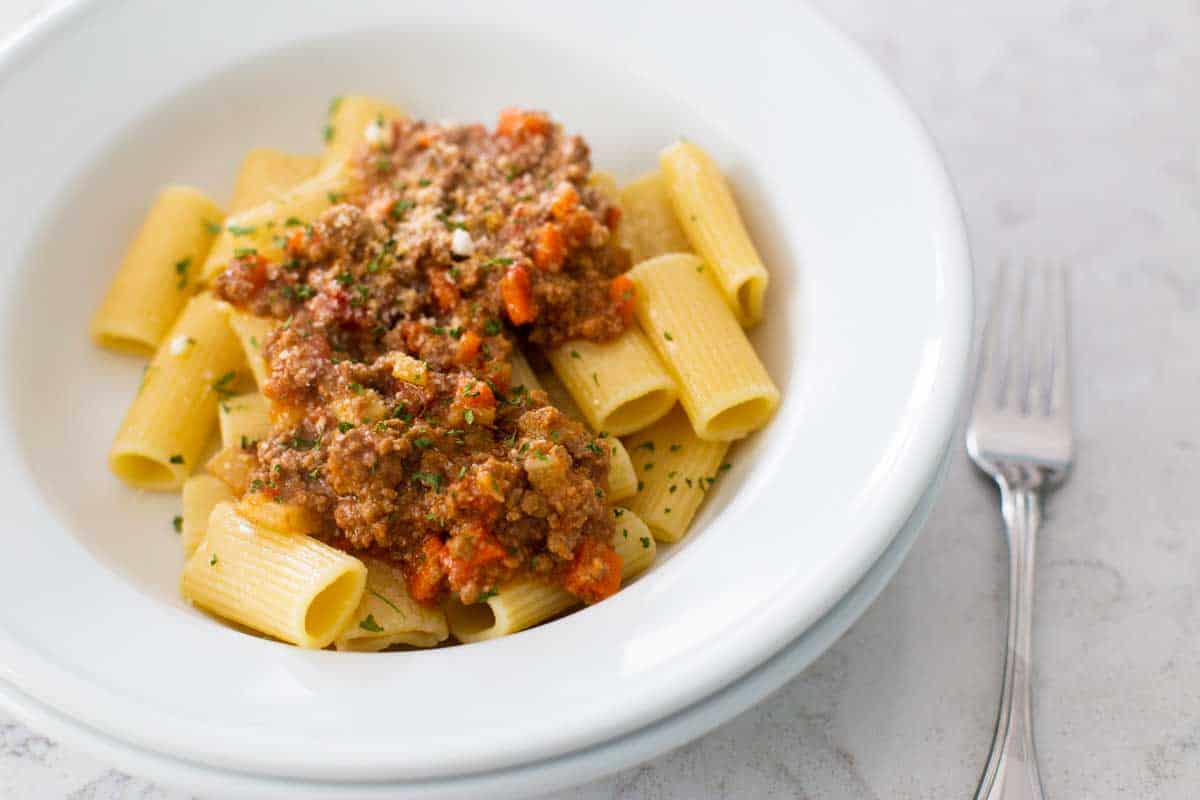 The classic way to serve beef bolognese is over a plate of freshly cooked pasta.
We toss rigatoni in a light bit of melted butter and then spoon the bolognese over the top with a bit of parsley.
Variations:
Bolognese Rice Bowls: Spoon it over jasmine rice.
Gnocchi Bolognese: Prepare a package of dried gnocchi and toss them in bolognese.
Bolognese Zucchini Boats: Cut zucchini in half lengthwise, spoon out the seeds and fill with bolognese sauce. Roast in your oven and top with shredded mozzarella.
Dunk with Bread: Serve the bolognese in small bowls like chili with warm bread for dunking. This easy bread machine garlic parmesan sourdough would be perfect.
Make-Ahead Freezer Tips
Unless you're feeding a large crowd, you will definitely have leftovers of this big batch of classic bolognese sauce. That's the whole point!
Let the sauce completely cool before storing it in freezer-friendly containers.
I like to spoon 2-cup portions into freezer-safe plastic storage bags so I can freeze the sauce in flat packets.
To thaw the sauce:
Place in the fridge overnight.
Defrost in a covered dish in the microwave.
Simmer in a saucepan on the stovetop with just a couple tablespoons of water to help it steam.
More Classic Italian Recipes
As much as I love traditional Italian recipes, I can't resist a good Italian-American spin on a dish. After all, we can't all shop daily at an Italian market.
Don't miss the Italian-American classic crispy chicken parmesan or lemony chicken scampi.
Dig into a bowl of Tuscan chicken soup made easier with a rotisserie chicken.
And chase it all down with a cool and creamy make-ahead tiramisu that takes just minutes to put together!
📖 Recipe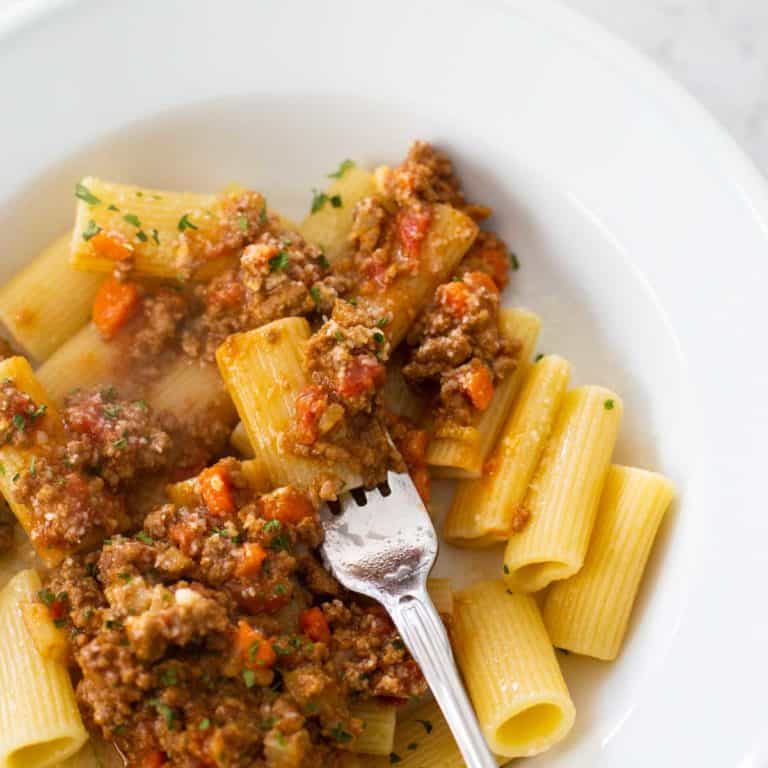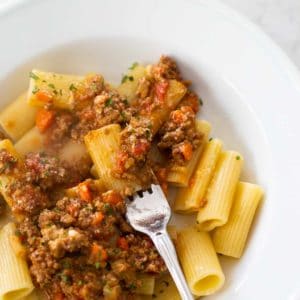 Bologonese Sauce
This stovetop classic bolognese sauce features ground beef with fresh vegetables cooked slowly to enhance the flavor. A hearty meat sauce for serving over pasta, this recipe can be split and frozen for future meal prep.
Ingredients
6

tablespoons

butter

¼

cup

olive oil

½

onion

chopped

2

stalks of celery

chopped

2

whole carrots

chopped

2

pounds

ground lean beef

1

cup

whole milk

2

cups

dry white wine

¼

teaspoon

nutmeg

1

(28 oz) can whole tomatoes
Instructions
Melt the butter with the olive oil in a large dutch oven over medium heat. Add the chopped onion and cook until softened and translucent.

Add the chopped celery and carrots to the pot, stir, and cook for 4 minutes.

Add the ground beef to the pot and break it up with a spoon. Add 1 teaspoon of salt and continue to cook the beef until it is no longer pink.

Stir in the milk. Continue to cook until most of the milk has evaporated, 10 - 15 minutes.

Turn the heat up to medium-high and add the wine and nutmeg to the pot. Continue to stir and cook the mixture until most of the liquid from the wine has also evaporated, 10 - 15 minutes.

Open the can of tomatoes. Use a clean kitchen scissors to snip the whole tomatoes while in the can to break them up. Alternatively, you can chop the tomatoes on a cutting board but in either case be sure to keep all the juices from the can.

Add the chopped tomatoes with the canned tomato juices to the pot and stir them in. When the mixture begins to bubble, turn the heat down to medium-low.

Cook the mixture uncovered for a minimum of 3 ½ - 4 hours, stirring occasionally to make sure nothing sticks to the bottom of the pot as it cooks. The bolognese sauce will continue to reduce and thicken and the meat and vegetables will be very tender.

Serve over pasta, rice, or baked potatoes.
Recipe Notes
Freezer Tips:
Once the bolognese has completely cooled, leftovers can be frozen for future use. Portion the meat sauce into 2-cup containers for easy meal prep since this allows you to defrost just what you might use for a single recipe.
Save This Recipe to Your Recipe Box
Find this delicious recipe next time you visit by saving it to your very own recipe box on my site. All your favorites stored in one easy place!