These quick and easy crab melts make a perfect simple dinner idea when you're in a rut.
Add a simple salad, fresh fruit, and chips and you'll feel like you're at the beach! Or, cut them into quarters and serve them as an easy party appetizer.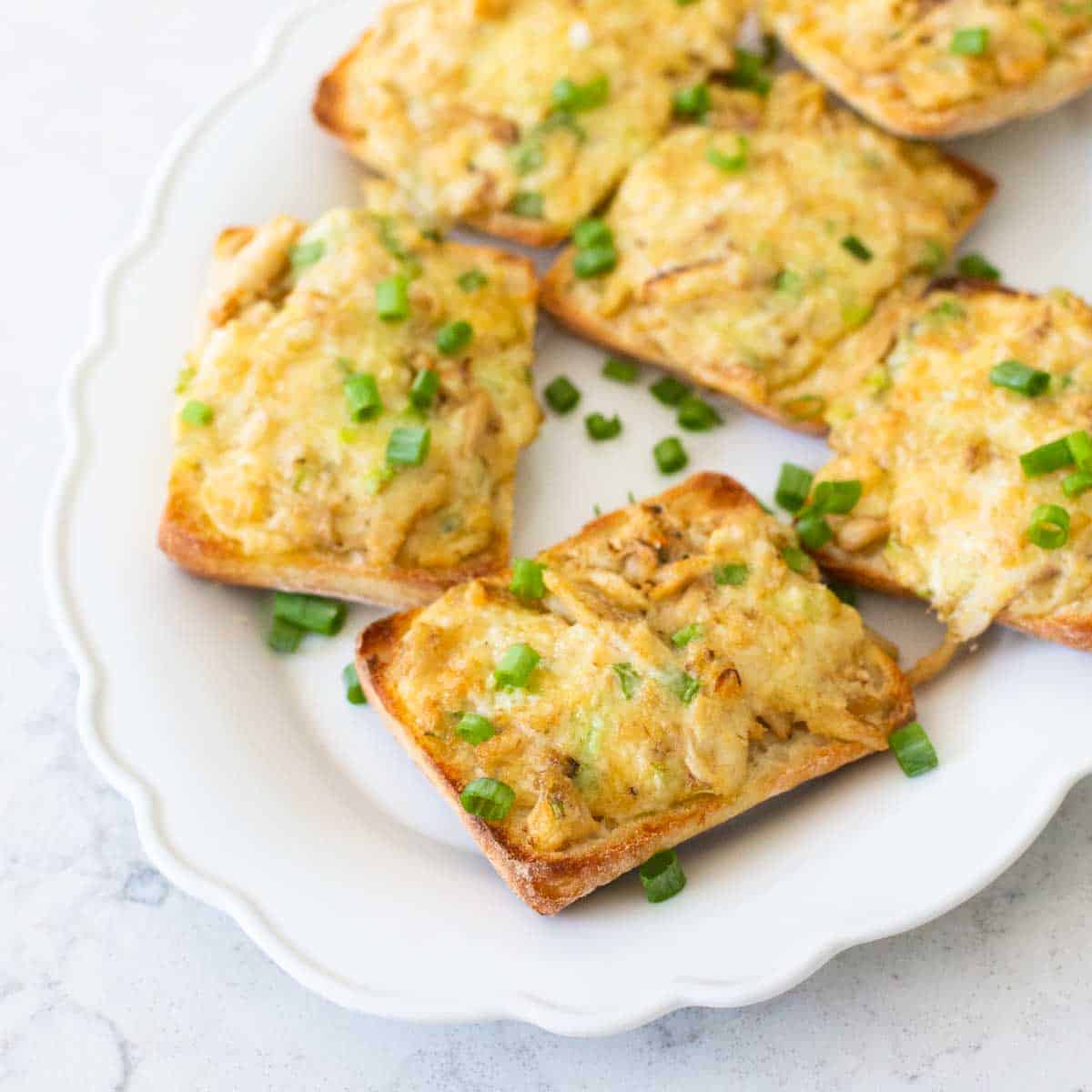 When we go on our annual family beach trips, the Peanut and I try to eat as much crab as we possibly can in a short amount of time.
This summer, we cooked our own meals in our beach condo. Since my husband and Little Pea aren't crab fans, it sadly didn't make the menu rotation that week.
RELATED: Get our entire beach vacation meal plan here.
We missed our annual fix this year, so the Peanut and I have been craving crab since our trip in June.
Last week I finally decided to splurge on a can of fresh crab meat from the seafood department of our local grocery store. At $22 for the pound, it was a little pricier than I would normally invest in a regular dinner. However, since the recipe turned out so amazing and made a surprisingly large amount of sandwiches, I could definitely justify the cost if more of our family enjoyed crab.
We invited my mom over for a special lunch because she loves crab, too. We needed help finishing it off!
This recipe was everything we needed to finally scratch that crab-craving itch. It was so delicious and so easy, it would make a perfect holiday party recipe, too.
Jump to:
Ingredients
This is one of the best parts of this recipe: the super easy list of ingredients!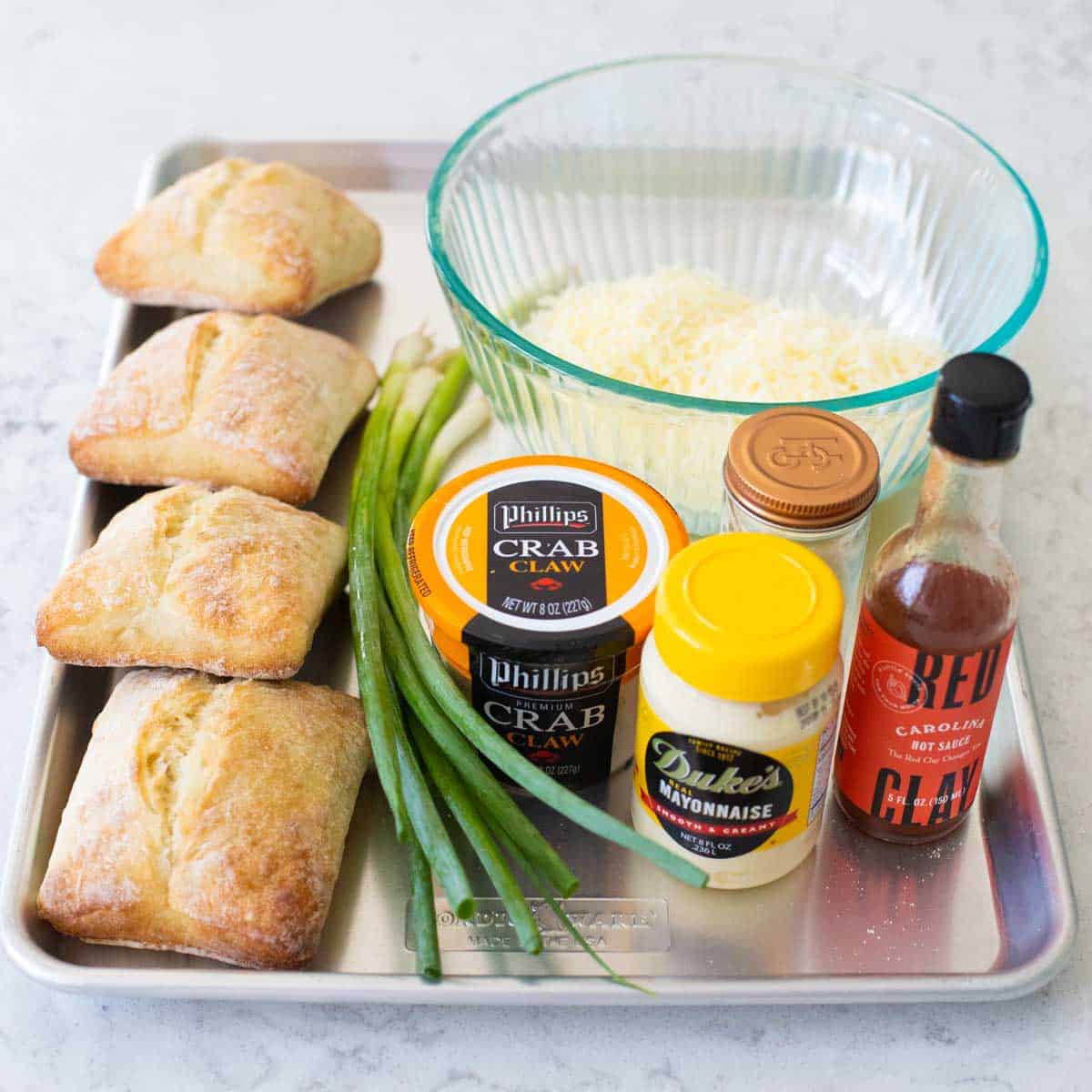 Ciabatta sandwich rolls
Crab meat
Mayonnaise
Swiss & Monterey Jack cheeses
Hot sauce
Seasoned salt: You can use any brand you like or make my homemade seasoned salt.
Green onions
Quick Tips Before You Shop
When a recipe has such a short list of ingredients, you really need to be sure you're buying the best quality of each one if you want it to be delicious. Here's what you should know before you go grocery shopping:
Tip #1: How to Find the Right Bread
The bread will make or break this recipe. You absolutely need to buy good, fresh bread.
Be sure to use something from the fresh bakery department of your store if at all possible.
I used the fresh artisan rolls from Costco as our base. They are about 4-inches wide and square. They are crusty ciabatta rolls that have a chewy bite to them. I have also found them at Publix and Fresh Market.
If you don't belong to Costco, just look for rolls that are similar in size and are crusty on the outside, chewy on the inside.
If you still can't find these specific rolls, look for any of these breads:
Ciabatta
Sourdough rolls
French baguette that you can slice into smaller portions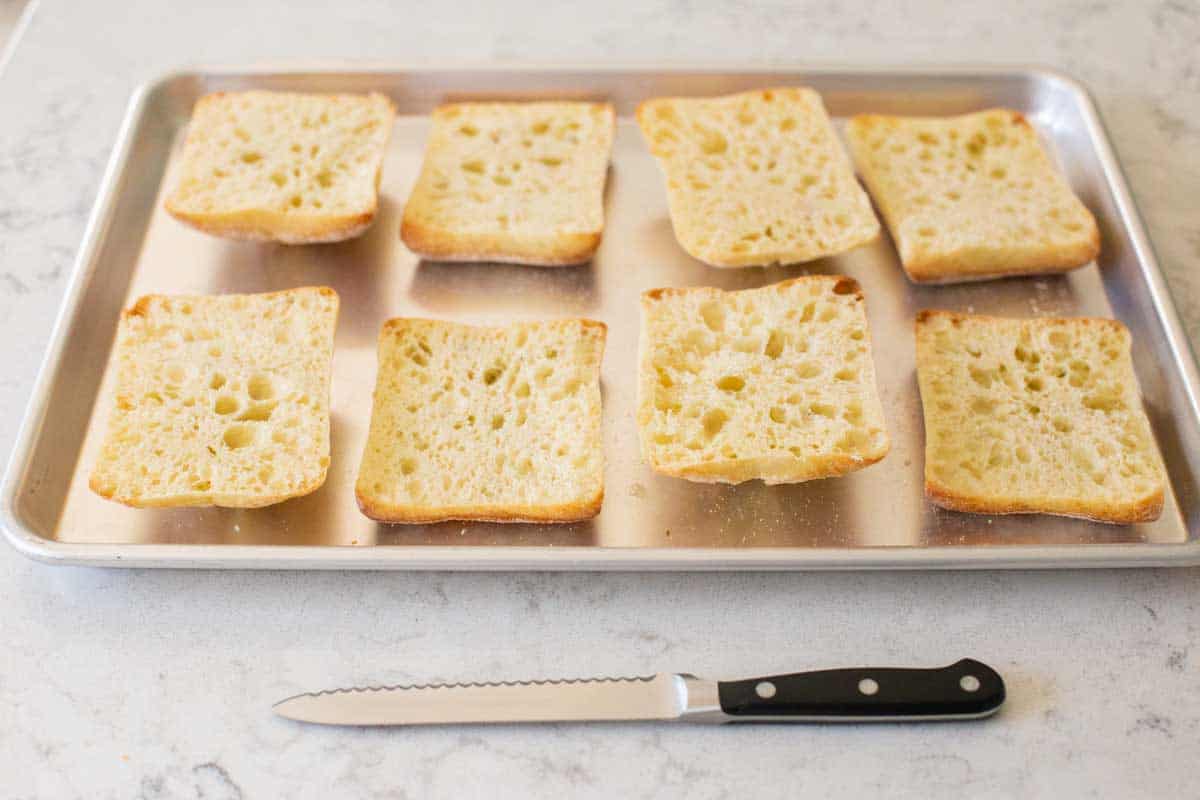 I used four sandwich rolls and sliced each one evenly in half. Place the bread cut side up on a large baking sheet.
Tip #2: The Cheese That Melts Best
I used pre-shredded Swiss cheese from a bag but ran a block of Monterey Jack through the food processor to mix with it.
Pre-shredded cheese often comes with a powdery coating that prevents it from melting nicely. This isn't a deal-breaker, but if you have the time to shred a block of cheese, it is worth the little bit of effort.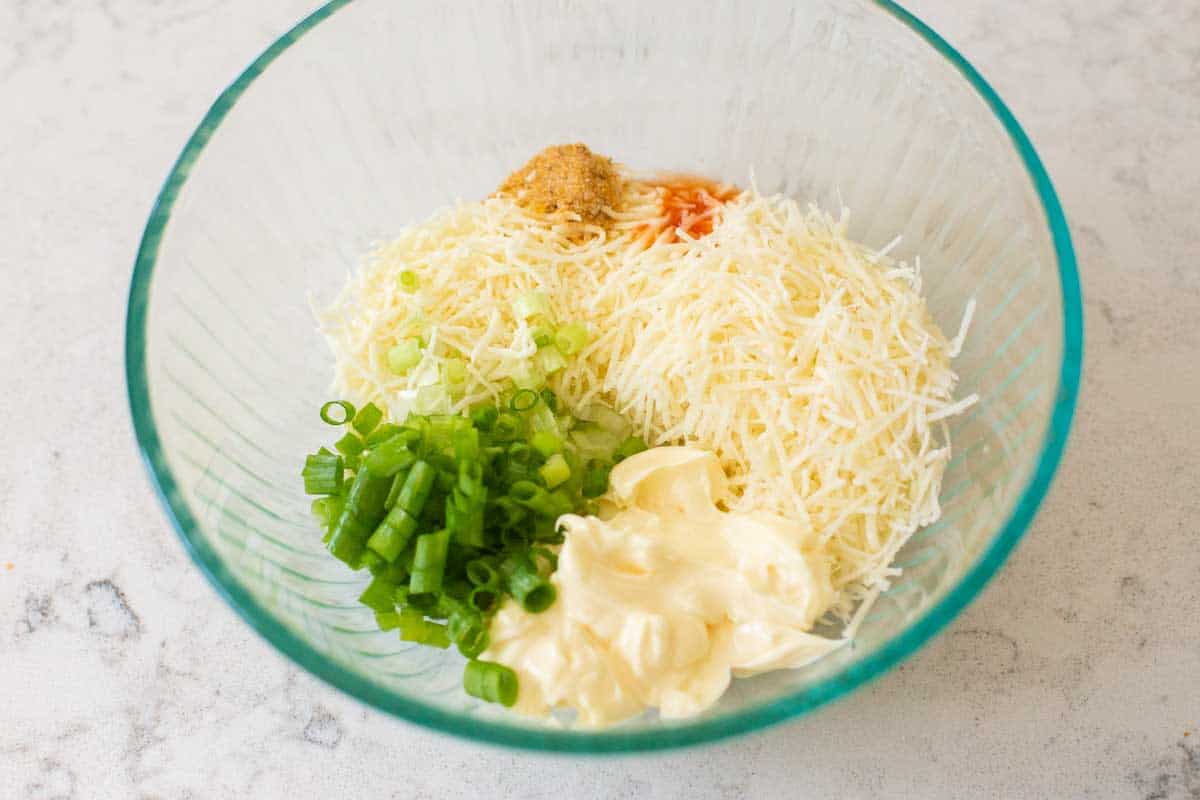 Tip #3: A Note on Mayo
The focus of this recipe is on the crab and the ooey, gooey, melty cheese. You need a little bit of mayo to bind it all together, but you don't want the crab melts to be overly goopy.
I found that just 1 cup of mayonnaise is the perfect amount. If you're a huge mayo fan, you could go up to 1 ½ cups.
Tip #4: Buy Canned Lump Crabmeat
I've never cooked with canned crabmeat before, this was a completely new experience for us at home. It went so well, I'll be looking for other ways to used canned crab in the future!
The can I purchased was found directly within the seafood section of our grocery store.
Some stores don't package it in a can, they store it in plastic tubs with lids.
What you are looking for is the lump crabmeat. It will come in large chunks within the package.
Crabmeat is extremely tender and will shred and fall apart easily.
It should be the last ingredient to go into your mixing bowl.
Stir the cheese and mayo together FIRST then do your best to fold the crab meat in gently so you can retain the lump texture you just paid a premium to get.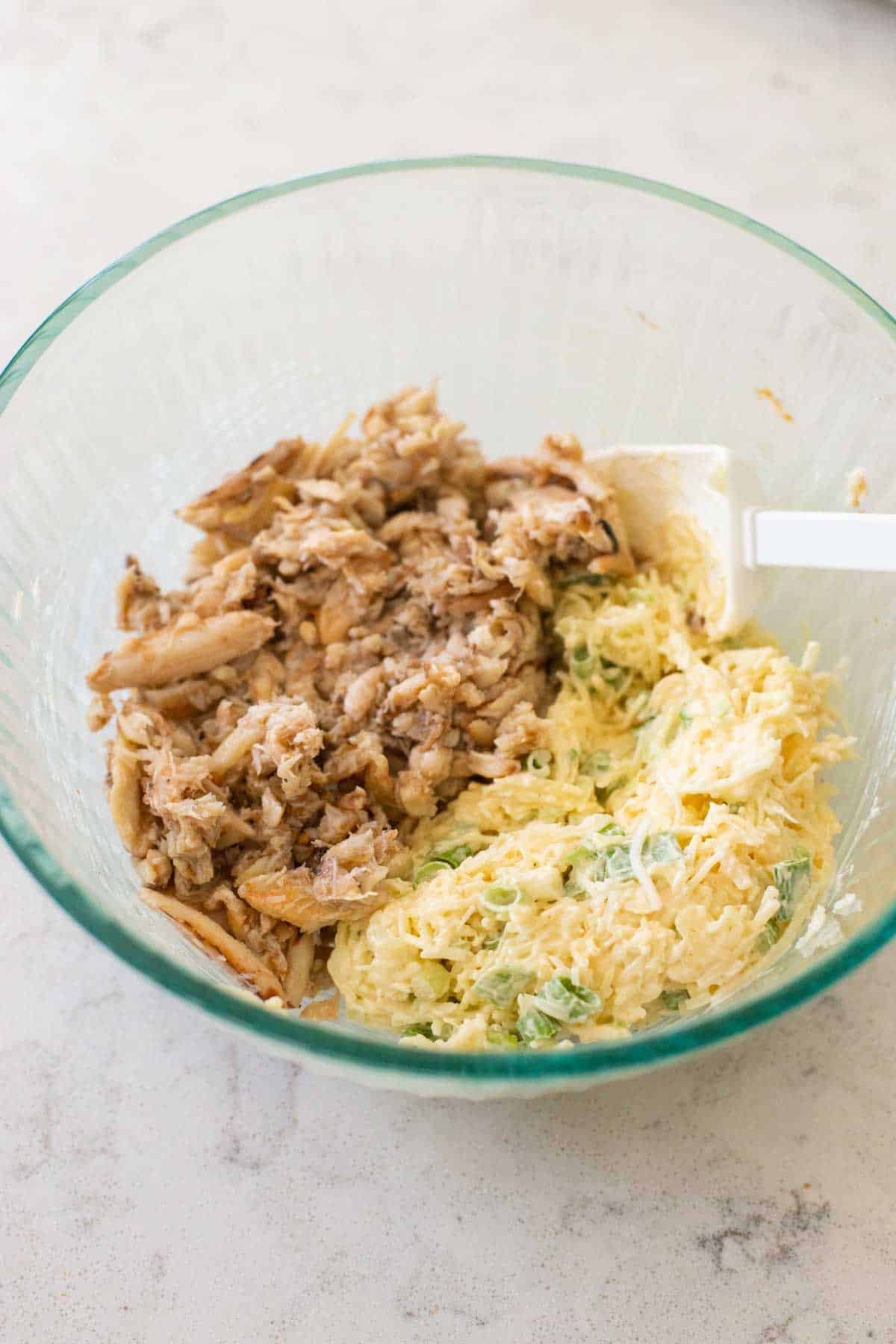 How to Assemble and Bake
Preheat your oven to 350°F.
Top each open face piece of bread with a scoop of the crab filling. Gently pat it into place so that it covers the bread evenly.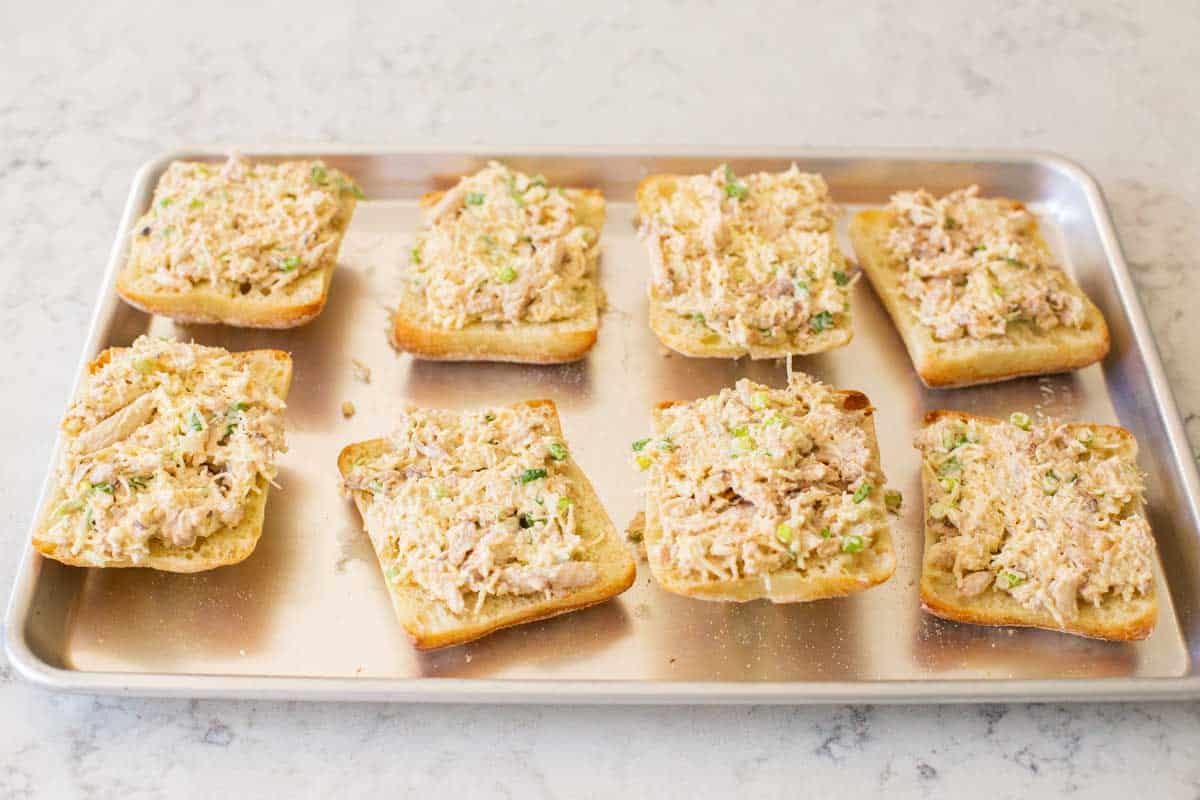 HINT: The crab meat is so delicate, try not to spread it roughly on the bread.
The mixture will not spread very much as it bakes, so you want the coating to be even from end to end from the start.
Bake for 15 minutes.
Turn the broiler on and heat the crab melts for another 2 - 3 minutes or until the mixture is bubbling hot and beginning to toast.
Sprinkle with green onions and serve: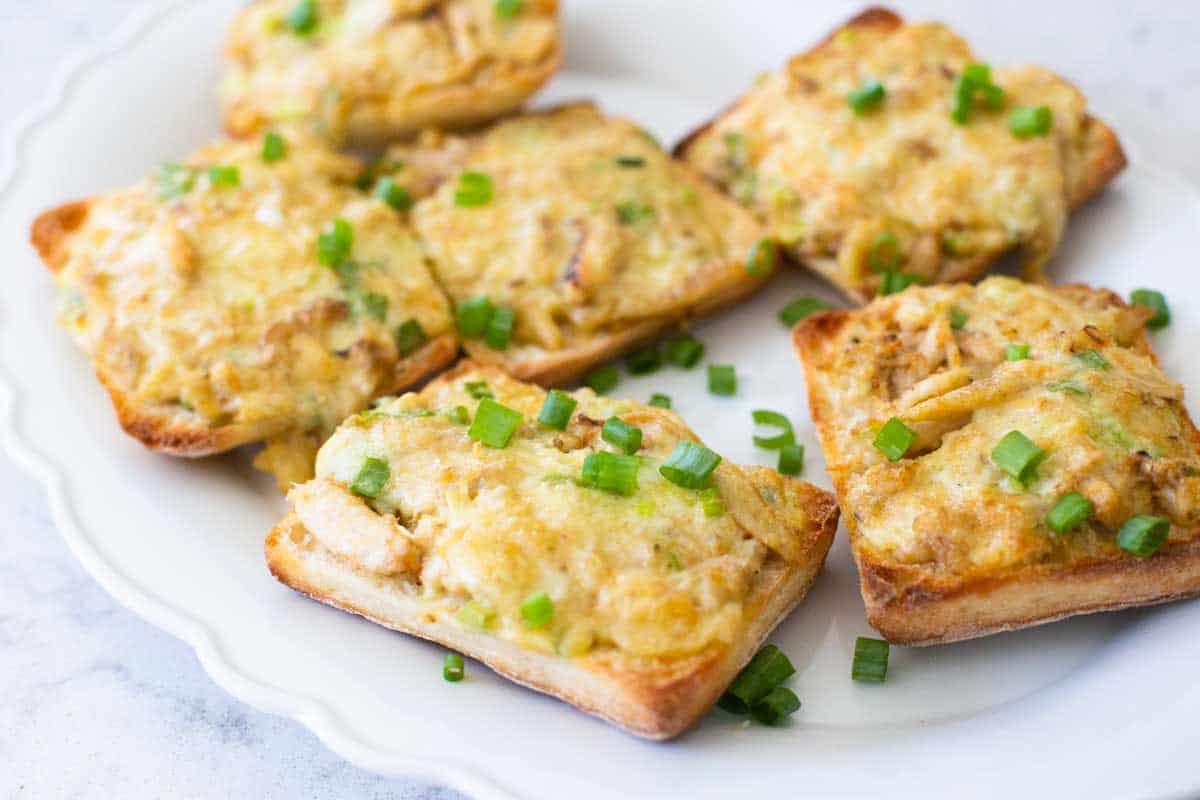 Serving Suggestions
My girls and I love to eat these as light dinner with a salad but they'd also make an amazing appetizer.
You could bake them on crostini slices for individual portions or simply cut the baked melts into quarters before serving.
Even though there's a little hot sauce in the mixture, the crab melts are not very spicy. You may want to leave the hot sauce out near the platter so guests can add additional heat as desired.
If you've tried these easy crab melts or any other recipe on PeanutBlossom.com please don't forget to rate the recipe and let me know where you found it in the comments below. I love hearing from you!
FOLLOW along on Instagram @peanut.blossom as well as on Pinterest and Facebook.
📖 Recipe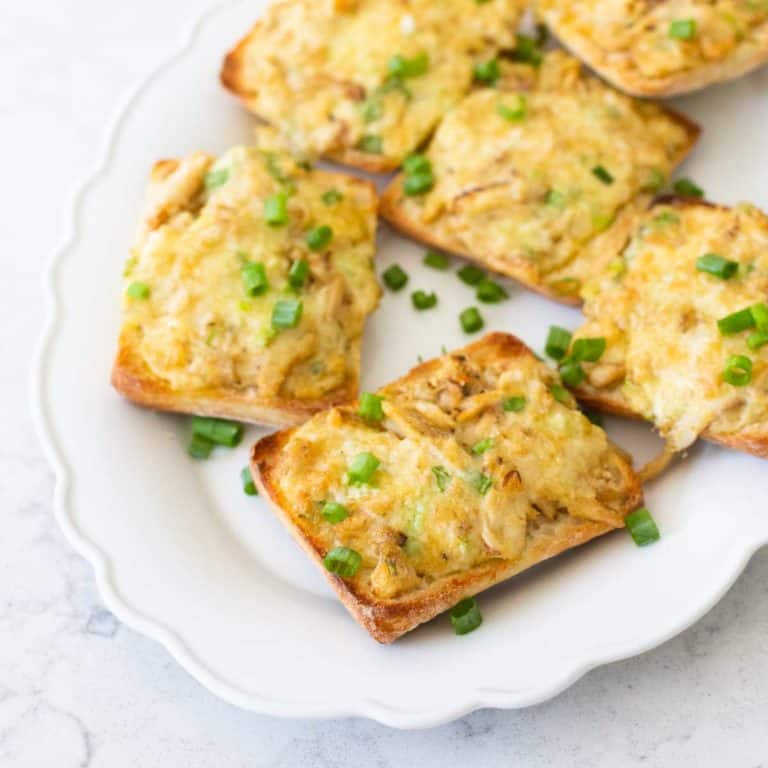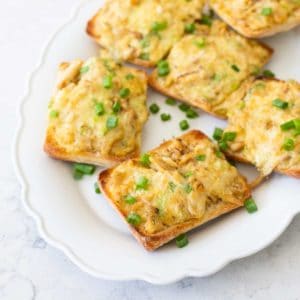 Easy Crab Melts
This rich and delicious crab melt recipe makes a perfect party appetizer or simple dinner entree. Sweet lump crab meat is mixed together with savory cheeses and melted on fresh ciabatta bread.
Ingredients
1

cup

shredded Swiss cheese

1

cup

shredded Monterey Jack cheese

4 - 5

green onions

minced (both green and white parts)

1

cup

mayonnaise

½

teaspoon

seasoned salt

½

teaspoon

pepper

1

pound

fresh crab claw meat

canned

8

4-inch crusty ciabatta rolls

we used the square artisan sandwich rolls from Costco

Hot sauce for serving

optional
Instructions
Preheat the oven to 350°F.

Place the shredded cheese, mayonnaise, green onions, and seasonings in a large mixing bowl. Stir together with a spatula until evenly combined.

Add the crab to the bowl and gently fold it in to the cheese mixture until combined.

Open each sandwich roll and place them cut side up on a large broiler-safe baking sheet. Divide the crab mixture evenly among each roll, using about ¼ - ⅓ cup per slice. The crab mixture will be extremely thick and hard to "spread". Just use the spatula to gently pat it into an even layer on the bread.

Bake for 15 minutes.

Turn your broiler on and continue to bake the crab melts for 2-3 more minutes. Watch very carefully, they will go from golden brown to burned quickly. The crab mixture should be hot and bubbly with a toasted-looking top.

Serve with your favorite hot sauce for a kick.
Recipe Notes
Make-ahead Tips:
You can pre-mix the crab mixture in the morning and store in an airtight container in the fridge but do not spread it on the bread until just before baking.
This will not freeze well.
Save This Recipe to Your Recipe Box
Find this delicious recipe next time you visit by saving it to your very own recipe box on my site. All your favorites stored in one easy place!