This easy pineapple teriyaki meatballs stir fry can be made in under 20 minutes and is a budget-friendly dinner for a busy weeknight.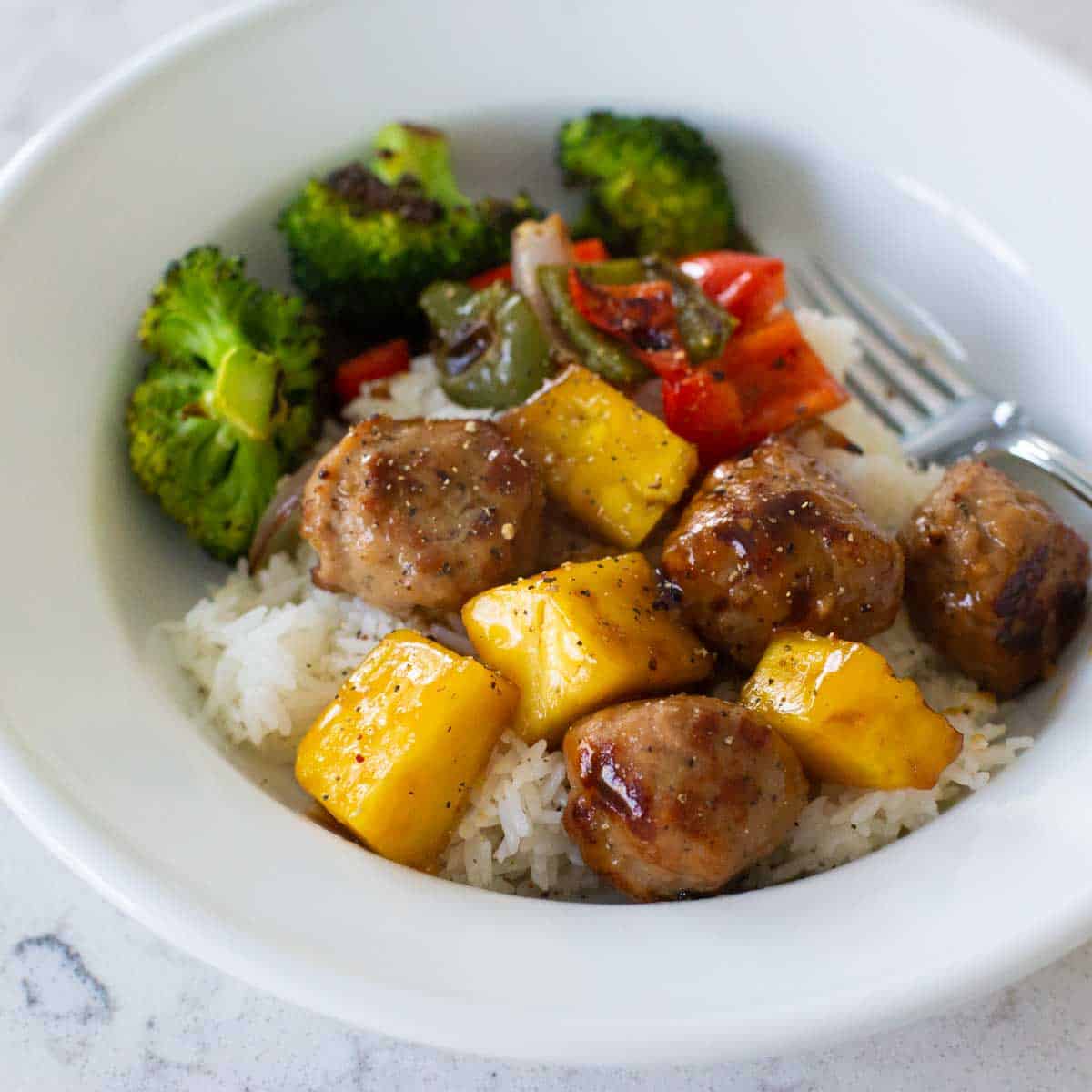 If you peek in my freezer, you will find a package of Aidells pineapple teriyaki meatballs at all times.
I buy them at Costco at least once a month and store them in the freezer for emergency busy-night dinners when I need something really easy to cook.
Mix and match whatever vegetables you've got in the fridge with either fresh or canned pineapple and a super-quick homemade thick teriyaki sauce with these browned pineapple meatballs for the fastest stir fry ever.
Serve it over jasmine rice or enjoy all on their own for a delicious dinner in minutes.
Jump to:
Why This is the Best Recipe
I make this dinner so frequently, my husband finally asked if it was up on the site to share with you.
We love this recipe so much because:
Budget-Friendly: You can use whatever ingredients are on sale and the chicken meatballs are very affordable at Costco.
Pantry Supplies: I almost always have everything I need on hand to make it without a special trip to the store.
Flexible: I use whatever fresh veggies we have on hand to make it, peppers and onions and broccoli are our favorites, but pea pods, asparagus, and zucchini would all work, too.
Easy: Once you've nailed the steps, you'll hardly even have to reference the original recipe. I make this dinner by heart.
SUPER Delicious: We love sweet and spicy foods. Add in the crunchy veggies and juicy pineapple, and the textures of the dish are fantastic.
Kid Friendly: You can serve the dish deconstructed with the veggies on the side or toss it all together. The teriyaki sauce is so yummy, it is likely to win the kids over.
Ingredients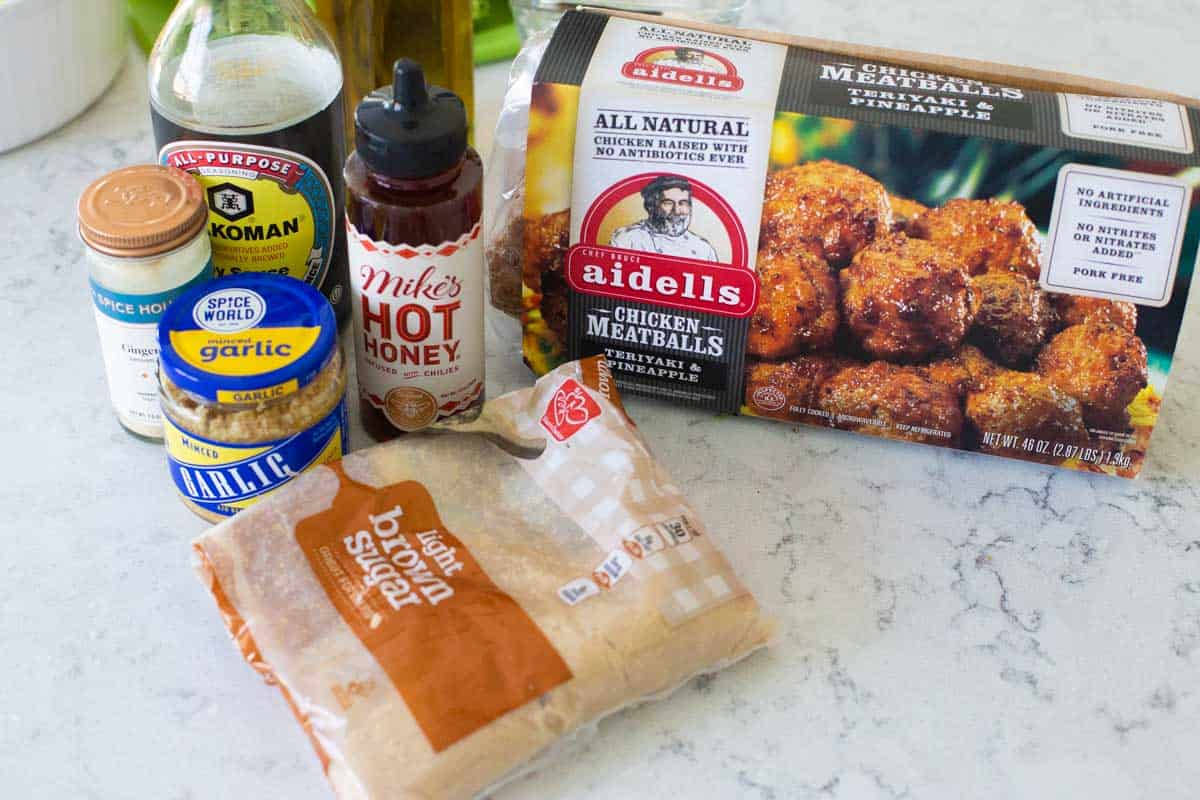 The items you should keep on hand to make this easy dinner include:
Teriyaki and Pineapple Chicken Meatballs: We use Aidells but I've seen similar products at the grocery store.
Canned Pineapple: I love using fresh pineapple when I have it, but canned pineapple is easy to keep in the pantry.
Assorted Fresh Vegetables: Bell peppers, onion, broccoli are our favorites but asparagus, pea pods, or zucchini would work, too.
Rice: Optional, for serving.
Thick Teriyaki Sauce: The best is my easy homemade recipe below, but you could also keep your favorite bottle from the store in the pantry.
Make the Thick Teriyaki Sauce
If you want to make my homemade thick teriyaki sauce, it only adds one step to the meal and it is done way before the meatballs are.
You'll need these items from your pantry:
Soy Sauce
Brown Sugar
Honey
Minced Garlic
Dried Ginger
Cornstarch
Get the full step-by-step instructions for making thick teriyaki sauce here.
Or if you prefer a sweet and sour sauce, you might enjoy trying the sauce from my sweet and sour meatballs in the Crockpot.
Brown the Chicken Meatballs
In a large skillet, heat cooking oil over medium-high heat.
Add the teriyaki pineapple meatballs to the skillet and brown them on all sides, about 3 - 4 minutes.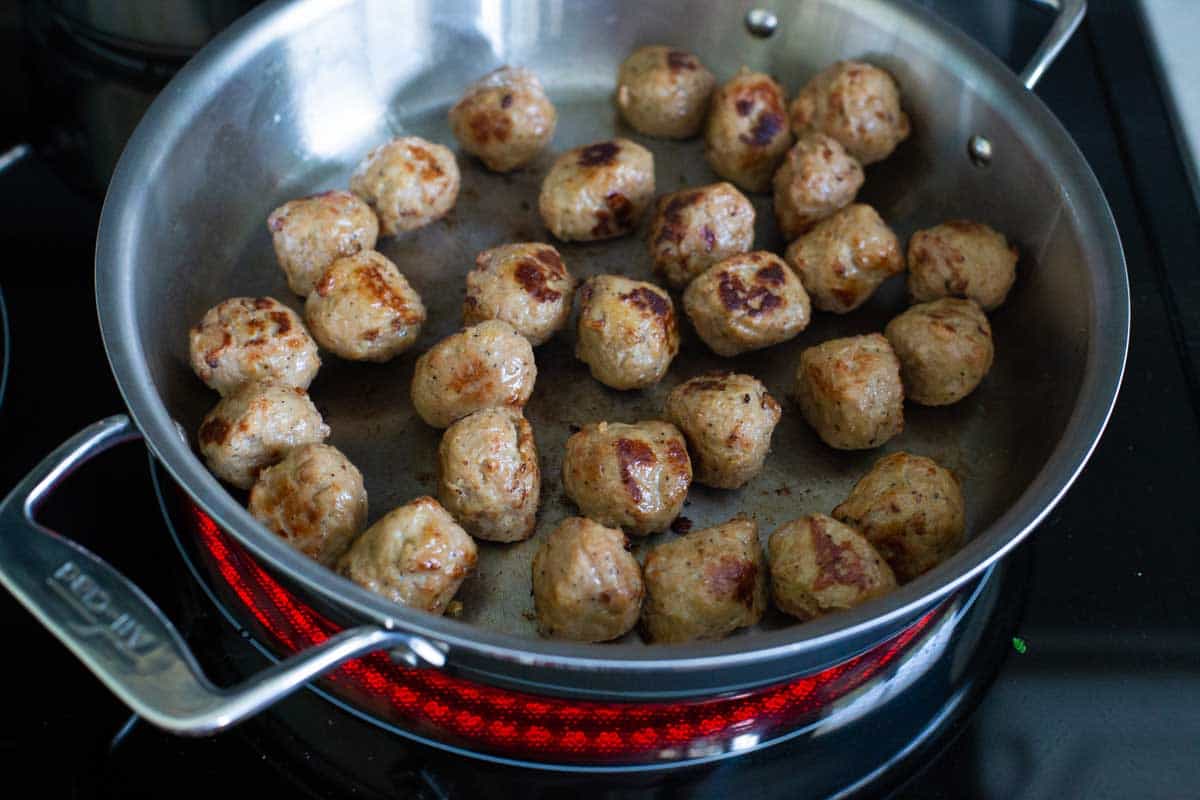 How to Use Frozen Meatballs
If your meatballs have been frozen, there is no need to thaw them before using.
I toss the frozen meatballs into the pan with ¼ cup of water to help them steam and thaw.
Once the water evaporates, the cooking oil will brown the meatballs.
Even if the centers aren't completely warmed through at this point, you can let the meatballs simmer at the end of the recipe.
Stir Fry the Pineapple
If using canned pineapple, drain the juices and add the strained pineapple to the skillet.
You can toss fresh pineapple cubes right in.
Stir the pineapple in and let it cook until warmed through.
Fresh pineapple may get a nice bit of char on it, but canned pineapple usually doesn't.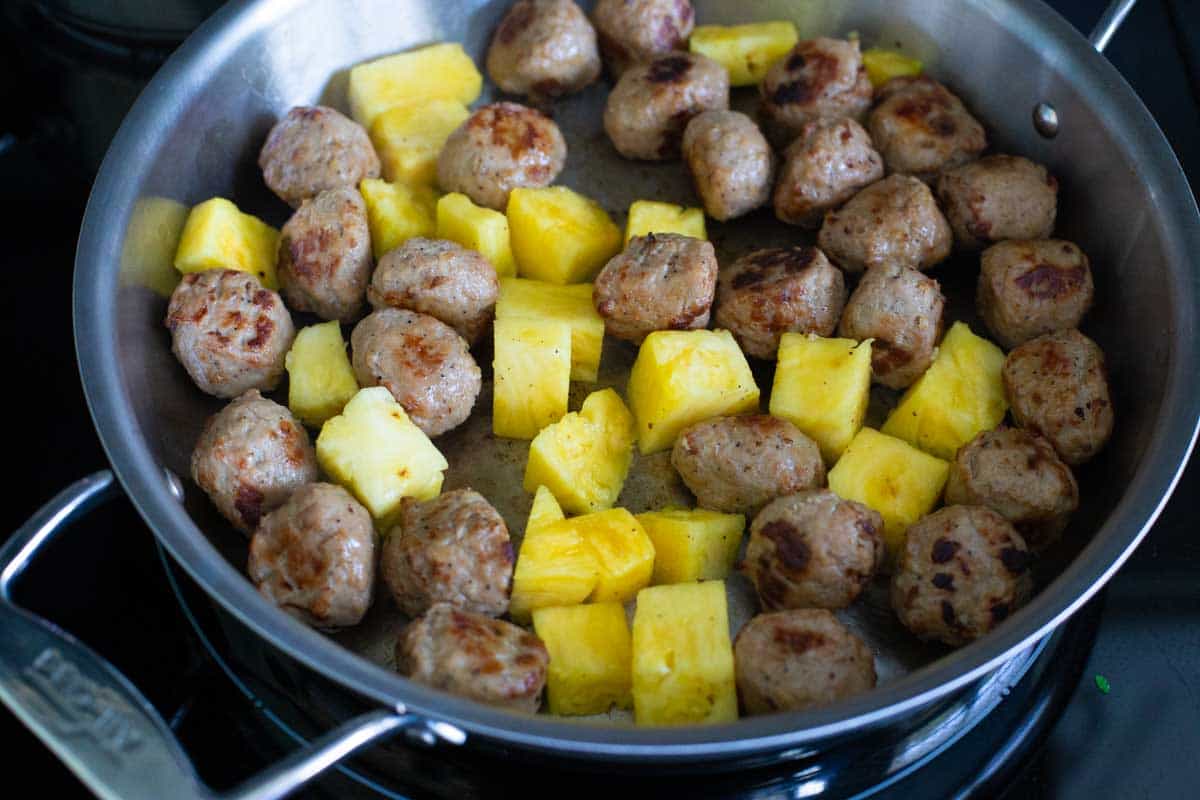 Roast the Veggies
We like crispy vegetables in our stir fry. When you add them to the skillet, they may steam and soften.
So to ensure crispy vegetables, I always roast them in the oven.
Preheat the oven to 425°F.
Chop your fresh vegetables and toss them with a drizzle of olive oil.
Spread them on a large baking sheet and cook for 12 - 15 minutes or until they have browned, crispy edges.
If you don't mind softened veggies, you can simply add them right to the skillet and cook them there to save yourself a pan to wash.
Assemble the Skillet
Add the roasted veggies and prepared teriyaki sauce to the skillet and stir it all together with the pineapples and meatballs.
Reduce the heat to medium low and let the skillet simmer until you're sure the meatballs are heated completely through.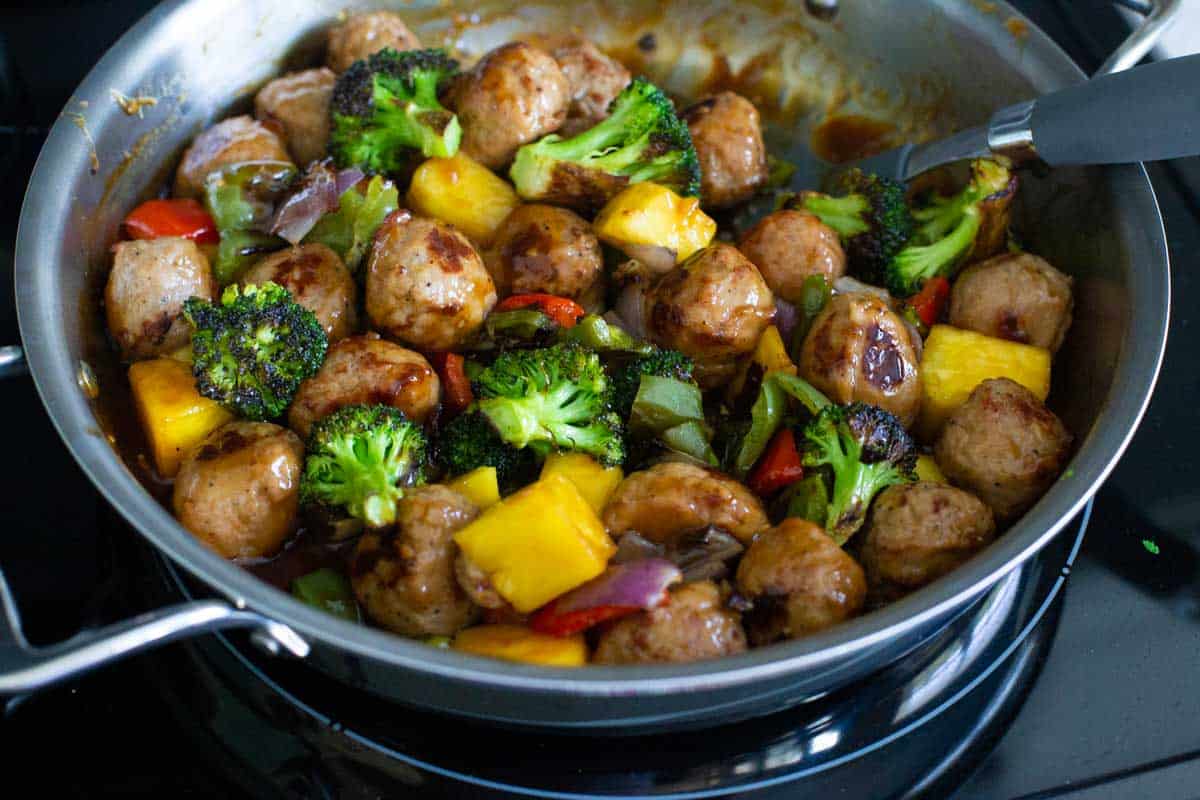 Serving Suggestions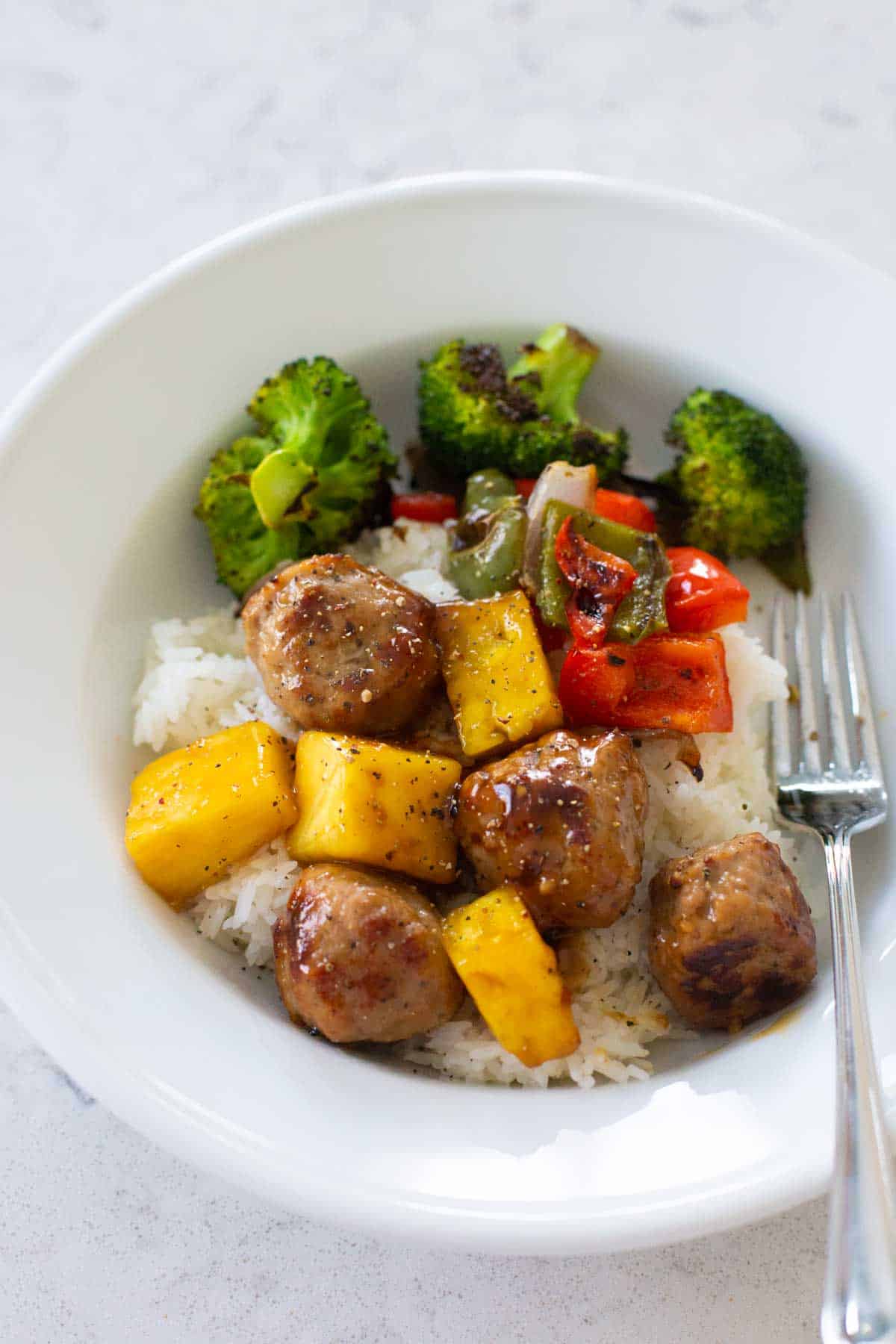 You can serve the dish as a complete stir fry meal or if you've got picky kids you could always serve each element separately on a plate.
The elements of this dish are also delicious as side dishes for other meals, so I have the roasted peppers and pineapples available as a separate recipe if you need!
More Easy Stir Fry Recipes
An easy stir fry makes a perfect busy night meal. Here are a few more of our favorites:
📖 Recipe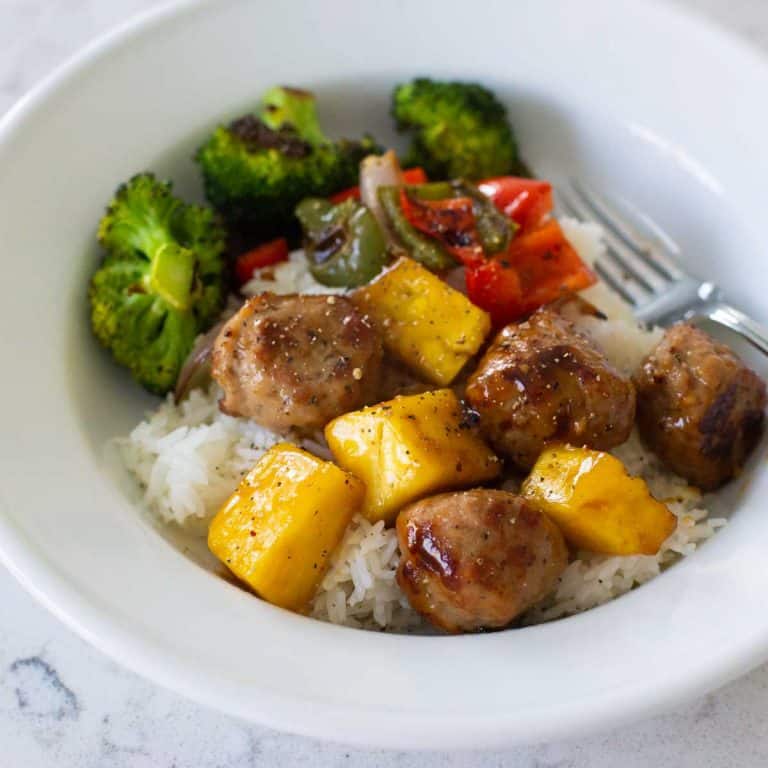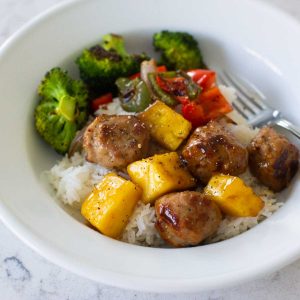 Pineapple Teriyaki Meatballs Stir Fry
This quick and easy dinner recipe uses Aidells pineapple and teriyaki chicken meatballs from Costco with a few simple ingredients to make a delicious family dinner in minutes.
Ingredients
1

tablespoon

of olive oil or canola oil

1

(46 oz) package of prepared pineapple teriyaki meatballs

½

fresh pineapple

cored and cubed OR 1 (20 oz) can of pineapple chunks, drained

2 - 3

cups

mixed roasted vegetables

see notes below
Instructions
In a large skillet over medium-high heat, add the cooking oil and let preheat for 1 minute.

Add the prepared pineapple teriyaki meatballs to the skillet to brown, stirring so that all sides cook evenly.

Add the pineapple chunks to the skillet and cook until heated through.

Stir in the prepared roasted vegetables and teriyaki sauce. Toss everything together until coated and heat until the sauce is bubbling.

Serve over rice.
Recipe Notes
How to Use Frozen Meatballs
If your pineapple teriyaki meatballs have been frozen, there is no need to thaw them before making this recipe.
Add the cooking oil to the skillet as directed but add ¼ cup of water to the pan. Then add the frozen meatballs to the skillet and cover with a lid. Cook for 5 minutes and then uncover.
The water will steam the meatballs and help them to thaw. Once the water evaporates, the meatballs will brown in the cooking oil. Proceed as directed.
Roasted Vegetables
You can use any mix of roasted vegetables your family loves but a chopped red bell pepper, onion, and broccoli are our favorites.
Preheat the oven to 425°F. Toss the chopped veggies in a drizzle of olive oil and spread in an single layer on a large baking sheet. Cook for 15 minutes or until the vegetables have crispy edges.
Save This Recipe to Your Recipe Box
Find this delicious recipe next time you visit by saving it to your very own recipe box on my site. All your favorites stored in one easy place!