When you need to abstain from meat every Friday in Lent, it's crucial to have the best fish recipes for kids ready to go! But, what if they don't like fish yet? Great tips for introducing seafood to kids, including what to eat with fish for a well-balanced meal.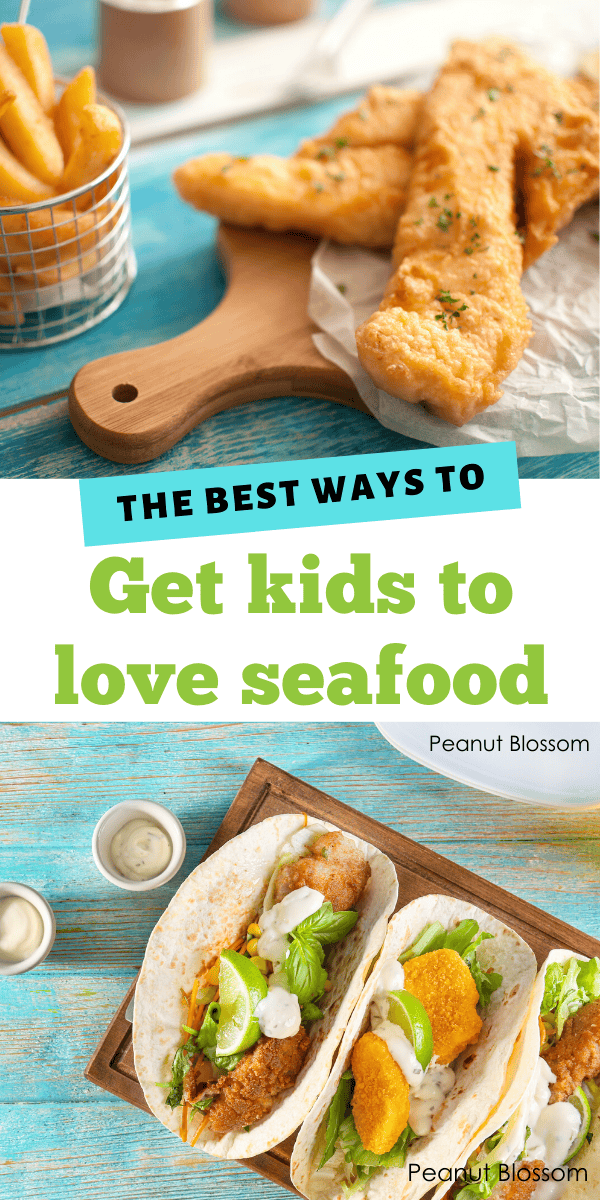 I have so much sympathy for picky eaters because, for years and years, I was one myself. Lent was so hard for me as a kid because I just couldn't stand Fish Fridays.
It took moving to Rhode Island as a newlywed and some positive peer pressure from my husband before I finally learned to love fish. He eased me into it just the right way so I've tried to share those same lessons with my own kids.
If you are trying to teach your own kids to appreciate seafood this Lenten season, you'll want the best fish recipes for kids you can get. But, you'll also need a few tricks for easing them into this new food.
Once you've got them hooked, your kids will be fans of these healthy fish dishes for life!

P.S. Don't miss the other dinner ideas for your family in my 30 meatless Lent recipes your kids will actually eat here.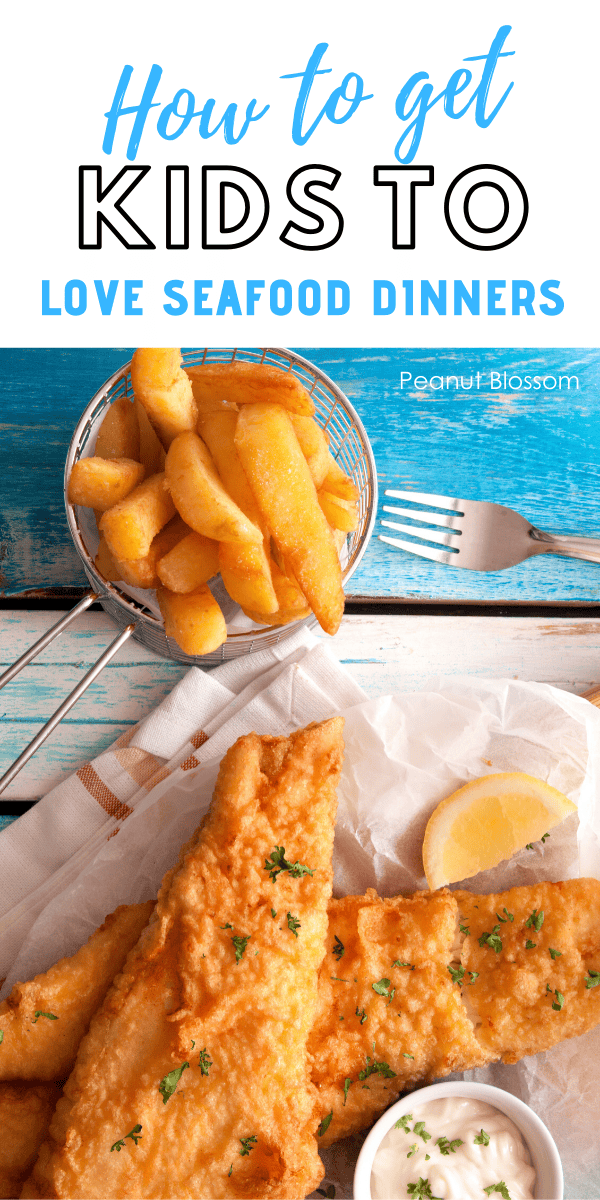 STEP 1: Consider the Texture
Since fish has such a mild flavor, most picky eaters decline fish because of the texture. The best way to introduce kids to seafood is to start with a delicious battered version of a white flaky fish like cod. 
The best news is that you can find totally delicious battered cod fillets ready to bake right from the freezer section at your grocery store. My girls also love battered tilapia. Either way, the delicate, white, flaky fish is usually the easiest place to start with kids.
When I told Little Pea I was trying to help other moms get their kids to eat fish, she said:
"Be sure to tell them to cut it up into little pieces and let their kids eat it with a pick!"
I laughed, because that's exactly how I served battered cod to them when we first started out. Both girls will gobble up the breaded filets whenever I serve them.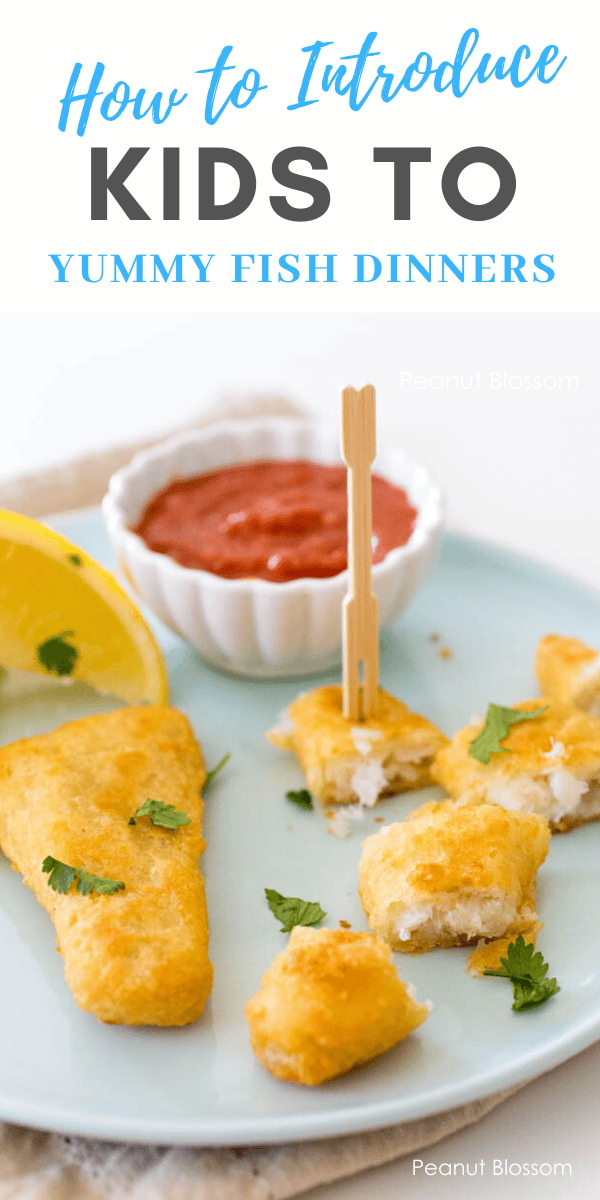 STEP 2: Add Flavor
Once kids are used to the flaky texture of white fish, the next step is to introduce them to a fish without the breaded coating.
You can find marinated fish in the frozen section of your grocery store, but making your own seasoned fish is so easy. Kids will likely be more willing to try it if it is prepared from fresh fish.
Some of the non-breaded fish recipes my kids have loved include:
STEP 3: Dunk It
By far the best trick for teaching kids to love seafood is a total classic -- a little dipping sauce goes a long way with fussy eaters.
This works the best for a breaded fish that has been cut up into bite-sized chunks or with a roasted shrimp cocktail platter.
Make it a game! Mix up a few different sauces and put them in cute little cups. Have your kids do a taste-test contest to see which one they like best.
Find a list of our favorite dipping sauces for shrimp and fish here.
STEP 4: Wrap It or Hide It
Sometimes kids just can't get past the food that is right in front of their face. They can SEE the fish and therefore will not TRY the fish.
In this instance, it is best to incorporate the seafood into an already loved dish. Here are some of my personal favorite fish recipes that hide the fish behind at texture that kids love:
Fish tacos: Bake a package of breaded fish sticks and tuck them inside your child's favorite tortilla (crunchy or soft shell) and top with their favorite taco toppings.
Shrimp scampi: My girls will eat almost anything if there is garlic butter and pasta involved.
Shrimp po'boy sandwiches: Spicy shrimp hiding inside a delicious dinner roll. This is great for hiding the shrimp but still providing the yummy taste.
Spicy jambalaya: Mixing shrimp with approved proteins like chicken and sausage and covering it with a tasty sauce to mask the fishy flavor is a great way to introduce kids to seafood. They can just get a bite or two in their serving to try it out and enjoy the other textures they love over a yummy bowl of rice.
STEP 5: Have Them Cook It Themselves
There are several kid-friendly recipes for seafood in The Ultimate Kids' Cookbook. I think it is always way more likely a child will be willing to taste something new when they helped to prepare it themselves.
I was sure to include:
Our family's favorite salmon recipe
A magic crunchy-coating that is great for topping any fish
A one-pan sheet pan recipe for roasted shrimp and veggies
And so many more delicious dinner ideas you both will love