When you need to abstain from meat every Friday in Lent, it's crucial to have the best fish recipes for kids ready to go! But, what if they don't like fish yet? Great tips for introducing seafood to kids, including what to eat with fish for a well balanced meal. Thanks to World Port Seafood for sponsoring this post.

I have so much sympathy for picky eaters because for years and years, I was one myself. Lent was so hard for me as a kid because I just couldn't stand Fish Fridays. It took moving to Rhode Island as a newlywed and some positive peer pressure from my husband before I finally learned to love fish. He eased me into it just the right way so I've tried to share those same lessons with my own kids.
If you are trying to teach your own kids to appreciate seafood this Lenten season, you'll want the best fish recipes for kids you can get. But, you'll also need a few tricks for easing them into this new food.
Once you've got them hooked, your kids will be fans of these healthy dishes for life!

BONUS: I have an exclusive deal for my readers that is the perfect way to get to know World Port Seafood, the provider of the delicious fish we used for this post. You'll get an incredible package of premium seafood for just $49.99 – which includes FREE shipping – and you'll get a $15 Reward Card to use on your next World Port Seafood order! Get the details on the Lenten Favorites sampler here. You'll have dinner covered for the rest of Lent with just one box! Each of the fish entrees mentioned take 25 minutes or less to bake. You can grab your own seafood sampler right here.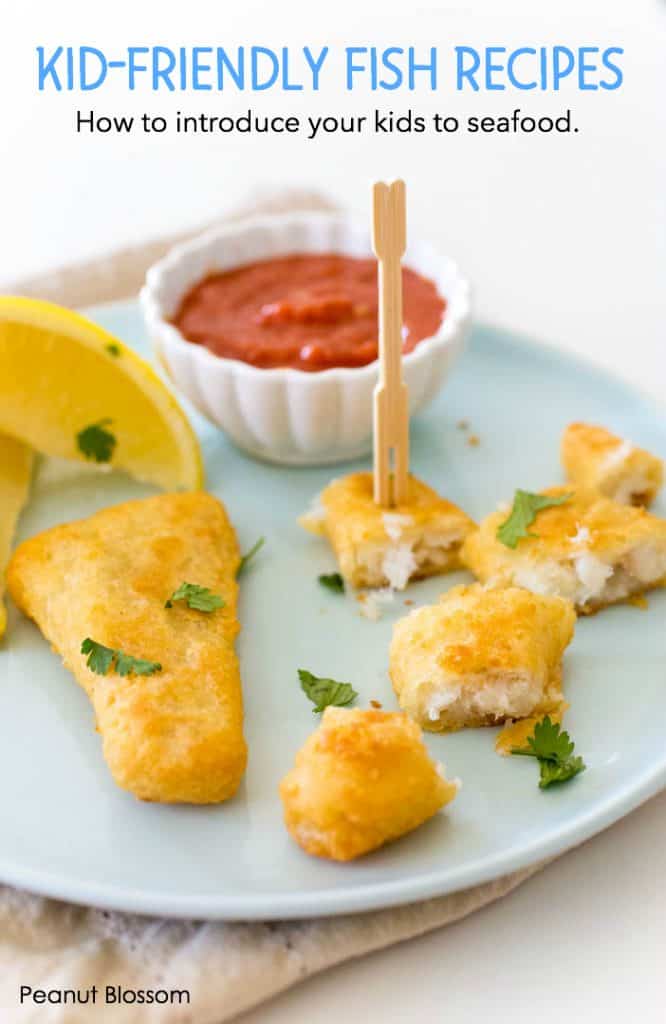 How to introduce your kids to fish: It's all about the texture!
Since fish has such a mild flavor, most picky eaters decline fish because of the texture. The best way to introduce fish to kids is to start with a delicious battered version of a white flaky fish like cod.
The best news is that you can find totally delicious battered cod fillets ready to bake right from the freezer. World Port Seafood sent me a seafood sampler box that included their pub-style cod that is ready to eat in under 20 minutes.
Their authentic fish-n-chips style cod pieces start with generous portions of sustainably wild-caught cod, harvested off the coast of Norway and Russia and frozen fresh after catch to preserve their wonderful taste and texture.
I baked up a few fillets to test them on my kids (who already LOVE fish). When I told Little Pea I was trying to help other moms introduce fish to their kids, she said:
"Be sure to tell them to cut it up into little pieces and let their kids eat it with a pick!"
I laughed, because that's exactly how I served battered cod to them when we first started out. Both girls gobbled up the World Port Seafood cod fillets, we all loved them.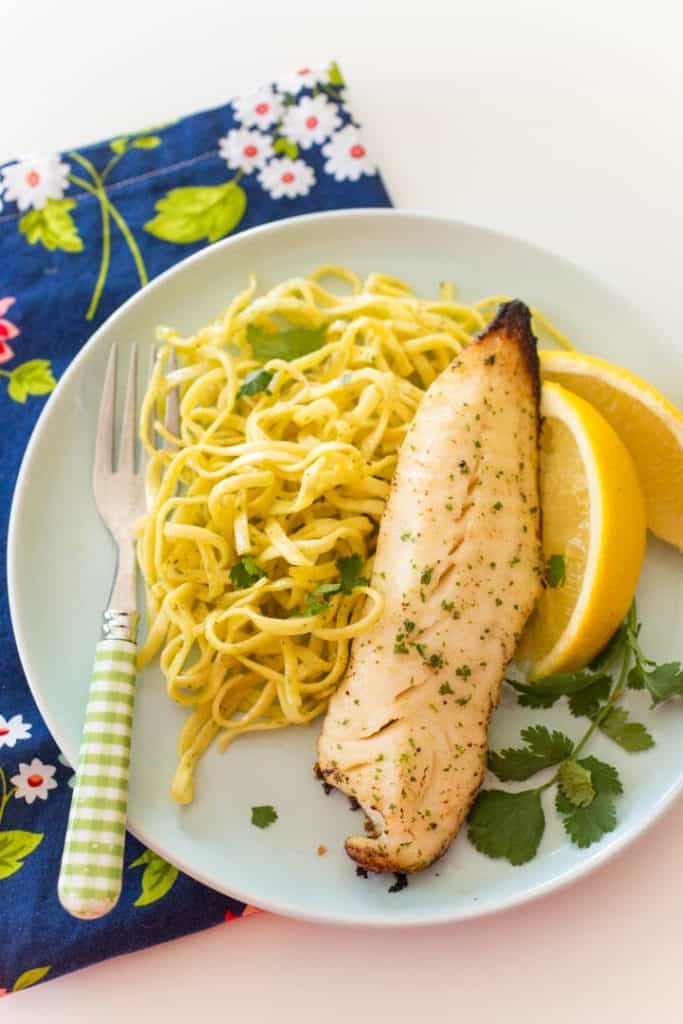 Flavor it:
Once kids are used to the flaky texture of white fish, the next step is to introduce them to a fish without the breaded coating. Our favorite is a light and flaky tilapia coated in seasonings like the fire-roasted lemon garlic tilapia from World Port Seafood.
The tilapia arrived in a resealable pouch which means I can just bake 1 or 2 fillets at a time as needed. Just a quick cook in the oven and dinner is ready in a pinch. The fire-roasted tilapia from World Port Seafood tastes like it came right off the grill despite being oven baked. I'm a sucker for the crispy edges.
When in doubt, dunk it:
By far the best trick for teaching kids to love seafood is a total classic — a little dipping sauce goes a long way with fussy eaters.
Moving from flaky fish to shellfish is a bigger leap for most kids. If shrimp are too tough or chewy, they can easily be turned off. I like to cut the shrimp up into small palatable bite-sized pieces and then let the kids dunk to their hearts' content.
The seafood sampler from World Port Seafood included a pouch of their insanely large wild-caught Argentinian red shrimp. I've never seen anything like them. I simply sautéed them in tablespoon of olive oil for 3 minutes on each side. Their web site compares the flavor to lobster and I can't disagree. They were amazing. I loved that the tails and shell were already removed, it makes them perfect for cutting into pieces for the kids.
While shrimp are a natural fit for sampling homemade sauces, you could use any of these 5 shrimp dipping sauces on any fish you like.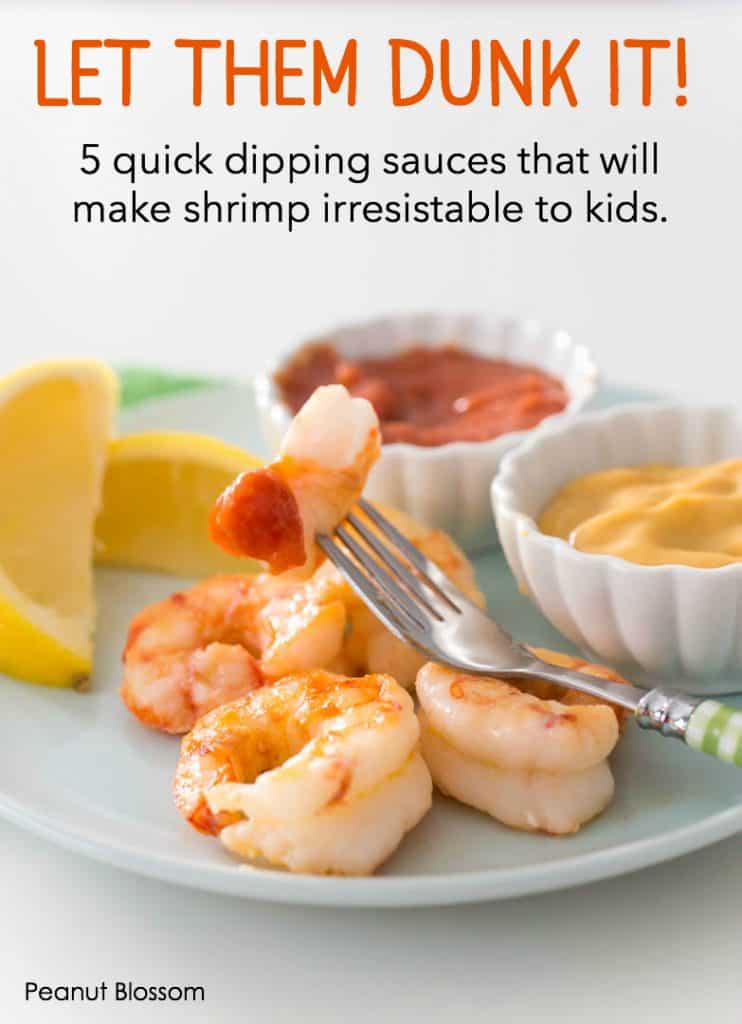 5 spins on shrimp dipping sauce:
Homemade Remoulade: My all-time favorite seafood dip is a spicy remoulade sauce. I've tried store-bought prepared ones and they never hold up to the deliciousness of a homemade version. I chose this particular recipe because it has ingredients you most likely have in your pantry right now.
Funked up ketchup: We all know that straight-up ketchup is likely to be most kids' preferred dipping sauce but I love this slight twist of a ketchup-mustard version.
Jar of cocktail sauce: I always have a spicy jar of cocktail sauce in our fridge, but you can find mild prepared ones at the store that are wonderful.
Garlic butter dipping sauce: Fish is a conduit for butter. Period. Can you think of anything yummier than a garlic butter shrimp dipping sauce??
Copycat Chick Fil A sauce: And for the kids who are still totally skeptical about this fish business, serving up a dip they are more familiar with from their favorite fast food chain definitely can't hurt. Though it was made for chicken, Chick Fil A sauce is a surprisingly awesome dip for fish. You can get the copycat recipe to make at home here.
What to eat with fish for a kid-friendly dinner:
There are so many simple seafood side dishes that are just perfect for eating with fish. When you're wondering what to have with fish, you can look right inside your freezer or pantry! You don't need anything complicated and your kids will likely appreciate some "safe" familiar favorites.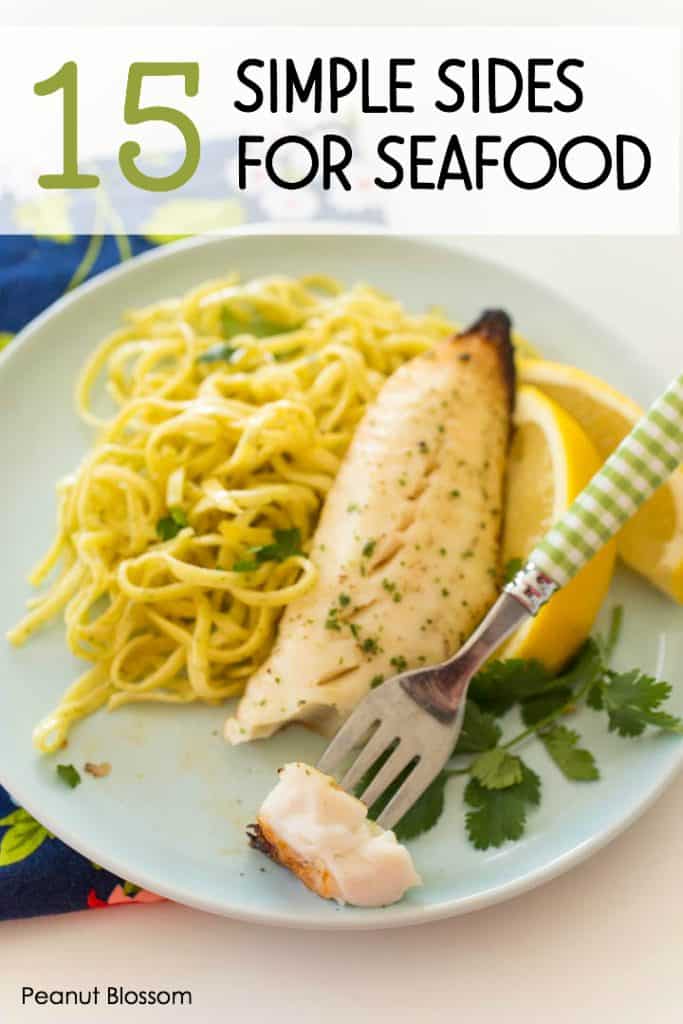 15 simple pantry side dishes for fish:
Keep these easy peasy side dishes on hand along with a sampler from World Port Seafood in your freezer and you'll have warm dinner on the table on even the busiest weeknight.
frozen potato puffs/ tater tots
frozen sweet potato French fries
frozen French fries
frozen or refrigerated dinner rolls
frozen garlic bread
microwaved broccoli pouches
microwaved peas
microwaved corn
boxed rice pilaf
angel hair pasta with lemon garlic butter
boxed garlic & herb cous cous
salad bag with extra carrots
roasted asparagus
fresh pineapple