This slowcooker jambalaya recipe features hearty chunks of savory chicken, spicy sausage, and tender shrimp with oodles of delicious vegetables for a thick and satisfying stew your family will love. Stir in cooked rice to help the meal go even farther!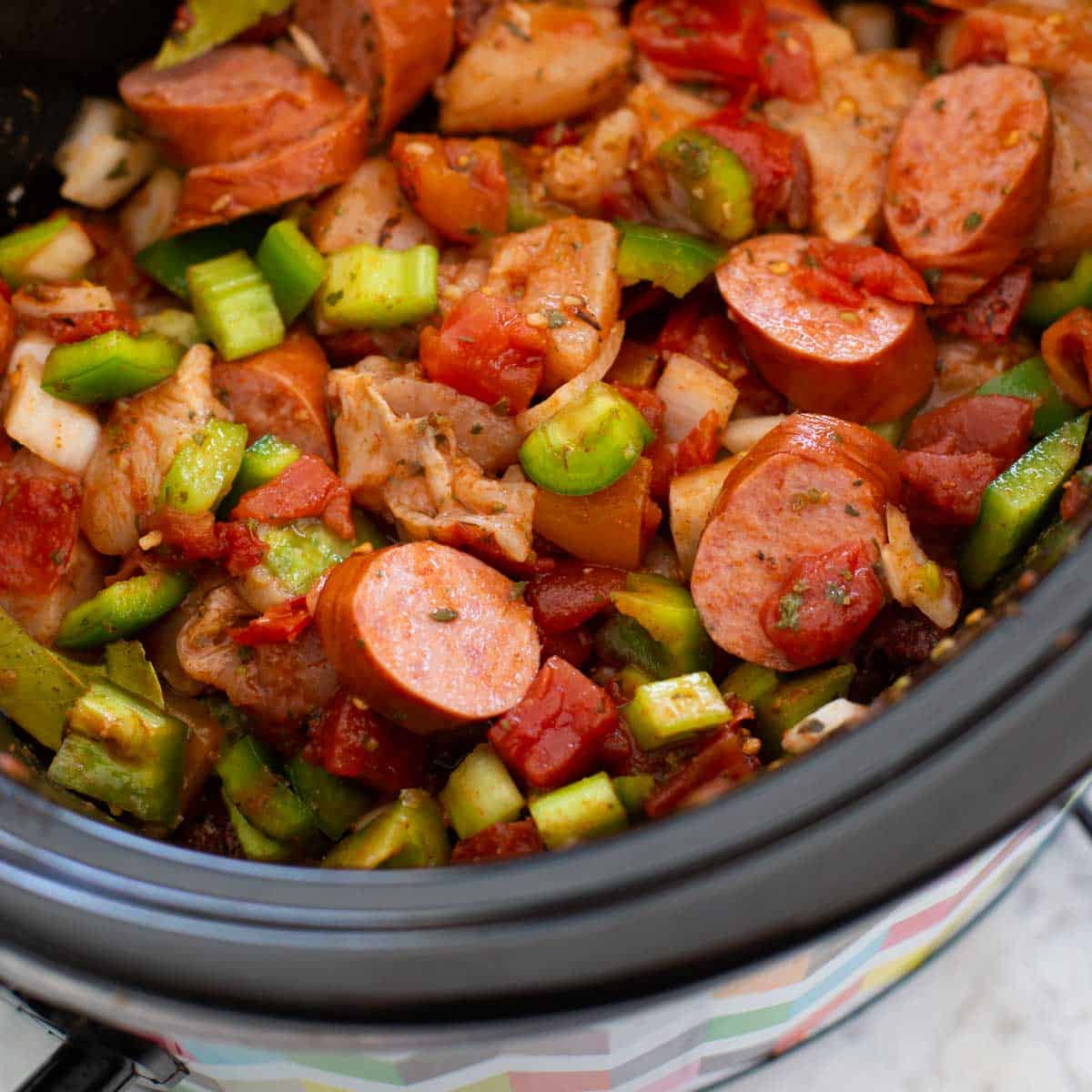 The best slowcooker recipes feature plenty of flavor, tender veggies, and perfectly cooked proteins.
This easy slowcooker jambalaya with chicken, sausage, and shrimp fits that description perfectly.
Want to stretch the meal a little farther for your family? Serve it with cooked rice!
You can scoop some cooked rice into the serving bowl and ladle the jambalaya over the top or stir the rice right into the stew for a thick and comforting meal.
Jump to:
Why This is the Best Recipe
This delicious slowcooker jambalaya recipe is the best because:
Easy Prep: You can have everything popped into the slowcooker in just minutes.
Not Too Spicy: Don't let the ingredients fool you, this chicken jambalaya has a well seasoned sauce and is kid-friendly. If you want it spicier, you can always adjust the seasonings for your family.
Light and Healthy: Compared to jambalaya with chorizo sausage, my version uses a lighter turkey kielbasa sausage to keep things light.
Freezer-Friendly: You can freeze the leftovers in smaller containers for easy lunches or dinners later.
Ingredients & Substitutions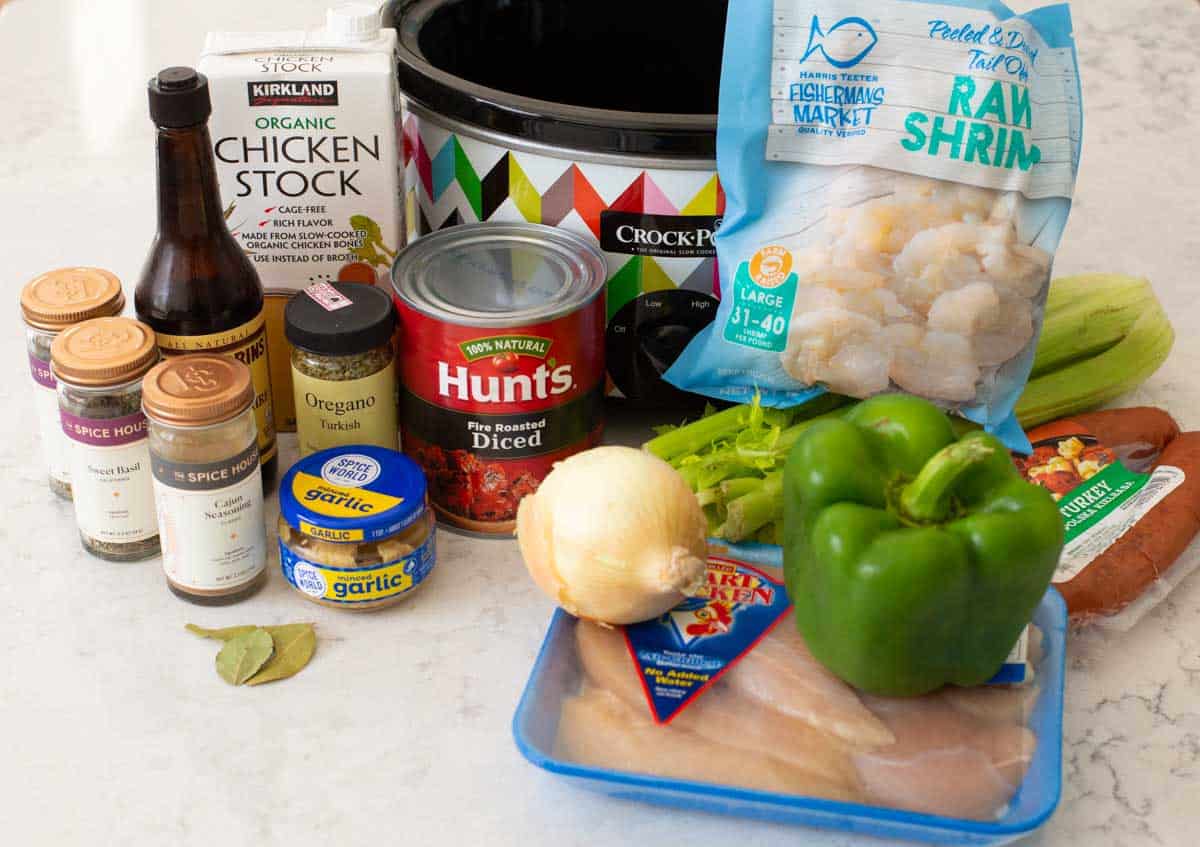 This easy recipe starts with such a simple list of ingredients.
The list might look long but most of what you need is probably in your kitchen pantry right now!
Fresh Ingredients:
Chicken: I use chicken tenderloins because they are so easy to cut but boneless, skinless chicken breasts would also work well.
Smoked Sausage: I use a light turkey kielbasa sausage but you could substitute a regular beef kielbasa, andouille sausage links, or chorizo if you love things extra spicy.
Shrimp: Whether you use fresh or frozen shrimp, be sure they are peeled and deveined with the tails removed. This makes the dish much easier to eat.
Celery
Green Bell Pepper
Onion
Pantry Ingredients:
Canned Tomatoes: I use fire-roasted tomatoes for extra kick but if your family likes things mild, be sure to use just regular tomatoes.
Minced Garlic
Worcestershire Sauce
Cajun Seasoning blend: I use this for so many recipes in my kitchen. It's not too spicy at all, just a very flavorful blend that works great for chicken and shrimp.
Sugar
Dried Oregano
Dried Basil
Dried Parsley
Dried Thyme
Dried Bay Leaves
Salt & Pepper
How to Make Chicken Jambalaya
When cooking with a slowcooker, you often need to decide whether to cook the recipe faster on HIGH or slower on LOW.
When I make a slowcooker chicken recipe, I generally prefer to cook it on HIGH because the texture of the chicken remains more firm when cooked just a little bit faster.
Choose your cook time first:
HIGH: 2 - 3 hours
LOW: 7 - 8 hours
NOTE: The shrimp will be added at the very end of the cooking time, so plan a 10-minute waiting period before you can serve the final dish.
Add the Tomatoes and Spices
The first step to this easy slowcooker jambalaya is to add the entire can of diced tomatoes with their juices to the Crockpot.
Then add all the dried seasonings and minced garlic and stir them in to the tomato juices.
To avoid breaking the leaves up while you stir the ingredients, don't add the bay leaves until the very end.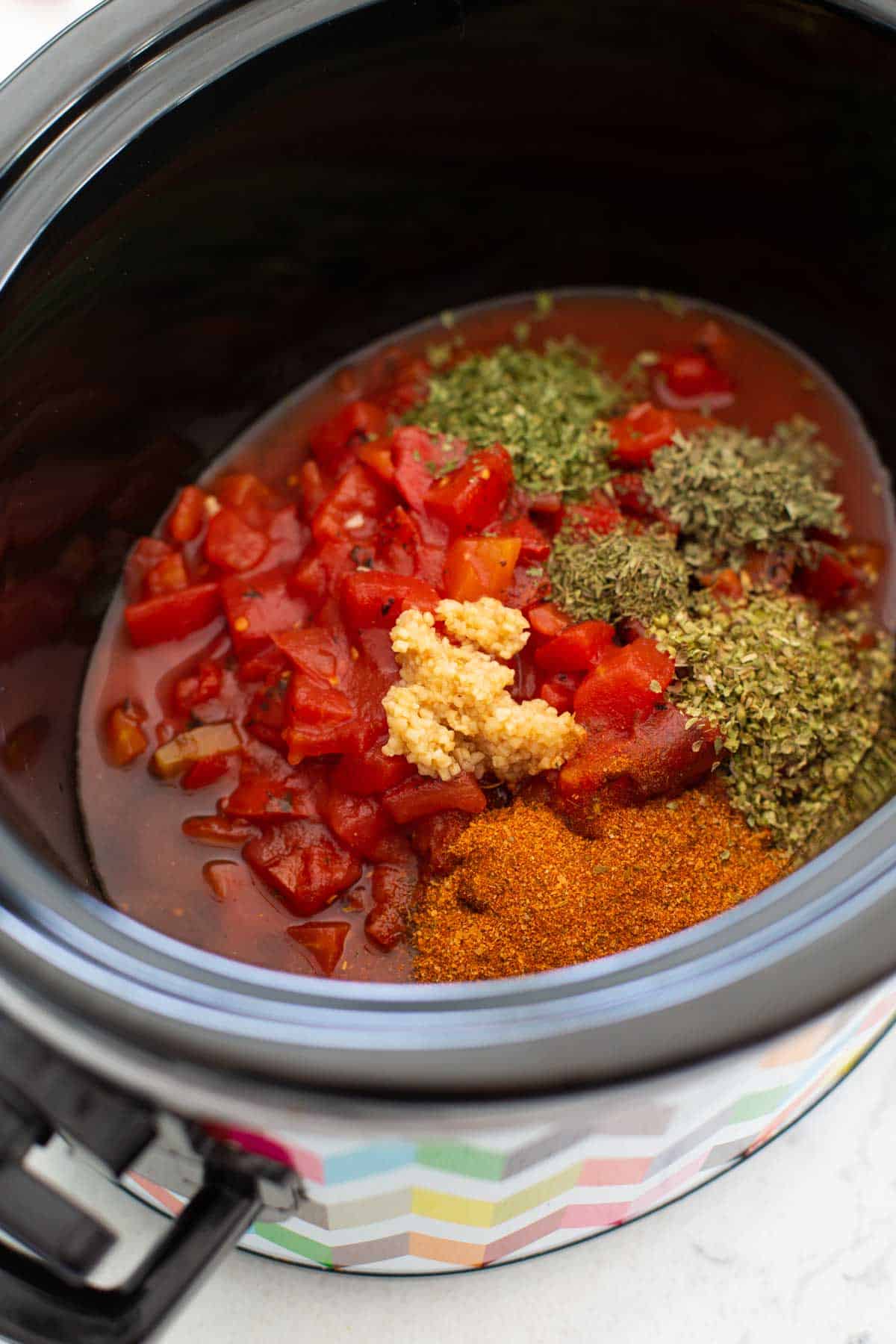 Stir in the Chopped Vegetables
Next, add the diced onion and celery to the slowcooker and stir them into the tomato mixture.
The vegetables will cook and add moisture to the dish but they will remain mostly firm in your final meal.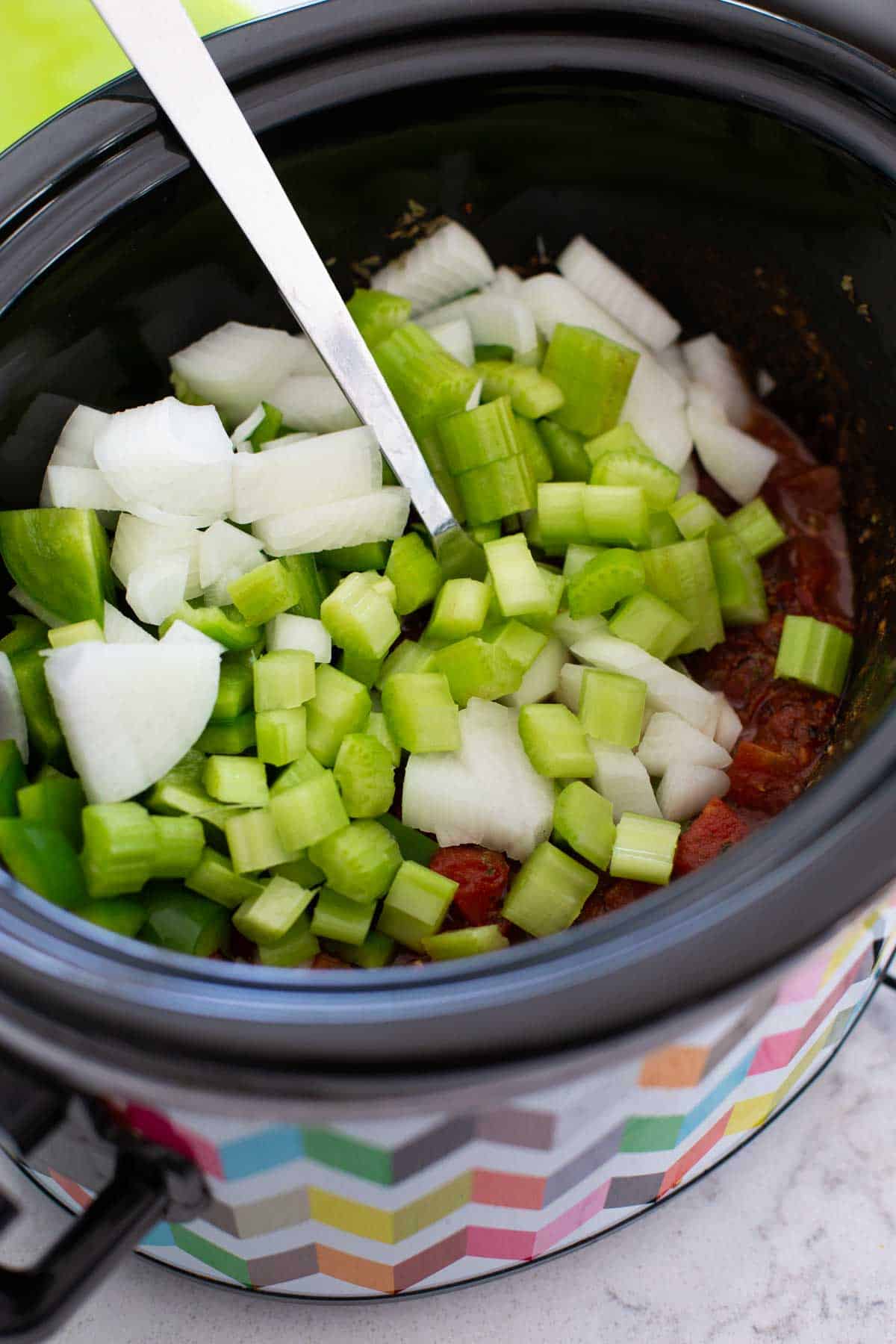 If you prefer a softer celery, you may wish to saute the onion and celery in 1 tablespoon of olive oil over medium-high heat. Scrape all the juices from the pan into the slowcooker bowl along with the softened veggies.
Add the Chicken and Sausage First
Chop the chicken and sausage into large bite-sized pieces and stir them into the slowcooker bowl so that they are completely coated in seasonings.
The chicken and sausage need a much longer time to cook than the shrimp so these are the only two proteins to add to the jambalaya at this point.
Now that everything is stirred together, don't forget to add the bay leaves. You can nestle them into the chicken.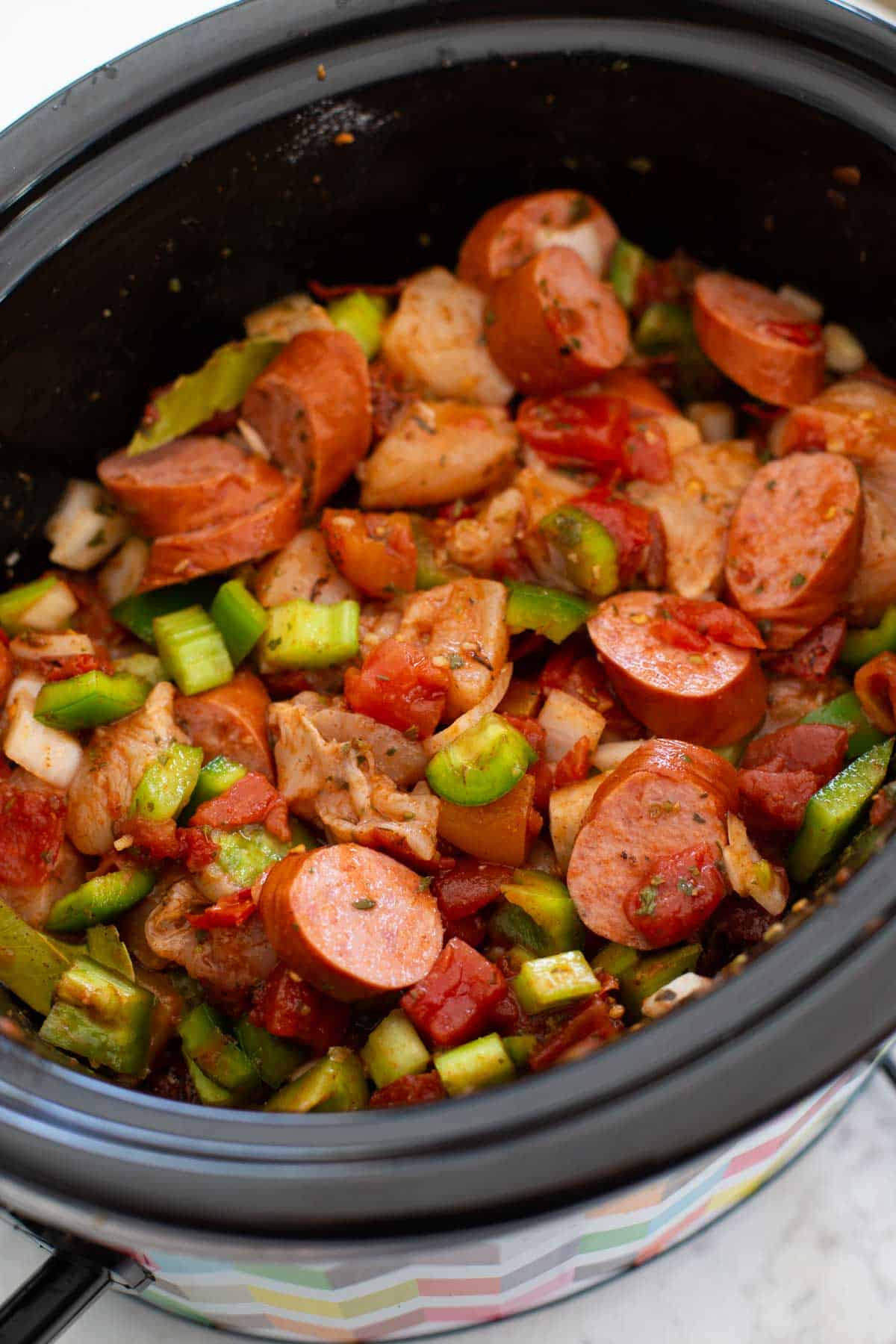 Cooking Times
Now, depending on how long you want the dish to cook, set your Crockpot to:
HIGH: 2 - 3 hours
LOW: 7 - 8 hours
When to Add the Shrimp
10 minutes before the end of the cooking time, stir the chicken jambalaya and check the texture of the chicken.
At this point, add the raw shrimp and stir it into the tomato broth. Cover the slowcooker and cook for 10 minutes or until the shrimp are firm and pink.
If you are using frozen shrimp, just be sure to defrost it before you add it to the Crockpot or the extra water from the icy coating will water down your jambalaya.
You can read my tips for the best way to thaw frozen shrimp here.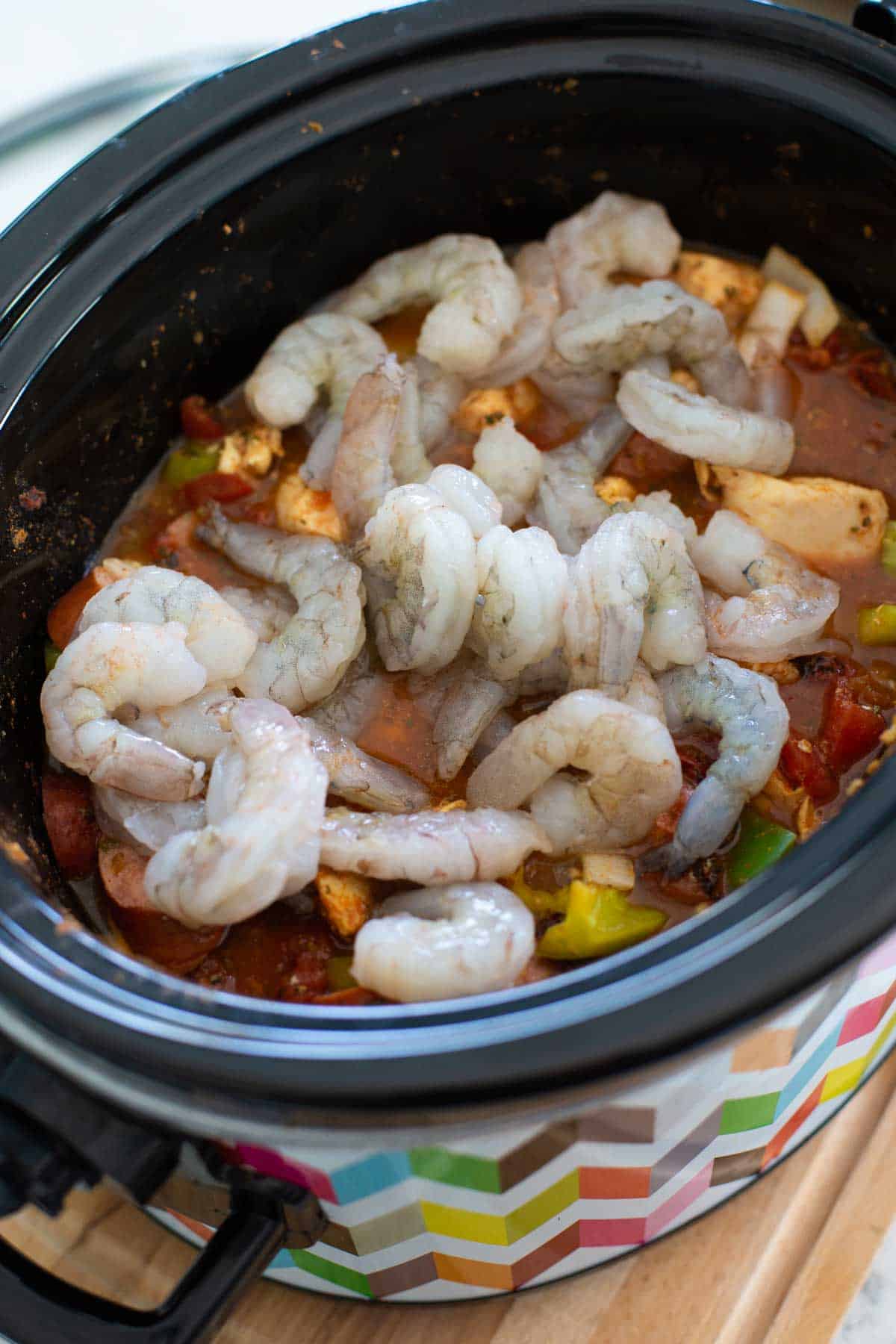 Jambalaya with Rice
This is a very thick and hearty jambalaya recipe with lots of large chunks of meat and vegetables in a savory tomato sauce.
A great way to thicken the dish for hungry families is to serve it over cooked white rice.
Sometimes I like to add the rice right into the crockpot and stir it in. This makes it easy for my family to reheat leftovers later.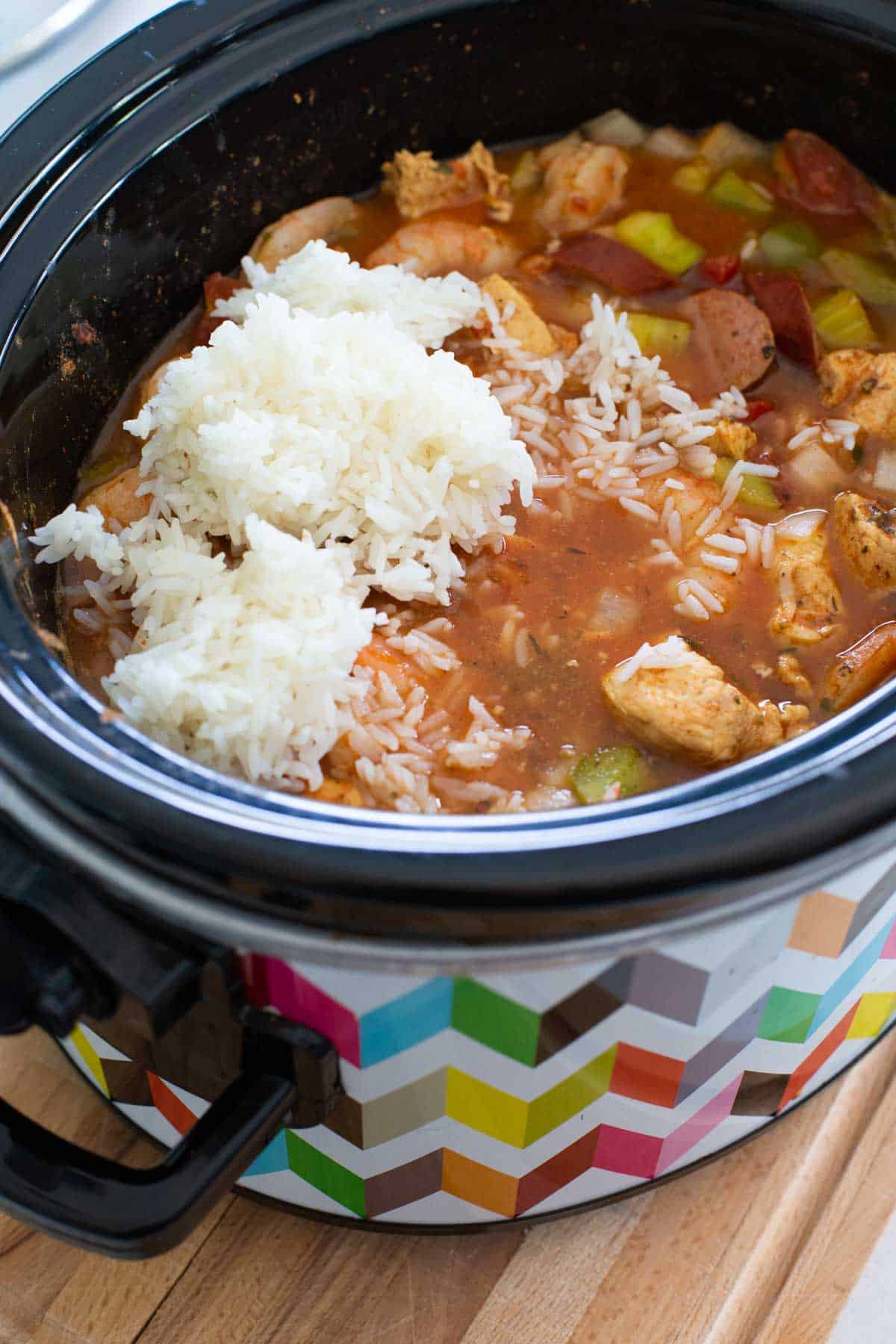 Make Ahead Tips and Storage Info
The finished slowcooker jambalaya will keep in the fridge for 2 days.
If you want it to last longer, I would recommend omitting the shrimp since chicken and sausage have a longer storage life.
You can freeze leftovers for later, just be aware that if you used frozen shrimp in the recipe and then you freeze them again, they lose a little texture when you reheat the dish.
If you added rice to the meal, you can either store the leftover rice separately from the jambalaya or stir it in.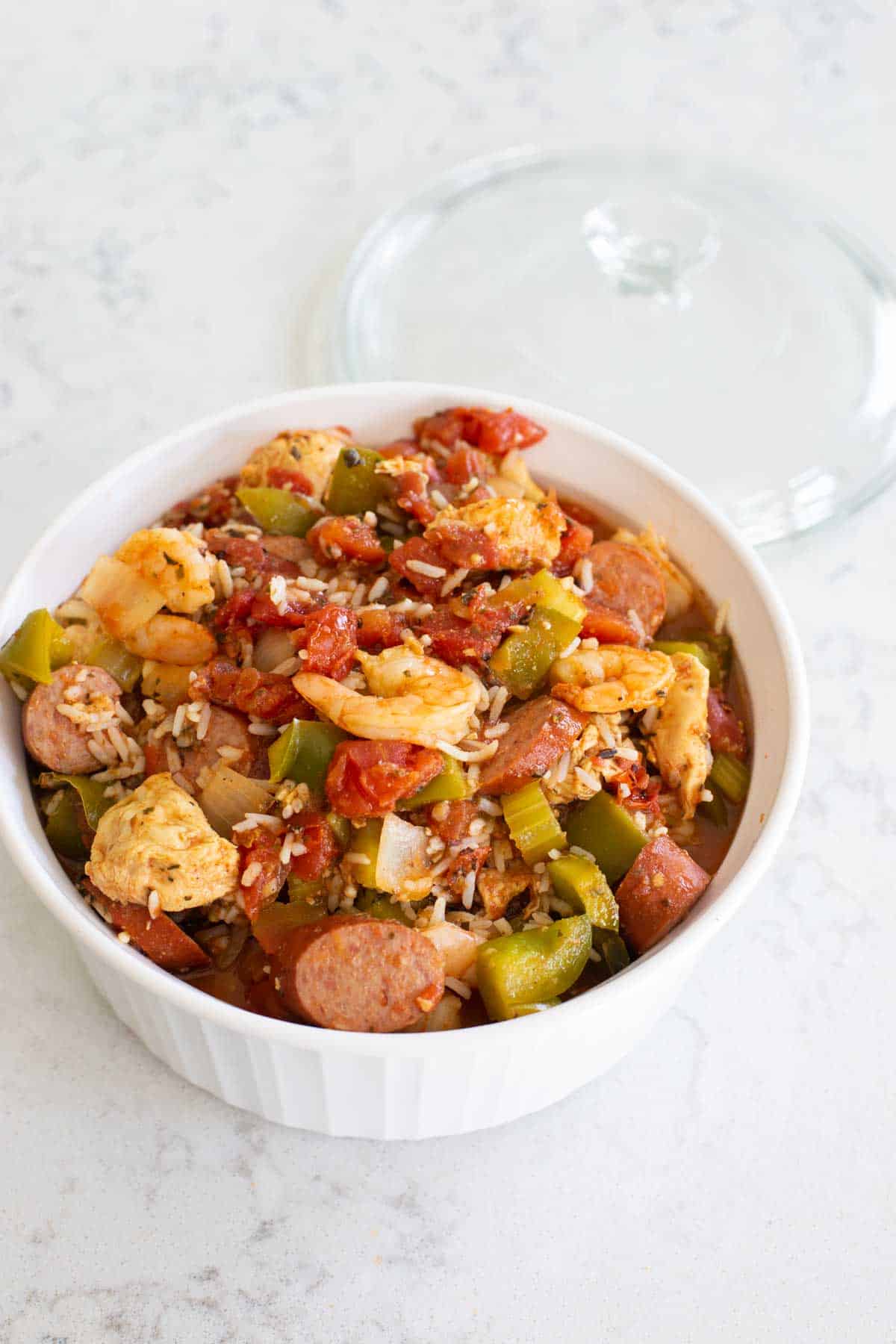 Favorite Meal Train Recipe
This comforting jambalaya recipe is a great meal train recipe.
The hearty dish feeds the family and can be frozen for later use if they have too much food on hand right now. It's also an excellent alternative to pasta, which is the most common dish brought to families.
Deliver the meal with the cooked rice stored separately so they can mix it in as desired.
Don't miss my list of 30 meal train recipes for other ideas if you're feeding a friend in need.
📖 Recipe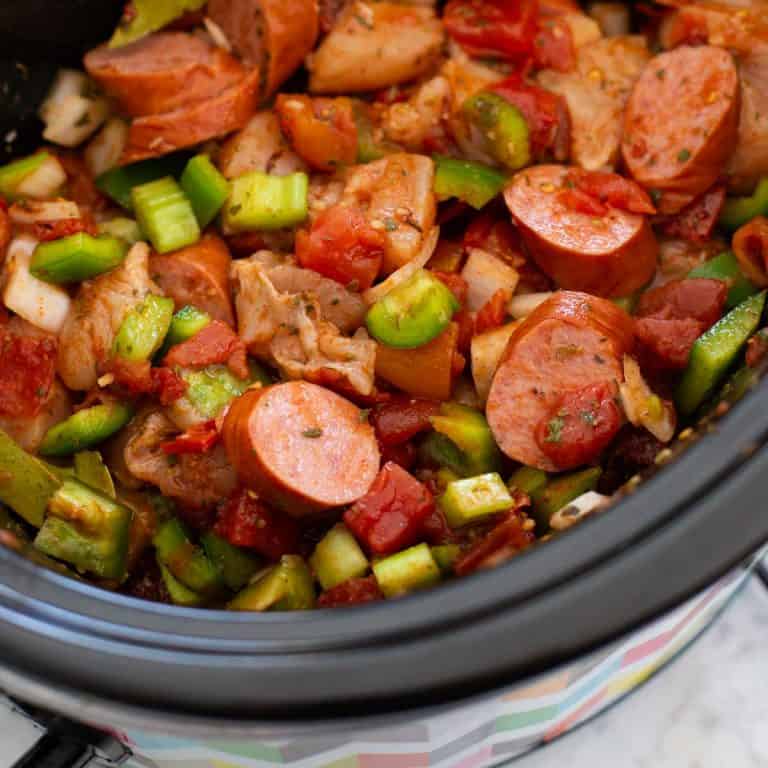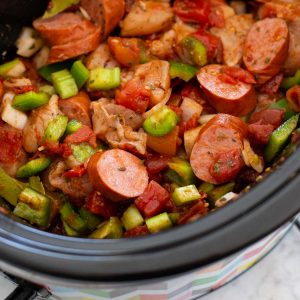 Slowcooker Jambalaya
This hearty chicken jambalaya features spicy sausage and tender shrimp and plenty of savory vegetables. To stretch the meal even further, stir in cooked rice for a comforting stew your family will love!
Ingredients
1

(32 oz can) diced fire-roasted tomatoes

3

teaspoons

minced garlic

2

teaspoons

Worcestershire sauce

2

tablespoons

Cajun seasoning

2

teaspoons

sugar

2

teaspoons

oregano

1

teaspoon

dried basil

1

teaspoon

dried parsley

½

teaspoon

dried thyme

2

bay leaves

1

onion

chopped

1

green bell pepper

chopped

2

celery ribs

diced

14

oz

smoked sausage

sliced

1

pound

chicken tenderloins or boneless

skinless chicken breasts, cut into bite-sized pieces

1

pound

raw shrimp

peeled and deveined, tails removed (if frozen, thawed before using)
Instructions
Add the can of tomatoes and their juices to the bowl of a slowcooker. Add the garlic, Worcestershire sauce, sugar, and all the dried seasonings to the bowl and stir them together.

Chop the onion, green pepper and celery and stir them in.

Slice the sausage into ¼-inch thick slices on an angle and chop the chicken into bite sized pieces. Add them to the slowcooker and stir them in to fully coat in seasonings.

Cover the slowcooker and cook on HIGH for 2 - 3 hours or on LOW for 7 to 8 hours. The vegetables should be tender and the chicken should be fully cooked.

Stir the thawed shrimp into the slowcooker and cover the pot. Let the shrimp cook for 10 minutes or until pink and fully cooked.

Remove the bay leaves and serve the stew over a bed of white rice.
Recipe Notes
Serving Suggestions
This is a delicious dish served over white rice or pasta but you could also eat it as a hearty stew.
Save This Recipe to Your Recipe Box
Find this delicious recipe next time you visit by saving it to your very own recipe box on my site. All your favorites stored in one easy place!