This sweet peach freezer jam is made with fresh peaches but doesn't require difficult canning skills. Easy jam for beginners.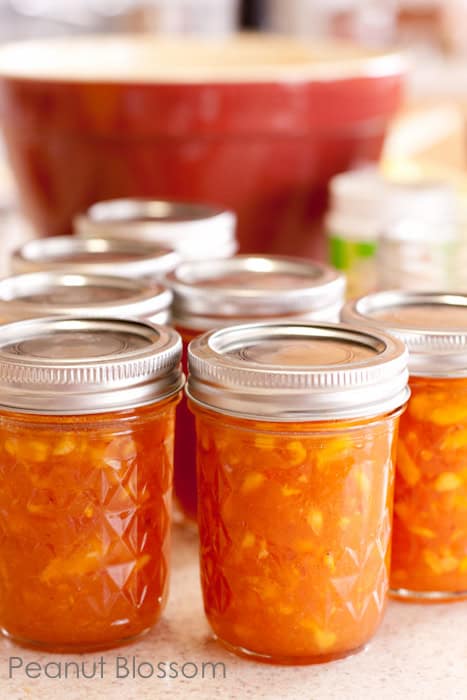 I stumbled across a recipe for peach vanilla bean jam in the early part of the summer. I bookmarked it immediately and have been dreaming about making it all summer long! Once I knew we were moving to North Carolina I got even more excited about being able to try out this recipe with real-deal southern peaches. It is one of the things I was most looking forward to in our new home.
We arrived on Aug. 20 and peaches were in full force at the fruit markets here. But I know the fruit season is fleeting and I had no idea how long of a window I had to try this recipe out. So while our house was filled to the brim with boxes, I found a morning and forced myself to dig out the jelly jars and give this a whirl.
It was soooooo worth it.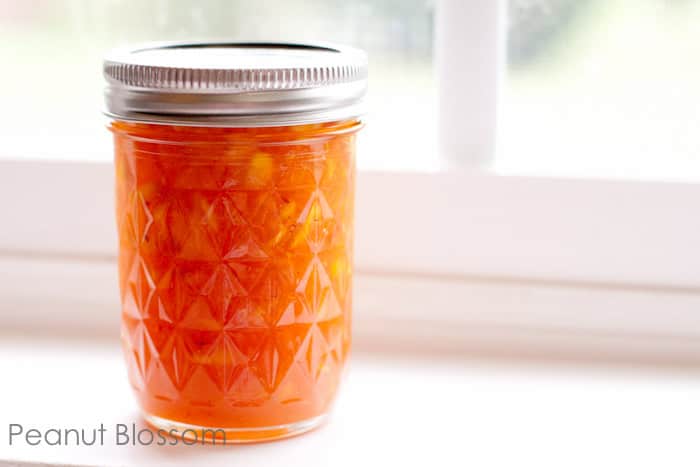 I haven't tried traditional canning yet and that was one thing just "too much" in the middle of our move. Since I'm already familiar with freezer jams, it made this far less daunting to experiment.
While this makes a very yummy toast topper, I highly recommend slathering it all over homemade biscuits. DANG they know how to make biscuits down here! I've had to forcibly avoid eating too many of them but they are just bakery heaven.
_________________________________________________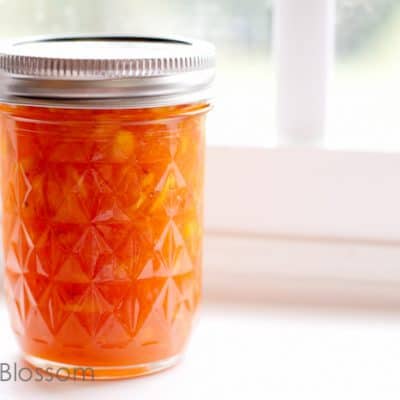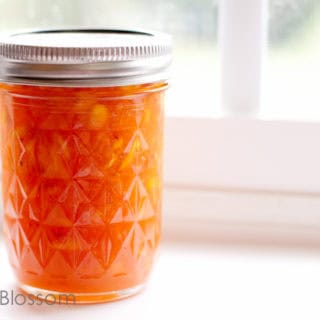 Peach Vanilla Bean Freezer Jam
Peach freezer jam is an easy way to preserve the most delicious fruit of summer. Mixed with vanilla beans, this simple fruit jam is delicious on biscuits or toast.
Ingredients
3 pounds of fresh peaches, peeled and cut into large chunks
3 ½ cups of sugar
juice of 1 lemon
1 vanilla bean
Instant pectin (I used Ball brand "RealFruit Pectin" for No-Cook Freezer Jam. It comes in a green container.)
Instructions
Peel the peaches, cut into large pieces and add to a large mixing bowl. Use a potato masher to crush the fruit. Whatever chunks of fruit you see are what will appear in your jam. If you like it chunky, just mash a little; if you want it smooth, go more heavy-handed with the masher.
Add the sugar and lemon juice to the bowl of peaches, stir to combine, and let sit for 10 minutes. Transfer the peaches mixture to a saucepan. Slice the vanilla bean and scrape the seeds into the peaches. Toss the bean pod in as well. You do not need to "cook" this mixture, you are just using some heat to draw out the vanilla flavoring from the bean. Simmer the mixture until it is warmed through and you can smell the vanilla.
Remove the vanilla pod and transfer the mixture back to your original mixing bowl. Allow to cool a bit (shouldn't take long since the mixture shouldn't be too hot.)
Working in about 2 separate batches: Measure out 2 ⅓ cups of peaches mixture and add ¼ cup of the pectin. Stir to combine for 3 minutes. Ladle into clean freezer jars, leaving ½ inch room at the top of the container and let stand for 30 minutes.
Repeat with the 2nd half of the peaches mixture. You don't want to do it all in one batch or the jam may not set (according to the container of pectin!) Each of your 2 batches should yield 4 80z jelly jars. 8 jars total when you're done.
At this point, you can freeze the jam or use it immediately. It's good in the freezer for 1 year or in the refrigerator for 3 weeks.