Cranberry cream cheese dip prepped in under 10 minutes is an elegant holiday appetizer that's surprisingly easy. This crowd pleaser will disappear quickly as friends taste the fresh cranberry sauce with cool cream cheese on peppery crackers.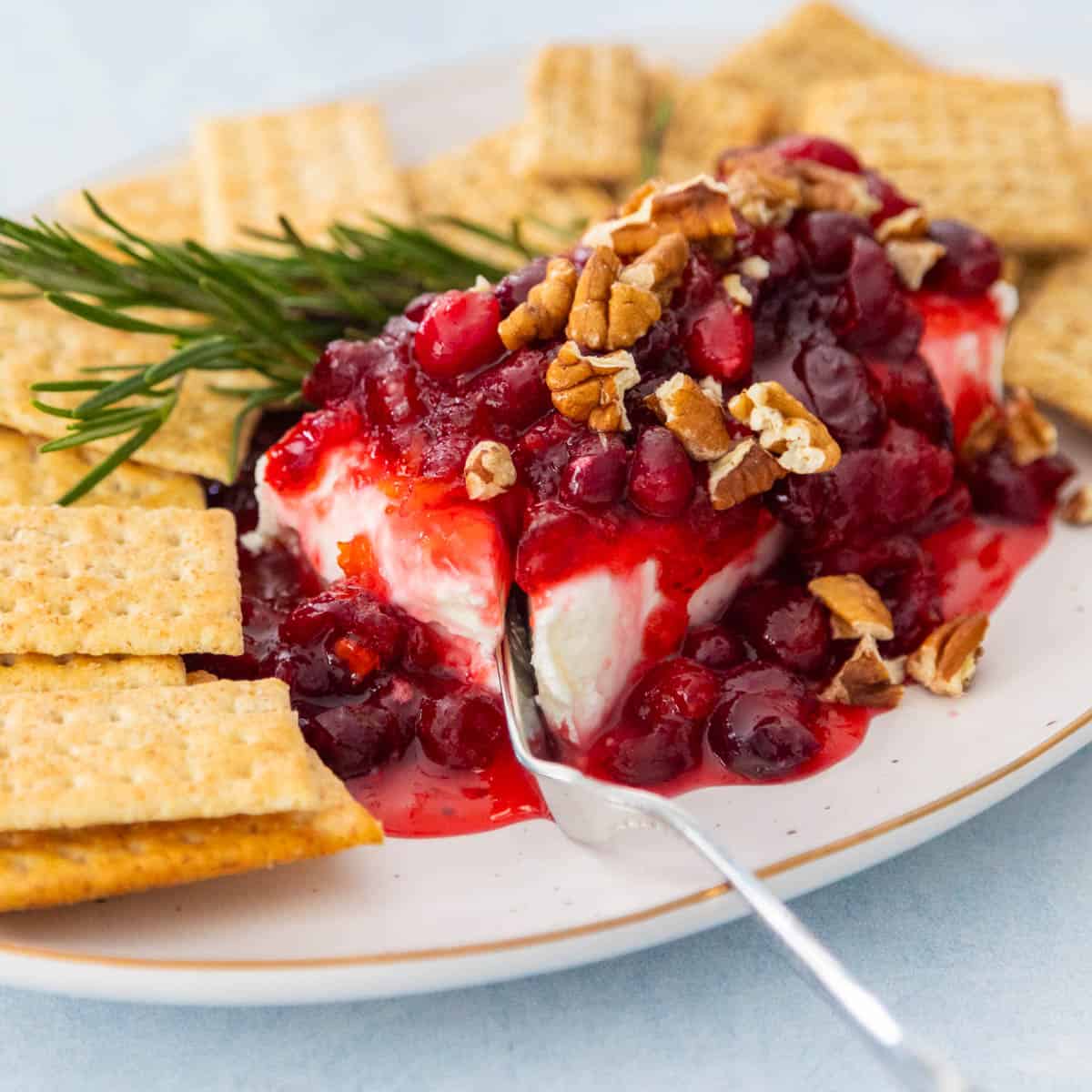 As soon as I see the fresh cranberries arrive in the produce department, I snap up a bag or two for holiday baking. I love homemade cranberry sauce with Grand Marnier and cranberry orange muffins.
This year, I tried something a little new and made a batch of this easy cranberry cream cheese dip and it was soooooo delicious.
A 5-minute cranberry sauce made with fresh cranberries and jam is spooned over softened cream cheese and sprinkled with chopped pecans.
I served it with black pepper flavored Triscuits and it was completely irresistible. I dare you to eat just one!
Jump to:
Why This is the Best Recipe
I love easy appetizers you can prep ahead and serve in just minutes. I think this is the best cranberry cream cheese dip recipe because:
Easy Prep: The cranberry sauce takes less than 10 minutes to prep and can be made ahead or even frozen for the easiest appetizer assembly before serving.
Lots of Variations: Switch up the flavor of the jam, add some herbs or spice, there are lots of ways to play with this simple dish.
Perfect Balance: Sweet and salty, juicy and creamy, tart and peppery, this appetizer has it all! The flavors all balance out to a dip you won't be able to resist.
Ingredients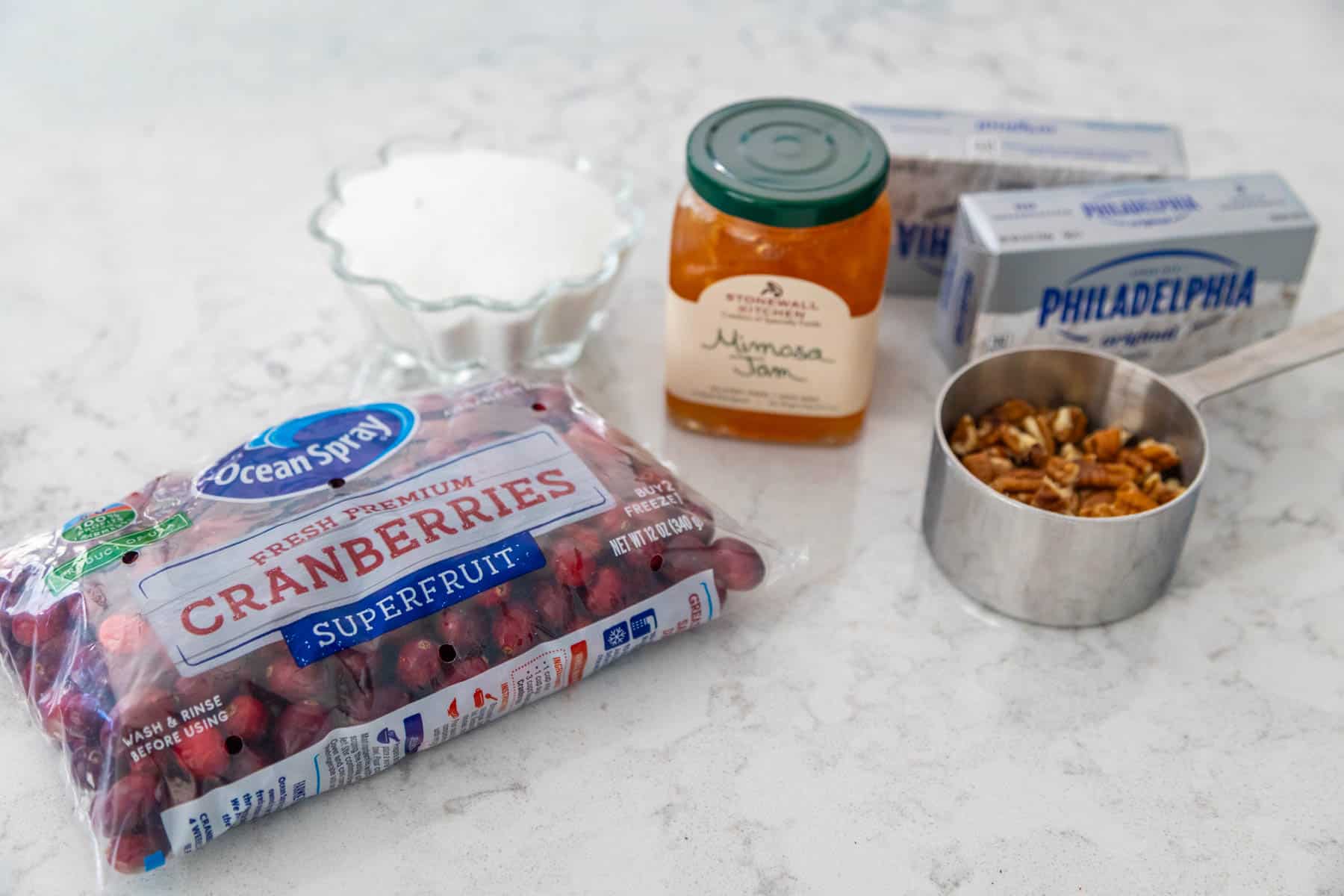 This easy appetizer only needs a few ingredients:
Fresh Cranberries: You can use fresh cranberries from the produce section or frozen cranberries from the freezer section, you'll just have to thaw them first. Do not try this recipe with dried cranberries, they don't have any juice to make the sauce.
Jam: I used Stonewall Kitchen's Mimosa Jam which has orange and champagne in the mix. There are several variations you could use, see the notes below.
Sugar
Cream Cheese
Chopped Pecans
Crackers for Serving: I strongly recommend the Triscuit Black Pepper flavored crackers, the peppery crackers taste amazing with this recipe. Triscuit's rosemary flavored cracker would also be an excellent choice. Butter crackers or whole grain crackers would also work just fine.
The Best Jam to Use
The champagne and orange in Stonewall Kitchen's Mimosa Jam paired just perfectly with the fresh cranberries. It has bits of orange zest that add a lovely texture to the cranberry sauce, too. You can order a jar right here.
If you don't want to special order this particular jam, there are several easy substitutions you could use:
apricot jam
orange marmalade
apple jelly
peach jam: If you happen to have a jar of my homemade vanilla peach jam, it would be a great choice.
There are countless amazing jams to choose at the grocery store, you'll just want to pick a flavor that pairs well with cranberries.
Cook the Cranberry Sauce
First, you need to prep the cranberry sauce so it has time to chill before you serve it.
Add the cranberries, sugar, water, and jam to a large saucepan. Stir everything together and cook over medium-high heat. Bring it to a boil.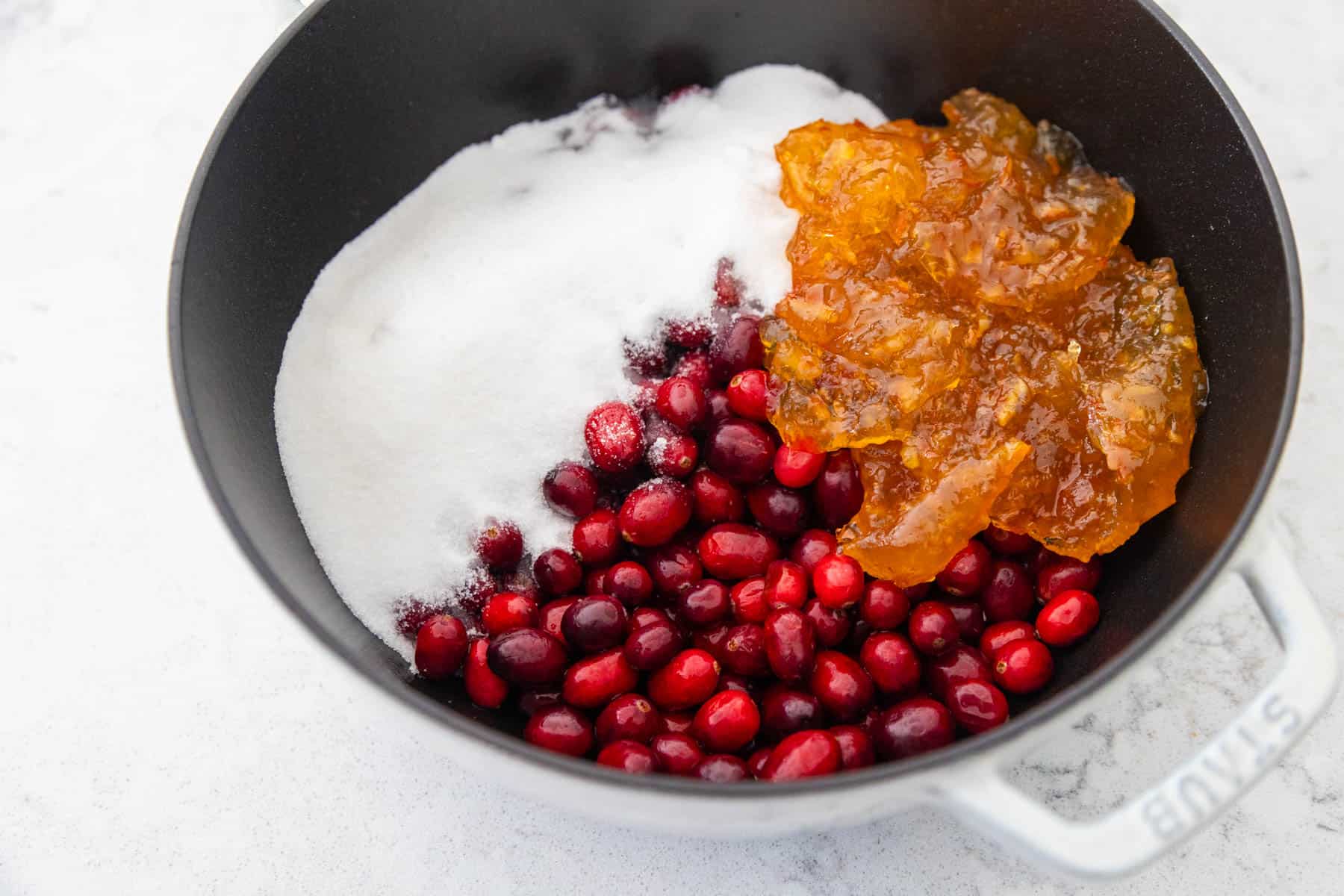 Once the mixture is boiling, continue to cook it for just 5 minutes.
Break the cranberries up against the side of the saucepan with the back of your spoon.
I crushed about half of the cranberries and left the remaining berries whole for a pretty texture to the final dish.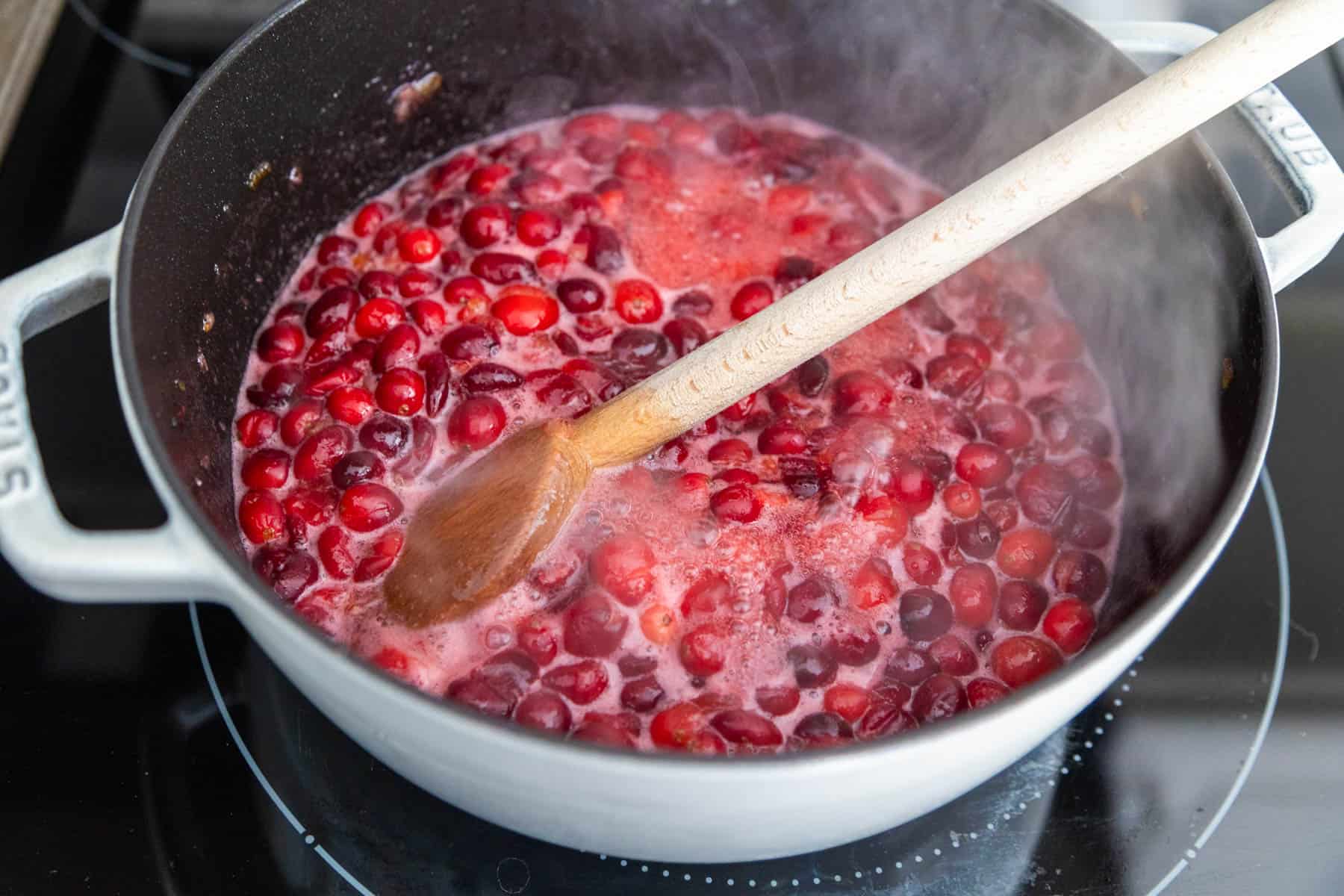 Pull the cranberry sauce from the heat and let cool until it is safe to transfer to a dish to chill in the fridge.
Keep the sauce chilled until ready to serve.
Toast the Pecans
For an extra-special touch, toast the pecans in advance.
While the cranberry sauce is cooking, preheat your oven to 350°F.
Place the chopped pecans on a baking sheet in an even layer and bake them for 4 - 6 minutes or until just fragrant. Just watch so they don't burn.
Let them cool completely before sprinkling on the appetizer.
Assemble the Appetizer
When you're ready to serve the cranberry cream cheese dip, place the cream cheese on a pretty platter and let it soften to room temperature.
Just before serving, spoon the chilled cranberry sauce over the top and sprinkle pecans over the sauce.
You can garnish the platter with a sprig of fresh rosemary or thyme to add a pop of green.
Guests can spread the cranberry cream cheese dip over hearty crackers.
Note on Serving Portion
This recipe makes a generous amount of cranberry sauce that is meant to be drizzled over 2 bricks of cream cheese for a large party.
I have a smaller family and since I don't like anything to go to waste, I served half of the cranberry sauce over just one brick of cream cheese and froze the remaining half of the cranberry sauce for another time.
This would be great for prepping now and splitting -- one appetizer for Thanksgiving and the other half for Christmas.
Or you could use the leftover cranberry sauce to make cranberry turkey sliders or cranberry brie bites.
Variations
As much as I loved this recipe as is, there are a couple delicious variations you could play with:
Spicy Cranberry Cream Cheese Dip: Add a minced jalapeno to the cranberry sauce when you cook it.
Herbed Cranberry Cream Cheese Dip: You could stir in chopped rosemary or fresh thyme to the cranberry sauce if you want to serve it with plain butter crackers.
Cran-Raspberry Cream Cheese Dip: Use a raspberry preserves instead of the jams listed in the recipe card. This will make the dip a little more tart but also give it a very deep red color.
Make Ahead Tips
This recipe is a perfect holiday appetizer because you can prep it ahead during the busy season.
You can make the cranberry sauce up to 5 days in advance and keep it in the fridge or you could freeze it for up to 3 months. If you freeze it, just thaw it in the fridge overnight before serving, don't try to cook it again.
Don't assemble the appetizer until just before serving.
Serving Suggestions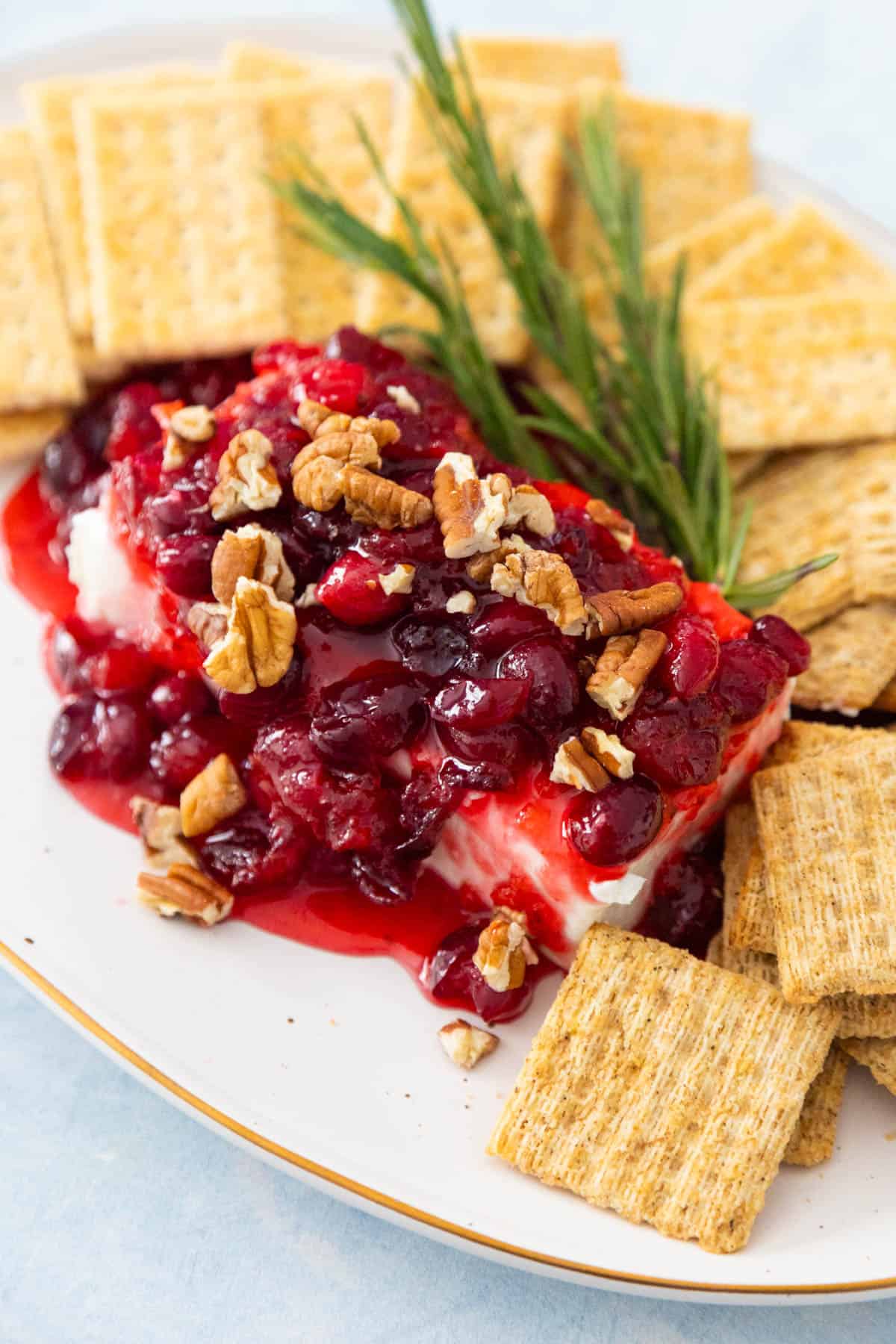 This delicious cranberry cream cheese dip is perfect for serving during the fall holiday season.
You could bring it to a Thanksgiving potluck or dinner, serve it at a Christmas open house or as a Christmas Eve appetizer, or enjoy it with your family during New Year's Eve.
I'm so excited to have a prepped batch of the cranberry sauce for easy entertaining another time later this fall.
More Cranberry Recipes
If you love cooking with fresh cranberries, you will love these other great cranberry recipes:
More Easy Appetizers
Cranberry cream cheese dip is a perfect make ahead cold dip for a party, but you won't want to miss these other easy ideas, too:
📖 Recipe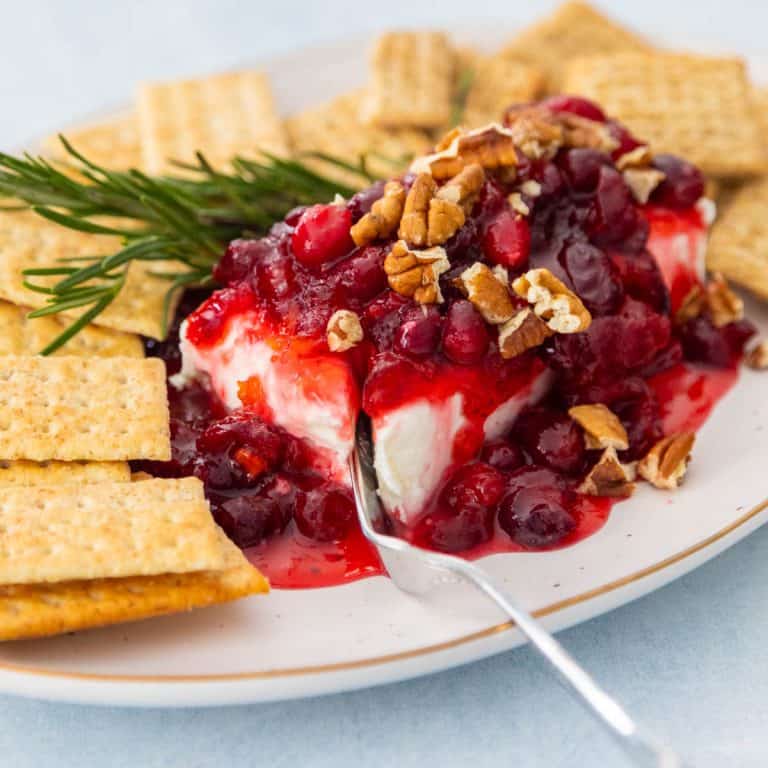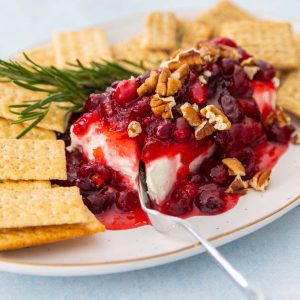 Cranberry Cream Cheese Dip
Easy make ahead cranberry cream cheese dip with chopped pecans is served with peppery crackers for a delicious holiday appetizer that feeds a crowd. You can easily split the cranberry sauce to make two smaller appetizers and freeze half of it for even easier prep later.
Ingredients
1

(12 oz) package of frozen cranberries

thawed

1

cup

white sugar

1

(8 oz) jar of mimosa jam

see notes for easy substitutions

½

cup

water

1

cup

chopped pecans

2

(8 oz) bricks of cream cheese

softened

Butter Crackers or Black Pepper Triscuits for serving
Instructions
Prepare the Cranberry Topping
Add the thawed cranberries, sugar, and the jam to a heavy bottomed saucepan. Stir in the water and cook over medium high heat. Bring the mixture to a boil and cook for 5 minutes.

Remove the cranberry mixture from the heat. Stir in the chopped pecans. Once the mixture has cooled down a bit, scrape the cranberry sauce into a storage dish and let it cool completely in the fridge.
Toast the Pecans
Preheat the oven to 350°F. Spread the pecans in an even layer on a baking sheet.

Bake the pecans for 4 - 6 minutes or just until fragrant. Watch so they don't burn. Let them cool completely before using in the appetizer.
Assemble for Serving
Place each brick of softened cream cheese on a pretty platter. You can put both on one or separate them to two smaller dishes. Press the back of a spoon into the top center of each brick to form a well.

Spoon half of the chilled cranberry sauce over the top of each of the softened cream cheese bricks. Serve at room temperature with butter crackers or Triscuits.
Recipe Notes
Easy Jam Variations:
I used a jar of Stonewall Kitchen's Mimosa Jam which features orange and champagne as ingredients. If you don't want to order this specialty jam, you could easily substitute your favorite brand or homemade version of:
apricot jam
orange marmalade
apple jelly
Save This Recipe to Your Recipe Box
Find this delicious recipe next time you visit by saving it to your very own recipe box on my site. All your favorites stored in one easy place!