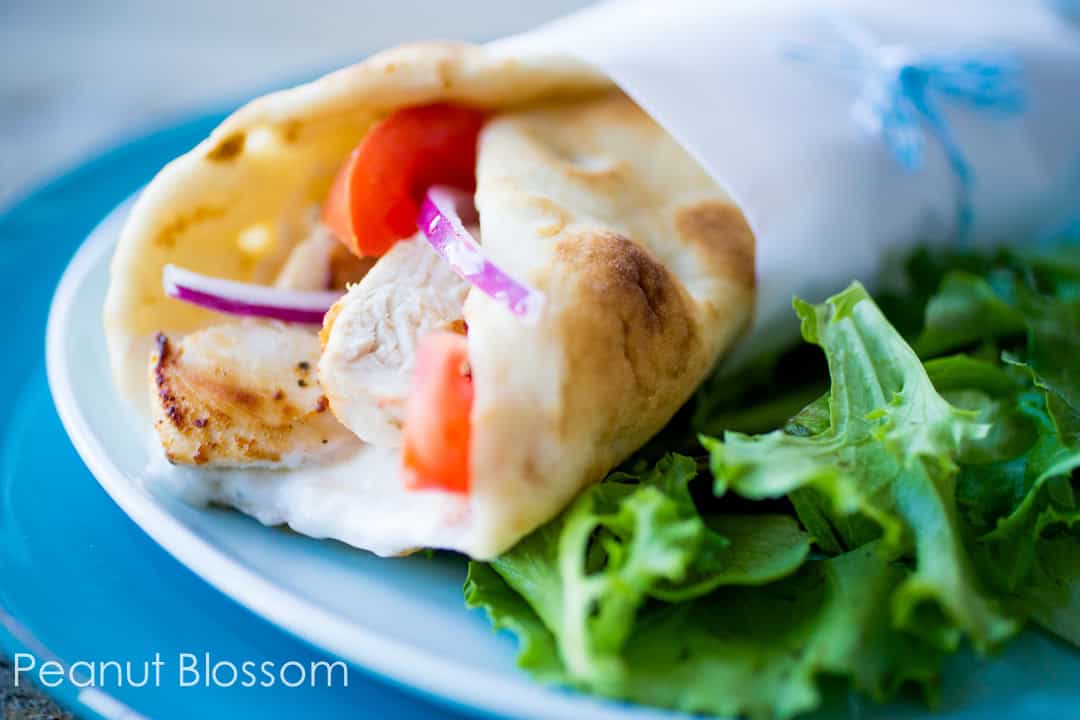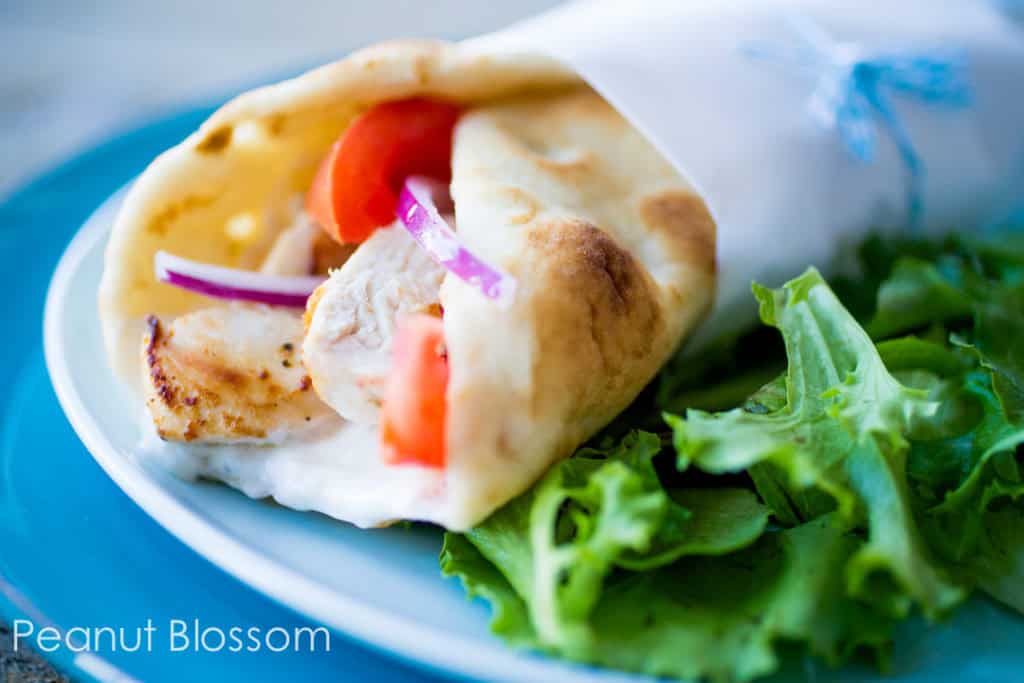 When spring arrives, one of my favorite weeknight dinners is creamy chicken gyro pita wraps with homemade tzatziki sauce. As soon as the good tomatoes hit our grocery store, this hits our dinner table.
I love to serve this meal build-your-own sandwich style for the family. I set out a plate of hot pita wraps and the kids are welcome to choose from the sliced hot chicken tenders, a pile of sliced tomato chunks, chilled red onions, a bowl of fresh tzatziki sauce, and salad greens.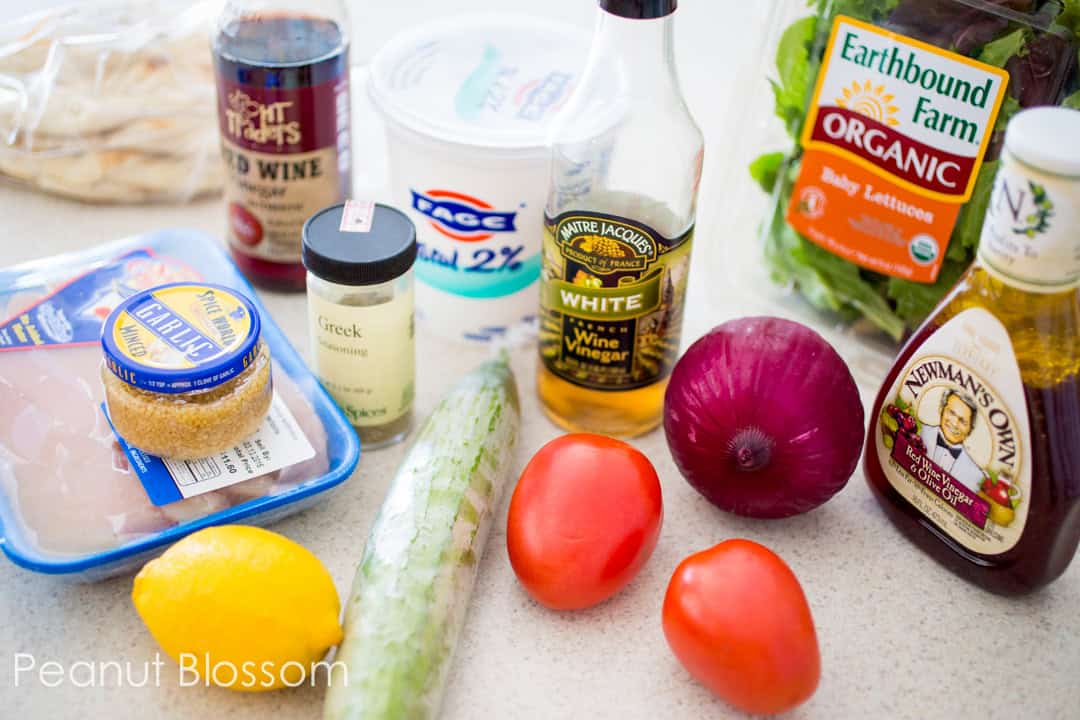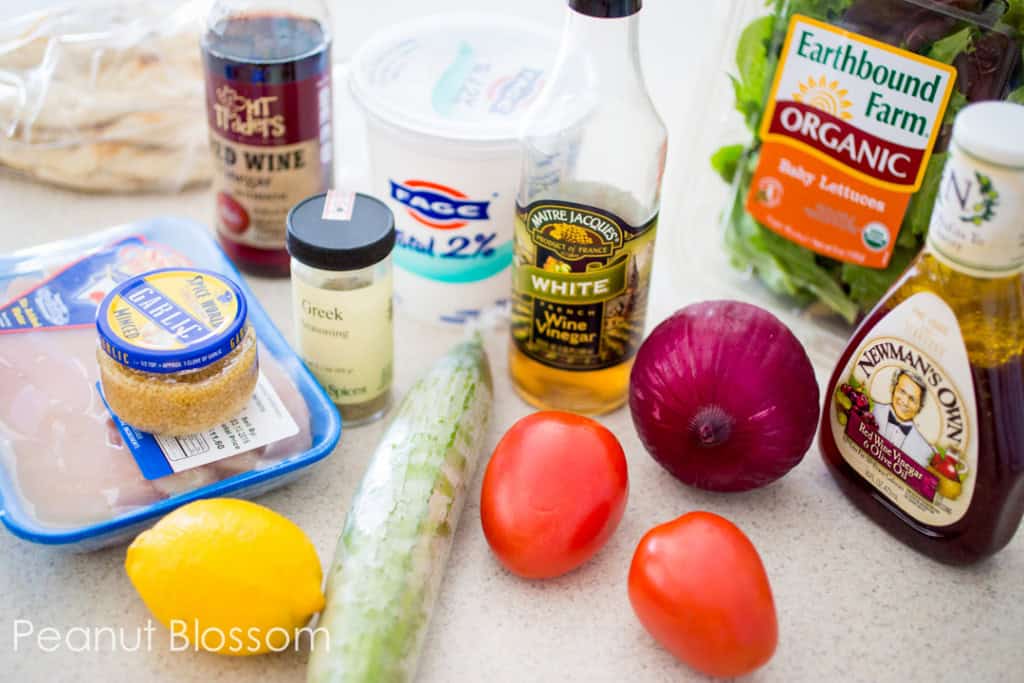 This meal is super easy to do on a weeknight because most of the work has been done ahead of time. You can mix up the batch of tzatziki the night before since it is even better once the flavors have had a chance to mingle overnight.
Then, whip up the marinade for the chicken and let them hang out till dinner time. Finishing the meal only requires a few steps:
Broil the marinaded chicken for 12-13 minutes
Heat the pitas
Chop the tomatoes and red onion
Dinner is completely done in 15 minutes or less.
If you still need to make the tzatziki sauce, it only adds a few more minutes to your time. The most time-consuming part is shredding a cucumber, the rest is simple stirring!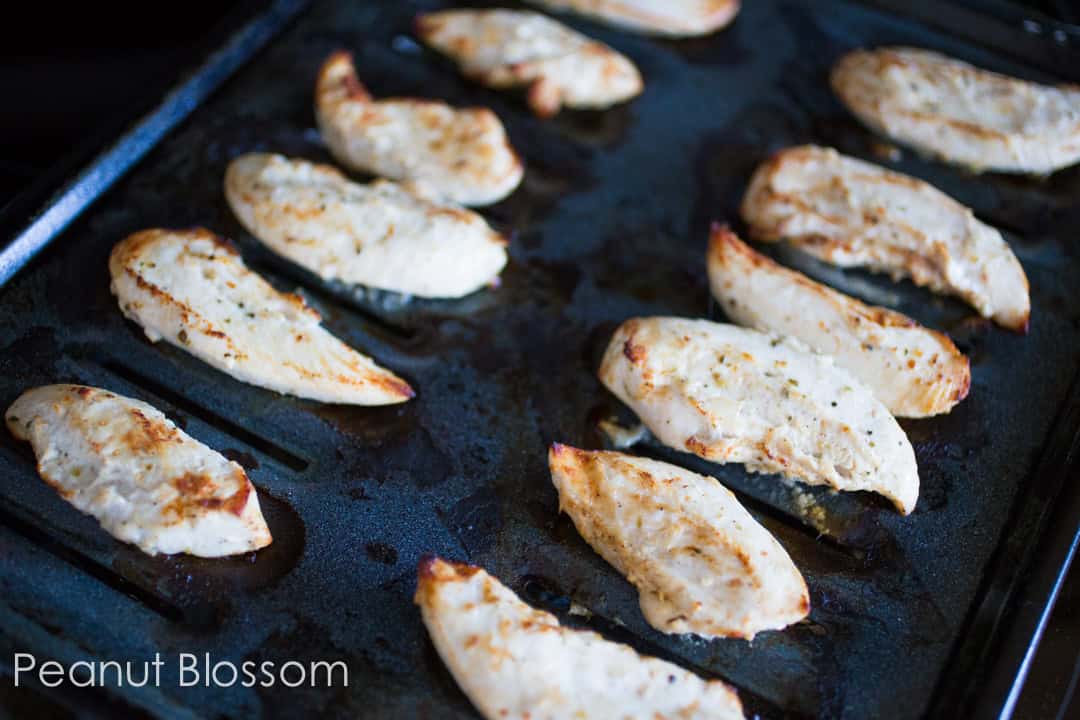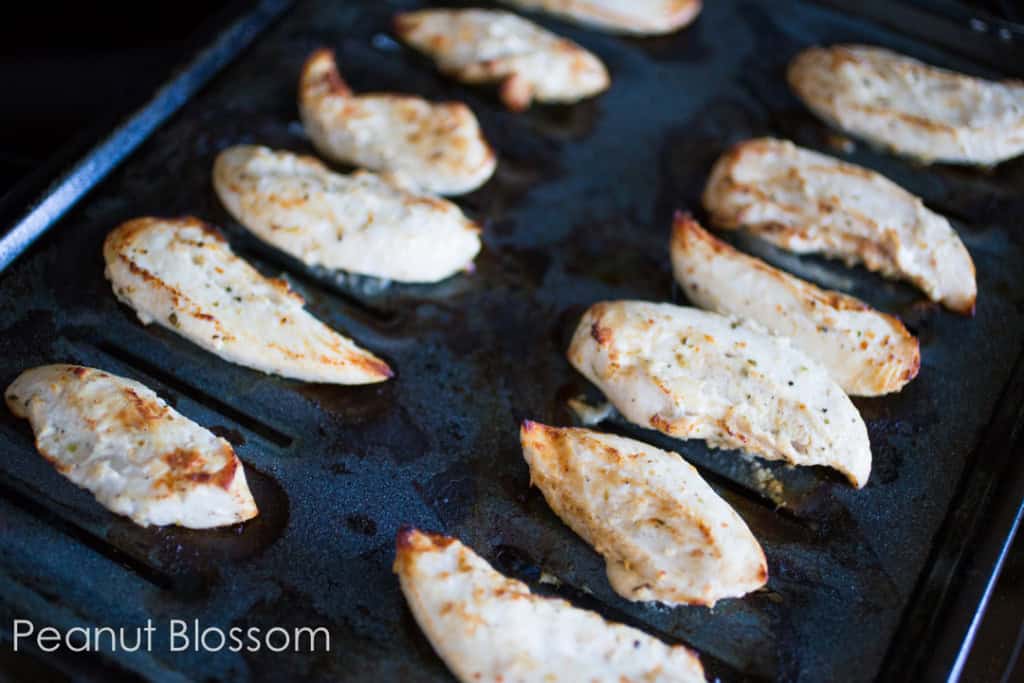 The last time I made this, I experimented with a healthier presentation for Handyman Tim and myself by turning this into a salad instead. I piled up the lettuce and then used the chicken gyro fillings as toppings and the tzatziki as a salad dressing.
I knew I was going to miss the big pita wrap, my favorite part! So instead of croutons, I included a small portion of salted pita chips. It was just enough salty crunch to keep me satisfied.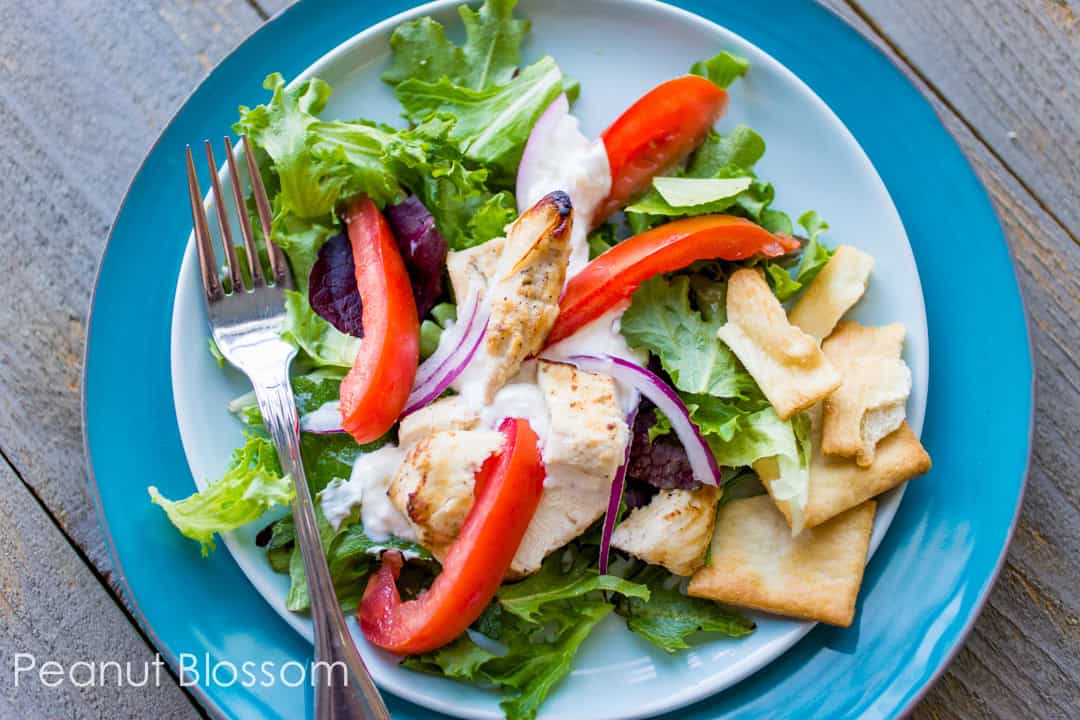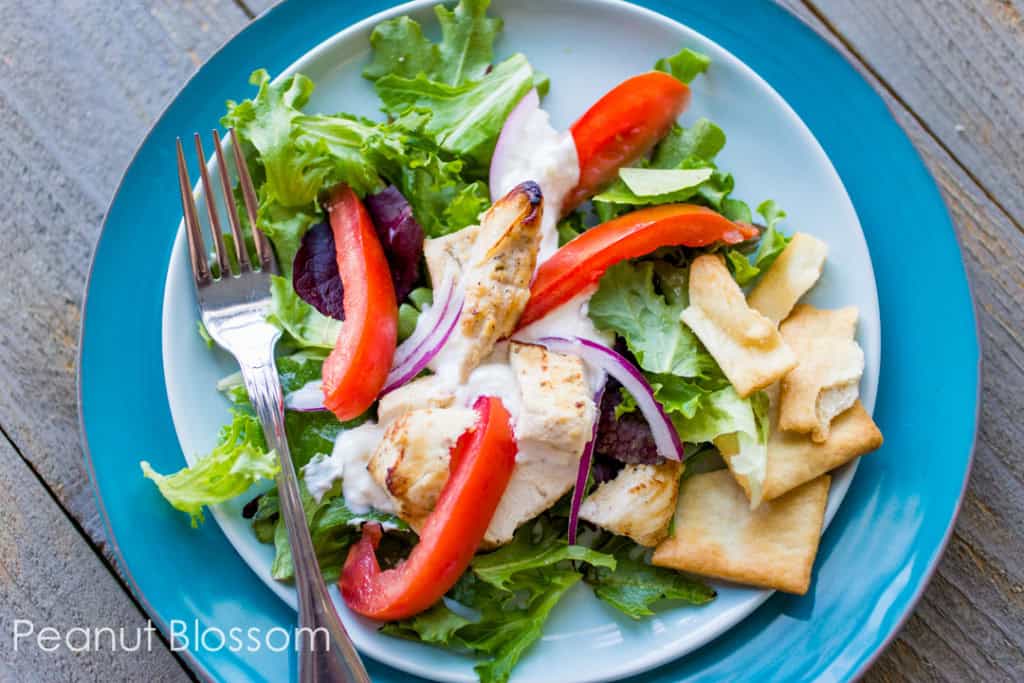 Or you could always have the pita wrap for dinner and a nice big salad for lunch with the leftovers. Either way, this is definitely one of my favorites!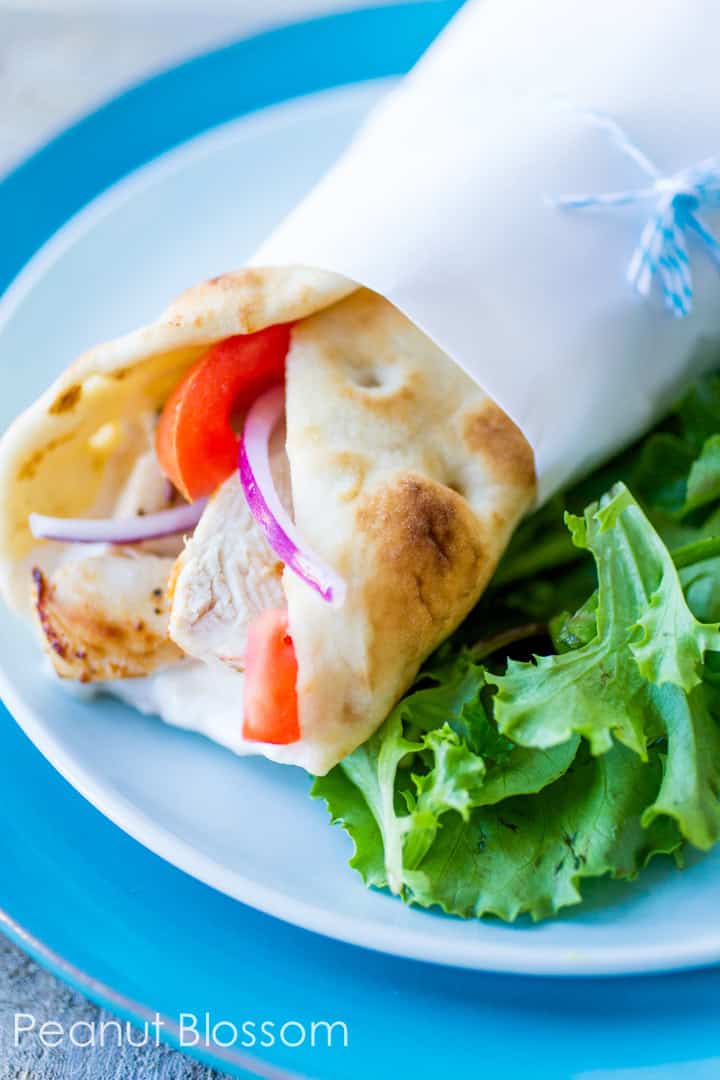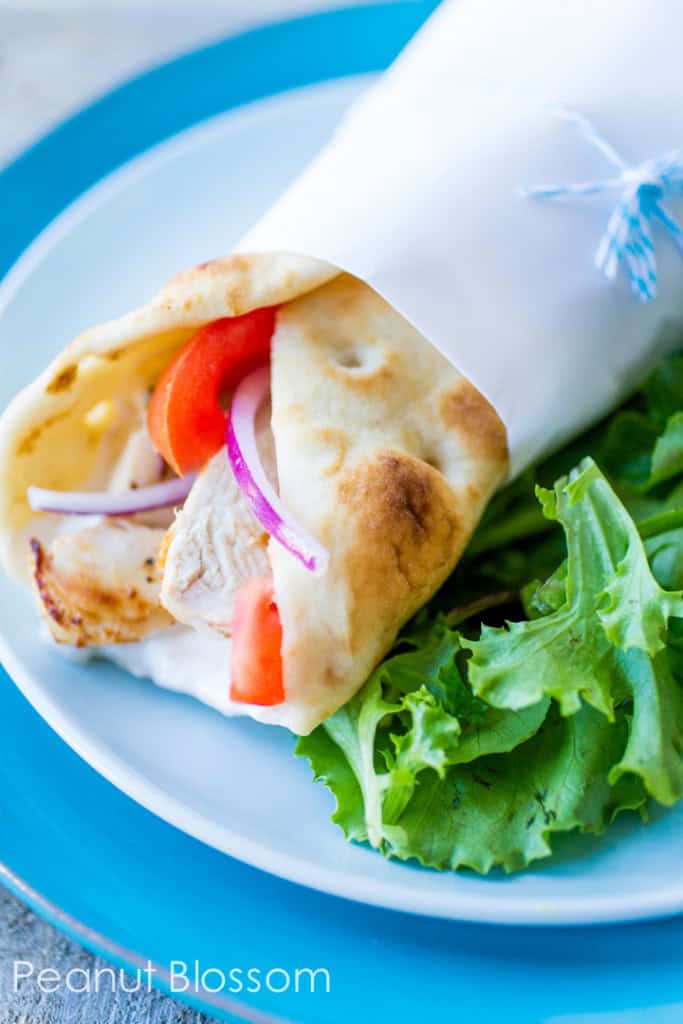 Creamy Chicken Gyro Pita Wrap
Total Time:
2 hours
25 minutes
Love classic gyros but want a healthier spin on those tasty handhelds? Grilled chicken with a homemade tzatziki sauce wrapped in a toasted pita bread is a fantastic dinner for warmer evenings.
Ingredients
Marinade for the chicken:
4 cloves of garlic, minced
Juice of 1 lemon
1 tbsp red wine vinegar
2 tbsp olive oil
2 tbsp greek yogurt (I prefer Fage Total 2%)
1 tbsp Greek seasoning (I love Penzey's.) OR oregano
Salt and pepper to taste
2 pounds boneless skinless chicken tenderloins
For serving:
Warmed pitas (10 seconds in the microwave or heated under the broiler for a few moments.)
Sliced tomatoes
Sliced red onions
Homemade tzatziki sauce
Salad greens
Instructions
In a medium bowl, whisk together the marinade ingredients. Toss the chicken tenderloins to coat thoroughly and let chill in the fridge till dinner time. At least 2 hours to overnight.
Preheat your oven's broiler. Spray a broiler pan with cooking spray. Line the chicken in a single layer on the pan. Broil on the rack one notch down from the top of the oven. 7 minutes on one side, flip the chicken with a pair of tongs and broil 5 minutes on the other side.
Slice the chicken into strips and serve with the warmed pitas and toppings.