Chicken enchilada dip can be made in under 15 minutes the day ahead and served cold with tortilla chips for dunking. This creamy chicken dip is the perfect football party appetizer or snack to serve any time you're having friends over.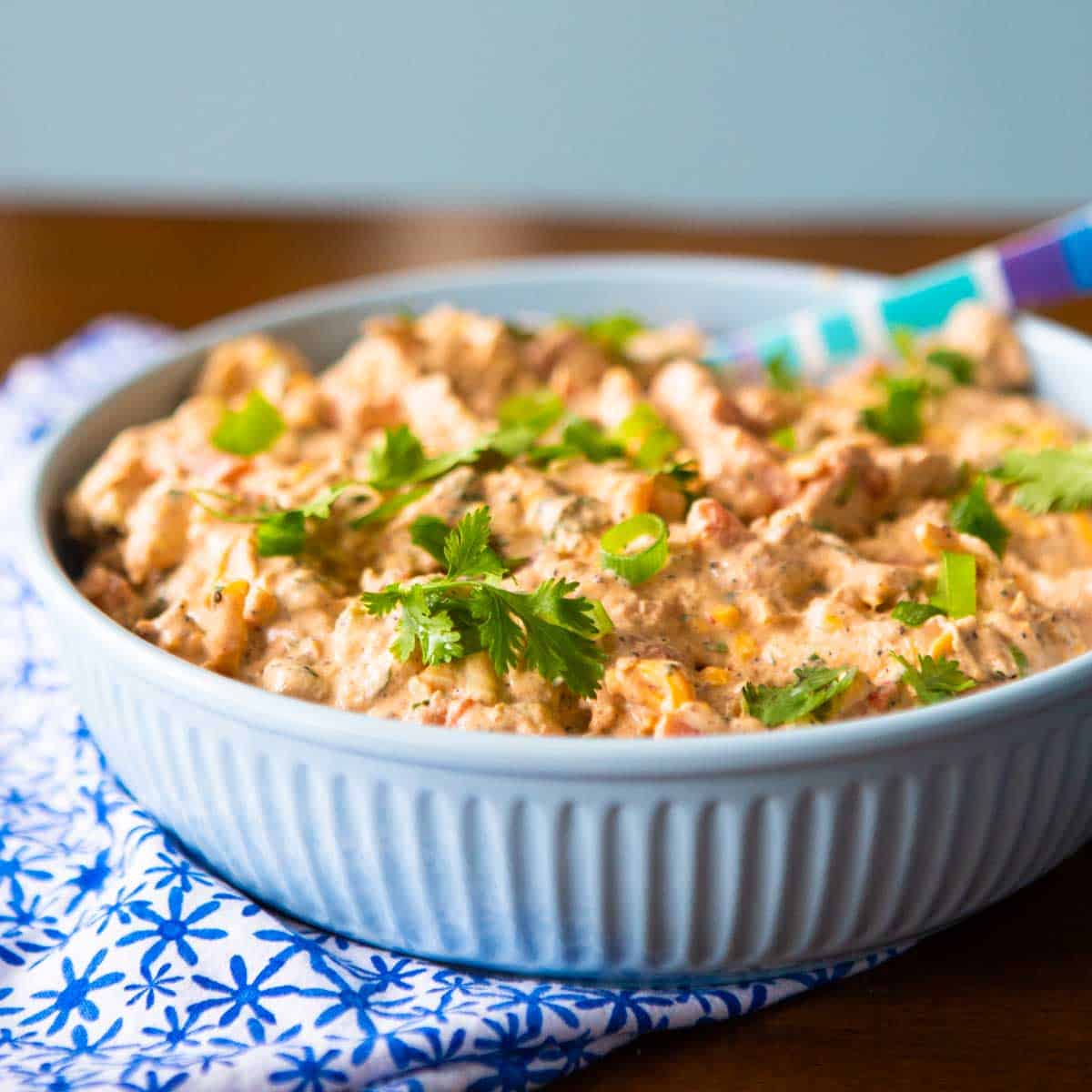 Creamy chicken enchilada dip is a crowd favorite for tons of party themes.
Quickly made with shredded rotisserie chicken, cream cheese, plenty of seasonings, and a few fresh veggies for flavor, your friends will love to dunk tortilla chips or crisp vegetables into it.
The best part is not only how quickly you can make this recipe, but the fact that it tastes even better the next day once it has had a chance to chill in the fridge.
In a rush? Just let it chill for an hour before serving for the flavors to mingle and you're ready to go.
Jump to:
Ingredients
You'll just need to pick up a few key ingredients at the store to make this recipe:
Rotisserie Chicken
Cream Cheese
Shredded Cheddar Cheese
Green Onions
Canned Diced Tomatoes with Green Chiles (like Rotel)
Fresh Cilantro
Tortilla Chips
From your pantry, you will need:
Chili Powder
Minced Garlic
Hot Sauce
Cumin
Oregano
Paprika
Shred the Chicken
Remove the skin from the rotisserie chicken breasts, legs, and thighs.
Remove the meat from the bones and roughly chop or shred it. Set the meat aside, you'll add it to the dip last.
Prepare the Cream Cheese Mixture
In a large mixing bowl, add the softened cream cheese and beat it with a hand mixer on LOW speed until smooth.
Add all the dried seasonings, minced garlic, and hot sauce if you choose to use it. Blend it in with your hand mixer.
Gently Fold the Ingredients
Add the shredded cheddar and the entire can of diced tomatoes WITH their juices to help thin the dip out a little.
Fold them in with a spatula so you don't blend the tomatoes.
Add the chopped green onions and chopped fresh cilantro and fold them in.
Finally, add the chopped chicken and fold it in.
Cooked chicken is actually quite delicate. If you add it too early, it will break apart in the dip as you stir the remaining ingredients in.
Chill for 1 - 24 hours
The chicken enchilada dip tastes best once it has had a chance to chill in the fridge and let the flavors mingle.
If you're in a rush, you can cover it and let it sit in the fridge for one hour but I strongly encourage you to make it the day before and let it sit overnight!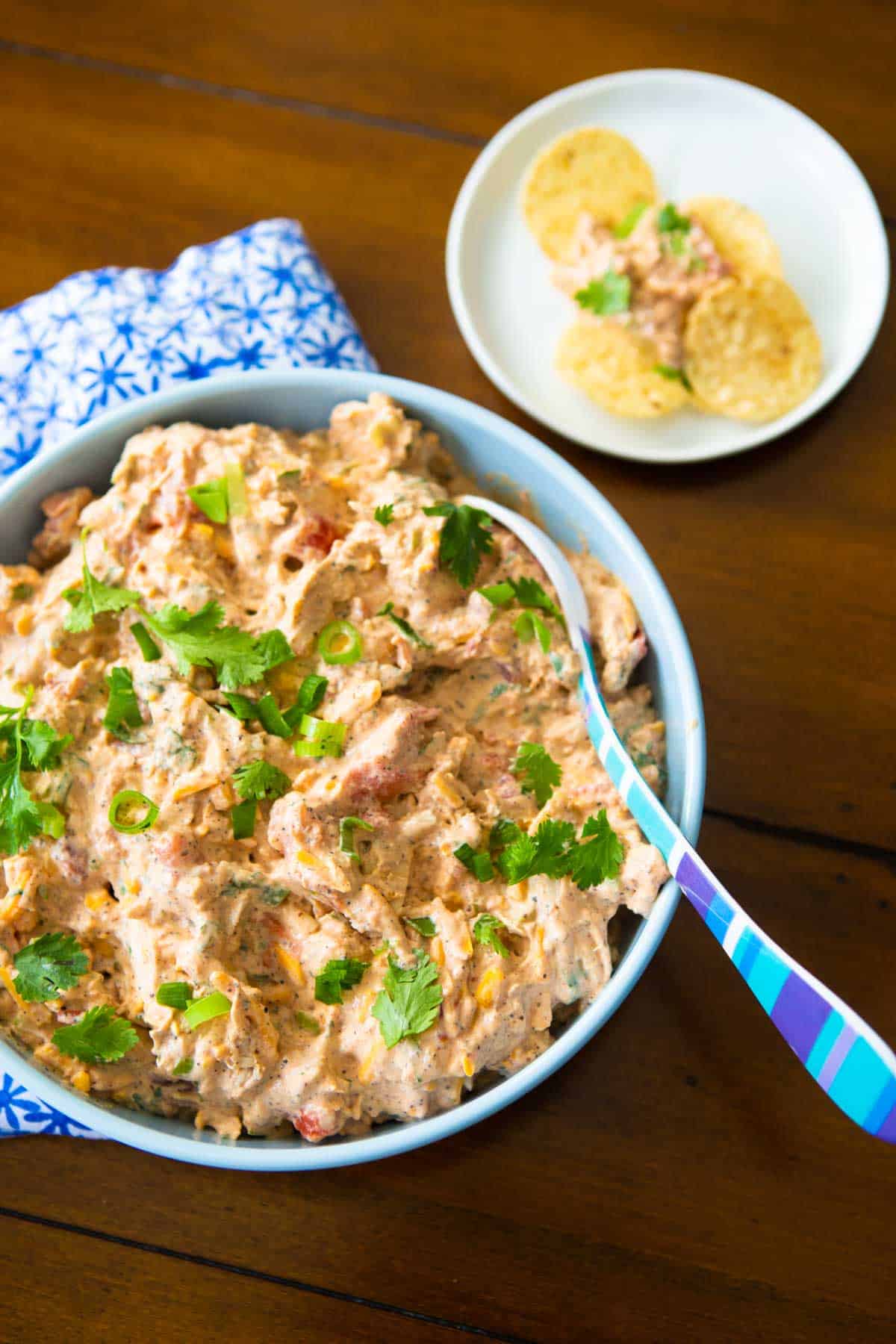 Serving Suggestions
This cool and creamy cheesy enchilada dip tastes amazing with salted tortilla chips for dunking.
You could also serve it with a platter of crispy vegetables like strips of bell pepper or celery sticks for your guests to have another option.
Variations
There are so many ways you could adjust this recipe for a fun new variation:
Add frozen or drained canned corn for sweetness
Add chopped bell peppers, any color for a bit of crunch
Substitute a minced jalapeno pepper for the hot sauce
Add a squeeze of lime juice with the canned tomatoes for extra zip
Use a tablespoon of taco seasoning instead of the dried spices
Substitute minced red onion for the green onions to add extra crunch
More Delicious Dip Recipes
Is it even a party if you don't serve dip?? I love to set out a bowl of dip with tortilla chips or crackers for dunking when we entertain.
These easy recipes are perfect for making ahead the day before your party: