Want to grow vegetables in a container garden on your patio? Learn the best vegetables to grow in pots and the best gardening containers to use!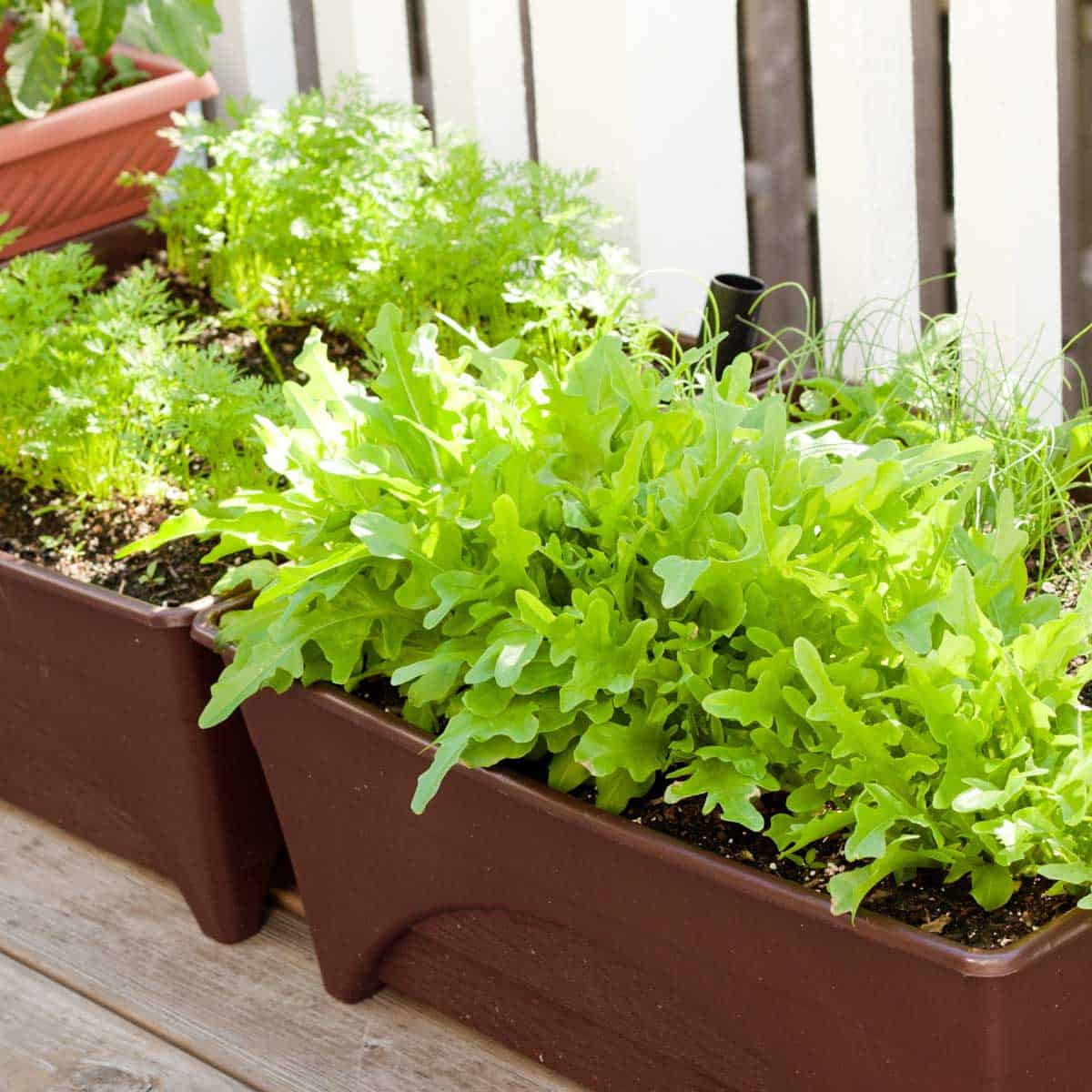 I love container gardening and have been doing this on our deck or patio for the last 15 years.
I've tried both a cut flower garden and a patio vegetable garden over the years and have enjoyed both immensely.
This year with the prices at the grocery store going up, I'm even more eager to grow our own vegetables at home. Getting started is easier than you think.
If you've been considering trying a container garden this year, here's everything you need to know to get started with this fun outdoor hobby.
Jump to:
Why Container Gardening is the Best
There are several reasons I think container gardening is better than traditional gardening:
Space Saving: Even though we do have a large yard, I prefer just a small dedicated garden space. Container gardening is perfect for apartments or condos, too.
Easy on Your Back: There's no major digging involved. Fill your containers with potting soil and it is super easy to plant seeds or established small baby plants. Rest your containers on benches or tables and you can even have your veggies at waist height.
Protect from Pests: With portable containers, you can move or cover your pots if you have deer or bunnies in your yard.
Reusable: I've been using the same containers for years and years!
We do have some space in our ground I could grow a garden but I've come to realize that container gardening is so much more our style.
Having the veggies close to my kitchen and right in eyesight while we're in our living room helps me to remember to water them and I can see right away when things are ready for harvesting.
Also, growing vegetables in containers helps prevent the bunnies and deer from walking off with our veggies because we can move them out of the way when we're not around.
The Best Vegetables to Grow in Containers
I've tried my hand at several different veggies over the years, these are my favorites.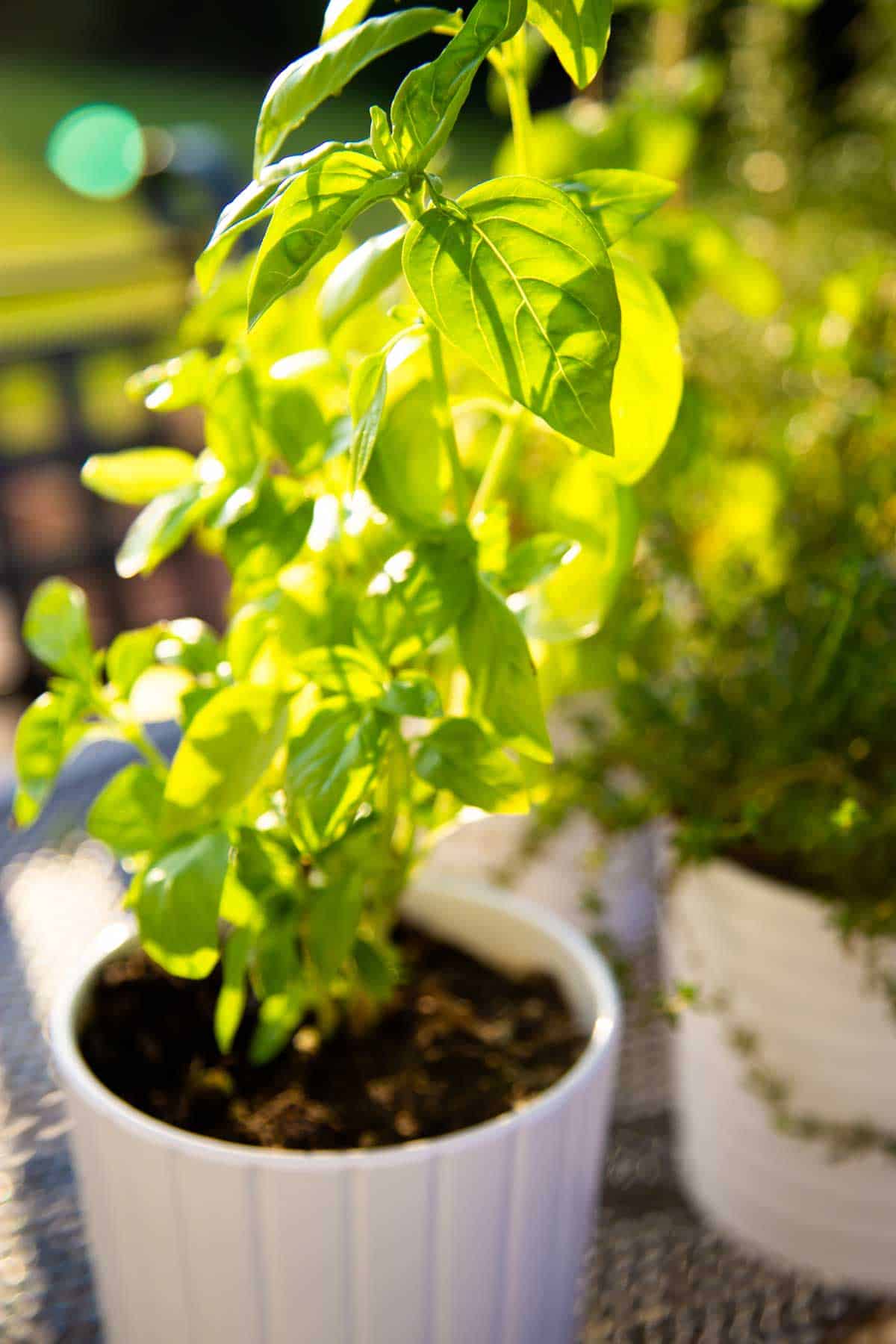 1. Herbs
Herbs are always the first to be planted is my annual vegetable container garden every spring. There's nothing as amazing as fresh herbs in a recipe.
These herbs grow really well in individual pots or collected together into a simple container herb garden:
cilantro
thyme
rosemary
dill
chives
basil
sage
I shared how to harvest them and recipes featuring them will be coming over the next few weeks so stay tuned.
2. Tomatoes
If you've never tasted a homegrown fresh tomato picked ripe from your own garden, you are seriously missing out.
I planted 3 large tomato plants this year.
One heirloom tomato, one cherry tomato, and one "early girl" that already has several green tomatoes growing on it.
So far they seem to be doing well and I salivate every time I water them and smell that wonderful aroma the leaves seem to give off.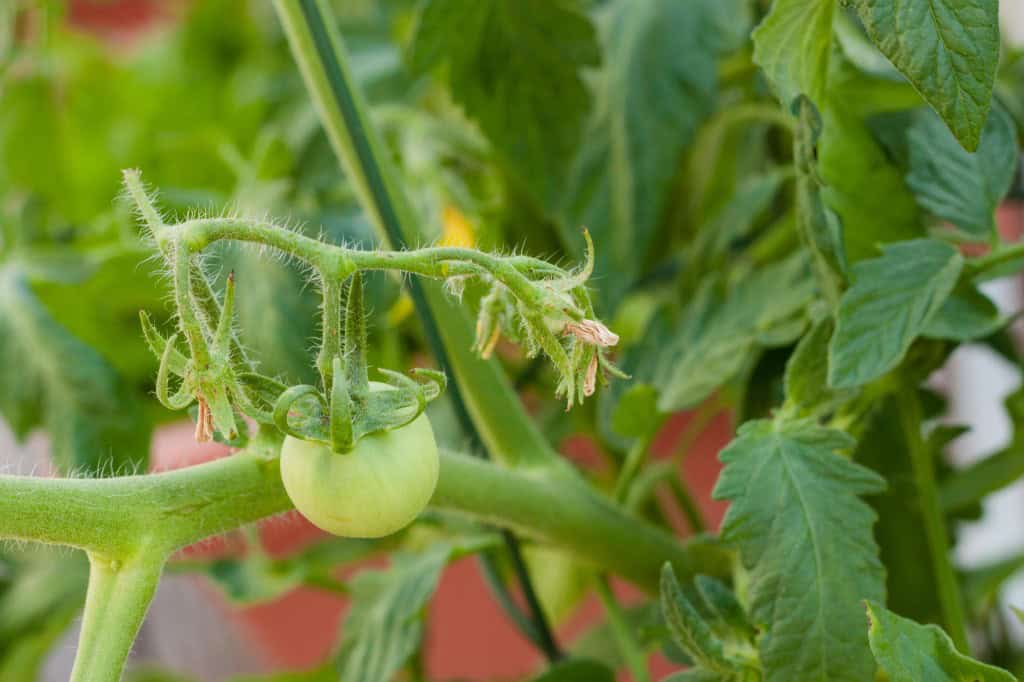 3. Lettuce & Arugula
A friend suggested I plant some arugula seeds at the base of my tomato plants to maximize space in my container garden but those plants are not doing nearly as well as the ones I seeded in their own separate container. I think the tomatoes provide too much shade.
However, if your tomato plant is still very small, this would be a great way to save container space.
Arugula and lettuce grow really quickly and are easy to harvest for simple salads.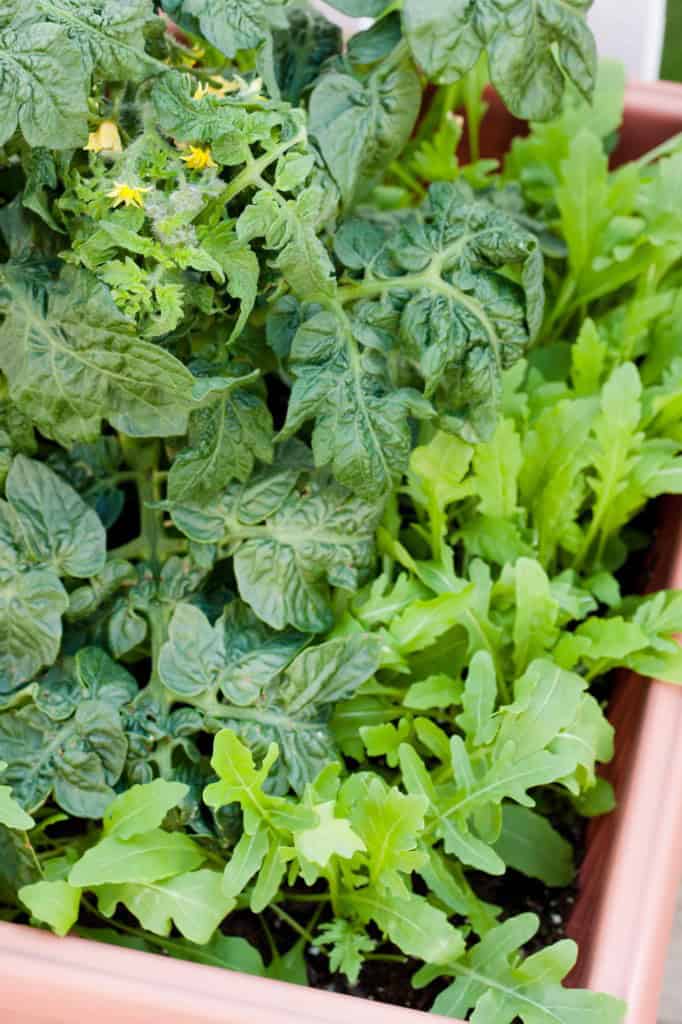 4. Sugar Snap Peas
Pea plants are insanely fast growing.
They grow best in the cooler weather that late spring brings so plant them early in the season.
After the harvest, you can use the container to plant a hotter weather vegetable.
Sugar snap peas are a vine plant and you'll need a trellis or pole for the vines to climb.
My husband helped me stick several wooden dowels in the container and they worked perfectly for the climbing vines.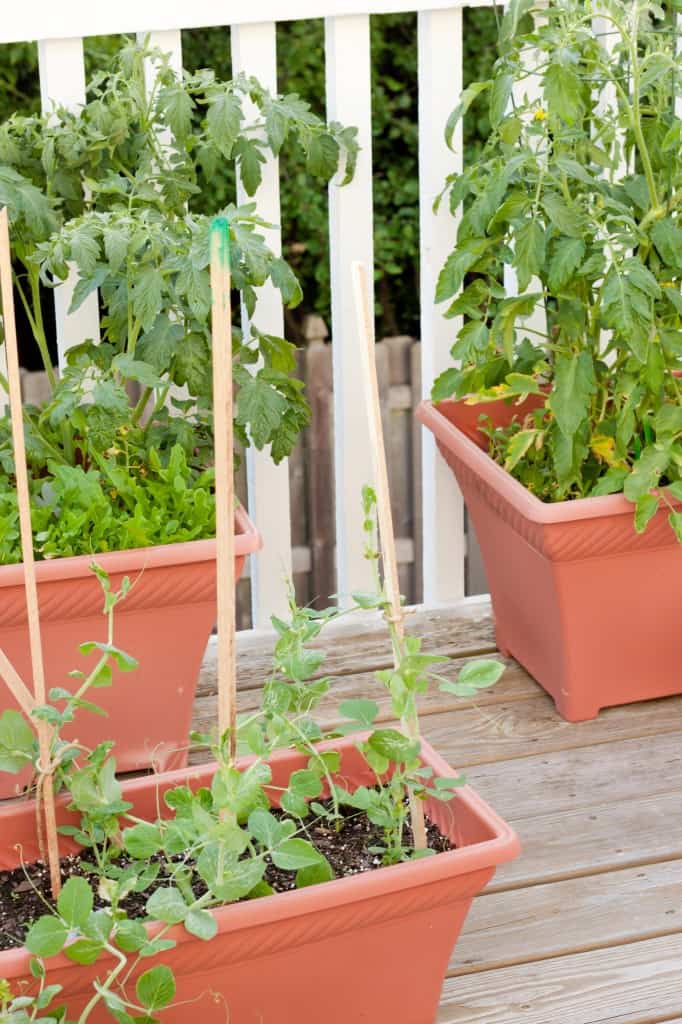 5. Carrots
If you have a deep enough container, you can grow carrots in pots on your patio!
We were successful growing potted carrots in my favorite gardening containers mentioned below!
6. Green Onions
I love scallions. I add them to so many more recipes when I don't have to buy a whole container of them at the store.
I plant an entire container of green onions because I love them so much but they are easy to add to an herb garden container or a single row in a larger pot with something else.
The Best Containers for Vegetable Gardening
My garden is potted up in a variety of plastic flower pots and window boxes that I've collected over the last few years.
This year I added two Patio Pickers containers.
You can see a video with a guy showing and explaining how they work here:
I LOVE them. They are self-watering, very deep, and my veggies planted in there are growing the fastest and best by far over anything else in our garden.
If the budget allows, I'll be adding two more of them next spring--1 with all lettuce, 1 with all arugula.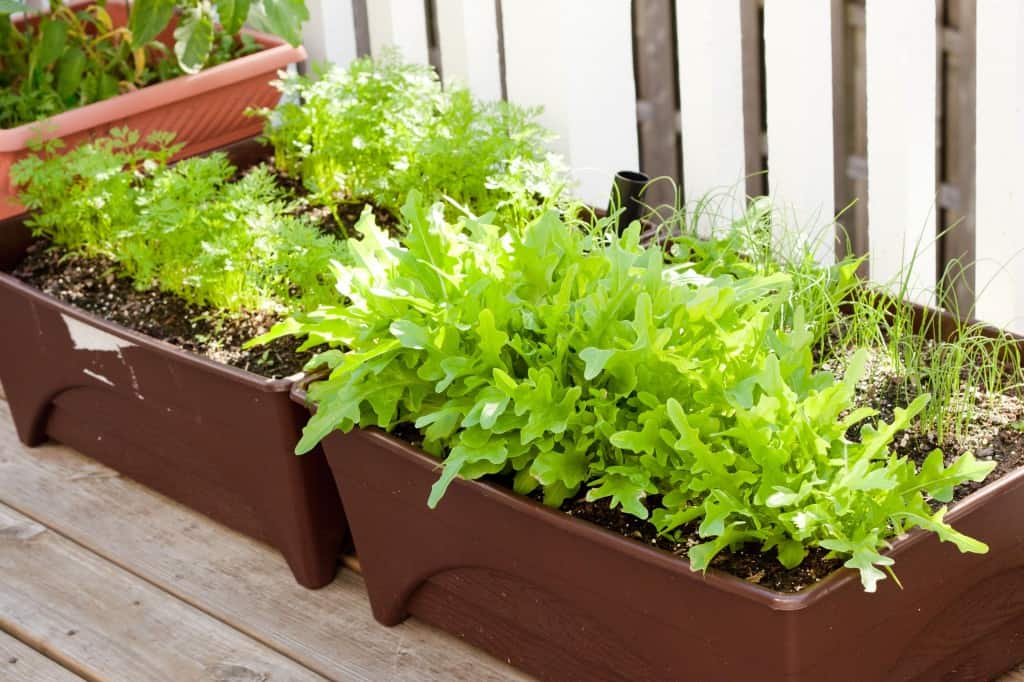 How to Arrange the Vegetable Containers
This is another huge benefit of growing vegetables in containers! Since different plants do better with different amounts of sunshine, you can move your containers around where they'll each be happiest.
I like to cluster my containers together for easy watering and tending: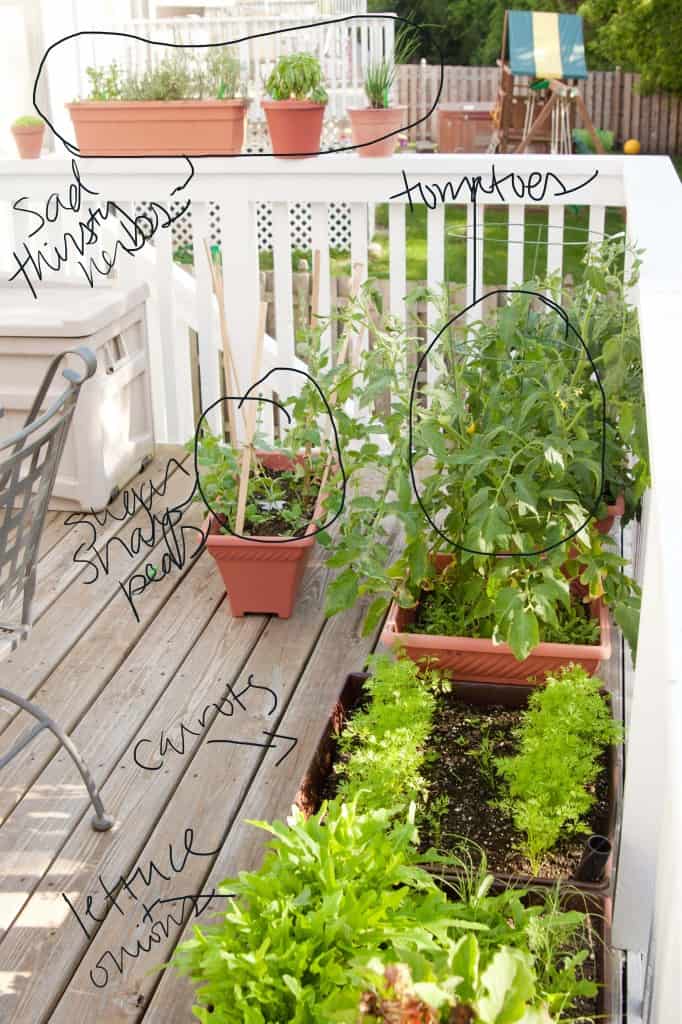 Spotted in my vegetable garden:
Large Patio Picker #1 with one row of lettuce and one row of green onions.
Large Patio Picker #2 with two rows of carrots.
Deep square planter with tomato plant and arugula planted around the base.
Long skinny planter with wooden dowels for sugar snap pea plants.
Multiple small individual pots with various herbs.