Carrot apple salad is a vinegar based slaw that tastes amazing with savory barbecue dishes like pulled pork or barbecue chicken. This colorful and easy recipe makes a perfect side dish to bring to a potluck!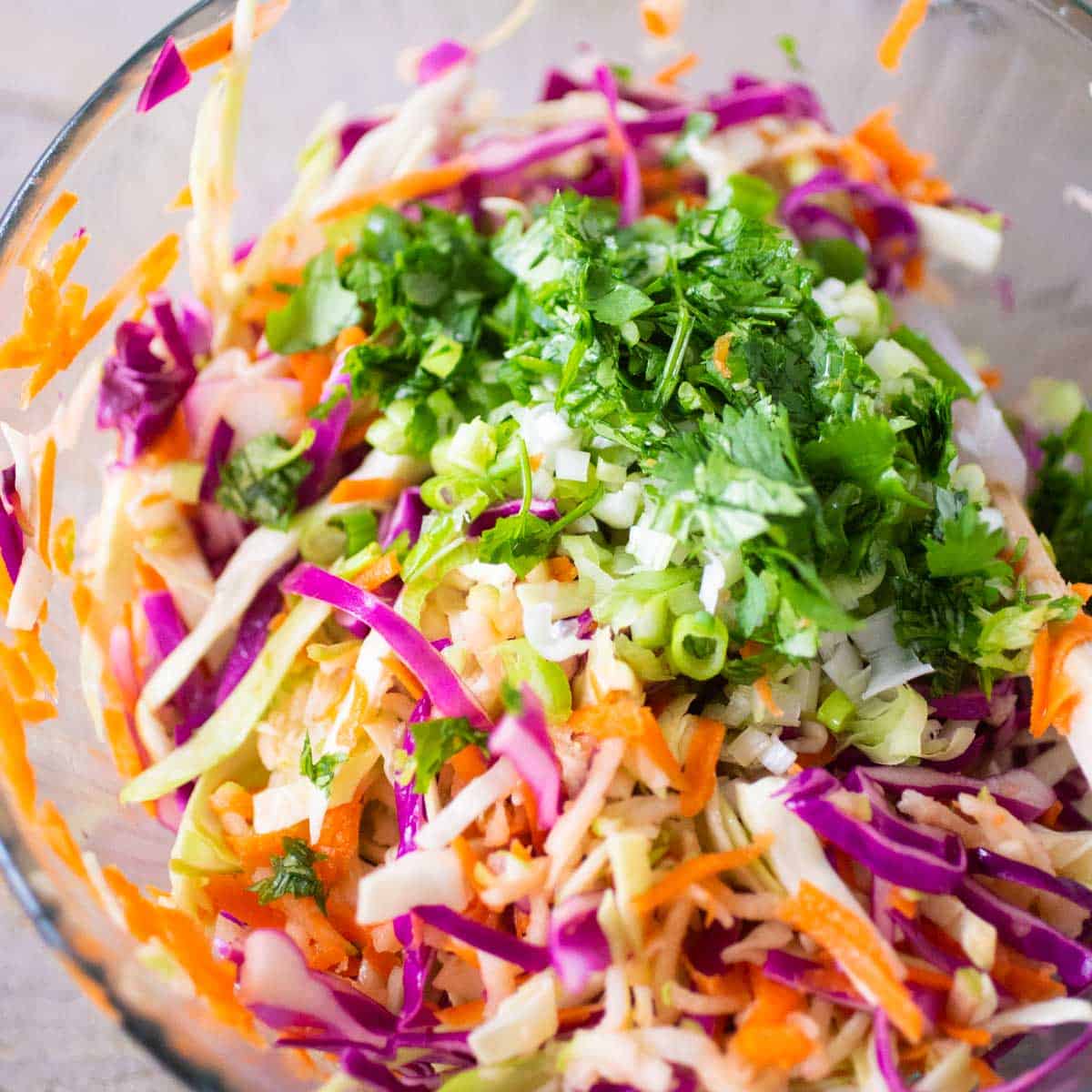 Carrot apple salad is the summer side dish you didn't even know you needed.
After avoiding traditional mayo-based coleslaws my whole live, I've been absolutely SHOCKED as a grown-up to discover how much I love a vinegar based slaw or salad.
This sweet and tangy carrot apple salad is filled with crispy fresh vegetables tossed in a sweet mustard-based dressing.
You can eat it as a simple salad side dish all by itself on the plate but I think it tastes even better spooned onto a barbecue sandwich!
If you're heading to a potluck, this is a great dish to bring. So bright and colorful and totally filled with flavor. And it's perfectly safe for sitting out on a buffet table even in a bit of heat.
Jump to:
Why This is the Best Recipe
Of all the easy side dishes you could add to your dinner, I think this carrot apple salad is the best recipe because:
Sweet and Tangy: The fresh grated apple adds a sweet burst of fruit juice but plenty of tartness to the crispy salad. The shredded carrot adds plenty of sweet crunch.
No Mayo: If you've avoided mayo-based coleslaws like I have, you'll be pleasantly surprised at just how delicious a vinegar slaw can be!
Easy Prep: The hardest part is just prepping the veggies, actually assembling the salad takes just a minute. You can easily prep this ahead to save time.
Perfect with Savory Meats: This bright and crispy slaw is an amazing partner for savory grilled meats or barbecue.
Ingredients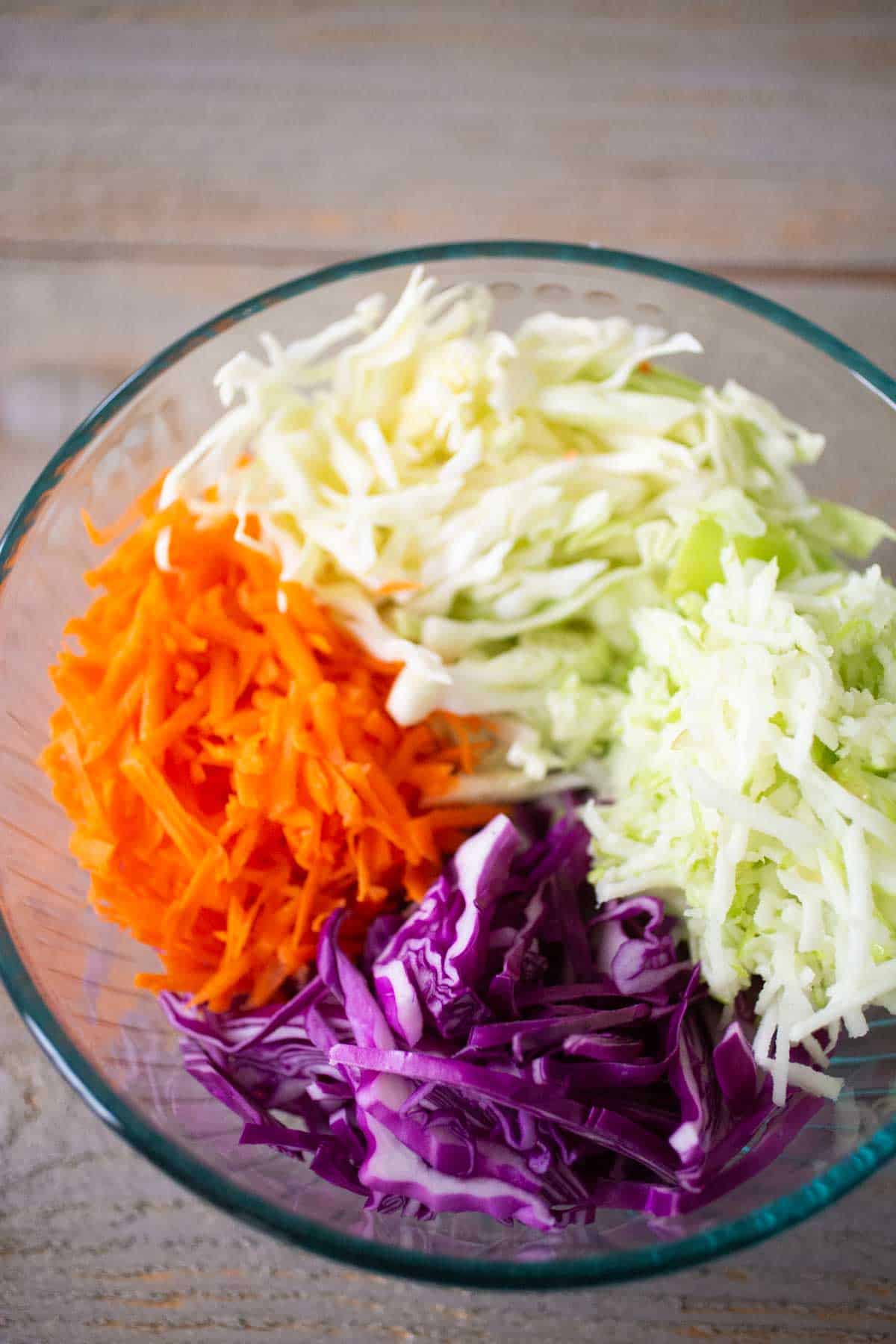 To make this carrot apple salad, you need just a few fresh veggies and a couple of pantry ingredients for the dressing:
For the Salad:
Green and Red Cabbages: You can buy pre-shredded cabbage at the store or shred your own.
Shredded Carrots: You can buy pre-shredded carrot or shred your own.
Green Apples
Green Onions
Fresh Parsley: I strongly encourage fresh parsley instead of dried. It brings a lot of flavor to the dish.
For the Dressing:
Apple Cider Vinegar: This is an excellent choice to pair with the fresh apple. You could also use white vinegar if you prefer.
Sugar
Dijon Mustard
Dried Celery Seed
Canola Oil
Shred the Vegetables
The only part that takes much time is prepping the vegetables for the salad.
If you really want to save time, you could buy pre-shredded cabbage in the refrigerated section of the produce aisle.
Shredding your own cabbage guarantees a super fresh and crispy texture and really isn't that hard.
Cut the cabbage in half so you can see the stem. Use your knife to slice a "V" into the cabbage to remove the stem.
Simply shred the remaining part of the cabbage half!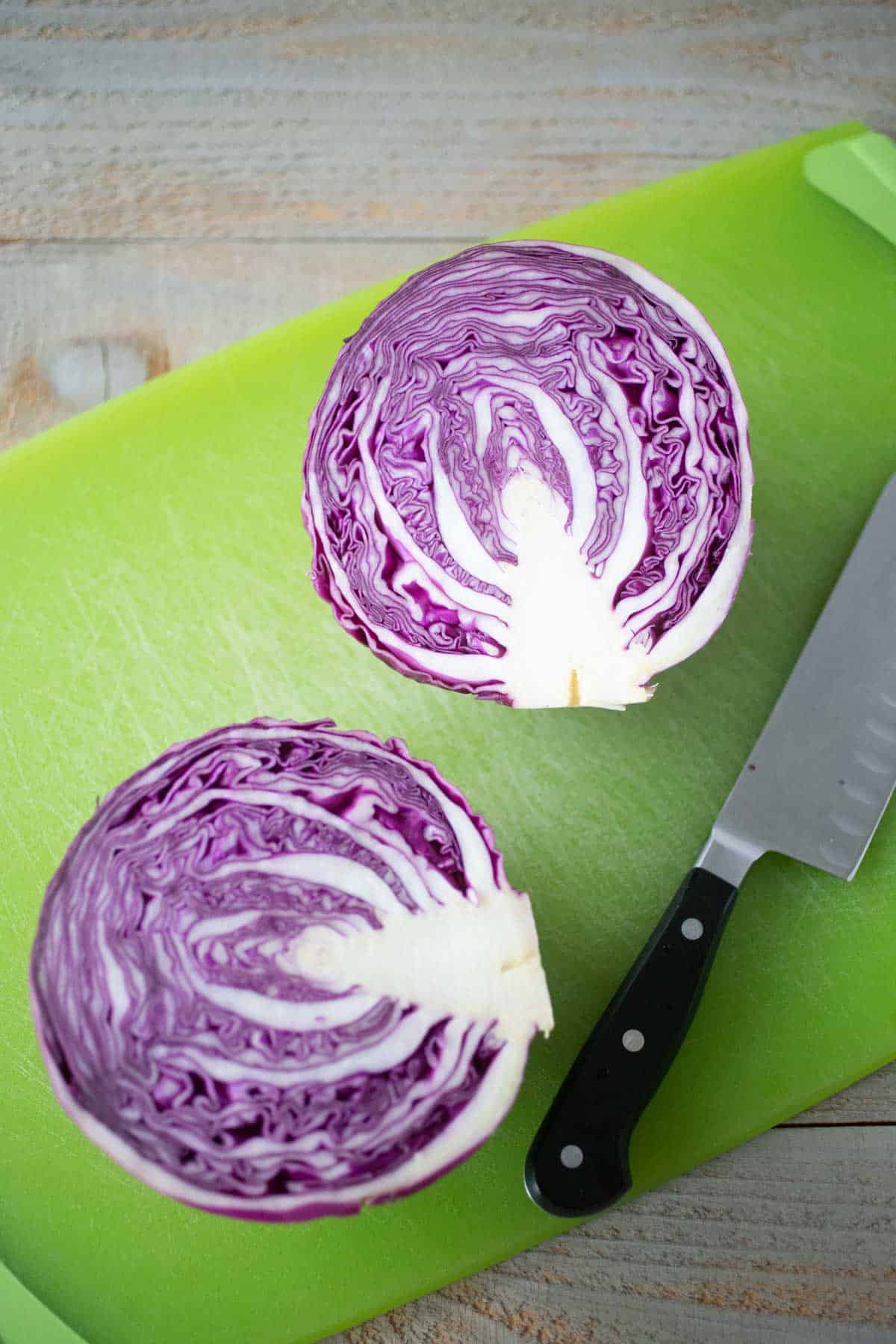 To shred the carrot, I just use my handy box grater.
If you have a food processor, you could grate the carrot that way but I think this is a quick and easy tool that is much easier to clean.
I also use the box grater to shred the apple.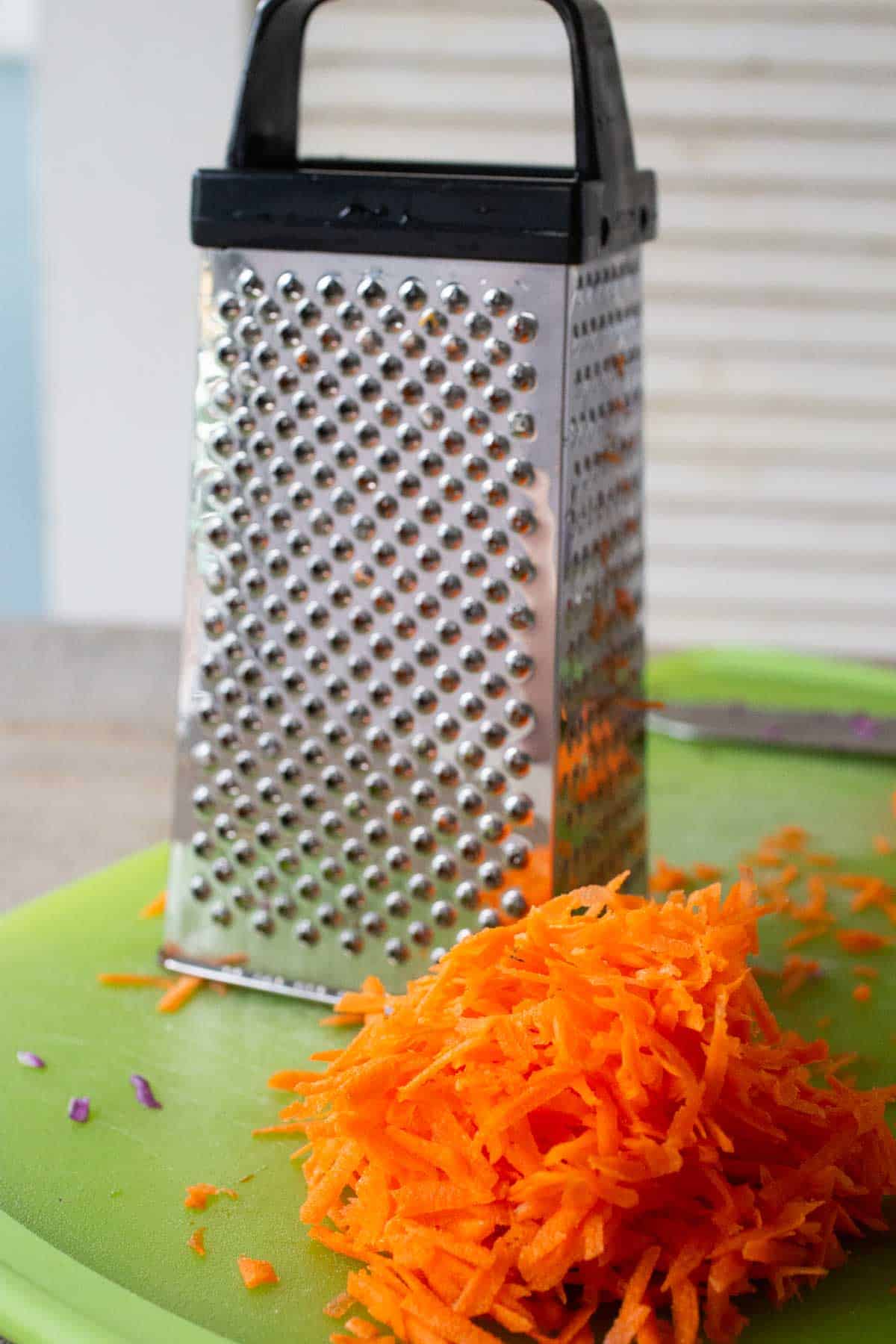 Chop the green onion and parsley and add all the prepped veggies to a large mixing bowl.
Make the Dressing
The dressing is so easy to prep.
Simply add the apple cider vinegar, sugar, Dijon mustard and celery seed to a Mason jar with a lid and shake it up.
Then add the canola oil and salt and pepper and shake it again until well combined.
Toss with the prepped veggies and you're all set!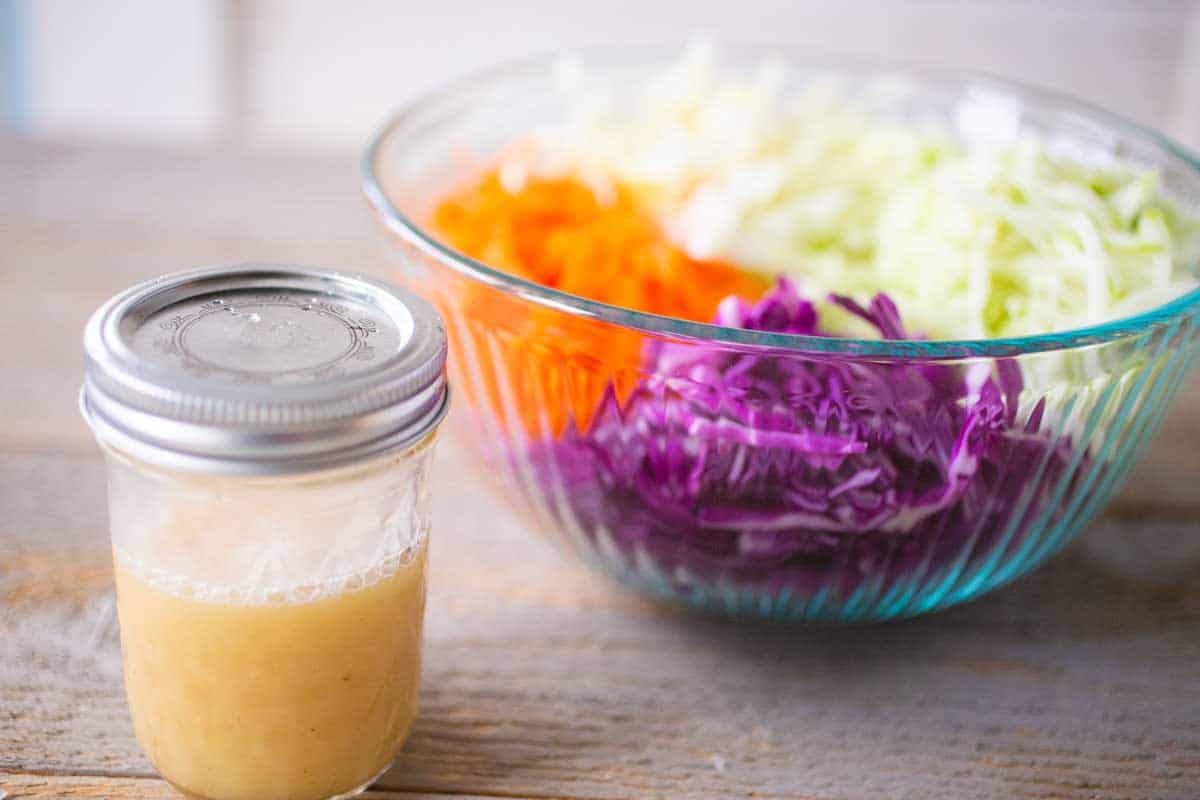 Easy Prep Tips
This carrot apple salad is best served the day you make it but you can easily prep it ahead to save time.
You could buy pre-shredded veggies to cut down on chopping time.
You could also chop the vegetables up to 24 hours in advance and keep them stored in an airtight container in the fridge.
You could also prep the dressing several days in advance. Just be sure to keep it stored separately from the salad or the vegetables will wilt.
Don't pre-grate the apple until just before you toss the salad together. You don't want it to turn brown as it sits.
Serving Suggestions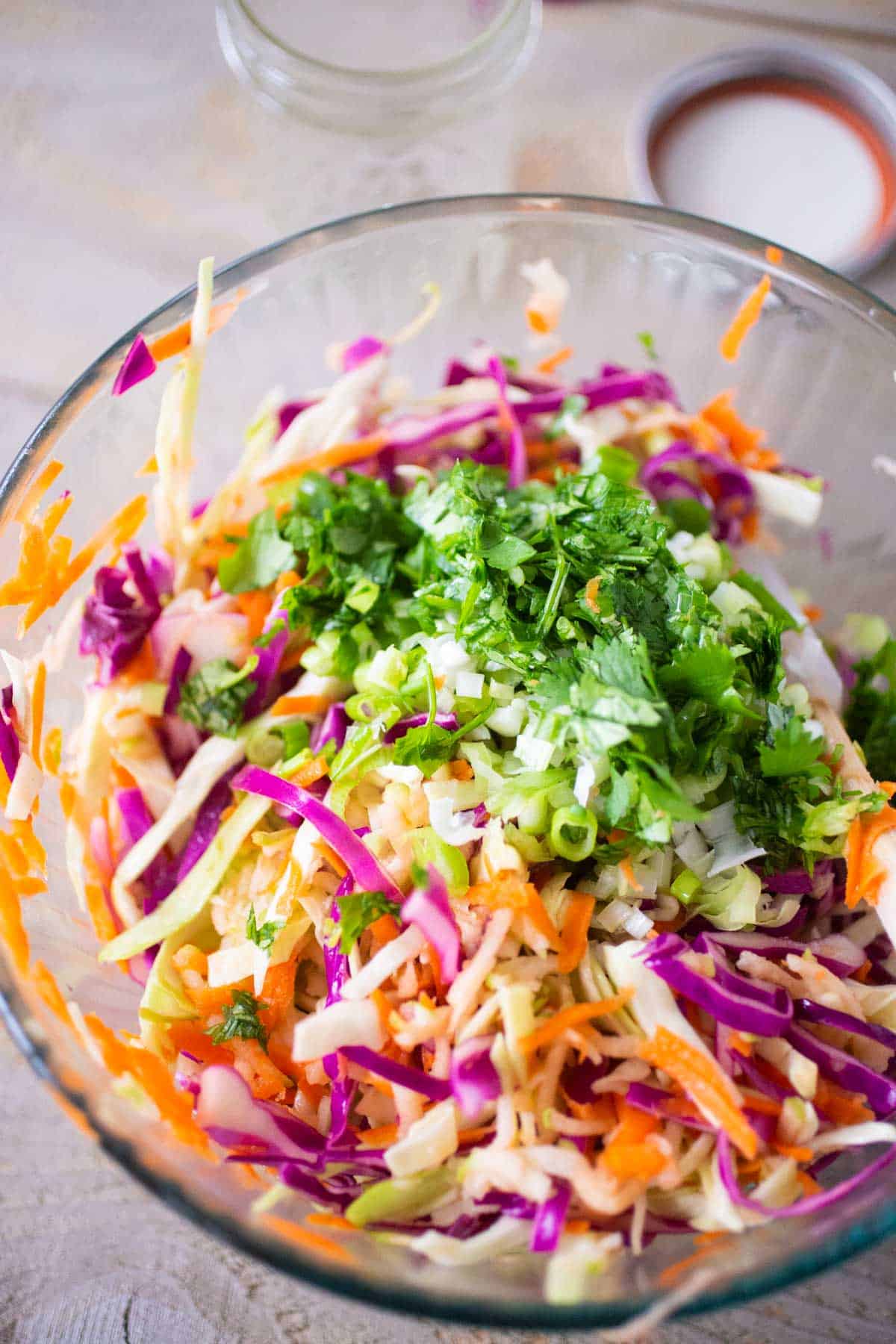 This fresh and crispy carrot apple salad is one of my favorite side dishes to add to a barbecue dinner.
You can enjoy it on the side of your plate but it is also super-tasty used on top of a pulled pork sandwich with BBQ sauce.
You could also serve it as a fresh condiment if you plan to serve BBQ chicken sliders and let your family add it to their individual sliders at the table.
It would be a fun vegetable side dish if you're making barbeque chicken pizza for pizza night!
More Vegetable Sides
If you want to add a nice dose of vegetables to your dinner plate in the form of a fresh relish, slaw, or salad, you'll also love some of these family favorites.
I'm currently obsessed with chow chow relish for grilled chicken and pork tenderloin.
My chunky corn salsa and pineapple salsa both work as a chip dip or as a topping for tacos, rice bowls, or even green salads.
And my kids absolutely inhale huge bowls of my homemade salsa if there are crispy tortilla chips to go with it!
📖 Recipe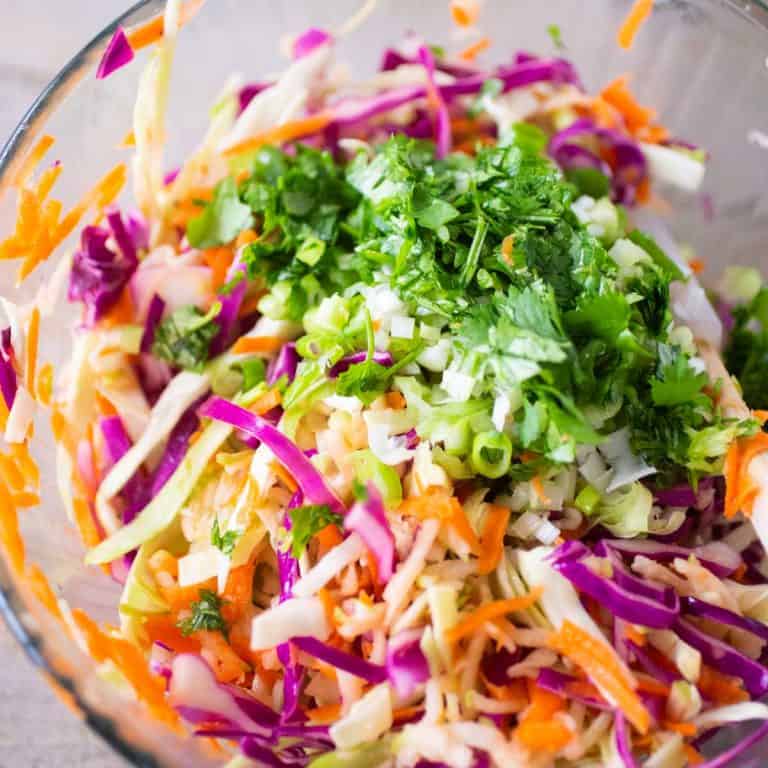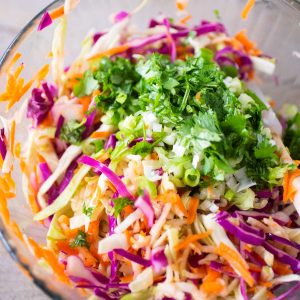 Carrot Apple Salad
Easy carrot apple salad is a vinegar based slaw that tastes amazing with savory barbecue dishes or grilled meats. Use it to top a pulled pork sandwich or spoon some over spicy barbecue chicken. This is a great side dish to bring to a potluck!
Ingredients
For the Salad
3

cups

finely shredded green cabbage

from about ¼ head of cabbage

3

cups

finely shredded red cabbage

from about ¼ head of cabbage

2

large carrots

peeled and shredded

2

green apples

peeled and grated

2

green onions

minced

¼

cup

flat leaf parsley

minced
For the Dressing
¼

cup

apple cider vinegar

2

tbsp

sugar

1

tablespoon

Dijon mustard

¼

tsp

celery seed

2

tbsp

canola oil

Sprinkle of salt and fresh cracked pepper
Instructions
Add both shredded cabbages, shredded carrot, grated apple, green onions, and parsley to a large mixing bowl. Stir them together until combined.

Add the apple cider vinegar, sugar, Dijon mustard and celery seed to a Mason jar with a lid. Shake it until everything is well combined. Add the canola oil, salt, and pepper, and shake again to combine.

Drizzle the dressing over the carrot apple salad mixture and use a fork to toss it all together. Serve immediately or store covered in the fridge until ready to serve. Best served the day you prepare it.
Save This Recipe to Your Recipe Box
Find this delicious recipe next time you visit by saving it to your very own recipe box on my site. All your favorites stored in one easy place!