Looking to ditch some of the calories and fat? This lighter chicken pot pie uses phyllo dough and a lightened up sauce to make it waistline friendly!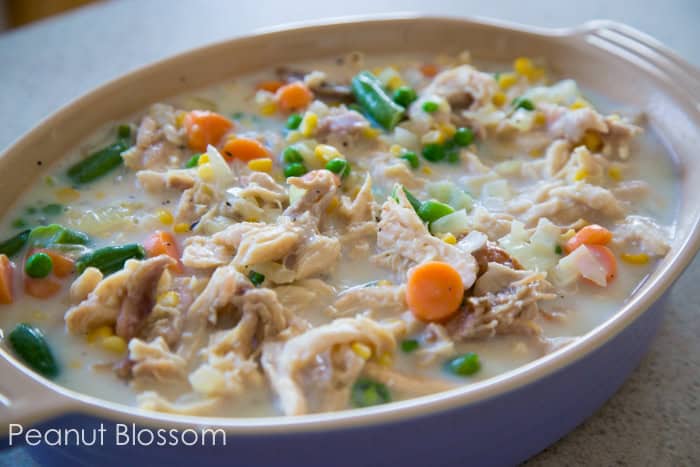 I love chicken pot pie. It is the absolute definition of comfort food. Well, maybe homemade mac and cheese would win that title, but pot pie sure comes close. In the past year or so, I've become a hardcore freezer stocker and from-the-pantry cook. Generally, chicken pot pie would not fall in either of those categories unless we're talking frozen Swanson's dinner.
I'd like to introduce my solution to that puzzle. The beauty of this particular pot pie is that it is basically a pantry/freezer staple except for the chicken. Pick yourself up a rotisserie chicken and you'll be all set. Shred and freeze a rotisserie chicken for later and this does officially become a pantry-only recipe.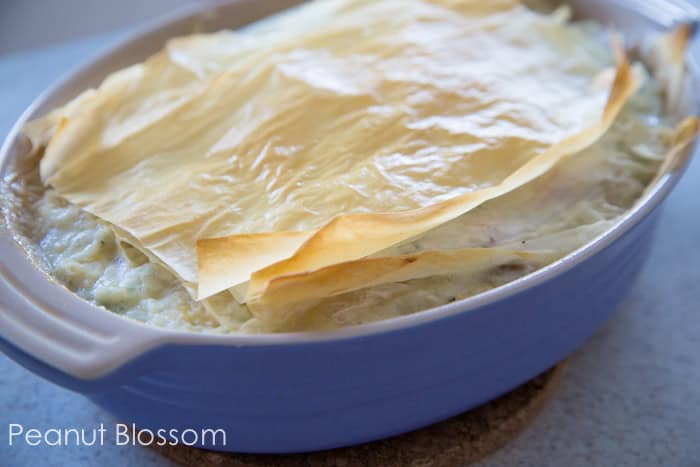 The most surprising part is the use of phyllo dough instead of traditional pie crust. It looks like it would be so difficult and in fact is far easier. If you follow my recommendation of using an 8 x 11 baking dish, the phyllo sheets will fit perfectly across the top without trimming. Phyllo is only tricky when you have to cut it and mold it. Here, you just lay it right down and move on. The use of cooking spray even prevents the frustration of a pastry brush tearing the delicate sheets.