This light chicken pot pie uses phyllo dough and a lightened up sauce to make a healthier version of the comfort food you love!
I love chicken pot pie. It is the absolute definition of comfort food. Well, maybe homemade mac and cheese would win that title, but pot pie sure comes close.
Normally people think that pot pie is complicated to make so they rely on the premade varieties from the grocery store.
I'd like to introduce my solution to that puzzle.
The beauty of this particular pot pie is that it is basically a pantry/freezer staple except for the chicken.
Pick yourself up a rotisserie chicken and you'll be all set with the easiest, lightest pot pie ever.
Jump to:
Why This is the Best Recipe
I've been making this version of chicken pot pie for over ten years. My family has loved it because:
Super Fast to Prepare: I keep the shredded rotisserie chicken and frozen veggies on hand in my freezer so I can whip this up even on a busy weeknight with almost no warning.
Cozy Comfort Food: It has all the best flavors of a pot pie with a fraction of the work. The creamy sauce and tender veggies with savory chicken is always a hit.
Guilt-Free Dinner: When I need to feel good about giving my family a healthy dinner, this one is a perfect go-to meal. Loaded with all kinds of veggies and lean protein, it even has plenty of dairy in the mix with the milk.
Flexible and Light: It is easy to play with this recipe. I serve it crustless in a bowl with a batch of fresh baked refrigerator biscuits when I'm in a rush.
Ingredients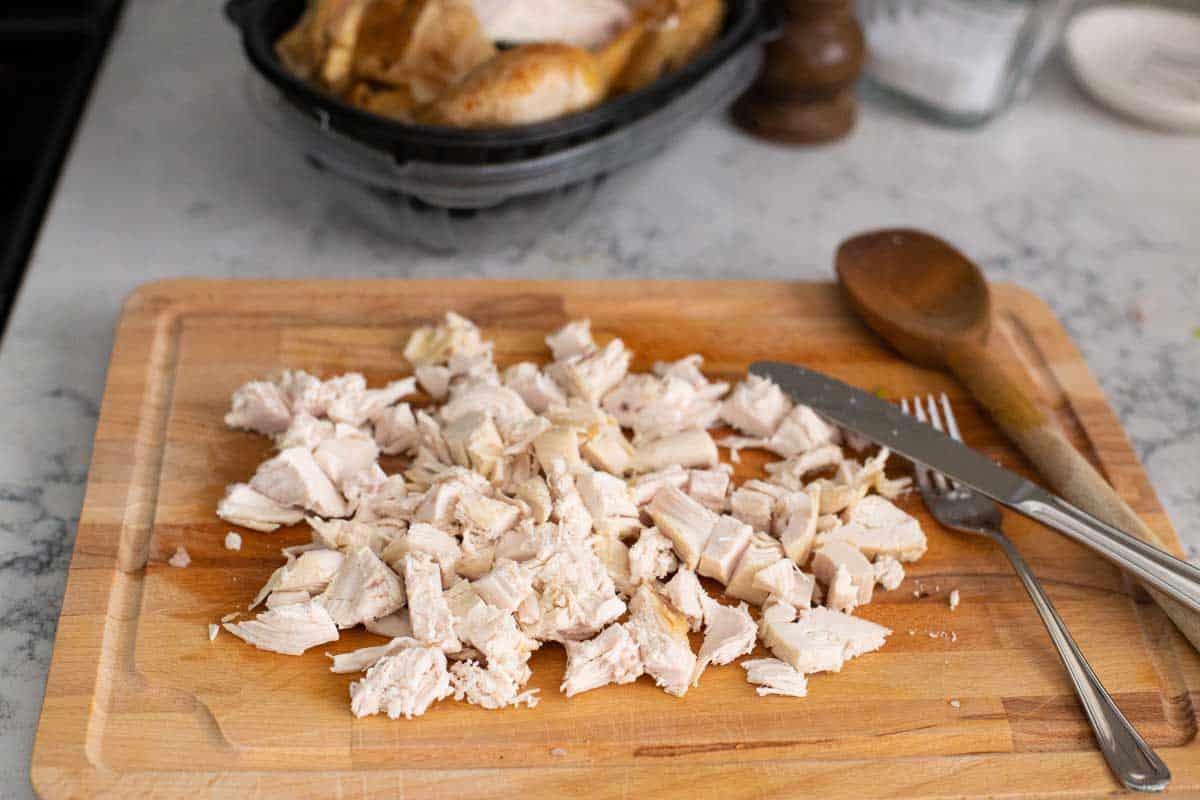 My kitchen always has these items on hand so I can make this recipe in a pinch. I shred the chicken meat and always have a container of it in my freezer!
Rotisserie chicken meat, shredded
Onion
Olive oil
Flour
Milk
Frozen vegetables
Frozen phyllo dough, thawed: You can substitute a batch of refrigerator biscuits and serve them on the side if you don't want to mess with phyllo dough.
Dried thyme, salt and pepper
How to Lighten the Recipe
Even though this chicken pot pie is lighter than the more decadent varieties, it is absolutely filled with flavor.
Thicken the sauce with a simple roux:
A little flour is added to the olive oil as you soften the onion. This helps to thicken the sauce without the use of butter or heavy cream.
Use Low Fat Milk:
I have used both fat-free milk and reduced fat milk in this recipe with great results.
Use Frozen Phyllo Dough instead of pie crust:
Pie crust is made with lots and lots of delicious butter. If you want to lighten the recipe but still have a crispy top, frozen phyllo dough is perfect! Just a few sheets of the pastry go a long way and are much lighter than a thick buttery pie crust.
Make the Pot Pie Filling on the Stovetop
The first step to this easy pot pie recipe is to prepare the filling.
In a large sauce pan or dutch oven, heat the olive oil over medium heat.
Add the onion and dried thyme, season with salt and pepper, and cook until the onions are translucent and soft.
Add the flour and cook for 1 minute.
Gradually add the milk and stir until smooth.
Continue to cook, stirring occasionally, until the mixture comes to a simmer and thickens.
Remove the pan from the heat; stir in the shredded chicken and frozen vegetables.
Pour the prepared filling into an 8×11-inch baking dish (a 2 qt pan).
How to Use Phyllo Dough for the Crust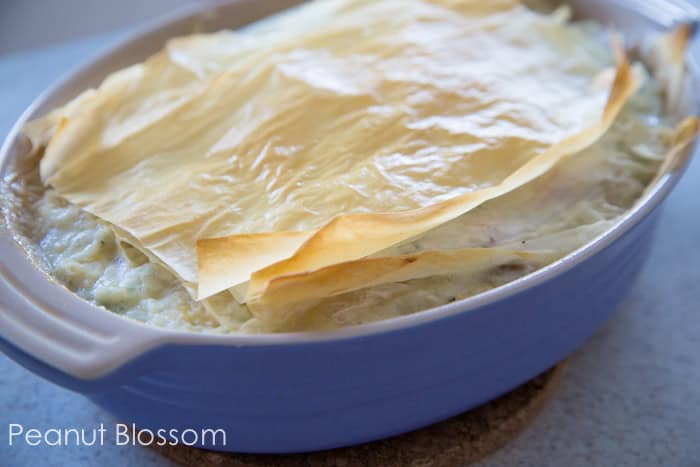 The most surprising part is the use of phyllo dough instead of traditional pie crust. It looks like it would be so difficult but in fact is far easier.
Use an 8 x 11 baking dish and the phyllo sheets will fit perfectly across the top without trimming. Phyllo is only tricky when you have to cut it and mold it.
Here, you just lay it right down and move on.
The use of cooking spray even prevents the frustration of a pastry brush tearing the delicate sheets.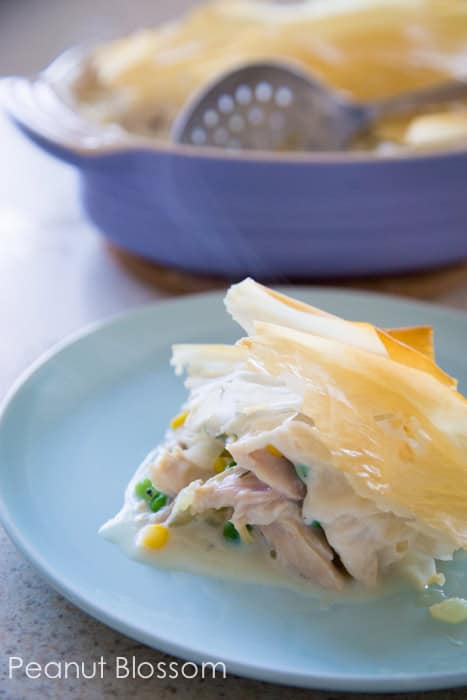 Bake the Pot Pie
If you're baking the light chicken pot pie with phyllo dough crust, preheat the oven to 400°F and bake for 20 - 25 minutes or until the topping is golden brown.
If you plan to serve it with biscuits on the side, there is no need to bake the filling. Just be sure the chicken and veggies are heated through before serving.
Variations
There are plenty of ways to play around with this family-favorite recipe.
You can change how you actually serve it or you can change some of the ingredients for a new flavor.
Some of my favorite ingredient variations include:
Vegetables: I always use a bag of frozen mixed vegetables but you could use leftover cooked veggies you have in the fridge. Asparagus, peppers, broccoli, green beans, even potatoes would all be yummy here.
Spicy: You could add a dash of cayenne pepper or a few shakes of your favorite hot sauce to kick things up a bit.
Meats: Rotisserie chicken is my favorite dinner short cut but if you've got leftover pork, ham, or turkey, they'd all work great.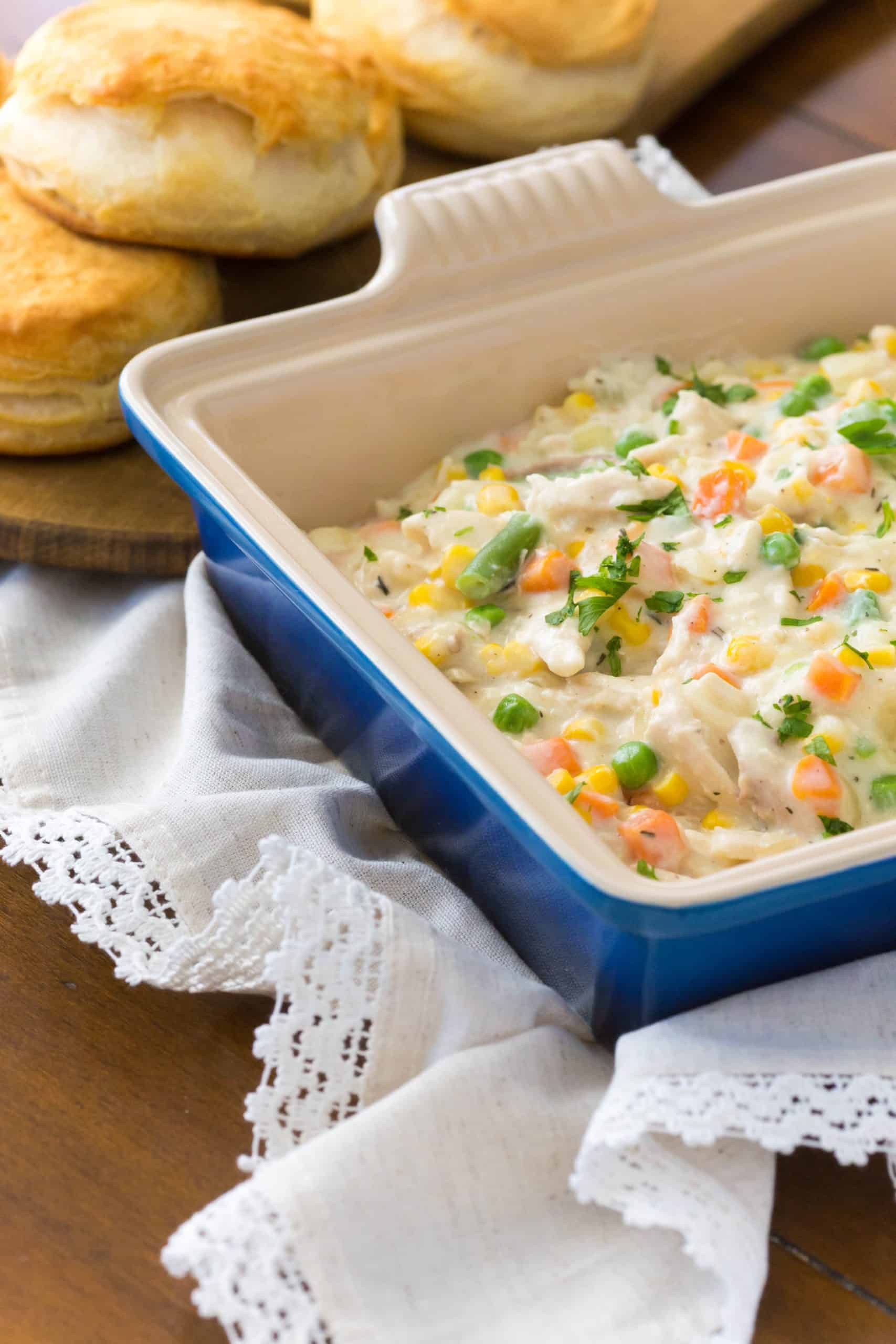 Serve with Biscuits
As I mentioned, you can serve the pot pie filling on it's own with a side of fresh baked biscuits or your favorite warm bread.
This is the fastest way to make and serve it and my family always loves it.
Make a Pie Crust
If you're interested in a heartier version of this classic comfort food, you may want to use the filling from this recipe to make a buttery crusted pot pie with my favorite all-butter pie crust dough.
You could also swap the chicken and use cooked ham or skip the phyllo dough and make homemade biscuits for layering on as the top crust.
📖 Recipe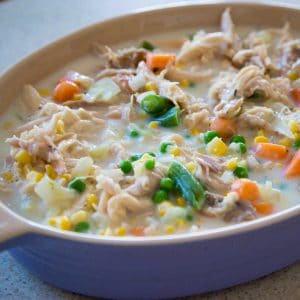 Light Chicken Pot Pie
This quick and easy chicken pot pie is made healthier with lots of veggies and lightened sauce.
Ingredients
1

rotisserie chicken

meat shredded

2

tablespoon

olive oil

1

medium onion

chopped

¼

teaspoon

dried thyme leaves

¼

cup

flour

2 ½

cups

skim milk

1

(10 oz) bag of frozen mixed vegetables

carrots, peas, green beans

6

phyllo sheets

thawed

Cooking spray
Instructions
Preheat the oven to 400°F.

Heat 2 tablespoon olive oil in a large saucepan over medium. Add onion and thyme, season with salt and pepper, and cook until onions are translucent and soft. Add flour, cook 1 minute. Gradually add milk, stirring until smooth. Cook, stirring occasionally until mixture comes to a simmer and thickens.

Remove from heat; stir in chicken and thawed frozen vegetables. Pour filling into an 8×11-inch baking dish (a 2 qt pan).

Working quickly, place 2 sheets of phyllo dough across the top of the filling. Spray an even coat of cooking spray. Add another 2 sheets of dough, spray. Place the final 2 sheets of dough and brush evenly with just a bit of real olive oil for better taste and browning, or go easy and use more spray.

Bake until golden and bubbling, 20 – 25 minutes.
Save This Recipe to Your Recipe Box
Find this delicious recipe next time you visit by saving it to your very own recipe box on my site. All your favorites stored in one easy place!