Plan the best book club party with the best book club dinner ideas that pair great book picks with themed dinner recipes to really get your book discussion going!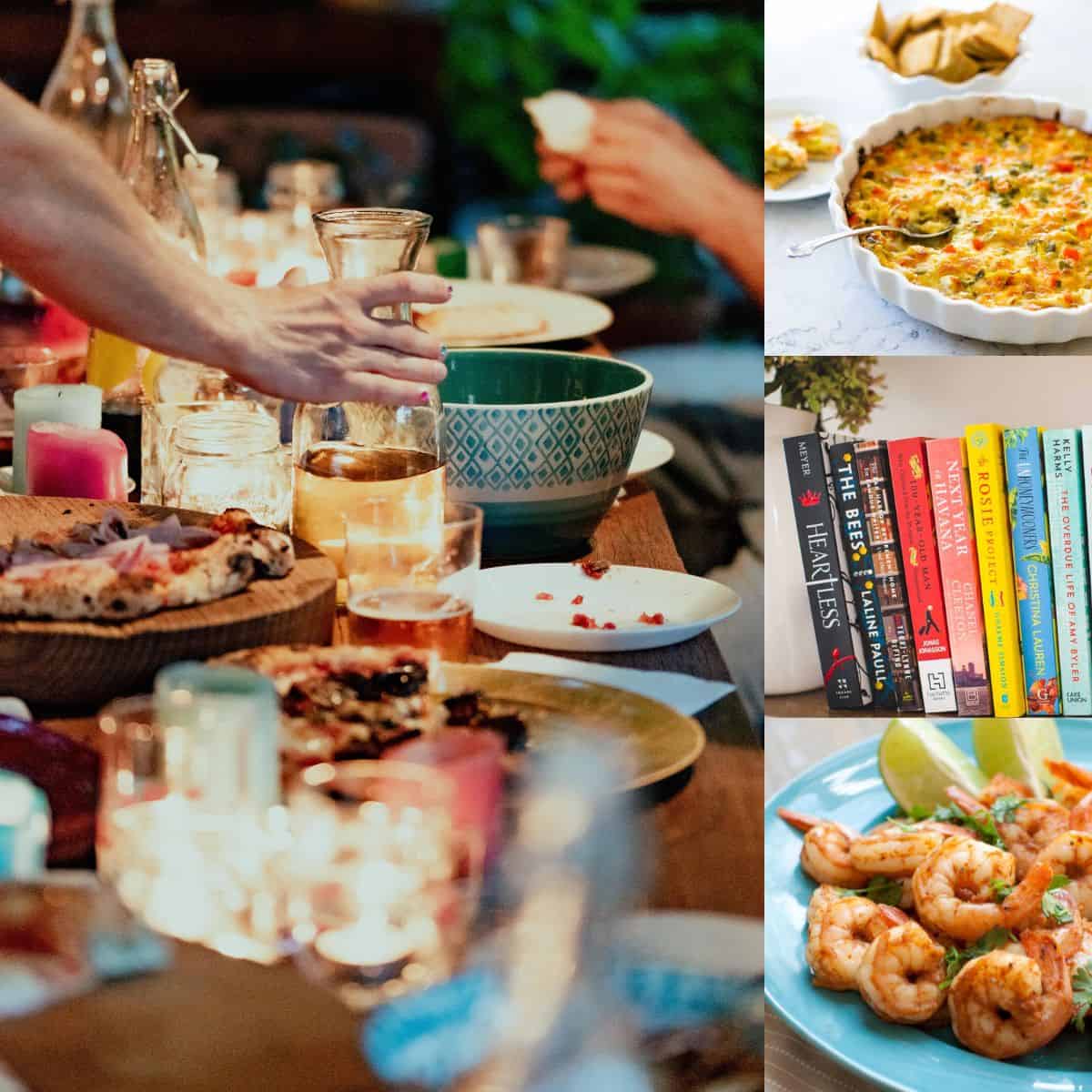 For every book we've chosen for the Peanut Blossom Book Club, I've included a fun party menu that goes along with the book's theme.
I think this is such a fun way to incorporate a little playfulness to your book club group but it doesn't need to be difficult!
If you want to plan ahead for a full year of book club dinner ideas to share with your group, I've pulled together some of my favorite books along with simple dinner menus you can share together.
Jump to:
How to Plan a Book Club Dinner
There are two ways you could approach a book club dinner:
Every member takes turns hosting: The host picks the book, plans the meal, and does all the work once and then gets to enjoy all the other book club meetings as a guest.
Potluck style: Every member takes turns hosting and picking the book of the month. The host plans the theme for the book club dinner but then all the members sign up to bring dishes on the theme potluck style. This means everyone chips in every month.
I've been to book club parties that operated both of those ways and there are pros and cons to both. They are both excellent choices, it just depends on your particular group.
Just have a chat about what works best for everyone before you start.
Easy Book Club Books and Dinner Idea Pairings
Pairing a book club book with a dinner theme doesn't need to be complicated but if you've never done it before, you might be feeling stuck.
I've gathered some of my favorite book club picks from the last 8 years of the Peanut Blossom Book Club and paired them with a simple dinner theme to get you going.
Summery Beach Menu
Our annual summer beach reads are always such a fun break to the book club routine!
Enjoy a book club pick that is set in a beach town or somewhere warm and sunny and then pair it with a light and easy summer menu:
English Tea Party
Mix things up and plan a book club tea party with finger sandwiches, tea and cocktails, and some easy sweets:
Tropical Getaway Dinner
Read a tropical getaway book and while everyone is imagining a palm tree covered island, serve up an easy tropical themed dinner:
Classic American Dinner
Choose a book about American history and then serve a classic American dinner. This would be super fun for July in honor of the 4th:
Irish Dinner Ideas
Perhaps in March your book club could pick an Irish book and pair it with an easy Irish dinner for St. Patrick's Day:
BBQ Potluck Dinner
Any time of year would be fun to choose one of these books about ranch life for fans of Yellowstone. Pair these cowboy books with a classic BBQ party including:
Book Club Dessert Party
Skip dinner and head straight for dessert! Plan an evening with your book club friends and have everyone bring their favorite baked treat. Pair the dessert buffet with a book that talks about a bakery:
Spooky Dinner
In the fall, plan to pick a spooky book for book club from one of these fun book lists. Pair it with a Halloween themed dinner:
Christmas Holiday Party
At the end of the year, enjoy some holiday festivities with your favorite book club friends and plan your own little Christmas party.
Choose one of these fantastic Christmas books for book club and then pair it with a simple festive dinner: