This easy make-ahead yule log cake recipe is the perfect Christmas dessert to serve this season. Festive and oh-so-pretty, your friends and family will love this chocolate and whipped cream cake roll.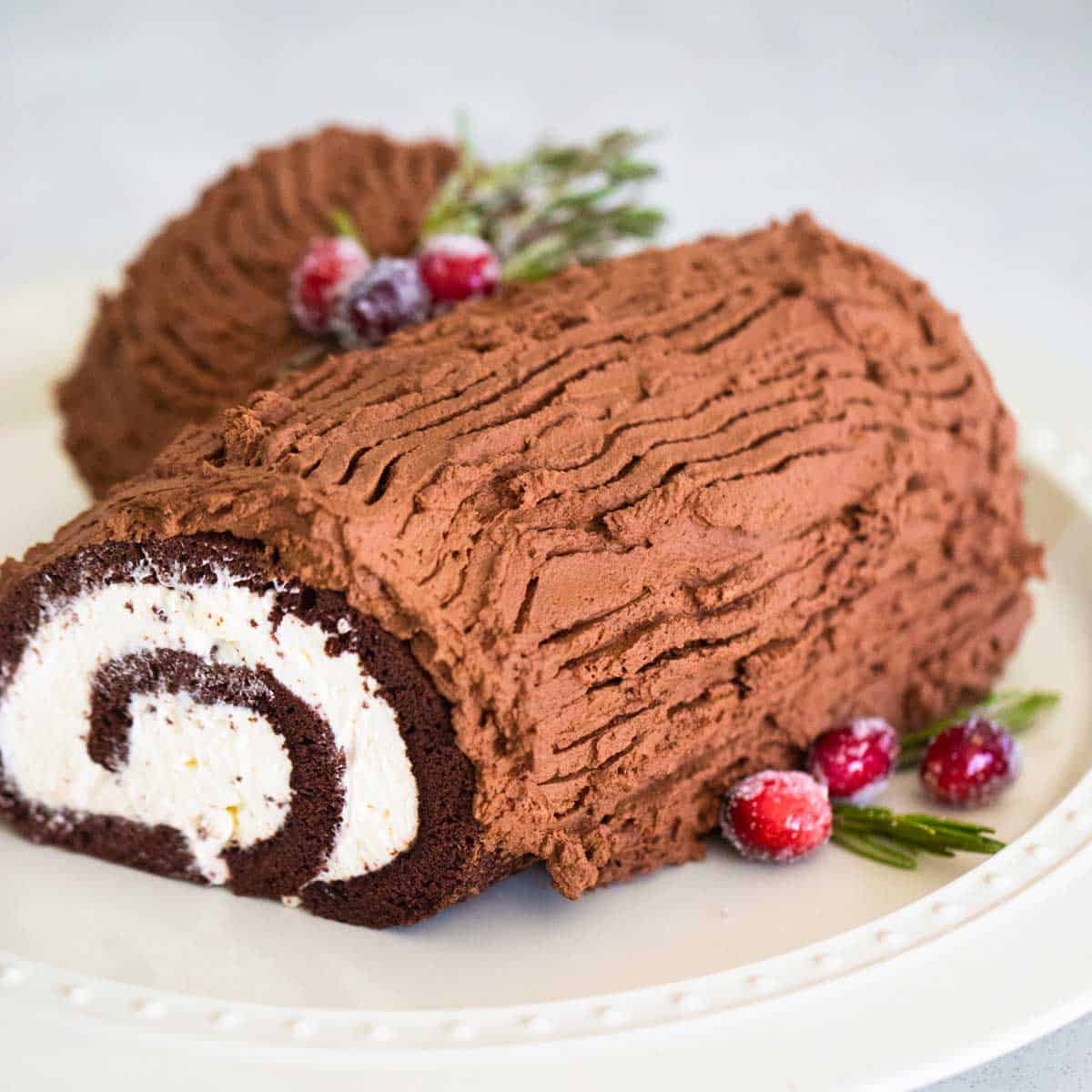 If you've never made a yule log cake, you will be stunned to discover just how easy this elegant Christmas dessert can be to bake ahead for the holiday.
Bake and fill the chocolate cake roll with the light and fluffy whipped cream filling and coat it in a rich chocolate ganache frosting the day before you plan to serve it.
Pull it out for the gorgeous end of your Christmas Eve dinner and your family will gasp with surprise.
Baking this for my kids was a highlight of last year's Christmas. My girls were utterly amazed by the pretty cake swirl and they've already begged me to make it again this year.
IMPORTANT NOTE: Baking something as detailed as this stunning Christmas cake requires a fair amount of explanation to ensure you achieve baking success.
Don't be intimidated by the lengthy recipe card, I just wanted to ensure you had all the tips and tricks you needed to get your yule log to turn out perfectly!
Jump to:
What is a Yule Log Cake?
A yule log, or buche de Noel, is a traditional Christmas dessert featuring a chocolate sponge cake rolled with a light and fluffy whipped cream filling. It is coated in chocolate ganache frosting and decorated to look just like the log from a tree.
You can read more about the history of the yule log cake here.
Ingredients
The ingredients for the yule log cake are likely in your fridge and pantry right now. There are just a few unique items that require a little more explanation:
Unsweetened Cocoa Powder: I love to use Hershey's cocoa powder for my baking since it is easily found at most major grocery stores. You can use whichever brand you prefer.
Mascarpone Cheese: This Italian soft cheese can most easily be compared to American cream cheese but has a softer, smoother, silkier texture and is more easily whipped into the whipped cream filling. I was able to find it in the gourmet cheese section at our grocery store but if you can't find it, you could substitute Philadelphia cream cheese but the texture of the filling may not be as delicate.
Chocolate Chips or Chopped Chocolate: You can use either chocolate chips or hand-chopped semi-sweet chocolate bars for the ganache frosting. Whichever one is easiest for you.
Sugared Cranberries & Rosemary: This is an optional ingredient but definitely makes the finished yule log look natural and freshly coated with "snow." You can follow my instructions for making sugared cranberries here, it works just the same with the fresh rosemary.
Be sure to check the recipe card for all the remaining ingredients and quantities.
Tools You'll Need
A cake as stunning as this one is a lot easier to make when you are working with the right tools from the start.
Jelly Roll Pan: A 12 x 17-inch metal pan that has a 1-inch deep rim all around the border. I use this set of pans in my kitchen on a daily basis.
Parchment Paper: For lining the jelly roll pan.
Stand Mixer: This isn't absolutely essential but a stand mixer with a whisk attachment will make whipping the egg whites and frosting significantly easier.
How to Make the Sponge Cake
The recipe card has full, detailed instructions on how to make the chocolate sponge cake but there are a few tips I really wanted to explain more fully:
1. Is the parchment paper necessary?: Lining the jelly roll pan with parchment that drapes over the sides is crucial. This will become your handle for lifting the cake out of the pan and rolling it up.
2. Do I need all those bowls??: It will feel like you're using a lot of bowls to make this cake. I try to avoid using too many dishes as I bake but in this instance it will help ensure you have the lightest, spongiest sponge cake ever.
3. What are "Stiff Peaks"?: You'll beat the egg whites until "stiff peaks" form. This means that when you pull the whisk up out of the whites, a peak will be formed that holds it's pointy shape without falling over.
4. Why you roll up the empty chocolate cake first: While the chocolate cake is still hot, you'll roll the cake up with the parchment paper inside the roll. If you waited until the cake had cooled, it would crack and break instead of rolling. Rolling it up with the parchment swirled inside, keeps the cake from sticking to itself because you'll eventually unroll it to spread the whipped cream filling before rolling it up without the parchment paper.
How to Make the Cream Filling
In the mixing bowl of a stand mixer fitted with the whisk attachment, beat together the heavy cream, powdered sugar, vanilla, and salt on high speed until soft peaks form.
Soft peaks will gently fall over when they are pulled, unlike the stiff peaks that hold their shape.
Add the mascarpone cheese to the mixer and whisk it in until stiff peaks form, 1 - 2 minutes.
If you're substituting cream cheese for the mascarpone, you may wish to add just a tiny splash more of the cream to loosen the texture up a bit.
How to Roll the Yule Log
Once you're ready to fill the completely cooled cake with the whipped cream filling, there are a few special tricks to keep in mind.
First, as you unroll the chocolate cake to open it up from the parchment, you may find that it is sticking to the parchment in some places. Go slowly and use a spatula to slide between the paper and cake to help loosen it.
Don't panic if the cake breaks in some places, once you frost it and roll it back up, it won't show. Especially since we're going to cover the whole thing with more frosting at the end.
Spread the whipped cream evenly over the surface of the unrolled cake, leaving just a 1-inch border open at one of the shorter ends. The soft cream will spread as you roll it and fill that space.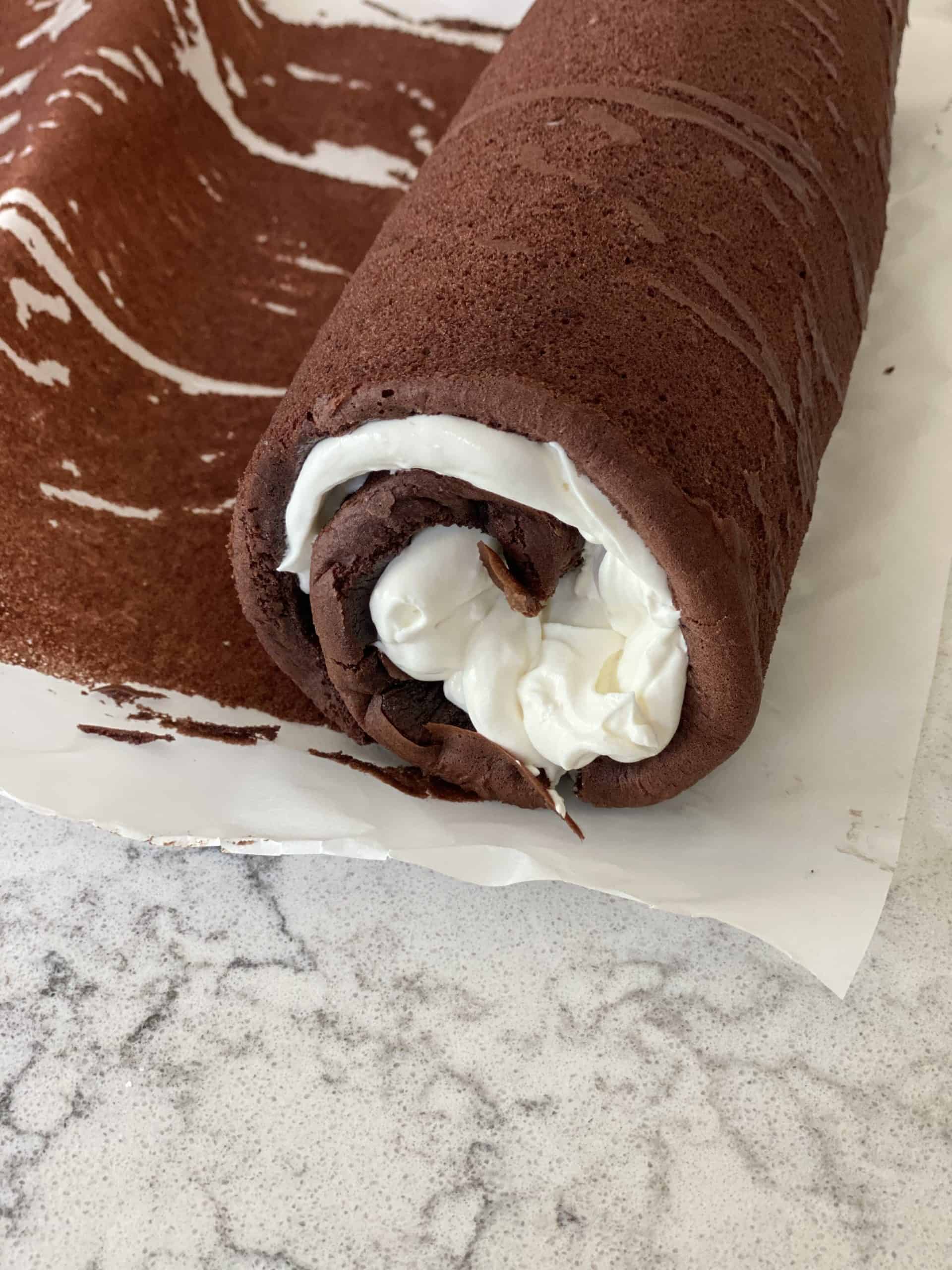 Use the parchment paper to help guide the cake roll but pull it back away from the cake as you push the cake forward. You do not want the parchment to be rolled inside with the cream filling.
Wrap the filled cake roll back up in the parchment and chill for at least one hour. This allows everything to firm up and set.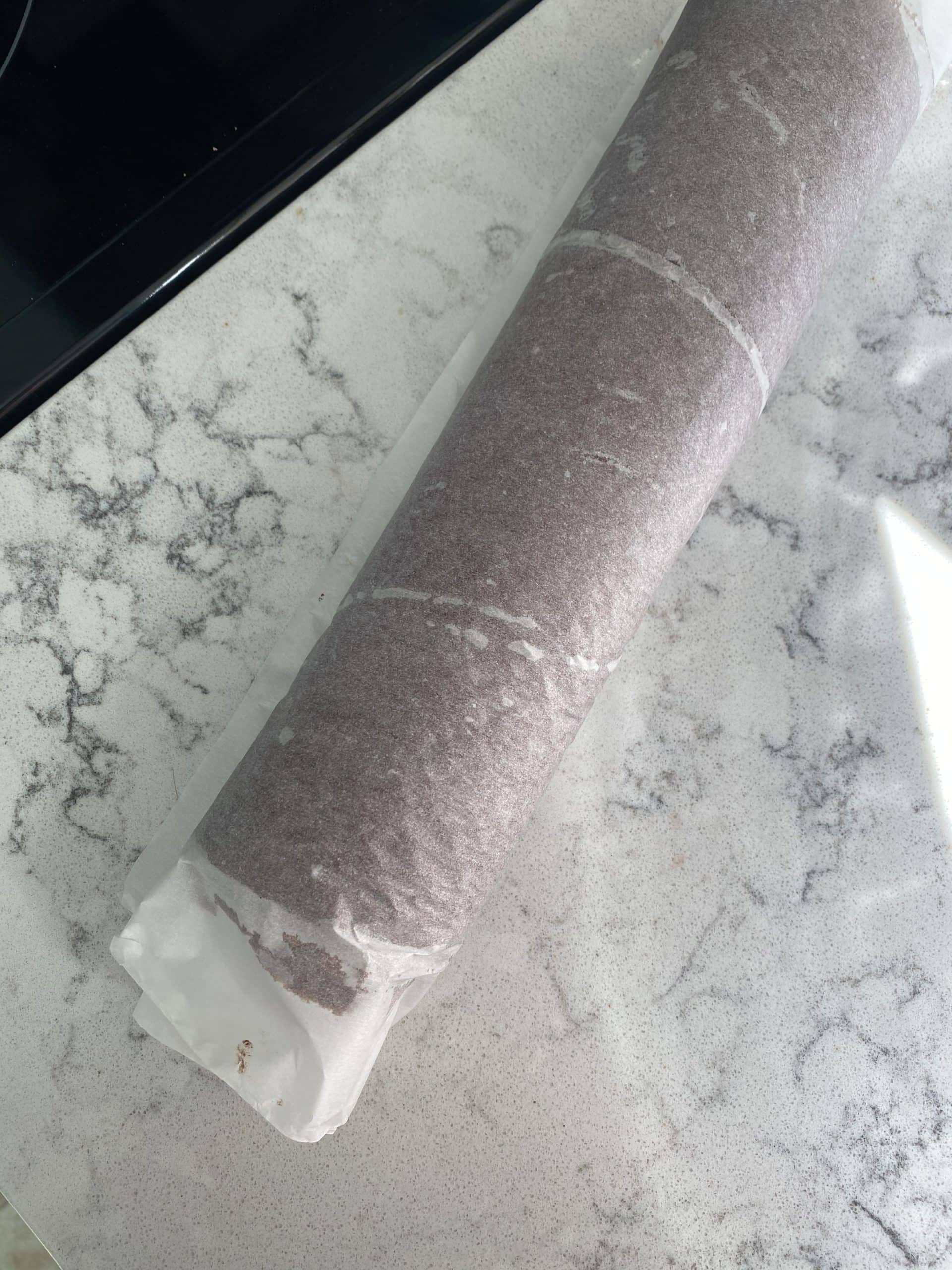 How to Assemble and Frost the Cake
The recipe card has complete, detailed instructions on how to make the chocolate ganache frosting.
Unwrap the chilled cake and have a cake platter ready for building it.
Use a knife to cut a 3-inch wide end off the cake but on a diagonal. Attach the cut end to the base of the bigger piece of cake with a dollop of ganache.
Frost the entire top and sides of the cake with the frosting but be sure to leave the cut ends showing the cake swirl open so you can show off your pretty work.
How to Decorate the Yule Log
My favorite part of the yule log is the super-easy decorating technique that makes you look like a professional baker.
Once the cake has been frosted, chill it for 20 minutes so the ganache has a chance to set.
Then, run a fork down the sides of the frosting to form the appearance of bark.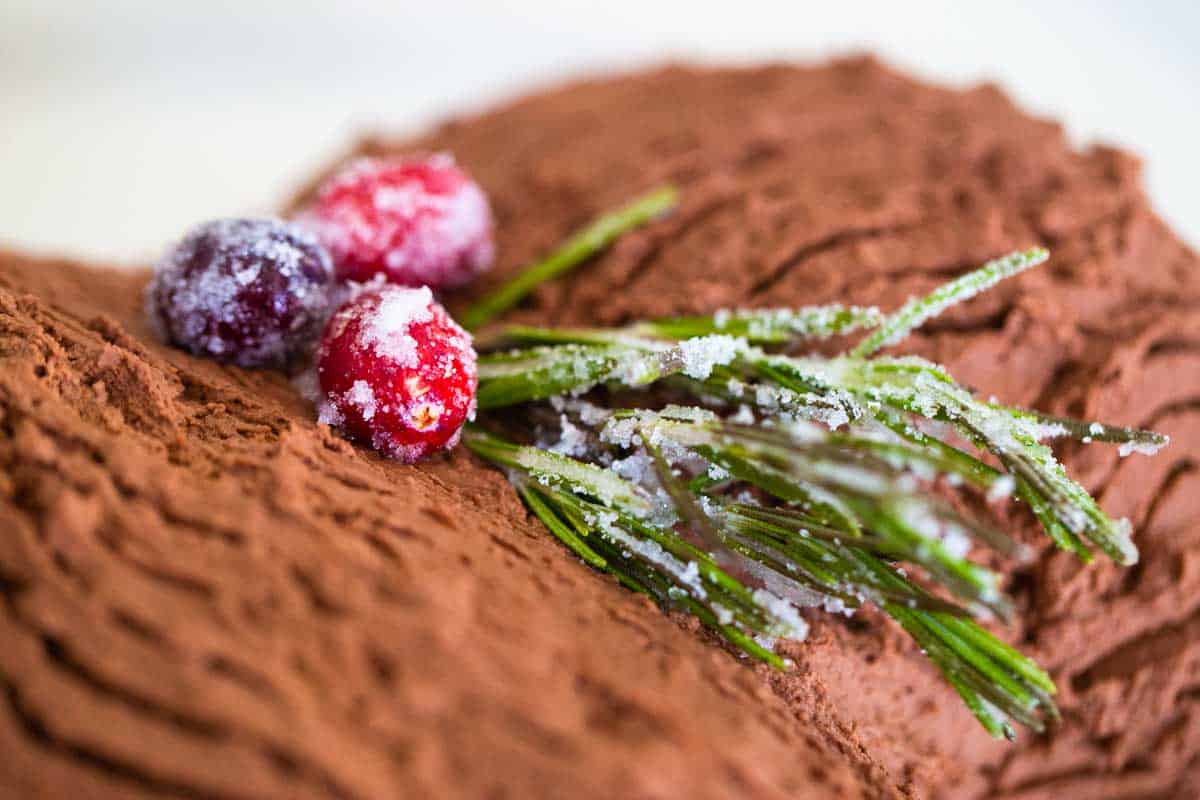 The same day I bake the cake and roll it with the whipped cream filling, I take a few minutes to make sugared cranberries and frosted rosemary using the same techinique.
The cranberries should dry overnight to get that gorgeous frosted look. They'll be ready to go when you're ready to decorate your cake before serving.
I simply tucked in a few sprigs of rosemary and a couple of clusters of cranberries to mimic the look of holly berries on the yule log.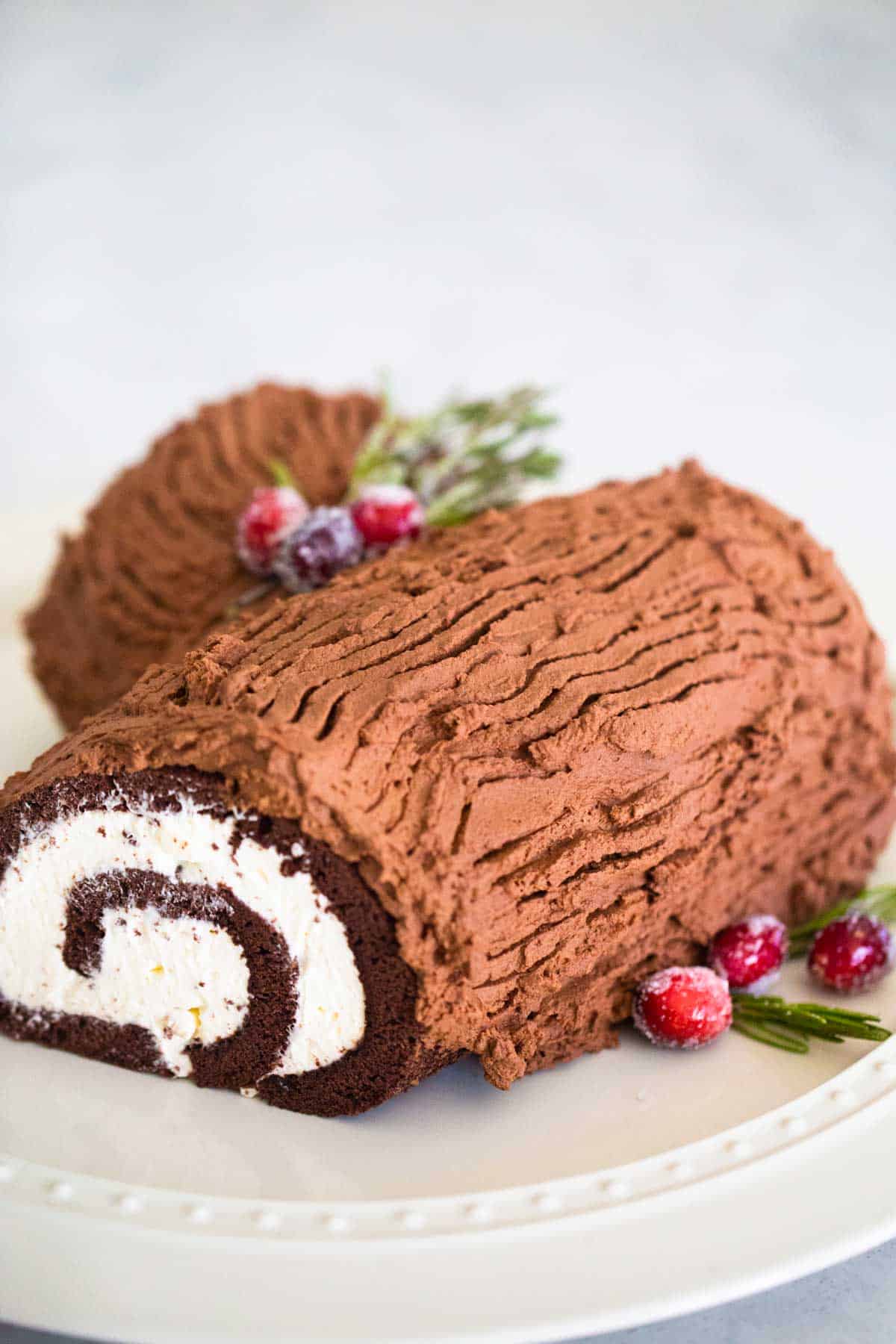 FAQ
What is another name for a yule log cake?
The yule log cake is also known as a buche de noel, or "Christmas log" in French. The name refers to the branch-like appearance of the chocolate cake.
What's the difference between a yule log and Swiss roll?
A Swiss roll is a chocolate cake rolled with a creamy white filling. A yule log is a similar dessert but has been sliced and displayed like a branch and decorated to look like the bark of a tree. Yule logs often featured candied mushroom decorations or frosted cranberries and rosemary to give a natural appearance.
Does yule log cake need to be refrigerated?
Since the filling is made with heavy cream and dairy, yes the yule log should be refrigerated before serving. Only display it for less than 60 minutes before putting it back in the fridge to keep cold.
How long can you keep a buche de Noel?
You can make a buche de Noel the day before you plan to serve it but the fresh dairy and cake is best served within 24 hours. It will keep for up to 3 days.
When to Serve the Yule Log
The yule log is a traditional Christmas Eve dessert that would make an elegant end to your evening.
However, if you're hosting a large family gathering and such a detailed dessert takes more time than you'll have in the busy days before Christmas, why not try it for a special St. Nicholas Day dessert earlier in the month?
More Traditional Christmas Desserts
Looking for more classic desserts to bake for your family this holiday season?
If you've tried this yule log or any other recipe on PeanutBlossom.com please don't forget to rate the recipe and let me know where you found it in the comments below. I love hearing from you!
FOLLOW along on Instagram @peanut.blossom as well as on  Pinterest and Facebook.