Pick one Christmas dinner menu from this list of 10 easy ideas for a memorable family meal in no time.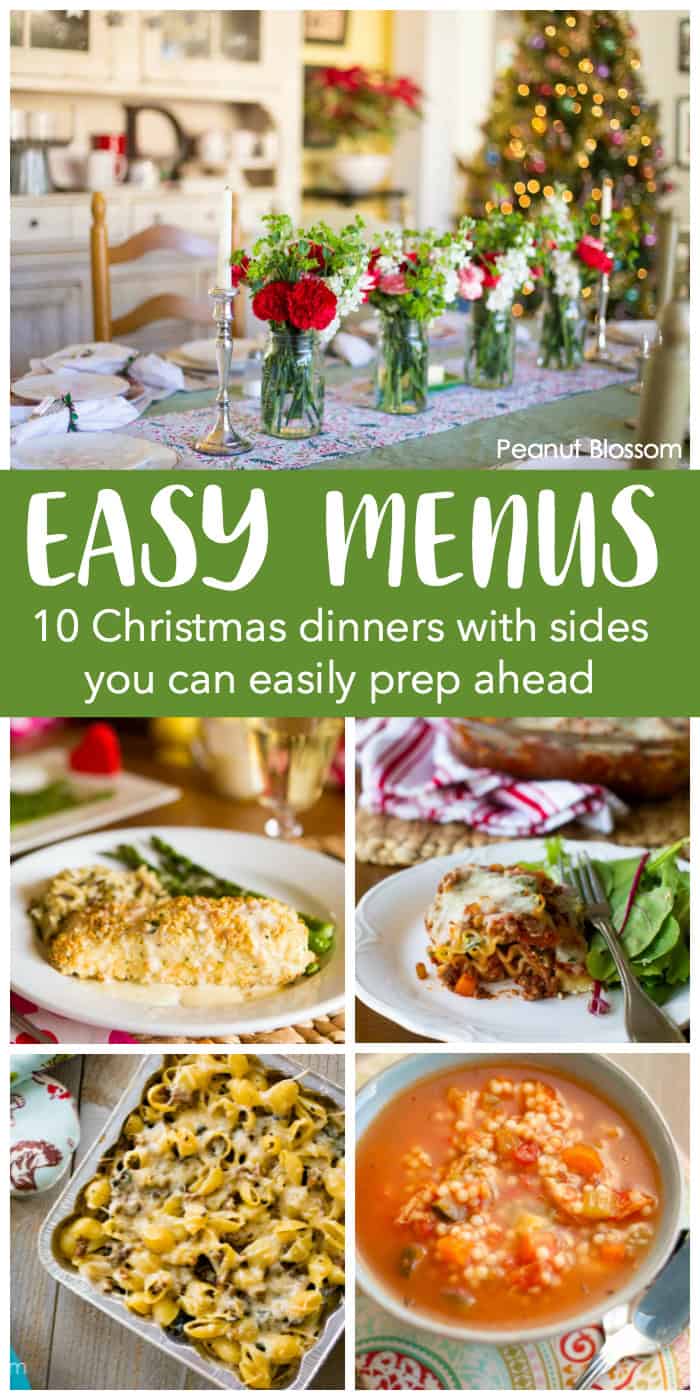 Planning your Christmas dinner menu doesn't need to be complicated. This year, to save you some time I decided to share some of our family's favorite festive meal plans.
For Christmas Eve, we tend to do a more formal, fancy meal at the table with recipes that are easy to prep-ahead and just finish off after we walk in the door from Christmas Eve Mass.
Christmas Day is more laid back and this year we're trying a slowcooker approach to the meal. I plan to dump everything into the Crockpot in the morning and get back to the living room with my family.
No matter how your family approaches the holiday feast, I hope these Christmas dinner recipes help you to plan a meal everyone will love and get you out of the kitchen to be with your kids as much as possible!
Merry Christmas!

P.S. That is a photo of our holiday table from last year. It may look fancy but I bought our flowers at Trader Joe's and just popped them into mason jars. You can see how to get the best flowers for $20 here.
10 Super Easy Christmas dinner menu ideas for busy families: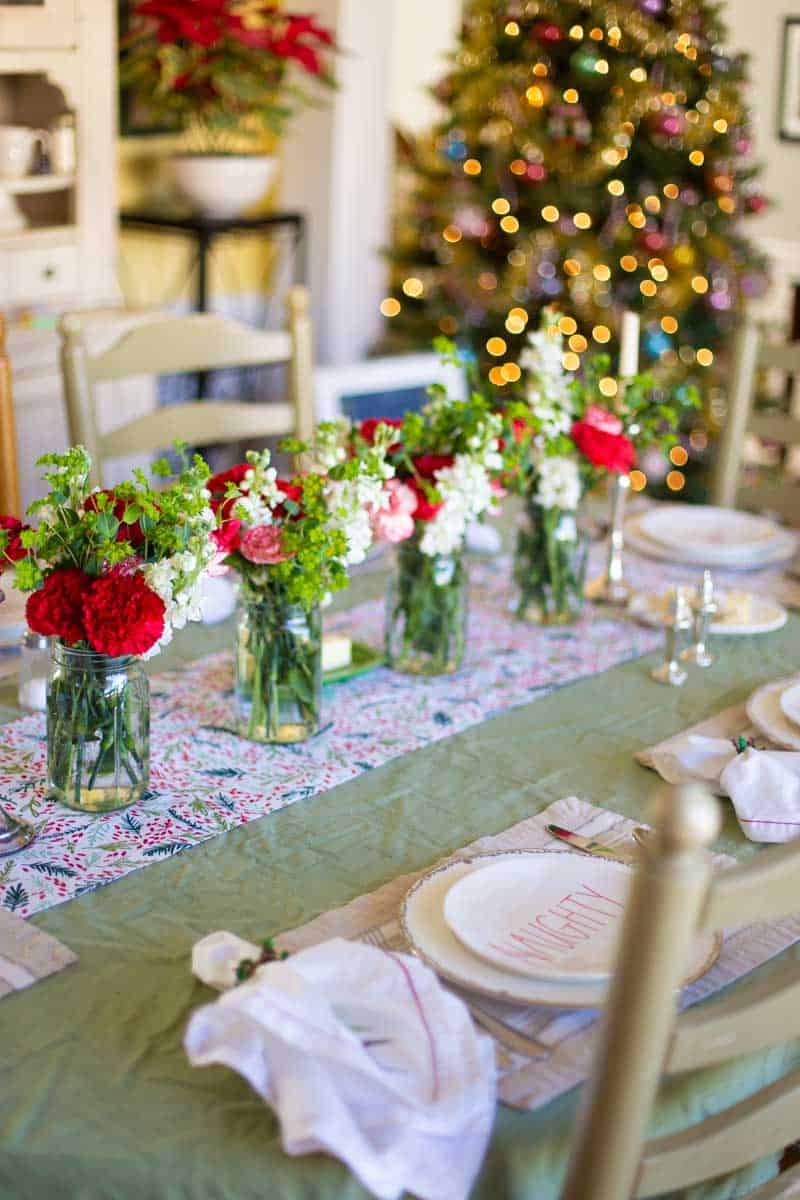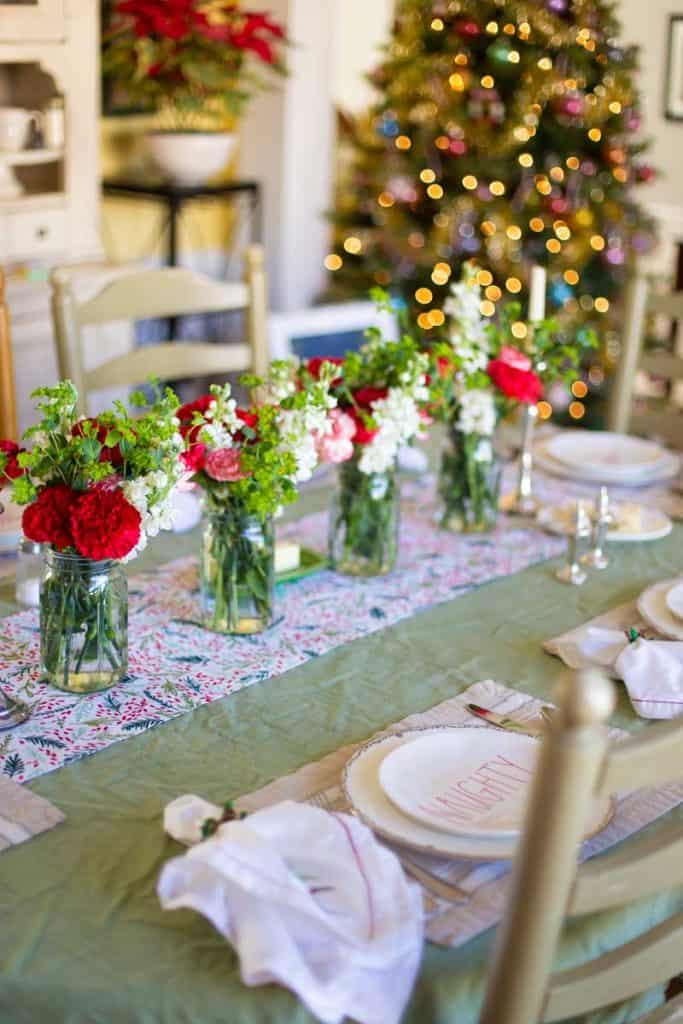 1. 100% Prep-ahead macadamia encrusted halibut:
This year we are making our favorite macadamia crust halibut with lemon cream sauce. I prep the fish in the morning and it is ready to pop into the oven when we get home from church.
Side dishes: We'll serve it with a couple of boxes of Uncle Ben's wild rice and a pan of roasted asparagus that can cook at the same temperature as the fish.
2. Steak and Tubes, prepped the day before:
For years, this silly-sounding steak recipe was my family's Christmas Eve dinner staple. You prep the steak in the marinade the day before. The whole meal is finished in 30 minutes or less.
Side dishes: The garlic butter pasta "tubes" are essential with the steak. We also serve it with simple gingered baby carrots.
3. 16-minute Shrimp Scampi:
I've been making this 16-minute shrimp scampi for years. It is ridiculously easy but looks so elegant when you're finished. Easy to scale for a larger or smaller crowd.
Side dishes: Serve it with this prep-ahead citrus salad for a bright and tasty twist.
4. Make-ahead lasagna or lasagna roll-ups:
Lasagna is always a hit for the holidays because it can feed a crowd in a one-pan dish. If you've never made it before, don't be intimidated. I've got this awesome Lasagna for Beginners guide here. Otherwise, these super-easy lasagna roll-ups are especially pretty with their ruffly exposed edges. My kids love them.
Side dishes: Garlic bread and a green salad are always a huge hit.
5. Cranberry blue cheese stuffed pork tenderloins:
This was a recipe from my mom ages ago. She always served it to company during the holidays. The cranberry blue cheese stuffed pork tenderloins are surprisingly easy to make and can easily be prepped ahead.
Side dishes: Serve with these fantastic sweet-and-spicy roasted sweet potatoes
6. Slowcooker sweet potato stew:
This is our pick for this year's Christmas Day dinner. I'll dump everything for this sweet potato stew into the pot in a minute because I'll prep all the veggies the day before and just keep them in the fridge. Then I'll dump everything into the bread machine and we'll have fresh stew and bread for dinner with literally zero effort at dinner time.
Side dishes: I'll be serving it with an easy batch of our favorite rum raisin bread for the bread machine.
7. Kid-friendly ham sliders:
The ultimate in kid-friendly holiday dinner ideas! These fun Hawaiian ham sliders feed a crowd and are easy enough the kids could even prep them!
Side dishes: What's better than soup and a sandwich? Serve the sliders with easy chicken crockpot soup.
8. Festive chicken chili:
If your Christmas dinner looks more like an open house with guests coming and going, be sure to check out this no-bean chicken chili recipe. It is super festive with lot of red tomatoes and red peppers. You could add green peppers to really amp up the holiday color palette. It makes a huge batch and will serve tons of people but it also freezes really, really well. You can make it ahead and freeze it or just freeze the leftovers.
Side dishes: Serve the chicken chili with a fun and easy toppings bar. I lay out sour cream, chopped green onions, shredded cheese, and tortilla chips for dunking.
9. Tuscan chicken soup (with the best short-cut ever):
If you like having an Italian theme for your Christmas dinner, this Tuscan chicken soup has been a family favorite for almost 10 years. Easy enough for beginners to make, can be made ahead, and is pretty enough for your holiday table. Save yourself oodles of time and just use a shredded rotisserie chicken!
Side dishes: Serve the chicken soup with your favorite fresh bread.
10. Freezer-friendly sausage spinach casserole:
Last but not least is my mom's classic recipe for a festive casserole. This sausage and spinach casserole recipe can be made ahead and frozen or just assembled and kept in the fridge for the next day. The green spinach makes it fun and festive, but you could easily add in a few red peppers for a special flair.
Side dishes: A simple loaf of fresh bread and fresh pineapple are the perfect additions. We don't know why the pineapple makes the casserole taste so good, but trust me. Don't leave it off the menu!!
Looking for more easy Christmas recipes?
Don't miss some of our other favorite solutions to a family-friendly Christmas meal: