December 6 is St. Nicholas' Day, a little-known holiday that is accompanied by a beloved ritual. Learn the history of St. Nick's Day and how Catholic families have been celebrating the feast day in the Midwest for generations.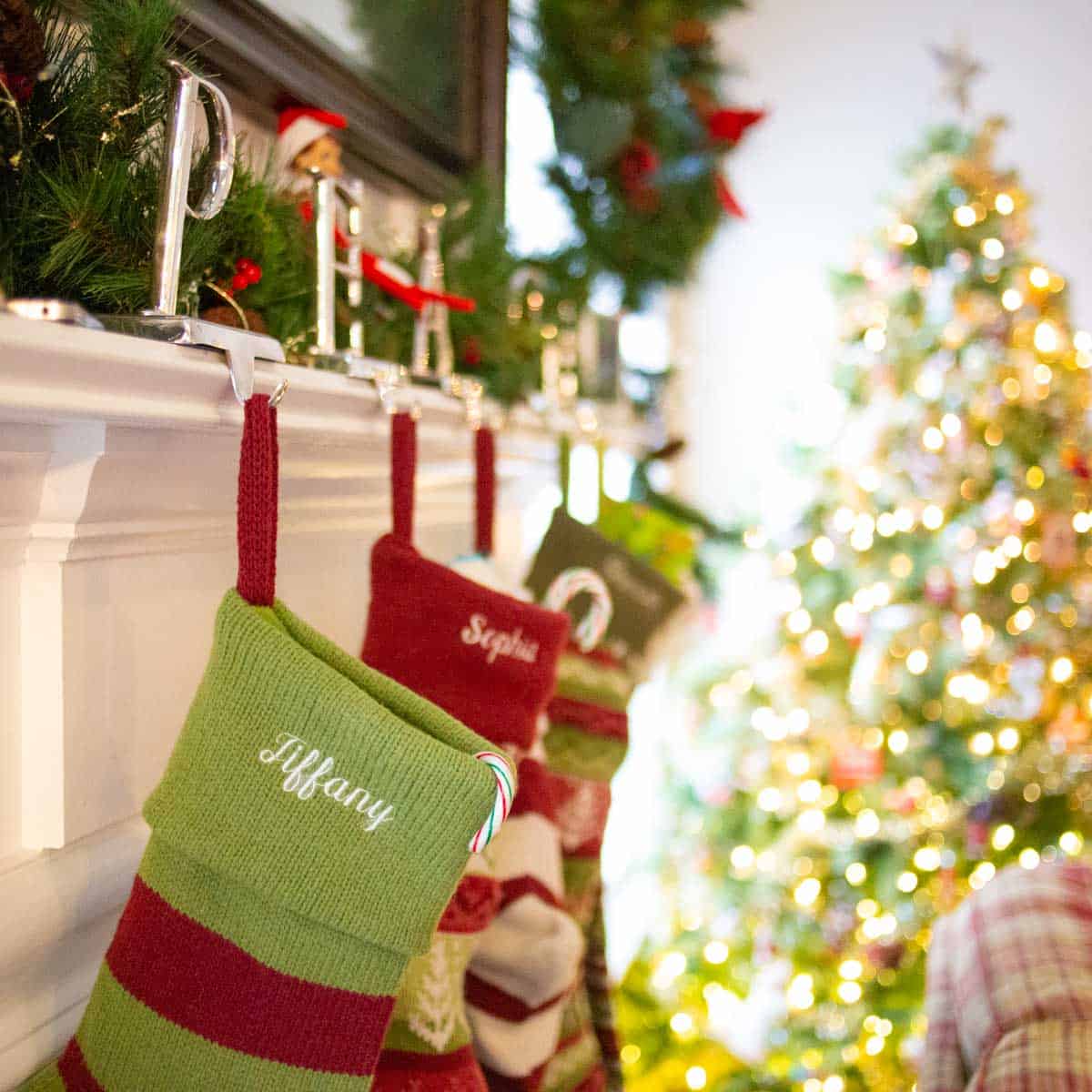 Does your family celebrate St. Nicholas Day?
I vividly remember explaining this sweet holiday to new friends in college who had never heard of it before.
I know not everyone is familiar with this tradition, but if you grew up in Milwaukee, Wisconsin as I did, you'd find it was so common stores would even advertise it on the radio to remind parents when to prepare!
Everything you need to know about celebrating St. Nick's Day is outlined below but if you're looking for a new way to celebrate the day, don't miss this fantastic St. Nick's gift idea for the whole family.
P.S. Don't miss the other wonderful Catholic feast days for families to celebrate with kids.
Jump to:
When Is St. Nicholas Day?
You know you're a parent when your social media feed is filled with friends desperately trying to clarify when is St. Nicholas Day. Every single year. No one can ever seem to remember!
The Feast of St. Nicholas is December 6.
He travels on the evening of December 5 so that children discover special surprises on the morning of his feast day on the 6th.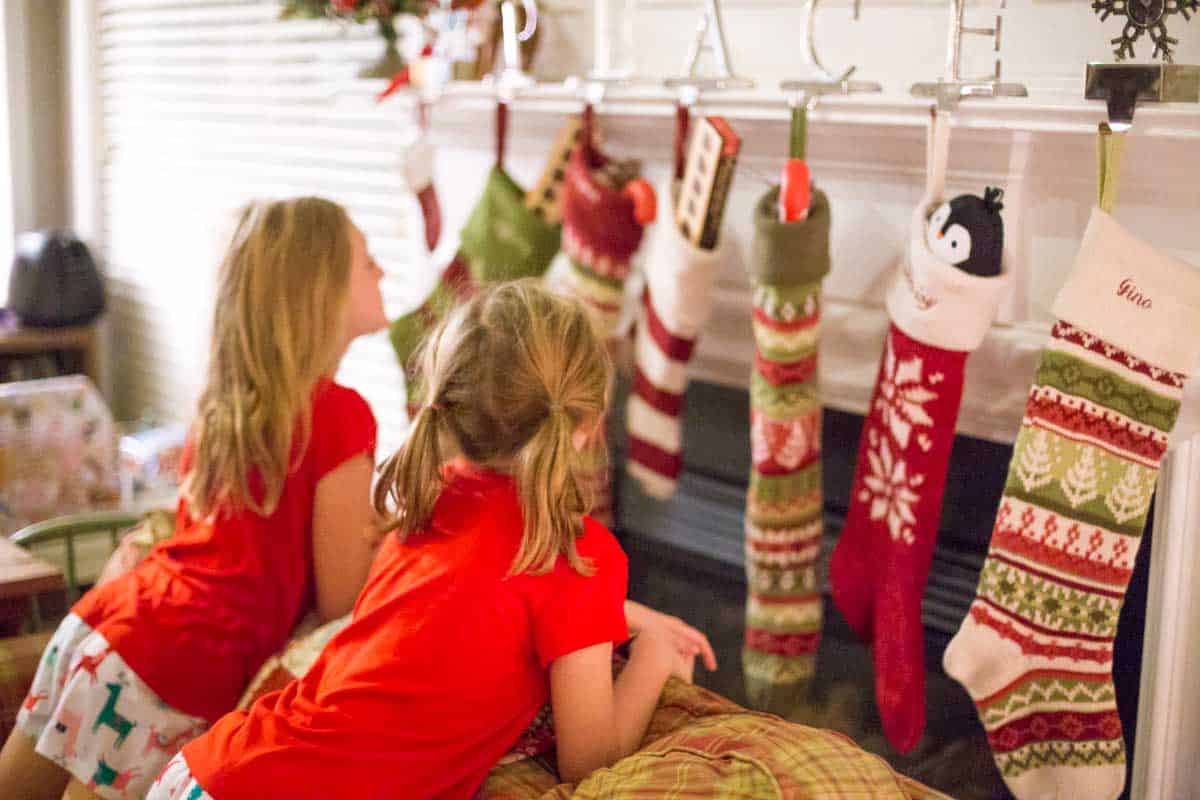 Who Is St. Nicholas?
St. Nicholas is the patron saint of children and a beloved figure in the Catholic faith.
St. Nick, as he is affectionately known, was the Bishop of Myra and is a canonized saint.
Growing up I was taught that St. Nicholas was an additional Christmas visitor who came earlier than Santa Claus on the 25th.
However, some families believe that St. Nicholas and Santa are one in the same and that he simply visits twice to those who celebrate his feast day.
Why Do We Celebrate St. Nicholas Day?
German Catholic immigrants brought this Christmas tradition with them when they came to America. The custom goes back generations.
Christians of other denominations, especially those in the Milwaukee area, often celebrate his feast day as well. I know my friends at the Lutheran church also had St. Nick visit their homes.
St. Nicholas Day: Shoes or Stockings?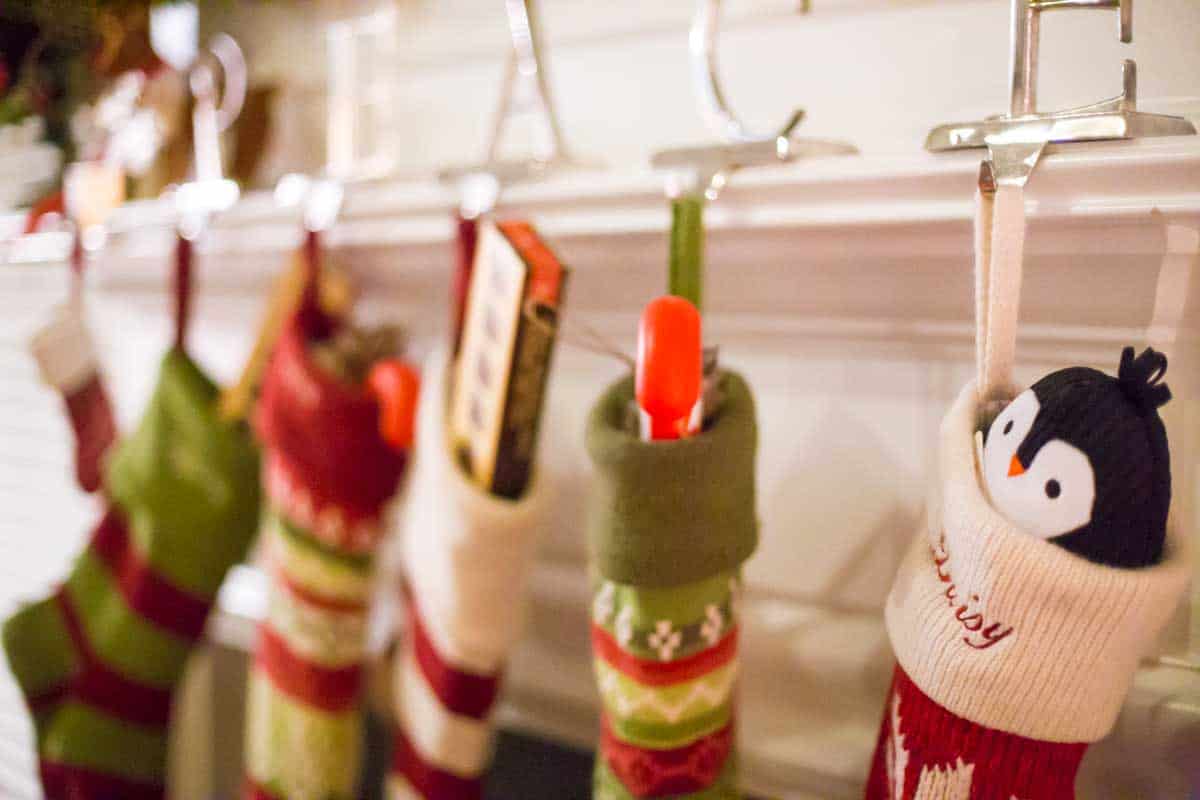 Whether St. Nick leaves treats in shoes or in Christmas stockings depends on where you were raised.
In our family, St. Nicholas has filled stockings since I was a little girl so we're always sure to hang them right at the beginning of December just to be safe.
I have dear friends who grew up in Wisconsin in a city a few hours from us and insist on leaving out their shoes for St. Nick.
The good news is, he appears to leave treats wherever he can find a place to put them.
How to Celebrate St. Nick's Day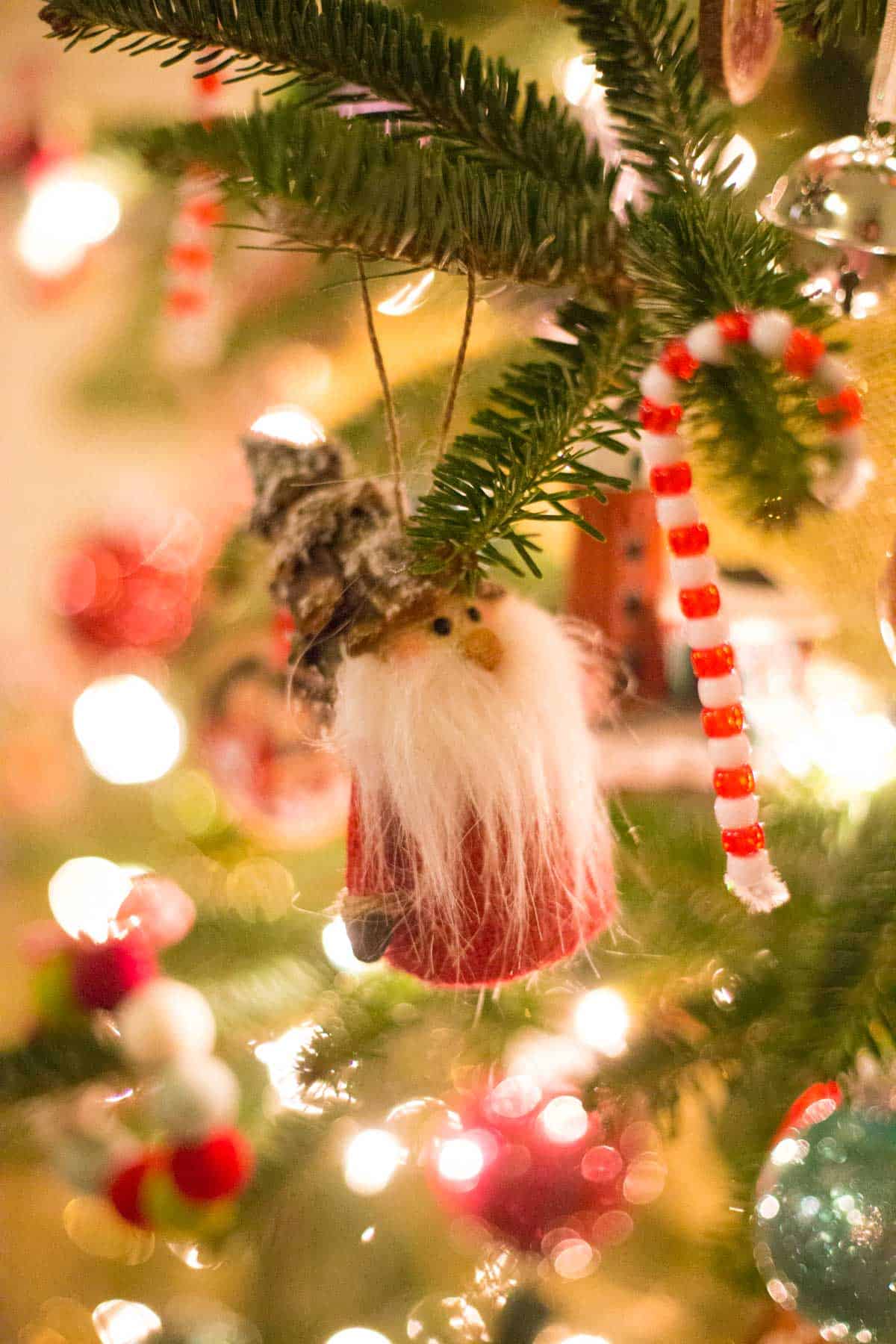 Celebrating St. Nicholas Day is one of the easier Christmas traditions you'll honor as a family.
Leave Shoes or Stockings Out: The night before his feast day, prep your home by leaving out your shoes or stockings for him to fill.

Plan a Simple Feast: An important element of any feast day is sharing a special family meal.
Plan ahead to have a sweet treat prepared for breakfast like cinnamon rolls or muffins and hot cocoa. You could also plan a simple festive dinner if the holiday falls on a school day and you're too busy to dine together until later.

Light a Candle & Read a Book About St. Nicholas: Especially if your children are younger, this would be an excellent opportunity to learn about St. Nick's full story.

Bake Gingerbread Cookies: A wonderful way to mark the holiday would to bake gingerbread cookies with the kids. This is our favorite gingerbread cookie recipe and written specifically with baking with kids in mind.

Do a Random Act of Kindness: St. Nicholas leaves surprises without being caught. Perhaps bundle up some of those gingerbread cookies and leave them as a surprise for a friend or neighbor. This is the perfect holiday for teaching kids about acts of service and kindness.
St. Nicholas Gift Traditions
If you talk to most families who celebrate St. Nicholas Day, you'll find they each have special gift traditions.
Growing up, St. Nick always brought us the same few treats year after year. It was a reliably fun morning to look forward to.
My mom always said it was a perfect little teaser holiday to get us in the Christmas mood.
Every year, St. Nick would bring us:
Wall calendar for the coming year
Box of chocolate covered cherries
Holiday boxes of Lifesavers
Gold foil wrapped chocolate coins
Candy cane-shaped tubes of M&Ms
Though the gift traditions may change from family to family, often they are items meant to enhance the Advent season.
24 Modern St. Nick Gift Ideas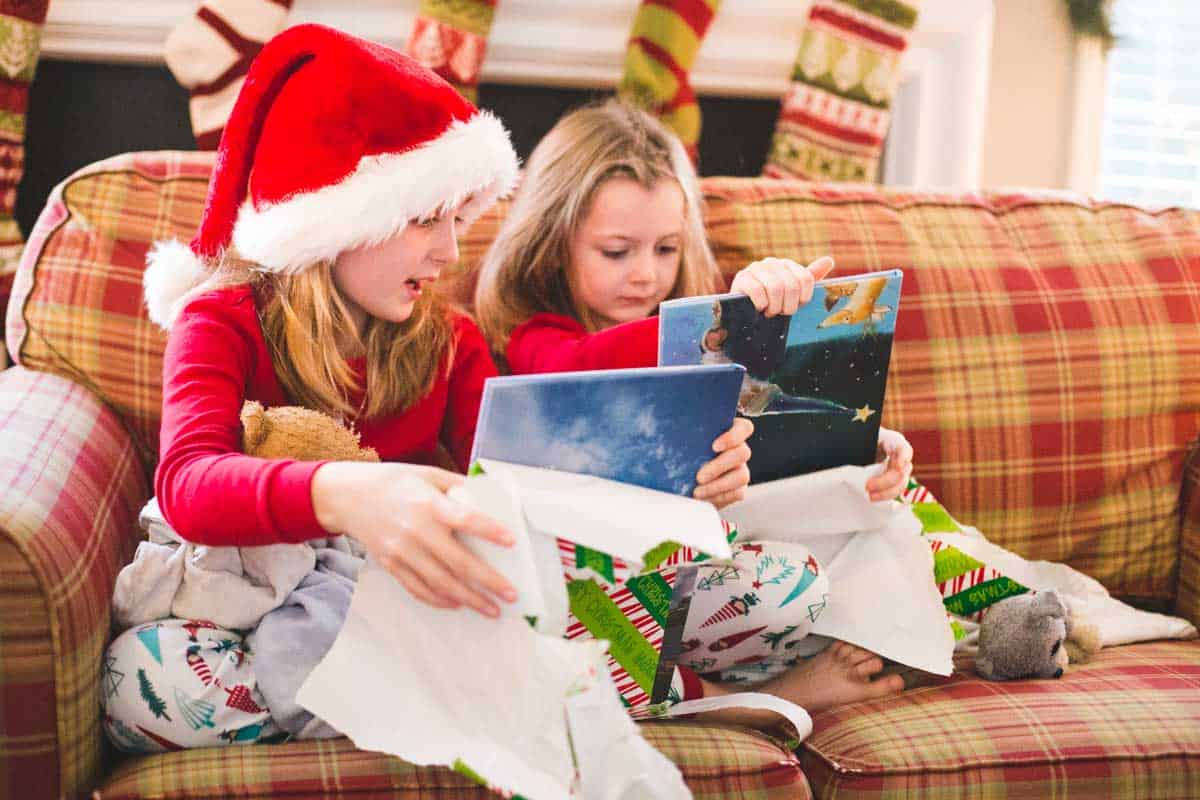 Because the holiday falls so early in the month, St. Nicholas Day is the perfect opportunity to give kids the chance to enjoy Christmas-themed items with their friends and family:
Gold foil-wrapped chocolate coins: one of the most classic St. Nick's gifts ever, they can often be found at grocery stores or World Market
A new Christmas picture book
Matching Christmas pajamas
An ornament for the tree: A great way to establish a set of ornaments for children to take to their own homes someday
A small pouch of REAL coins: Especially harder to find silver dollars or 50 cent pieces.
St. Nicholas prayer card: This prayer card comes with a St. Nicholas medal
Christmas-themed pencils: This set has adorable festive toppers.
Nativity-themed erasers: School age kids will love these.
A holiday baking book: The Ultimate Kids' Baking Book is a perfect gift for young bakers. Cookie cutters would fit in a stocking or shoe perfectly.
Candy Canes: Traditional red and white peppermint ones are perfect but kids love fun flavors, too.
Packets of hot cocoa and a new tumbler: This is the perfect stocking stuffer for either St. Nick's or Christmas.
Candy Cane Chapstick: This set is always in my stocking, it is my all time favorite.
A festive headband or hat: Kids have holiday spirit days at school all throughout December, St. Nick could bring a cute new accessory they can wear.
New winter hats & mittens: An extra-cute matching set was often found in my girls' stocking during the years they kept growing out of (or losing) the last year's pair!
A small Lego set: This building set has 4 holiday characters to assemble that could be separated into separate stockings.
Christmas earrings: This set has multiple pairs that could be divided up and given to several kids.
A Christmas toothbrush set: This fun and festive set would be adorable.
A Nativity play set: For very young kids, a rough and tumble play set or for older kids, start building a Nativity set they could take with them to their homes as adults. See all our favorite Nativity sets for families here.
A sprinkle shaker: A cute holiday sprinkles shaker like this Reindeer Games shaker for topping whipped cream on hot cocoa or pancakes all season long.
Christmas-scented bath bubbles or shower gel: A red or green shower scrubber would make a cute addition, too.
A Christmas card game: This Santa-themed Go Fish game is perfect for younger kids and this Santa, Cookie, Elf, Candy, Snowman game is perfect for lovers of Taco, Goat, Cat, Cheese, Pizza.
A calendar for the coming year: We always got this from St. Nick and loved it. St. Nick always picked a wall calendar or day-by-day calendar based on our interests.
A box of chocolate covered cherries: Such an old fashioned treat that is a little harder to find these days, but my sister and I LOVED them.
A fresh orange: Just classic, and random, enough that it makes an oddly perfect St. Nick gift.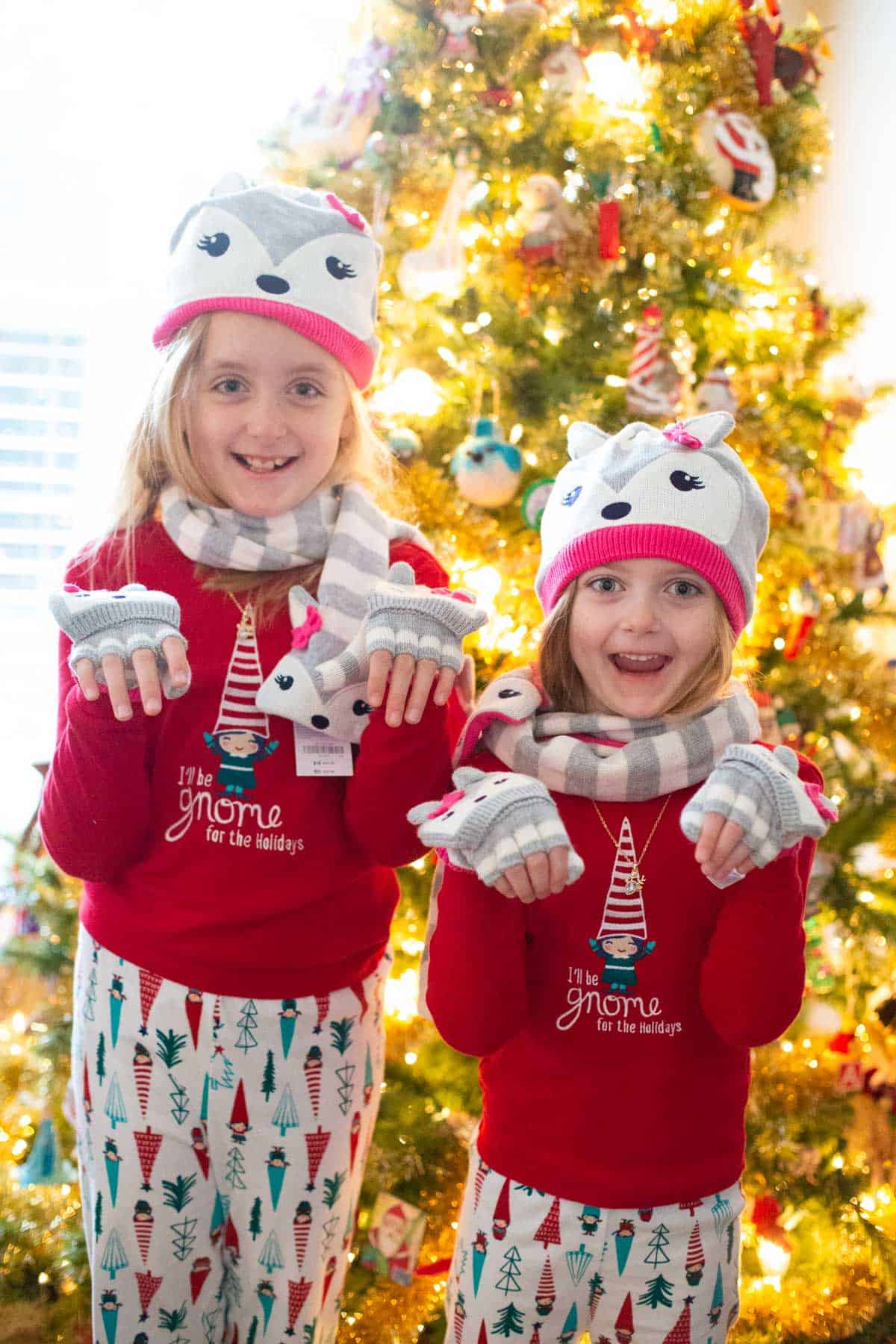 The Perfect Family Gift from St. Nick
Sometimes when kids are very young or very old, St. Nick can struggle with the perfect gifts to bring.
In these instances, a whole-family gift can be the perfect solution.
Advent is a time of hopeful waiting and the perfect season to spend together as a family preparing for Christmas.
I've gathered several perfect St. Nicholas gifts for the whole family here.
We've been lucky to receive these gifts from St. Nick over the last several years and they've always made our family's Christmas season more enjoyable together.