Is St. Nick looking for a Christmas gift for the whole family because you've got kids too little to understand the holiday yet? These holiday gift ideas are perfect for making the whole family's Christmas a little merrier.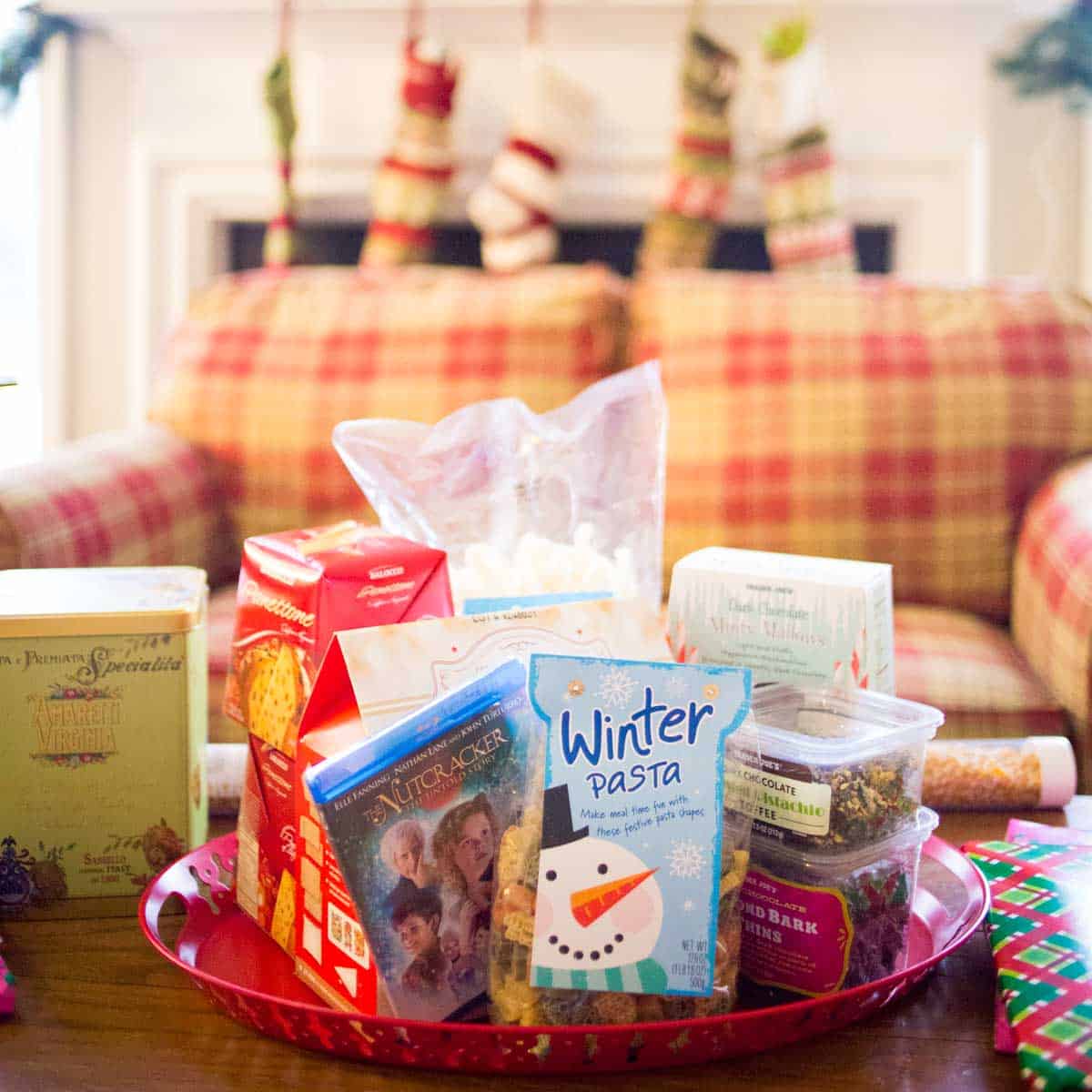 When my girls were tiny and we were celebrating St. Nicholas Day for the first few times, I really didn't want them to have stockings filled with candy.
Thankfully, St. Nick understands a mama's wishes and had the perfect solution:
And in lieu of too many candies, St. Nick always brings us a family treat for sharing.
Oddly enough, this amazing gift from St. Nicholas was often the most memorable item for my young kids. They would excitedly ask each year whether I thought we'd be getting it again this year.
Jump to:
7 St. Nicholas Gift Ideas for the Whole Family to Share
These family gift basket ideas are perfect for a gift from St. Nicholas. They also make a lovely grandparent gift idea for family that can't enjoy the holiday season together in person.
1. Christmas Treats for the Whole Family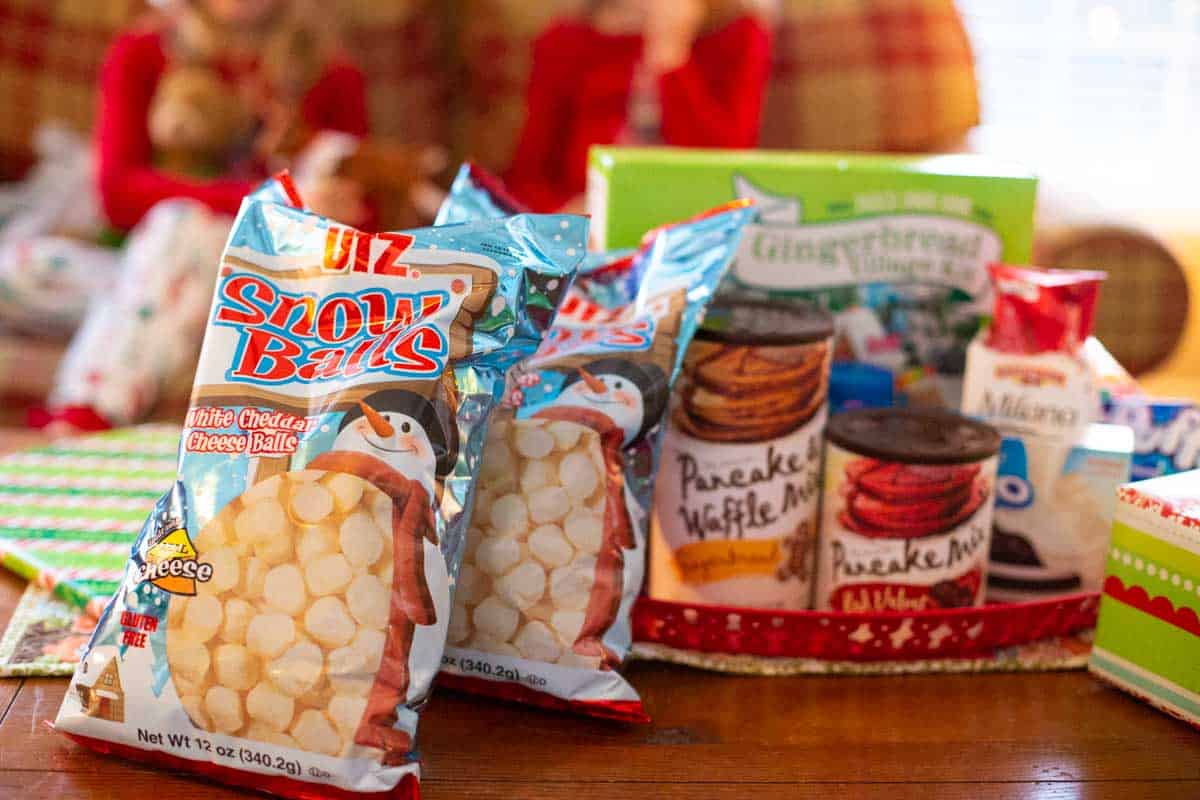 You know all those holiday-themed goodies you see at the grocery store?
In preparation for many family dinners and festive snack needs, St. Nick stocks us up with several yummy things to enjoy together all December long.
The first year St. Nick brought this gift, he left everything on a pretty red tray from Ikea. We set the tray out every St. Nicholas Day for him to fill it.
Items St. Nick often leaves on our festive red platter include:
"Snowballs": white cheddar puff balls
Yardstick of popcorn kernels
Red velvet pancake mix
Raspberry white chocolate & Eggnog flavored scone mixes
Eggnog streusel muffin mix
Holiday shaped pasta
Peppermint chocolate packaged cookies
Peanut butter filled, chocolate covered pretzel bites
White chocolate covered Oreos
I use this collection to make several festive weekend breakfasts during December and we celebrate will little holiday themed meals and snacks all month long.
These are all treats I'd likely find myself buying anyways over the course of the month.
Bundling them together and putting them on a bright red platter underneath our stockings just makes them stand out as that much more special.
2. Gingerbread House Kit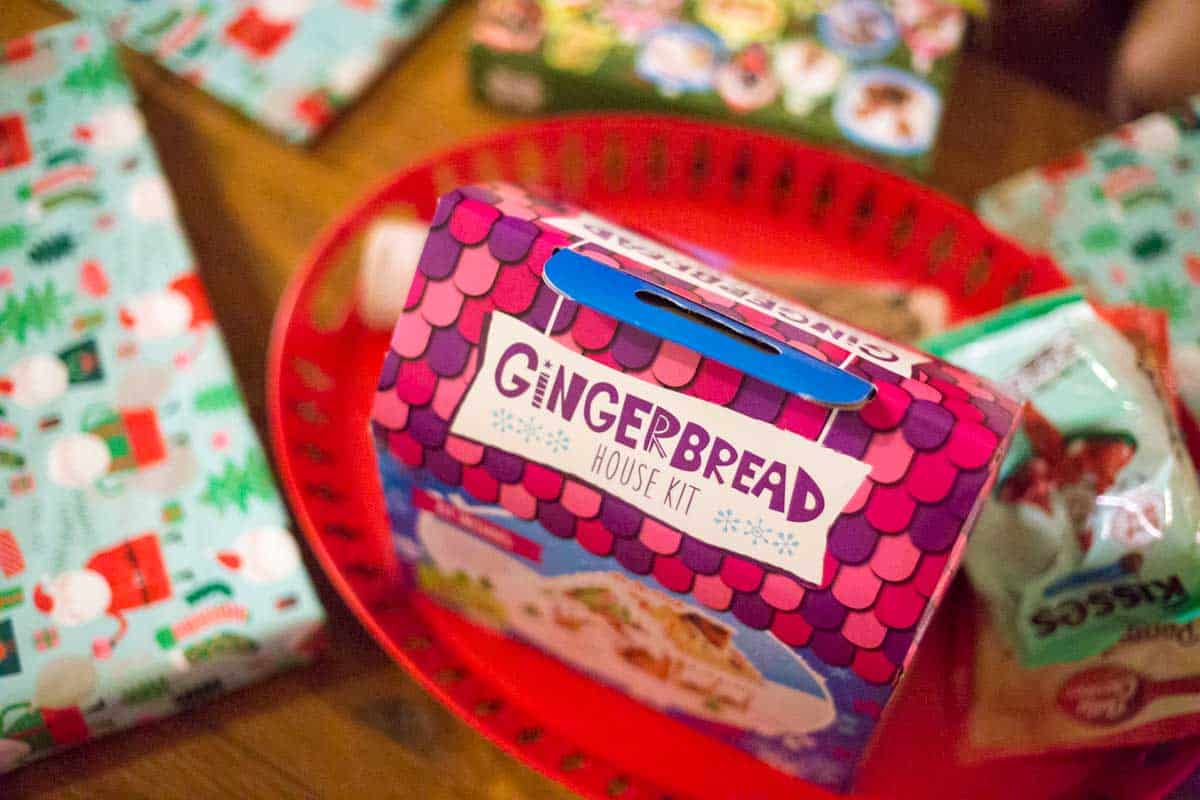 On the easy side of things, a pre-packaged complete gingerbread house kit makes an excellent gift from St. Nick.
If he's feeling a little more custom baker, he could also bundle up everything you need to make a homemade gingerbread house together as a family.
3. Puzzle Night Fun Kits
One of my very favorite family traditions is to spend a Saturday in December cuddled up at home with my family with movies playing on the tv in the background while we work on a Christmas puzzle together.
St. Nicholas could bring a few family Christmas puzzles or games to enjoy during December.
We especially love the Christmas Dog puzzles from Hallmark but here are 16 fun Christmas puzzles to pick from.
4. Christmas Read Aloud Kit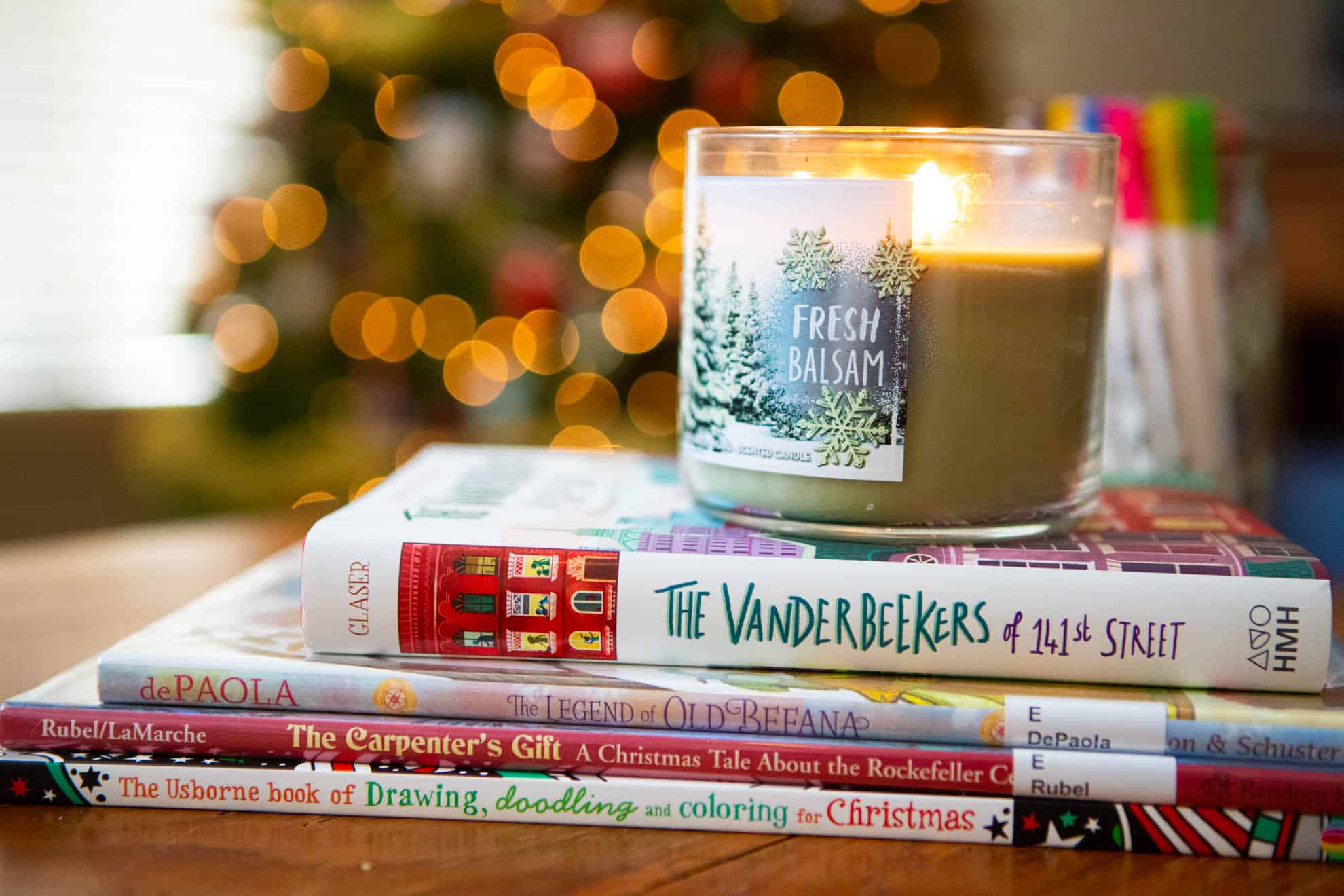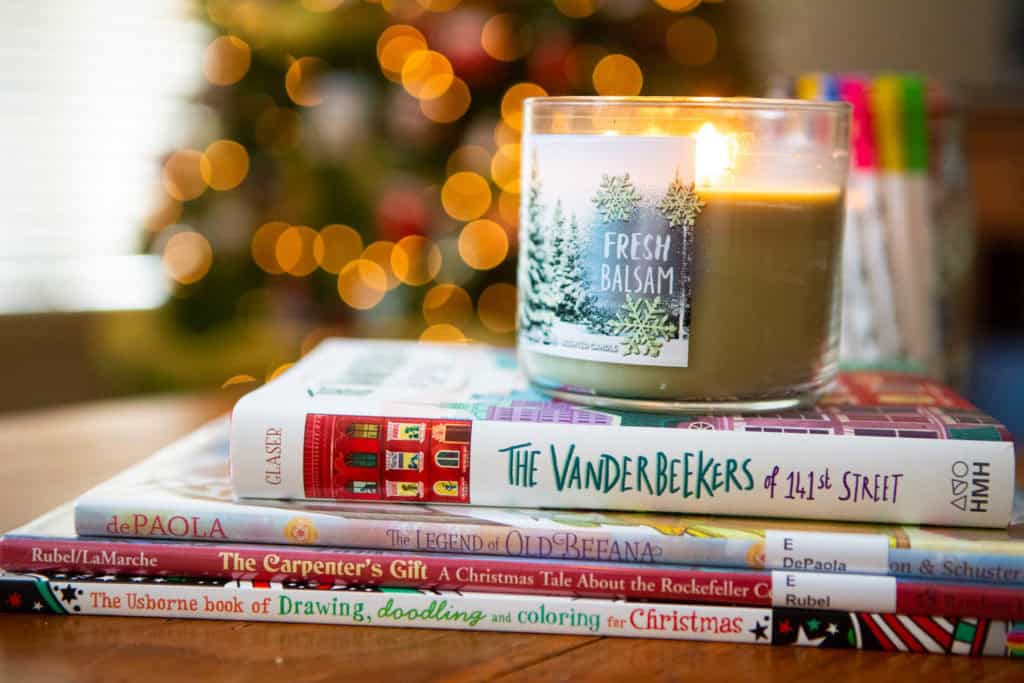 Reading aloud as a family is one of my most peaceful moments during the crazy holiday season.
St. Nicholas could bring:
a couple of books to enjoy together
simple snacks to eat while the kids listen
Christmas coloring books to keep their hands busy while you read
a festive candle to light and enjoy
5. A Christmas Movie Night Set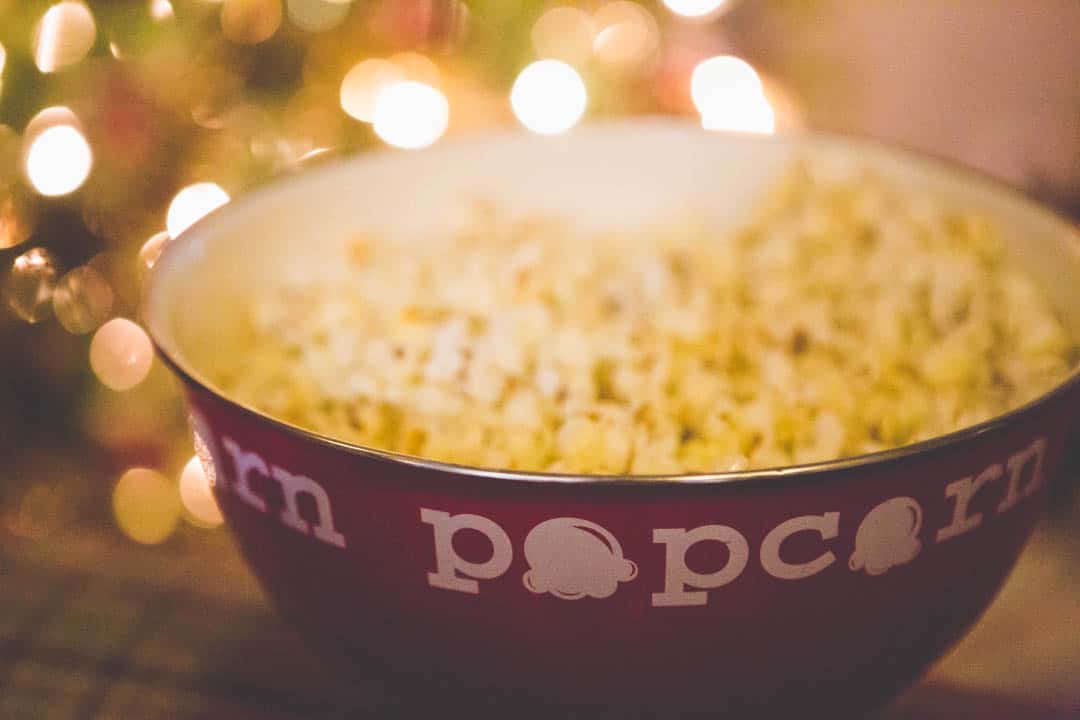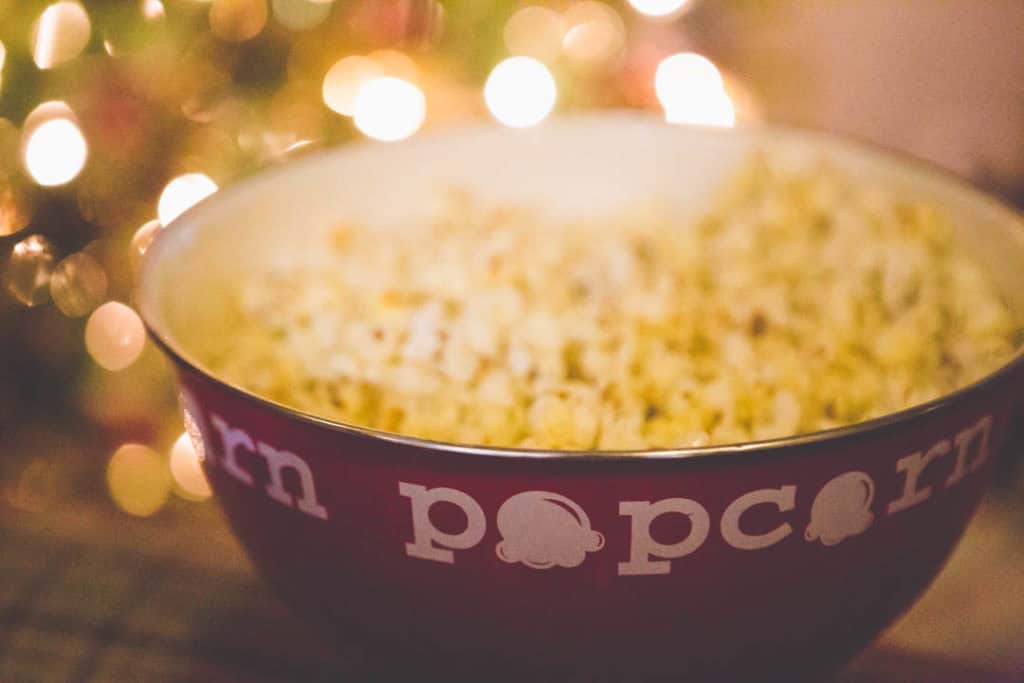 Christmas movies are one of the most popular ways to spend time together as a family in December.
St. Nicholas brought us a movie kit one year and we've used many of the elements over and over:
A huge yard of popcorn kernels
Fun seasoning toppings for sampling on our popcorn
A Christmas movie DVD
Christmas-themed movie night candy (Red and Green Dots and Peppermint Junior Mints)
6. Hot Cocoa Kit
While this gift idea also makes an amazing stocking stuffer, St. Nicholas could bundle a fun set of new hot cocoa mugs or tumblers and all the things you need to have the ultimate hot cocoa bar ready to go in your kitchen to enjoy all month long.
Get all the details on the hot cocoa kit here.
7. Grow a Nativity Set
If your family doesn't have a Nativity set that you love, they make an incredible gift from St. Nicholas.
Some of the most stunning sets are sold in multiple pieces and can be collected over time.
St. Nicholas could bring Mary, Joseph, and Jesus one year, the shepherds and a few animals another year, the Wise Men another year, and you could enjoy watching the collection grow in time.
Read all about our favorite Nativity sets for families here.
More Festive Christmas Ideas