Tervis tumblers make the most perfect stocking stuffer gift idea for the whole family. This post is sponsored by Tervis but all opinions are our own.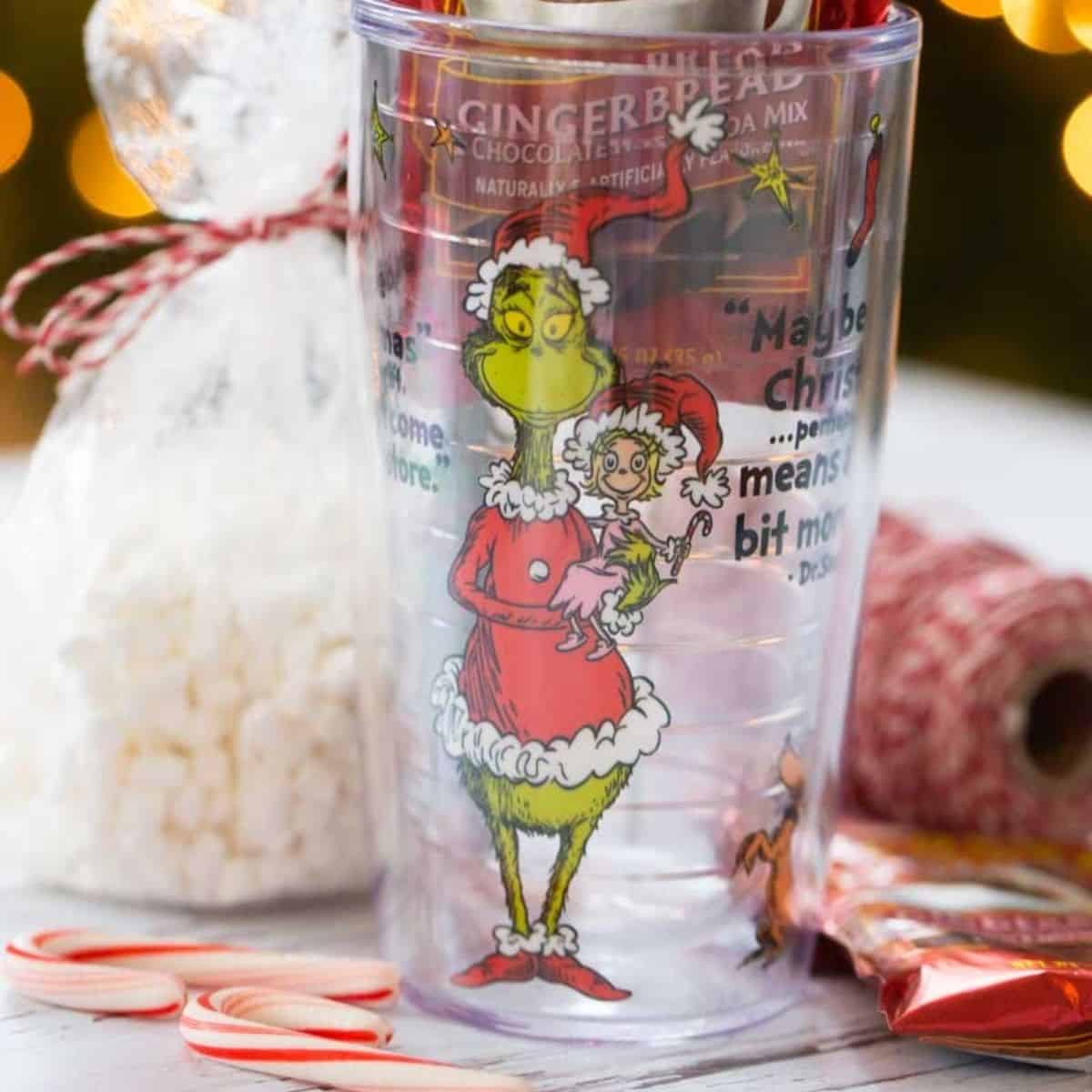 Shopping for holiday gifts for everyone on your list can be overwhelming. To make things easier, I like to set family traditions around our gift-giving since it takes a lot of guesswork out of the process for me.
Every year, my kids will find a new book, a crafty present, and new jammies under the tree. When I was growing up, I knew I'd always find a calendar for the new year and a new VHS video to watch on Christmas afternoon. (Ha!)
Tradition gifts are so fun to do because they take the pressure off of coming up with brand new ideas every year, they are easy to personalize for the recipient with this year's spin on the theme, and they provide a simple surprise.
Our Favorite Easy Family Gift Idea:
Several years ago, we established another super-easy family tradition gift by starting a collection of Tervis tumblers. Maybe you've seen them at a store? They're those insulated double-wall clear cups with fun patterns and designs.
Everyone in our family has a few special Tervis cups to call their own. We use them all year round and I simply LOVE them for several reasons:
We always know who's cup is who's: Since everyone has their own special designs, I always know who the cup culprit is leaving their cup on the counter or going through too many cups in a day. Tim loves that he never has to worry about drinking out of someone else's glass by accident!
They are nearly indestructible: I never ever have to worry about the kids breaking one, even when they take them outside on the patio during the summer.
They have a LIFETIME guarantee!: Tervis has an amazing guarantee that covers replacement if something goes wrong with their workmanship. After hard and heavy family use for many years, we still haven't had to take advantage of this yet.
They don't require coasters: Since they are insulated, they never sweat. I never have to worry about rings on my tables.
They are dishwasher safe: Essential for families.
They work great for hot OR cold beverages of all kinds: I use my Tervis tumbler for iced coffee or iced water every day but we use them for hot cocoa and hot apple cider all winter long.
They have straw lids OR regular sipping lids: I love my reusable straws and straw lid for my iced coffee and water, I couldn't drink those with a regular sipper top. But if I want to switch to hot cocoa on the go, I just swap out the lid.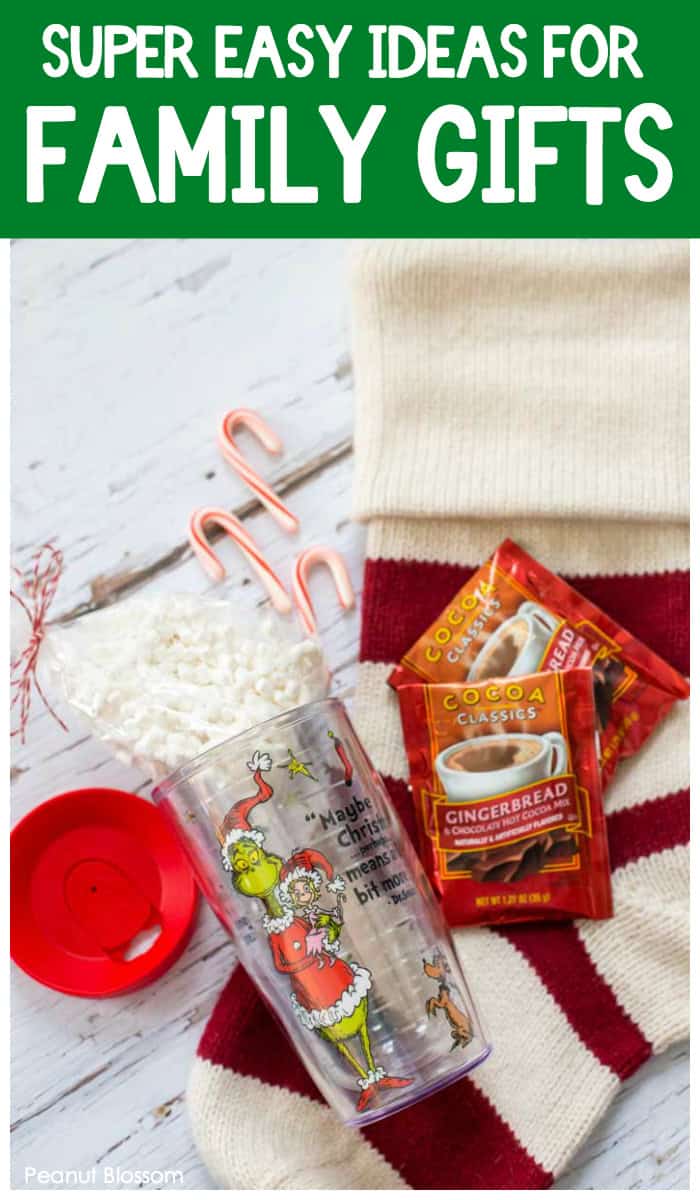 A Great St. Nick Gift
Our Tervis obsession started one Christmas when St. Nick left us a family 4-pack of Christmas Tervis tumblers, a big box of hot cocoa, and a Christmas movie as our festive family gift. St. Nick always leaves us gifts to celebrate the season together.
How ADORABLE is this Grinchy design? That has been the Christmas cup I've been using for years. Tim has this Christmas Story design and the girls each have a Peanut's Snoopy design like this.
If you don't celebrate St. Nicholas Day on Dec. 6 like we do, Tervis tumblers would make an adorable stocking stuffer for EVERYONE in the family on Christmas!
They are perfectly stocking-shaped, will fill the stocking up nicely and only require just a few simple flourishes to make them extra special for gift giving.
Hot Cocoa Kit for Stocking Stuffers
I filled snowflake-printed treat bags with teeny tiny marshmallows and tied them off with striped twine, tucked in a few mini candy canes, and added a few pouches of everyone's favorite hot cocoa flavor to make "Hot Cocoa Kits" for our stockings.
Hot Cocoa Kits would make easy-to-grab gifts for anyone on your list:
teachers
grandparents
the kids' bus driver
But Christmas-themed cups aren't everyone's cup of tea. We pack away our Christmas Tervis cups with the holiday decorations and only use them from Thanksgiving through New Year's. For the rest of the year, we tend to collect the ADORABLE Harry Potter Tervis cups and the super sweet Disney Tervis cups.
Gifts for Harry Potter Fans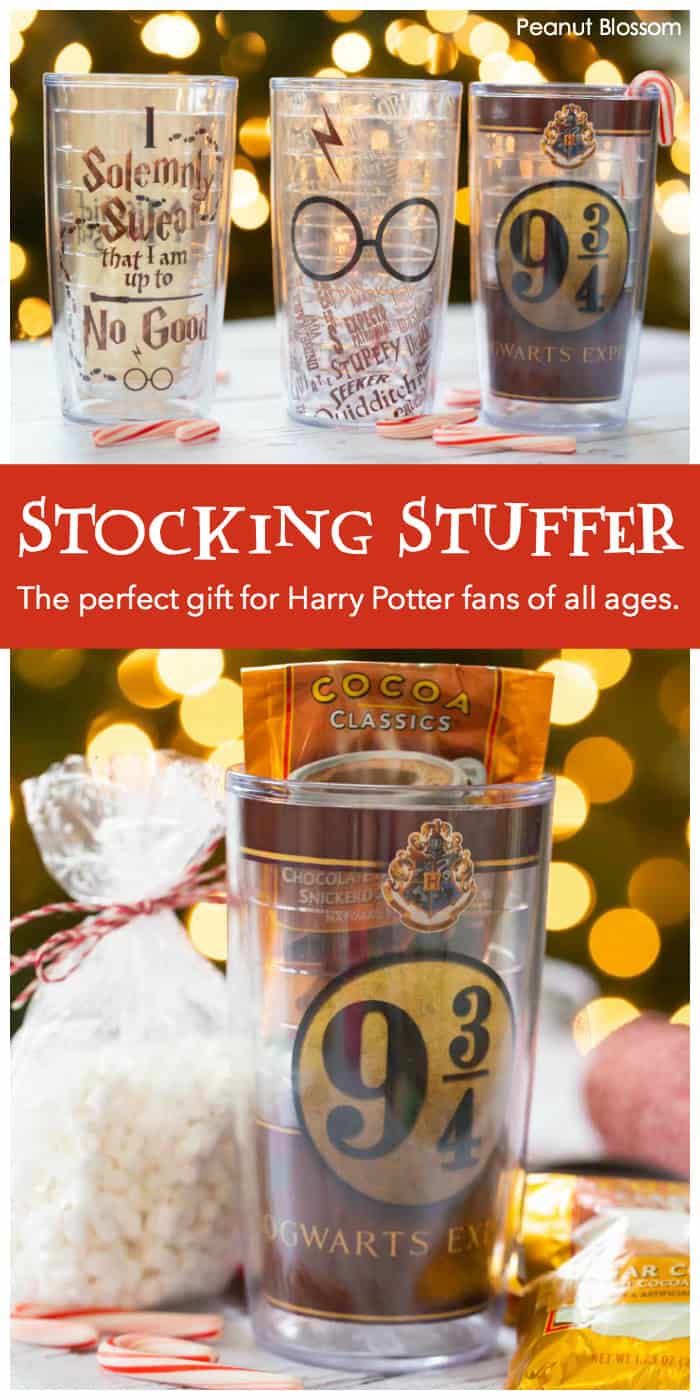 The Peanut got her first Harry Potter Tervis on the Christmas she turned 9 ¾ years old. Can you guess which design Santa brought for her?? It was such a fun and unique way to mark that funny age milestone with a Platform 9 ¾ Tervis cup like this one.
Now that Little Pea is reading Harry Potter wish us for the first time, she is desperate for a Harry Potter Tervis cup all her own. We just started reading Harry Potter and the Prisoner of Azkaban so she'll be getting the "I Solemnly Swear I Am Up To No Good" design this year.
You can view all the Harry Potter designs on Tervis right here.
RELATED: Don't miss these magical Harry Potter gift ideas for teens.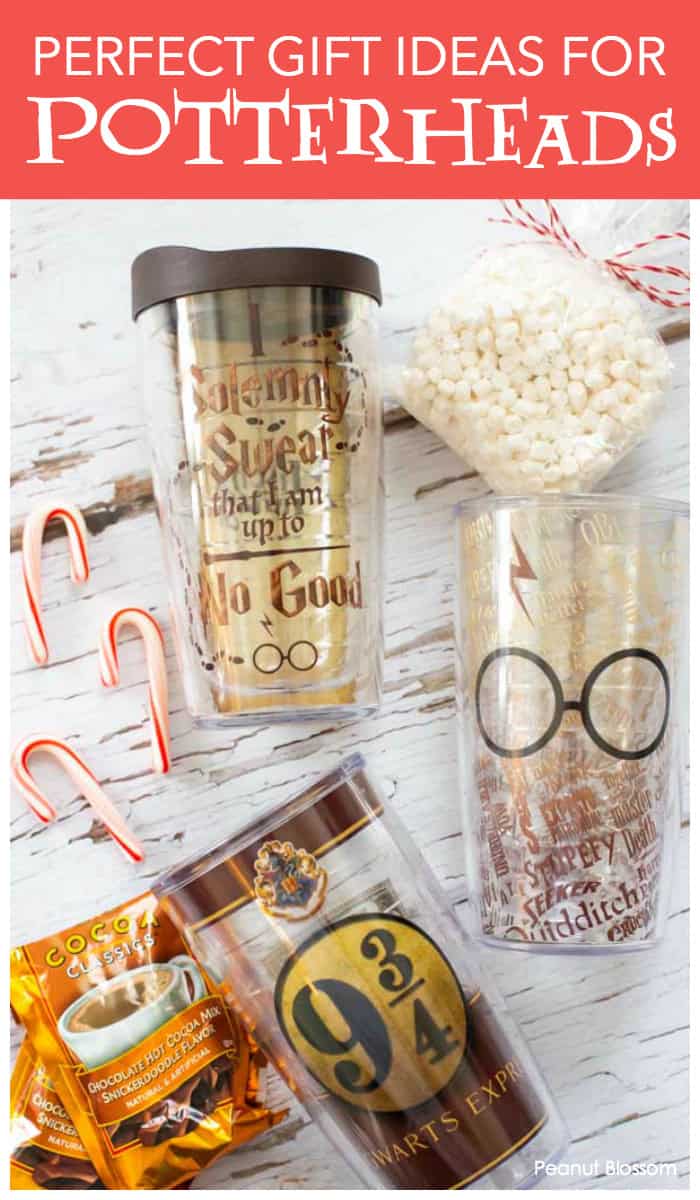 Gifts for Disney Fans
As for me, I love, love, love the Disney Tervis cups I've been collecting the last few years. I have one to mark each theme of the Disney Princess 10K I ran for St. Jude.
Tim has a Mr. Incredible cup and the girls each have a handful of Disney Junior cups they loved. Now that they are growing up, it's time to upgrade their Tervis cups.
This year, the Peanut will be getting this adorable Winne the Pooh cup because of her birthday theme last spring.
Little Pea will be getting the Curiouser and Curiouser Alice in Wonderland cup because she went as Alice for Halloween during our big family trip to Disney a couple of years ago. Check her out in her costume here.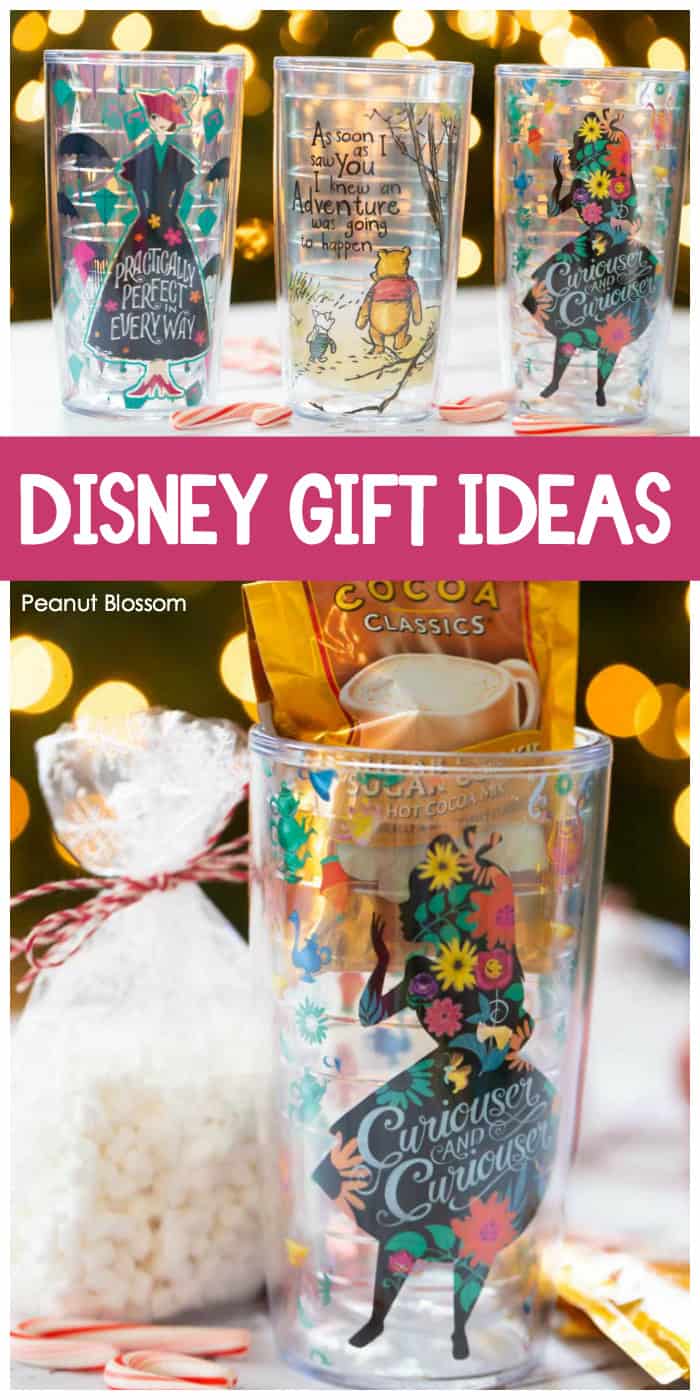 Variations Instead of Hot Cocoa
If your Disney fan isn't a cocoa drinker, you could always substitute the fun wine tumblers instead! Tim and I have a pair of his & hers Mickey & Minnie Tervis wine tumblers we use in the summer on the patio so we don't have to worry about glass breaking or pack in our bags for road trips to the beach.
You can find all the whimsical Disney Tervis cup designs right here.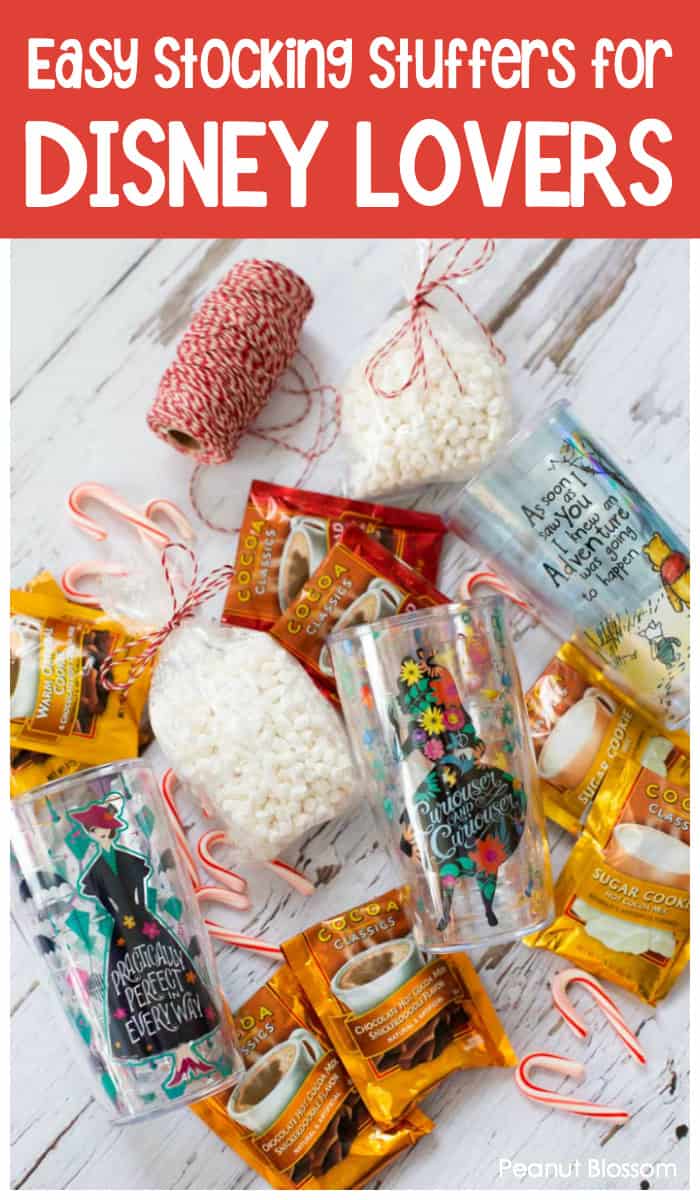 They also offer customizable personalized Tervis designs that would be super fun to give as a special memory after a big Disney trip. Upload a photo from your Disney Photo Pass to give them a unique memento from the trip. This would make a perfect gift for the grandparents if you did a whole-family trip to Disney with the grandkids this year!
You can find the whole line of customizable Disney Tervis cups here.
RELATED: Don't miss these adorable Disney kitchen gifts.
The Best Tervis Accessories
If you want to add a few little things to the stockings, we highly recommend these tumbler accessories:
Straw lids in a few colors: essential for sipping iced coffee, etc.
Reusable straws: They come in plain white frosted or colorful assortment.
Don't Miss the Ordering Deadline
Be sure to order your gifts BEFORE December 17 if you want them in time for Christmas. If you'd like to know when they are having their big holiday sales, follow me on Instagram, I'll be sharing updates for Black Friday and other fun deals they have coming this month.
More Great Gift Ideas