Sugared cranberries are the easiest and most perfect garnish for your Thanksgiving dessert or Christmas treat. Sprinkle them in a tall clear hurricane vase for your holiday tablescape, or use them to decorate your dessert buffet. They are safe to eat and easy enough your kids can help make them! Don't miss our 20 fresh cranberries recipes for Thanksgiving.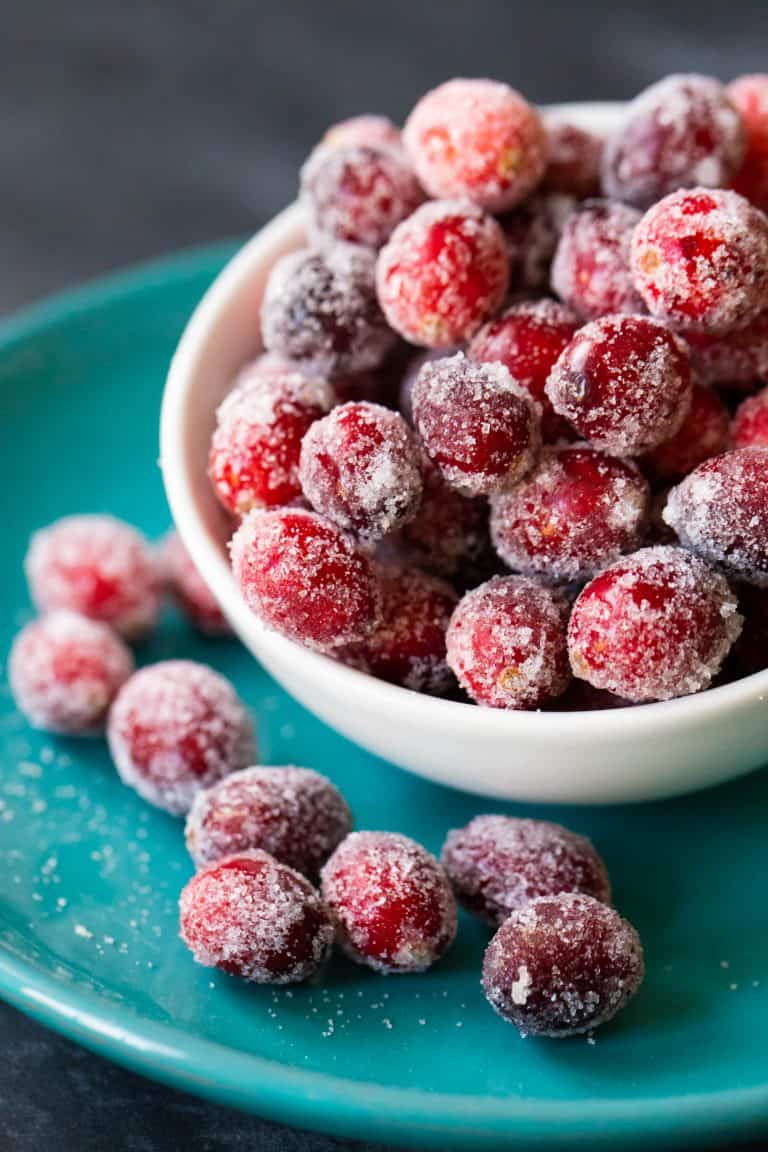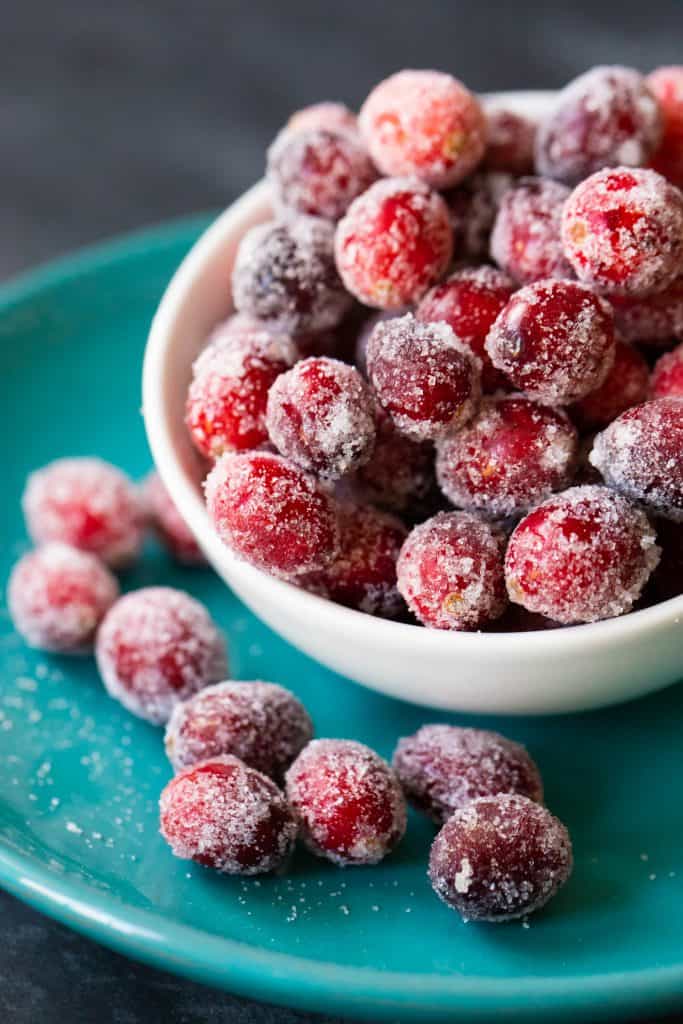 I'm working on a top secret recipe for my next cookbook and I needed just a little something extra for the final garnish. Since the cookbook is for kids, I had to make sure that whatever I used was both edible and really easy.
I experimented with making these sugared cranberries and my girls couldn't stop watching as I tossed them in sugar. The effect is so cool, the sugared cranberries look frosted with snow and so very pretty.
I shared a sneak peek at them in my Instagram Stories and polled whether or not to share the tutorial. The answer was a resounding "Yes, Please!" so here we go!
(If you want to give feedback on what I share here on the blog AND what goes into my new book, c'mon over and follow along on Instagram right here.)
How to make sugared cranberries:
To make sugared cranberries, we'll use a simple two-step process.
Toss them in simple syrup and let them dry.
Toss the sticky berries in a bowl of sugar and let them dry again.
That's it! The full recipe is at the bottom for you to print and use as a guide.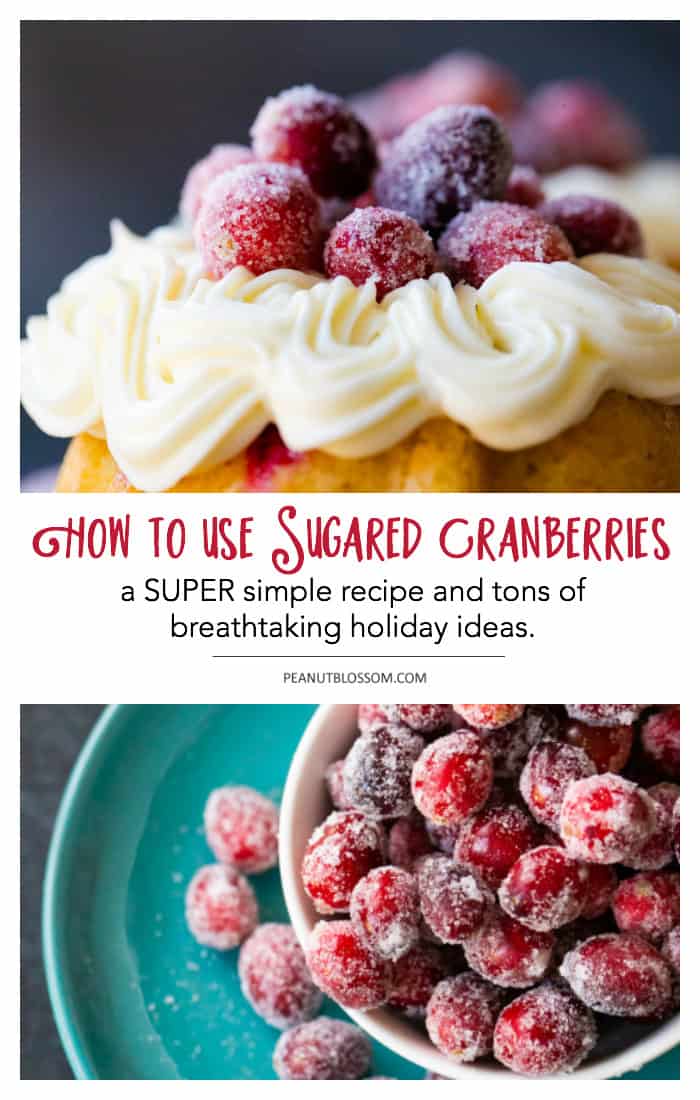 What to do with sugared cranberries:
This is the fun part! Here are just a few ideas for how to use sugared cranberries:
Garnish a frosted dessert
Garnish a pie
Garnish your turkey platter for Thanksgiving
Garnish your cinnamon rolls for Christmas morning
Fill a bunch of mason jars and tie them with ribbon or twine for a simple table decor
Fill a hurricane vase and then stack candles inside
Dot them in a low floral arrangement
Fill a large bowl with fresh clementines and/or oranges and toss in a few sugared cranberries for an edible centerpiece
How long do sugared cranberries last?:
It depends on whether you plan to eat them or not. I feel a lot more comfortable making them in advance if I plan to use them as a decoration on the table vs. a garnish for a food where they will be eaten. They are so easy to make, if you plan to eat them that I would do it no earlier than the night before.
If you plan to just use them as decor, they will hold their appearance for at least a week if you keep them in an air-tight container.
And quick, before you go . . .
LIKE TO CELEBRATE? GET ON THE LIST!!
I love sharing seasonal recipes and ideas for celebrating the holidays. This recipe is perfect for Thanksgiving or the entire Christmas season. If you'd like more ideas for the coming holidays, be sure to get on my weekly email list where I share the latest ideas for making the season special:
GET ON THE LIST
Perfect recipes to use sugared cranberries as garnish: