Caribbean chicken soup with coconut, lime, hot sauce, and sweet corn will have you dreaming of an island vacation in the middle of winter. This easy-prep chicken soup comes together in just minutes on a busy night.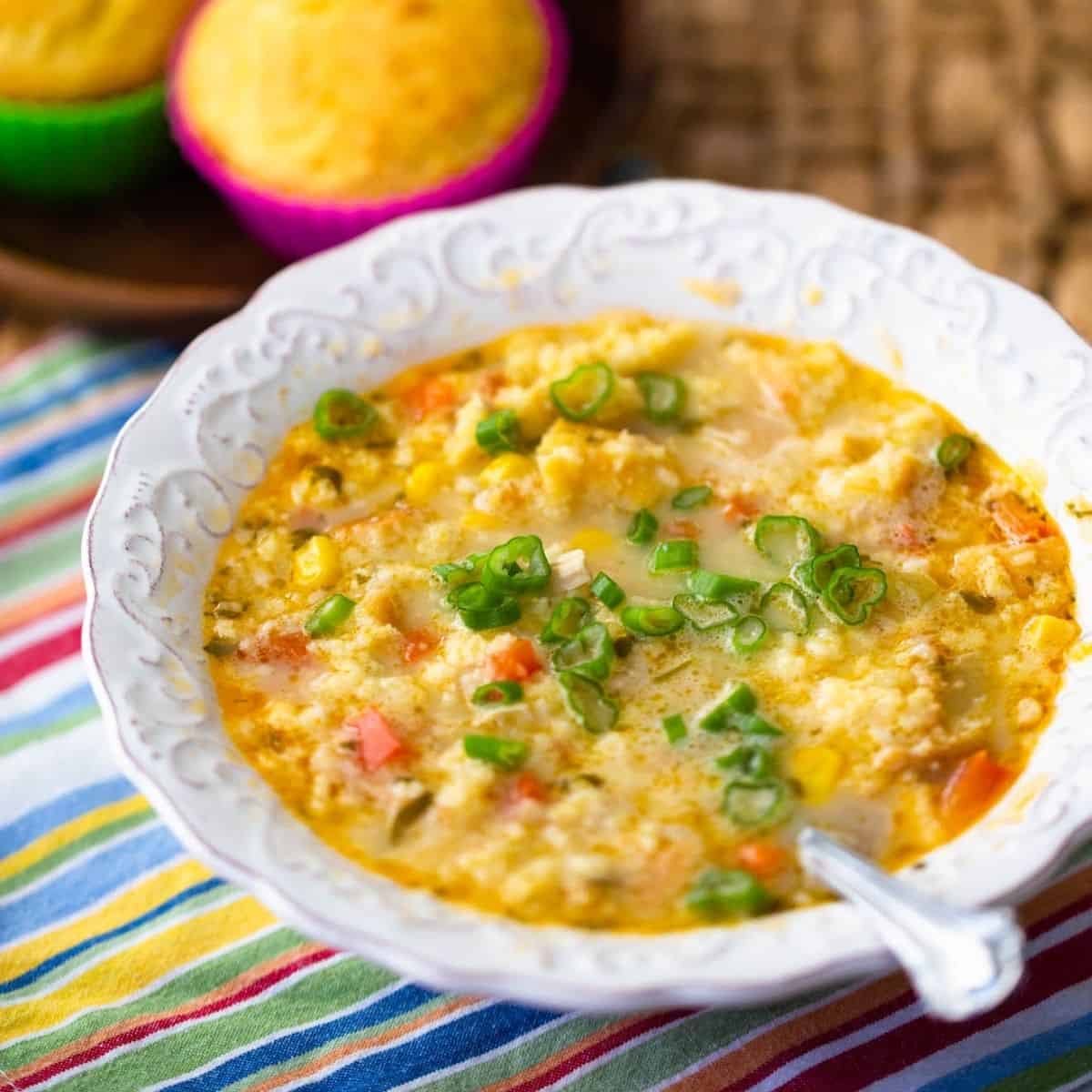 As much as I love classic chicken soup, winter can be long and dreary and sometimes you just need to mix things up a little bit!
When I'm longing for sunnier days and dreaming of our annual beach trips, I often start to crave more tropical-inspired dishes.
I prepped all the veggies and chicken for this dish but just my youngest daughter came into the kitchen and wanted to help.
She tied on her apron and ended up cooking the entire soup. I simply handed her the ingredients and she sautéed the veggies and measured and mixed everything else.
She was skeptical pouring in the coconut milk and shredded coconut but took a big sniff and pronounced the recipe smelled "tasty."
Because she took full responsibility for cooking the soup, she was more than eager to taste it at the dinner table. (One of the BIGGEST benefits of cooking with your kids!)
This delicious Caribbean spin on chicken soup has plenty of bright fresh flavors to cheer you on the darkest of winter days.
Jump to:
What is Caribbean Chicken Soup?
Unlike traditional chicken soup, this recipe features sweet corn, chicken, carrots, celery, diced red pepper, and limes.
At first glance it sounds a lot like a tropical island version of our favorite chicken soup for flu season.
However, the addition of coconut milk and shredded coconut along with hot sauce brings a new depth of flavor to the soup.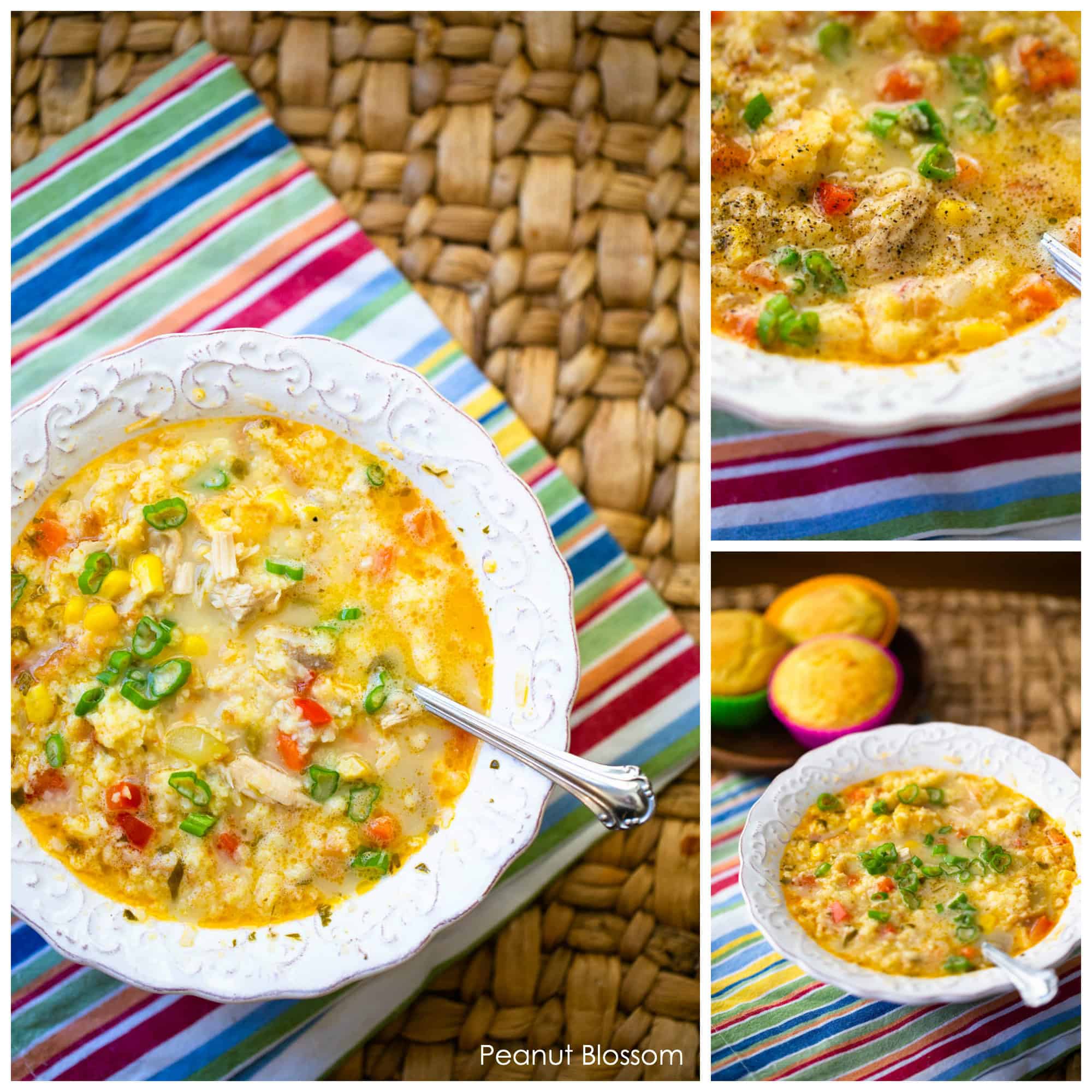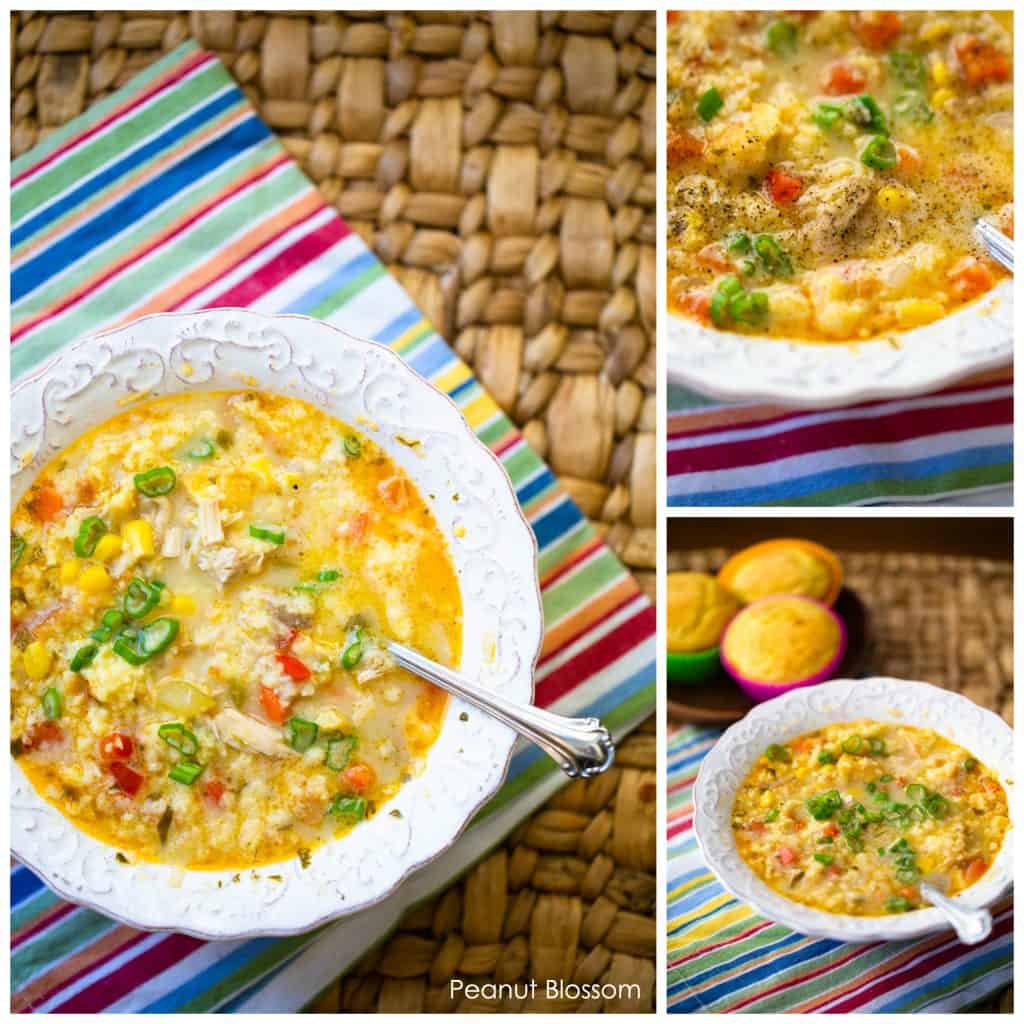 Serving Suggestions
Little Pea and I baked a simple batch of cornbread muffins to go with our chicken soup. I tried to dip my muffin in the broth and it fell apart completely. Wouldn't you know, a crumbled up cornbread muffin makes the PERFECT soup thickener??
With the leftovers I ended up serving it that way intentionally.
I crumbled up a muffin in a bowl and then ladled the hot soup over. The cornbread just melts right into the broth and gives the soup a creamy thickness without using pasta or other grains.
If you use a gluten-free cornbread mix, it would be a great way to make the entire soup gluten-free.
I topped the soup with freshly sliced green onions for extra kick.
Make Ahead and Freezing Tips
To freeze the chicken soup, I'd store it without the cornbread mixed in.
When you thaw and reheat it, you will find that the coconut milk likely separated from the broth a bit. If you stir in a crumbled cornbread muffin when serving, it will help blend the broth and milk back together.
Jut plan to bake a fresh batch of cornbread muffins when you reheat the soup. A box mix only requires 3 ingredients and 10 minutes in the oven, so it's not hard to do.
You could possibly freeze the muffins separately if you want a truly no-prep dinner for later.
More Chicken Soup Recipes
You can never have too many chicken soup recipes for winter. As the cold months drag on, make sure to work each of these into your meal rotation!