Caribbean chicken soup with coconut, lime, hot sauce, and sweet corn will have you dreaming of an island vacation in the middle of winter. This easy-prep chicken soup comes together in just minutes on a busy night.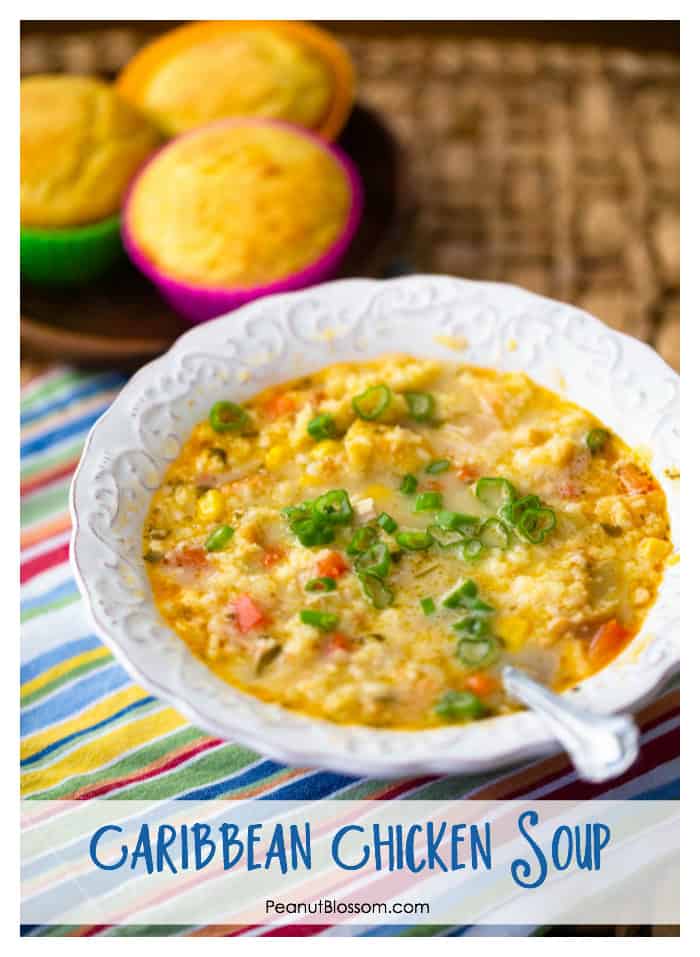 When you are in charge of cooking for and feeding a family of picky eaters like I am, every once in a blue moon you have to decide that it is ok to try a new recipe you are 99% certain everyone else will reject.
I stumbled across a recipe for Caribbean chicken soup in one of my favorite soup cookbooks before Christmas. The list of ingredients didn't have any one particular thing that my family would find offensive, and on the whole it actually sounded like something Tim might actually enjoy. But, new things don't always go over well at our table.
What is Caribbean chicken soup?
Sweet corn, chicken, carrots, celery, diced red pepper, and limes, it sounded a lot like a tropical island version of our favorite chicken soup for the flu. I thought the addition of coconut milk and shredded coconut along with hot sauce sounded really interesting and wondered if I could sneak it past the kids hidden inside the soup.
Whether my family would like it or not, I didn't care. This soup sounded SO wonderful, I had to give it a shot. I absolutely love eating tropical-inspired flavors in the middle of cold, dreary winter days.
Crank up the beach playlist and serve this for a fun twist on dinner this week!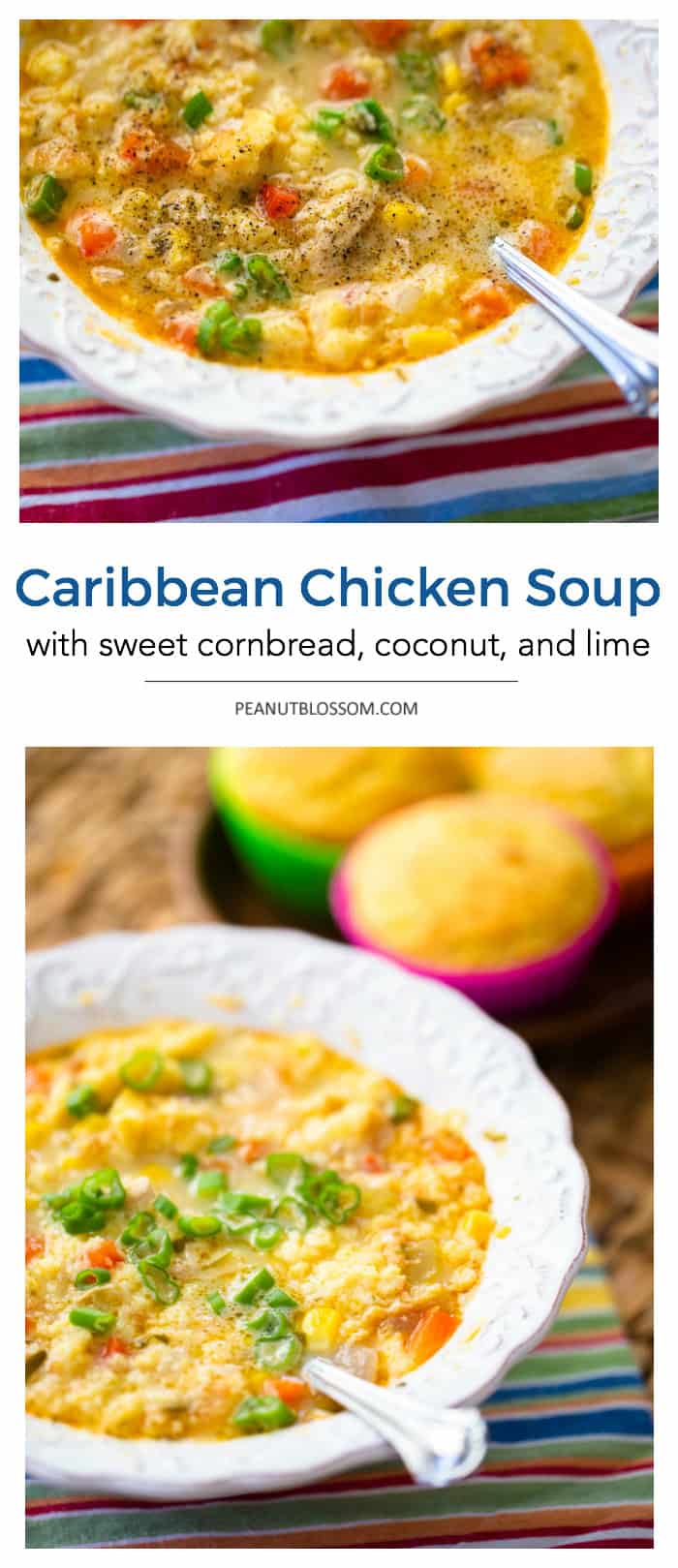 I prepped all the veggies and chicken but just before I assembled the soup, Little Pea came into the kitchen and wanted to help. She tied on her apron and ended up cooking the entire soup. I simply handed her the ingredients and she sauteed the veggies and measured and mixed everything else.
She was skeptical pouring in the coconut milk and shredded coconut but took a big sniff and pronounced the recipe smelled "tasty."
Because she took full responsibility for cooking the soup, she was more than eager to taste it at the dinner table. (One of the BIGGEST benefits of cooking with your kids!) The sweetness ended up being too much for her, but I was so proud that she approached dinner with an open mind.
What to serve with Caribbean chicken soup:
Little Pea and I baked a simple batch of cornbread muffins to go with our chicken soup. I thought the original recipe was a bit too watery for my taste. I tried to dip my muffin in the broth and it fell apart completely. Wouldn't you know, a crumbled up cornbread muffin makes the PERFECT soup thickener??
With the leftovers I ended up serving it that way intentionally. I crumbled up a muffin in a bowl and then ladled the hot soup over. The cornbread just melts right into the broth and gives the soup a creamy thickness without using pasta or other grains. If you use a gluten-free cornbread mix, it would be a great way to make the entire soup gluten-free.
I topped the soup with freshly sliced green onions for extra kick.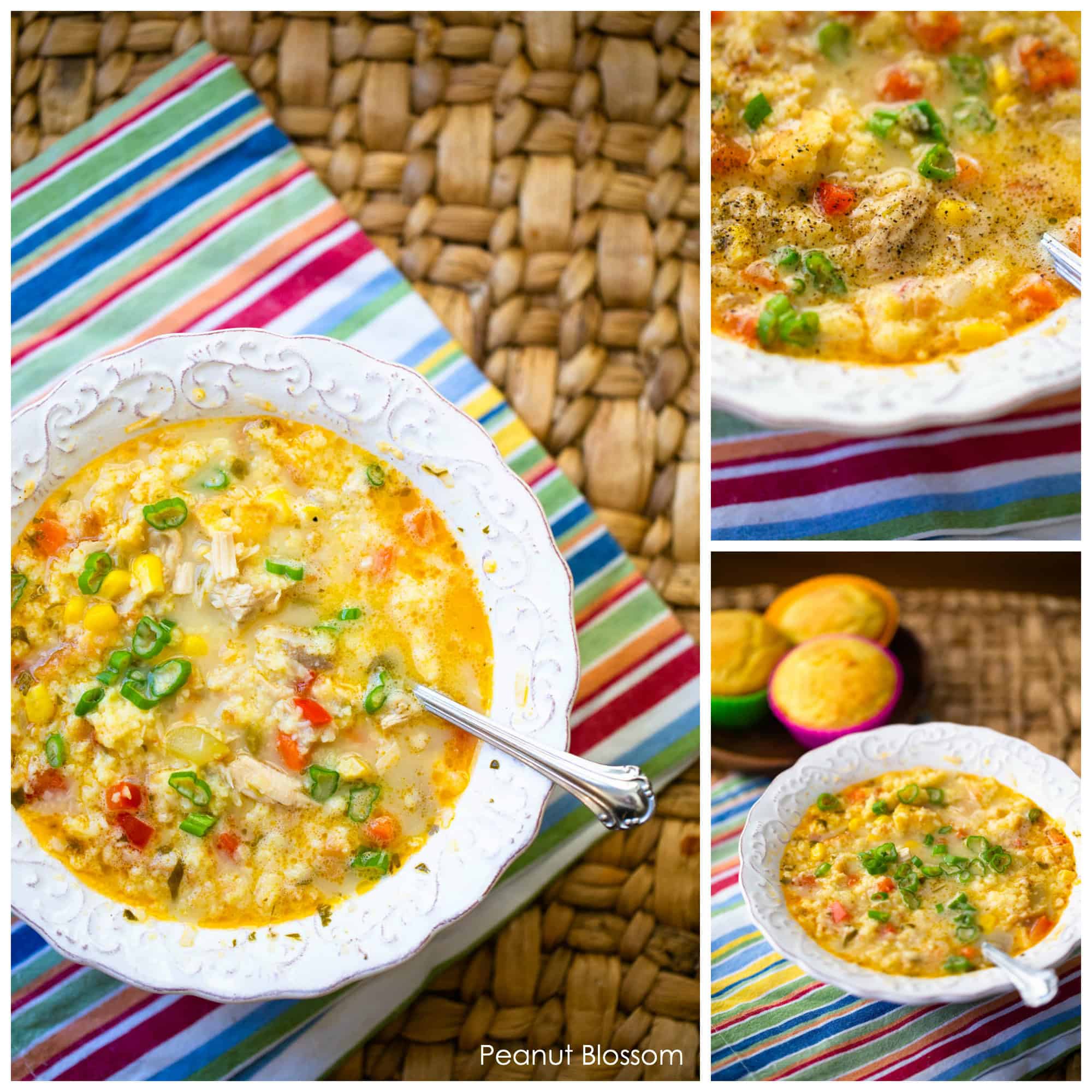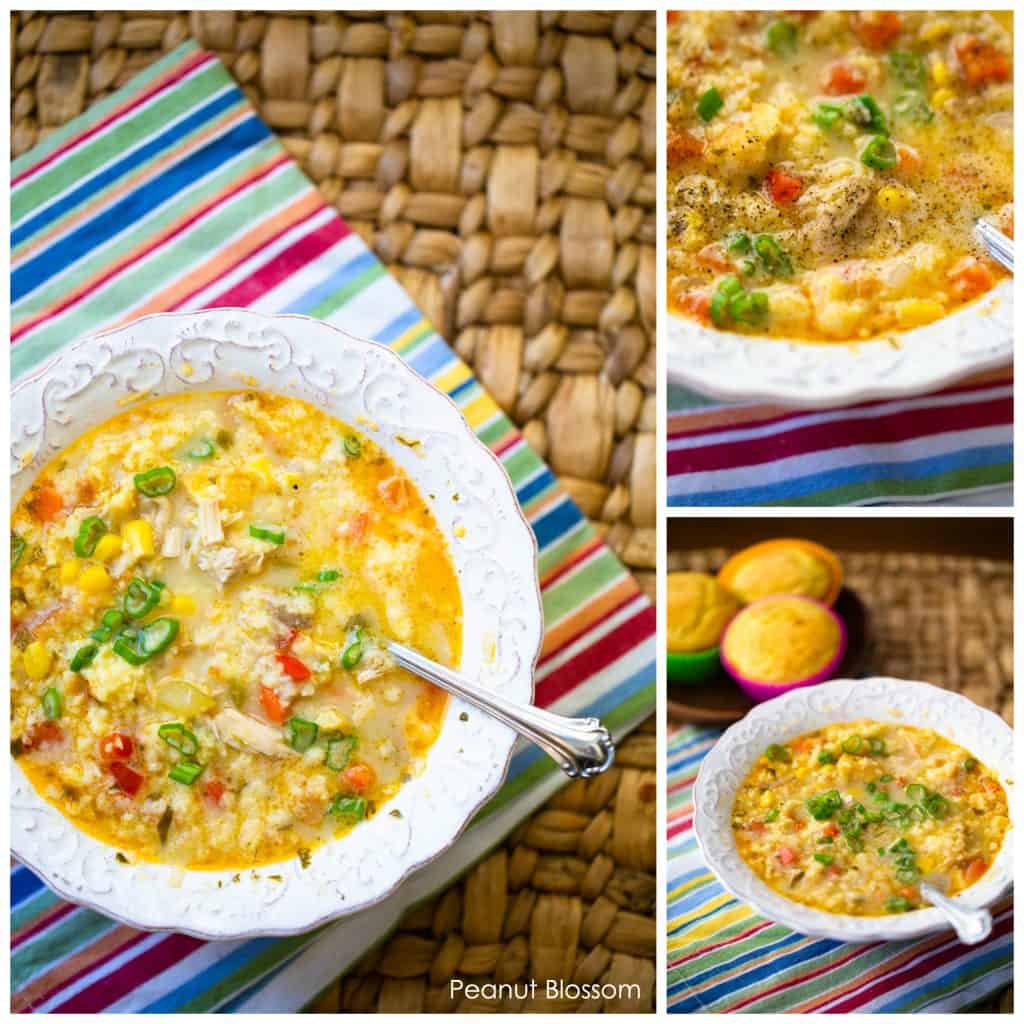 Can I freeze Caribbean chicken soup?
To freeze the chicken soup, I'd store it without the cornbread mixed in. When you thaw and reheat it, you will find that the coconut milk likely separated from the broth a bit. If you stir in a crumbled cornbread muffin when serving, it will help blend the broth and milk back together.
Jut plan to bake a fresh batch of cornbread muffins when you reheat the soup. They only require 3 ingredients and 10 minutes in the oven, so it's not hard to do. You could possibly freeze the muffins separately if you want a truly no-prep dinner for later.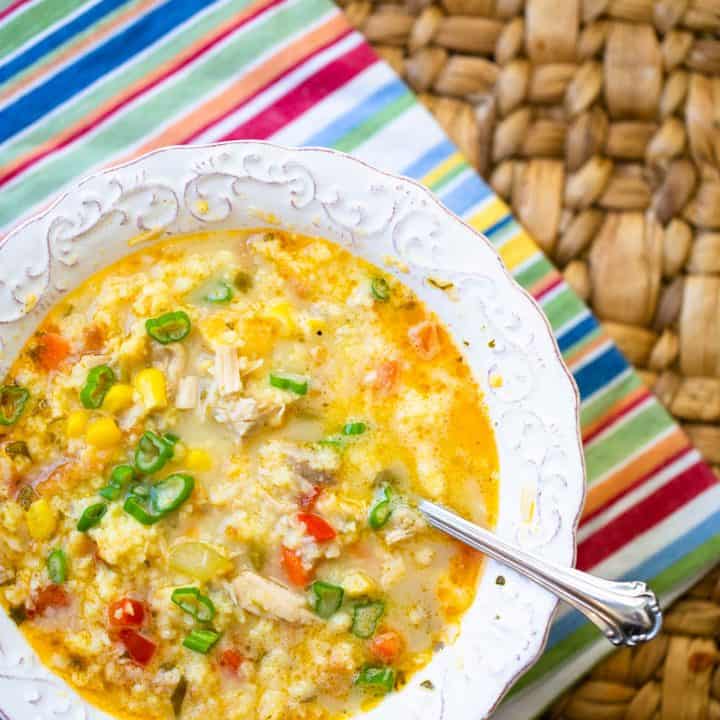 Caribbean Chicken Soup
This easy chicken soup has a tropical flair with coconut, lime, and hot sauce. Thickened with cornbread and sweet corn, it's a cozy way to channel an island vacation in the heart of winter.
Ingredients
3 tbsp canola oil
5 cloves garlic, minced
2 tbsp minced fresh ginger (or 1 tsp dried in a pinch)
1 onion, diced
2 ribs celery, diced
4 carrots, diced
1 red bell pepper, diced
2 tsp coriander
½ tsp allspice
2 cups diced chicken meat (great for leftovers or use a rotisserie chicken)
1 (10 oz) bag of frozen sweet corn
1 cup shredded coconut
12 cups (3 qts) chicken stock
Juice from 3 fresh limes
1 can (14.5 oz) coconut milk
8 dashes hot sauce (we prefer the Mexican-style Valentina)
1 bunch fresh cilantro, chopped
Salt & pepper to taste
1 box Jiffy cornbread prepared according to package directions (uses ⅓ cup milk + 1 egg)
3 green onions, chopped (both white and green parts)
Instructions
In a large soup pot, add the oil and bring to temperature over medium-high heat.
Add the garlic, ginger, onion, celery, carrots, and bell pepper and saute until the onions are translucent, about 5 minutes. Add the coriander and allspice and stir into the veggies for 30 seconds or until fragrant.
Add the chicken, corn, coconut, and chicken stock and bring to a simmer. Cook for 30 minutes.
Prepare the corn muffins according to the box directions. Bake them and then set aside while the soup finishes cooking.
Add the lime juice, coconut milk, hot sauce, cilantro, salt and pepper and simmer for 5 minutes.
To serve: Crumble one corn muffin into each soup bowl. Ladle the hot soup over the top and garnish with fresh green onions.
Alternatively, serve the muffins on the side of the soup.
Don't miss our favorite chicken soup recipes:
If you love this recipe, you really don't want to miss these!